7
By RC79NC001
Started

VFR To California from North Carolina June- July 2018. Part 1 ( Route and Pics )
Day 1; Charlotte,NC to Madison,AL.  Total Mileage 460
Route
Hwy 321 to Hickory,NC
I40 from Hickory to Asheville.
I40 to NC 74 from Asheville To Murphy and into Tennessee to Cleveland
I75 to Chattanooga
I24 to South Pittsburgh
Hwy 72 From South Pittsburgh to Madison,AL
Notes: Bad Interstate Traffic in Chattanooga. Took alternate route over Signal mountain . Blazing hot from Chattanooga to the hotel in Madison,AL. Had dinner at Logan's Roadhouse  in Madison a short walk from the hotel.
 

 
Starting Odometer and yes that clock is right 0430 Hours. Too excited to sleep.
 
 
 
 
 

Rest Stop Near Waynesville,NC
 

 
Fellowship Presbyterian Church Huntsville,AL. My home Church.
 
 
 
 
 
 
Day 2; Madison,AL to Fort Smith Arkansas. Total Mileage 501
Hwy 72 from Madison to Memphis,TN
I40  from Memphis to Little Rock to Fort Smith.
Notes: Hot as blazes from noon until the end of the day.. Made sure to hydrate at every stop. VFR was born to run 85+ cruising no problemo.
No Pictures.
Day 3; Fort Smith to Oklahoma City,OK. Total Mileage 204
Route
I40 from Ft Smith to Oklahoma City
Notes: First Gusty wind encountered on I40 in Oklahoma.
No Pictures.
 
Day 4; No Travel. Time with Family in OK City. Total Mileage 0.

The Oklahoma City Memorial is Powerful.
 
 
 
 
 
 
 
 
 
 
 
 
 
Day 5; OK City to Santa Fe,NM Total Mileage 566
Route
I40 from OK City to Amarillo,TX
I40 from Amarillo to Clines Corners NM
Hwy 285 from Clines Corner to  I25
I25 to Santa Fe.
Notes: Morning rush hour traffic in OK City with rain. Incredibly scary wind gusts east of Amarillo. Stopped to look at the Cadillacs in the ground west of Amarillo. Cheap Burrito for dinner in Santa Fe.

Cadillacs Planted in the ground just east of Amarillo,TX
 
 
 
 
 
 
Day 6; Santa Fe to Moab,Utah  Total Mileage 451
Route
I25 South from Santa Fe to Bernalillo,NM
Hwy 550 from Bernalillo to Bloomfield,NM
Hwy 64 West from Bloomfield to Shiprock,NM
Shiprock to Teec Nos Pos,AZ
Hwy 160 from Teec Nos Pos to 4 Corners Monument
4 Corners to Hwy 491 Junction
Hwy 491 through Cortes,CO Dove Creek,CO
Dove Creek to Monticello,UT
Hwy 191 North from Monticello to Moab,UT
Notes: Cold crisp morning start in Santa Fe. Ate a decent cheeseburger on the Navaho Nation. 4 Corners desperately commercialized and crowded.Rolled through the parking lot and didn't stop. Incredible rock formations on Hwy 191 going into Moab.Great Carne Asada Tacos from a truck in Moab. Hot as blazes last 3 hours.

 

 
 
 
Day 7; Moab to Cedar City,Utah  Total Mileage 358
Hwy 191 North from Moab to Crecent Junction,UT
I70 West to Green River,UT
I70 West to Hwy 24 junction.
Hwy 24 south to Hanksville,UT.
Hanksville to Caineville to Fruita to Torrey,UT.
Hwy 12 to Grover,Escalante,Bryce Canyon.
Hwy 12 from Bryce Canyon to Hwy 89 Intersection.
Hwy 89 South through Hatch,UT to Hwy 14 Intersection.
Hwy 14 West to Cedar City,UT.
Notes: Cold crisp morning start in Moab. Stopped in Green River and ate an excellent Juevos Ranchos breakfast at Lupitas. Saw a sign on I70 "No services next 150 mi". UT Hwy 12 was spectacular with senery and fabulous curves. Crossed one pass elevation sign was marked 9600 Ft. Bryce Canyon beautiful. At a stop saw a large entourage of scooters.

Capital Reef National Park

Capital Reef National Park

 
Scooters can travel too.

Bryce Canyon
 

Bryce Canyon
 
 
Day 8; Cedar City to Zion,UT  Total Mileage 136
I15 South from Cedar City to  Hwy 17. Hwy 17 to Hwy 9 Back to the hotel in Cedar City via I15.
Notes: Did not make it into Zion National Park. Temperature was 100+. I had a tasty lunch and cool down at a restuarant in La Verkin. One of the locals rode his cruiser  into the restuarant parking lot and absolutely freaked out when he saw my NC license plate. That was fun.
Too hot to take pictures sorry !
 
 
Day 9; Cedar City to Minden,Nevada. Total Mileage 574
UT Hwy 56 West out of Cedar City to Modena,UT.
Modena to Panaca,Nevada. Panaca to Caliente to Hwy 375 Intersection
Hwy 375 West to to Rachel ( Near Area 51 ) then to Warm Springs.
Hwy 6 from Warm Springs to Tonopah. Hwy 6/95 West to Coaldale.
Hwy 95 North from Coaldale to Hawthorne. Hawthorne to Schurz,NV.
Alt 95 from Schurz to Yerrington.Hwy 208 from Yerrington to Hwy 395 Intersection.
Hwy 395 North to Minden.
Notes: Cold crisp morning start in Cedar City. Stopped on the side of the road after crossing into Nevada to take a picture. The ground was soft and my VFR fell over. Fortunately a local in a pickup truck stopped and helped after about 5 minutes. Herd of Cows in the road on Hwy 93. Terrible gusty wind near Rachel. Stopped to look at a Solar Power facility outside Tonopah. Had a great lunch at a Mom and Pop Chinese restaurant in Hawthorne (Wong's).Hot as fire last 3 hours of ride.

NV Hwy 375 . Stood in the middle of the road for 10 minutes...no traffic. Nevada is vast and empty.
 
 

Outside Tonopah,NV That bright light in the distance is a giant mirror that is aiming solar energy at a huge bank of solar cells.

 
Hawthorne,NV.
 
Day 10; Minden,NV to Watsonville,CA. Total Mileage 371.
Hwy 88 from Minden to Kit Carson,CA. Kit Carson to Martel. Martel to Waterloo.
Hwy 99 South to I205. 205 West to Tracy,CA. I5 South to Patterson,CA.
Hwy 130 West to the Lick Observatory. Quinby Rd to Tully Rd San Jose.
Tully Rd to Hwy 101. Hwy 101 South to Gilroy. Hwy 152 to Watsonville
Notes: Cold at higher elevations on Hwy 88. Super hot and dehydrated in the afternoon after getting lost on 130 trying to find San Jose. Lane Splitting  ( first time ) in rush hour traffic on Hwy 101 in San Jose was scary. Able to walk to a good Asian restuarant near the hotel in Watsonville.
 

Just left Minden,NV crossing into Cali. Hwy 88
 
 
 

Scenic Overlook on California Hwy 88
 
 

Same Overlook Hwy 88.
 
 

Hwy 88 Silver Lake
 

 
Lost Outside Livermore,CA
 
 
 
Day 11; Watsonville to Santa Cruz,CA.  Total Mileage 78.
Hwy 1 from Watsonville to Santa Cruz.
Notes: Enjoyed an easy low travel day. Hung out in Santa Cruz. Ate cheap Mexican Seafood.

Santa Cruz,CA
 
Day 12; Watsonville to San Luis Obispo,CA.  Total Mileage 321.
Hwy 1 South from Watsonville to Ragged Point,CA.
Hwy 1 North from Ragged Point to Monterey
Hwy 68 to Salinas to Hwy 101
Hwy 101 South to San Luis Obispo
 
Notes: Enjoyed riding the Pacific Coast Highway from Watsonville to Ragged Point. PCH was closed south of Ragged Point due to Rock Slides. Ate Mexican food at a Taquieria in Gonzales off of Hwy 101. Strong side winds on Hwy 101 especially around Atascadero. Hotel in SLO within walking distance of a good Italian Restuarant.

PCH

PCH
 
 
 
 
 
 
 
 
 
 

My Hotel Room in SLO

Hotel Room Shenanigans
 
 
Day 13; San Luis Obispo to Inglewood,CA .  Total Mileage 229.
Hwy 101 South from San Luis Obispo to Carpinteria,CA
Hwy 150 North to Ojai
Hwy 33 from Ojai  to Ventura
Hwy 101 South to Hwy 1 to Malibu.
Malibu to Inglewood.
Notes: Took a little detour to Ojai before riding into Los Angeles proper.

Ojai. Home of the movie Easy A.
 
 
 
 
 
 
Day 14; Inglewood,CA. Total Mileage  0.
Notes: Down Day to hang out with my Uncles and their families. Oil Change in my Uncle's garage.

Oil Change at approximately 4000 mi.
 
Day 15; Inglewood to Kingman,AZ . Total Mileage 380.
I405 to I605 I605 to I10 I10 to I15
I15 to I40. I40 East to Kingman,AZ.
Notes: Getting out of LA proper is more than a notion. I left Inglewood around 0800. By the time I got into the desert it was cooking. The heat was brutal. I got to my hotel in Kingman around 3pm...could have continued to Flagstaff maybe but, maybe not. The most uncomfortable day of the entire trip.Saw a sign on I40 Barstow to Wilmington,NC. 3000 MI. Should have stopped to take a picture.
 
 
 
 
 
 
Day 16;Kingman,AZ to Albuquerque,NM . Total Mileage 475.
I40 East from Kingman to Albuquerque.
Notes: Stopped at a Panda Express in Gallup,NM. for lunch. Saw some incredibly  beautiful Native American women. Unsucessfully tried not to stare... Slabbing all day. Hot but, higher elevation made it more tolerable.... as do attractive women.
Day 17; Albuquerque,NM. Total Mileage 0.
Notes: Hung Out with my cousin in Albuquerque. Cool town. Great food. Green Chilis !

Sandia Peak Tramway outside Albuquerque.
 
 
 
 
 
 
Day 18; Albuquerque to Oklahoma City,OK . Total Mileage 577.
I40 East from Albuquerque to Oklahoma City.
Notes: Cold in the morning leaving Albuquerque and riding through the mountains. Progressively hotter and more humid as I entered Oklahoma. Vicious cross winds around Amarillo,TX.
 

I40 service road Near Amarillo,TX.
 

Windmills on I40 in OK.
Day 19; Oklahoma City. Total Mileage 0.
Notes: Enjoyed a down day with family. My Aunt is a great cook.

World's Best Cheeseburger. OK City,OK.
 
 
 
 
 
 
 
 
Day 20; Oklahoma City to Pine Bluff,Arkansas. Total Mileage 554.
I40 East from Oklahoma City to Russellville,Arkansas.
Arkansas Hwy 7 south from Russellville to Hot Springs.
Arkansas 270 East from Hot Springs to Pine Bluff.
Arkansas Hwy 65 South from Pine Bluff to McGehee.
Arkansas Hwy 65 North from McGehee toPine Bluff.
Notes: Arkansas 7 has been on Car and Driver's top 10 roads so I had to sample it. Pretty good. Gully Washer Thunder Storm near Hot Springs. I missed most of it. I am a BBQ fan so I knew of a great place in McGehee called Hoot's BBQ. It was worth the extra mileage.

Hoots BBQ McGehee,AR.
 
 
 
 
Day 21; Pine Bluff,Arkansas to Decatur,AL. Total Mileage 352.
Arkansas Hwy 63/79 from Pine Bluff to Hwy 49 Intersection.
Arkansas Hwy 49 East across the Mississippi River .
Mississippi Hwy 61 North to MS Hwy 4. MS Hwy 4 to MS Hwy 4 to MS Hwy 7.
MS Hwy 7 to MS Hwy 72.
Hwy 72 East to Decatur,AL.
Notes: Heat and humidity increased steadily all day. Took a break in the shade on the Natches Parkway where it intersects Hwy 72. Briefly  rained on the VFR as I ate at a Taquieria near the hotel. Excited to be going home.
 

Taking a break in the shade. Natches Trace rest stop near Hwy 72.
 
 
Day 22; Decatur,AL to Charlotte,NC. Total Mileage 460.
Hwy 72 East from Huntsville to South Pittsburgh,TN.
TN Hwy 56 from South Pittsburgh to I24.
I24 to Chattanooga,TN
I75 from Chattanooga to Cleveland,TN.
Hwy 64 from Cleveland to Murphy,NC.
Hwy 74 from Murphy to I26.
I26 to Asheville,NC.
I40 East from Asheville to Hickory.
Hwy 321 South from Hickory to Charlotte.
Notes: Launched from hotel before daybreak. Ate a hearty  breakfast at a Waffle House east of Huntsville,AL on Hwy 72. Heavy rain descending Black Mountain east of Asheville. Easily the most challenging weather of the entire trip. Great to get home and see my Son. Celebratory dinner at 131 Main Restaurant.
 

SR71 Space and Rocket Museum Huntsville,AL.
 
 
 
 
 

Hwy 64 near Ocoee,TN. Soon it would start raining.
 

Mileage at the end of the last day.
20096-13042=7054 mi.
 

Rear Bridgestone T30 at the end of the trip with 7000+ Miles.
 

Front Bridgestone T30 at the end of the trip with 7000+ Miles.
 
 
 
 

That's all folks ! The end of an epic trip.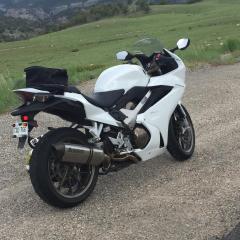 18
By Tiutis
Started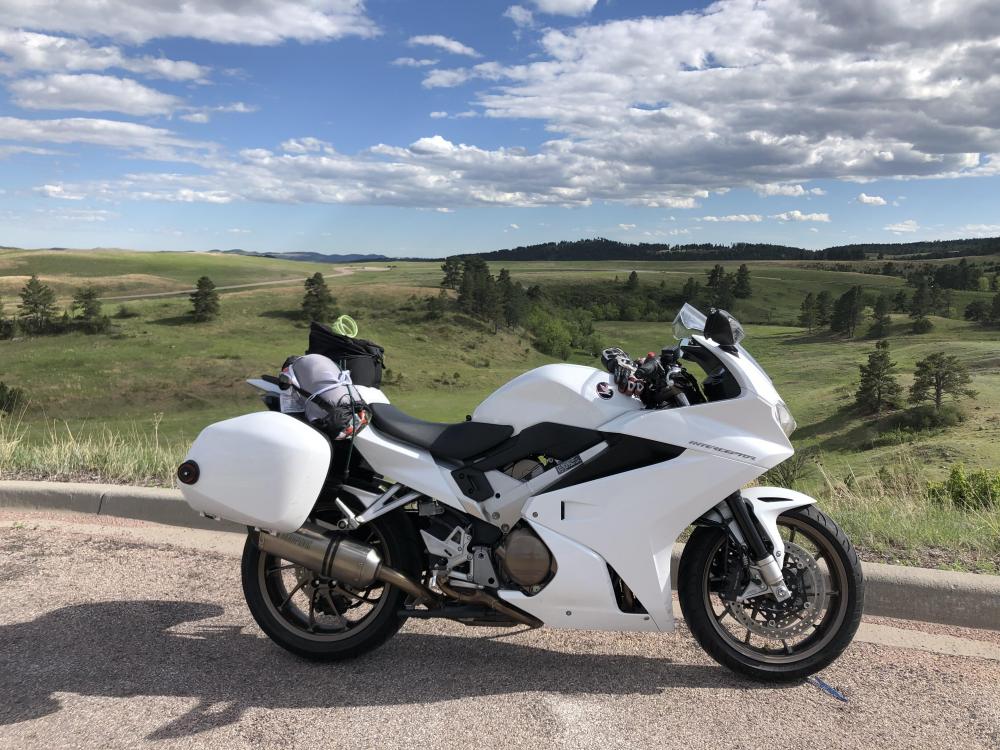 Lost a job recently so decided to spend some quality time on my moto. Took a 3 day tour of SD/WY, solo keeping a generous 6+feet distance from most individuals and animals (luckily)
Day 1, left Denver and arrived Hot Springs, SD. I was immediately greeted by lovely twisties of Hwy 395/87 and the bison on a way heading to Custer. 
Stayed overnight in the Center Lake campground, roughing it sleeping in a hammock (my first). Dipped to 48F overnight so I was a little chilly. The campground is awesome: clean showers, beautiful lake, wildlife around.. 
Day 2, left the campground and I was immediately on the Needles Highway. I've been on it a few times so I did not bother stopping to take pictures because I was enjoying the road basically to myself early morning. The is super twisty and has a few on way tunnels carved out in the rocks. Epic ride! I continued riding to the Spearfish Canyon after a short stop for breakfast in Hill City. SC is another must do: flowy, moderate speeds ride! Left SD heading to the oldest National Monument in US. The roads around it are triple digit sweepers but kept it sane being alone and seeing some cops around. After a quick picture at Devils Tower, rode to my cabin in Buffalo, WY. 
Day 3, after sleeping not that great, I stopped for a drive through coffee at Macdonalds:). I wonder if I was their first customer on a motorcycle going through a drive through 🤪. After slurping the god-sent beverage, off I went over the Big Horn mountains. It was a cold foggy morning in the mountains so I missed some of the scenery. The fog lifted as soon as I reached the peak, and I was happy to be able to see more than 20 feet in front of me. Again, did not stop for pics, I was just happy to avoid any potential collision with the wildlife and being warm enough to enjoy the corners. The west side of Hwy 16 is better anyways, smooth pavement and nice views. Stopped in Thermopolis, WY at Bear Cafe for brunch-great food!
The canyon heading south of town is beautiful!! Then, the boring shit of 120 miles to Rawlins.. Not terribly so but after all the good roads, this was definitely a drag. The highlight of the ride back to Denver was a ride through the Medicine Bowl mountains (Saratoga to Centennial). Nice road and lots of snow still on the sides..
In summary, the best part of my trip is the Black Hills, SD. You literarily can spend 3 days and explore some of the neatest roads and not have to go far. They also take care of their roads, and the wildlife is the icing on the cake: watch out for wild turkeys, deer and bison of course.