9
By TimC
Started

Warning:  This is a very long read.  Entertaining, I hope, but long.  If you're up for it, grab a beverage and settle in for a long story about a not-so-long ride.  There are several photos at the bottom if you want to just skip to those, but understand you'll miss the explanation about the tire photos.  The last paragraph is kind of important, too, so if you read nothing else, please check out the very end of this very long ride report.
 
I planned a 3-day tour for last weekend, centered around riding the 105-mile length of the Skyline Drive in Shenandoah National Park (in Virginia) for the third time, and the second time in the last year.  I had planned to ride from home in NE Ohio to Front Royal, VA, on Friday, ride the Skyline Drive and the northern section of the Blue Ridge Parkway on Saturday, then make my way home Sunday.  It didn't quite go as planned, but I'm not complaining.  If I'm being completely honest about the brief tour, I kind of waited until late last week to even decide on my destination.  I'd just ridden the Skyline Drive last September, and didn't really feel the need to go back there this soon, but it's a nice relaxing ride for the most part, and I decided I could really use that kind of an excursion.  Other than the paid holiday on July 3 (in observance of July 4th), I hadn't had a vacation day in over three months.  While I had thoughts of riding to Washington, DC, New York City, or some other tourist destination, the last thing I wanted to do was be stressed out over traffic and be surrounded by thousands of people.
 
As I said above, I'd had a 3-day weekend during the Independence Day holiday, and I'd thought of going down to ride the Skyline Drive then, but thought better of it knowing it would be packed with families, tourists, minivans, SUVs, SUVs towing campers, and RVs.  (As it was, I did three 1-day rides that weekend, so it worked out.)  The speed limit on the Skyline Drive is 35 mph its whole length, except for some tourist areas, where it's 25 mph.  There are some passing areas, but they are pretty well spaced out.  While I'm not willing to risk a ticket doing 50-60 mph on the Drive (and it's very easy to go that fast), I also couldn't bear the thought of following lumbering camper trailers and RVs at 25-30 mph for miles at a time.  So I waited until this past weekend, and thankfully the weather was great.  (More on that later.)
 
As usual for me, unfortunately, I got on the road about an hour later than I'd planned.  By the time I'd packed and checked the bike over, I headed out around 9 am.  No biggie, as I had all day to get to Front Royal, the northern entrance to the national park, which, by the way, charges an admission fee.  It's not cheap, and it's more than I remembered it being from my last couple visits.  Maybe the price is about the same, and my memory is just not that great anymore.  But the fee for a single motorcycle is $25.  At least you feel like you're getting your money's worth, because the road surface is terrific, and the facilities are great.  Also, your pass is good for a few days.  If you're going to visit more than once a year, buy an annual pass for $55.  It would be worth it if you visit the park three times or more.
 
From home, I took some state routes to get SE to OH 7S, which got me to I-470E, across the bridge into Wheeling, WV, and onto WV 88S, which led me to US 250, which would take me through about half of West Virginia.  You can take 250 out of Wheeling, but the route takes you way out of your way, so it's shorter to cut across on WV 88.  The ride was pleasant, but by noon it must have been 90 degrees, but at least the humidity wasn't too bad.  As long as I kept moving I was fine, so I kept moving.  I should have stopped more often to stay hydrated, but I did a few 90+ minute stints on the bike that day.  US 250 has some nice sections in WV, but I wouldn't say it's the best road.  Still, for a US highway it's okay.  I took 250S to US 50E, and had planned to take that highway to US 220S to US 48E, then VA 55S into Front Royal.  But it was so hot I decided instead to stay on US 50E to Winchester, VA, then slab it most of the way to Front Royal.  And that was knowing I'd be hitting some late rush hour traffic on I-81S, and that the heat coming off the expressway would be pretty intense.  (It was.)  Still, that was a better option at that point.  I stopped in Winchester to book a hotel room in Front Royal just before hitting the freeway.  Room booked, run a good 70-80 mph for some miles on the interstates, and I sailed into Front Royal around dinner time.  I stopped to fill up the tank so I wouldn't have to do it again that evening or the next morning on my way out.  I rode 354 miles on Day 1.
 
The lodging was adequate, nothing special, nor very cheap, but acceptable.  I wish the little motor lodge where I stayed a night last September had been available.   I like little places like that, where you can park your bike right outside your door.  (Also, it brings back fond memories of the VFRD Tmac events when we stayed at the old Franklin Motel.)  I was feeling pretty cooked by the time I parked the bike, so I just headed up to my room to soak in the air conditioning for a while.  After relaxing and cooling off - and drinking probably a gallon of water - I thought about dinner.  There was a cool brewery and burger place across the street, but it was crowded.  They had a takeout menu, but instead I opted for Thai food from the restaurant in the same building as the hotel, so I could just walk down the sidewalk for my takeout instead of having to actually get on the bike again and ride somewhere.  The entree, the Pad Pak with chicken, was tasty, but I really liked the spring rolls more.  That was my last decent or even halfway decent meal for almost 24 hours.  I ordered my food, then went to take the hard bags off my VFR, put them in the room, then grabbed my food and went back upstairs to eat and relax the rest of the evening.
 
When I'm touring on the bike, I prefer not to stop all that much.  As such, I have to carry food and usually a couple bottles of water with me.  You need food that won't perish, of course, so two of my go-to's are granola bars (or this time Clif Bars) and beef jerky.  No, this isn't the healthiest option, but the Clif Bars (I usually go with peanut butter crunch) and beef jerky both have protein, which keeps me from getting too hungry either between meals, or lets me skip a meal if I choose to forgo breakfast or lunch.  It also keeps me from buying pure junk food and sugary treats from convenience stores.  So during my infrequent stops, I snack a little, in the morning on the granola or a Clif Bar, and at other times the beef jerky.  These are also fairly inexpensive options, because I try to keep my tours pretty cheap, too.  The Thai food was a splurge for me - it was my one food-related treat to myself this tour.
 
Now, when I parked the bike when I got to the hotel, I sprayed chain wax onto the chain, as I do every 400-500 miles or so.  I didn't see it at the time, but when I went back to get my luggage, I noticed my rear tire was a bit worn.  It was a little squared off, but not too bad.  However, the tread depth was a little concerning, considering I was headed away from civilization for at least the next day.  Plus, it's Friday night.  I don't want to spend half a day Saturday riding to and waiting for a shop to replace that tire, especially when it looks kind of worn but okay.  But also, Sunday - if the tire gets eaten up Saturday - it's going to be next to impossible to find a shop to replace the tire.  Plus, of course, you're looking at hundreds of dollars for a new tire and labor at most shops, even though it's just four lugnuts to take the rear wheel off a VFR.  So I opted to go with what I had and deal with it later if necessary.  Would that decision come back to haunt me?  Keep reading to find out!
 
I got up early Saturday morning, packed up, loaded the bike, and headed south out of town to Shenandoah National Park.  It was a nice, cool 75 degrees or so, but the forecast was 96 degrees for the day.  I paid my admission fee and headed up the Skyline Drive., where the first several miles are just amazing.  It's unlike anywhere else I ride regularly.  I had started even earlier last September, hoping to catch the sunrise (and I pretty much did), but found many squirrels laying on the road, I think keeping themselves warm overnight on the residual heat coming from the road surface.  As I'd approach, they'd jump up and scamper away, sometimes crossing my path.  It was a little unnerving, partly because that day I had started up the road around dawn, and the critters were hard to see until you were maybe 20-30 feet away.  Thankfully this time wasn't nearly as bad, and I only had to dodge a couple squirrels.
 
If other VFRD members are like me, and I'm sure many of you are, the main point of a ride like this is the riding, not the sightseeing.  So I didn't stop very often at the wonderful overlooks.  As usual, I preferred to keep moving.  At 35 mph (or even a little faster), it takes 3 hours to ride the length of the Skyline Drive, and that's if you never stop.  I stopped at 2-3 overlooks, and once for a restroom and drink/snack break.  Don't get me wrong, I love beautiful scenery as much as other people, but again, the point of a tour for me is the ride.  So when you're checking out the photos below, you might note there aren't that many scenic pics, because I didn't take that many.  About halfway through the Skyline, I started increasing speed, averaging maybe 45 mph.  But between the slower speeds earlier, a few scenery stops, and a rest stop, it took me about four hours to finish the Skyline.
 
The photos, by the way, were taken with my Canon EOS 77D digital SLR, a wonderful gift from my family for my 50th birthday last summer.  I'd wanted a digital SLR for several years, and my family surprised me with this gently used but like-new Canon.  I've not used it nearly enough, and I still have much to learn about its features and capabilities.  I have two good lenses for it so far, but need to buy a few filters for them.
 
While mapping out Saturday's ride, I had previously thought about two options when I came to the end of the Skyline Drive:
1.  Continue on to the Blue Ridge Parkway, heading south until at least VA Route 56, then turn west to begin the trek home, stopping somewhere for the night maybe halfway home.
2.  Head west on US 250 at the end of the Skyline Drive.
 
Two things made me choose option #2.  I was worried about my rear tire, and there were two warning signs near the end of the Drive.  One read, "Loose gravel ahead.  Not advised for motorcycles and bicycles."  (Or something to that effect.)  I thought, well, I've done gravel before, but I wonder how long a stretch it is.  The second sign said, "Road construction next 28 miles."  And that was it.  Coupled with worrying about the life left in my rear tire, I took US 250W immediately.
 
US 250W in Virginia is a nice flowing road, with mostly good pavement.  Most of the towns along the highway are fairly small, so they don't hold you up too badly.  There are some nice curves but there are also places to pass.  And then you get west of Churchville, VA, and things improve dramatically.  There are 2-3 mountain passes that are just completely excellent for sportriding.  Unfortunately, during the first stretch I was stuck behind a couple much slower vehicles.  There's nothing like riding up a mountain at 30 mph, watching your VFR's engine temperature climb, too.  I would occasionally drop back to I could have a better run for a few turns, but I easily caught up with the folks in front of me.  But at the end of the sweet stretch of road, I turned around, rode back up and down the mountain with nothing in front of me, then turned around again and headed back west.  There were a couple more sections like that afterward and it was glorious!  What a treat to be on an amazing mountain road with nothing holding you up.  We should all be so fortunate most of the time.
 
By the time I'd had plenty of fun on US 250 and was in West Virginia, it was already mid-afternoon, the temperature was a scorching 96 degrees, and rather than continue on 250 all the way through WV and into OH, I decided to make some time.  Despite having about half a package of beef jerky left in my tankbag, I stopped in Elkins to have a fast food meal – my only real meal of the day - taking a break to sit in the very welcome air conditioning and drink 5-6 cups of ice water.  Afterward I continued on 250 to US 119N, then took I-79N toward Pittsburgh.  Just like the day before, the heat coming off the road surface was intense.
 
People who don't ride probably think cruising down the freeway at 70+ mph must feel refreshing.  But it doesn't in temps like this.  It feels more like being shot through the world's longest blast furnace.  When it's that hot, I'm choosing between the lesser of two evils.  Either make time and deal with the heat on the freeway, or have a bit more pleasant ride on 2-lane highways, but face slowing down and/or stopping at lights and stop signs in the small towns I'm riding through.  As much as I dislike slabbing it, sometimes that's the better option.
 
I had checked my rear tire during most rest or gas stops on Saturday, and it was holding up.  The visible tread kept getting thinner, but thankfully I wasn't seeing cords.  I had considered that instead of heading home I would route myself toward Columbus, OH, home of the Iron Pony (in the suburb of Westerville actually), where I usually buy tires and have them mounted while I wait.  They're open on Sundays, and I thought perhaps I'd ride through most of West Virginia and maybe even into Ohio, find a place to stay, then finish riding to the Iron Pony on Sunday morning.  I'd get a new tire mounted, then ride the rest of the way home.  But I decided since the tire was doing okay, I'd just make for home.
 
I got off the expressway at Washington, PA, and took state and US highways the rest of the way home.  I arrived home around 8 pm, pretty tired, but feeling better than I had Friday night, because I stayed better hydrated on Saturday.  I logged 457 miles on Day 2, which is a lot, especially considering it took me about four hours to ride the Skyline Drive.  But what's funny is that's not even my longest day of the year, as I'd done a 477-mile day several weeks ago, though it wasn't in such tremendous heat.
 
First thing I did when I got home was to apply another coating of spray-on chain wax, as is my custom after every long day.  (This is why a centerstand is a must on a chain-driven bike in my opinion.)  I let the bike sit for the chain wax to stick while I unloaded the bike and starting putting things away.  I realized a few minutes later I hadn't actually inspected the tire again.  So I went to the rear and looked.

At first it looked fine.  I thought, "Oh, good.  It made it okay.  Maybe I can actually ride down to the Iron Pony tomorrow and have a new tire put on."  I have done this several times.  I carry T-shaped tire iron with me down to the shop, strapped down to the rear seat under my emergency pack.  When I get there, I pop the rear wheel off (Again, hooray for centerstands!), take it inside, and get a new tire.  Why pay for an hour of labor when you can just hand them a wheel and pay much less for installation?  The bonus is I have a favorite route to get down there from home, and one of the roads in particular, while not epic, has some really nice curves.
 
Confession time:  I have ridden rear tires into the cords a few times.  Not really on purpose, but I've known a tire was worn, and figured I *might* get into cords by the time I got to the shop, and a couple times I did.  Not a good practice, I know.
 
So looking at the rear tire and thinking maybe I could make it to Columbus the next day, I spun the wheel a little…and saw a couple cords.  "Hmm.  Well, I won't be riding again 'til this is replaced, but at least I made it home."  Again, I've ridden a rear tire into the cords, so I wasn't too disturbed.
 
Then I spun the wheel a little more, and "Whoa."  There before me was a rather wide and shiny steel belt.  At that point I felt extremely thankful to have made it home without a flat or a blowout.  I was also quite thankful that:
a) I decided to head for home when I did, and
b) I avoided any sharp edged objects in the road, including gravel, lane reflectors attached to the roads, and large snakes with large fangs who might bite my tire as I was riding by them.  (Just kidding.)
 
Before anyone blasts me for being such an idiot (duh), please remember that I did check my tires before I left for this trip, checked them again Friday evening, and checked the rear often on Saturday.  Other than interrupting my trip for a day or two (and having to then take additional time off work) to find a shop and overpay for a new tire and installation, there is literally nothing I could have done to avoid that very worn rear tire.  I'm fairly certain the combination of hot roads and a loaded-down bike contributed to much faster tire wear than I expected.  I haven't weighed the loaded bags, but I'm guessing they're in the neighborhood of 15-20 pounds each when I'm touring.  Plus I'm heavier than usual, having gained some weight over the last couple months.  Believe me, I'm not happy about having ridden a tire in this condition.  But maybe I can be a good (or very bad) example for others when planning a tour, especially in the middle of summer.
 
Yesterday morning, I got up early again, removed the rear wheel from my VFR, hopped in my ND Miata and made for the Iron Pony, taking that favorite route I mentioned above.  Top down, driving some sweet twisty state highways, and having a blast, especially before it got hot again yesterday afternoon.  Got the tire on and headed back home, again taking a combination of freeways and state highways.
 
All in all, a terrific weekend on the bike.  In fact, I'd go as far as to call Saturday's ride "epic," which is a word I don't use very often to describe my rides, even the really good ones.  I felt great, riding quick, even fast sometimes, nailing most corners, choosing the correct lines, and easily avoiding trouble where it suddenly appeared.  I don't think I had one "Oh crap!" moment the whole weekend.  Keep in mind, however, my 'fast' is not your fast.  Really, my fast is probably more like your medium pace.  So I'm not bragging here; just saying I went quick for me, and it felt amazing.  I totaled 811 miles for the motorcycle trip, and it was worth every gallon of gas and every ounce of sweat those two days.
 
I'm not even really disappointed that I didn't get my planned 3-day ride in this weekend.  The terrific morning drive yesterday in my wonderful roadster made up for any disappointment I might have felt.  Besides, why should the VFR get to have all the fun?
 
And this evening, new tire installed and inflation checked, I went for a little ride.  Only 50 miles or so, but it felt great.  I won't be able to ride this weekend, unfortunately, but I'm already looking forward to my next long day or trip, and hoping to get down south before the season is over, maybe all the way down to North Carolina to some certain roads we all know and love.
 
Some observations:
One of the harder things to do on a very hot day is to just find adequate shade for a rest stop, particularly in the middle of the day.  You don't even want to stop at a gas station or convenience store, because the heat coming off the parking lot is awful.  I found shelter under a bank drive-thru (closed at the time of course), and have found it under an awning in front of a church and other similar places.  The only downside is there usually isn't a place to sit, but just getting off the bike and standing in the shade is a welcome relief from the sun and oppressive heat.
 
I'm still pretty happy with the ergonomics on my VFR, though my knees start to balk after a few hours or a couple hundred miles, particularly the right one.  My hips get a little sore, and my neck gets stiff and a bit sore during very long rides, too.  But what I found interesting on the Skyline Saturday was how much more effort it takes to keep yourself upright when you're only doing 35-45 mph.  Faster than that the wind resistance helps you, but it was definitely more tiring - and more monotonous - going slower.
 
Along with idea of the riding being the main attraction for me during a tour like this, I find the scenic overlooks to be amazing, but also kind of repetitive.  I mean, after a while, don't they all start to look kind the same?  There are definitely different features at some overlooks, but especially on the Blue Ridge Parkway, I've found most overlooks are similar.  That's probably another reason I don't stop at very many of them.  That and the time it takes to park the bike, take off my gear, grab my camera, take a few pictures, put the camera away, don the riding gear, and get moving again.  It just eats up a ton of time.  Time I'd rather spend riding.
 
Some people are great, and will wave you by when you're clearly able to go much faster than them.  I always wave a big "Thank you!" to such folks.  And some people aren't so great.  May karma bite those folks on the ass at some point.
 
There were a couple times this weekend that actually made me wonder whether my riding jacket would fit into one of my hardbags.  Yes, it was that hot.  It's extremely rare I ride without a jacket, and even then it's usually just a trip to the gas station to fill up the tank.  I haven't ridden more than a few miles jacket-less in many years.  But the heat this weekend actually made me think about ditching the jacket, if only for a little while.  But I resisted that temptation.  I'm not fully ATGATT, as wear jeans instead of actual riding pants, but the rest of my body is geared up - helmet, riding jacket with armor, riding gloves, and boots (hiking boots, but at least they're over the shin).  I don't know how or why people can put their skin and their very lives at such risk by riding with minimal gear, or none at all.  I'll just never understand it.  And if that sounds judgmental, so be it.  Maybe that sounds ironic coming from a guy who finished a 2-day ride with a rear tire showing cords, but that was accidental.  People riding without gear do so on purpose.
 
Motorcycle touring during a pandemic:
I want to share some thoughts about motorcycle touring during the COVID-19 pandemic, especially right now when the US is seeing dramatic increases in the number of new cases.
 
A brief background:  I have asthma, but it's not usually a problem.  I take a daily pill for it, can go about my everyday routine, exercise normally and be fine, and I carry a rescue inhaler if I need it, which thankfully is rare.  But I get an annual flu shot because if I get the flu, it can be pretty nasty.  I'm in the at-risk population, so I'm taking COVID seriously.  I'm wearing a mask in public, I'm social distancing whenever possible, and I'm using hand sanitizer after leaving a store or pumping gas.
 
But the threat of the virus hasn't stopped me from going to the grocery store, from going to motorcycle shops, or from doing long rides on my VFR.  It *has* made me think twice about going into a convenience store for a drink, for paying for my gas with cash at the register, and about going into restaurants for meals while I'm on the road.  In stores, some people are wearing masks and properly distancing, and some aren't.  Consequently, I pay at the pump with a credit card, and on the rare occasions I'm going into a store, I put on my mask, I distance if possible, and I'll buy two bottled drinks to save having to go into another store later on for another drink.  I'll stop at a restaurant to eat, preferably fast food rather than a sit-down place, and even then I'll try to pick a fast food joint with outdoor seating, but will avoid any restaurant that looks crowded.  Thankfully, most of the fast food places have taped off some booths and seating areas so there is always several feet between available seats.  (While touring I really prefer to eat at mom and pop establishments, but for some reason fast food just feels a little safer right now, probably because I can get in and out more quickly.)
 
I think with common sense measures like these, and maybe even more than what I'm doing, we shouldn't be afraid to get out there and enjoy our summer riding season.  Staying in a hotel did give me some pause, but I had to have faith the staff adequately cleans and disinfects everything I would touch.  Honestly, however, by the time I got to my hotel on Friday evening I was almost too drained to care.  That's not great, but it's the truth.
 
To sum this last section up, and perhaps the message I really want to send is this:  If you've been holding off doing an epic ride of your own because of the pandemic, I would strongly encourage you to take some standard precautions and just go ride.  Pay at the pump.  Keep a bottle of hand sanitizer in your tankbag.  Wear a mask if you have to enter a store or gas station.  I don't blame people for being anxious, but you can't let fear rule your life.  We take calculated risks all the time while riding, whether it's across town or across the country.  This is the same.  Live your life.  Live it responsibly, of course, both for yourself and for your loved ones, but go out there and truly live.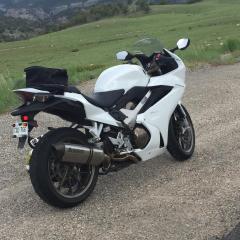 18
By Tiutis
Started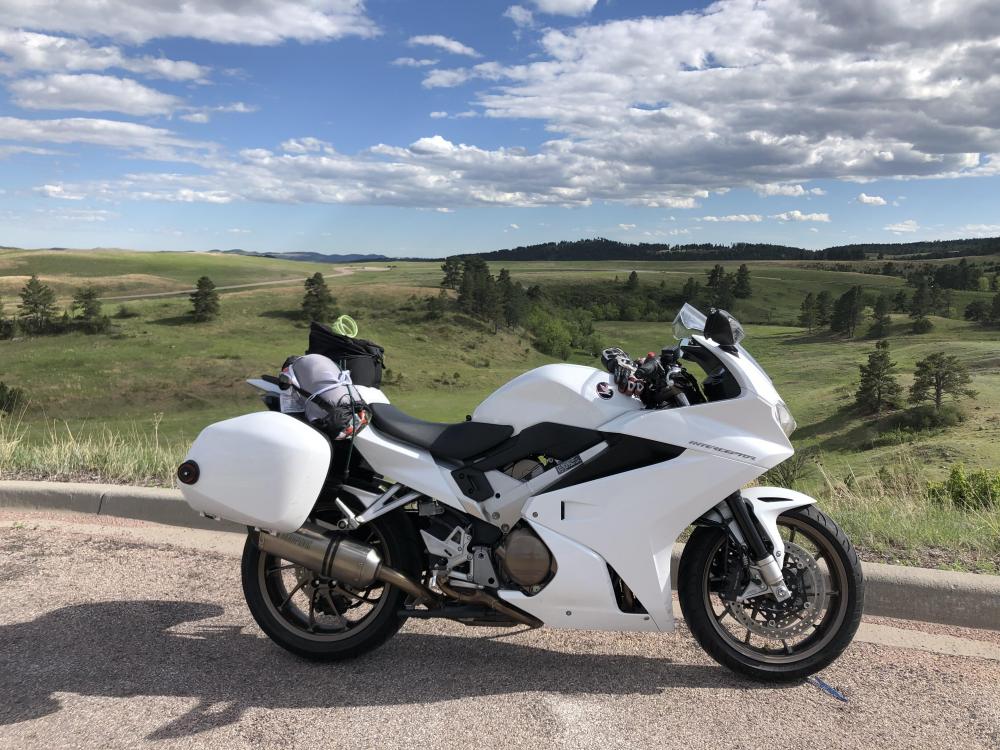 Lost a job recently so decided to spend some quality time on my moto. Took a 3 day tour of SD/WY, solo keeping a generous 6+feet distance from most individuals and animals (luckily)
Day 1, left Denver and arrived Hot Springs, SD. I was immediately greeted by lovely twisties of Hwy 395/87 and the bison on a way heading to Custer. 
Stayed overnight in the Center Lake campground, roughing it sleeping in a hammock (my first). Dipped to 48F overnight so I was a little chilly. The campground is awesome: clean showers, beautiful lake, wildlife around.. 
Day 2, left the campground and I was immediately on the Needles Highway. I've been on it a few times so I did not bother stopping to take pictures because I was enjoying the road basically to myself early morning. The is super twisty and has a few on way tunnels carved out in the rocks. Epic ride! I continued riding to the Spearfish Canyon after a short stop for breakfast in Hill City. SC is another must do: flowy, moderate speeds ride! Left SD heading to the oldest National Monument in US. The roads around it are triple digit sweepers but kept it sane being alone and seeing some cops around. After a quick picture at Devils Tower, rode to my cabin in Buffalo, WY. 
Day 3, after sleeping not that great, I stopped for a drive through coffee at Macdonalds:). I wonder if I was their first customer on a motorcycle going through a drive through 🤪. After slurping the god-sent beverage, off I went over the Big Horn mountains. It was a cold foggy morning in the mountains so I missed some of the scenery. The fog lifted as soon as I reached the peak, and I was happy to be able to see more than 20 feet in front of me. Again, did not stop for pics, I was just happy to avoid any potential collision with the wildlife and being warm enough to enjoy the corners. The west side of Hwy 16 is better anyways, smooth pavement and nice views. Stopped in Thermopolis, WY at Bear Cafe for brunch-great food!
The canyon heading south of town is beautiful!! Then, the boring shit of 120 miles to Rawlins.. Not terribly so but after all the good roads, this was definitely a drag. The highlight of the ride back to Denver was a ride through the Medicine Bowl mountains (Saratoga to Centennial). Nice road and lots of snow still on the sides..
In summary, the best part of my trip is the Black Hills, SD. You literarily can spend 3 days and explore some of the neatest roads and not have to go far. They also take care of their roads, and the wildlife is the icing on the cake: watch out for wild turkeys, deer and bison of course.