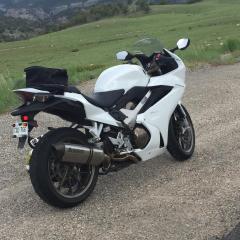 20
By Tiutis
Started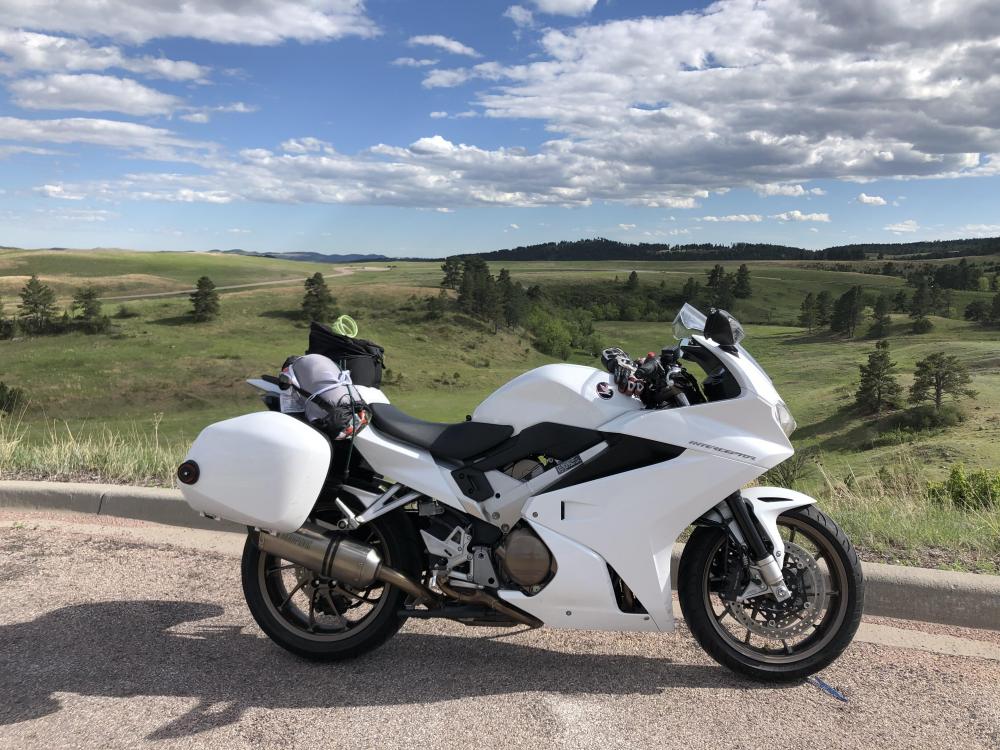 Lost a job recently so decided to spend some quality time on my moto. Took a 3 day tour of SD/WY, solo keeping a generous 6+feet distance from most individuals and animals (luckily)
Day 1, left Denver and arrived Hot Springs, SD. I was immediately greeted by lovely twisties of Hwy 395/87 and the bison on a way heading to Custer. 
Stayed overnight in the Center Lake campground, roughing it sleeping in a hammock (my first). Dipped to 48F overnight so I was a little chilly. The campground is awesome: clean showers, beautiful lake, wildlife around.. 
Day 2, left the campground and I was immediately on the Needles Highway. I've been on it a few times so I did not bother stopping to take pictures because I was enjoying the road basically to myself early morning. The is super twisty and has a few on way tunnels carved out in the rocks. Epic ride! I continued riding to the Spearfish Canyon after a short stop for breakfast in Hill City. SC is another must do: flowy, moderate speeds ride! Left SD heading to the oldest National Monument in US. The roads around it are triple digit sweepers but kept it sane being alone and seeing some cops around. After a quick picture at Devils Tower, rode to my cabin in Buffalo, WY. 
Day 3, after sleeping not that great, I stopped for a drive through coffee at Macdonalds:). I wonder if I was their first customer on a motorcycle going through a drive through 🤪. After slurping the god-sent beverage, off I went over the Big Horn mountains. It was a cold foggy morning in the mountains so I missed some of the scenery. The fog lifted as soon as I reached the peak, and I was happy to be able to see more than 20 feet in front of me. Again, did not stop for pics, I was just happy to avoid any potential collision with the wildlife and being warm enough to enjoy the corners. The west side of Hwy 16 is better anyways, smooth pavement and nice views. Stopped in Thermopolis, WY at Bear Cafe for brunch-great food!
The canyon heading south of town is beautiful!! Then, the boring shit of 120 miles to Rawlins.. Not terribly so but after all the good roads, this was definitely a drag. The highlight of the ride back to Denver was a ride through the Medicine Bowl mountains (Saratoga to Centennial). Nice road and lots of snow still on the sides..
In summary, the best part of my trip is the Black Hills, SD. You literarily can spend 3 days and explore some of the neatest roads and not have to go far. They also take care of their roads, and the wildlife is the icing on the cake: watch out for wild turkeys, deer and bison of course. 

 










52
By Coxylaad
Started
Hello everyone,
     First post here so a bit of an introduction.
I am Coxy, I like taking things to bits! I thought I would come on here to document my VFR1200 project build. 
I've built a few bikes in the past, the start was putting a TDM900 engine into a TRX850 chassis, I used this on the road and the track and it was great fun:



 
Eventually I got to the point where I wanted a bit more power on track to keep pace with the big boys on the litre bikes, I ride at Croft and Cadwell mainly, so no massive long straights. I figured around 120bhp would be enough to limit the losses on the straights so I decided to fit an MT09 engine into the TRX.  Power went up to 120bhp, and the weight of the bike was slashed (the mt09 engine is 13kg lighter  than the TDM lump). I spend 2 years refining and tuning it on track and its now its this current condition as featured in Practical Sportsbikes:
 




 
Fitting the MT09 engine turned out to be a lot more involved that I originally anticipated, and I ended up rebuilding the frame around the headstock and the top tube. 
 
Here's a video of the one of the last session from last year on it:
 
So, after all this i started thinking that I wouldnt mind building a bike virtually from the ground up. and I always fancied a V4. I like the look of the shaft drive VFR1200 setup, and after about a year of searching I managed to locate one at the right price:

 
The plan is to use the engine, swingarm and wheels, and build a bike around that. I'll put another post up to show where I have gotten to so far!