20
By speedball73
Started
Hi all,
 
Thanks to all who responded to my thread on the planning page, bike is geared up and ready to go and I leave at 6AM from Ottawa, Canada on Sep 1. I'll do my best to post photos and updates!
 
Approximate route, counterclockwise starting in Ottawa (the blue dot)
 

 
Sep1: Day 1 has started well with a lovely misty sunrise over the Ottawa Valley. Temps are cold around 5C so with 180km under my belt I'm stopping for a warm up in the town of Deep River, ON.
 

 
Had lunch at the Big Nickel in Sudbury, ON.
 

 
Sep 2: made it to Thunder Bay, ON - gorgeous drive westbound over the top of Lake Superior. No pics right now because Tapatalk is down but I'll post some later. Best restaurant name I saw - "Sue Chef"
in Nipigon. Worst moment? Stalled the bike on an incline entering the roadway from the Wawa Goose and almost dropped it!
 
Hemlo, ON - Barrick Gold Mine and the worlds biggest pile of gravel!
 
 
Nipigon, ON

 
Nipigon, ON

 
 
Sep 3: And on the third day, it rained.  Left Thunder Bay before sunrise and made it an hour before hitting light showers, good thing I put the rain gear on because the last 20 min before I could stop for gas it was really coming down.  Linda at the Quetico North gas station/restaurant took pity on the soaking wet motorcyclist and was kind enough to make me an omelette and toast even though the kitchen wasn't open yet. Heading to Minnesota today, rain should clear in a couple hours.
 
Edit: I also got a free biker story from a couple that wandered in, which started with "I was pretty drunk when I left the bar, and I had a two hour ride ahead of me...."
 

 
Arrived Bagley, MN:

 
Off to South Dakota tomorrow!
 
Sep 4, 2019: Beautiful ride across the 200 West (and south in Minnesota) today, warm temps and no traffic. Stopped in Fargo to see their Viking ship and the Fargo Air Museum, which had lots of planes, including one unique "Stealth Fighter"
 

 

 

 
Today was a laundry day so after Fargo I slabbed it to Bismarck, ND and enjoyed the relative luxury of a hotel with laundry, a hot tub, and free breakfast!
 
Sep 5, 2019: As I was leaving the hotel I met Jeff and Tim on Suzuki's heading to Tim's house in Oregon from Jeff's house in Toronto. They had pretty much run an identical route to mine on Sep 2., and despite a more northerly route through Canada to get to Bismarck they also got soaked, and we all agreed that "Waterproof gear" does not always mean what you think it should!
 
Jeff and Tim decided to ride with me south out of Bismarck on Hwy 1806, also known as the Standing Rock National Native American Scenic Byway which follows the Missouri River to the burial pace of Sitting Bull in Fort Yates. This was an excellent ride, full of big sweepers and lots of elevation changes and fantastic scenery.
 

 
We then continued onto 1806 and then generally southbound on 63 from McLaughlin down to Eagle Butte where we stopped for lunch. By this time the temperatures had hit the 90s and it was HOT even at 65 mph. But totally worth it, especially for the view as you descend to where the Moreau River crosses 63 near Green Grass, SD.
 
After lunch we continued south and picked up I-90 W for a few miles, destination was the Badlands National Park. This is really an incredible park and the vistas defy words, so enjoy the photos (I have a video I'll try and post later)
 

 

 
After we exited the Badlands I was headed to Rapid City, SD while they were continuing on to Deadwood, so we said our goodbyes.
 
I checked into my AirBnb but the sun was setting so I decided to make a quick run to Mount Rushmore and back - I'll be riding a pretty long set of twisties in there tomorrow, but figured I could get the sightseeing out of the way tonight. Although I'm only 1/3 of the way through the trip, the initial kernel of an idea was "I've never seen Mount Rushmore" so it's great to be here.
 

 
Nifty tunnel on the Mount Rushmore road:

 
Was a long day with almost 750 km but some absolutely great riding.
 
Sep 6-8 update: Sorry I missed a couple of days there, it got busy and I was trying to get back to an "early to bed early to ride" schedule.
 
To [mention=5257]Sweeper[/mention] and [mention=35220]Tiutis[/mention] who recommended Iron Mountain Rd and Needles Hwy in the Custer State Park / Black Hills Forest I thank you ! those were the twistiest twisties I've ridden in North America (Arkansas and TOTD are coming up shortly so I may have to restate this!).
 

 
After Needles I continued up to Deadwood and had a route of Montana's finest secondary roads planned but things went a bit sideways in Belle Fourche, SD. I pulled into a gas station, noted the wet mud accumulation on the ground in front of the gas pump, considered finding a cleaner spot, then didn't. 30 seconds later my bike was lying against the pumps, when my muddy riding boot slipped off the centrestand as I lifted the bike. After righting the bike, I noticed I was missing a right side mirror - the stem snapped. Long story short, I decided to straightline Hwy 212 through Montana (which was pretty fun):
 

 
but by the time i got to the hotel my duct tape job wasn't doing so well.
 

 
A quick trip to Home Depot and I fashioned this up which is lasting well after 2 days and about 900 km of riding:
 

 
Anyway yesterday and today were spent in Yellowstone and Grand Teton parks. Rode up the Beartooth Highway;
 

 
Jackson Lake:
 

 
Saw a red 8th gen VFR with red hard bags near Shoshone Point today if that's anybody in here, and then I rode down the awesome Hwy 191 in Wyoming to Rock Springs, WY.
 
Sep 9: Left Rock Springs under sunny skies today, with warm temperatures, perfect riding weather. First stop was to see the wild horses of Rock Springs, WY - I took a ride down a gravel road through their territory and was not disappointed! After spending a little while observing these guys I continued south towards the Flaming Gorge Recreational Area, named after the red coloured mountains. I stopped for lunch at the Red Canyon after crossing into Utah. In this part of Utah they have many signs warning of open range cattle grazing, and there they were! After lunch I stopped at the Dinosaur National Monument, incredible display of fossils still in the quarry where they were discovered - just a crazy number of dinosaur bones in one place! Finished up the day with a pretty scenic but straight drive southeast into Colorado and stopped for the night in the town of Craig, CO. This marks the halfway point of my trip - 9 days down, 9 to go. I've travelled just over half distance as well, 5,468 kilometres. I've refuelled the motorcycle 21 times since I left, and only eaten 2 restaurant and one UberEats dinner the entire time. Looking forward to the second half of the trip, seeing some good friends in Denver, riding some more twisty mountain roads and then on Sep 12, turning the bike east for good!
 
Flaming Gorge

 
Wild Horse Canyon Road, Pilot Butte way of in the distance.
 

 
More Wild Horse Canyon Road

 

 
Sep 10, 2019: Great ride southeast through Colorado today, through the Medicine Bow Forest, Yampa Valley, (thanks again [mention=35220]Tiutis[/mention]) and then Rocky Mountain National Forest up to 3.4 km high before coming back down to Louisville (Denver) where I've checked into my FriendBnB.
 
Part of the reason this update is short is I spent an hour today organizing a new chain and sprockets for the VFR. I was worried about my chain before I left and sure enough 4 days ago I get a "clacking" sound on engine braking - adjusted the chain that day, and again 2 days later for a slightly less scary sounding "clacking", and I'm at max adjustment (replace chain). I spoke with my home dealer and he agreed another 3000 miles on that chain is probably not a great idea.
 
So DennisKirk to the rescue with an overnighted chain and sprocket kit, and I made an appointment with Aurora Honda which was recommended by [mention=37591]GreginDenver[/mention] - thx Greg!
 
So as a result I didn't stop for too many pics but here they are:
 
Finger Rock, Yampa, CO

 
Next to the Colorado River, Hot Sulphur Springs, CO
 
Estes Park, CO

 
Estes Park, CO

 
Sep 11, 2019: Spent the morning visiting with friends and the afternoon sorting the bike out - replacement mirror arrived and is installed, and got a new chain and sprockets as well. Some issues with the speedo sensor but they replaced it and we are good to go! Shout out to Aurora Honda and forum member GregInDenver who recommended them.
 
Staying in a weird Days Inn tonight in Colorado Springs which has an identical mirror image building across the parking lot which is a Super 8. Went into the Super 8 by accident, and while waiting to check in I met a member from ADVRider "tourbus" - I told him I didn't post there since I stay (mostly) on the road but his opinion was "it caters to everyone". So happy accident, really nice guy who was "disappointed" that the Trans Labrador Highway is all paved now (I mentioned to him that it was much safer for motorcycles as a result and he just scoffed at my self-preservation instinct!)
 
Only decent pics I have from today are the bike in the shop and my buddie's puppy, Boomer, who would not sit still for a photo.
 

 

 
Apologies one more pic, the awesome RC51 they have in their shop (it belongs to them, not for sale apparently!)

 
Sep 12, 2019: The Good, the Bad, and the Ugly!
 
The Good! Last day in the mountains started off great, clear skies with a trip up to the top of Pikes Peak - somewhere about 4km high. with a lot of hairpins with hundred foot drops on the side and no guardrail!
 

 
The Bad: Unfortunately there was an "erratic" individual who was being escorted off the mountain, which caused a traffic jam on the way down - so I just went back up again, stopped and took photos - a great morning, 2 deg Celsius at the top however brr.
 

 
More good stuff - After that I headed east across Colorado and Kansas, although straight and flat, the views are impressive.
 
Kit Carson, CO

 
Brandon, CO

 
The thin tree of the town of Towner, CO

 
Colorado - Kansas State Line

 
Windmill on Hwy 96 - Nekoma, KS

 
Changed time zones again, this time into Central Time Zone - it will take 4 more days before I get back to Eastern time! Spending the night in Great Bend, Kansas.
 
The ugly: sorry to say, but the hotel I stayed in the night before was terrible - to sum it up, drugs. I went out around 9pm to move the VFR closer to my room and there was a couple using a crack pipe in the car next to me. Then three guys on Harley's showed up at 1:30am and proceeded to drive around the hotel parking lot with much revving. Initially I took pity on them - perhaps they had been delayed and were late arriving and could not help the loud exhausts. But when they parked outside the hotel lobby blaring rap music until 2:30 am, and I saw a constant stream of people coming out of the hotel, I figured they are selling drugs - pathetic hotel didn't even call the cops. Sorry Days Inn Colorado Springs, I won't be back.
 
Sep 13, 2019: Today was a long day (700 km) playing catch-up after the motorcycle maintenance, so I didn't stop much for photos today. Beautiful clear sky and 20 degrees C - As I drove further east into Kansas the plains full of wheat gave way to more green and trees and it started to feel a lot more populated (bigger highways and a lot more cars).
 
Off Hwy 15, Mulvane, KS

 
I also saw an increasing number of Mexican restaurants, grocery stores and businesses, and was surprised I could listen to a "Regional Mexican" radio station out of Wichita, KS, "KYQQ Radio Lobo" for nearly 2 hours, as I crossed into Oklahoma.
 
Stopped for lunch on an abandoned piece of highway near Ponca City, OK

 
Different kind of windmill (Hwy 18, near Burbank, OK)

 
When I checked into the hotel tonight the clerk asked if I was here for the motorcycle rally, to which I replied "motorcycle rally"? I ordered a pizza and while they were making it I took a quick ride into downtown to see what was up - 3 bikers flagged me down for some help, and I met Mary, Freddie, and Sue from Oklahoma who were here for the rally.
 
Mary, Freddie and Sue with Sue's Harley Trike

 
Mary and her Harley

 
Must have been Friday the 13th, as I pulled into the pizza place it was getting dark and I noticed one of my headlamps was out - thanks to my riding buddy we've had a spare in our emergency kit for years so I replaced it and then went over to Walmart to grab another- thanks to the forum guides on replacement, haven't done this since 2009!Last time I replaced one the second failed within 1,000 km - at my current rate that's Sunday!
 
It's not delivery, it's deVFR!

 
Sep 14, 2019: I set off early this morning from Poteau, OK for a couple of reasons: 1-the afternoon temperatures were supposed to be HOT; 2-I wanted to beat the motorcycle rally to the scenic route so I didn't get stuck behind them; and 3-I had a tour booked of the Graceland Mansion in Memphis at 4pm. Coincidentally there was a motorcycle exhibit at the "Graceland Exhibition Center" so I was able to get a discount ticket for that as well!
 
*edit*: this day contained the southernmost point of the trip, Hot Springs, AK at 34.5 deg latitude.
 
Rode south out of Poteau on Hwy 59 to the start of the Talimena Scenic Byway in the Ouachita National Forest - already 24 deg C at 10AM. At the start the asphalt is in great condition, mostly high speed (70-90 km/h) sweepers with lots of hills.
 

 
The last 10 miles of the road on the Oklahoma side are pretty rough asphalt, not confidence inspiring. As I crossed the border into Tennessee the asphalt immediately improved, the sweepers remained the same. Haven't figured out videos In Tapatalk so forgive the YouTube:
 
 http://
[/url] 
There were a couple combinations of turns that had me feeling like Valentino Rossi near the end however!
 
Queen Wilhelmina State Park, TN

 
After that I took mostly backroads (Hwy 270 and then Hwy 70) all the way up to Little Rock, AR, and then continued on to Memphis, TN. Hwy 70 east of Little Rock has a really nice section along Hills Lake, then it straightens out. Really nice day of riding and little traffic, but it hit 34 deg C and It was toasty on the bike!
 
I didn't get the ticket for Elvis' motorcycles, but the "One Hundred Years of the American Motorcycle" exhibit had more than enough, I'll limit myself to 3 of the too many photos I took!
 
Real live Motus V-4! The frame is kind of busy but it looks good - if I didn't have the perfect V-4 already I'd consider it!

 
Caterpillar Bike by Orange County Choppers

 
1949 Harley Davidson Model S (I think)

 
Ok one more because I'm a sucker for side exhausts - 1994 "Kawasabi"
 

 
And...I like this paint job (HD race bike):

 
Sep 15, 2019: Last nights hotel had a somewhat unique outdoor feature - a sport motorcycle gang (see video).
 
http://
 
Today was another hot day, 28 deg C by 9AM, high of 34 deg! I left Memphis headed northeast towards Bowling Green, Kentucky. The grain and oil fields of Kansas and Oklahoma have given way to cotton.
 
Bells, TN

 
I stuck to back roads (and for much of the day followed the Memphis-Bristol highway which is the 1st Tennessee Highway) - Hwy 70 - interspersed with some backroads I picked and some that came recommended by  [mention=382]tbzep[/mention] - Hwy 69 up to Big Sandy, TN, then took the ferry across Kentucky Lake and had a really fun time on Hwy 232 on the east side of the Danville ferry, which was freshly paved. He neglected to mention how fun the road which connects Big Sandy to the west side of the ferry is!
 
Waiting for the ferry (Danville Rd., TN)

 
I'm on a boat! (Danville Ferry)

 
My destination was the National Corvette Museum, which is across the street from the Corvette factory. I had a great visit (just sharing the best shots here).
 

 

 
Corvettes destroyed in the sinkhole incident

 
Corvette parking only outside the Bowling Green Assembly Plant!

 
While scoping out the factory exterior, I met a New Yorker named Brian (and his wife whose name escapes me) he had ordered a new red Corvette and wanted to get a factory tour (they aren't doing them right now). He told me about two motorcycle museums - Wheels Through Time, in Maggie Wheeler, NC and Motorcyclepedia, in Newburgh, NY. Tonight is my last laundry night, so as I'm waiting for the dryer to free up I'm dangling my legs in the hotel pool!
 
Sep 16, 2019: The day was promising to be another hot one so I got on the road early, riding generally southeast from Bowling Green, KY, back through Tennessee. I took a lot of beautiful curvy backroads but no time for videos or photos because I was heading to my friends house trying to get there for dinner. I did see this interesting place, credit google maps for the photo:
 
Dalton Bus Service Graveyard, Baxter, TN

 
The other "sight" on my list was US 129, also known as the "Tail of the Dragon". It was not too crowded on a Monday but I still saw plenty of sports cars and lots of bikes - can't imagine on the weekend! It lived up to its reputation, as did the rest of the Nantahala Forest!
 
Tree of Shame

 
Me on the Dragon

 
After that fun I continued through North Carolina on Hwy 28 that got me very close to my friend's home southeast of Asheville. It was a great visit, and I made *another* new best friend, Rocky!
 

 
 Sep 17, 2019: This day really turned out to be a marathon, it was worth it. Left Asheville and jumped on the Blue Ridge towards Roanoke, VA for 4.5 hours! Basically this the whole time:
 
http://
 
 

 

 

 

 
After that I took a couple of side roads and ended up on I-81 North, and did that for four hours to my hotel. 9h30min riding today, 863 km. As of tonight I have travelled just over 10,000 km in 17 days. Speedball, out.
 
Sep 18, 2019: 10,818 km later and I'm Home!
 
Bridge to Canada from New York State

 
Got up nice and early today in Chambersburg, PA, waffle and sausages, and coffee for breakfast, and I was off at 7:45AM. A little bit of rush hour traffic going through Harrisburg and then it was smooth all the way home. 789 km in 7h42m (+ stops), averaged 102.5 km/h. Total time end to end was 9h09min, not bad!
 
Some other trip stats:
 
1st song I listened to on the trip: "Swing" by Savage
 
Last song (Music on shuffle for the last two days): "Seven Days" by Sting
 
Number of states passed through: 18 (Minnesota,North Dakota,South Dakota,Wyoming,Montana,Utah,Colorado,Kansas,Oklahoma,Arkansas,Tennessee,Kentucky,North Carolina,Virginia,West Virginia,Maryland,Pennsylvania,New York)
 
Where I slept:
 
AirBnB: 4 nights
Days Inn: 4 nights
FriendBnB: 2 nights
Super 8: 2 nights
Travelodge, Ramada, SureStay, Under Canvas, Motel 6: 1 night each
 
Best night (other than my friends houses, which were by FAR the best!):
 
Day 3: Cabin in the woods (AirBnb), Bagley, MN
 
Worst night:
 
Day 11: Days Inn, Colorado Springs, CO (drug dealers at 2AM in parking lot!)
 
Lost items: one motorcycle jacket liner, and possibly one golf shirt (hoping I'll find it when I unpack, but I haven't seen it for days.....)
 
I'll post a few more stats and random photos in the next few days, hot shower and relaxing is on the menu!

12
By Philois1984
Started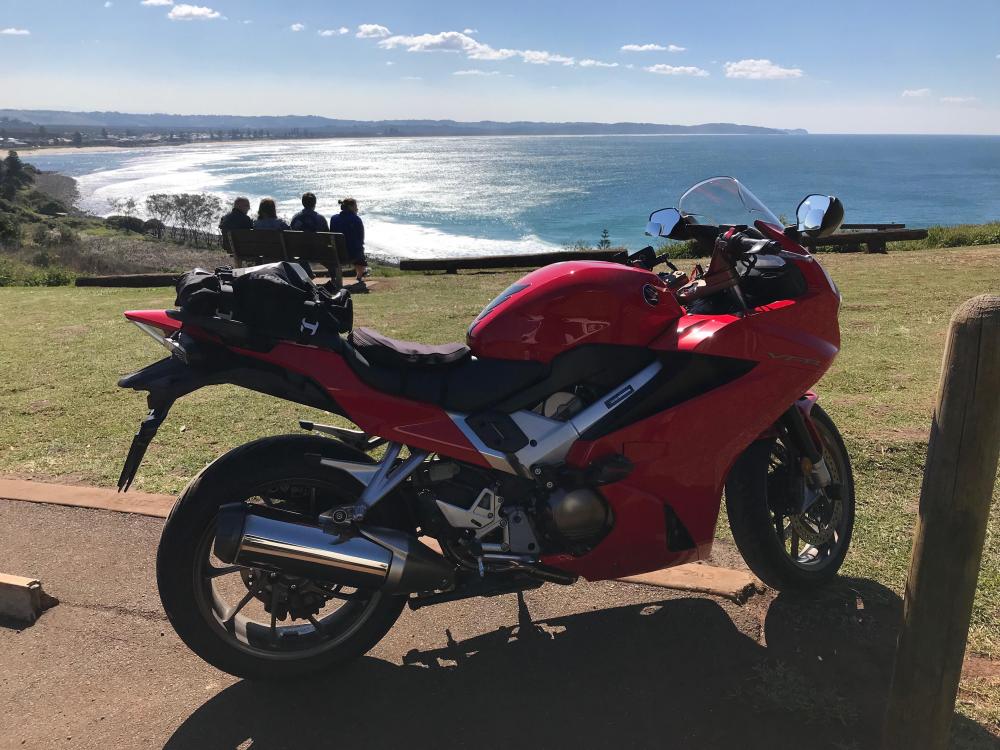 In an effort to escape from the endless miles of straight roads in North Queensland I headed 1500km south to  Kyogle New South Wales for a few days of riding the twisties  around Northern NSW and Southern QLD with my brother in law. Had the bike serviced prior to departure including a small hole in the bottom radiator fixed ( I now have an R&G radiator guard fitted) 
On my way through Brisbane I had a new set of pilot 5s fitted and some new rear brake pads. The weather was cool (actually freezing for a Nth Queenslander) 4 to 6 deg in the mornings, otherwise it was perfect. 
My brother in laws bike is a 1979 Triumph Bonneville Special that he has owned since new, only his second bike and probably the last bike he will ever own. Having lived in Kyogle for around 20 years he is a human GPS for a radius of about 300km. It was of course over all too soon. 1500km of straight roads later I was back in Townsville. All up I did just over 4500km the bike ran perfectly the whole trip. It may be useful to know that over the first two days I used all the coolant in the reservoir/overflow tank. I was panicking that I still had a leak in the radiator but since topping up the tank on the morning of day three it hasn't moved. Was obviously a lot of air in the system after the radiator repair.
The bike is now cleaned and polished and I am planning my next escape from straight roads.