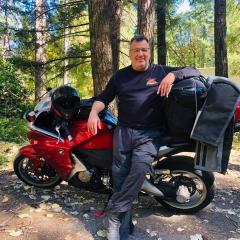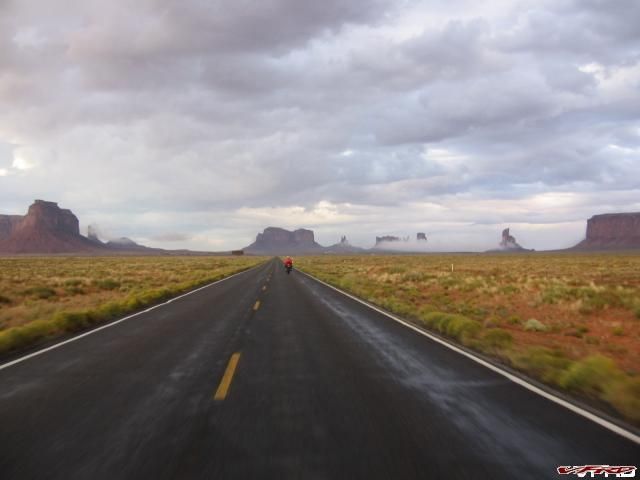 Motorcycles in Monument Valley w/ Two New Videos
As many of you may know my one epic trip this season was to be a two week trip to California to go see the MotoGP at Laguna Seca. Tt was originally supposed to be a trio of us, Me, Dan, and Craig. Well NO, we were all set to go, bikes packed, ready to flip the starter and then Craig's bike wont budge - bad stator. A years worth of planning down the drain. So we did this make up ride to Utah instead - to go and see Zion National Park, and visit Southern Utah along the way.
It started out great, although a bit windy, and a bit cool. We both work at the same Fab (semiconductors) where we work nights on the same shift. He helped get me a job there. So we stayed up all day after working (lots of Red Bull) and took off 9:30am after a short 2 hour nap.
THE ROUTE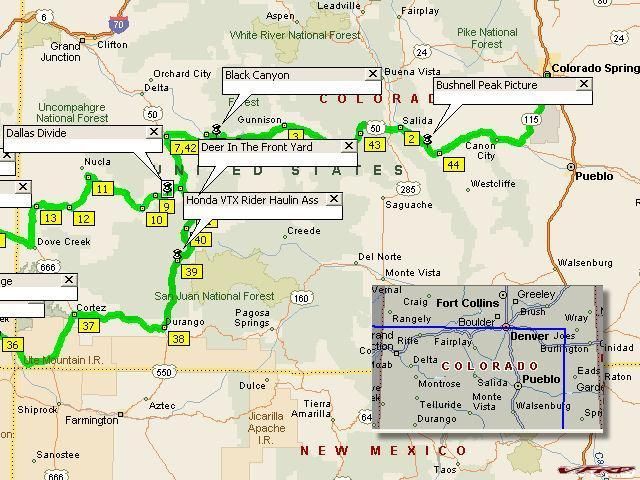 Colorado Map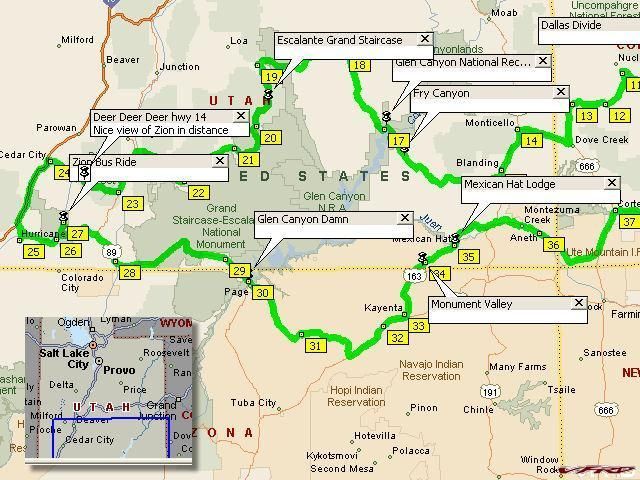 Utah Map
Google Map of the Route to Zion
THE VIDEOS
You Tube low res of Zion
:media: High Resolution Video - wmv format - Zion National Park
You Tube low res of Escalante Grand Staircase
:media: High Resolution Video - mvw format - Escalante Grand Staircase
We rolled over Monarch Pass where the clouds had gathered and froze our butts off at the top, there the temp gage read 30f!! Colorado can be a Biznach in October! I was hauling ass up Monarch Pass until about the point where the cold hit then the snow started falling and so I just put the vfr in safe mode after that.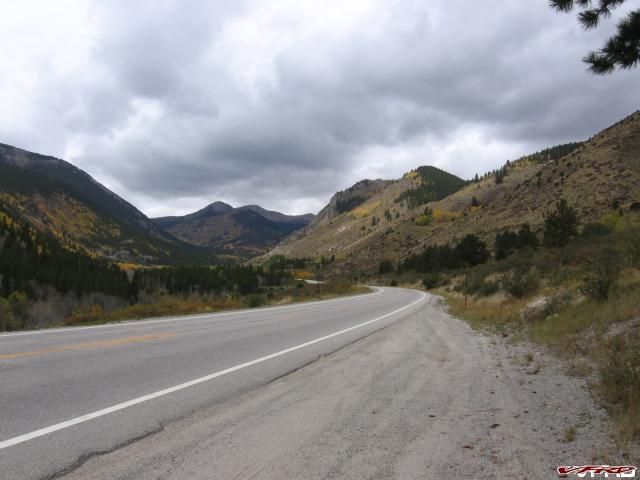 Monarch Pass Whoa it was cold up in here
Then on the way down the clouds broke, the sky let out the sun, and we were in relative warmth after that - if 60f is warm. Well anyway it seemed a whole lot warmer, time for a cup of soup and a sandwich at the Firebrand deli in Gunnison. The Firebrand is a local favorite, a homey little deli if not a bit on the mountain muffin side of the table, yea its sort of a modern hippy hangout but the sandwiches are great. You cant get a better Ruben sandwitch anywhere else on the western slope.
Stopping in Gunnison means only one thing, fuel and food for the "Black Canyon"! One must never miss the opportunity to ride Colorado Highway 92 west of Gunnison, its simply the best road in Colorado for the sights and peg scraping action. It can be intimidating to the occasional flat lander but its not as tight as Deals Gap, average speed is 70mph if your any good. We railed it to the end and then slowed down for a nice picture taking tour the second pass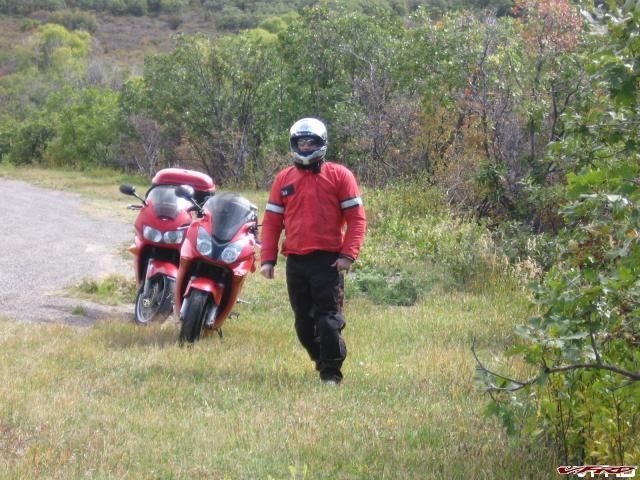 End of the trail Turn around and do it again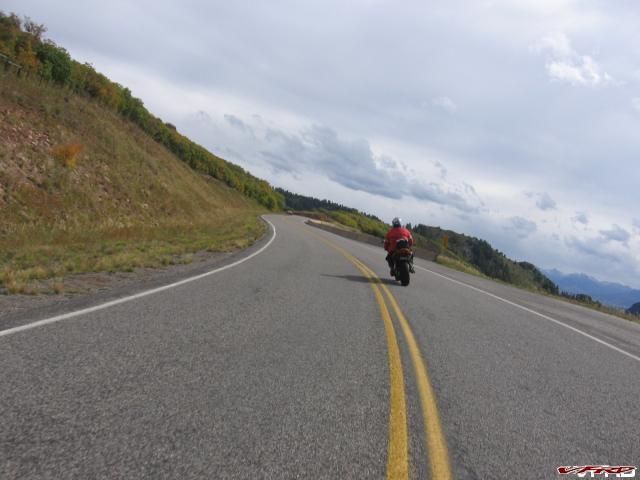 Black Canyon North End of Hwy 92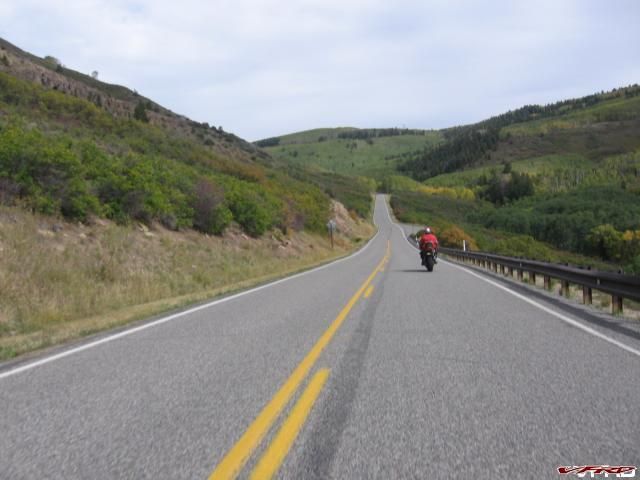 The Bushes were turning A black bear popped his head out but he was too fast for the camera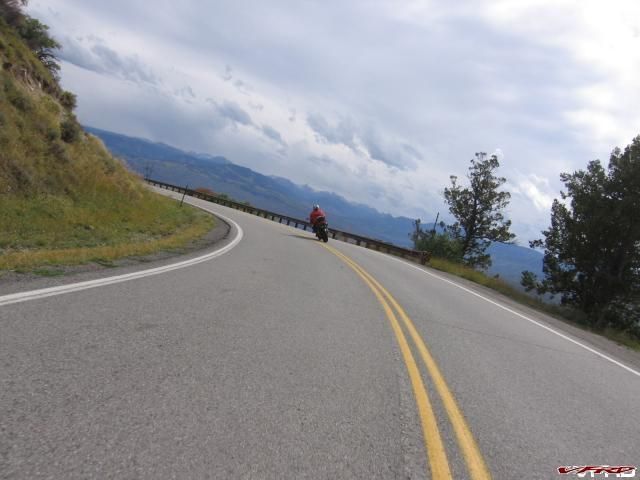 The San Juan Range in the background Colorado hwy 92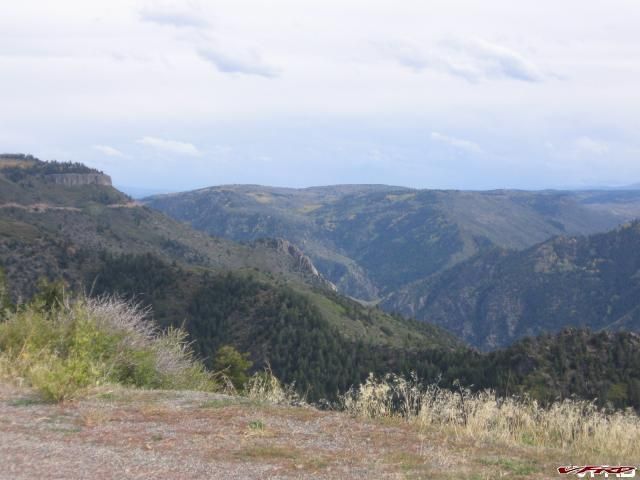 The Road follows the mesa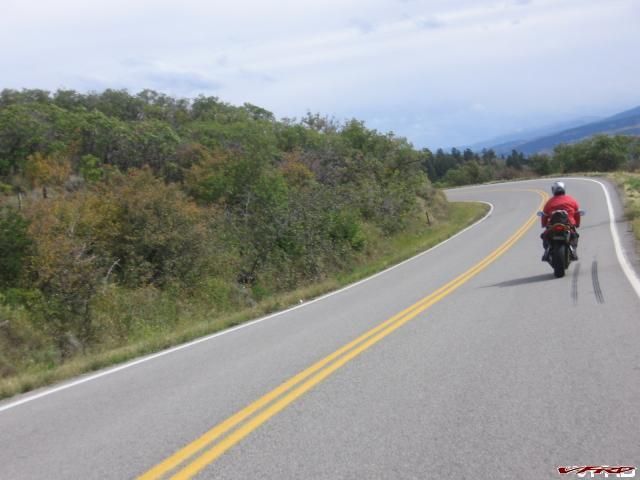 Enjoying the road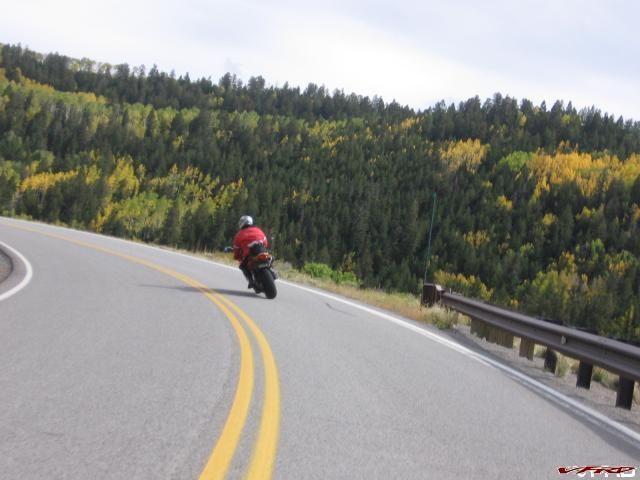 Pines and Aspens mixed together on the hillside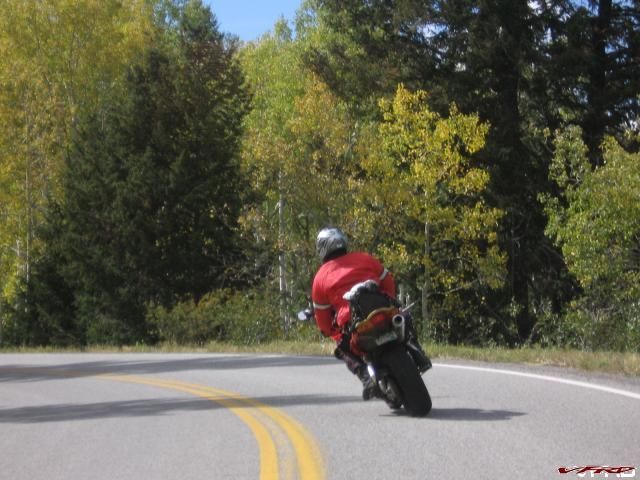 Aspens in fall color Aspens exist naturally in a narrow band of mountain elevation roughly (7-10k') the Black Canyon hwy 92 runs right through it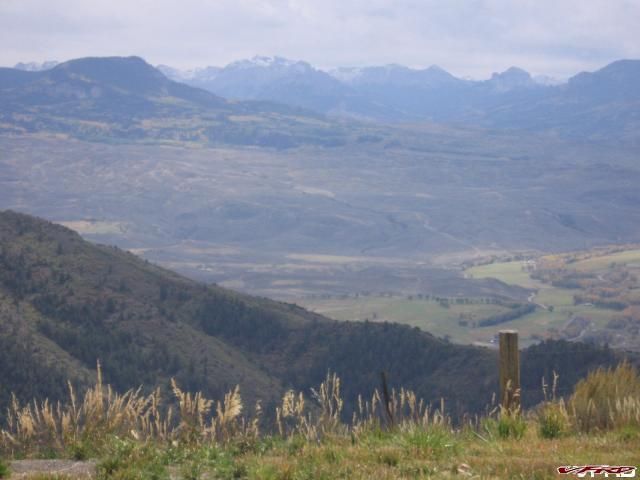 The valley below
After we made our obligatory pass of the Black Canyon we were back on to hwy 50 which in itself is a great road over to Montrose. There we tried to gas up but some yahoo in a big freaking truck smacked into Craig's bike as he was gassing it up. To me it looked like the guy actually swerved to tag him? Craig yells out and made the guy stop, HE WAS pissed - boy he was pissed! Then the dude says " I don't see nothing wrong" and took off in his over sized diesel truck. I couldn't see any damage either but he looked like he did it intentionally! We had some time to make up and 200 miles yet to go so we decided not to get the cops and just get going. He stewed over that for days after though! The bike seemed fine.
It wasn't long before the San Juan mountains took our minds off that incident, Dallas Divide was up next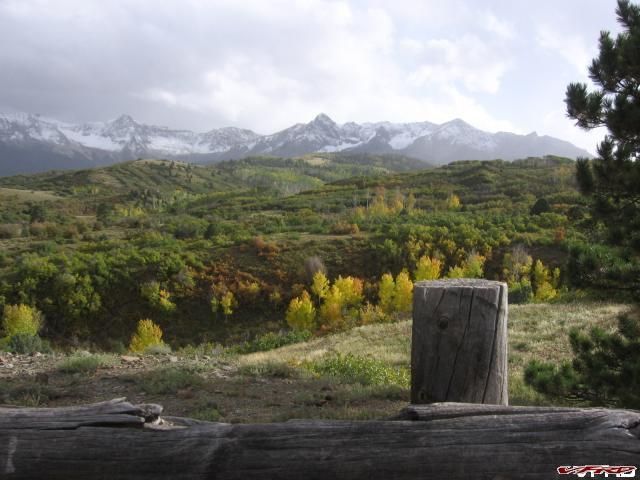 Dallas Divide Mount Sneffels covered in snow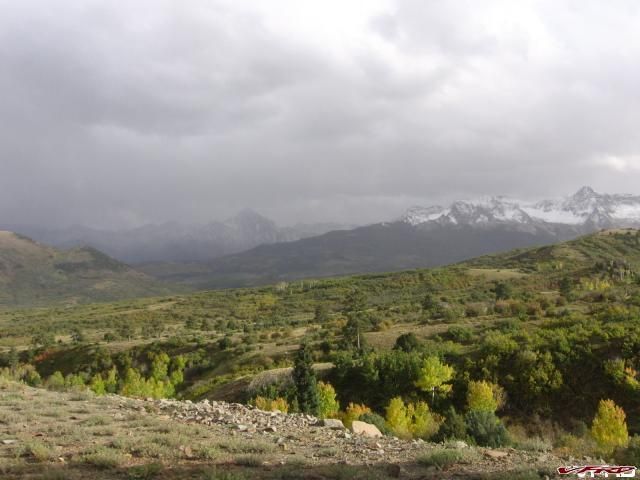 Dallas Divide Looking southeast the million dollar highway getting pounded with high wind and snow
The sun was winding down as we approached the Utah border and then as soon as we crossed the temperature dropped back down to 30 degrees! thankfully we only had to endure it for 40 minutes as were were closing in on Blanding where we made reservations, ordered a pizza and some "Gammys" (read the other blog entries for that one) and I crashed out, I was up for 27 hours strait and I didn't even make it to the second "Gammy" before I passed out.
The next day we were off to the Bicentennial Highway across Utah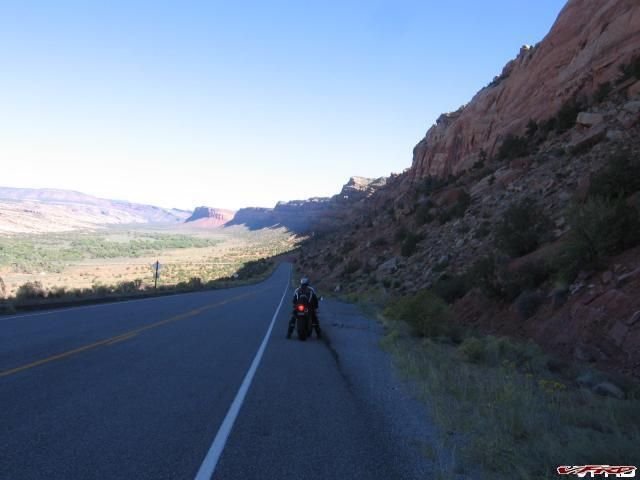 Bicentennial Highway Utah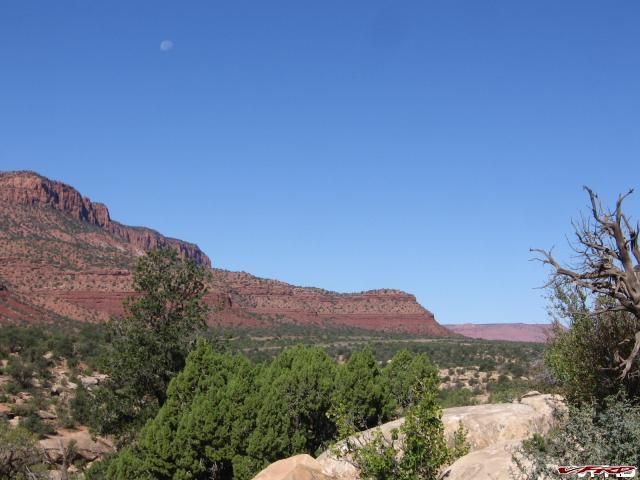 Fry Canyon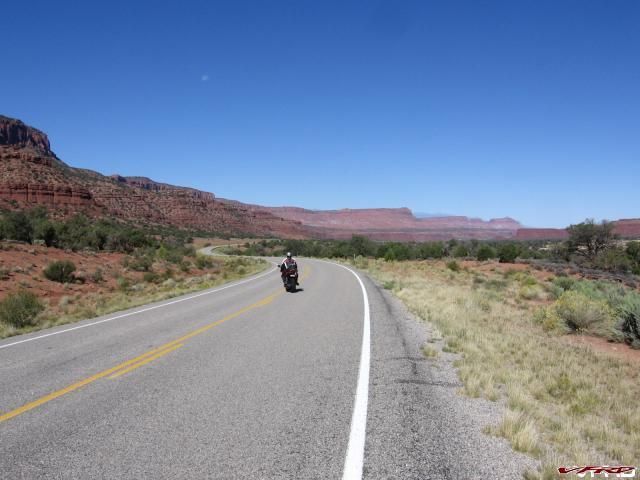 Fry Canyon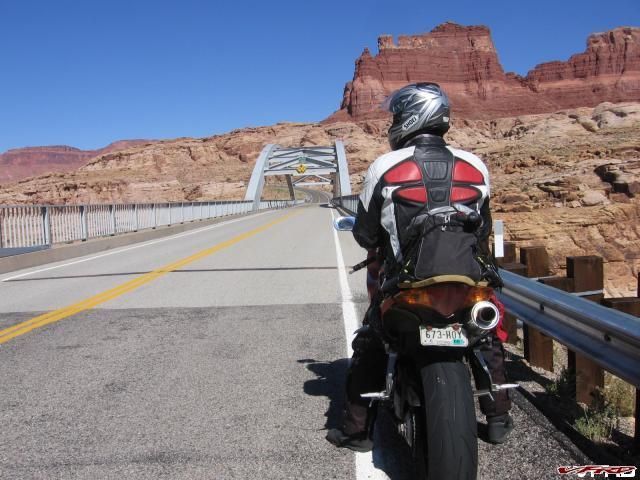 Glen Canyon Bridge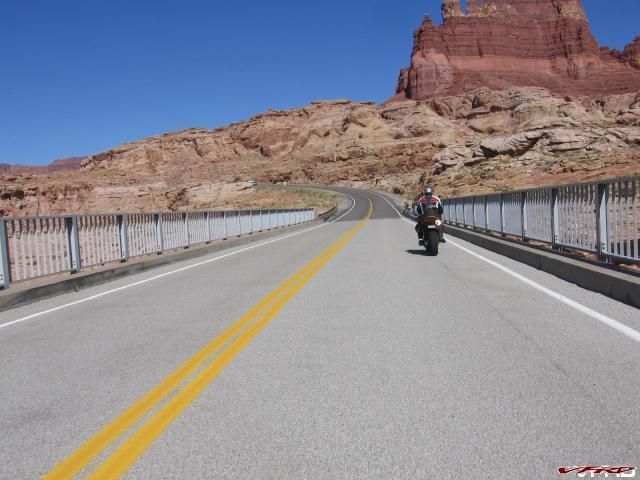 Glen Canyon National Recreation Area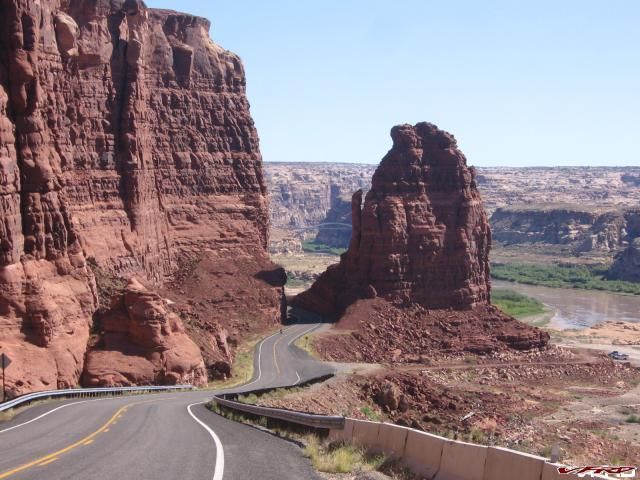 Bicentennial Highway Utah The Colorado River to the right, you can see the bridge off in the distance
We took a lot of pictures on this trip, many more than I actually posted. One of us would stop and snap a pic and the other would go on ahead and mosey around real slow till the other caught up. That is until I decided to take that last picture above. Craig pulled off on a side road and I did not see him go off and so I sped up to catch him, thinking he had gone ahead. I remembered the last time we did this section of road a year ago Dan was with us then and we were pretty much hauling butt through there. So naturally I came to the conclusion Craig must have busted the top off a can of whoop ass and took off. So I upped the throttle to 90 something something, getting my knee awfully close to the pavement (no pucks) and going awfully fast in those ever so sweet sweepers in the Canyonlands - then pegging it hard in the straits. Nope no Craig in sight I topped it out all they way to Hanksville in 30 minutes or so give or take +- an hour (for reference only) heh I don't recall - and I plead the 5th! I did not see him at either of the gas stations and reasoned with my sharp mental skills (duh George dah maybe he is da behind me an I duh missed him) so I waited a good 40 minutes at the gas station for him as he cruised in doing the speed limit. Yep he stopped at a pull off out of sight and I whizzed on by at full speed.
So we might as well grab a burger at the diner in the gas station, where they serve this overloaded shake that is so full it is stacked up 3 inches over the top of the cup. The guy at the counter was a bit slow in the head and I worried he might charge my debit card 80 bucks or something instead of the 8 bucks it actually cost, apparently they have pretty pictures he can touch on the screen that look like the food you order so he doesn't have to do math! Jebus that guy was a dolt! Nice though! Food was good though. There was a couple of families traveling together in a caravan - we chatted with them a bit - they were motorcyclist, a mom and son who both have bikes - they seemed interested in my throttle mister, she said she has a Road Star and the young man said he owned a Ninja 600 an older model.
Off we went to Capital Reef, no pictures just more fun sweepers to rail. Its awfully pretty, if you would like check out the VFRD video section, its got a great video of Capital reef at sunset the fabled ride we did last year. The we turned south at Torry and did Hwy 12 up and over the pass to Escalate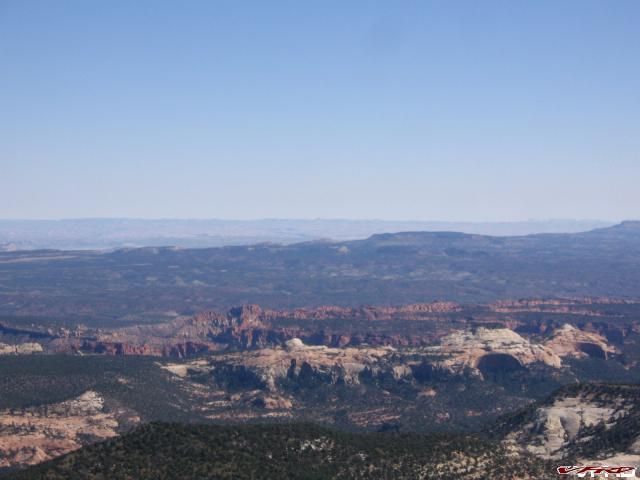 Capital Reef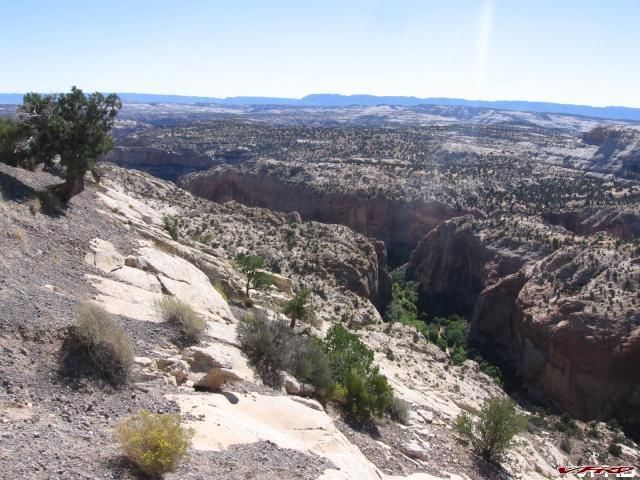 Escalate Grand Staircase hwy 12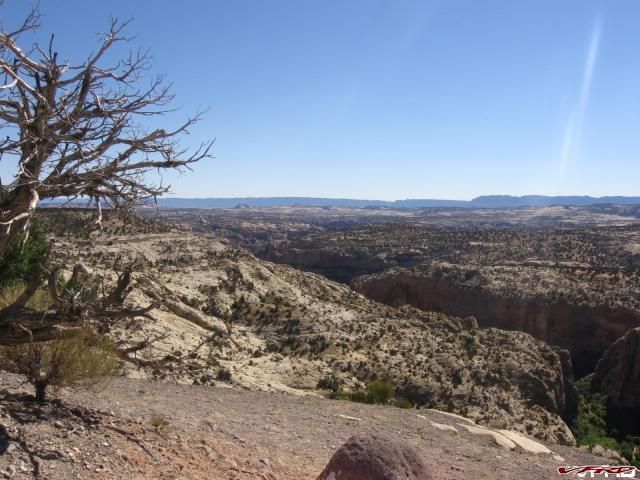 Escalate Grand Staircase
We skipped Bryce and decided to skip Zion that day and put it off till the next day, instead we explored this squiggly line on the map called hwy 14 to Cedar City, it was late evening and the sun was low in the sky. And the Deer were out and about, it wasn't 3 turns into the road before we saw a deer skate right out in front of us, then I passed Craig and another darted right in front of me (hard on the brakes I missed the damn thing by 5 feet) and on the way down a whole gang of them darted across the road - this damn road was downright life threating!! I was getting paranoid! So I pulled off for a moment to gather myself and take some pictures from the scenic overlook.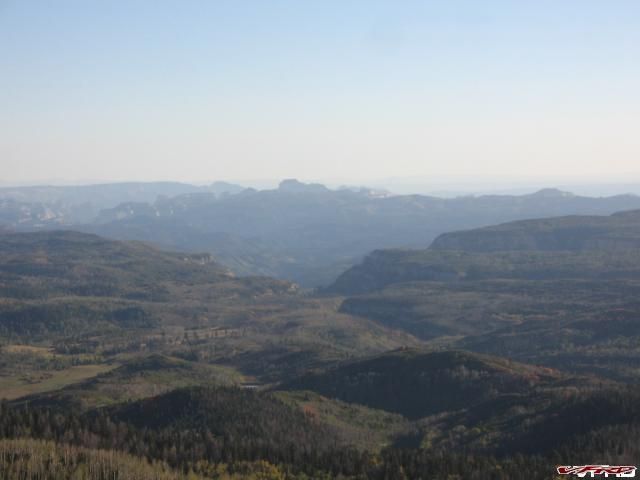 Zion National Park seen from above UT hwy 14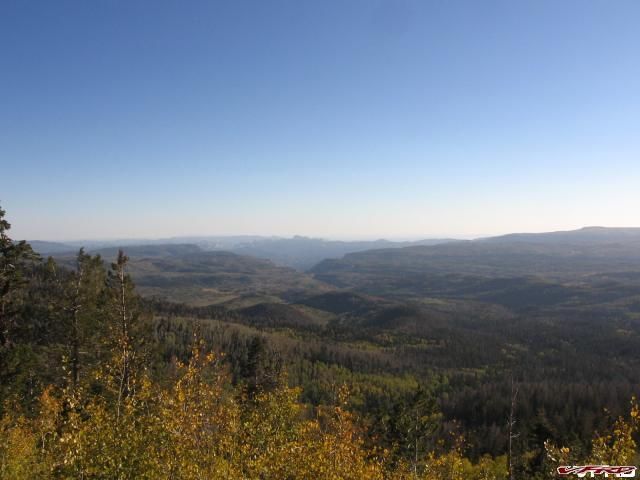 Zion National Park hwy 14
We stayed in Hurricane, where the food is adequate but nothing to write about, they like to seat you in booths that are already occupied, imagine my surprise at the JB restaurant when two women returned from the salad bar only to find two men occupying their booth! It was awkward to say the least, I cracked a joke and we found a nearby table. Nothing a few "Gammys" cant cure! (no I am not gonna tell ya what a Gammy is you have to read my last big blog entry)
The next morning it was overcast but 70 degrees out, and we half ass-ed sort of came to the conclusion to go to Zion, I guess. I passed out the night before and we never really figured it out, I just sort of assumed we were gonna do the park, it wasn't in the day plan, we were supposed to have done it the day before but did that damn video game road (don't-hit-the-deer on Nintendo 64) Jebus that was nerve racking! Stay the hell away from UT hwy 14 at twilight or you will be sorry! Any-who I just steered it over to Zion, and Craig says "um I thought we were skipping it? Aw F it lets do it anyway!" We decided to do the whole shebang, pop for the $12 bucks to get in and go for a ride on the bus too! At this point my Garmin Quest decided it wasn't gonna work anymore so I just sort of was pissed as it was, hells yea we are doing the damn park! We came all this way! And my F'n Gps is Jacked! OK I wasn't really pissed, I was riding my vfr after all - how could you possibly get pissy on a vfr? Somehow we ended up in the park for 3 hours!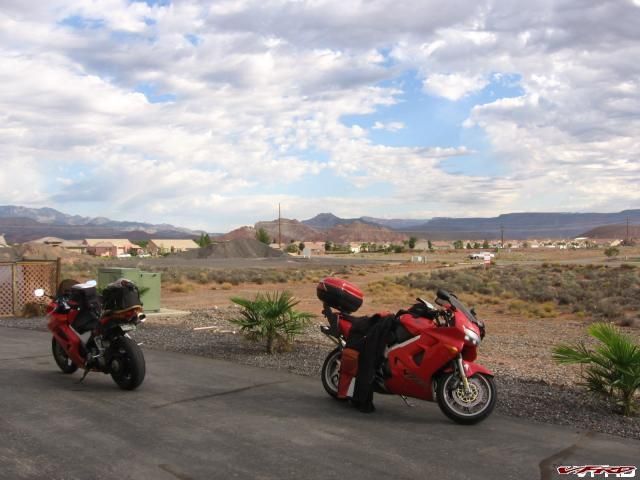 Hurricane Utah Gateway to Zion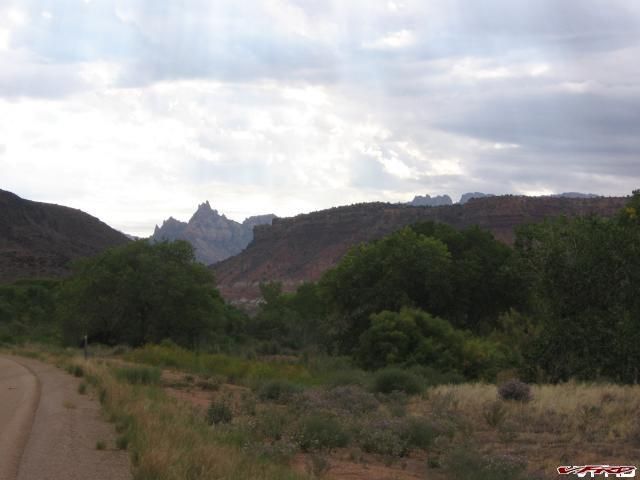 The Road to Zion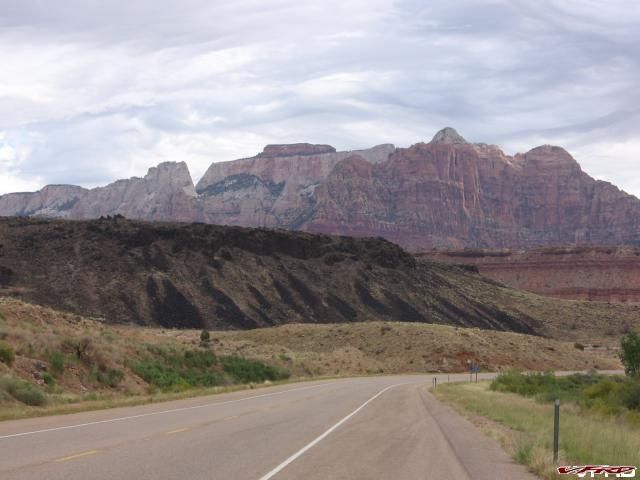 The Road to Zion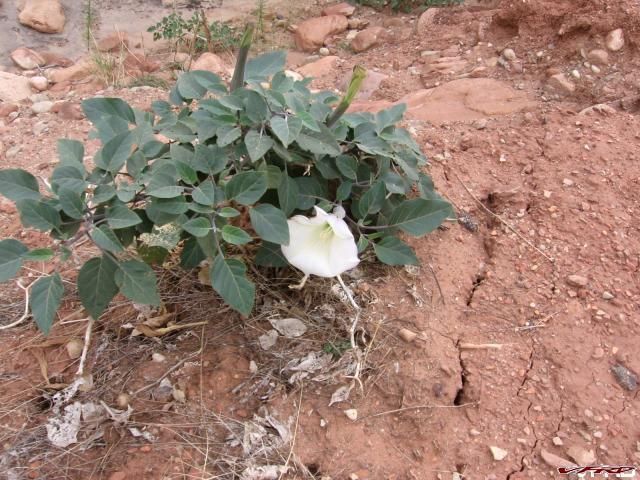 Native Flower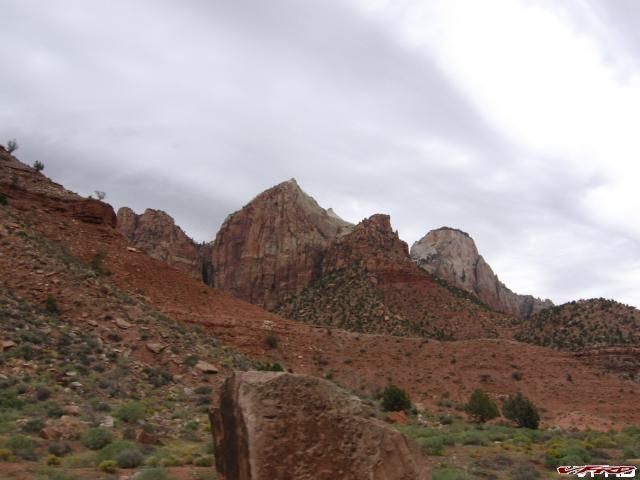 Zion National Park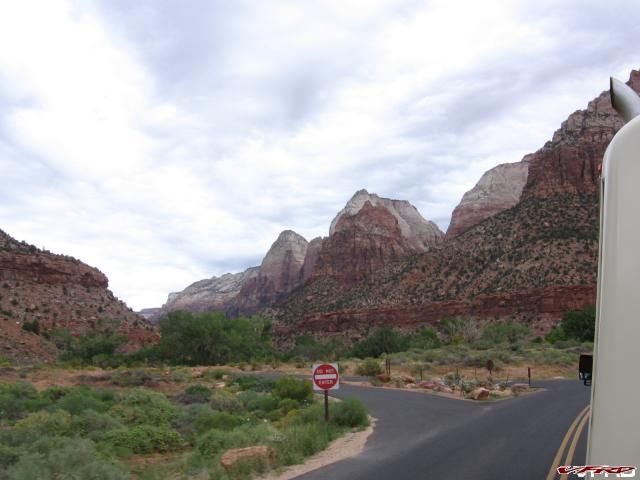 Zion Canyon Scenic Drive Accessible only by park bus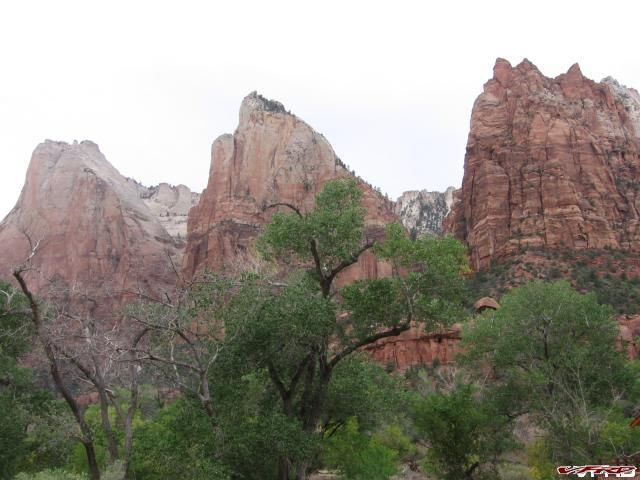 Court of the Patriarchs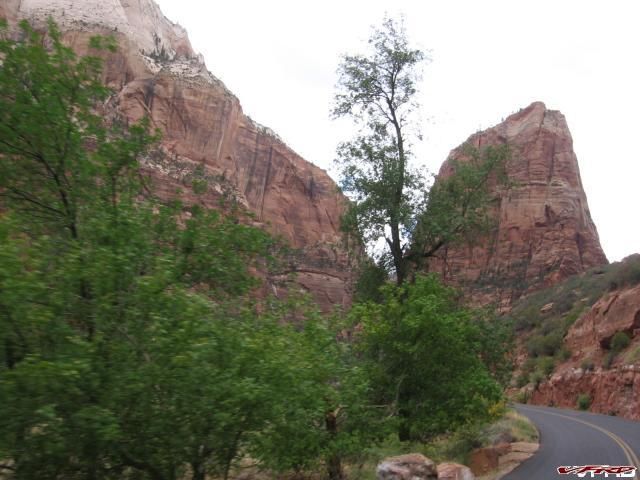 Turn at Big Bend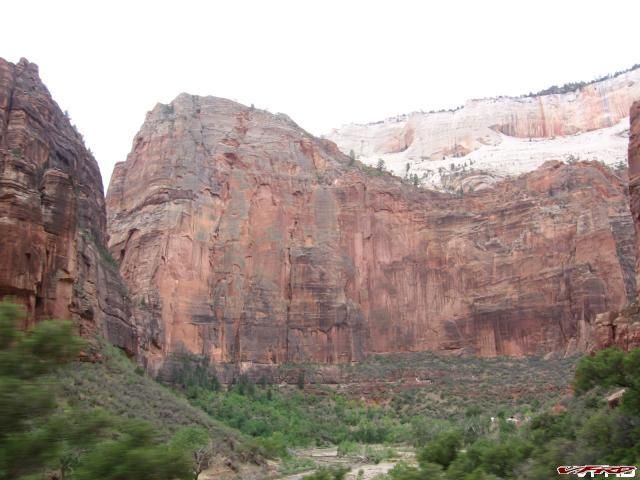 Big Bend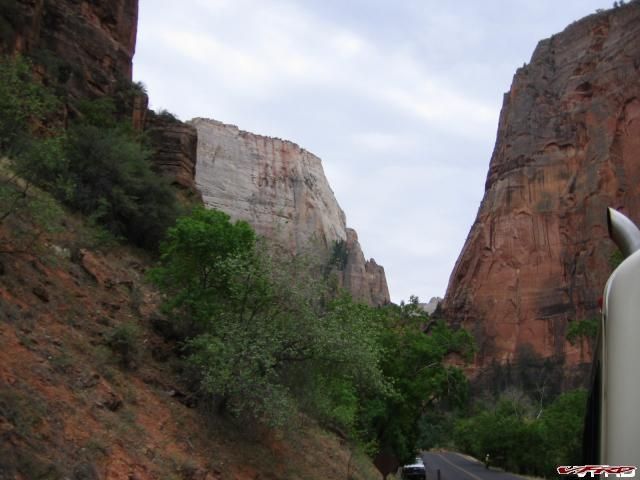 Great White Throne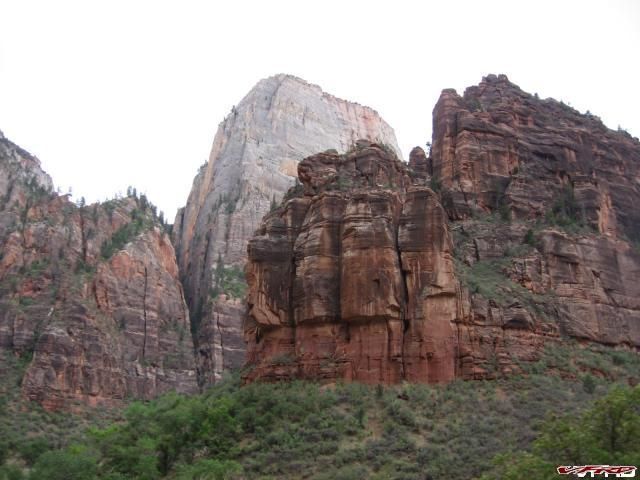 Great White Throne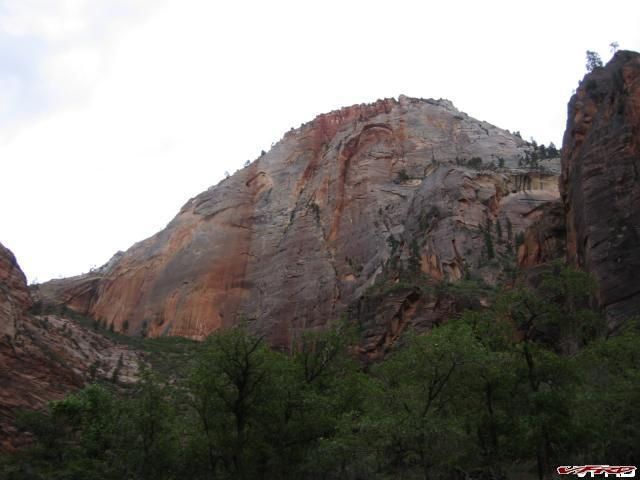 The Grotto I think?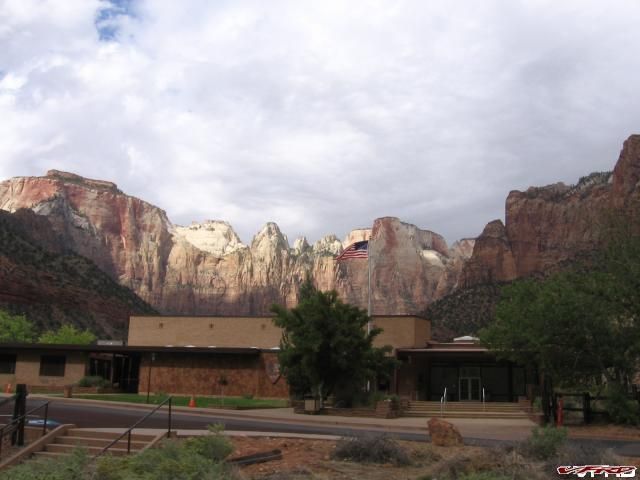 Towers of the Virgin US flag flies above the Human History Museum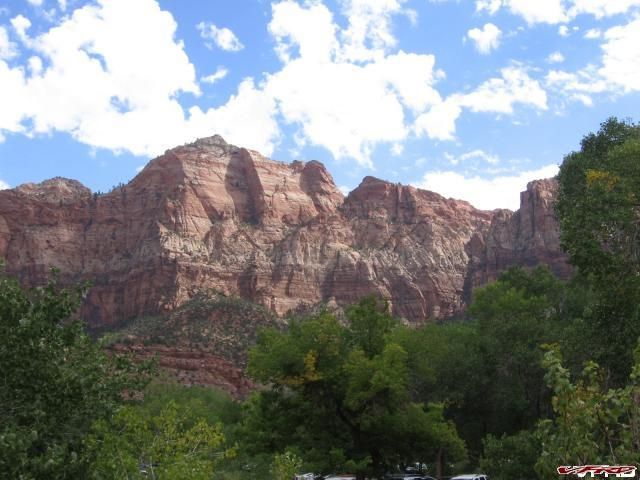 The Watchman the view from our table at the deli next to the park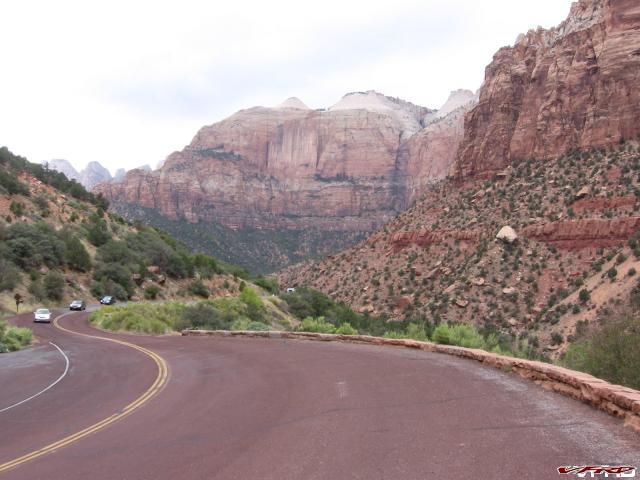 Zion-Mount Carmel Highway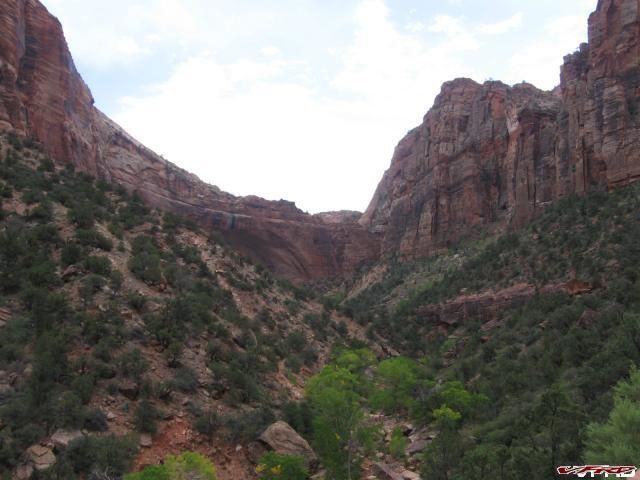 Climbing switchbacks to the Tunnel you can see the tunnel windows in the rock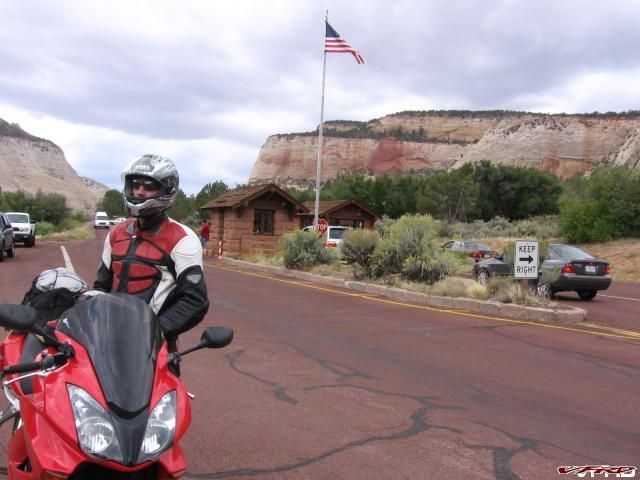 Zion East Entrance it started to rain
So now we were already at noon and we only went 40 miles! Heh time for slab! All the way across Utah too and into Arizona for a dash as well. We stopped in Page for gas and a pee, and there I fell in love with a beautiful Indian Navajo girl washing her truck, she must have washed the bumper on that thing for at least 30 minutes. Scrubbing the same spot, over and over again with a loving swirling action. I however did not mind at all (schwing) I wished I was that bumper "for just one moment, I could be you" (don't mind the Dylan reference) OMG I love beautiful Indian women! Most however are not so beautiful and look upon me with an distrustful eye, "9 fifty" she utters, for my gas and Red Bull. That is the extent of conversation you get from the typical female Navajo working the counter at the gas stations in the Nation. Absolutely no eye contact or an acknowledgment you actually exist. I guess they don't like being gawked at "All I want is a PEPSI" heh another reference you will have to figure out yourself. I stated thinking about my first girlfriend, she was Ute Indian though, good times, I still get weak in the knees over her, ahhh dreamland.
NINE FIFTY!!!
Craig snaps his fingers, "snap out of it we gotta go"! and so we rolled on out of there - me still in dreamland somehow we made all the right turns. We were roughing it without my damn GPS working. God knows GPS makes riding so much easier! Now we actually had to follow road signs what a pain in the ass that is!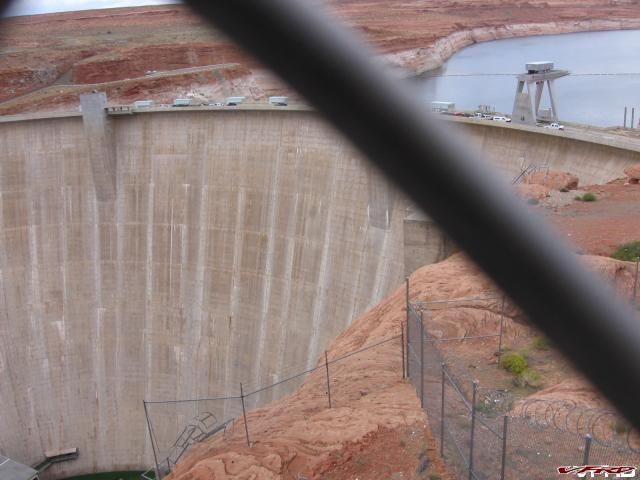 Glen Canyon Damn Page Arizona - Lake Powell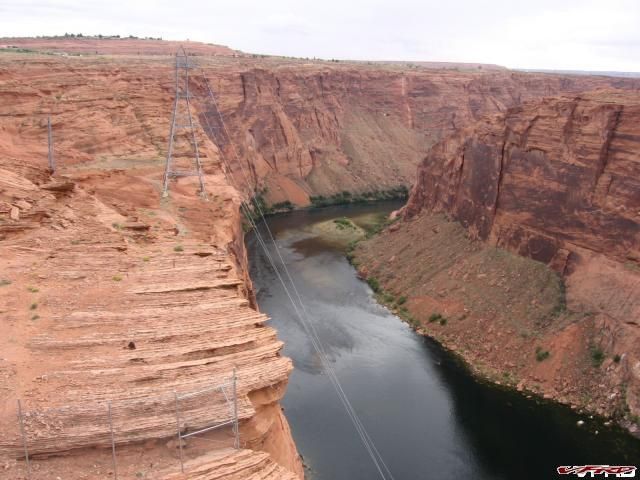 Colorado River @ Lake Powell
We had been chasing the tail end of a storm all day long, not getting rained on but riding on a wet road and getting misted by every vehicle that passed by in the opposite lane, the 18 wheelers - they just plastered you with dirty muddy mist and totally fubbed up your visor for a few miles till you get enough mist from the other cars to actually wash it off. We were approaching Monument Valley right as the sun was at its best and there was a mystical fog rolling along the hillside, and it was frickin cold again! I will say this, It was the highlight of the entire trip!!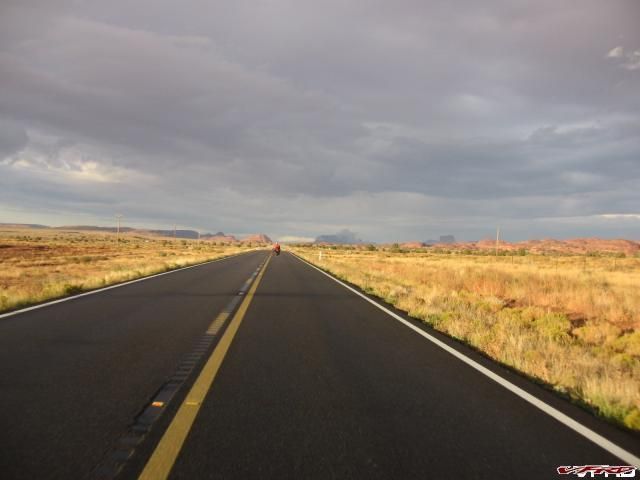 Heading into Monument Valley Navajo Nation UT hwy 163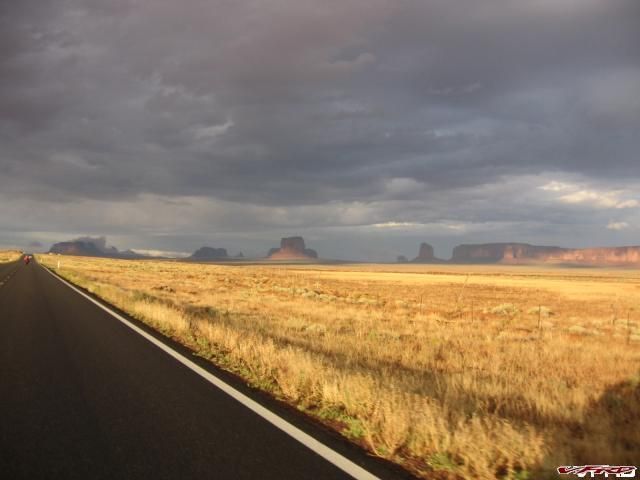 Monument Valley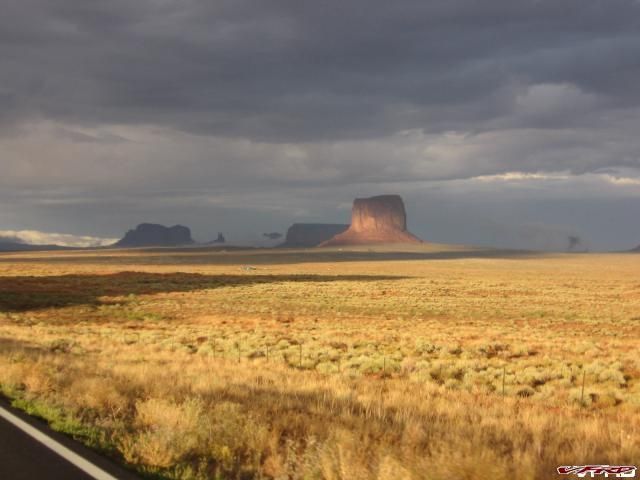 Mitchell Butte bathed in sunlight after a storm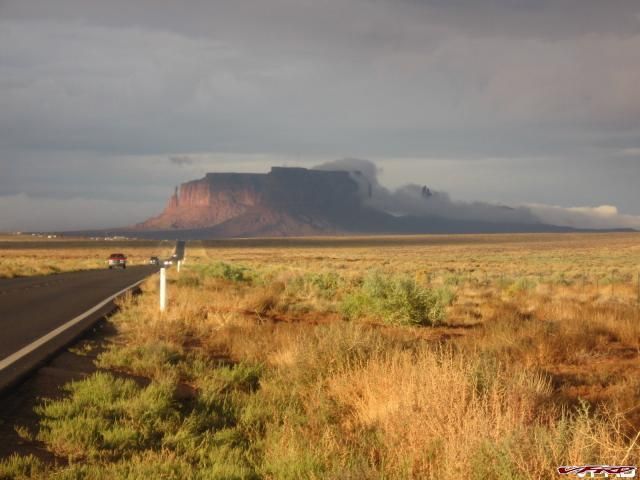 Eagle Mesa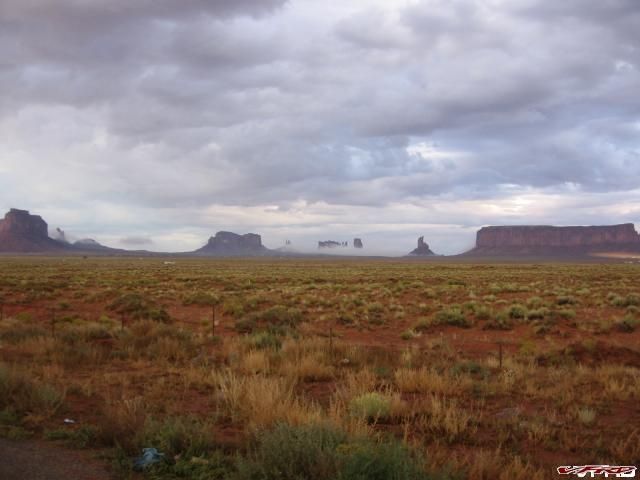 Monument Valley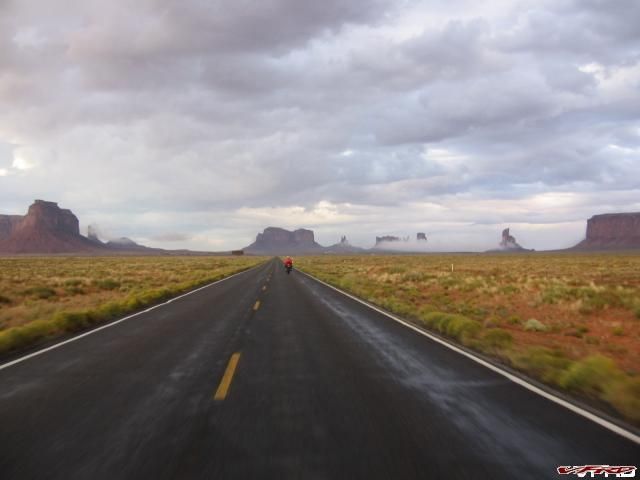 Motorcycles in Monument Valley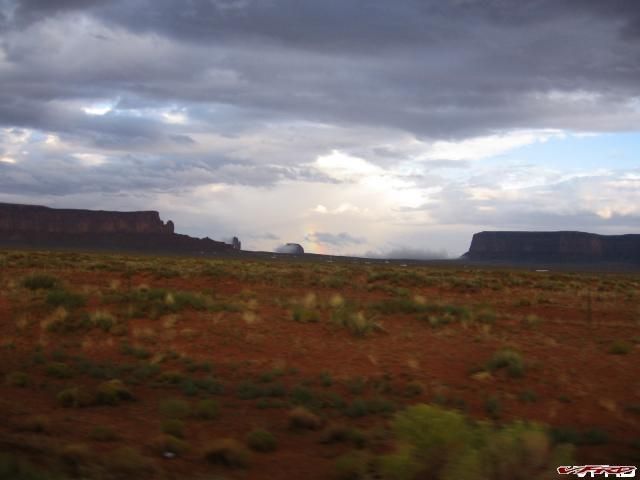 Rainbow between Castle Butte and Big Indian Butte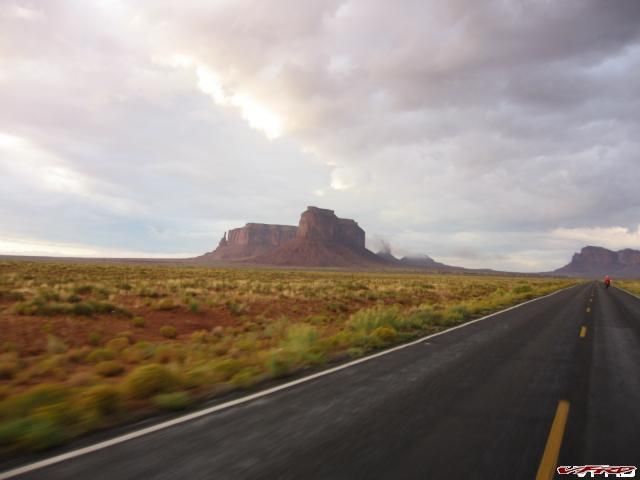 Eagle Mesa at 65mph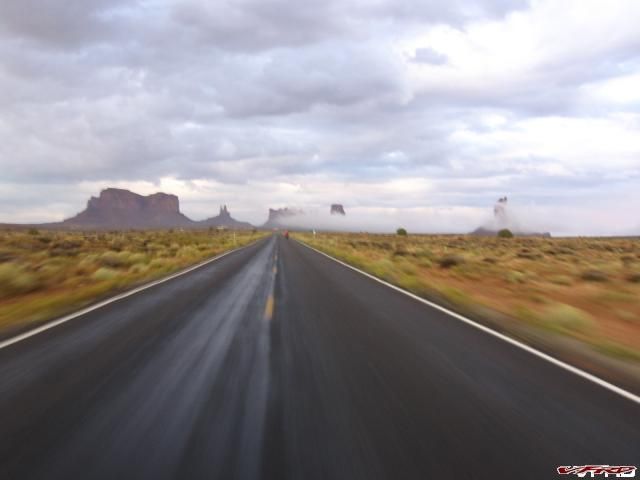 Speed Effect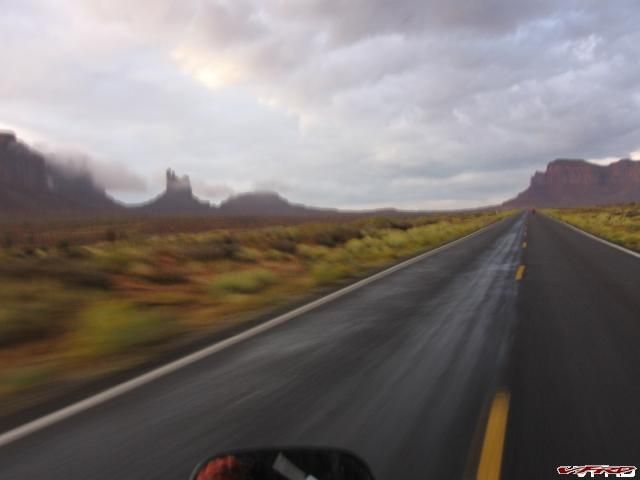 Setting Hen Speed effect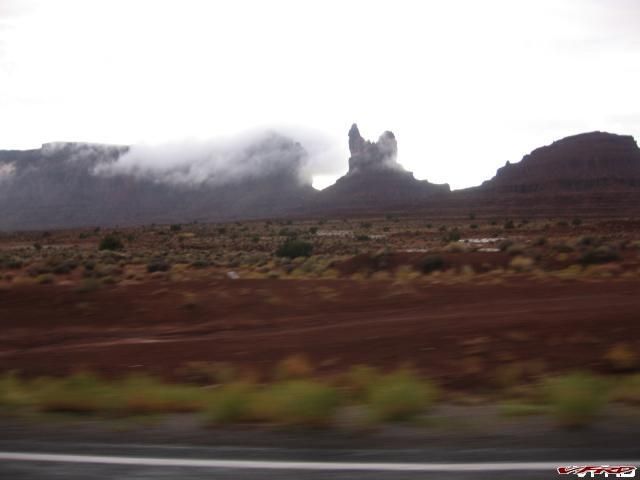 Setting Hen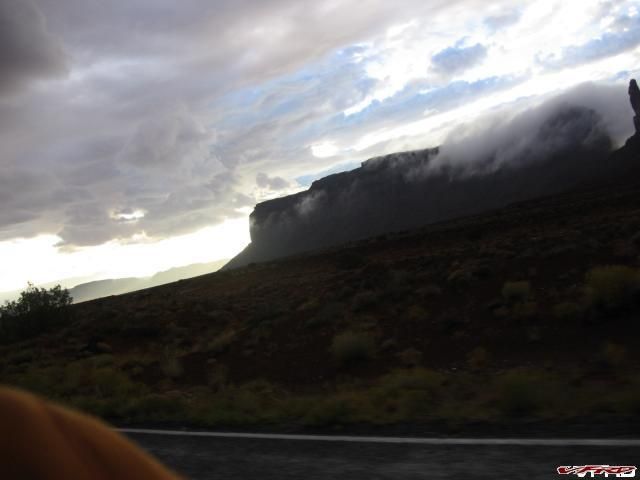 Eagle Mesa shrouded in fog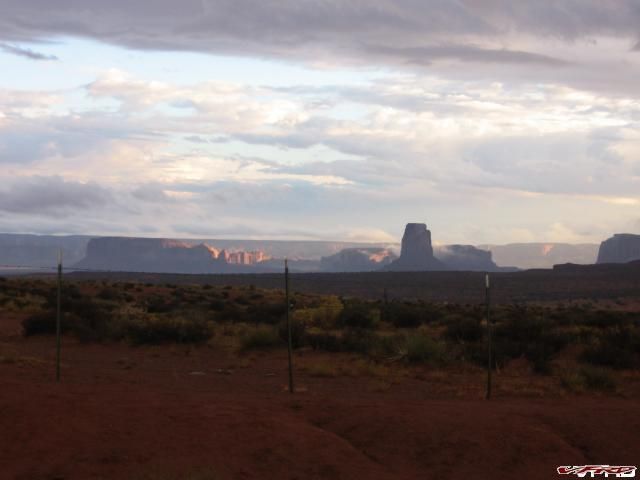 Backside of Mitchell Mesa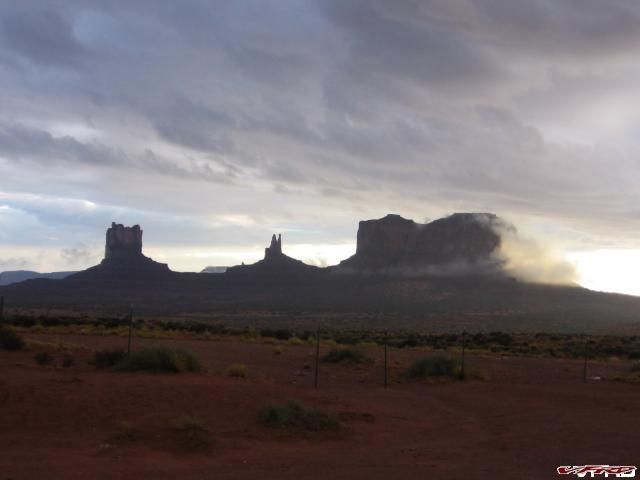 Monument Valley Stagecoach - the King on his Throne - Brigham's Tomb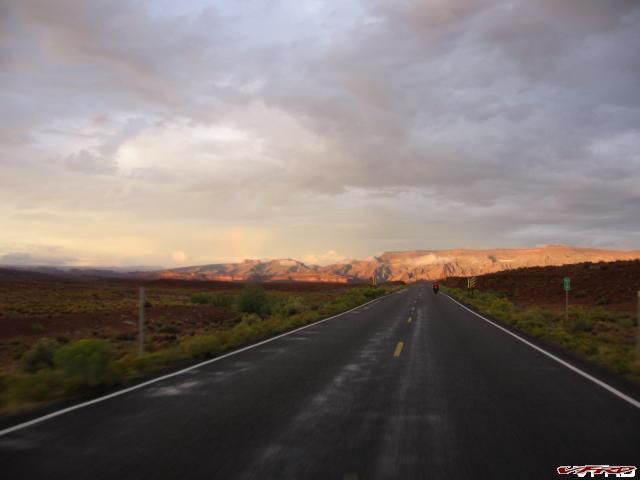 Rolling into Mexican Hat Utah
Mexican Hat is wonderful place, just on the boarder of the Navajo nation in UTAH its separated by the San Juan river and is seated in some of the most stunning scenery imaginable, we stopped at the Mexican Hat lodge, a dodgy rusty place where you can get a streak and a beer and find a nice comfy bed and watch old Gene Autry movies all night long on the boob tube.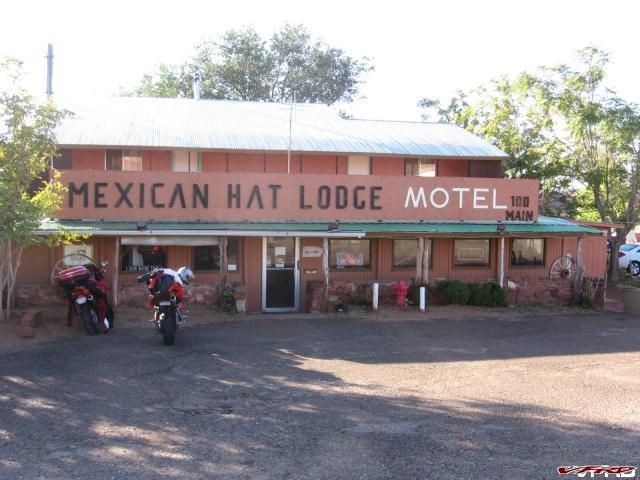 Mexican Hat Lodge next best thing to roughing it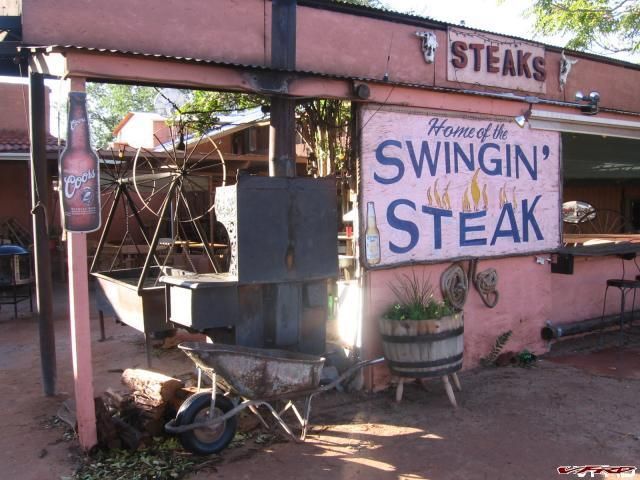 Mexican Hat Lodge home of the swinging steak - as seen on the food channel
Its the closest thing to roughing it Craig likes to get, there is no bar soap only a Gogo liquid soap dispenser in the shower that he utterly destroyed trying to get a squirt of soap out of, its kind of funny but he said, its is his second favorite place to stay ever. He said it was like camping out or something cowboy style but with a comfy bed to sleep in. We did however miss the swinging steak, the reason I wanted to go, that cold freaking storm we rode through shut it down for the evening, no steak awwww. So we headed over to the diner by the river and had a wonderful meal there. The place was packed with a bus load of French Canadians and sweet young couples on their first cross country trip together. You could write a book about it, a slice of Americana right there in one big room. Our waitress was the most friendly Navajo woman on the planet but a little over worked, two rooms of frenchys and a couple of dodgy bike punks she must have thought we were dragged through hell the way we looked. Nice pretty faces in the big picture window booths, it looked like a French post card this old café from outside as I waited for Craig on my bike. Southwest style at its best.
THE LEG HOME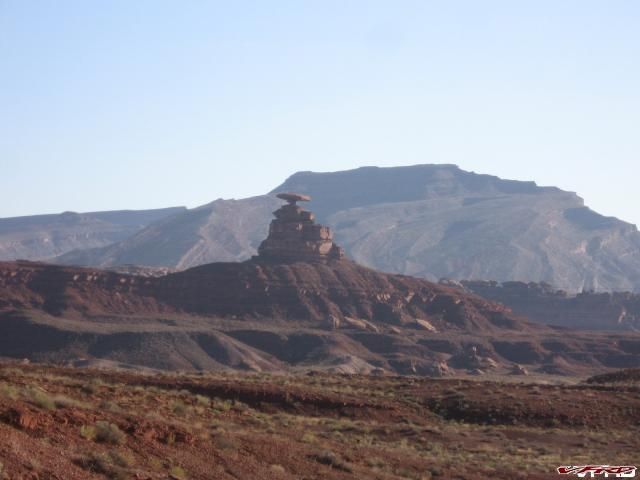 Mexican Hat Rock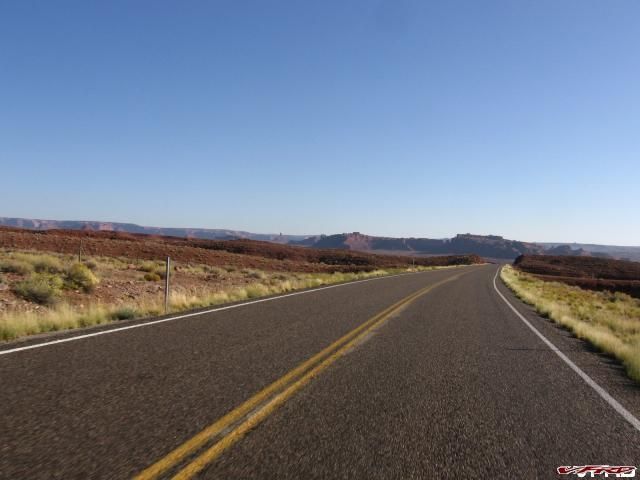 Valley of the Gods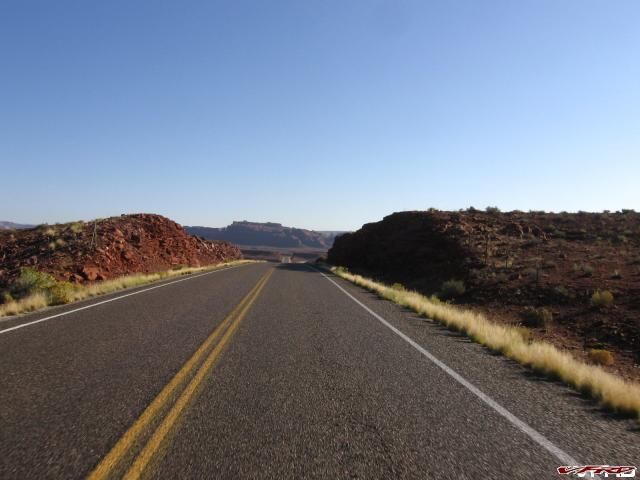 The prettiest slab you can imagine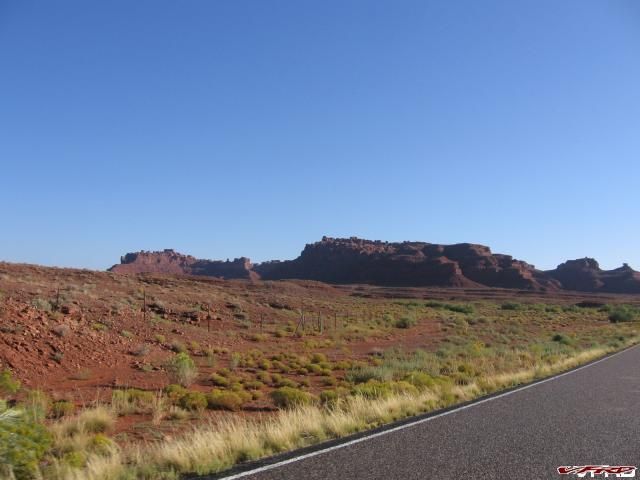 Valley of the Gods in the early morning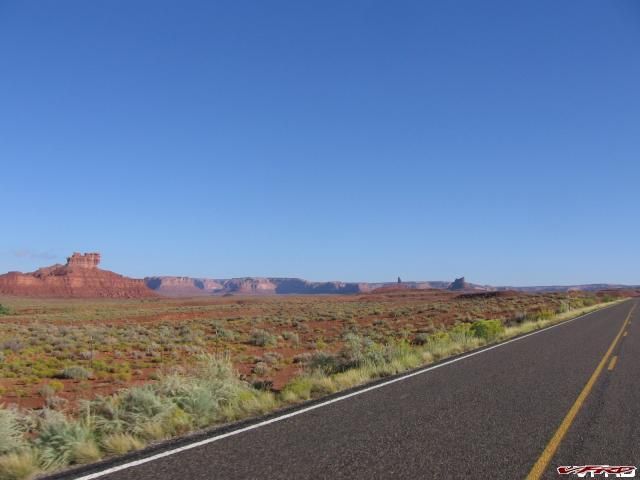 Cedar Mesa off in the distance UT hwy 163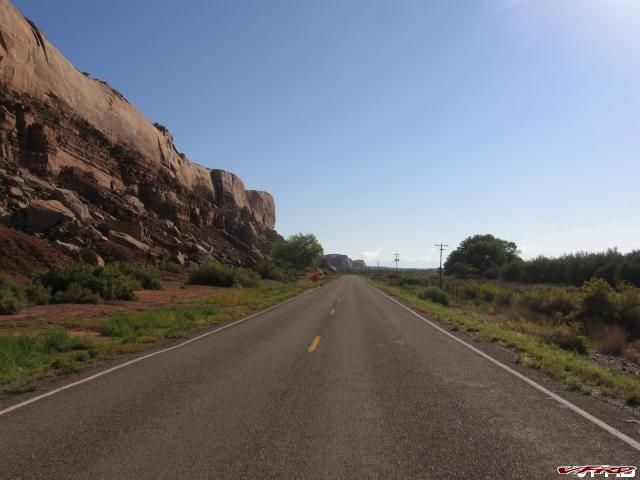 Hwy 162 follows the San Juan river in the Navajo Nation
Finally In Colorado Somewhere on hwy 160 where it intersects with the old hwy 666
More slab across the reservation to Colorado, and into Durango for lunch, I stopped at my favorite place in Durango, Old Tymers bar for the best burger in the four corners - yes its good enough to write home about. I needed to charge up my ipod since I forgot to at the Lodge so I snaked an open power plug and charged it up while we ate lunch, the ditsy waitress she didn't care. We wanted to go ahead and ride the Million Dollar Highway CO 550 on the way out.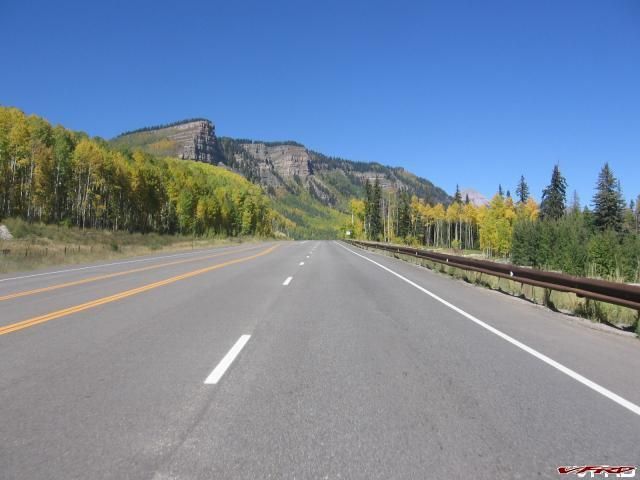 Hwy 550 Colorado possibly the prettiest road in the US - also known at the Million Dollar Highway from Durango to Ouray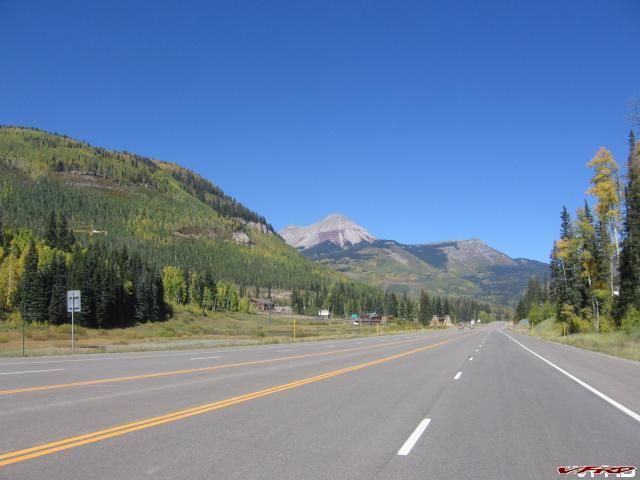 Engineer Mountain Durango mountain resort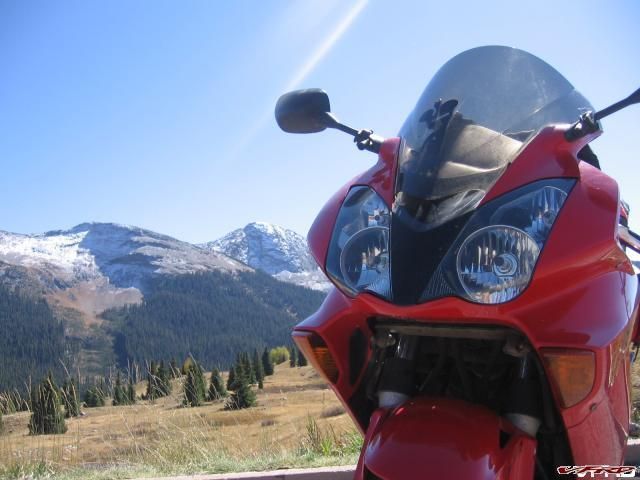 This image might look familiar I took the logo pic here 4 years ago - this is Molas pass and Craig's VTEC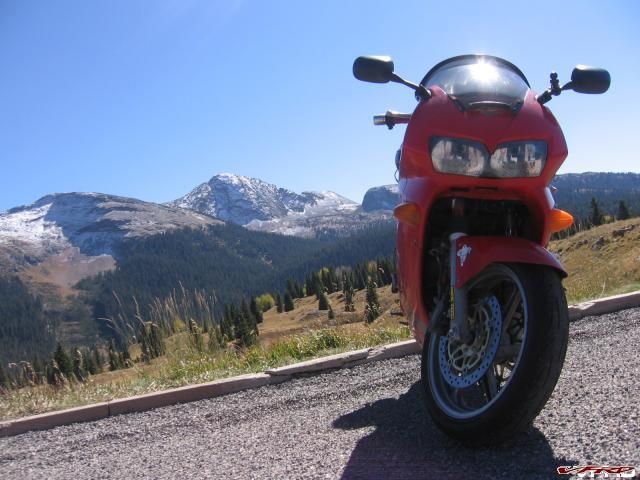 My turn my 5th gen on Molas Pass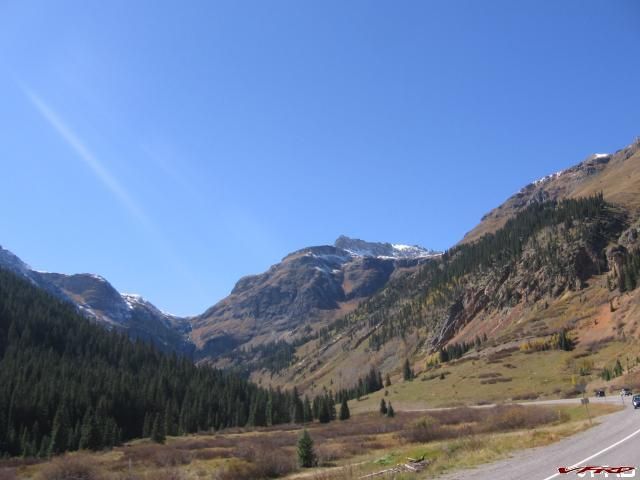 The big switchback at Chattanooga La Junta Peak looms overhead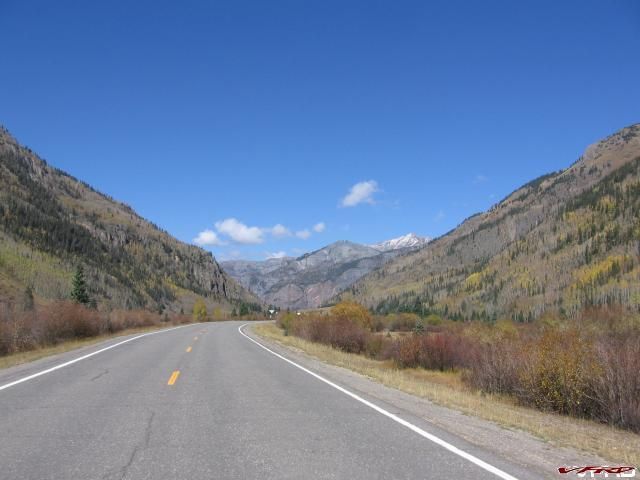 Approaching the most technical section the Million Dollar Highway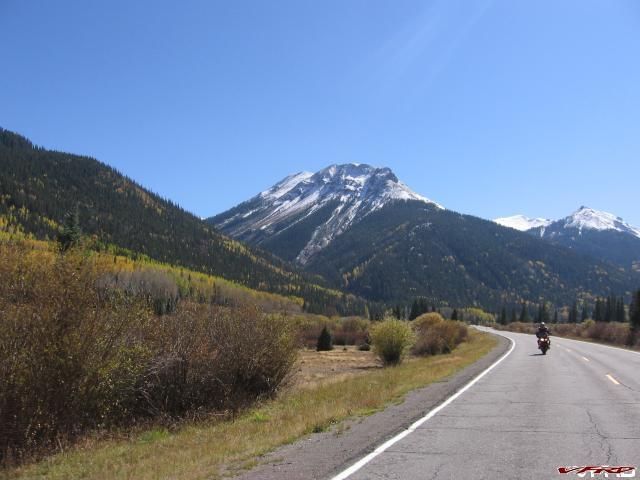 Craig rides behind me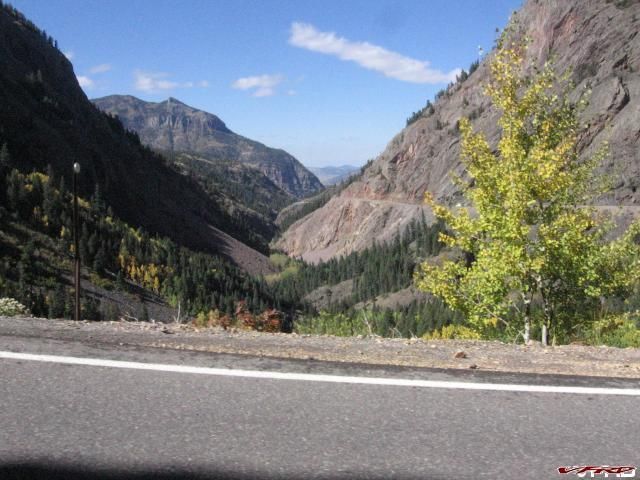 The Million Dollar Highway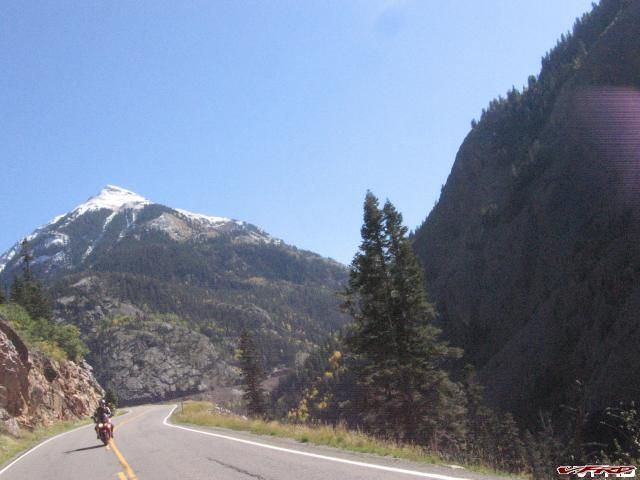 Million Dollar Highway Red Mountain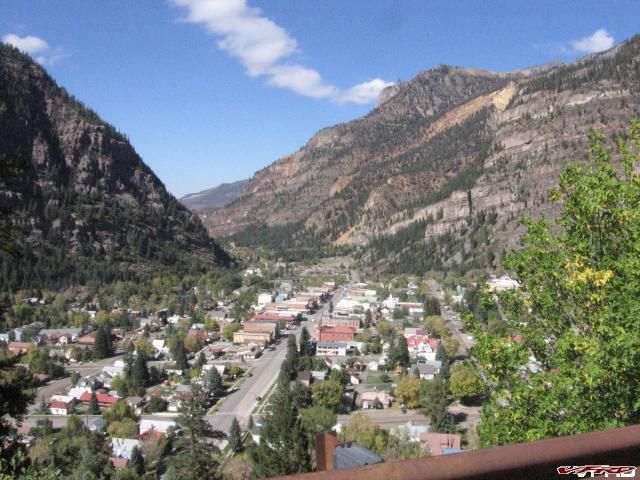 Ouray at the end of the Million Dollar Highway
A Strange Pet A young buck sunning himself in downtown Ouray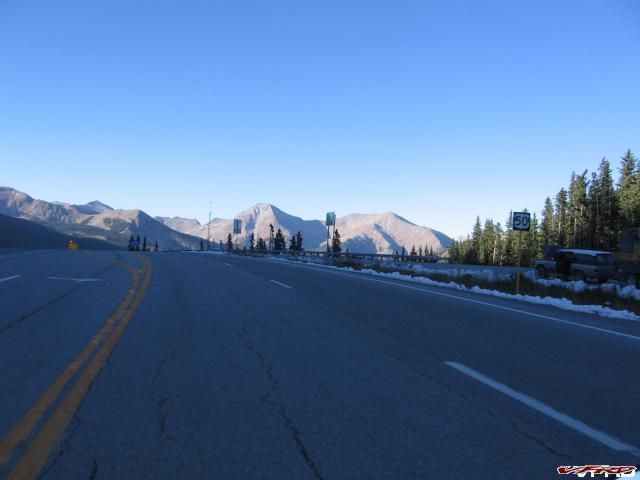 Top of Monarch Pass The leg home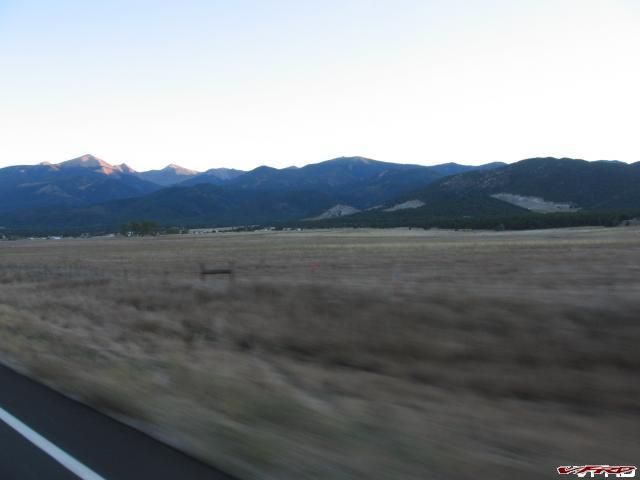 Baldy Peak at Sunset hwy 50 east of Salida
I hope you enjoyed reading the story and looking at the vids and pictures - as always
Slammer!