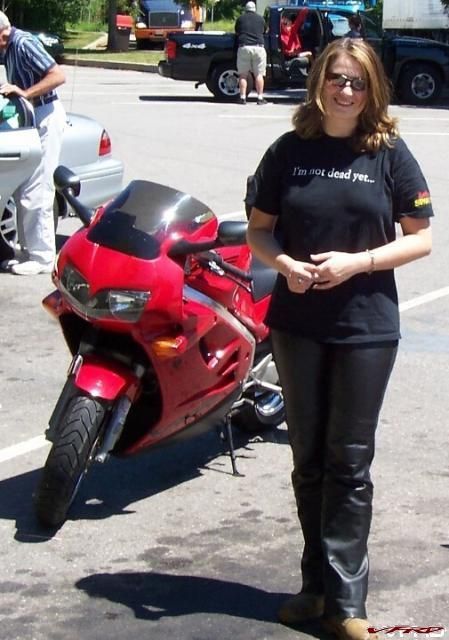 It does not take one too much time to realize that New York is one of the most tolerant cities in the world. Or simplier said, the Newyorkers just don't care. They don't care if one wears the latest designer clothes or the dirtiest rags. Would you like to put a pink feathers in your hair, paint your face black and white and drag chains behind you? Please do, but do not expect that anyone will turn their head after you. No one will care. Only tourists with maps will take pictures. Pink feathers, painted face and chains are not enough to become one of the elite New York freaks. The ones who make natives to turn their heads.
It is very safe to say that till yesterday I have never crossed that very distant line and draw attention to myself. Even when I was in full leather motorcycle outfit, hopping through New York streets on one foot, in one hand holding helmet and supporting myself with a broom in the second. Even then, I was just part of the everyday crowd.
However, I am afraid, yesterday evening it happend. I became one of them. One of those freaks who make the natives to stop in what they do and just gawk. And yet, I did not feel out of my element; Part of my daily life is reparking the motorcycle from one side of the street to another - four times a week. Street cleaners and the police are good enough reason to wake me up in the middle of the night horrified that I forgot to repark the bike, put on the t-shirt and run into dark streets to do the chore.
Last year I made the effort to always go home, put on some leather jacket, take a helmet and repark the bike with at least some protective gear. This year, I have become slopy. I just stop by the bike on the way from work and repark it. Usually I don't have to ride more than several yards. But yesterday night, the parking gods were against me - the nearest free spot was about 500 yards away and in the 'wrong one way street' direction.
I made sure that no police was in sight, jumped on the bike and nicely coasted to my spot. 500 yards later, I felt like I am on fire - almost everyone along my short ride was staring at me. I was surprise and tried to determine what is wrong. And then I realized that for a random pedestrian, a woman riding in the wrong direction on a motorcycle, wearing just a t-shirt, short skirt, high heals and having red purse dangling of her shoulder, well, she must have been at least a surprising sight. You know, one of those freaks you don't see anywhere else than in New York... :goofy: