The Black Canyon Run - annual fathers day weekend ride
---
http://www.vfrdiscussion.com/forum/videos/491/black2011.mp4

Most of the time I have known him Reddog and I have taken off on a run to the Black Canyon around fathers day, now that hes got an empty nest it seems we were on again for our annual 500 miler to the Black Canyon. This year we did it counter clockwise and headed up to Independence pass. I invited a number of folks but only three of us made it. Millertm my old buddy from work who now lives in New Mexico came up for the ride and to spend some time with his Dad who lives on the other side of Colorado Springs from me. Of course Reddog and I also.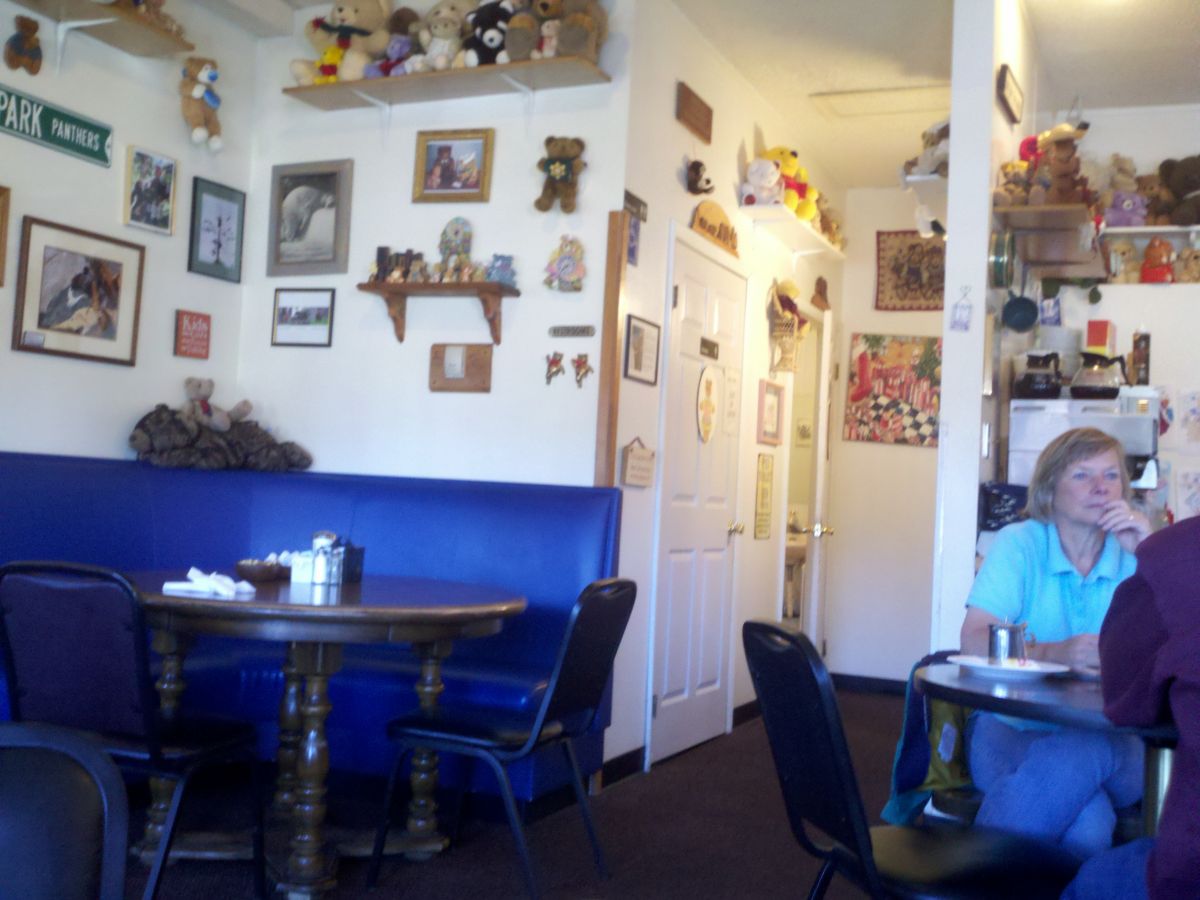 Breakfast at the Hungry Bear Woodland Park



My server I work with her sister

I met Mark (Millertm otherwise known as Mr Dude to the folks at work) and we had a scrumptious breakfast Eggs Benedict for me with Hollandaise sauce on top of ham eggs on a bed of toasted English muffins. It was good but rich very rich I finished it off in good style I don't normally eat breakfast but I was hungry. I work with a lady who sister works at the Hungry Bear and she always lambastes me for not stopping at the Hungry Bear when I am in Woodland Park.

We had an uneventful ride up hwy 24 just some construction a the top near Wilkerson Pass nothing too crazy - lead duties switched up quite a bit everybody lead today and it was great it just sort of happened. The construction bunched up a huge line of cars and we had to endure the slow pace all the way down Wilkerson Pass to the flat valley below then we blasted them 2 at a time till we had open road. We stopped in Buena Vista for some Gas then again in Twin Lakes to pile on a few layers for the ride up Independence Pass its at 11k in elevation and already in Twin Lakes it was 50 degrees Bill said his temp gage was at 32f at the top. Mark lead the whole way up to the top and down. Bumpy but for the most part the pass was very clean it was nice.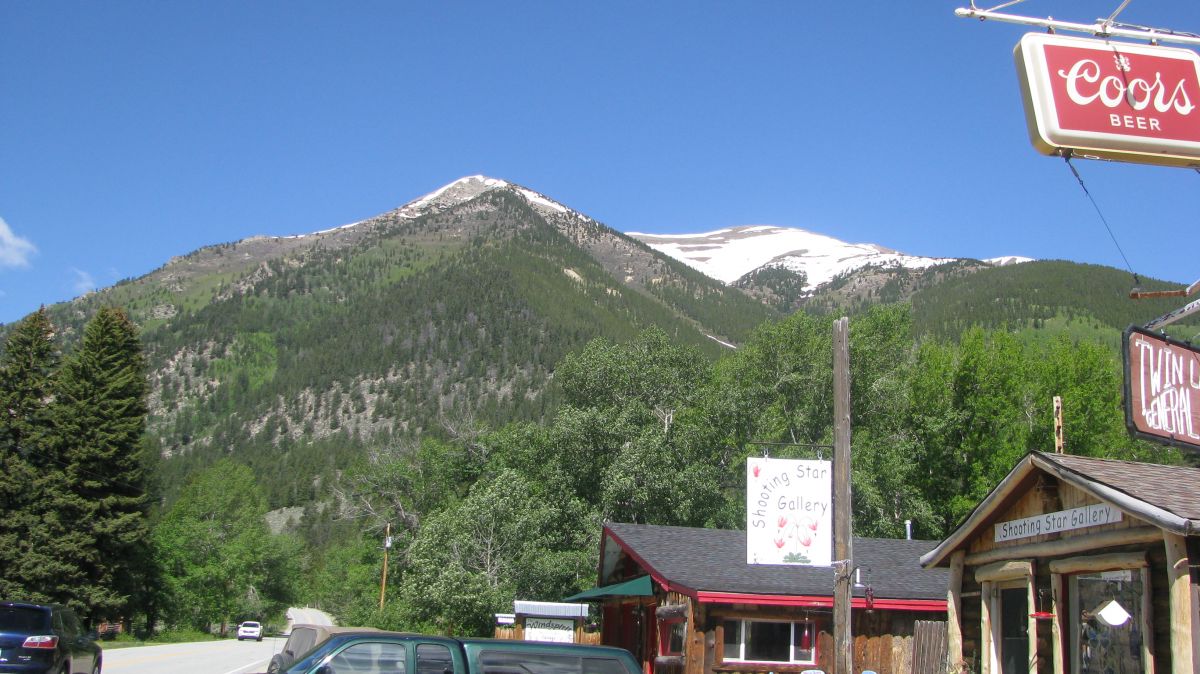 Twin Lakes nice little village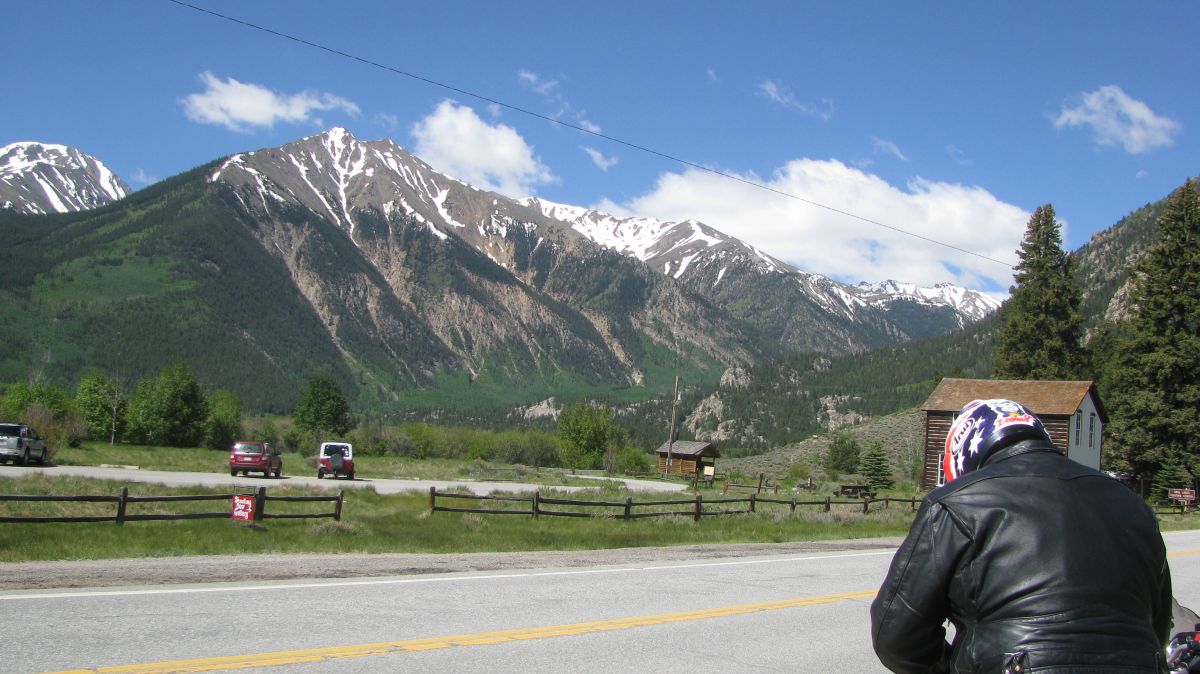 Twin Lakes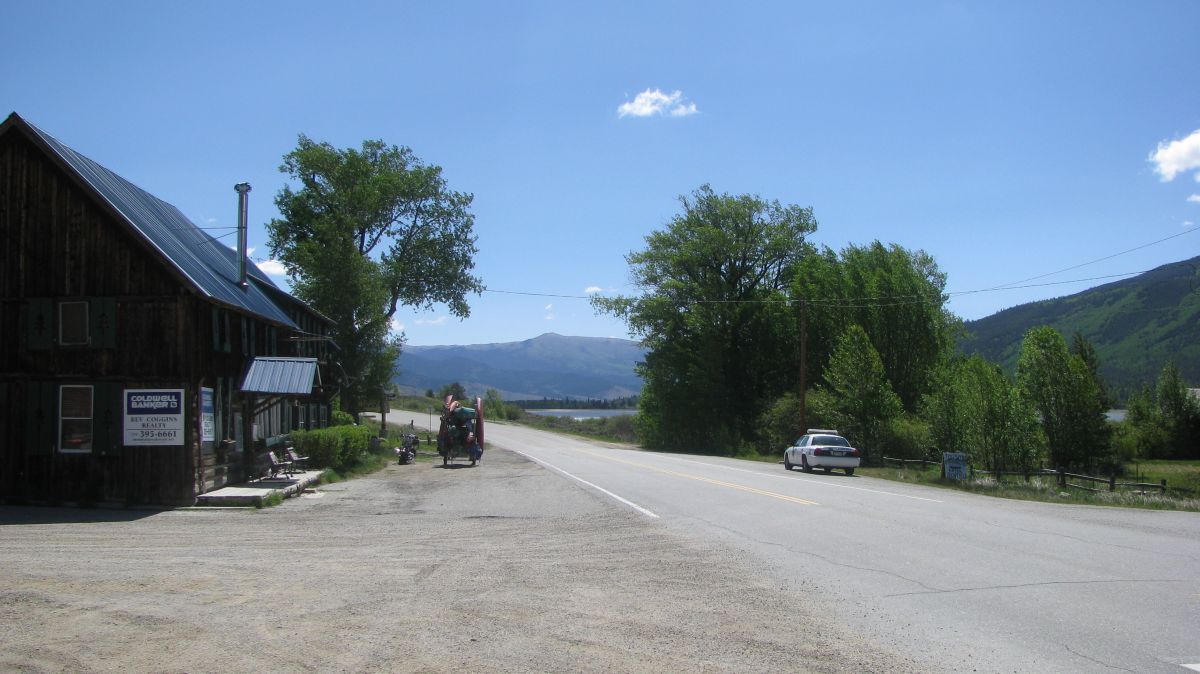 Twin Lakes Lake to the east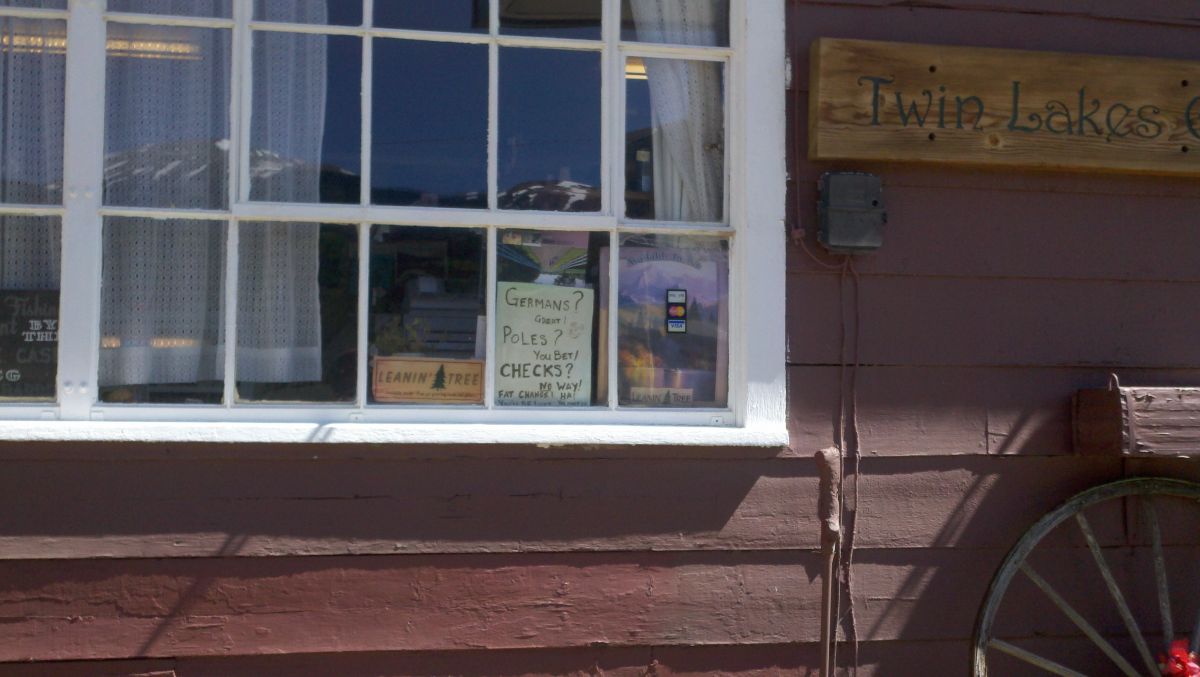 Funny Sign Twin Lakes General Store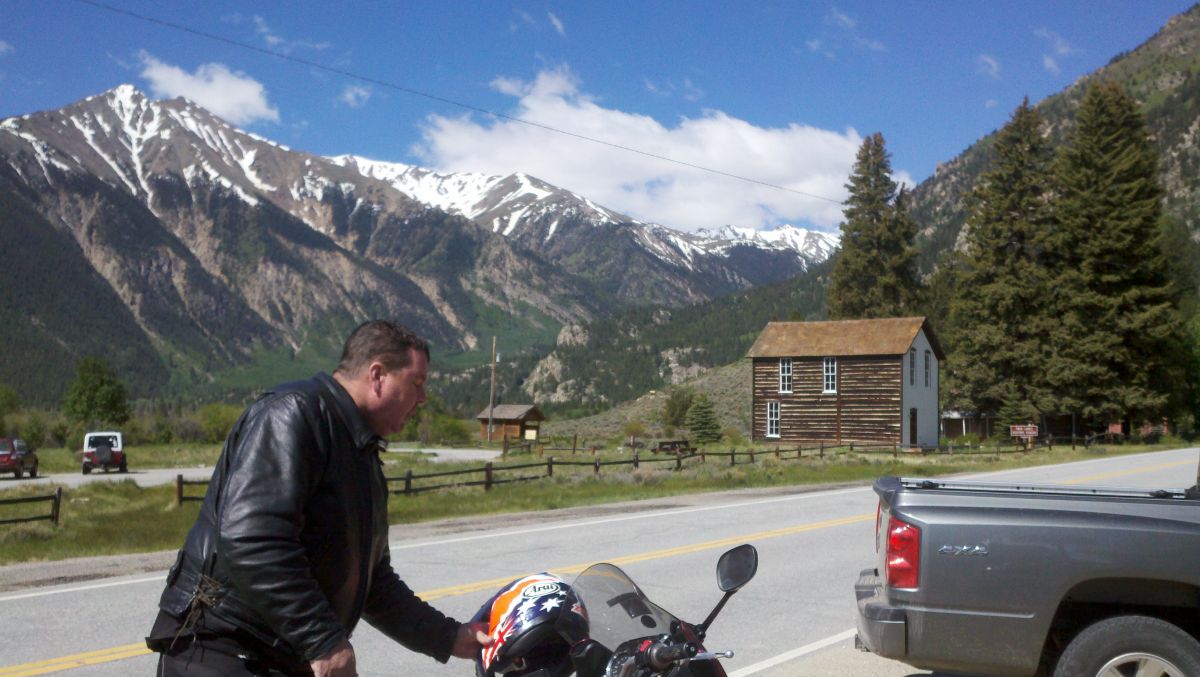 Millertime La Plata Peak in the background

Then I got waved ahead in Aspen, no stopping in Aspen and then we slabbed it over to Carbondale for gas and some lunch it took us a long time to get over to Aspen over the pass and we did stop at the top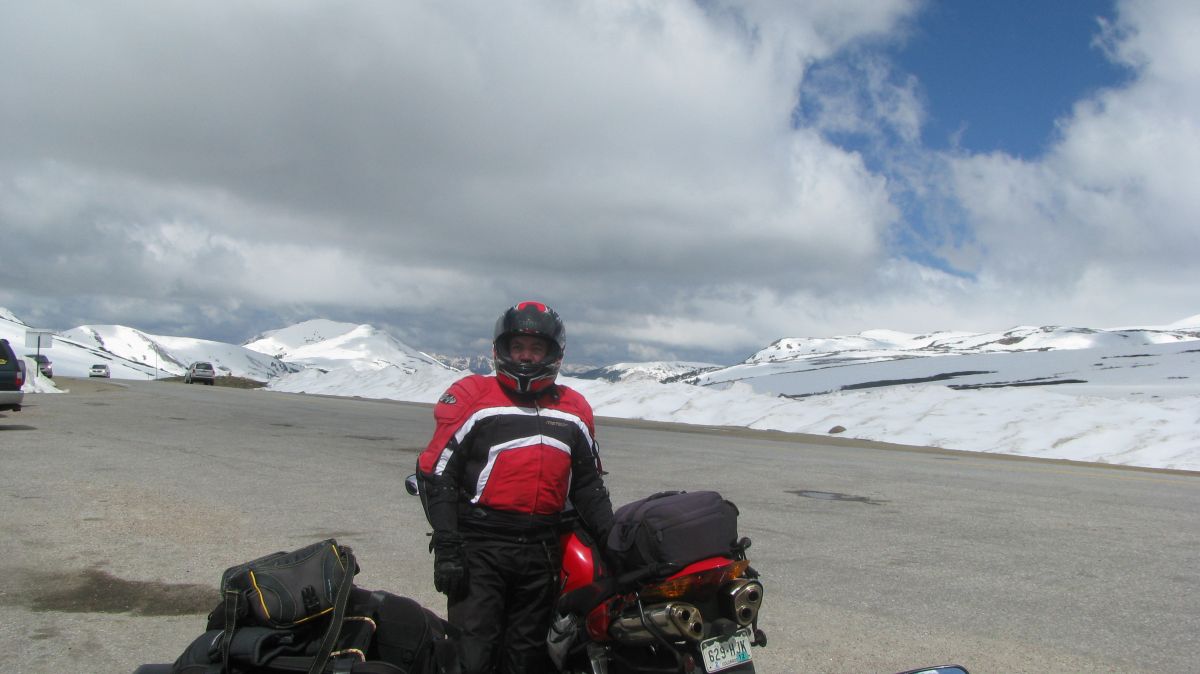 Reddog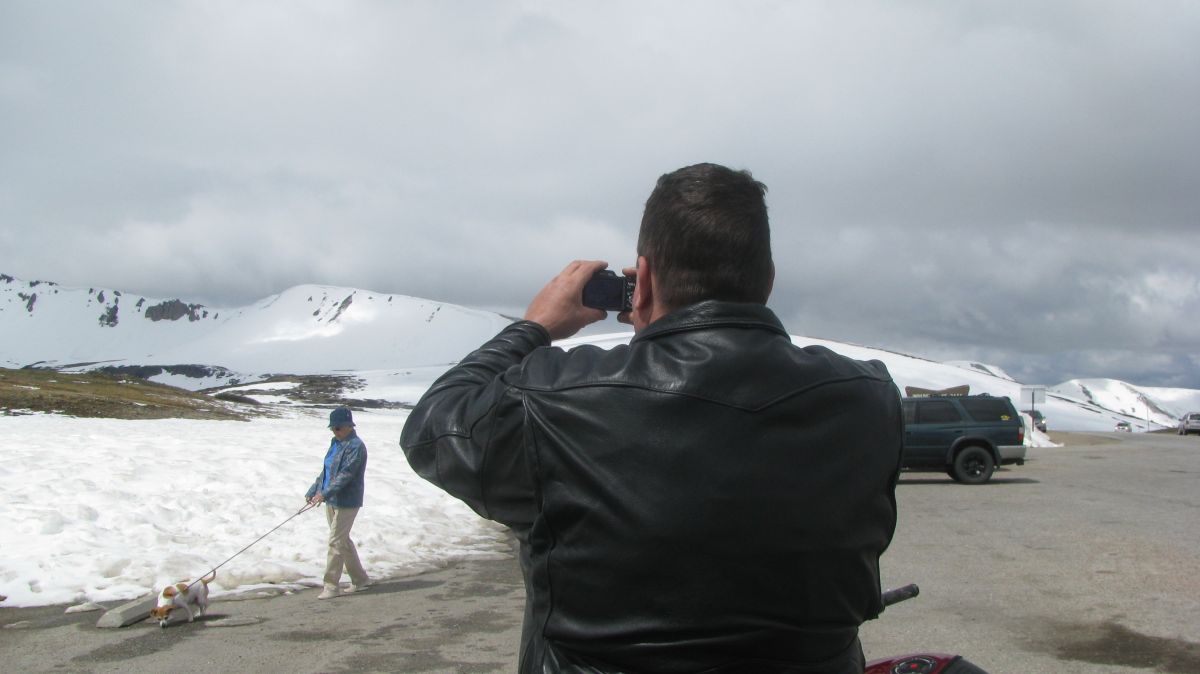 Millertm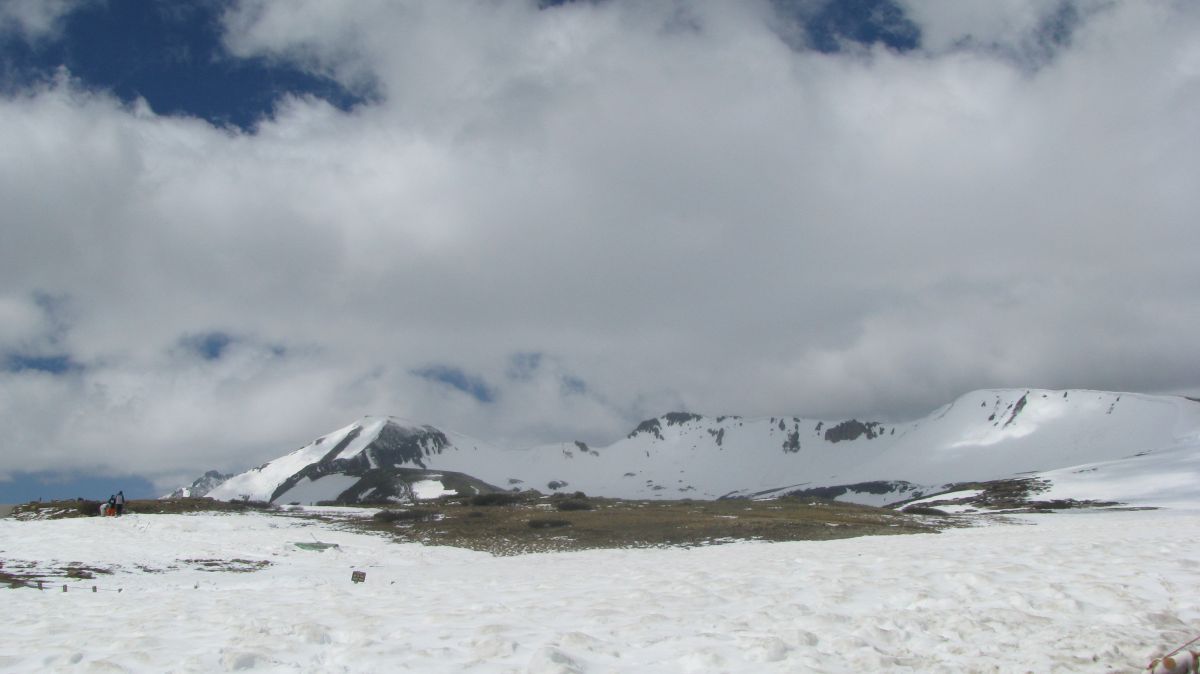 32 degrees at the top freaking cold up there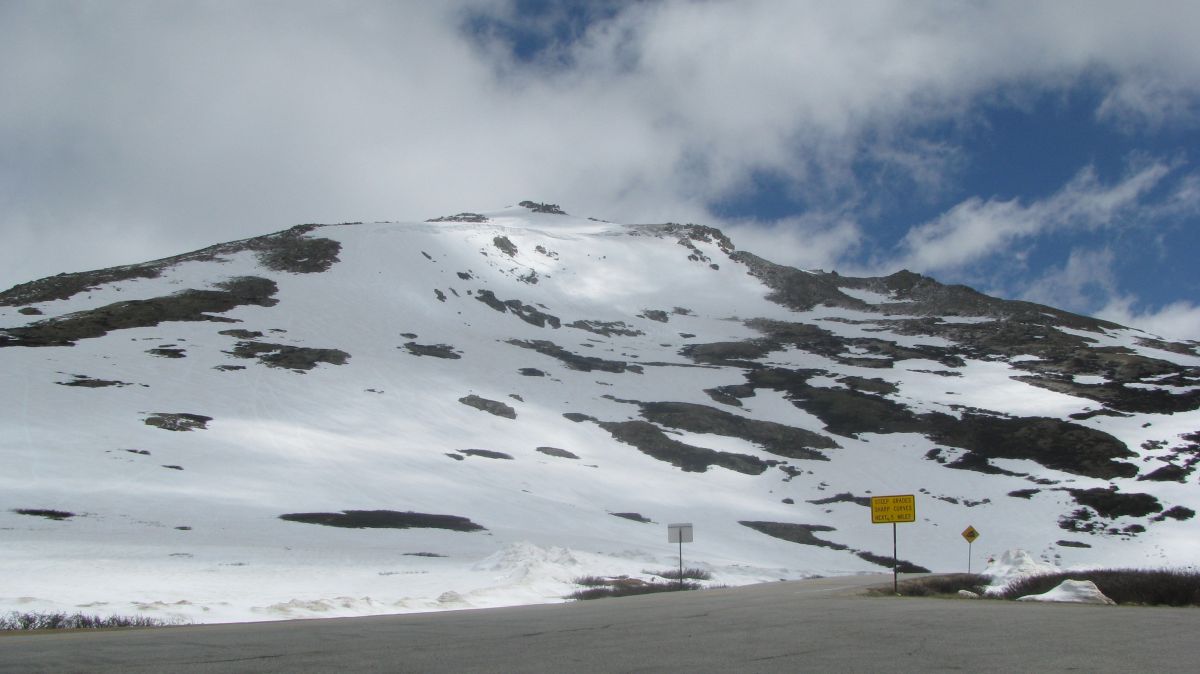 Independence Pass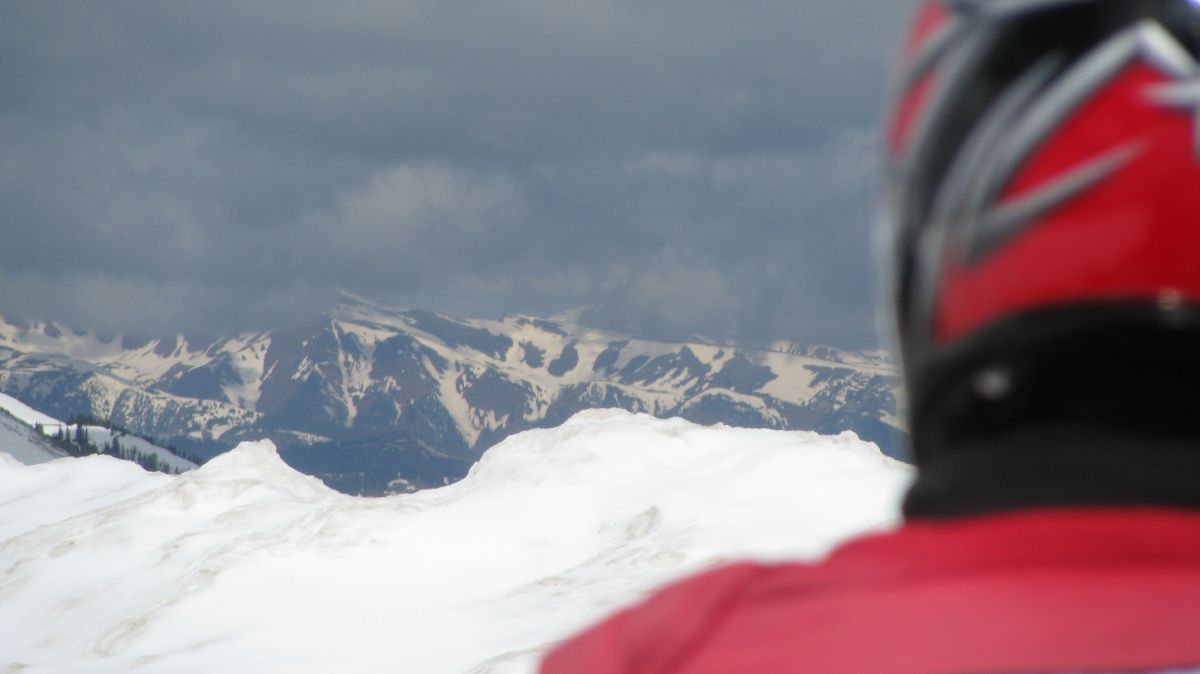 Aspen to the west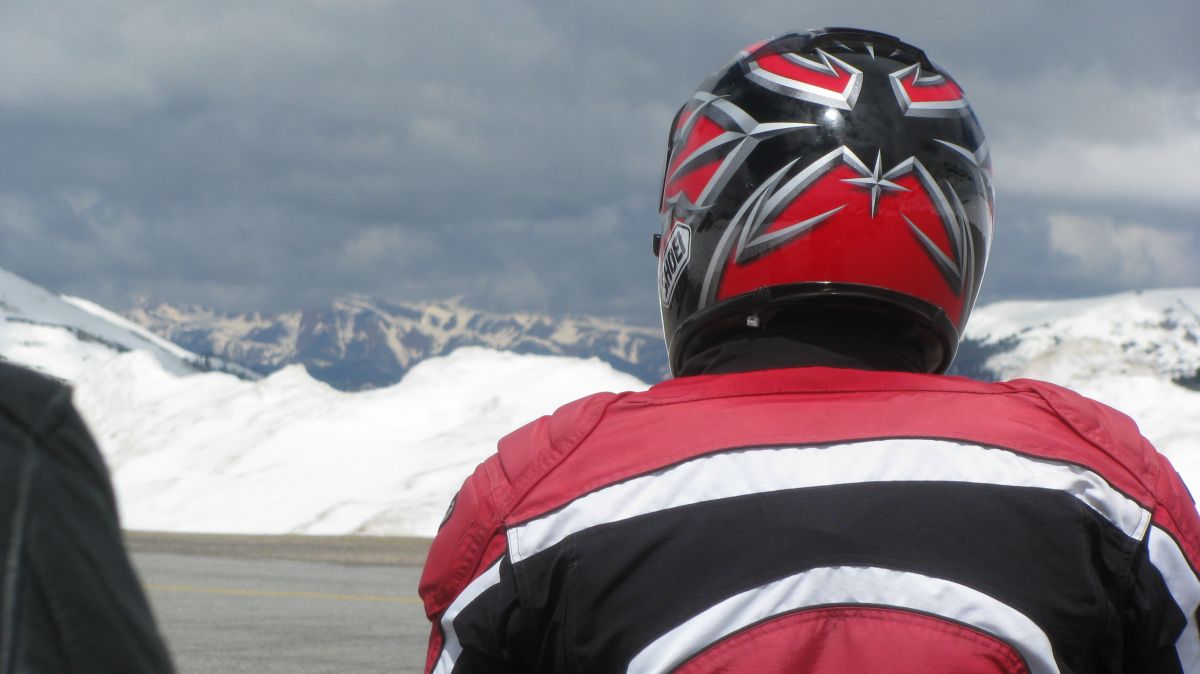 Reddog with the mountains in view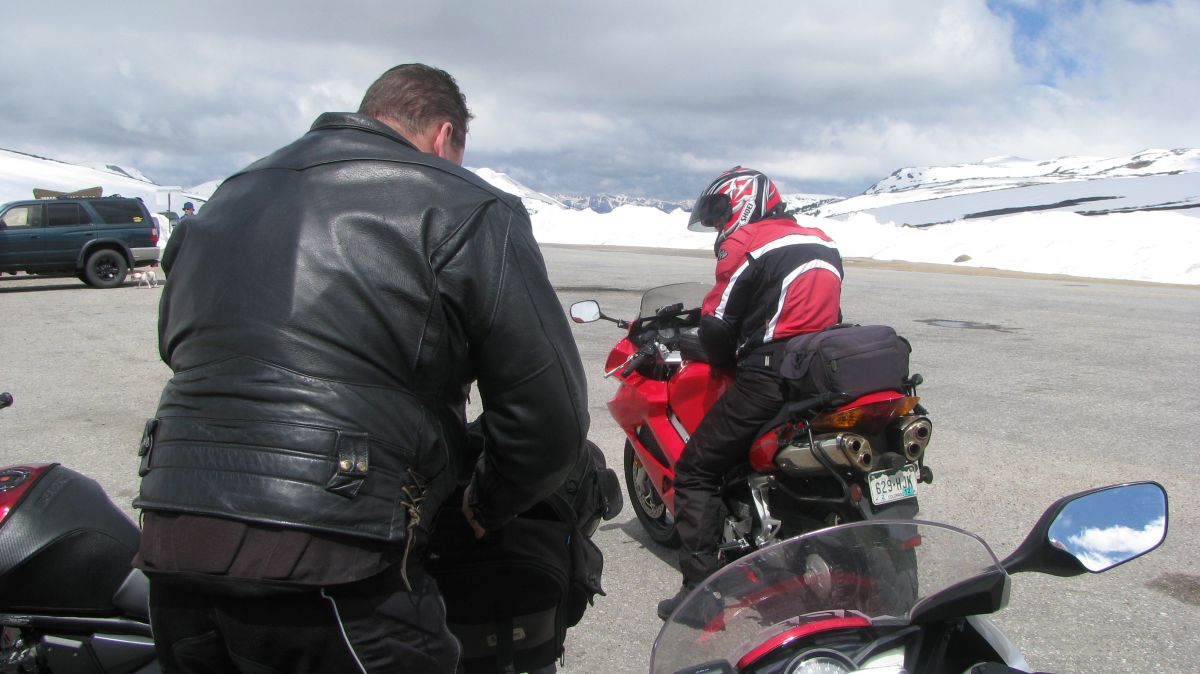 Millertm and Reddog at the top of Independence Pass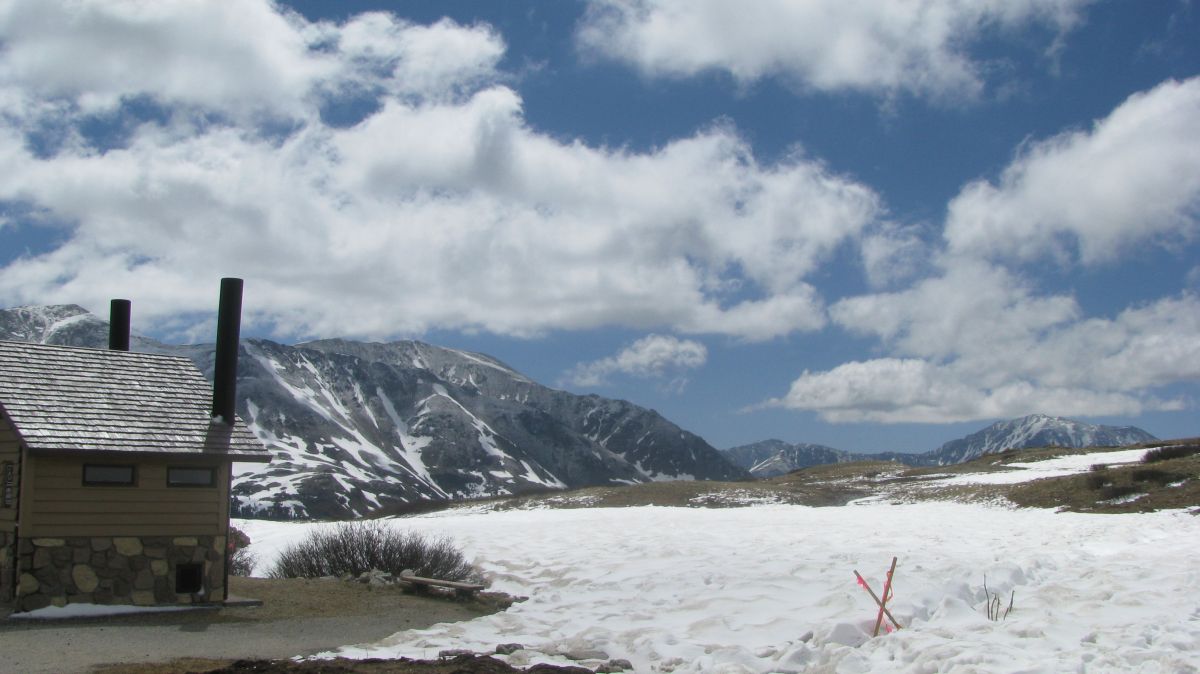 Independence Pass looking South

We saw a few cops but none of them took any interest in us thank goodness, lunch was good Bill wanted to find a new place this year so we decided on Carbondale and it did not disappoint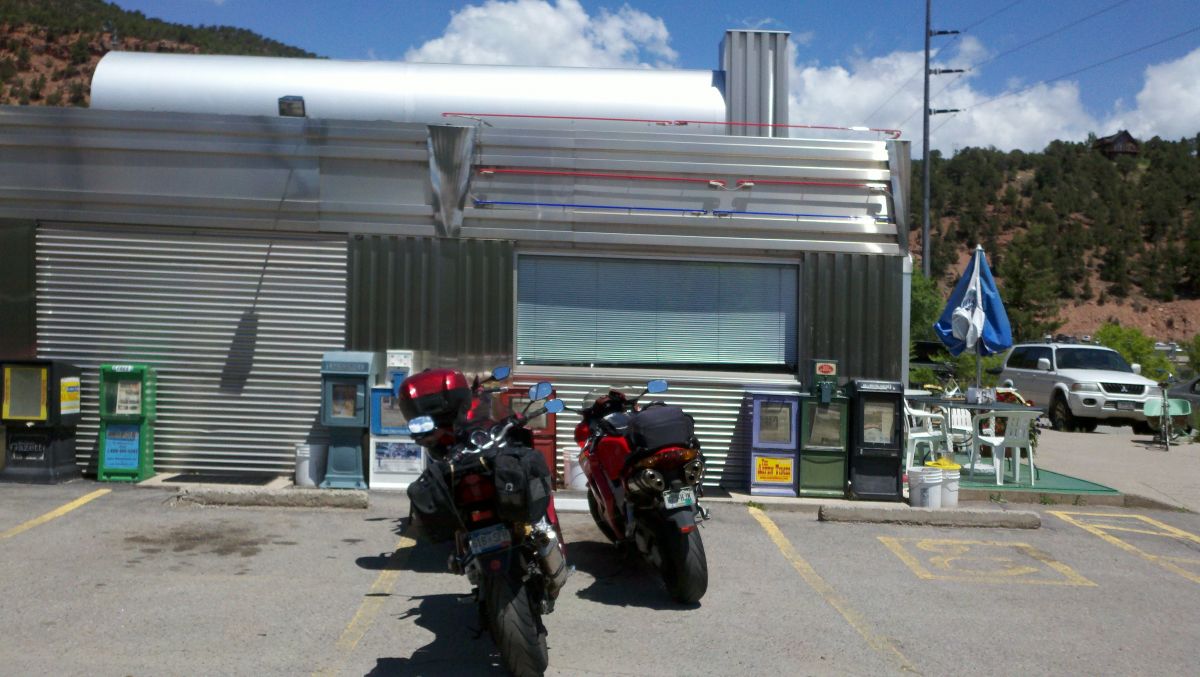 Lunch In Carbondale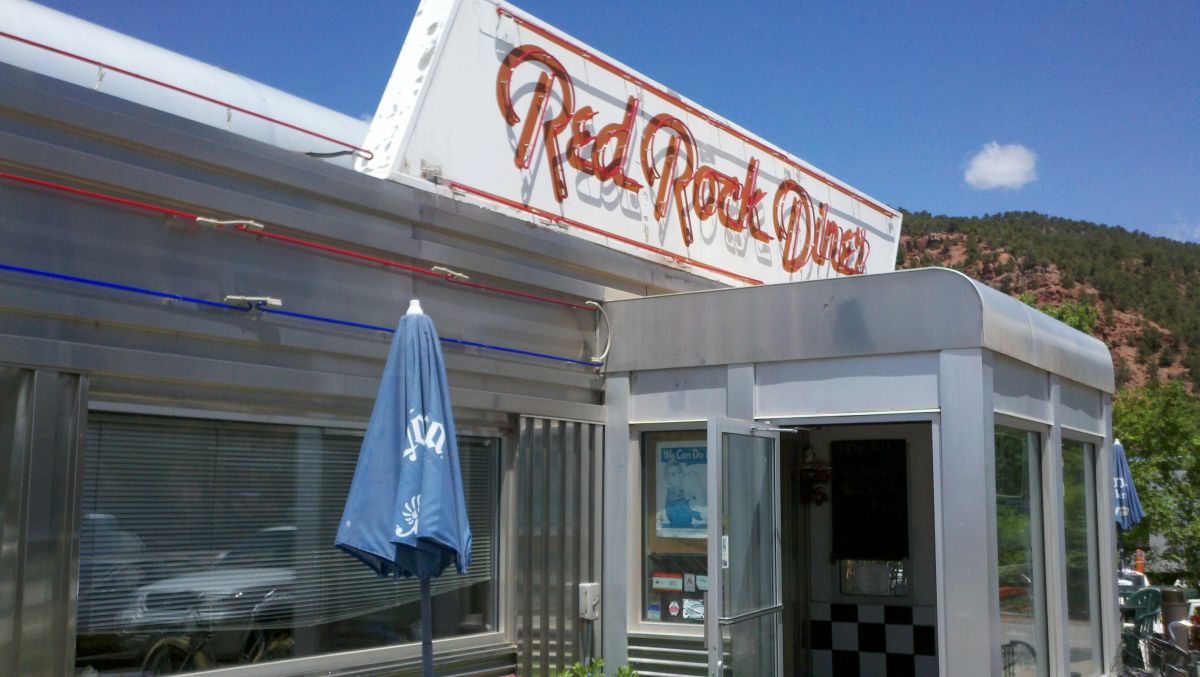 Red Rock Diner cool little joint in Carbondale CO

Fat and Happy I was ready to rail McClure pass and the sweepers at the bottom to Paonia Reservoir they have a great road along the lake its nice and tight I was enjoying the pace and I had found a nice rhythm. Lots of gas stops cause Mark and I have small gas tanks. We could have gone further but the stops were welcome and it staved off any butt aches. It was funny cause I thought I was being a bit too cautious about my gas mileage but I was averaging 43mpg! It was a nice pace anyway but in the station at Crawford we saw a long line of cruisers pass on the way to the Black Canyon and I said to Bill "hey looks like we will have to pass some rolling pylons" we hung out longer and had something to drink hoping to get some distance between us and them but sure enough as we rolled to the start of the Black Canyon we caught them so I pulled off and put on my contour camera and we waited again. It was a good ride right up to Hermit Point where it really starts to get good them BAM smack into fresh chip seal! It was packed down but lots of loose chip floating around still and not swept off? So we pulled into the over look at Hermit Point and took pictures.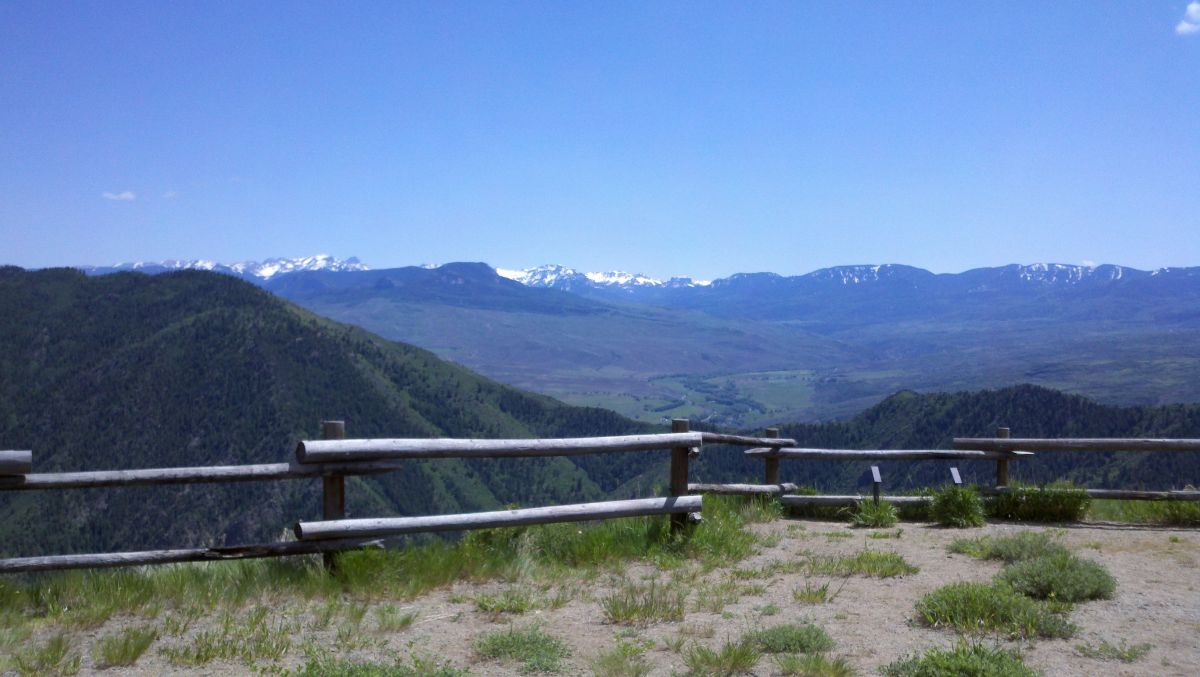 Hermit Point taken with my droid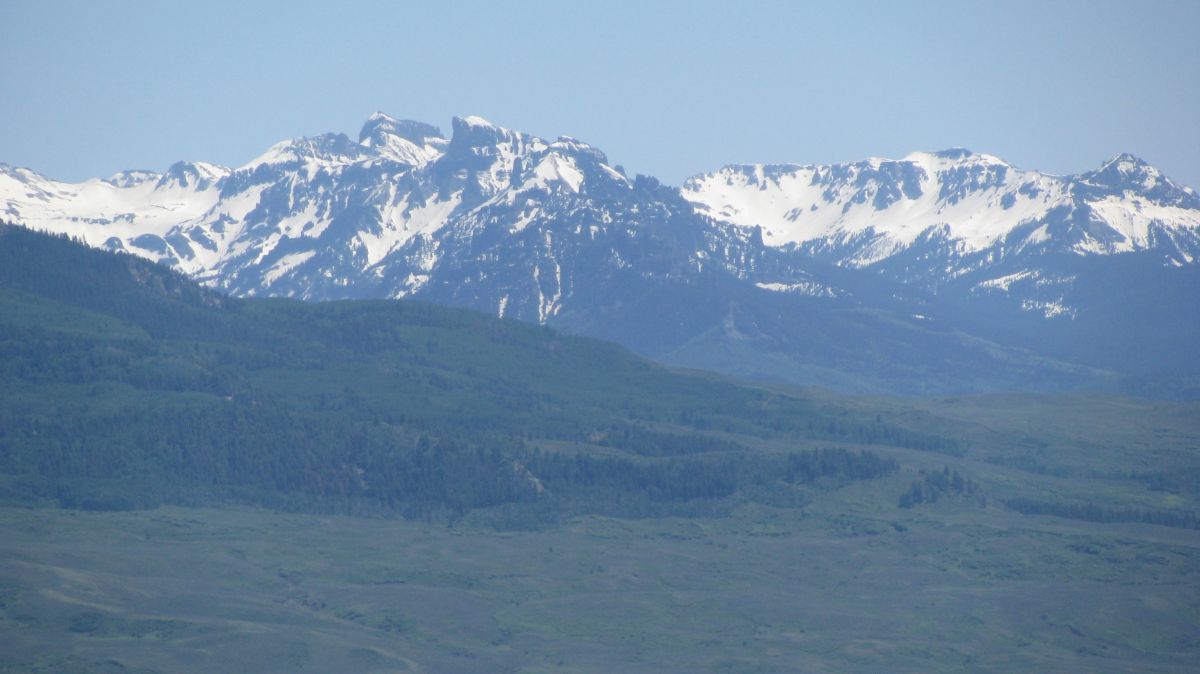 San Juan Range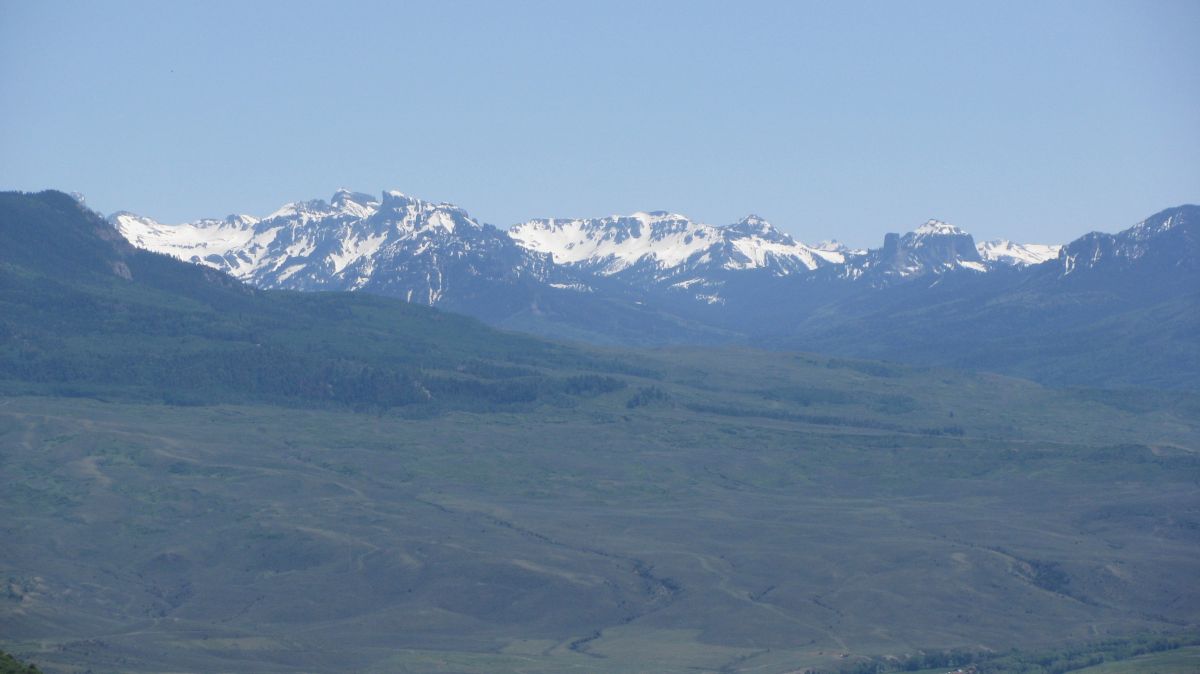 San Juan Range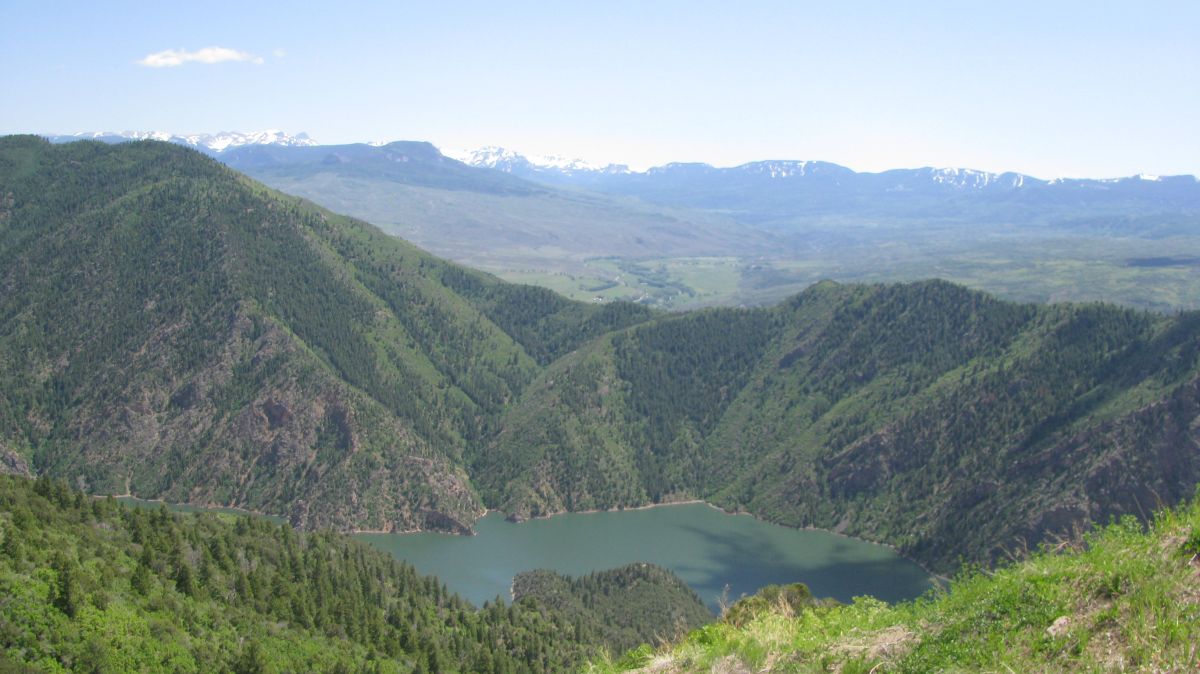 Marrow Point Reservoir on the Gunnison River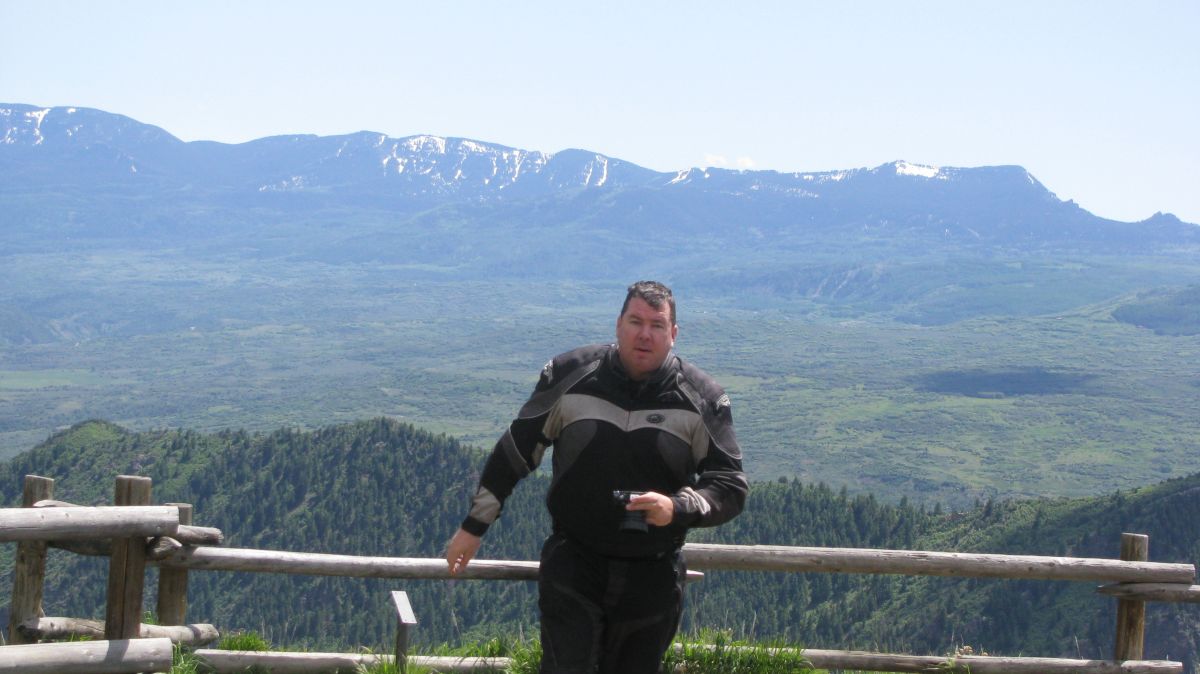 Millertm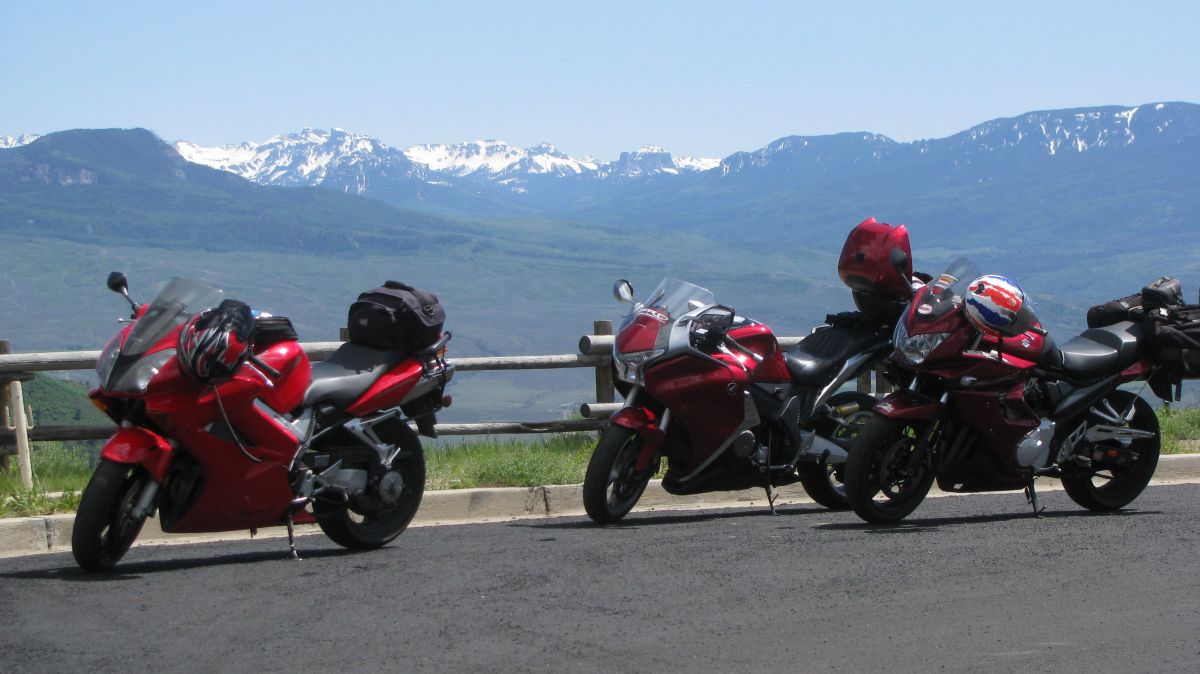 Hermit Point Hwy 92 on the Black Canyon of the Gunnison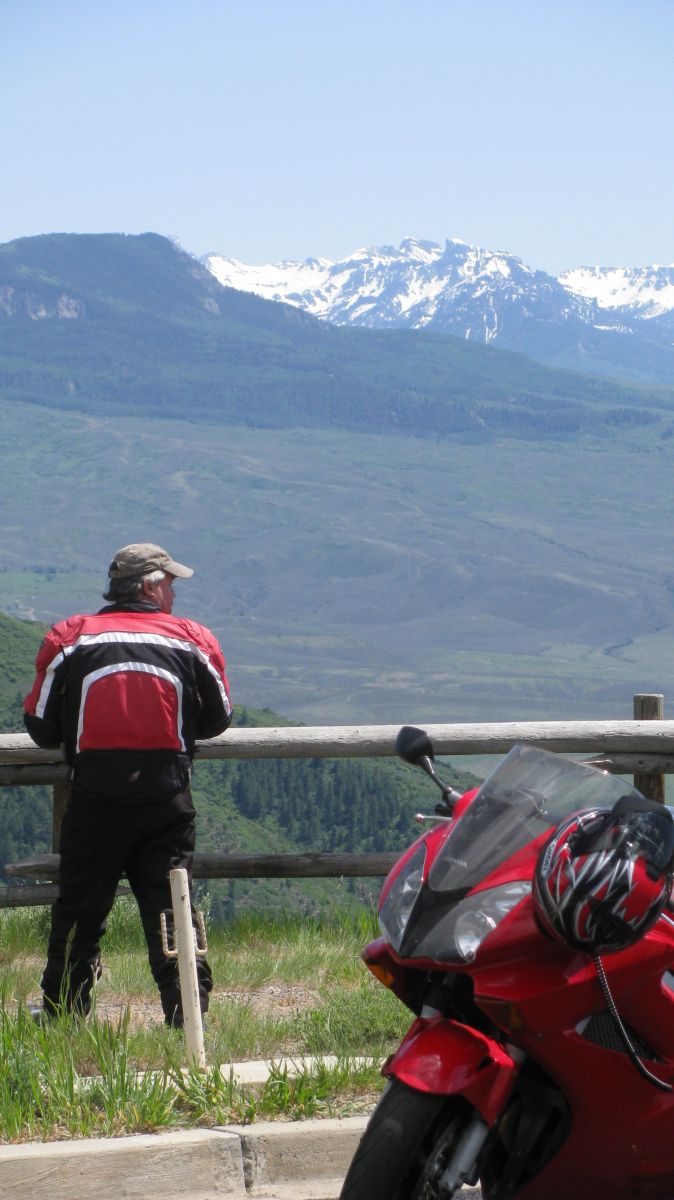 Reddog at Hermit Point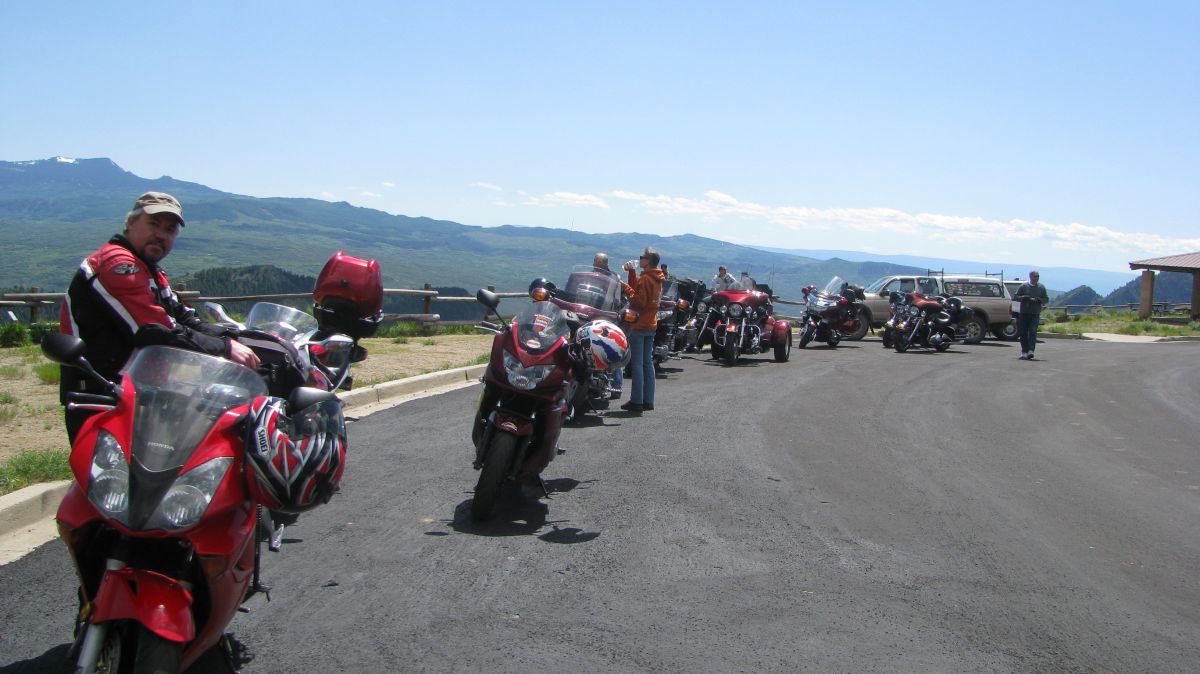 Lots of bikes at Hermit Point too bad it was all new chip seal for the next 8 miles loose chip seal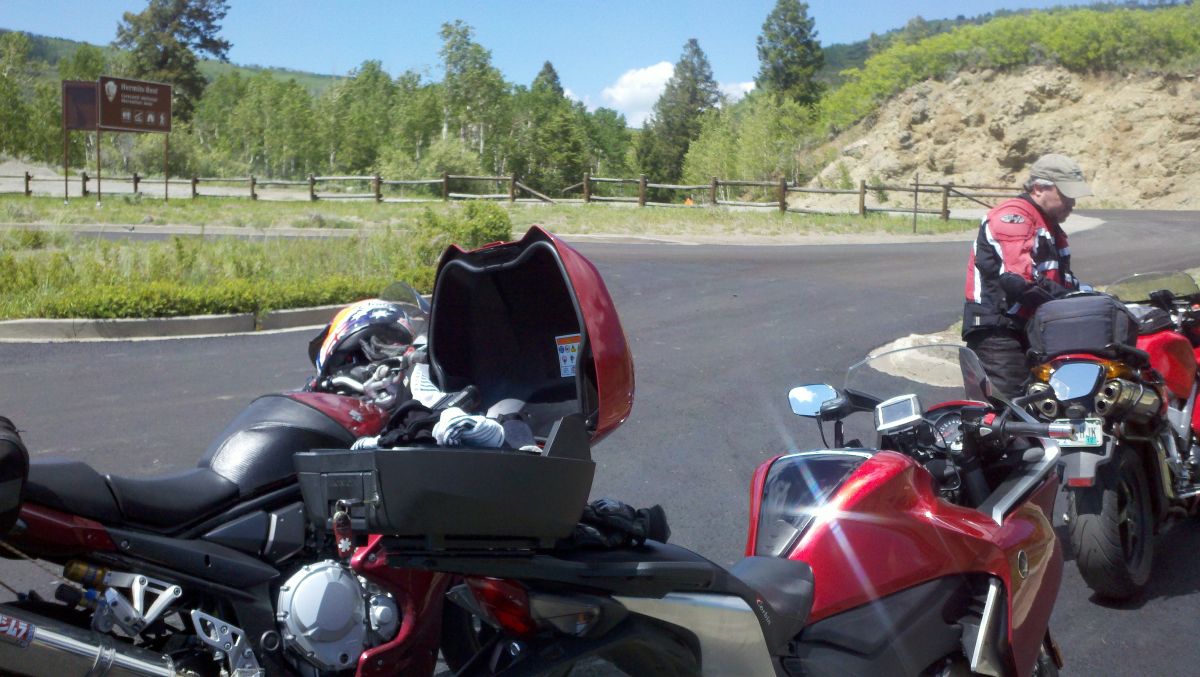 Hermit Point look at the paint shine on my veefalo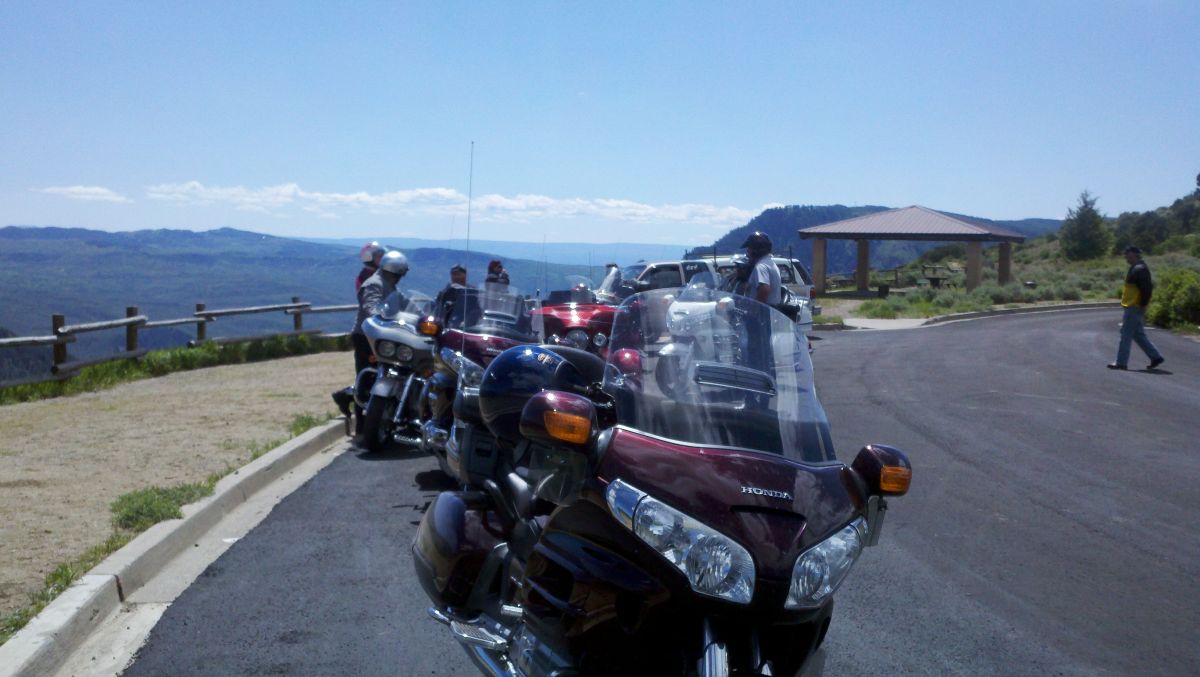 We must have passed this goldwing 5 times stop start go again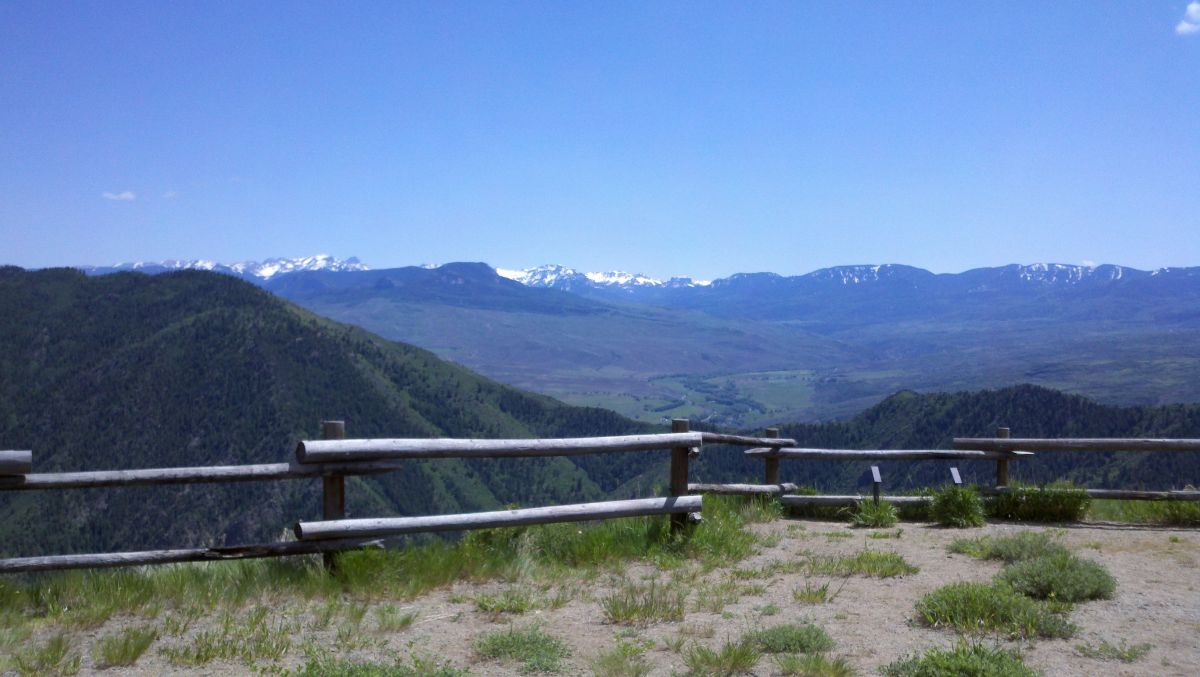 Hermit Point taken with my droid

We caught and passed a Goldwing then we would stop and he would pass us, all the way from Carbondale we must have passed that guy 5 times! We waved and he was always good about letting us through.

So Bill takes off into the loose chip seal and I am following Mark and we are both going slow so Bill gets ahead one turn, then 2 then soon hes a good half mile ahead and a dot, then he disappears. Then the chip seal clears and Mark is still in chip seal mode a bit so I passed him and railed the twisties trying to catch Bill, 8 miles of trying I finally catch him at the very end only cause he had slowed down. Man that was fun! I really enjoyed the Canyon even though they ruined 8 miles of it with half done chip seal, and too bad to cause there was a huge pile on the side of the road at the end too so its not done yet, maybe I will visit again in August but not till then its just a bit dangerous on that loose stuff. They should at minimum at least sweep the loose stuff, Ideal would be another layer of tar over the top but thats expensive. I hope they sweep it at least! Chip seal in the rain is great though!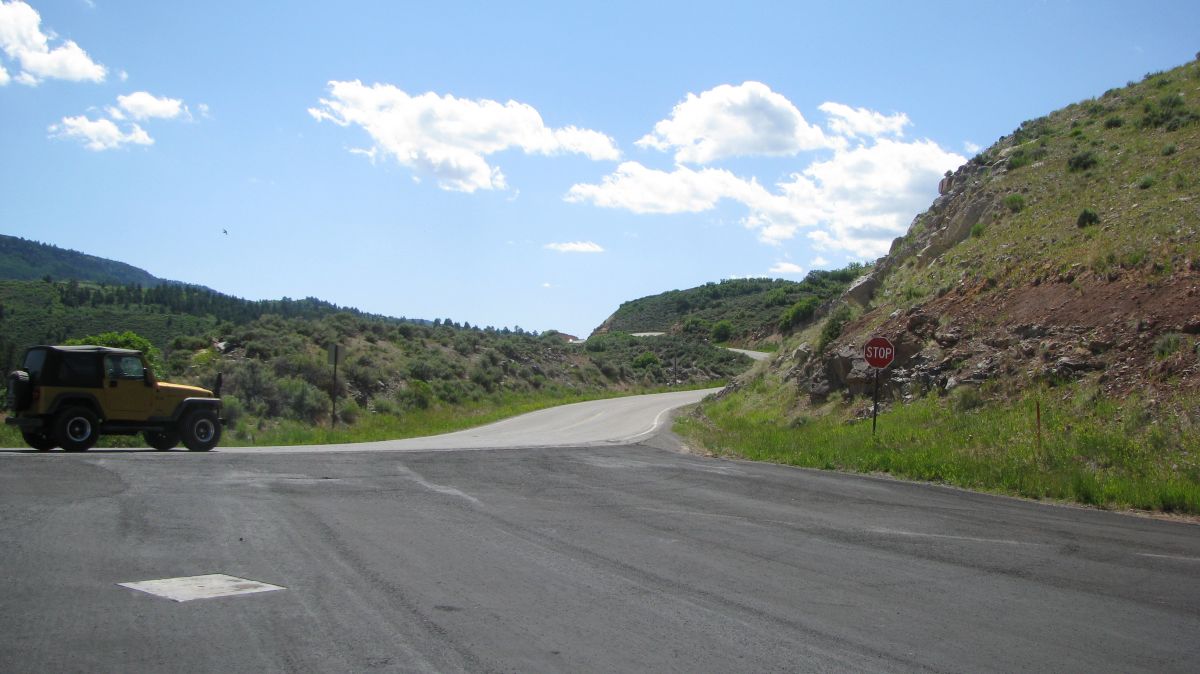 Hwy 92 in the process of chip sealing the entire length of the good stuff - might wait a couple of months to run this again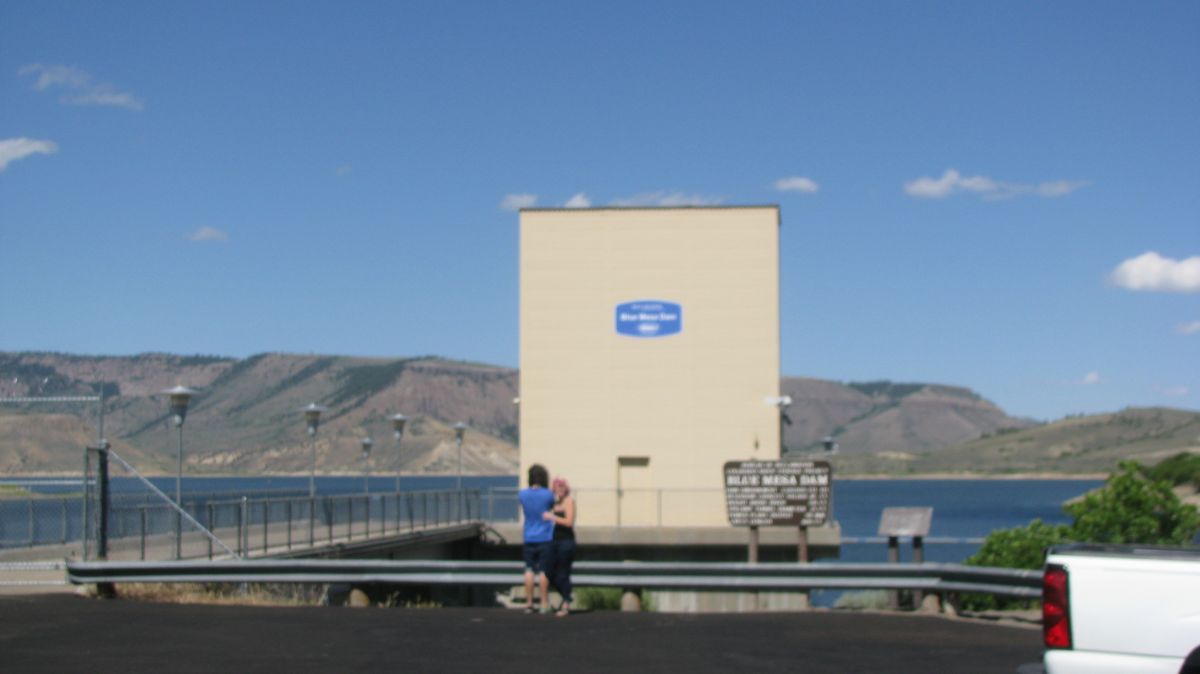 Blue Mesa Damn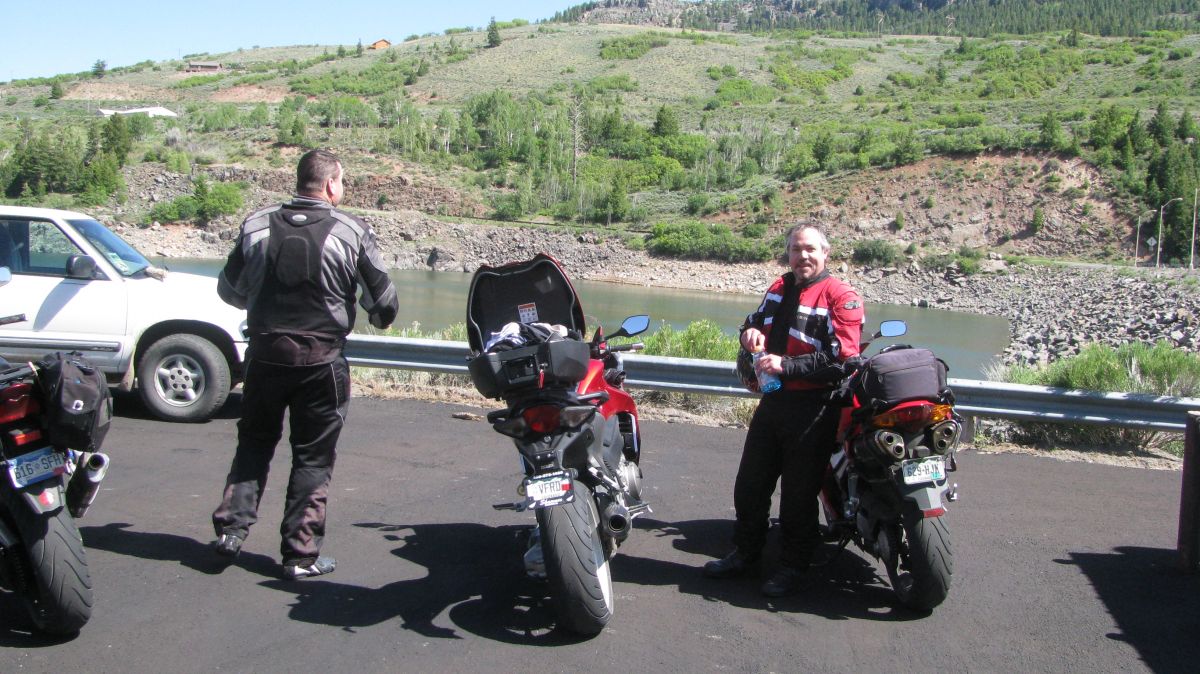 Blue Mesa Reservoir

Then we slabbed it over to Gunnison and had a few turns along the Blue Mesa that were fun, we were saving a run up Monarch Pass. Mark and I switched bikes up to Monarch cause he wanted to ride the veefalo - his bandit has an upgraded suspension and I had ridden it before, much tighter then before and more compliant, lots of power but the veefalo is faster and well just better in my opinion but I am biased, I am really starting to love my bike.

Well anyway Mark got tired of getting passed by me and thought that if he got way ahead on Monarch he could hold us off, but Bill and I had other ideas and well it turned into a squid fest up the pass sort of half ass-ed racing, half pace since we were not really pinning the throttle much but it was a bit stupid. I had hella fun myself but thats me, I love to rail Monarch pass Bill said we were morons or some such thing when we stopped at the bottom "F'n crazy" he said. With a big smile! He has been trying to change his ways and well he got sucked into that. So we split off at Salida and Reddog went home to Woodland Park and Mark and I stopped for a steak at Quncys in Salida. I have been wanting to try this place forever but never had the chance and it did not disappoint it was great.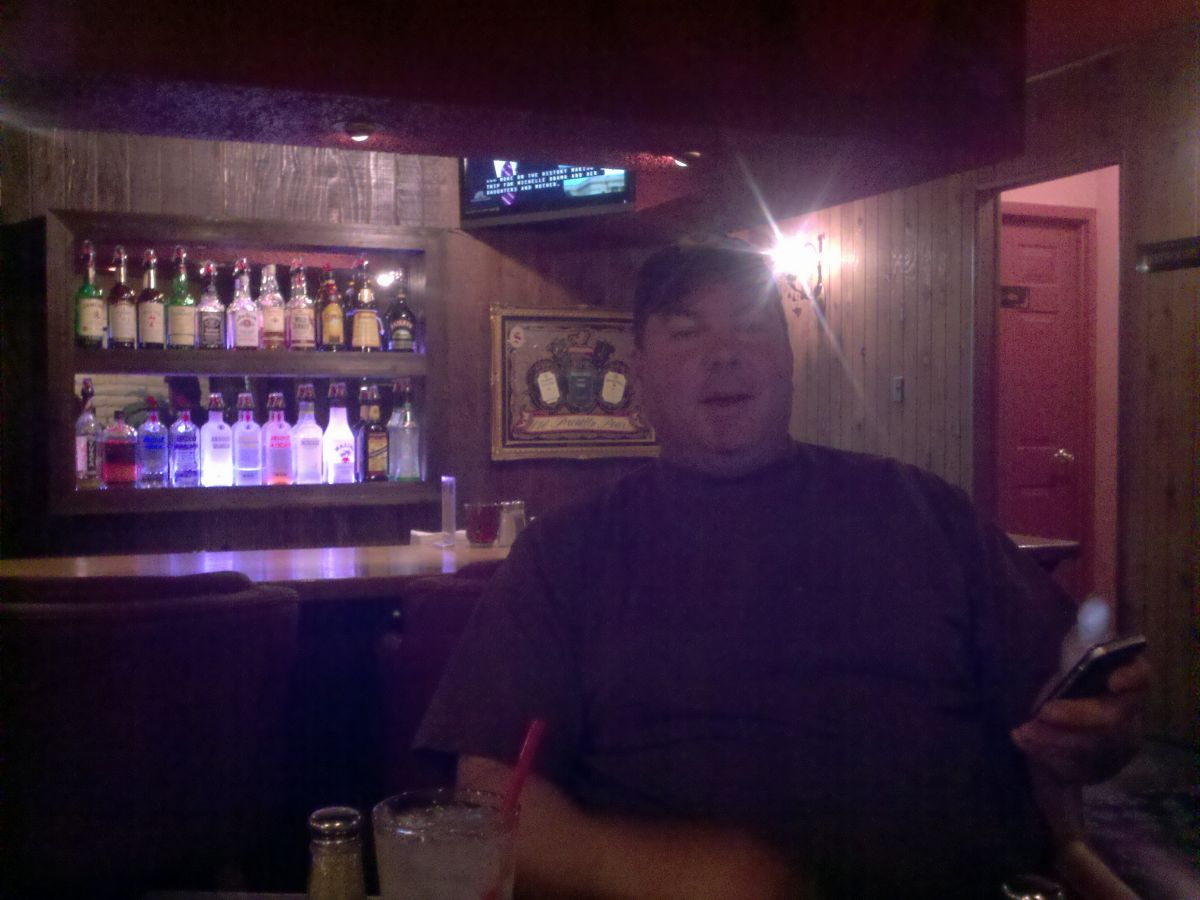 Steaks in Salida! it was very good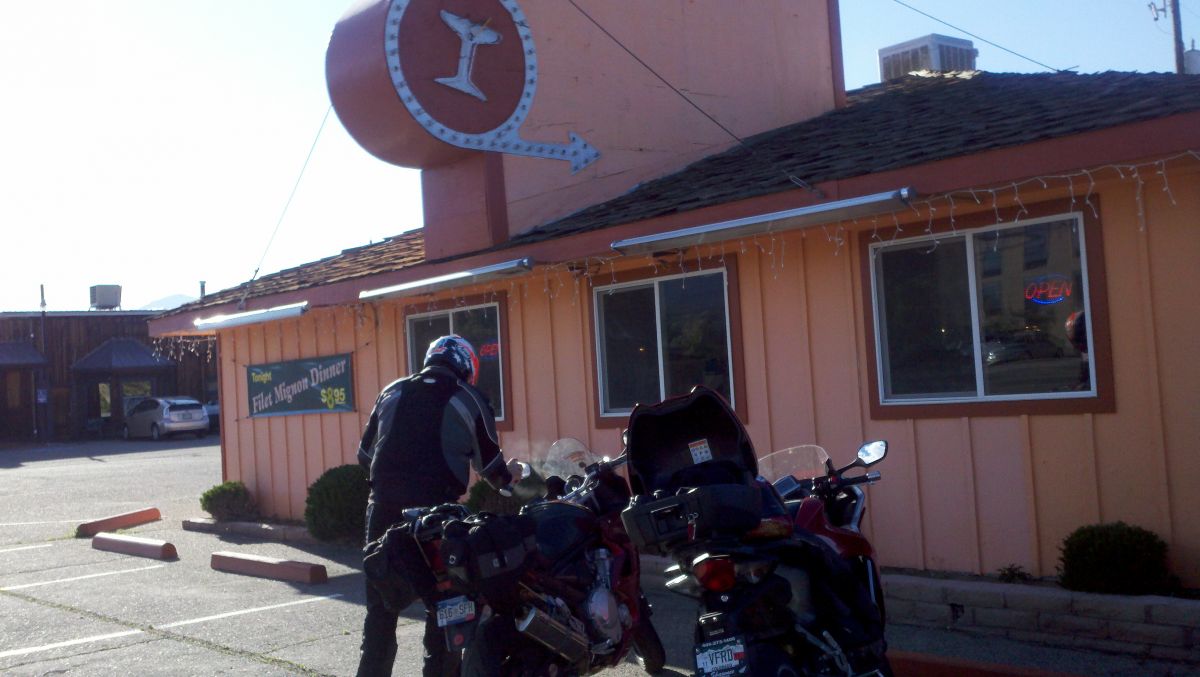 Dinner at Quincy's Salida Colorado we rode for 12 hrs 7am to 7pm when I got home

Then Mark lead us home and slowed the pace way down cause was getting to be critter time, and we found them for sure. Deer on the side of the road, when the sun gets low in the sky the deer start moving and often times right into the road. It was relaxed but smart and Mark has much better eye site then me so he lead. Great Ride, Videos to follow later.


Full Size