The Bishops To Victor Loop
---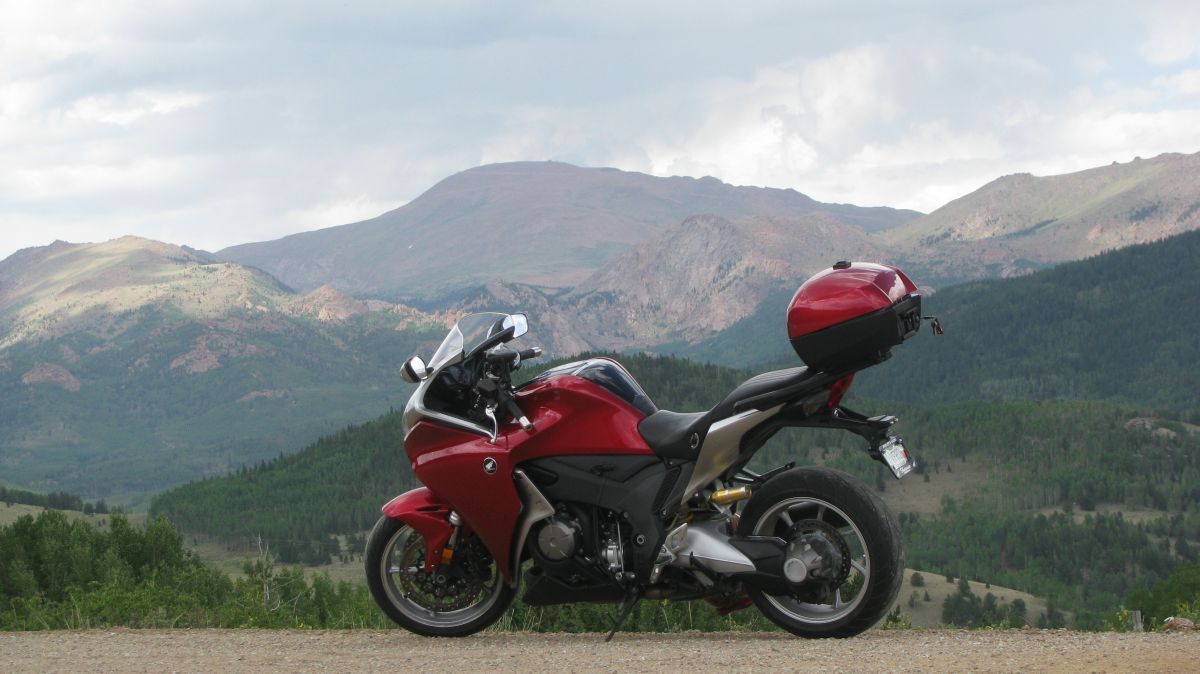 Veefalo and Pikes Peak South face of Pikes Peak
Facebook can be a pain sometimes but for the most part it seems to bring people together, a guy I knew from work Dave C I friended on FB and I have been keeping tabs on whats going on with him in the last few months. He is working at a new job now and life for him has been a bit rough as of late, lots of drama, he just wants to start over somewhere else but he is stuck for the moment due to circumstances and sometimes the only respite is a motorcycle ride! Motorcycles can do that ya know, make everything better. I am talking about a 6 hour escape from your troubles and a fresh breath of Colorado Mountain air, and a few fun curves to boot. Anyway I asked Dave last week if he wanted to join in on a failed ride I was planning that never came to life. So yesterday he writes me back finally and says what are you doing today? Next thing I know I am meeting him at a gas station along the way to our destination. Its no big trek today just a popular loop among Colorado Springs and Pueblo riders the Bishops Castle run, we added in a second destination Victor-Cripple Creek too and made a big 230 mile loop out of it. Lots of stops and lunch at Texas Creek Diner.
Dave meets me at the gas station and hes got on a mesh jacket and helmet but then hes got on shorts and tennis shoes? I am a bit uncomfortable with this and tell him that, knowing that if he tries to follow me at my speed in that getup he could end up rashed up pretty bad, but he assures me hes going his pace and well hes a full grown man and its his life not mine! So we ride!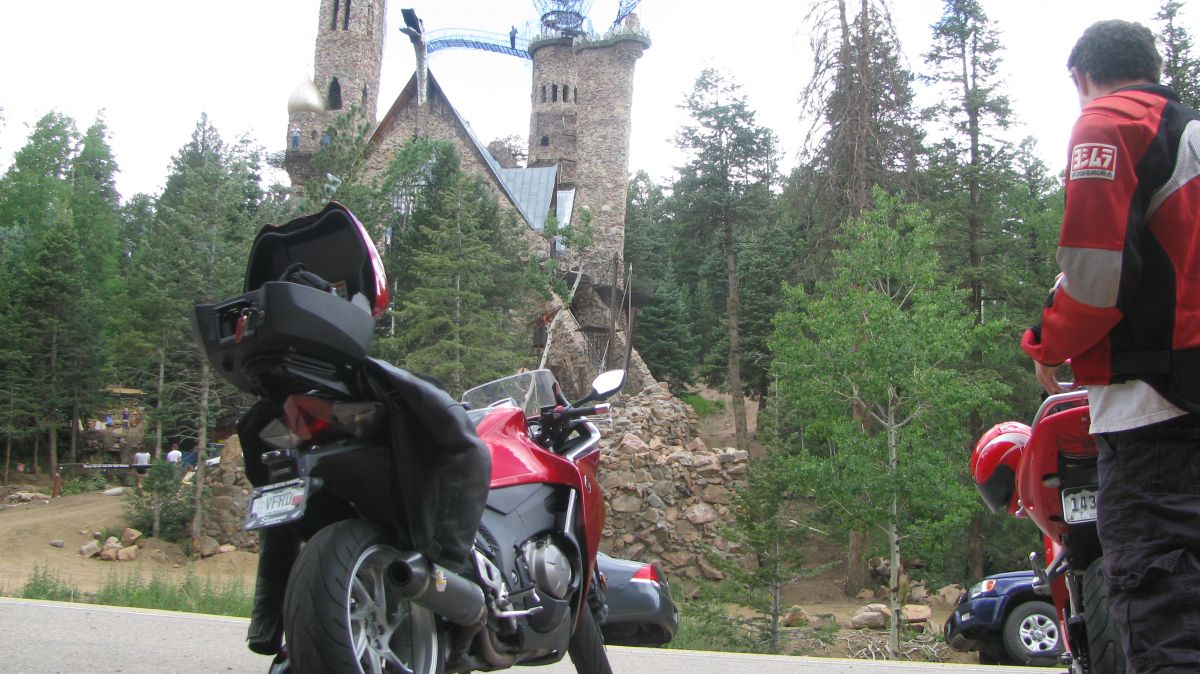 Bishops Castle Dave next to his bike
Some road work has us riding up and over some weird bumps at weird angles on hwy 50 its a bit unnerving with the diamond cut grooves too but we make it to Florence and turn off along the route to Hard Scrabble. The weather is sunny and freaking hot! My Transit suit is a bit stuffy but a pull on the main zipper vents it enough to get comfy again. Familiar roads sometimes are a welcome site and I often forget how good the roads are just a few hours from my home. Dave and I talked about that at lunch. What would I give the roads in Colorado on a scale of one to ten? I came up with an 8 out of 10, cause well it is a bit of slab to get to the good stuff, and its a bit short good the good stuff, lots of traffic sometimes and the road conditions seem to be in a constant state of disrepair, bumpy front heaved passes mostly. Beauty is...well its Colorado its unprecedented how pretty it is in the mountains, but 8 out 10 is awesome. I have yet to find a 10 but 9.5 I have (tmac roads) some Oregon roads were great, some California roads, Ozarks all 8 or above. Idaho cant forget Idaho! Oh well I digress here.
The ride to Bishops Castle is clear NO traffic at all! I was awesome and Dave rode his own pace so I wicked it up on the good stuff and waited for him on the straits. He rides a 650 vtwin Hysong. A budget bike for sure but not bad at all and hes got a two brothers pipe on it that sounds incredible. The bike is based on the sv650 by Suzuki and in fact Hysong contracted with Suzuki to make SV motors so the bike is an awful lot like the SV, not at lite as the sv but there are so many similarities its almost a carbon copy. The brakes are not as good the suspension is not as good but adequate. Upside down forks and the they are massive, heavy wheels though but Dave says that those who opted for lighter wheels found the suspension just could not compensate, in need of re-valving and springs I am sure if you go with lighter wheels.
Hes taken good care of that bike and it looks just like it did when he first got it, with some new parts on it, color matched rk chain is a nice touch. Its sounds awesome too but the Veefalo just leaves it in the dust! Passing cars is a bit of a problem for Dave, so I just wait at turn offs or on the straits. He just doesn't have the get up and go I do! I pulled off after gassing up along hwy 69 cause there is a bend in the road there that is a great picture stop, matter of fact its been noticed by allot of motorcycle magazines too.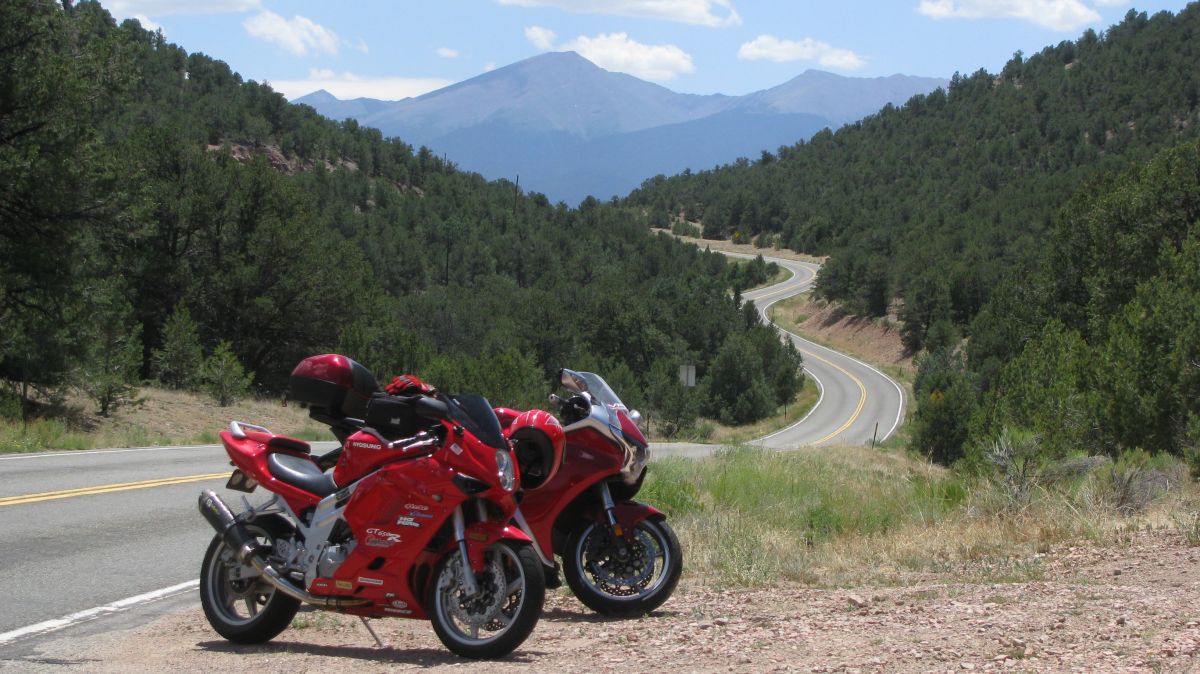 Gibbs Peak Colorado 69 - this stretch of road has been featured in a more then a few motorcycle magazines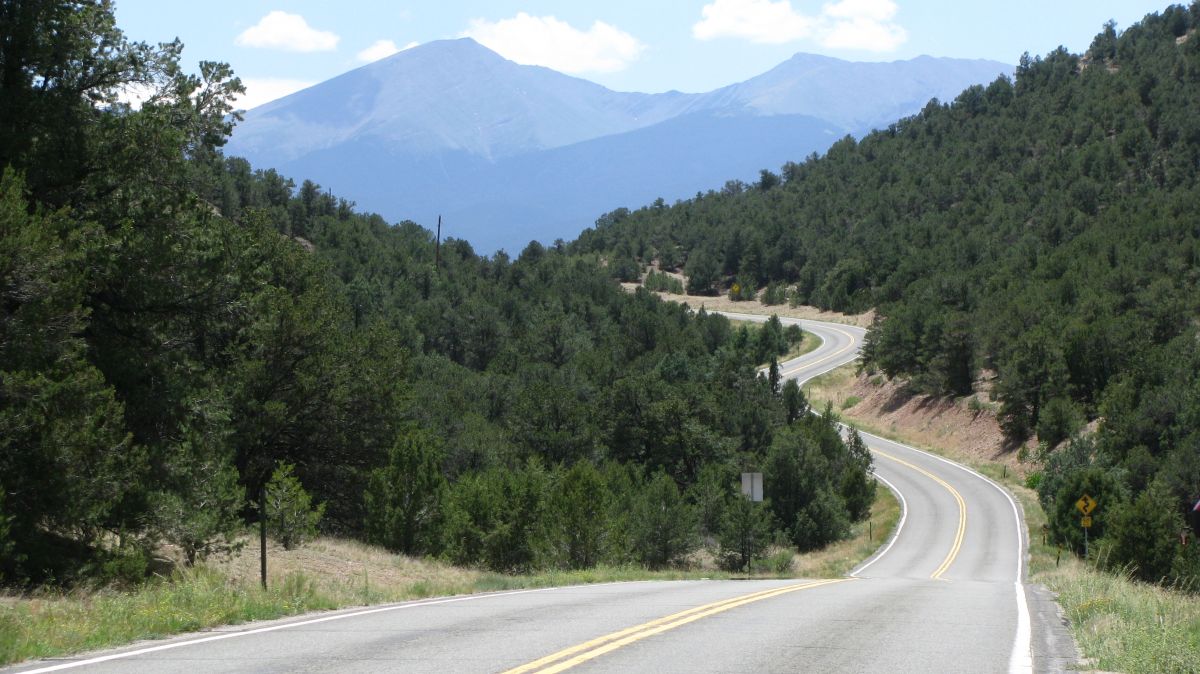 CO 69
We rolled on out of the Castle and headed for westcliff and then got some gas and then rolled down to Texas Creek for lunch, the place was packed with tourist. Dave was telling me a story about hwy 50 and tourist. Apparently a couple of tourist were playing you cant pass me on the opposite lane, and one tried to pass while the lead car sped up - just as he was coming the opposite way. He had to stop, literally stop his bike and jam it against the guard rail cause the passing car was head on both stopped in the highway 5 feet away - middle fingers flying he said! HEH wow! Too close for me!
http://www.vfrdiscussion.com/forum/videos/491/bishop2011.mp4
7 min video from the Castle to the McKenzie Junction
Lunch was very good a smothered green burrito I utterly gobbled it up in a few minutes, nothing to eat all day long I was seriously hungry by the time we got to the Café. I love that little joint, they put out bird feeders and humming birds feed just a few feet from you behind the big glass window.
I lead most of the way and took Dave the back way to see the south side of Pikes Peak, up over High Park road into Cripple Creek it was fun riding up the pass into Cripple Creek but he got stuck a few times behind cars, they move just fast enough to make it difficult to pass but not fast enough to care about staying put. Open road I always want open road! I waited at the overlook and watched him make his way past them finally and up the pass, Into Cripple Creek and over to Victor the road was full of traffic and a few Deer on the side of the road really slowed me down from there on.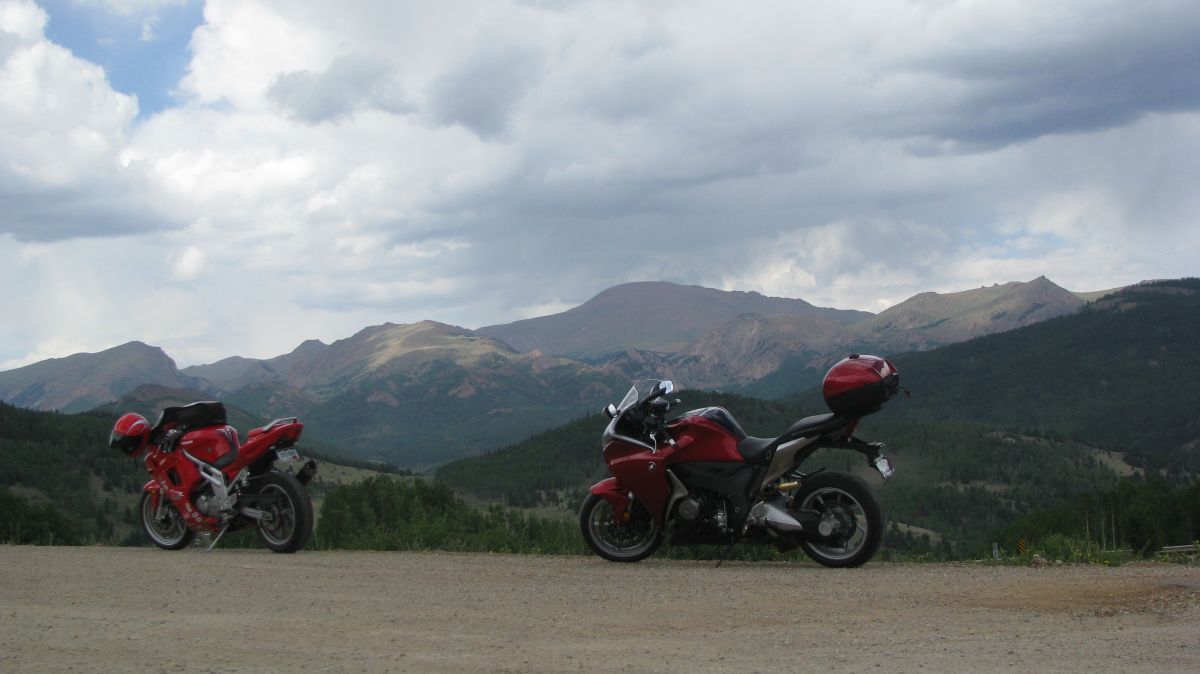 Pikes Peak Hwy 81 near Goldfield CO
After this pic stop it gets back onto the main hwy to Divide from Cripple Creek, and as usual since Cripple creek is a gambling town there is allot of traffic, I was picking them off 2-3 at a time but Dave was content to stay where he was, I rather enjoyed a bit of open road on the twisty parts and got in some good turns before we had hit the slab on hwy 24. Its a slab fest all they way down to Colorado springs from there Ute pass was a bust too semi tractors and slow cars we just crawled down it - not to mention its patrolled by the state allot too. I waved to Dave goodbye and well a good 6 hours on the bike spent for my last day off of the week. It felt good to ride. Thank goodness for Facebook cause I would have just sat at home if I had not got that message. I don't much like riding alone anymore, well at least in Colorado.
THE MAP