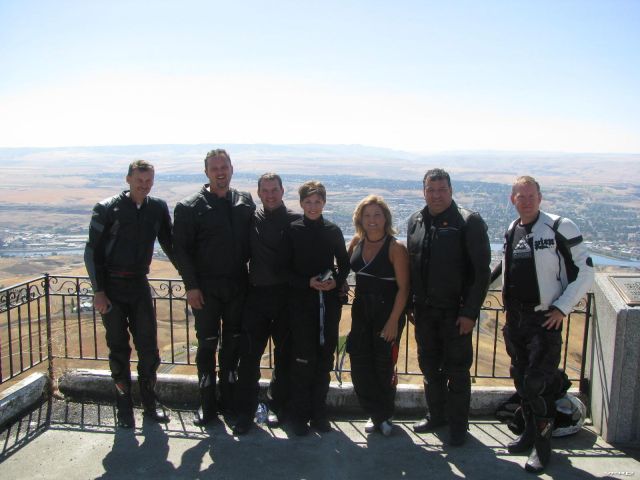 The Canadian Crew and Me at the lookout on the Old Spiral Highway
As another riding season begins to draw to a close I can look back at it with a smile and think "good times" - just right not too much not too little. I feel like Goldilocks in riding leathers testing the seats of other peoples motorcycles. Most people I ride with on my trips live an awful long ways away from me, a days ride if not more, so its not often I see them just corresponding here on vfrd. Its always a pleasure to see them again and usually the ride together becomes an epic adventure and once again I am happy to be riding with friends. I have always been a bit aloof but I have never been so much the loner that I shy away from people. The consummate average Joe, so average that my own mother called me "Charlie Brown" ever since I was a little child, Charlie Brown had friends. At my time in life reaching middle age friends are not so easy to come by, you meet them at work, at church (if your the pious type), and places but mostly they are just acquaintances.
It is as a motorcyclist I have found the most friends, not just with vfrd but long before that, I have always found a bond with people who find themselves at home on two wheels with a motor between their legs, people who don't think its crazy to do that! People like myself, and that is the key. As profoundly different as we are in life, by race, religion, culture, nationality I can honestly say motorcyclist are "people like me". I find an awful lot of comfort in that - since that spirit of kinship doesn't come so easy, not for me, the loner "Charlie Brown". So when I go to a vfrd rally in Troutdale Oregon and meet a few new people and come to know them, then reunite with vfrd members again its an honest friendship I find very rewarding. It is the reason I really created this website, out of a selfish need to find people like me. So it goes a very special riding season draws to a close and I am once again planning for next year!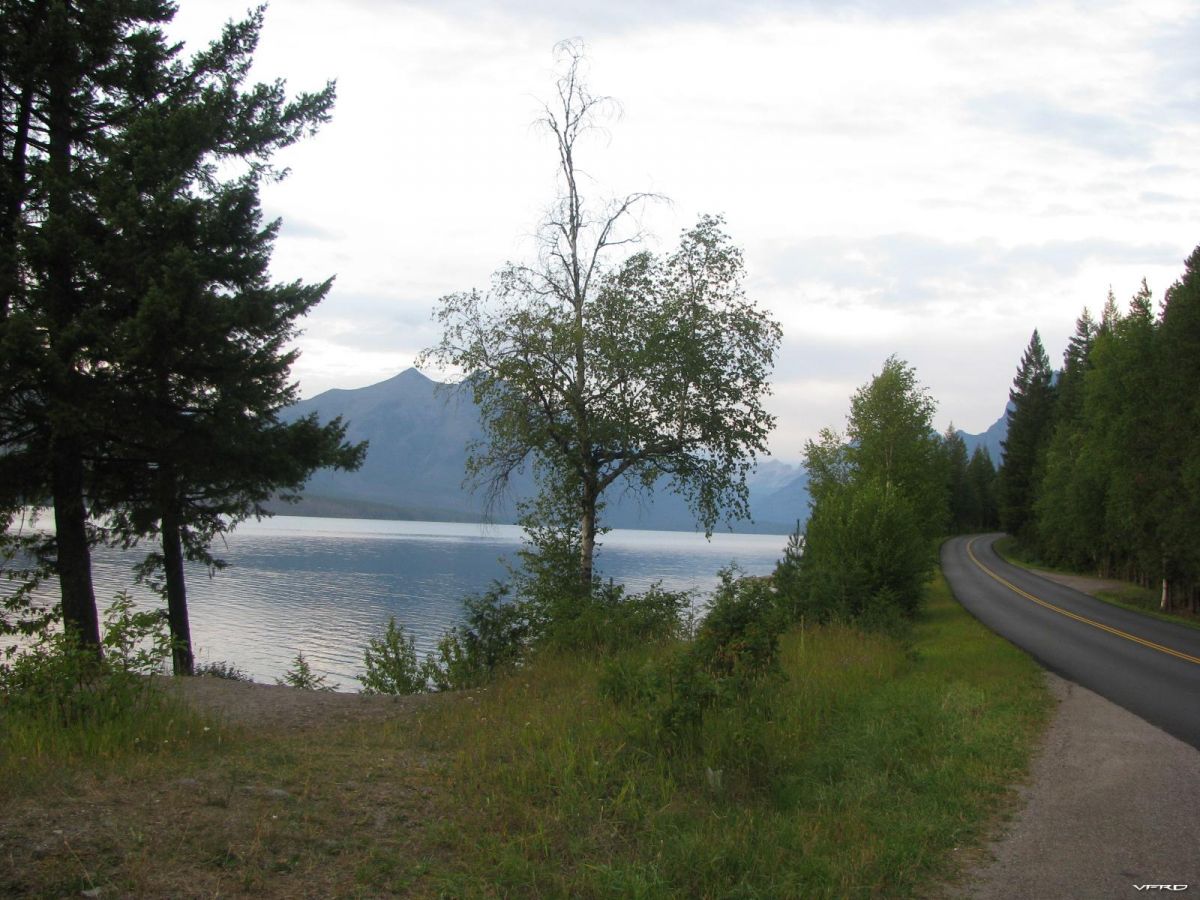 Lake McDonald Glacier National Park
It was the the end of the PNW meet in Troutdale and we had split up - half of us on the way to Canada and the rest of us on our way to Glacier National Park. Radar, Radars-rider, and I would ride one more day together to go and visit Montana. We took a rather out of the way route from Idaho to Montana or so we thought, my gps was constantly trying to route me off what it thought was a dirt road, up to Thompson Pass I was getting confused as to where to turn off or if just to keep going? We were sort of playing it by ear, Radar had never been to Glacier before so he let me lead. We got off the interstate as soon as we could and turned on this back road and it was shaping up to be a nice road that mirrored a nice creek, lots of fishermen wading in the stream and a generally picturesque place to behold. Soon a turn came and went and the sign said Thompson Pass so I turned around and took it. Thats when it got to get interesting since the surface took a turn for the worst. Like it had not been resurfaced in years, bumpy and up and down wavy roller coaster type things going on, I thought perhaps the gps was right we might be heading for a dirt road right into Deliverance. I was very surprised when we rolled up behind the longest stack of cars, Harley's, and RV's I had ever seen. The road had no straits long enough to start picking them off one by one so we just sat behind them all for mile after mile till we came to a village in Prichard Idaho, where some sort of festival was going on. It was all very confusing. Where were they going since we could see none of them turning off and why so many all bunched together. I saw an opportunity after the village to pass them all at once and I took it with Radar in tow right behind me. No real traffic behind that mass of locust and none past them either? It remains a mystery where that caravan came from and where they were going?
Then Thompson pass came along for a few miles of great twisties on the Idaho side and a few more on the Montana side but a bit bumpy on the shady side of the mountains. It was turning out to be one of those great roads - you don't really enjoy it till its almost over? Then you realize "hey that was good"! Too bad that it was all slab from there on out, along with 15 miles of road torn down to the dirt. You would think a car with 4 flat square tires could handle it better then a bike but nope they all want to go 15 miles an hour on dirt? One guy even went so far as to bob and weave around so much that I though he might have blown a tire, he was only looking for the smoothest part of the road - again at 15 mph - Radar and I found a bit of daylight and passed him at 40 and showed him the correct way to smooth out an easy dirt road - go faster! Somehow we were soon at Flathead lake and rolling our way into Kalispell but I turned off and totally missed the entire town, good thing since I don't much care for that place so much. Radar had reservations at an RV park that had a motel, cabins and even teepee's to stay at! I got a little apartment off on the edge of the property and they had a room in the motel. We took a break and washed up then headed to Hungary Horse for a meal and some awesome Huckleberry pie!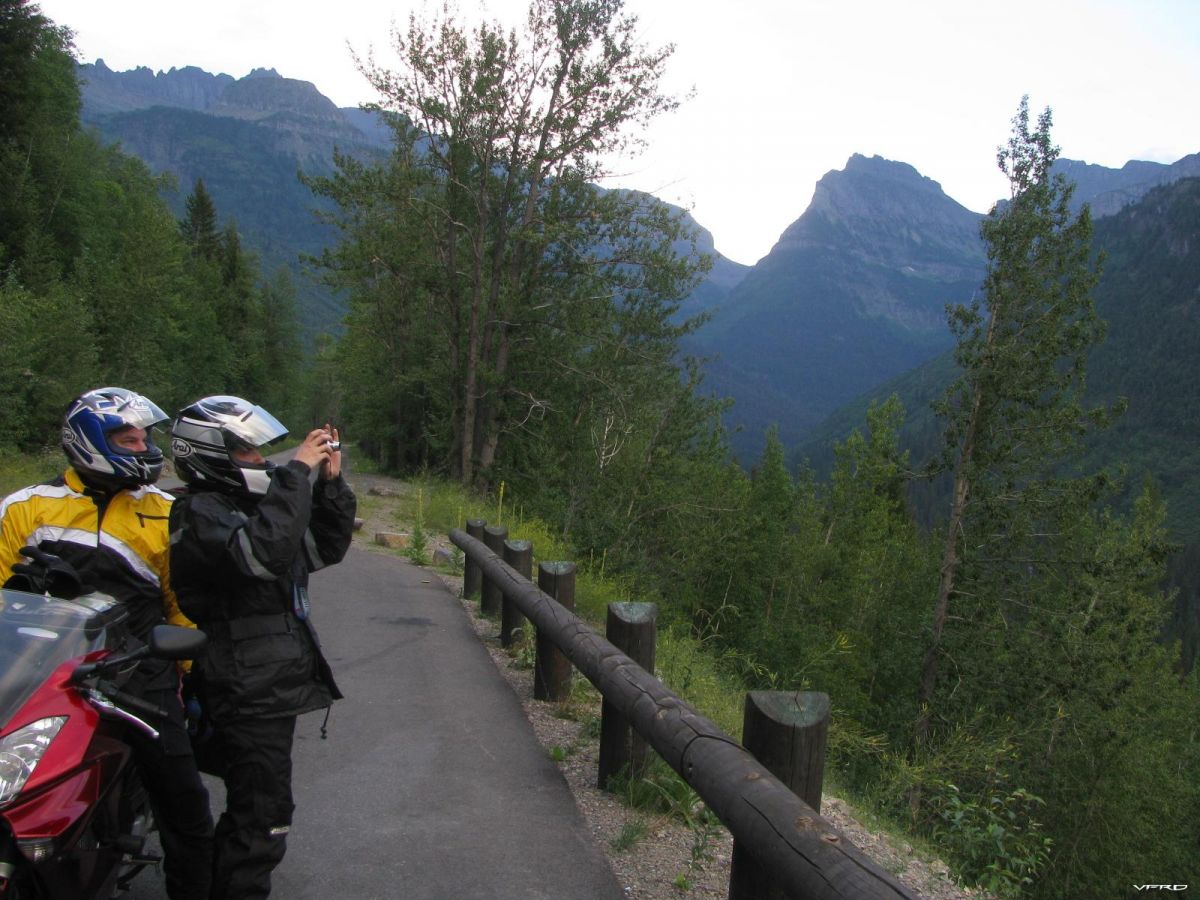 Radar And Fay early in the morning up Glacier National Park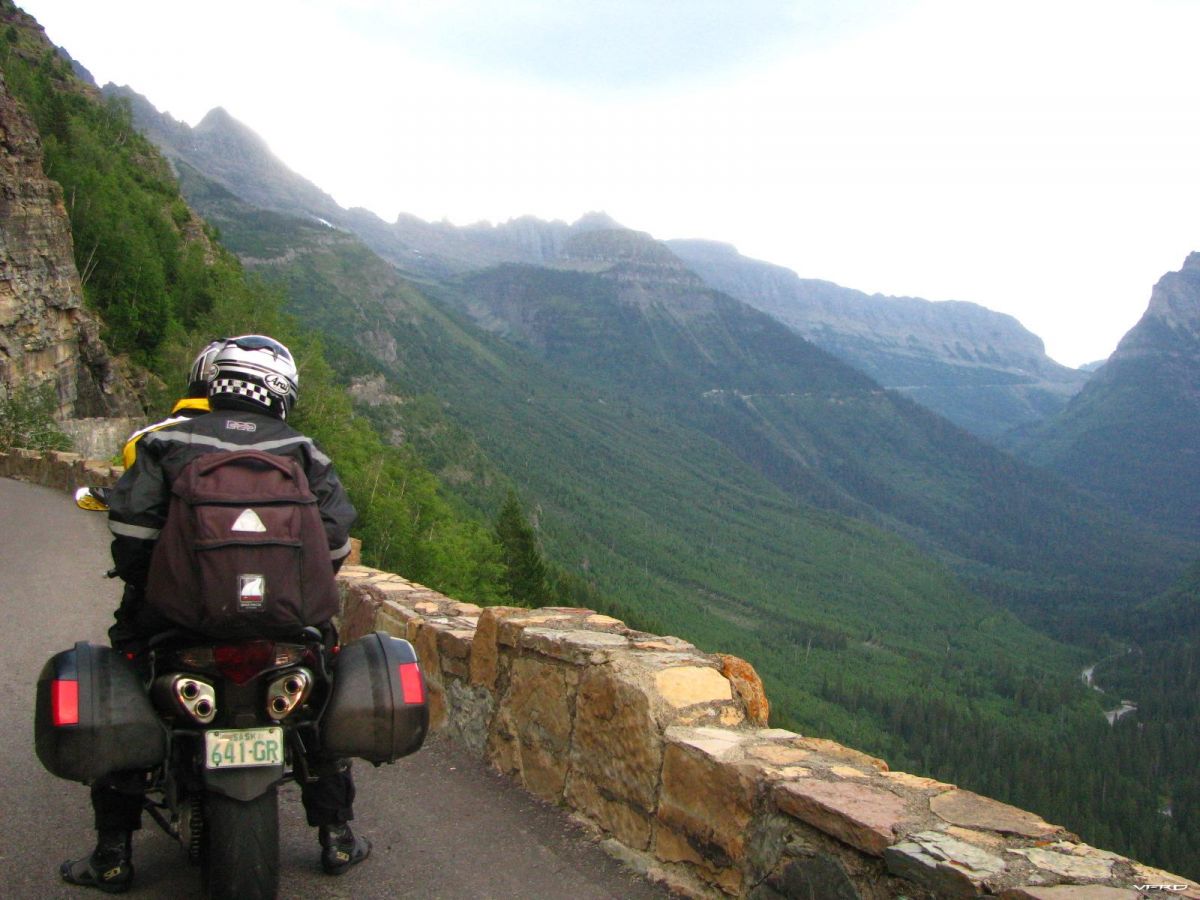 Going To The Sun Road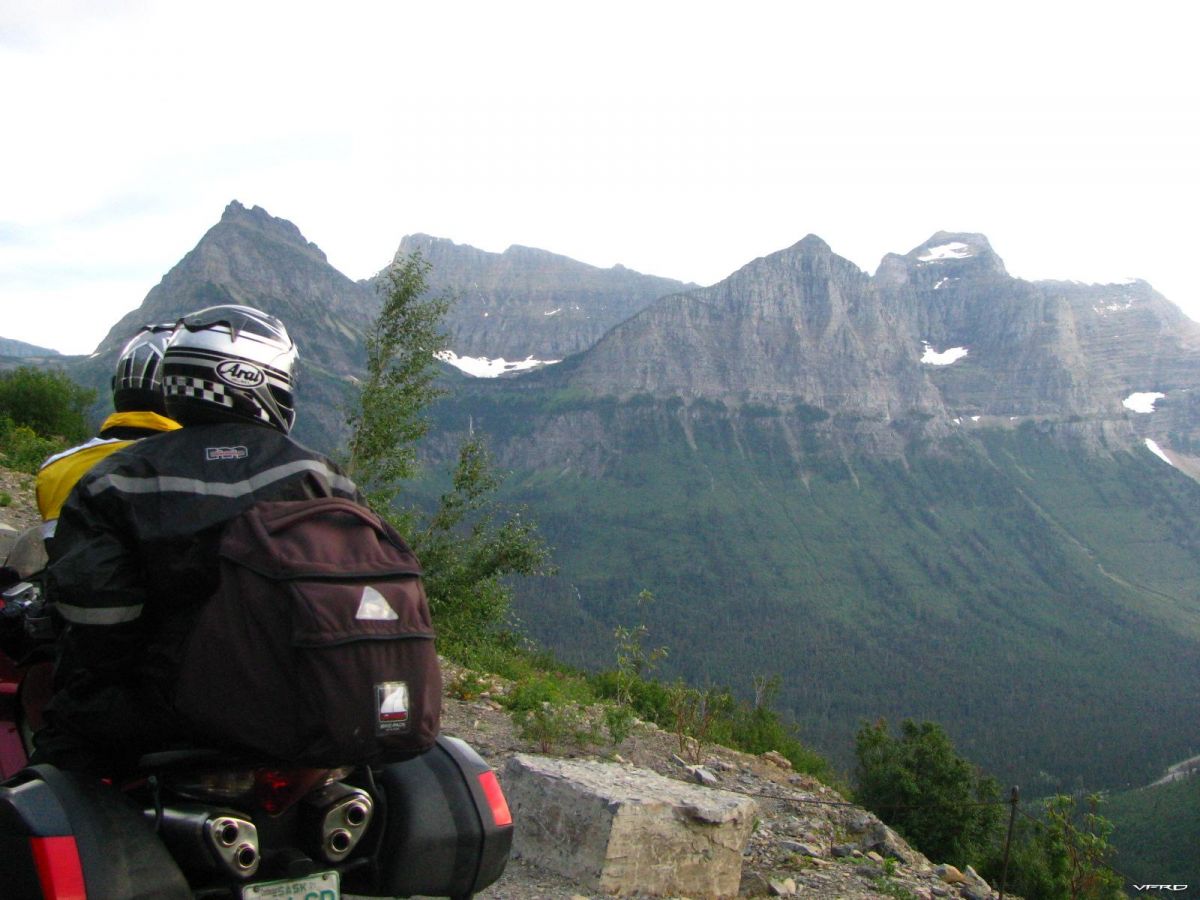 Logan Pass on Going to the Sun Road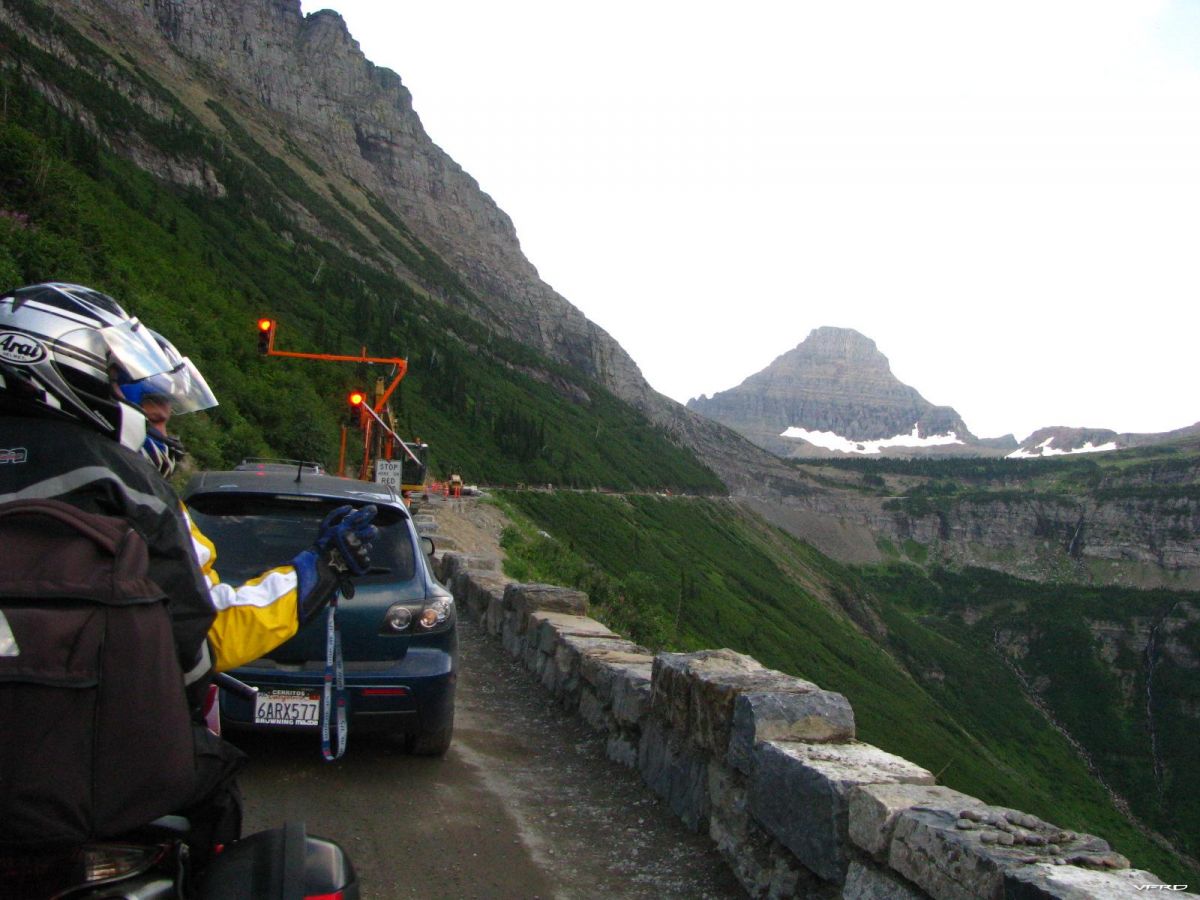 Short Delays Mt Logan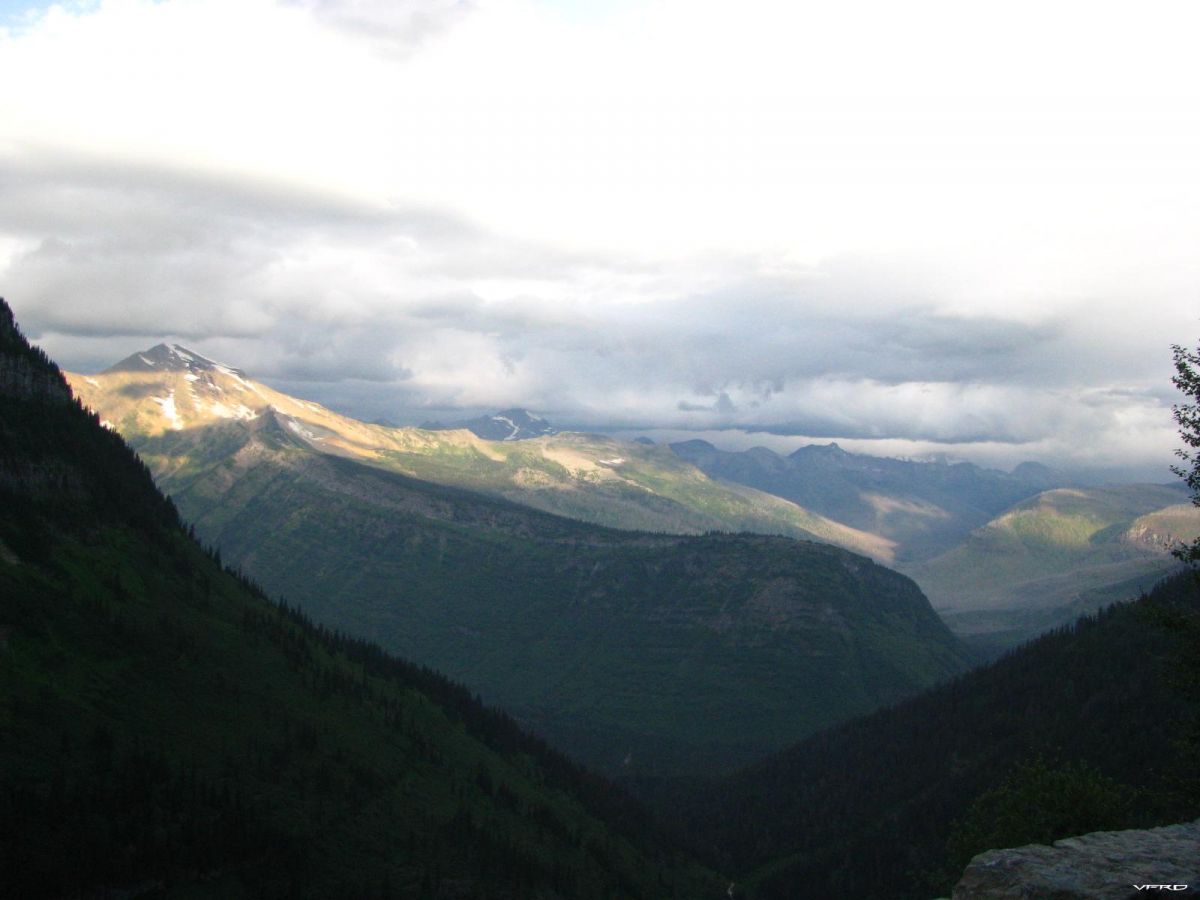 We made it through the park between storms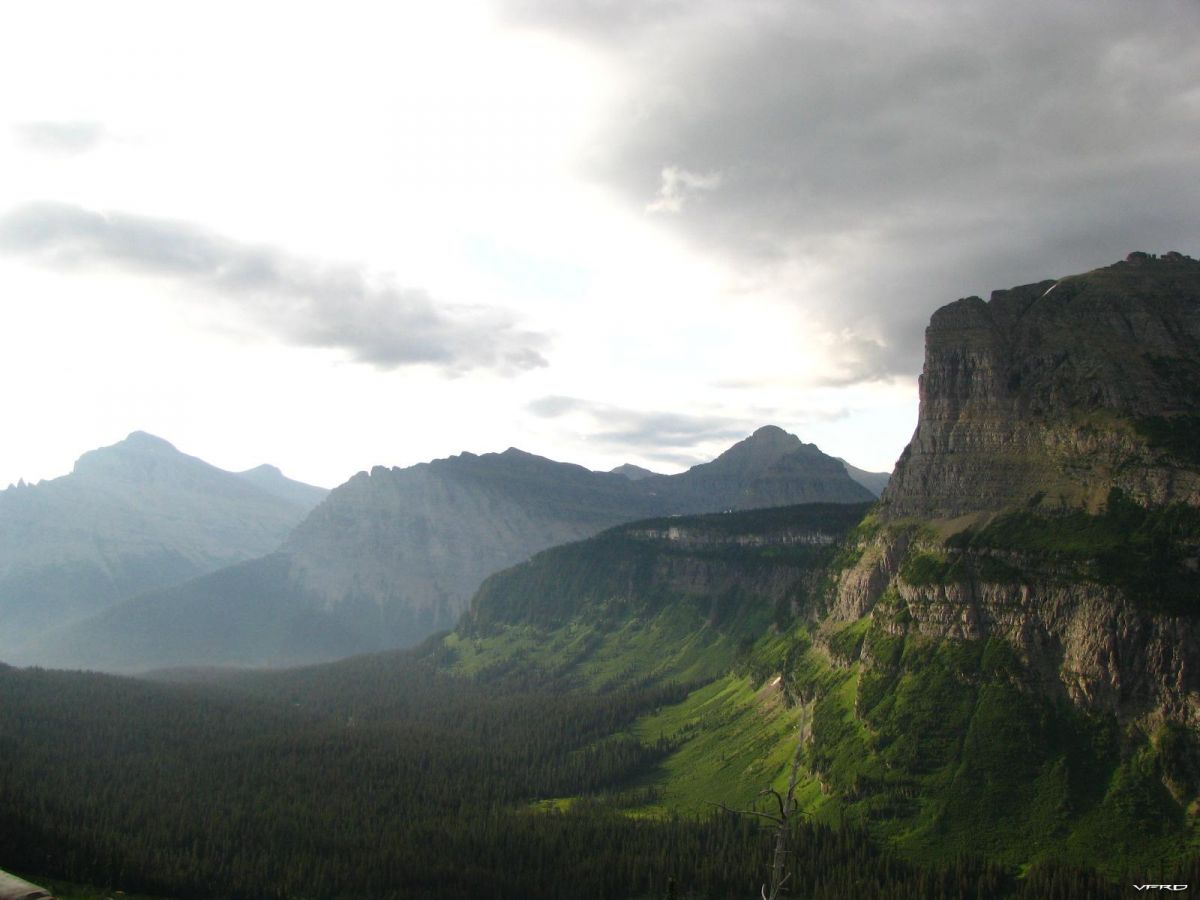 Fantastic view
The next morning we bundled up expecting cold rain but somehow managed to ride between two storms - all the way into and out of the park. It was early so we did not have to pay, the ranger at the gate did not even acknowledge we where even there, sitting there like fools waiting for somebody to take our money till a cager passed through without paying and so we followed. It was even rude - totally ignored us! Oh well its was much cheaper this way!
http://www.vfrdiscussion.com/forum/videos/491/glacier.mp4
At the end of the park is where I would have to say goodbye once again to radar and his lovely traveling companion Fay, they were on their way to Saskatoon and me I was gonna try to make it to Cody Wyoming. In the Indian country on the Montana Plains is got to be where the name "Big Sky Country" comes from since it is very much so. I was rolling south to Helena and racking up the miles one by one at a pace that if it was not Montana might land me in Jail. Stopping for lunch in Choteau I found a wonderful café that had some of the best food of the whole trip, Biscuits and Gravy and real gravy! Good stuff!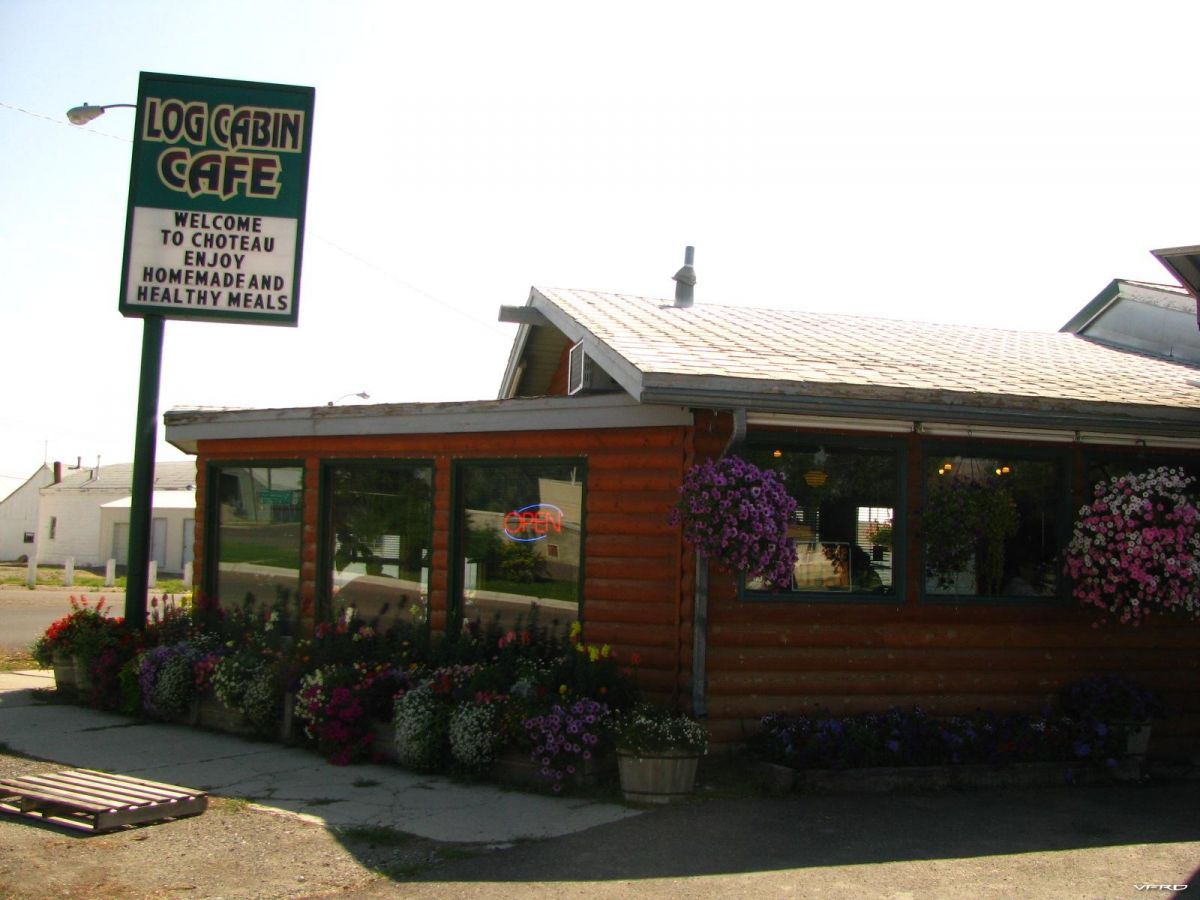 Brunch In Choteau The food here is excellent
The rest of the day was slab to nth degree, nice sweepers on interstate into Helena then an awful 2 lane road hwy 287 on the way to the interstate heading east to Red Lodge. I was planning to make over Bear Tooth Pass by nightfall but I was taking too much time, a huge fire along the highway at Columbus almost choked me to death with smoke so I got off the interstate there and went a back way into Red Lodge, it was also under construction and down to the dirt base so I was going along even slower then I would have. Then smack right into a rain storm I finally pulled into Red Lodge and looked for a motel! I found one on south side of town and I am glad I did cause it was one of the highlights of the whole trip. Harley Davidson's parked side by side the whole parking lot, two large groups of motorcyclist had pulled in also to get out of the rain. One group from Boise and the other from Queensland Australia - talk about an epic trip. I was hardly able to swing my leg off the bike before a nice Aussie was handing me a beer and a braut and inviting me to come have dinner with them at the BBQ - and I did and it was great! Lovely people these Australians the the Boise group too, all different walks of life, age, fathers, sons, wives and old friends. I was like I landed into a second rally in Red Lodge!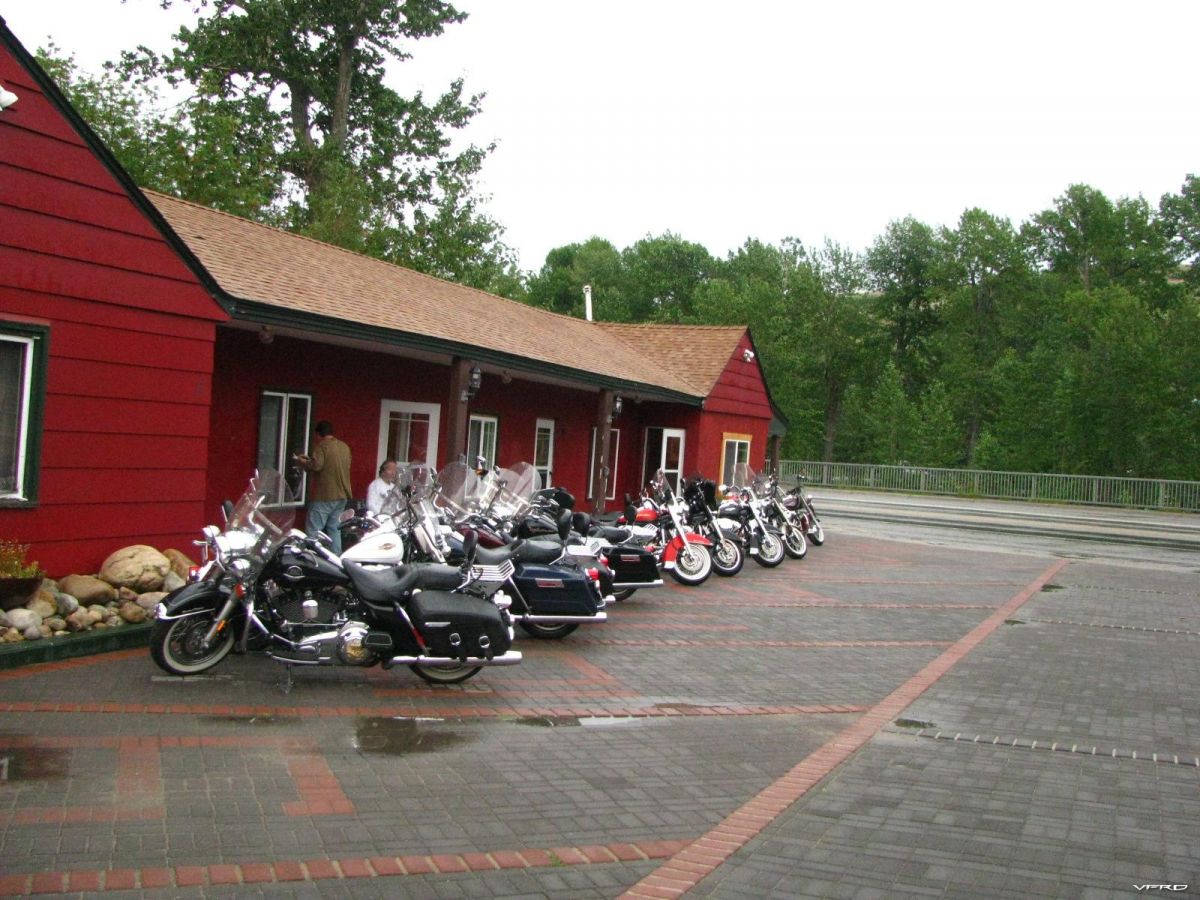 Out of the rain - at the Red Lodge Inn two groups of Harley Davidson's also stopped to get out of the rain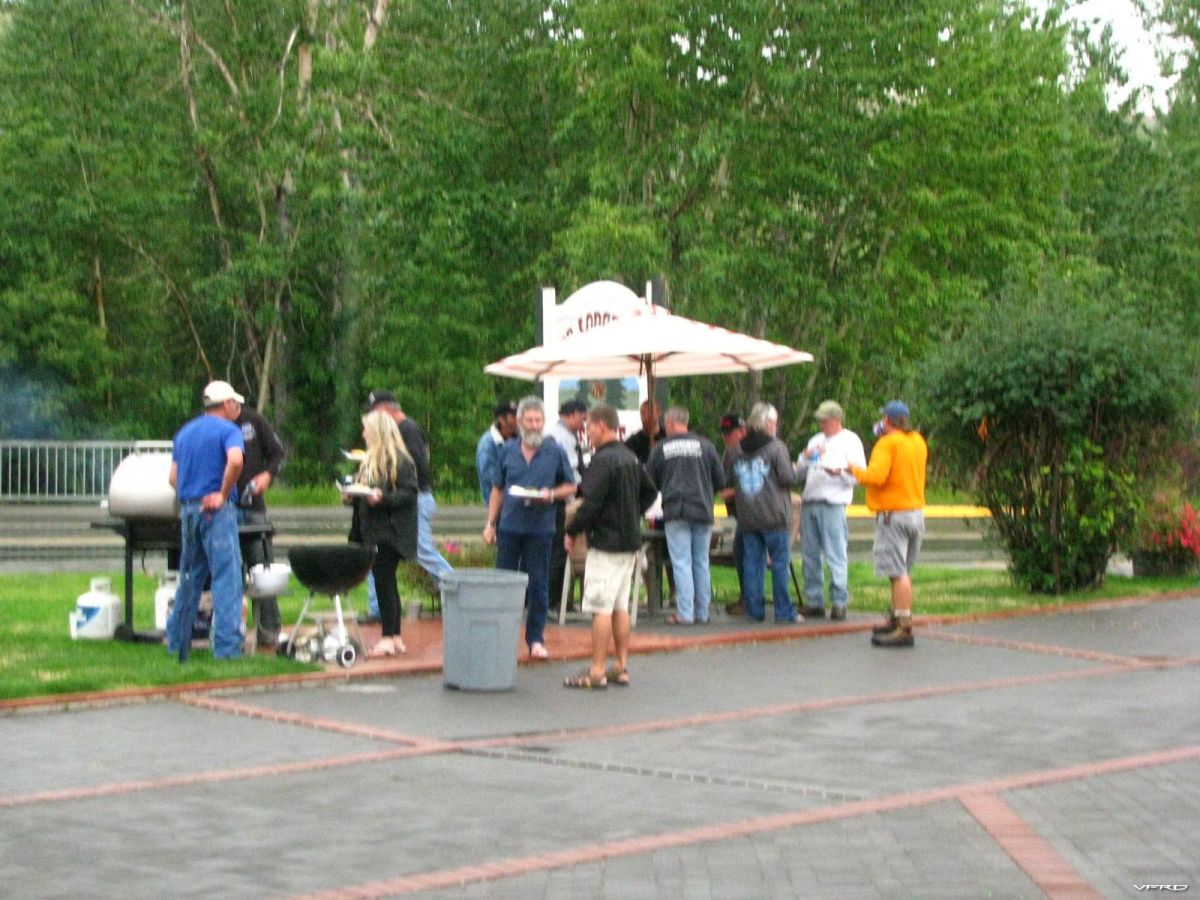 Australian HD riders they cooked burgers steaks and dogs for everybody - with beer for everybody it was like a mini rally in the Red Lodge Parking Lot we had a great time
I drank so much beer I got a headache cause every time I finished one somebody was handing me another! We stayed up till the moon rose and the stars of the Montana sky were so bright we could see well enough to stumble to our rooms. Oh boy did I have a good time! I woke up to the sound of roaring Harley's and the entire bunch had gotten up early to head over the pass together. I has semi packed already so I just showered up and put the bags back on the VFR in an empty parking lot. I gave my key back to the owners, a nice couple who just bought the place and renovated it, trying to make a go at being innkeepers, I must say they sure were great hosts, shuttling us to the grocer for burgers and making beer runs for us all night long. Good people I hope they are successful in their business. If ever in Red Lodge make sure to stay at the Red Lodge Inn on the south end of town, new red paint and brick parking lot.
Red Lodge Inn
811 S Broadway Ave, Red Lodge, Montana 59068
(406) 446-2030
I got on my bike and headed for the pass 20 minutes later and to my amazement I caught them all at the base - of course I passed them and waved as I went by, I had a long 700 mile day ahead of me yet to go. Stopping a few times for pictures till they almost caught up again and off I went, it was incredibly cold at the top of Bear Tooth Pass the digital thermometer on the dash said 32F! My hands were frozen with the lite summer gloves even with the grip heaters on high!
it was 30f at the top my hands were numb

Bear Tooth Pass Panoramic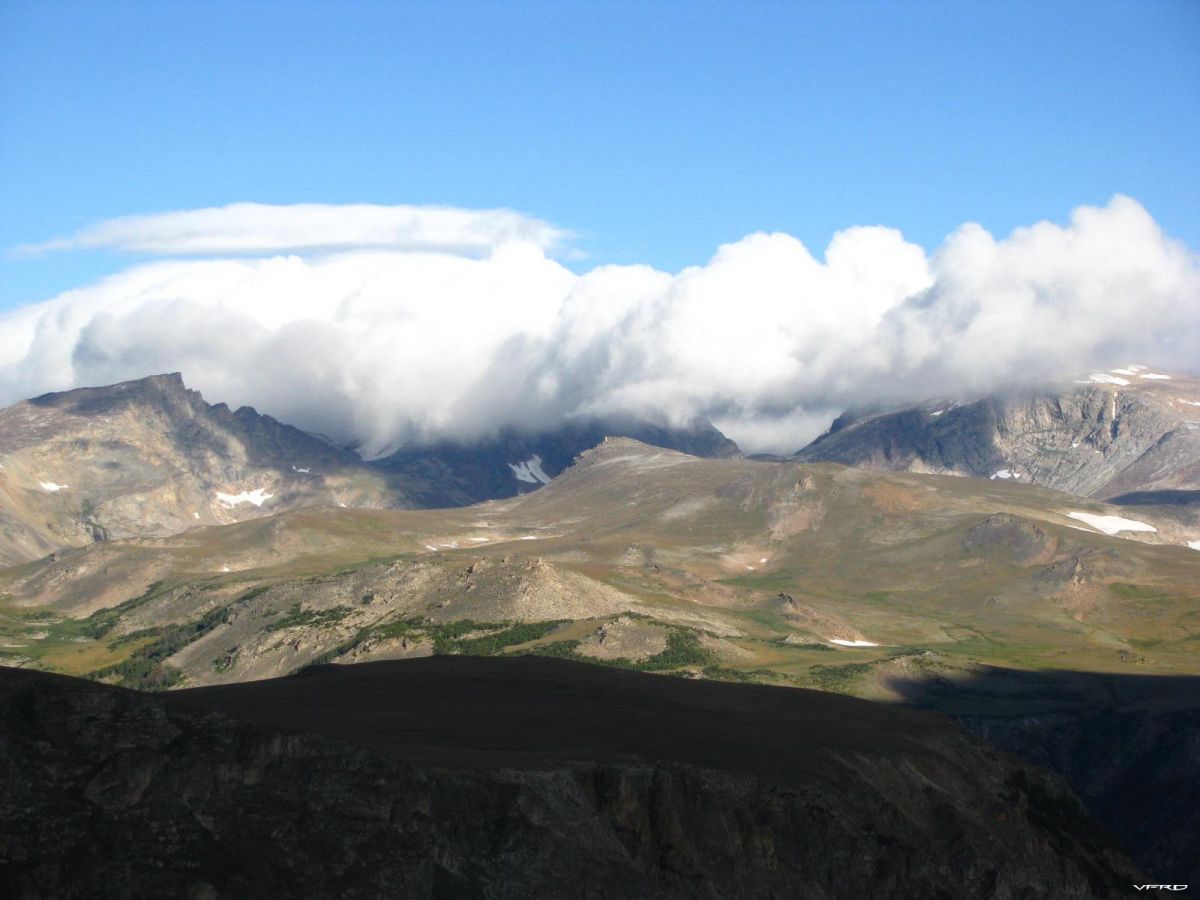 Bear Tooth Pass it was 30f at the top my hands were numb
The ride to Chief Joseph is always fun, 80 mph sweepers and then some nice 20mph switchbacks on the way up to the top, I was again alone.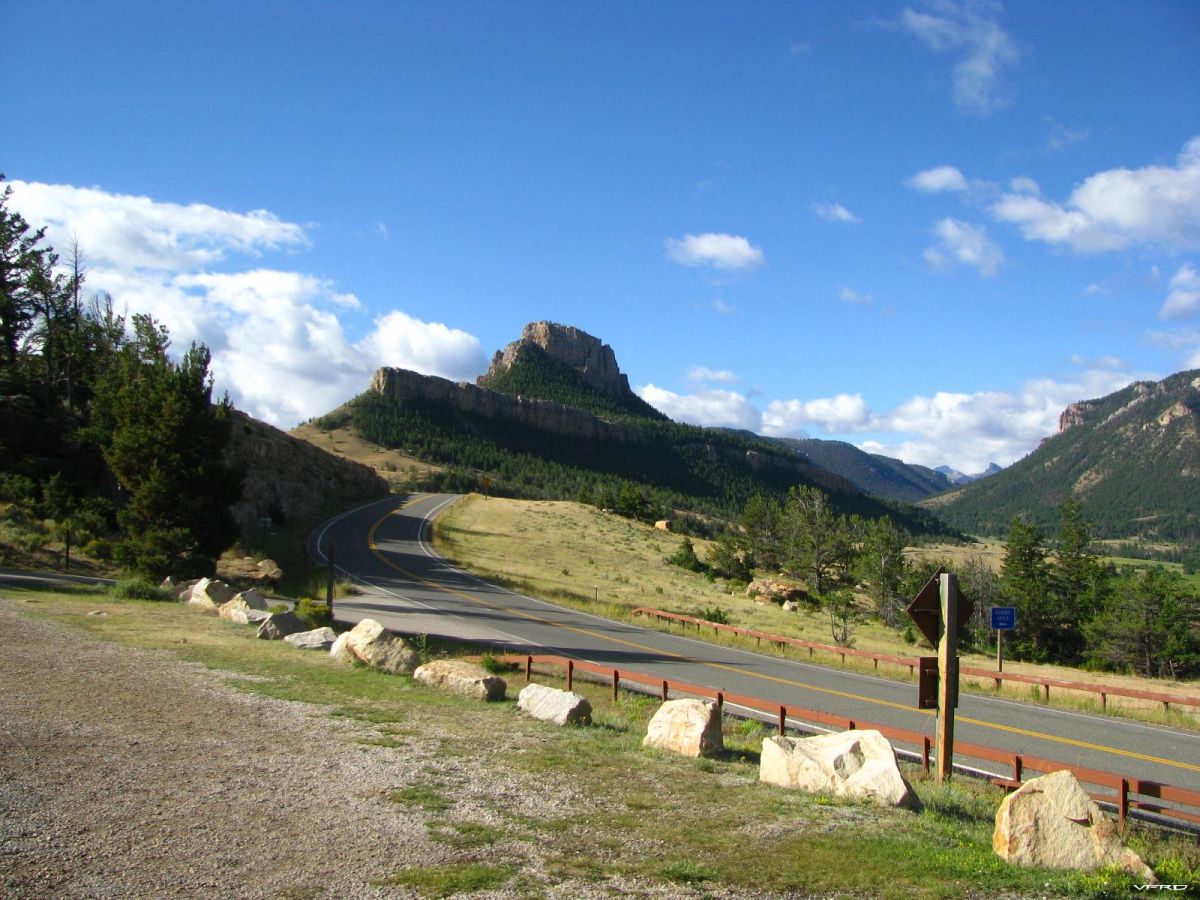 Battleship Rock at the bottom of the Chief Joseph Highway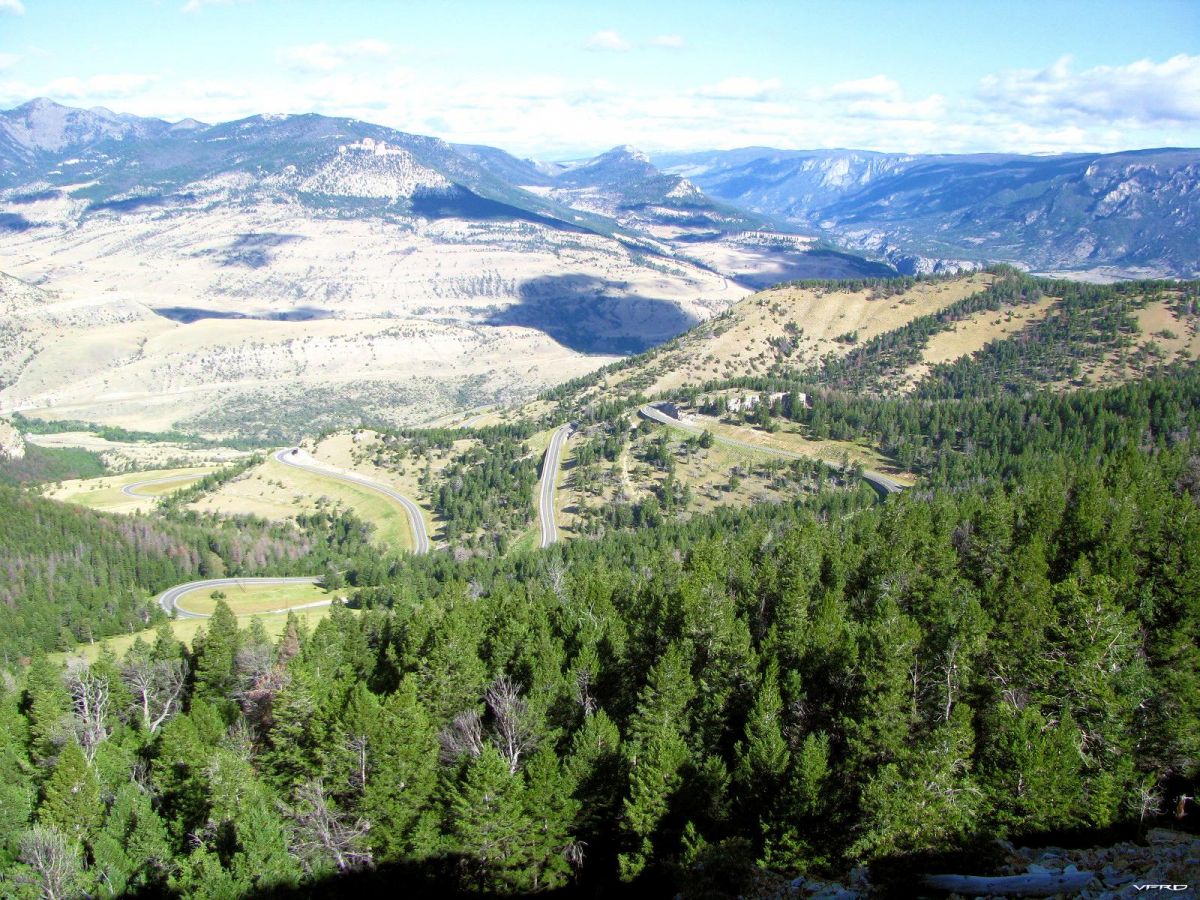 Chief Joseph Highway Wyoming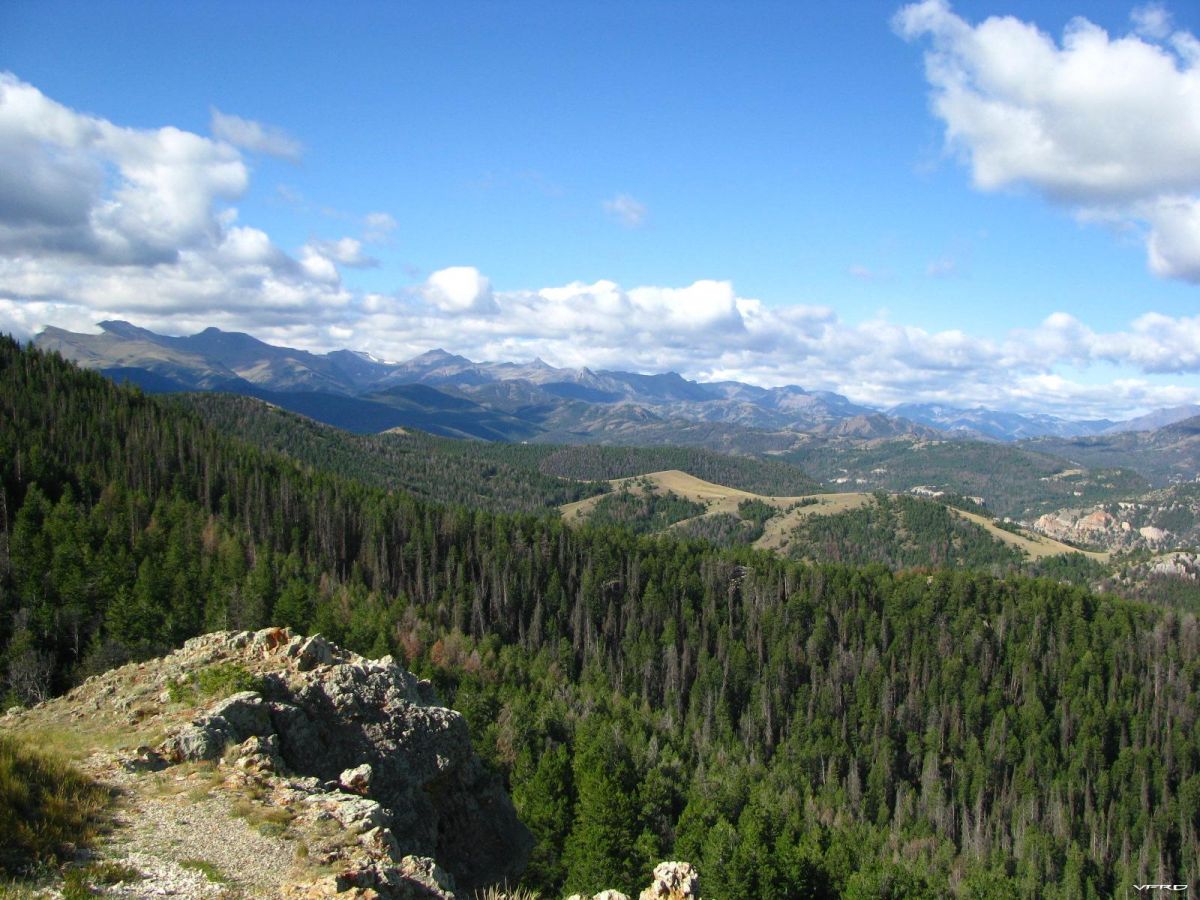 Chief Joseph Outsmarted the US Army In those mountains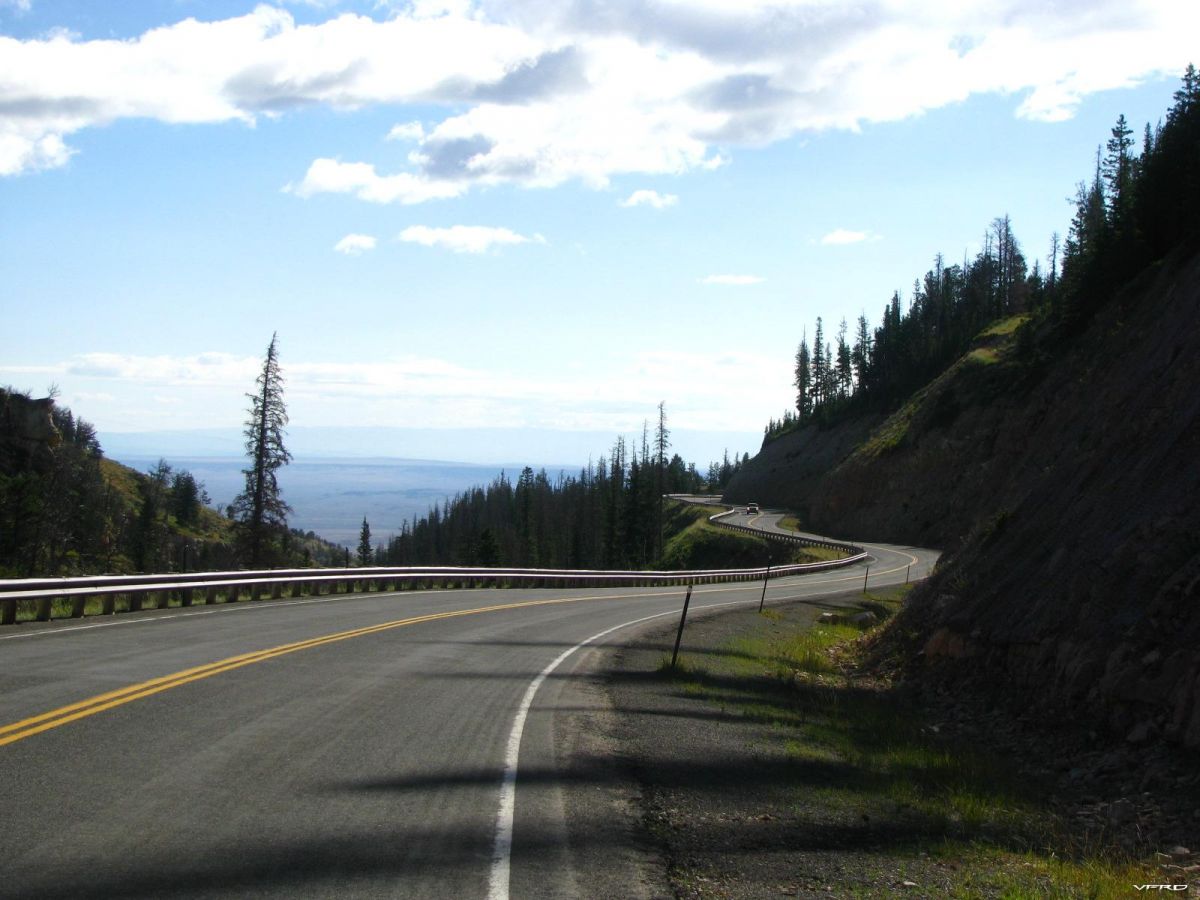 A few more curves before the slab starts
I stopped for breakfast in Cody and wondered out loud what was I thinking? No way could I have made it here by night fall then just about then a guy rolled up on a Honda Shadow no helmet and an earring in his ear like Sinbad and a bandanna on his head. He gets off and says hello, he tells me he and his friend rode strait from Detroit to Cody Wyoming in one shot, and instantly made me feel like the ultimate pussy! He said he was hopped up on cigarettes and coffee and that it had become some sort of how long can you go competition between them and no way would he have done that alone! I thought he was a nut, especially since it was all interstate, I would be frozen on a fetal position if I was him! Dude good luck get some sleep now!
So off I went to cross Wyoming and I took the most boring path possible but the fastest, although wind river gorge was nice it too turned into a construction nightmare with a pace car and the, whole crawl a snails pace for and half an hour scene! Economic recovery DOT style, fix all the roads all the way down to magma now? We need fresh magma, hot molten rock to build this road on! ?!
OK so the rest of the day sucked - end of story! but I did 700 miles on the veefalo - no bandanna or earing but not bad! I rewarded myself 50 miles to go with an ice cream in Sedalia! It was a great vacation!
********Update***********
I got an email from Dawn, the Matriarch of that fine bunch of Austrailians I met in Red Lodge - I was happy to hear from her.
Hi Miguel finally got around to emailing. I have attached a photo taken in Kanab, Utah of 8 of us, Stu was taken the photo. I haven't got all our photo's together yet but if I get the group one of us I will forward though.. If you have one I'd like to see it.

It was great to meet you and I hope you had a safe trip.

We really enjoyed America, all had the best time & met the kindest people. Please keep in touch & if ever you have a chance to visit Australia, you are always welcome.

Talk soon, take care

Dawn Page & crew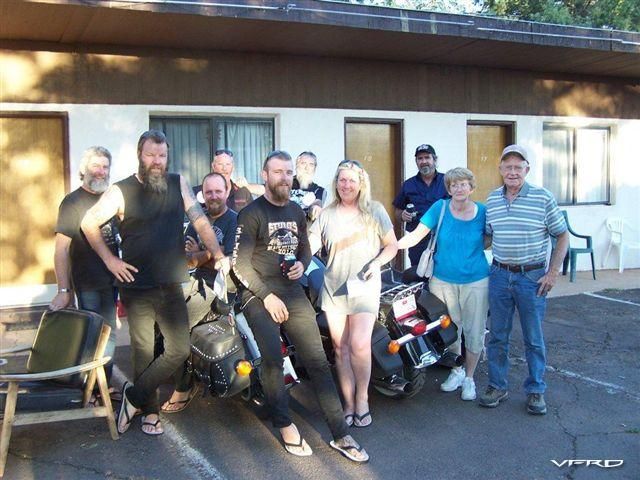 Dawn Page & crew Dawn sent me this photo via email from thier adventure in the USA - as is thier fashion they invited the owner of the hotel into the shot - very good people.