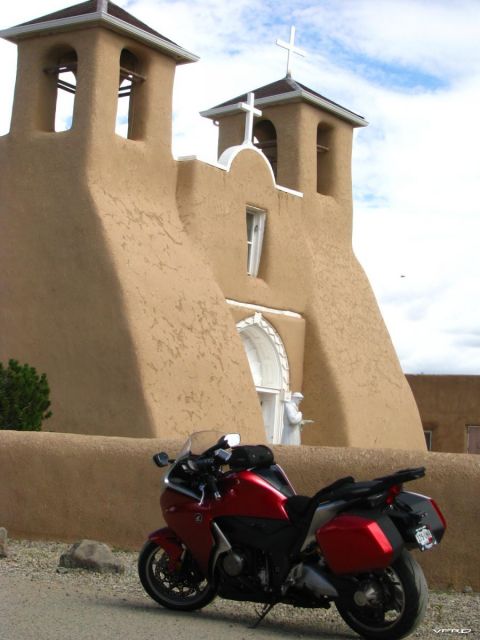 San Francisco De Asis Taos New Mexico
I sort of slapped together a ride down to New Mexico to catch a ride with Vanion and the New Mexico riders to hit the Gila Monster once again. This would be my third time on that road, the Deals Gap of New Mexico as it were, not quite but darned close. The only drawback is its practically in OLD MEXICO and so a ton of slab on the way down there. I took a 4 day route, one down, one for the ride, a rest day at my sisters house in Santa Fe, and finally the ride home. I told my boss I intended to ride down right after work and get some sleep when I get into Albuquerque. He thinks I am nuts for doing these crazy rides but he always comes to me for advice about what good scenic roads to take in Colorado so he thinks I am on to something. In any case he was kind enough to let me have a couple days of personal time and off I went. I took the interstate into Walsenburg, a town of which I have never much liked, it always seemed a place of which to endure going thru on the way to my real destination, you have to go through it to get to hwy 160 and over La Veta Pass. Hwy 160 is probably one of the most patrolled hwys in the whole state, simply cause its go so many different counties it goes through and its one of the State Patrol training areas - so speeding on it has its risks, usually La Veta Pass is clear but the San Luis Valley and further West near Pagosa Springs is always a speed trap - just every thing west of Alamosa count it as a speed trap. I usually avoid it when ever possible hwy 50 is much more scenic to me. However when heading to Santa Fe to see my sister I often take it cause the interstate is a serious bore. Turn off 160 and down into San Luis the oldest town in Colorado and the name sake of the valley for which it is named for, its a small town steeped in Hispanic history, once part of Mexico you can bet every body there knows everybody's business!
The ride into New Mexico from Questa New Mexico is pretty, it is much different than Colorado more arid and desert like, and it has lots of Indian Reservations along the way. New Mexico is a very spiritual land with traditions that go back a millennium in some places. Taos Pueblo for example has been occupied destroyed and rebuilt always with native Indians living on it for over a thousand years. Thats what you call Pre Columbian! Now enough with the history lesson - since I don't really know what the hell I am talking about - just regurgitating quotes from my broother In law Billy so I will try not to bore you too much. Yea I learned a thing or two from the man. I was always impressed with how much Hispanic and Indian culture has shaped the state of New Mexico, there are places in Colorado that are as well but it has been washed over and pretty much erased by later history, most of it settled in in the last 200 years. I am just used to being part of a small minority on Colorado where as Hispanics are the majority there and their influence is everywhere. One could say I am conflicted being half Caucasian and half Hispanic, and never having learned to speak Spanish I often get strange looks by people when I tell them that I don't speak Spanish. Well I don't! My daddy is as white as a snowflake and my mom pretty much forgot all the Spanish she learned with she was a kid. My aunts and uncles are all fluent but much older than my mother and she was raised in foster homes so she lost touch with the language at an early age. My sister on the other hand is blond and blue eyed and she speaks it much much better than I could ever - she is after all a genius when it comes to language and academia.
So on with the ride, I made the mistake of riding right into Taos right into the mess of tourist and got pinned behind a mass of cars on the main strip, the ride into New Mexico from this point on was to become a life or death struggle it seemed as every rice jockey in a celica and what ever cheap ass compact car was out to take the 5 inches of pavement right in front of me. No signals, no thats for losers! These people meant business I need to turn now and I can so here I come move or else! Shoot I just SIPDE'ed the hell out of Taos, and Espanola, Pojaque, Santa Fe all the way into Rio Rancho cause it was non stop for 200 miles. Aggressive as hell and every body was out for themselves! I saw a couple two up on a gold wing and being not from here I decided to let them take the lead and see how they negotiated it - the word is Aggressive, tailgate, and pass at every opportunity is what they did! Daylight for two car lengths they took it - no matter if there was traffic ahead as far as you can see they took it. Me I followed cause at this point it was the only thing keeping me awake. Shoot even an Ambulance in Espanola almost took me out with a left hand turn right in front of me - idiots no signal - I slowed down and started to pull aside as this was a 4 lane split down the middle with a no mans land in between the Ambulance driver failed to signal and just jerked the wheel left right in front of me till I had to come from 30 mph in a 55 to a dead stop to avoid getting hit. Jebus he went right over the median and turned left right into me? I was dumbfounded it was like he was looking to cause and accident for something to do? I mean over the bump on the median over the dirt mound and down the bump and right INTO ME! I thought I was safe but NO! then he took off down a dirt road and disappeared as I check to see if I had wet myself!
Just a half hour before coming into Rio Grande Canyon past Taos I was heading around a corner - saw a semi tractor trailer on the side of the road on the other side, and he pulled out right in front of me too, I had to stop for him too dead stop, passed him as soon as I could! NO yield no stop and look just here I come stop or get hit! IDIOT and he was a commercial professional driver? Never before had I had this much trouble driving in New Mexico, it did not help that I was on no sleep since 4pm the night before. 18 hrs into it I was WIDE AWAKE let me tell you! I was so glad to make to my buddy Marks house - relieved actually to be off that bike and away from that carnage!
Mark (I call him MrDude cause he says Dude allot) he goes by Millrtm on the forum, he put me up for the night, they just moved there about 6 weeks ago from Colorado - working at Intel. It had been 3 years since I had seen his family and his kids grew almost towered over me, his oldest for sure. Mark is pretty tall himself. Nice family and his two oldest boys are very articulate, well mannered and good kids. I watched them play halo for a while then just dosed off after an hour. They have a hectic schedule and lots of boxes to put away from the move.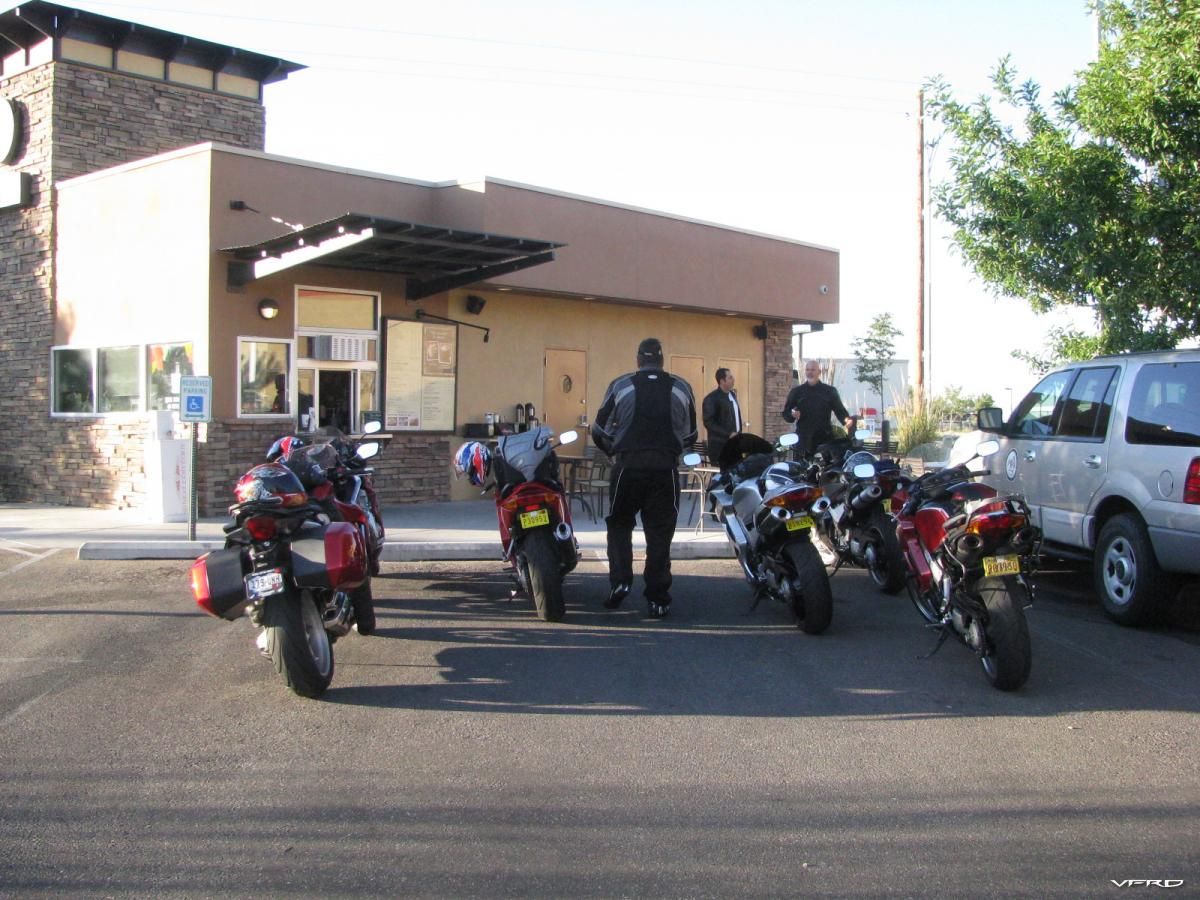 Early Morning Meet-up in Albuquerque
I woke up at 6am on the dot and showered up, Mark too - we put on our gear, pumped up the tires and headed out for the meeting place across town. Vanion, Echo, Zia Rider and Sal where already there waiting for us. So we had a few refreshments, kicked tires and caught up a little bit. Vanion lead us out of town, then he did something funny he waved me on by? Huh? Ok I guess I am taking lead - I did have the only Radar Detector, it was a long 200 miles to go and one stop at Socorro to pick up Blythe. I just let a few faster cars and even a bus play rabbit up ahead speed up to match speed and keep some distance - if I got a hit on the radar I would slow down and let the rabbit get eaten! One more stop for gas past T or C (Williamsburg) I think it was called and finally we got off the darned interstate and headed west on hwy 152, more slab for about 10 miles till we hit the foot hills and into Hillsboro, nice sweepers there before Hillsboro actually some of the best turns of the whole ride (insert omen here) ! Then Iead some more to Kingston and stopped to let Vanion take up a position to take pictures and he did.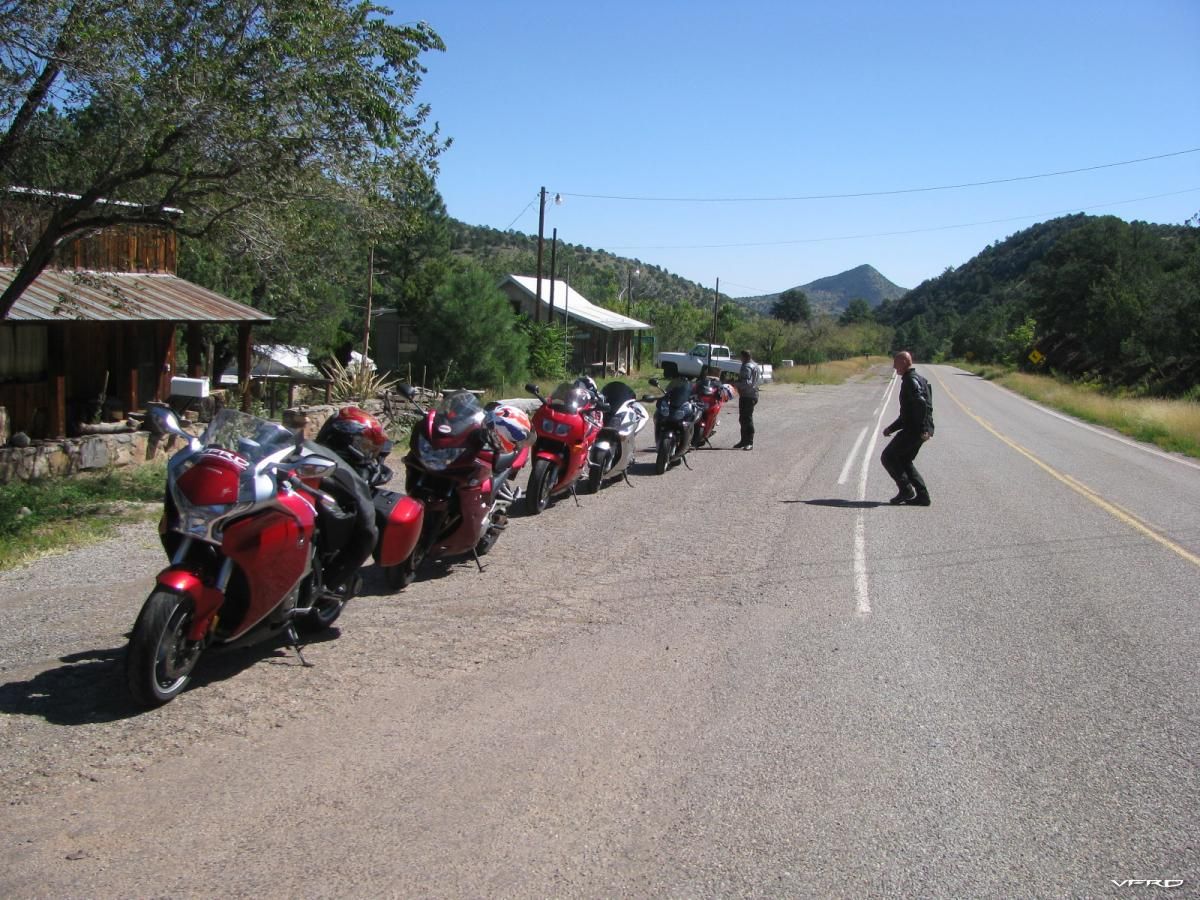 Lined up ready to hit the Gila Monster
I don't know how I got suckered into leading but I pretty much lead the entire ride, I don't mind I am used to leading rides but man it was 500 miles of it! I guess I got spoiled in Troutdale I did not have to lead at all maybe one day thats it! So I took some video of the best parts of the Gila Monster, I was disappointed with the road since its condition had taken a turn for the worse since I last road it, pot holes, and crumbling edges, gravel washed out in places due to heavy rains and CHIP SEAL! OMG we ran right into 40 miles of fresh chip seal - piles of loose chip, no doubt about it was came at the wrong time! Maybe a week before we would have missed all this stuff, but we did not so it was slow going all the way into Silver City from the top of Emory pass, we did have a little bit of good stuff, up to Emory Pass
http://www.vfrdiscussion.com/forum/videos/491/gila.mp4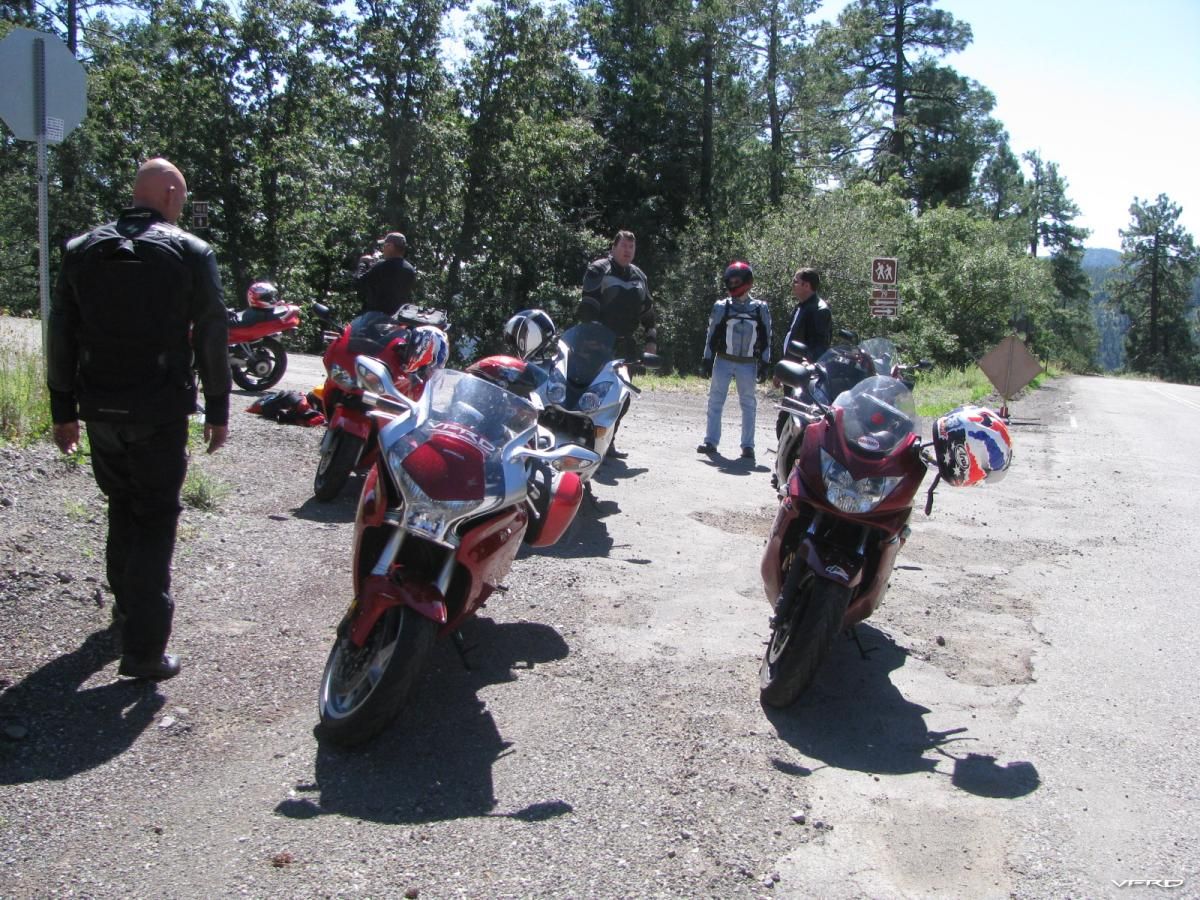 Top Of Emory Pass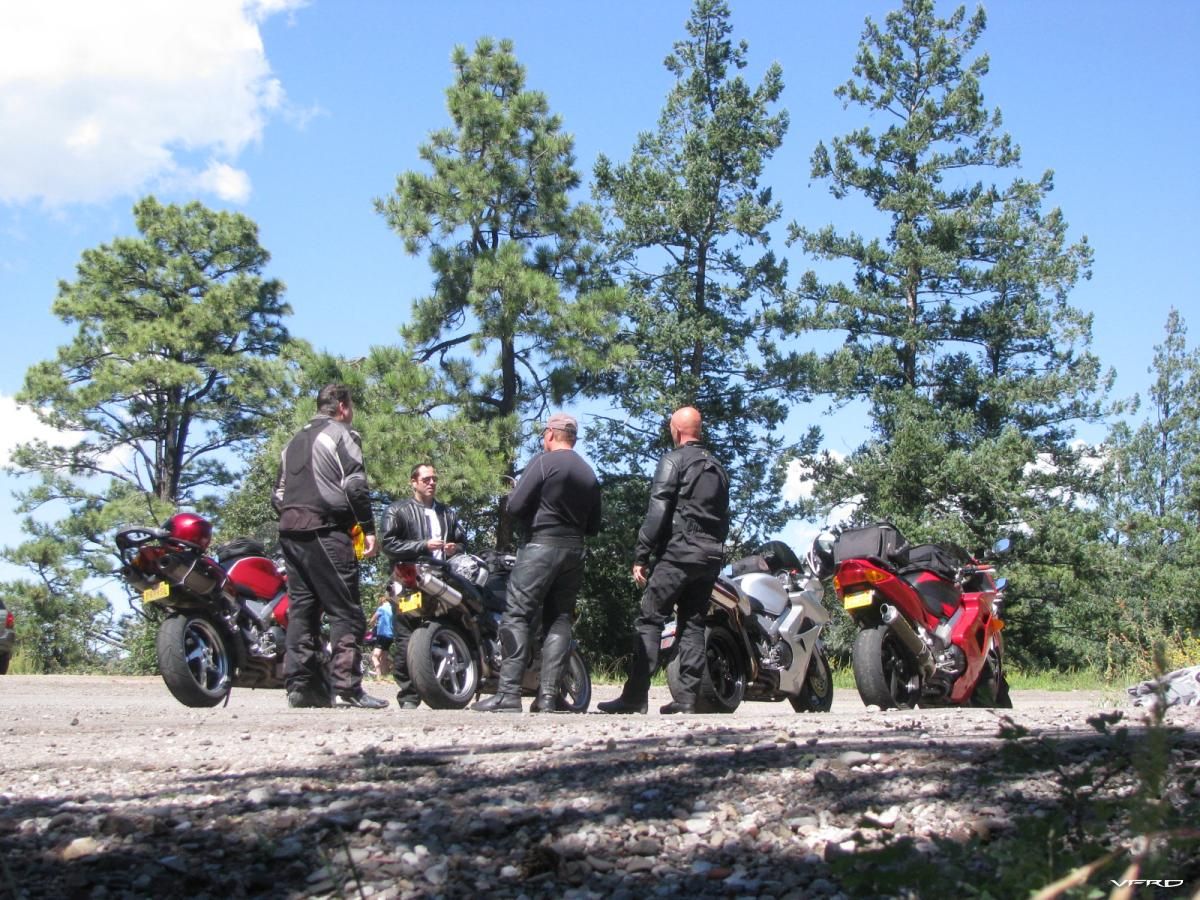 Rest Stop Emory Pass
So for the most part the Gila monster was a bust, Blythe must have been peeing his pants cause he was worried about the little bit of sand in the corners then smack 40 miles of loose chip seal! If he was worried then he must have kung foo grip on the bars now! It sucked thats all I could say I even followed a pack of Harleys and let them take the lead just so I could relax a little bit. I was ready for some lunch and so we stopped at a barn place that is a steakhouse, I have always stopped there but this time the food was really good! I enjoyed it and all the company. Interesting people sitting across from me getting to know them, Mr Dude he sort of has this detached sensibility about him, a military thing he sort of analyzes things and comments on them - lots of comparative talk and sometimes he goes a bit overboard comparing this or that. Colorado to New Mexico a bit too much - I like both myself for what they are. I remember at some point along the ride I heard "Colorado Smallerado" and though oh well Mr Dude strikes again! He does that to everybody! I cant count on my hands and feet the number of times I heard about the specs of this bike or that bike compared to a vfr! I just tune it out, now with the Bandit he had the advantage in the engine department, but not so much anymore! The Veefalo don't handle so good as my old bike so I lost a bit on him there and he can keep up pretty good in the sweepers but the tight stuff the vfr 1200 is still better, and no more big Bandit engine advantage no more! Compare that Mark! heh - I will probably hear about it now! I know I know you modded the bandit - took out the butterfly's secondaries, added a full header, on pipe, fuel injection mapping and all that.
It was a bit more slab then about a 50 miles into the ride after lunch the road got very good, on the way into Reserve was probably the best part of the whole ride, we went up and down a very good pass with some nice sweeper that I was really digging, me and Mark just sort of took off on and had some fun! Even after Reserve there was more good stuff but we had to split off with Blythe there so we stopped at the cross roads at his turn off and took some pics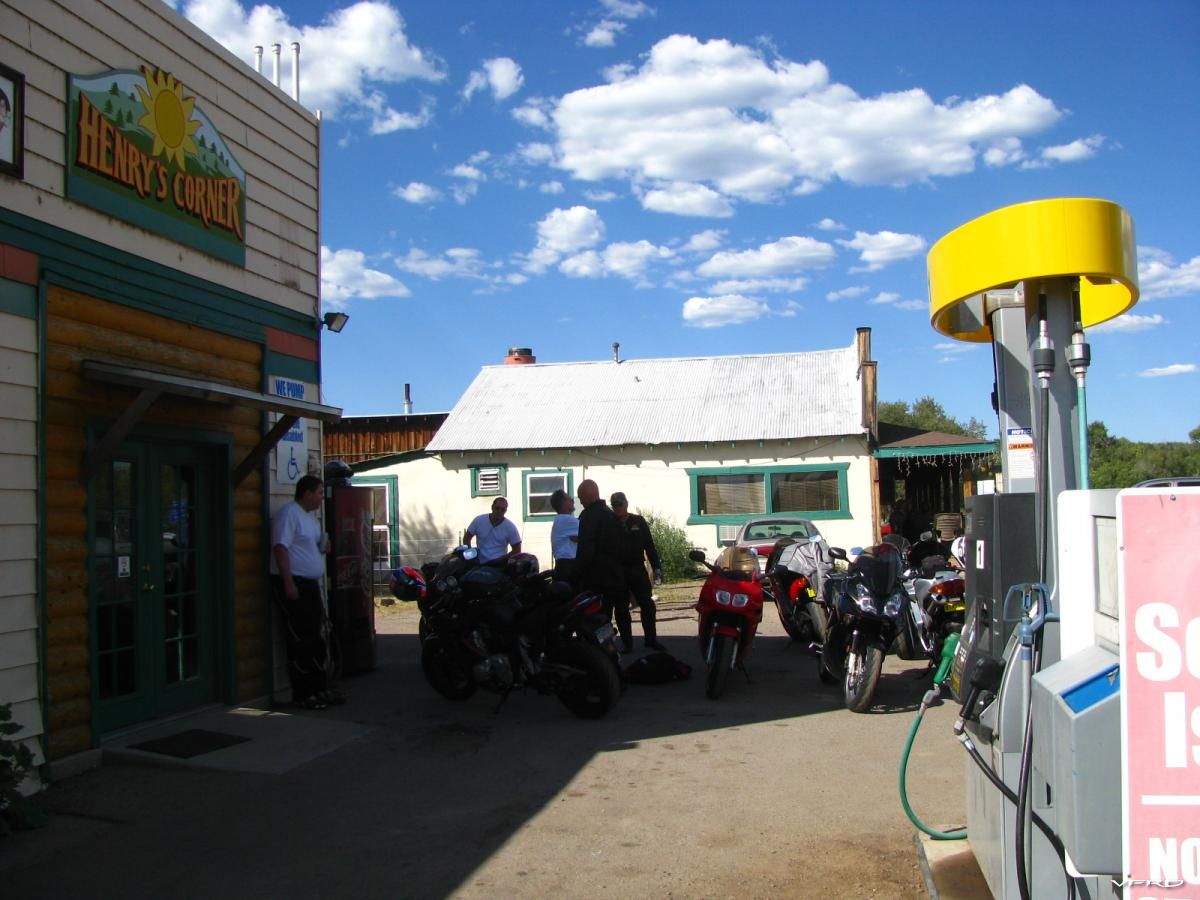 Gas One At A Time Reserve New Mexico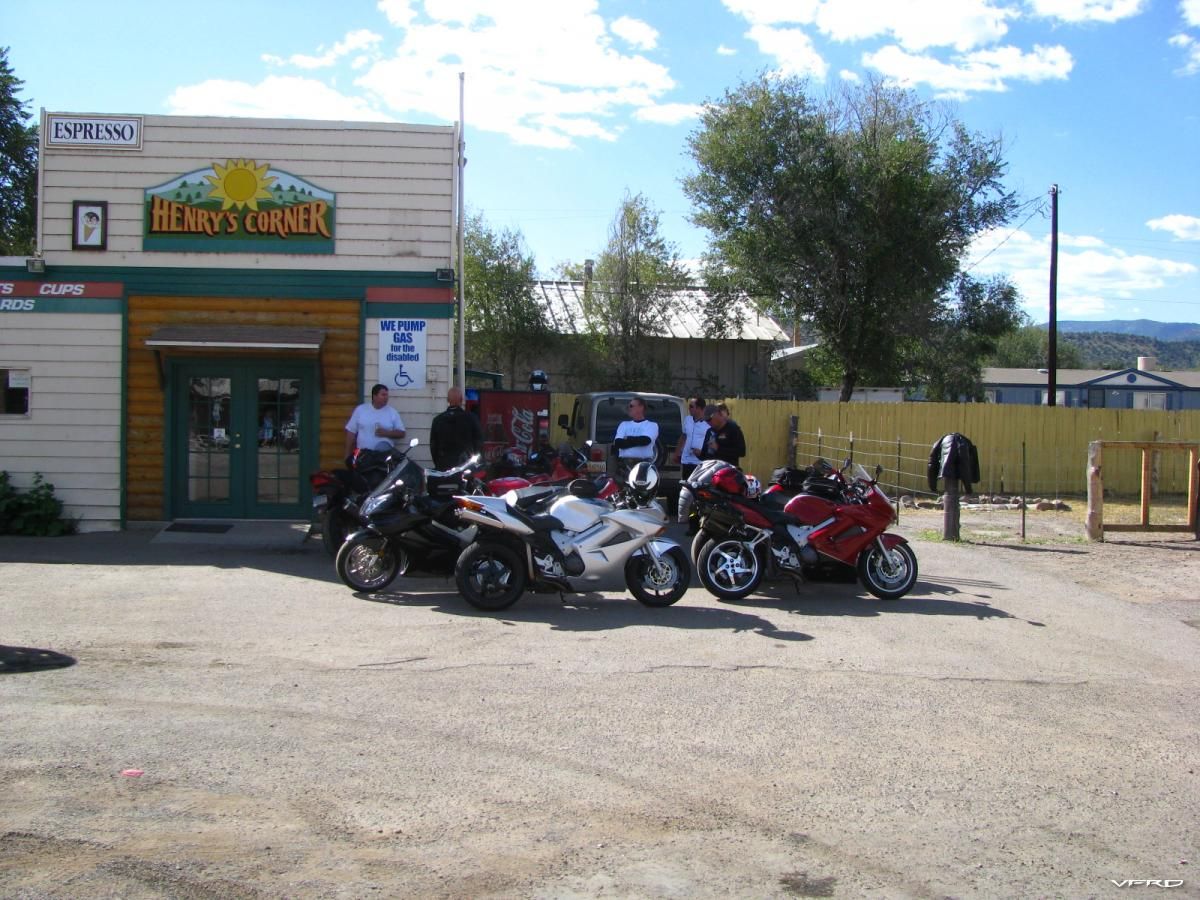 Rest Stop Reserve New Mexico the last 40 miles were superb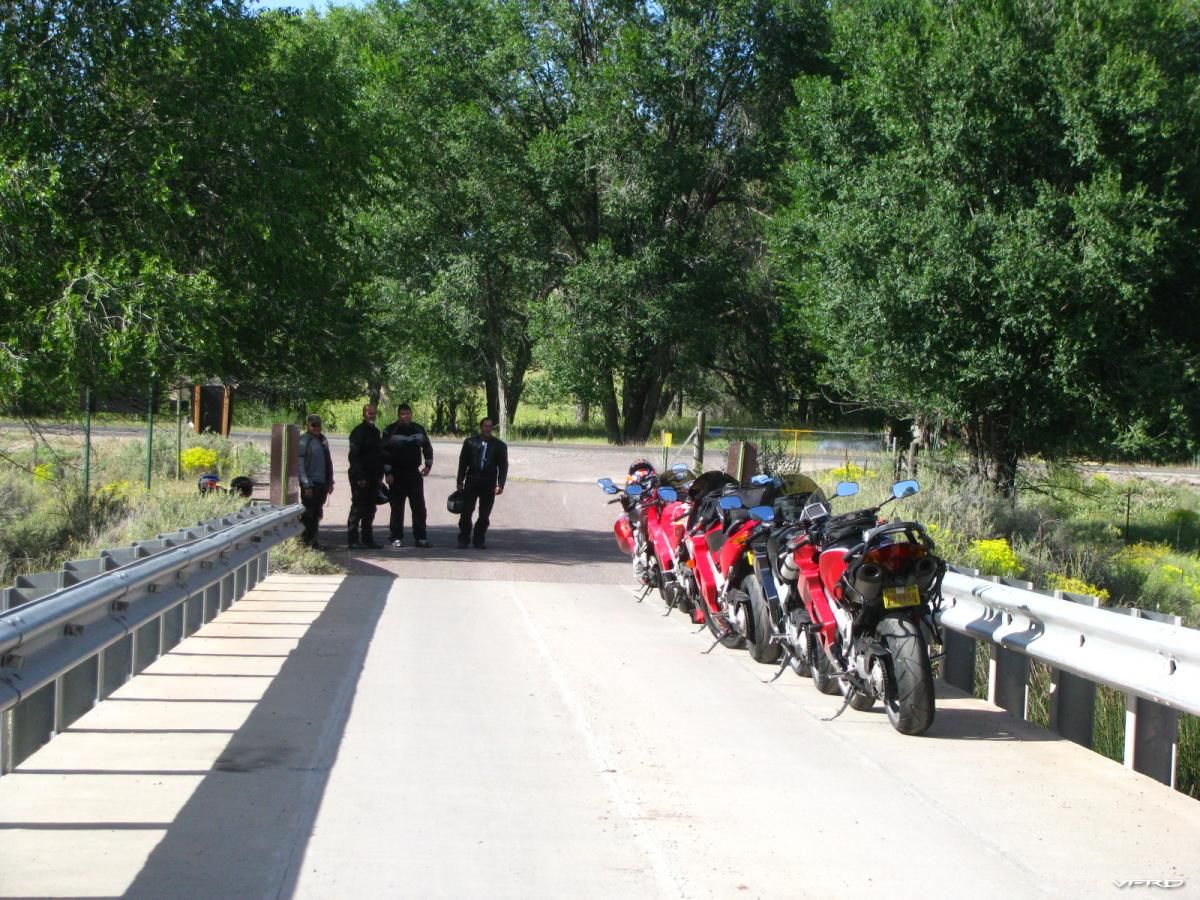 Stop at the Cross Roads Blythe was leaving us after this point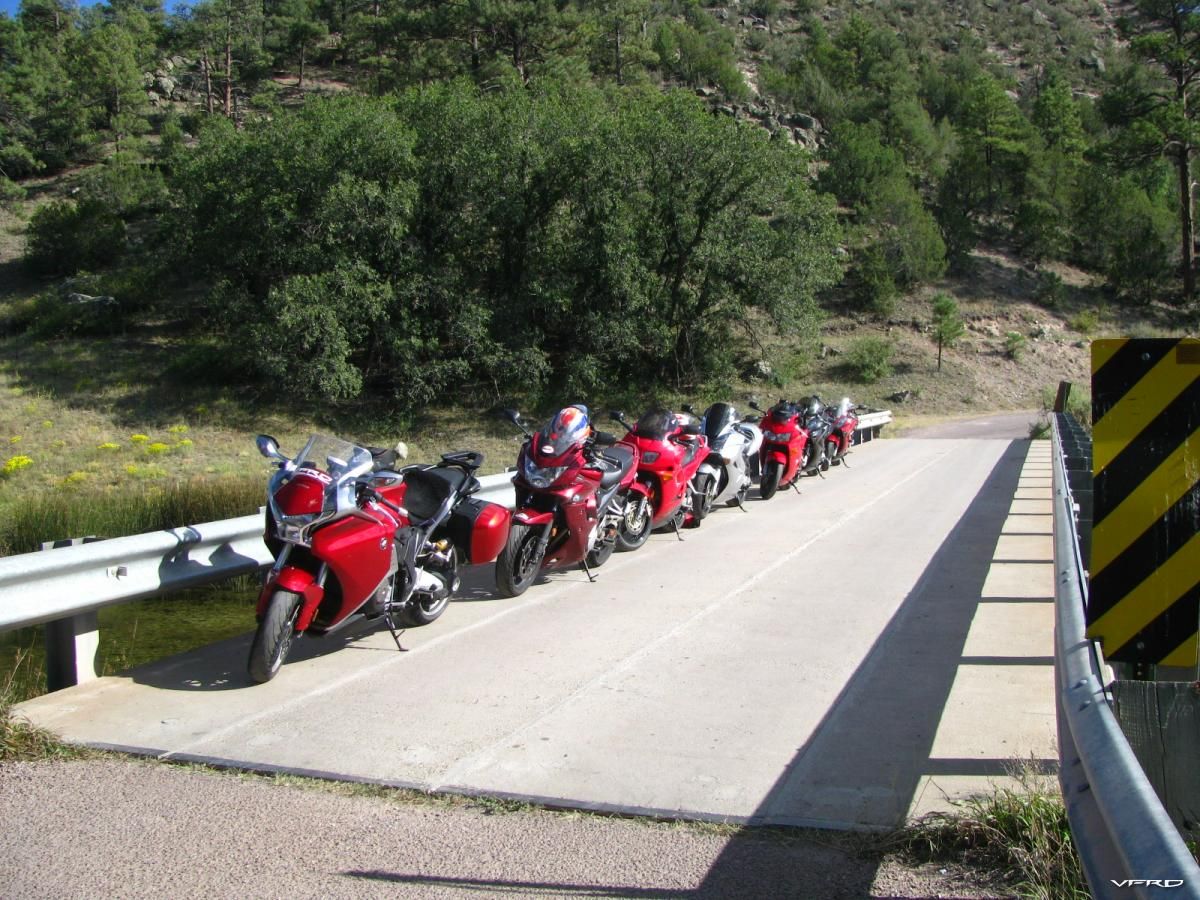 Veefalo leads the way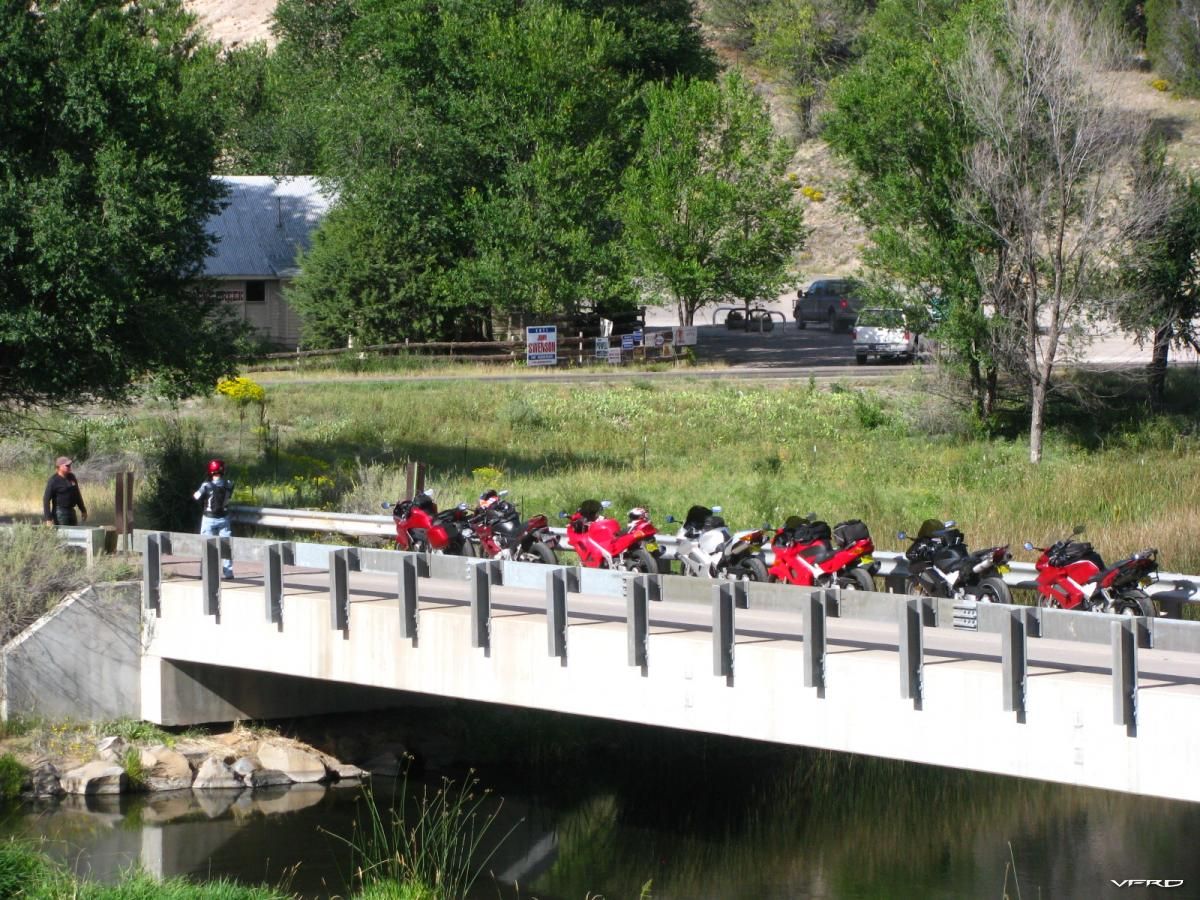 Perfect day for riding not too hot not too cold sunshine all day long
The rest of the ride was interesting too out on the western plains of New Mexico and into the Malapias National Monument area definitely some pretty country, if a bit bumpy and roller coaster like - it was a challenge and more traffic now, the closer we came to interstate 40, then one more stop for a butt rest till we could stop again for gas and then we headed off our separate ways! It was an epic ride and a good one even if the Gila was a bust, all I can say is next summer with new chip seal it will be a real treat for the unsuspecting motorcyclist if they do it right!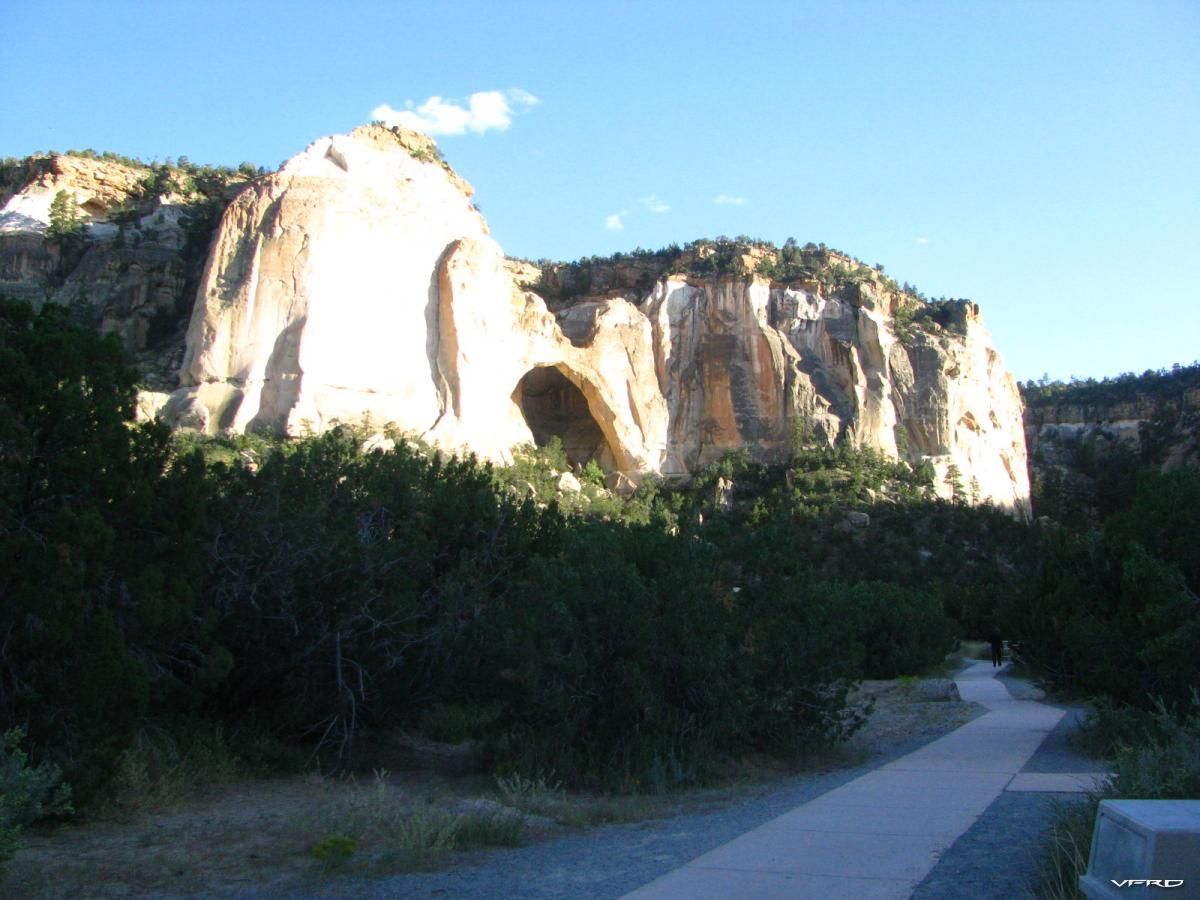 La Ventana Arch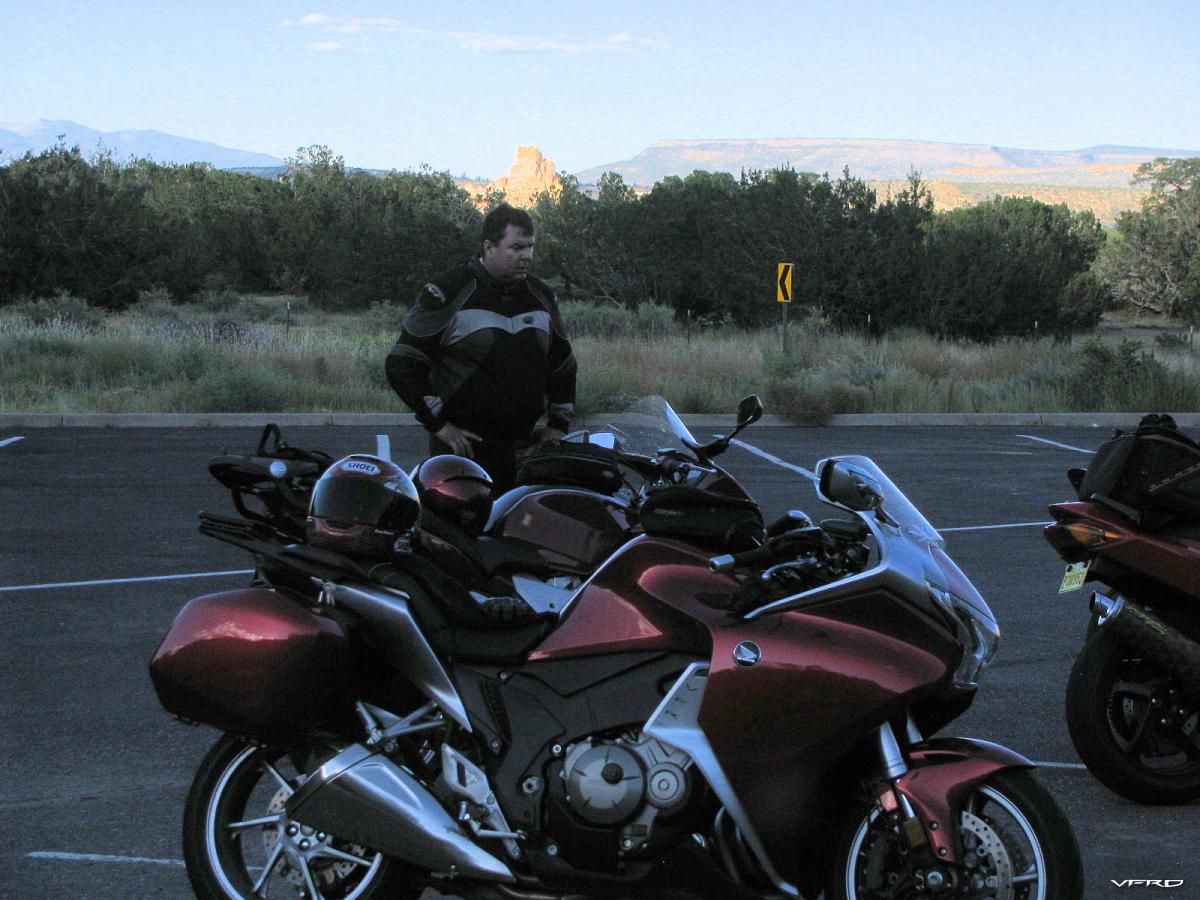 Millertm looks at the other bikes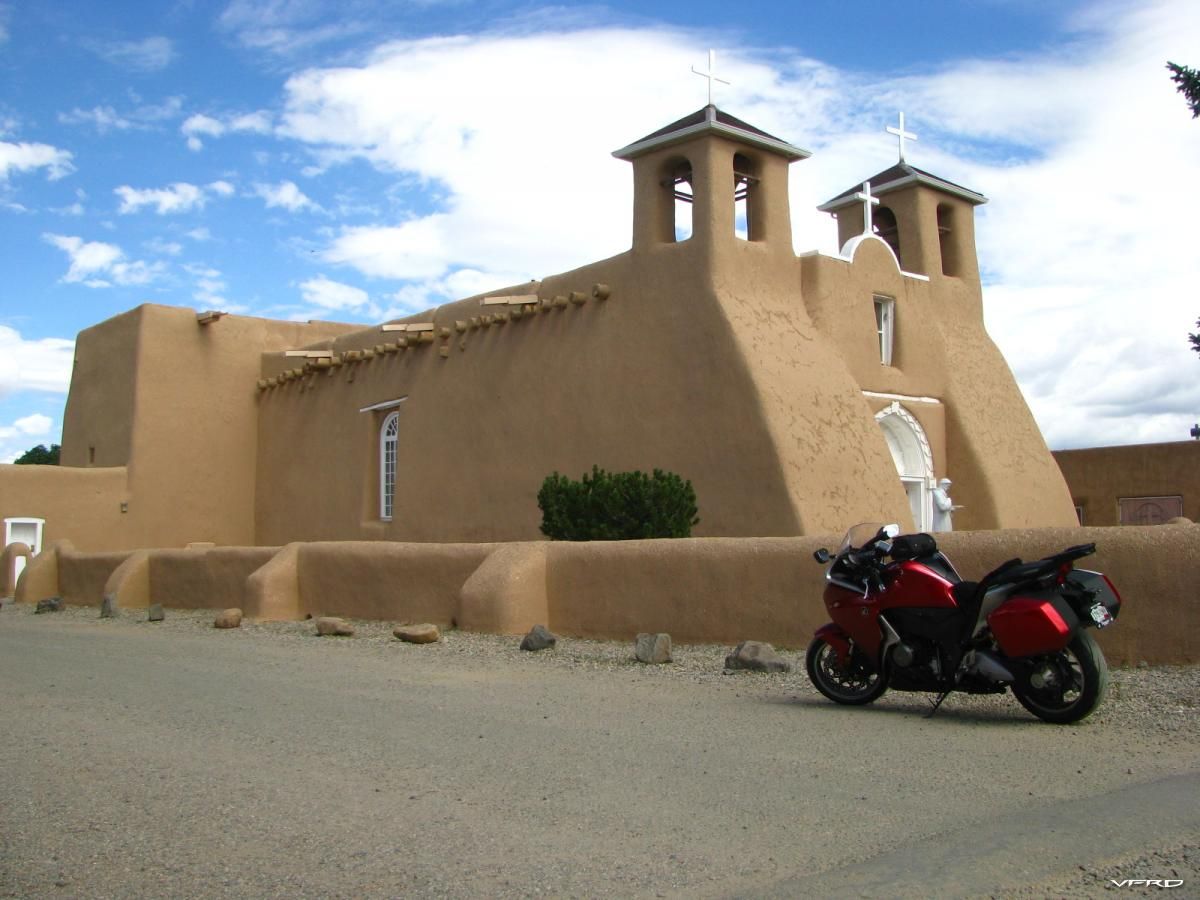 San Francisco De Asis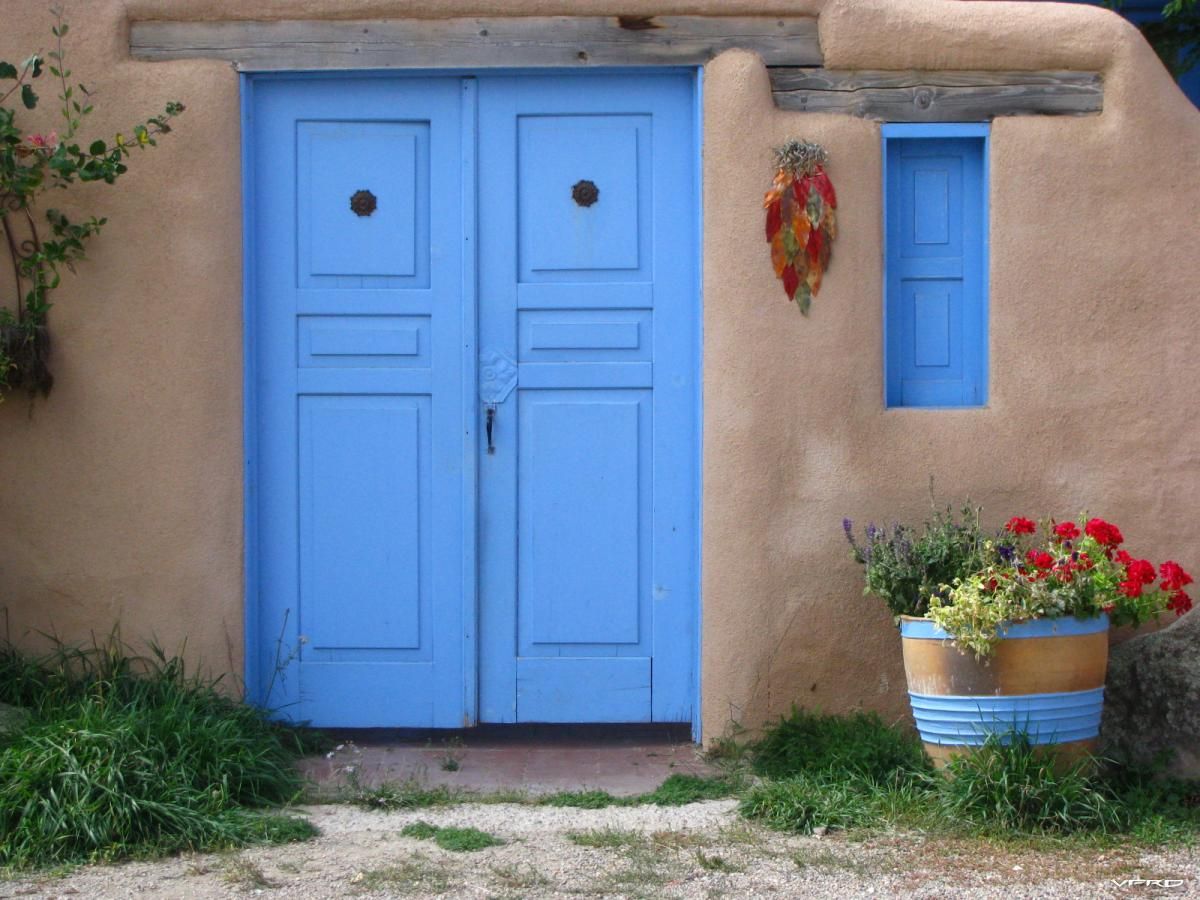 Taos Doorway
Source: Gila Monster Run