Backroads to the Cut Throat Cafe
---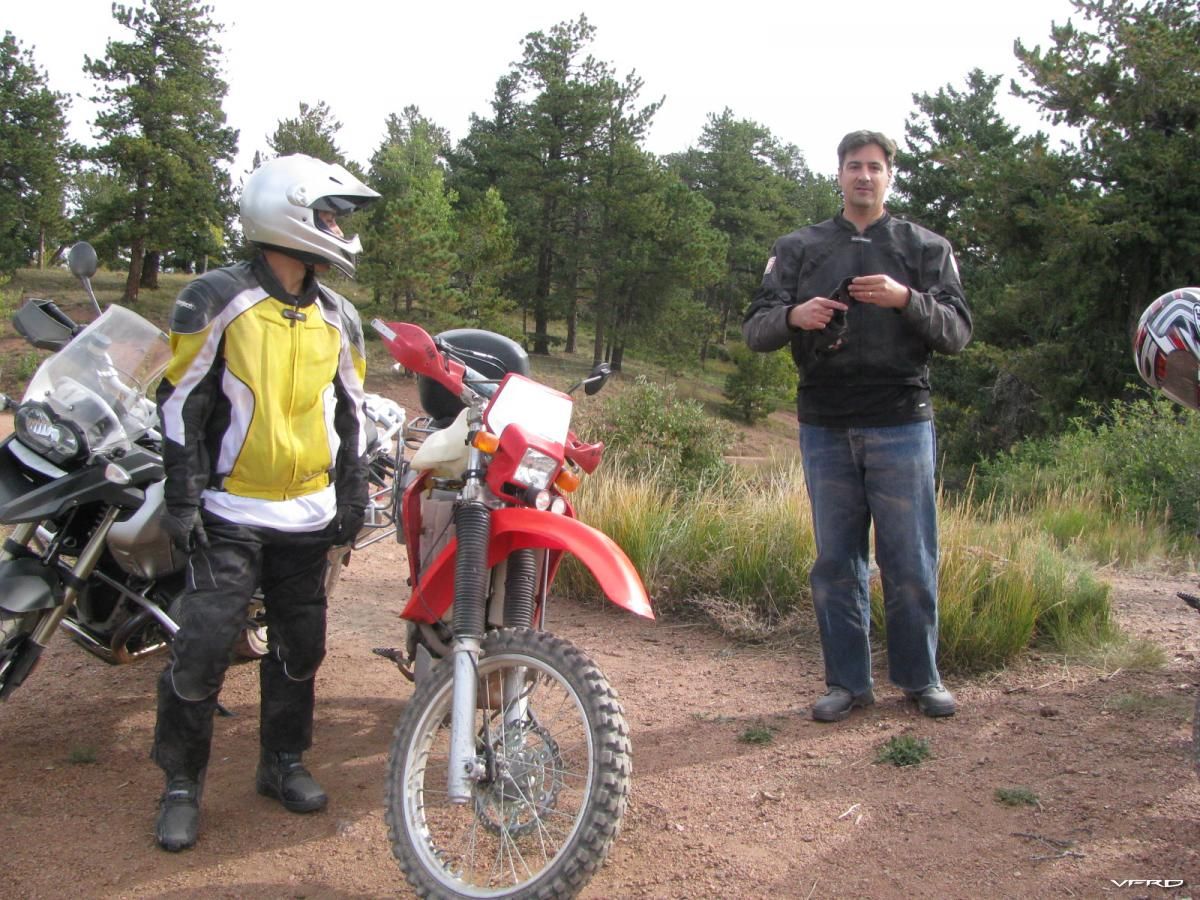 Two guys from work Motorcycle enthusiast
My old boss Nate had just been recently reassigned to my shift again after working days for a year, and we got together to go for a little dual sport ride. Half forest service roads and half pavement. Nate invited another one of the guys a supervisor from day shift and the three of us headed out up Rampart Range Road for some teeth chattering washboard dirt road riding. Mostly easy to moderate riding, some sections definitly unimproved but nothing we couldnt handle. I have been on some much more challenging trail than this but it was a bit hairy in spots.
Heading up Rampart Range is like jumping stait into cold water - right away its a climb and washboard rained out tight curves (by sportbike standards anyway) - not so much for a dirt bike, its an easy road lots of cars. We decided to keep Monolo between us since he said his bike had cut out on him on the way to the Starbucks where we met. Whatever it was must have shook out on Rampart range cause he never had an issue again. Nate said that he was very impressed riding behind the big beemer cause it seems like its just riding along a paved road, while his DR350 was sliding and bucking in the washboard turns.
Me too the piggy was bouncing around since I had the suspension set up for street riding mostly but not so bad. I am not a fast dirt bike rider by any means, not at all. You can say I am really slow, but I usually dont get stuck, just plug along at my own pace. I was not riding so fast keeping Monolo in my mirror but I could barely make out Nates headlight so I focused on Monolos bike.
I was gassing it hard on the wash board parts to smooth out the 4 inch ruts and ride over the top of them when a deer popped out right in front of me and thought better of it and backed back into the bushes, I just about pissed myself on that one! I put a larger front brake disc on this thing a year ago cause the brake was weak and now its pretty good but not THAT good! Then a few more turns and some kids on a red neon were power sliding into a turn on the way down right into me so I headed for the very edge of the road and they missed me by a few feet. Nate said they were completely sideways when they went by him like rally racers or somthing. Woodland park kids out on the road. I was using alot of the road up till then but decided I was getting close too close to town to be doing that anymore.
Then up in Woodland Park we topped up the DR cause his tank is small and headed for Painted rocks, another easy but steeper road. This one has some challenges mostly long sand bars in the bowls of the road, deep ones that you just have to keep it steady on, the Piggy is built for that stuff but I am not! I hate how the front end goes loose in the deep sand! I climbed a steep hill and looked in my mirror and no Monolo? Oh shoot I hope sombody did not go down in that sand back there, nope Monolos licence plate came off! Nate broke out a zip tie and all was good! Then a bit more pavement at Westcreek to Deckers and we went right by a couple of cops who where sitting there with radar pointing at us. I was going 50 indicated on a 45 mph road, we all went by and no cops followed us. Man lots of police presence on CO 67 from Westcreek and past Deckers at the foot of Horse Power Hill. I counted 3! Lots of cops for a backroad to not very much - I must admit the road has gotten busier with more traffic this year then I have seen before. In any case I know where they are patrolling now.
We stopped at Deckers and had a break the DR seat was staring to wear on Nate, I then told them that the easy parts were over and now it was gonna get into more moderate roads, unimproved passes and a few water crossings, you know the brochure GS picture type water crossings. Off we went and I got lost once and missed the turn for Stony Creek Pass, so we ended up by Cheeseman lake which is completely closed off now, no access at all? OK so we turned of and this was the longest section of the day all the way to Wellington lake it was unimproved and narrow, deep ruts but still a road. I was suprised Monolo handled it in stride and the big bike was doing very well. I am impressed too! good bike! Still easy by trail bike standards but now its a jeep road, a car could do it but very slow! I mean we passed a camper with a 4x4 camping on the side, if he can make it - all dirt no rocks. Then I knew I was on the right road when the first water crossing came up, a puddle really about a foot deep. We all went through it well - then about 10 minutes later the second one and this time Monolo hit a rock in the creek and he must have shifted his bike into neutral cause it stalled on the way out of the creek. He started it back up and off we went, I think the guys were liking this part the best! Challenging but not too crazy! Fun mostly, and then the road got easy again and went on into some very nice scenery the Aspens are already yellowing up in the mountains, a few weeks and they will be bare! Luch at the cut throat was good but they have a problem with flies that I found disgusting. I dont like flies in resturants especially that many! Food was great though as usual. Then we decided to just take pavement all the way back cause the ride was going on longer than expected, and I got to supermoto some tight curves on the way from Pine Junction to Pine! fun stuff at 70 mph! All and all a good ride!
Nate and Monolo Monolo has never done a dual sport ride before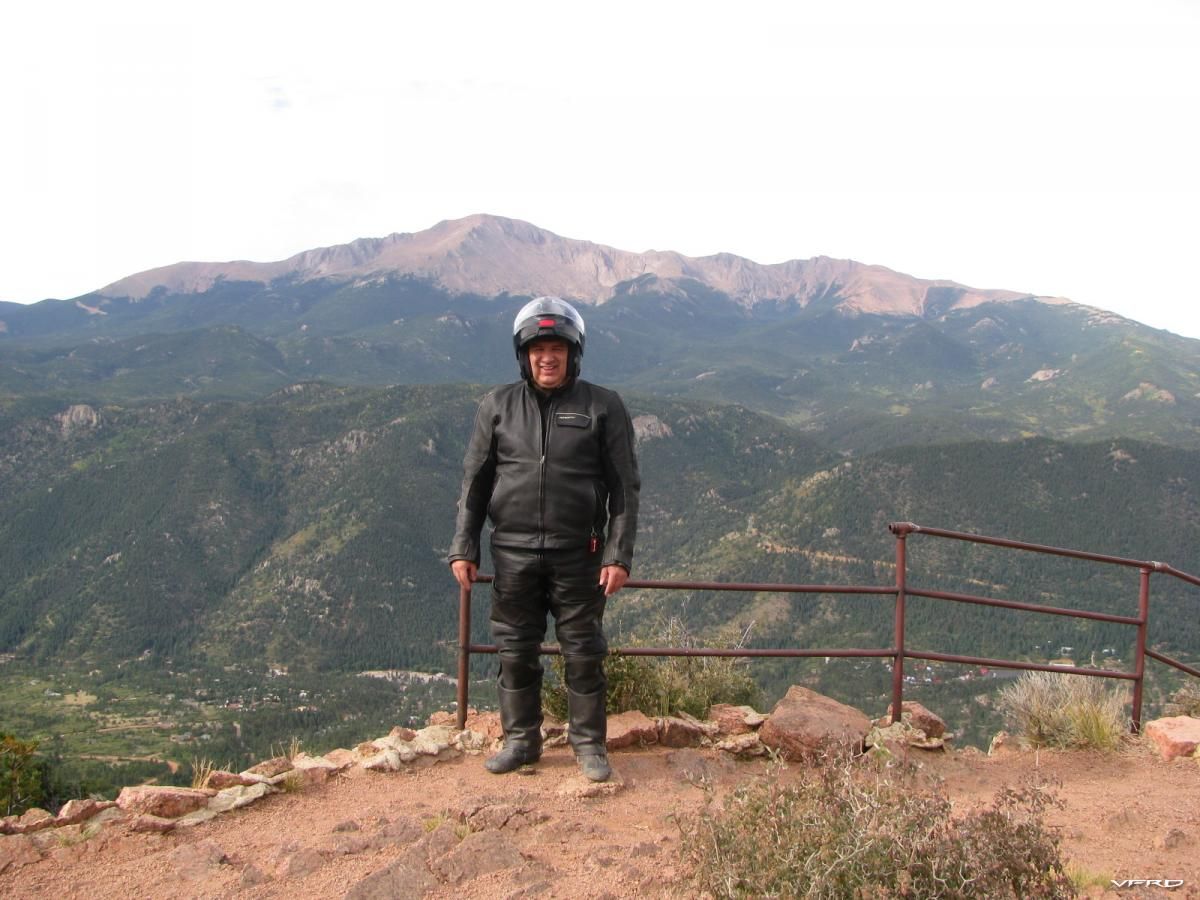 Thats me in front of Pikes Peak I look like a dork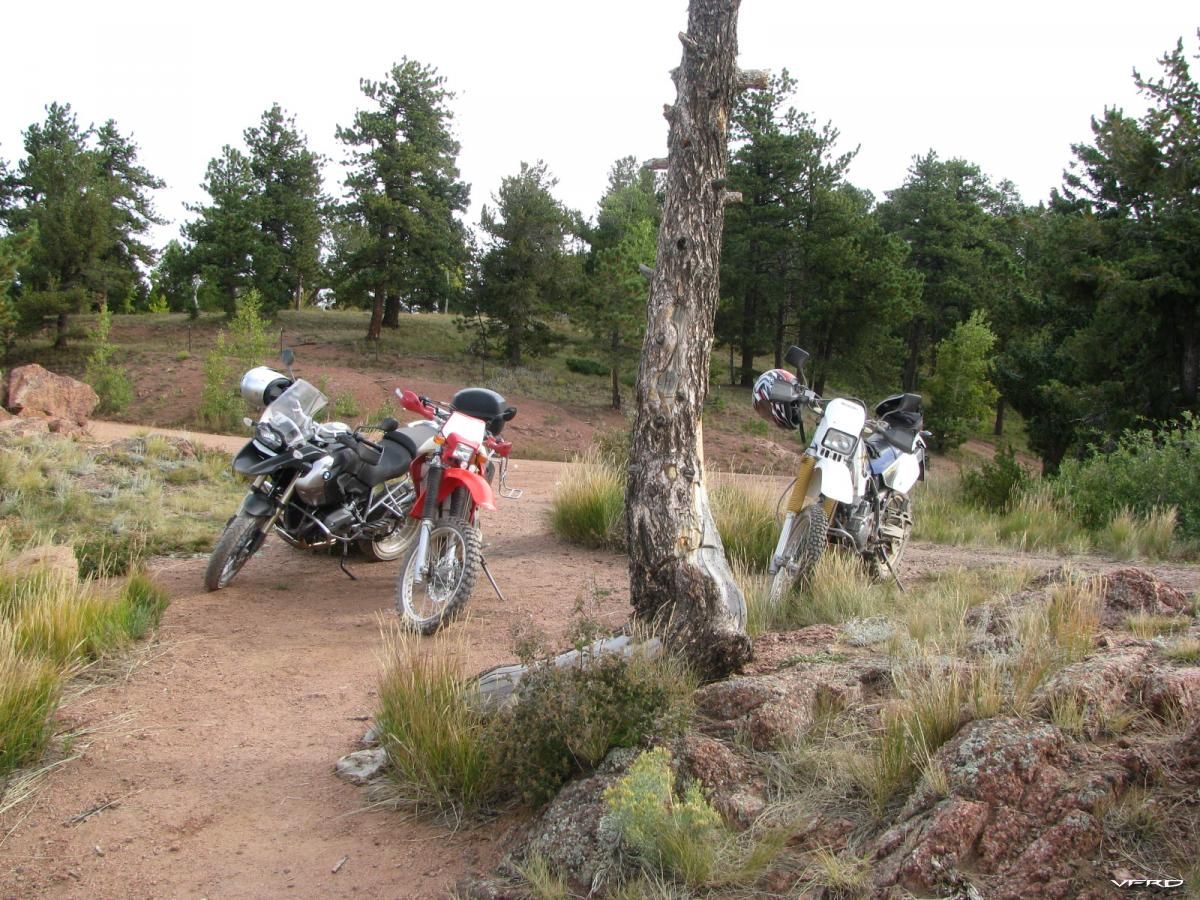 Our rides GS1250 XR650 DR350