Tearing it up after Troutdale
---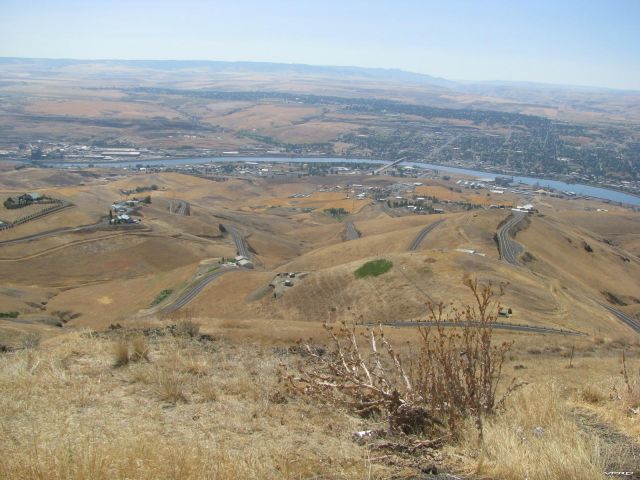 The Old Spiral Highway at Lewiston Idaho on the WA/ID border
The PNW 2010 was a great event, I really liked the venue, others did not as much. Two days $158 for the historic hotel wasnt so bad, no TV no Airconditioning was the only draw back but to be able to walk downstairs and get a growler of Ruby Ale was really a huge plus. I got very used to the Edgefield Inn Brew in a hurry! Dinners were good, the company was great, and the bed was so comfy I did not toss or turn at all just out like a lightbulb. Maddog and I pulled into the parking lot and there were already vfr's in the parking lot.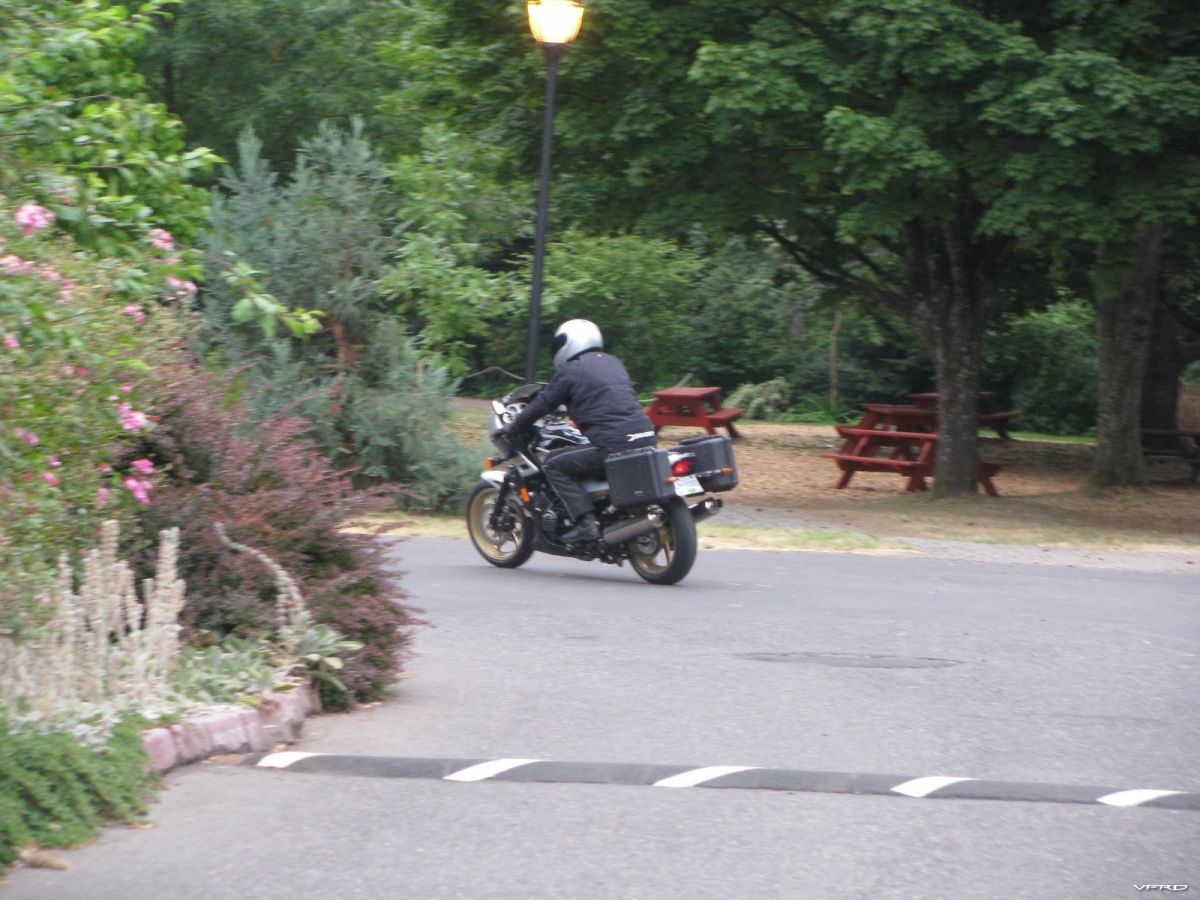 Sparrow The first vfr I saw at the pnw 2010 meet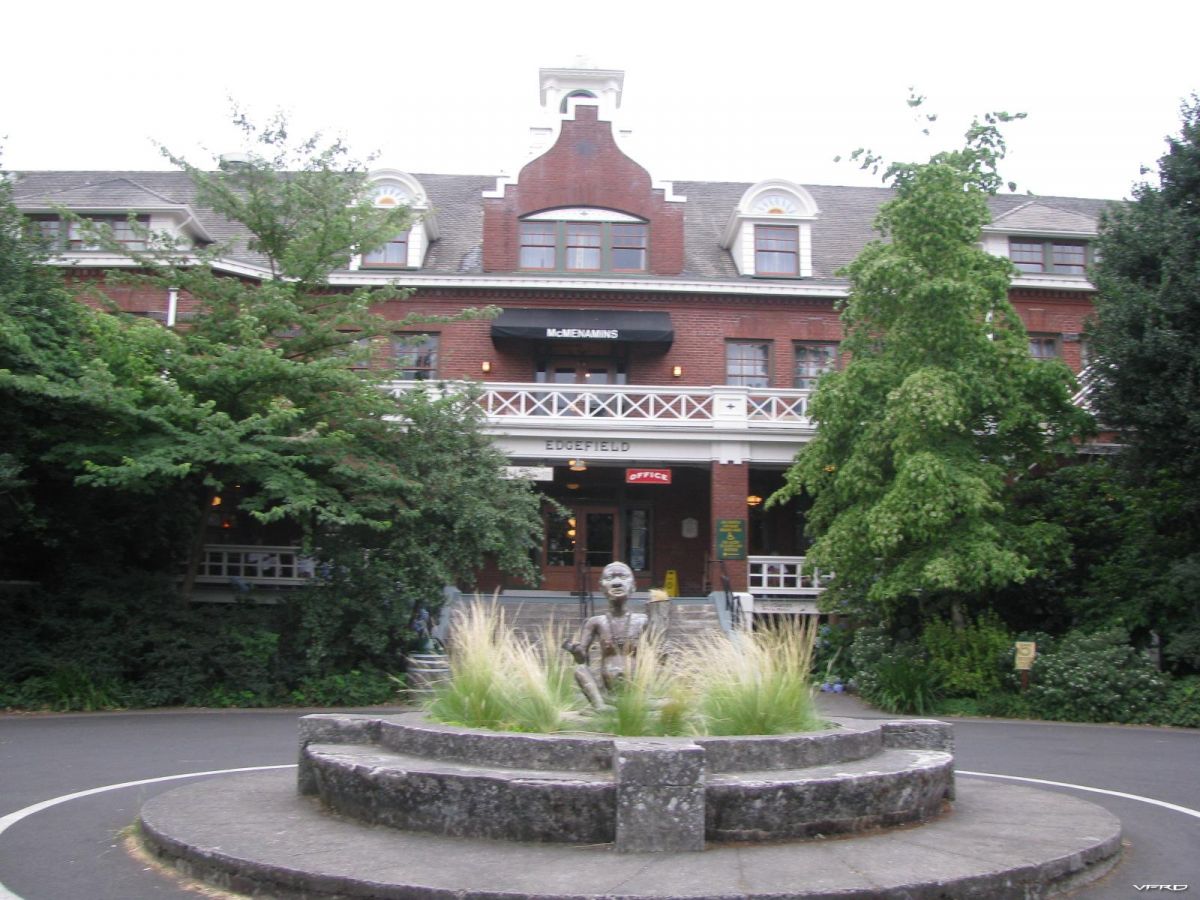 McMenamins Edgefield Inn
We had our fly by hosted by Didit and Choco gave us some route suggestions, I had not planned to ride on Saturday but TimandCass talked me into it and I said give me an hour to shower and get my gear on - (OK DIDIT hour and a half) and we were off. I had no idea I was holding up 10 people? Sorry about that guys I thought it was just gonna be a few of us! So Tim took us into the great Columbia River Gorge and it was awsome, never been there and never seen how spectacular it is before. America just keeps it commin! No shortage of wonderful motorcycling in the place!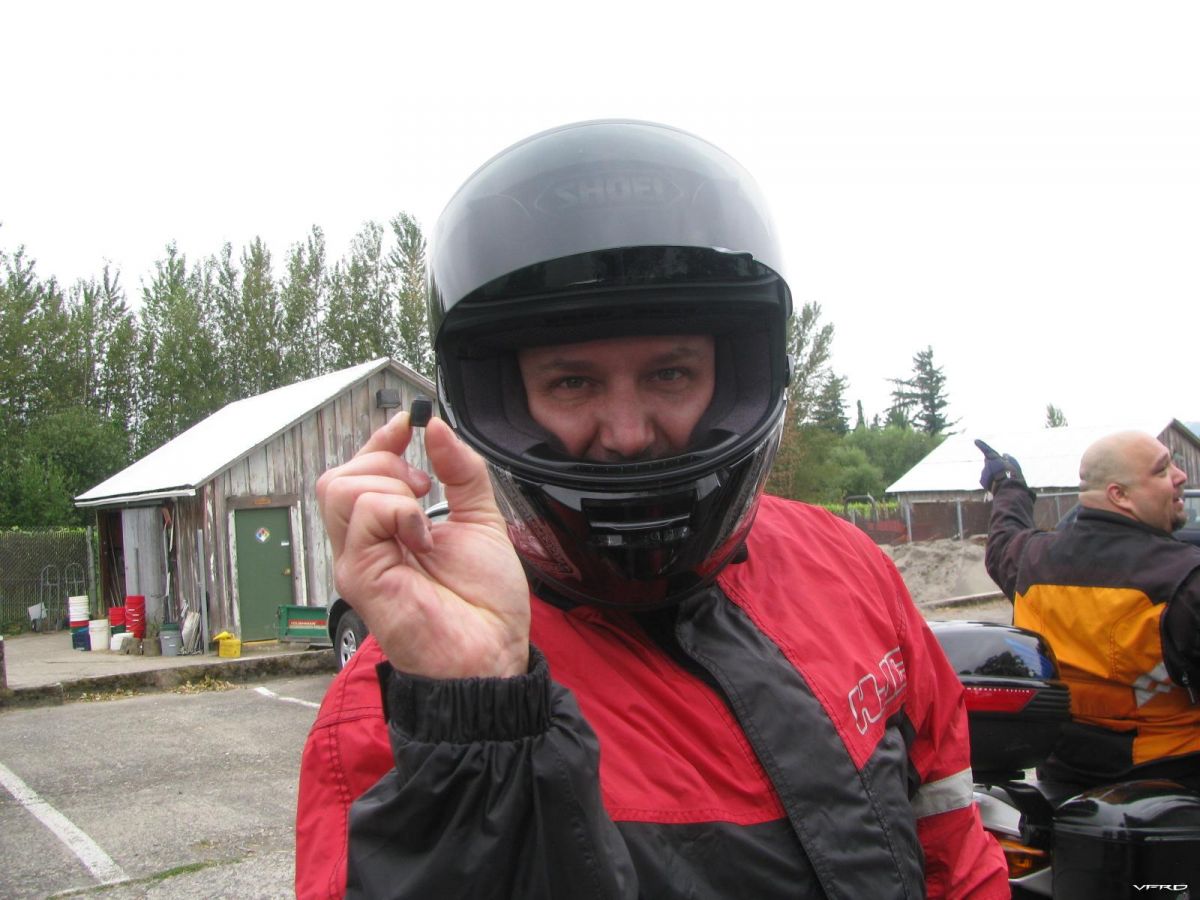 Veefer800Canuke Claims His Piece Of The Veefalo the front valve cap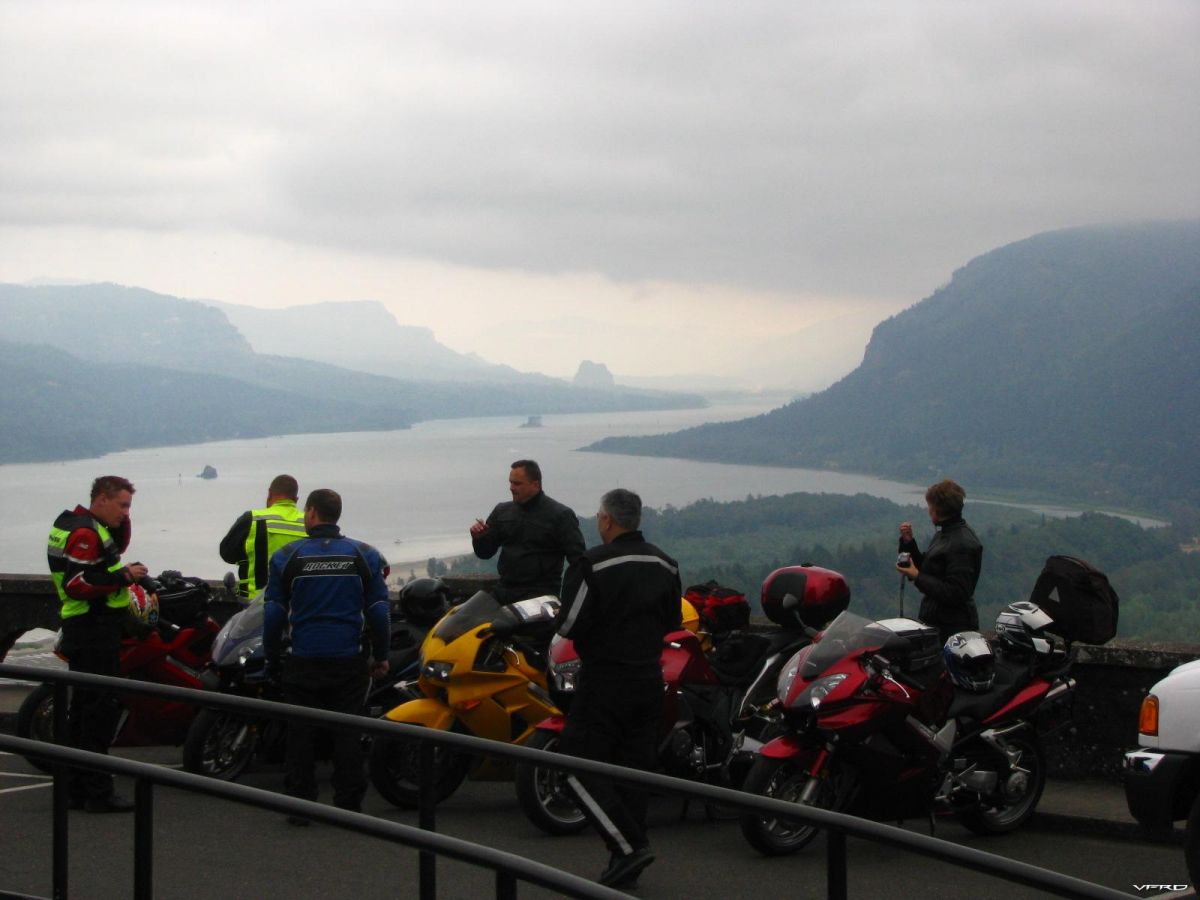 Pacific North West Meet 2010 Columbia River Gorge on the historic scenic Hwy 30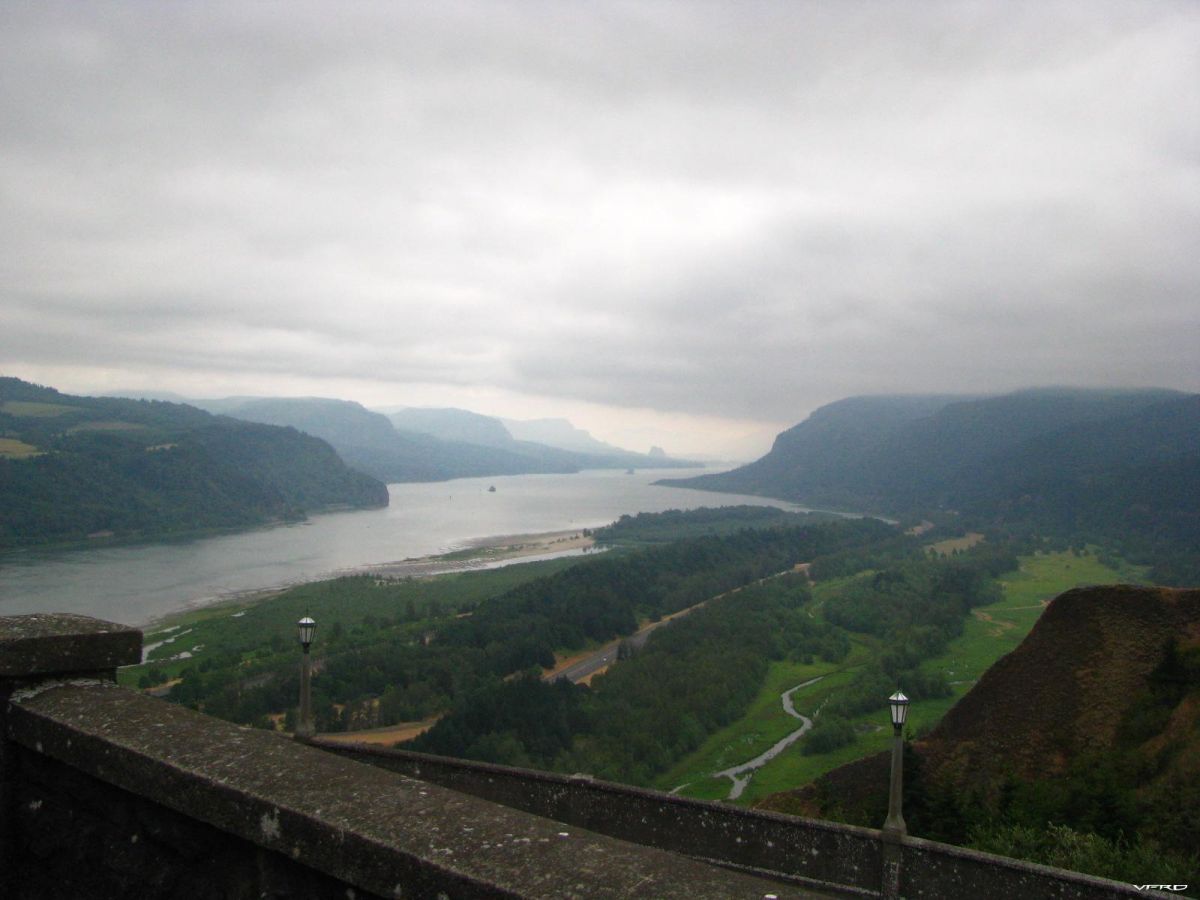 CassandTim takes us down Historic Hwy 30 Scenes from the Vista house of the Columbia River Gorge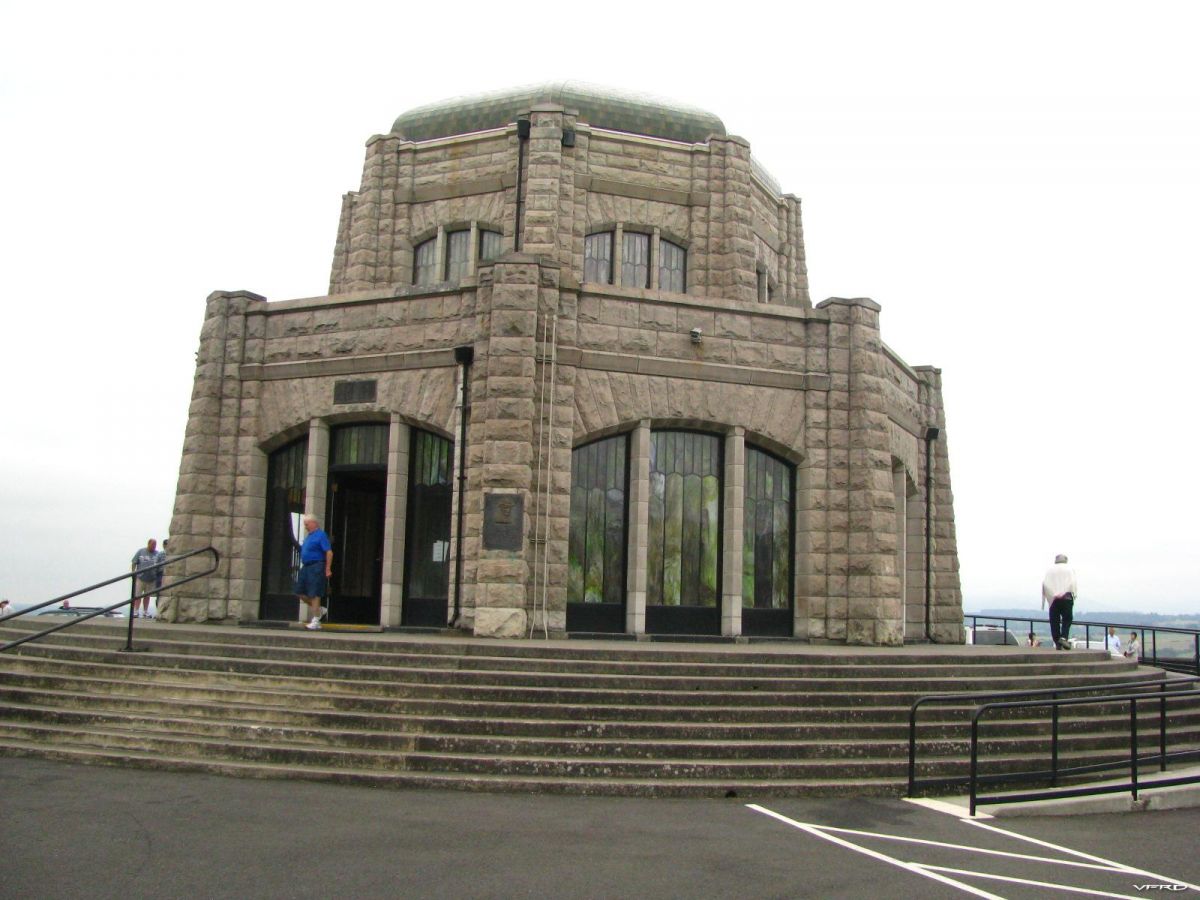 Vista House On Historic Hwy 30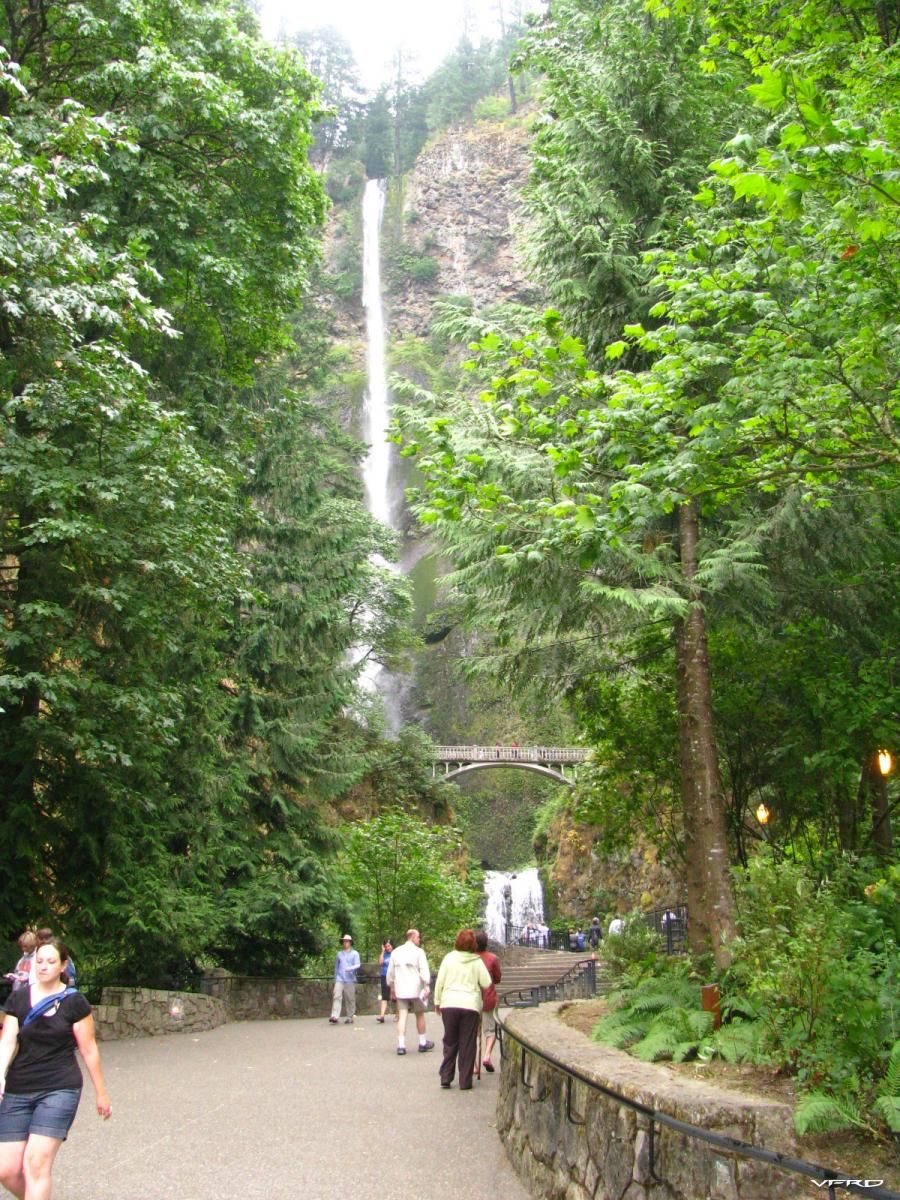 Multnomah Falls On the East Crown Point Highway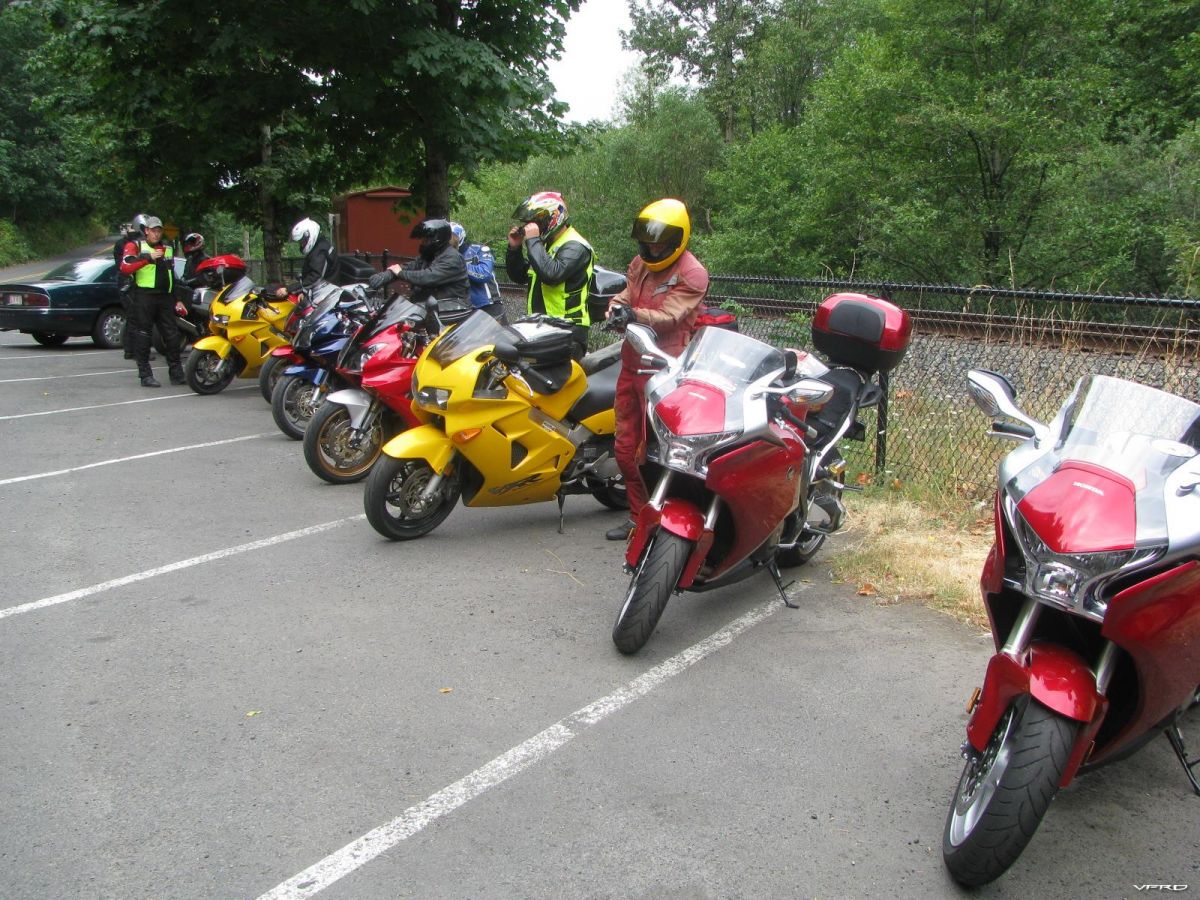 Rest Stop at Multnomah falls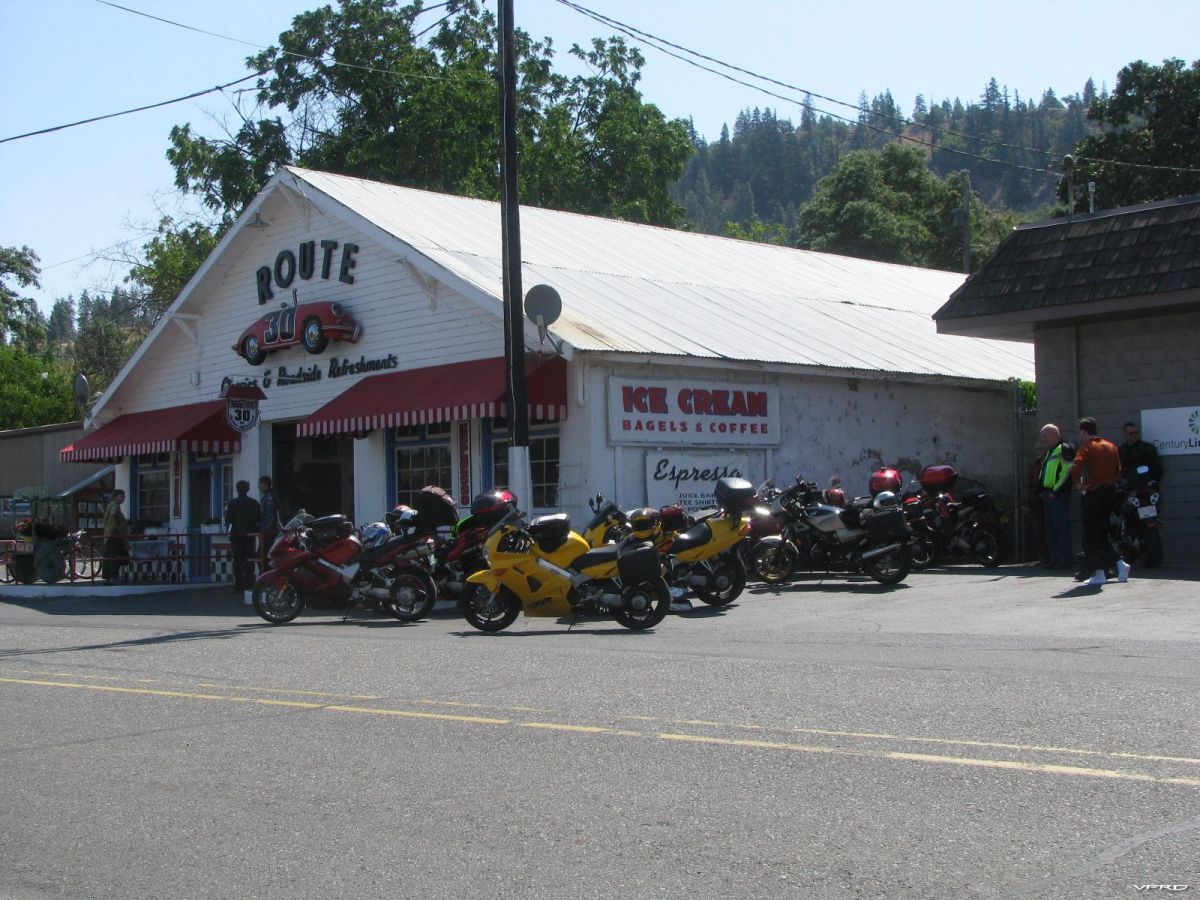 The Porsche Museum in Mosier
It was here we stopped in Mosier to visit the Ice cream shop and Porsche Museum - a cool little roadside joint that is a tourist delight, great way to spend the day, then off to the famous Rowena Curves for some twisties. Tim gives us a few pointer about where its dangerous, and shares a story about a local rider who for some reason got into a scrape with a bycylist who thought that petals own the road and not motorcycles? The way I understood it the bicyclist pushed the motorcyclist off his bike while riding, for me it sounded like the motorcyclist was riding aggresivley and tried to pass the guy in a turn? I dont know about you but in a turn is no place to pass on the street especially a tight gravel strewn one such as the ones in Rowena so who is right who is wrong? Beats me I wasnt there and its all hear say so - anyway I was freaked about gravel in the turns so I just played it safe on the way down and took it slow, then rode it up a bit faster. I took a video of it below if you care to watch in HD or non hd (click the hd button to turn it off)
http://www.vfrdiscussion.com/forum/videos/491/rowena.mp4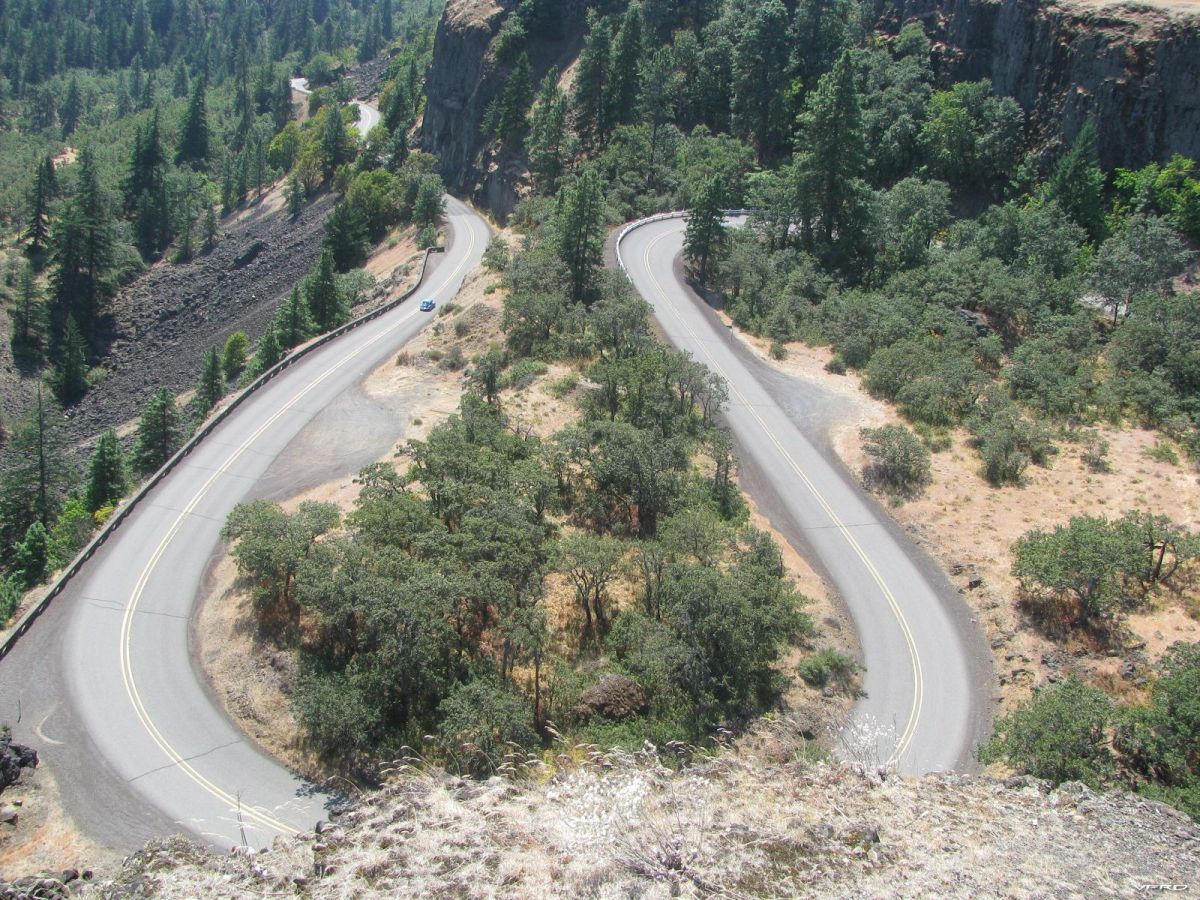 The Fameous Rowena Curves hwy 30 from Moiser to Rowena
The vista at Mayer State Park just next to the Rowena Curves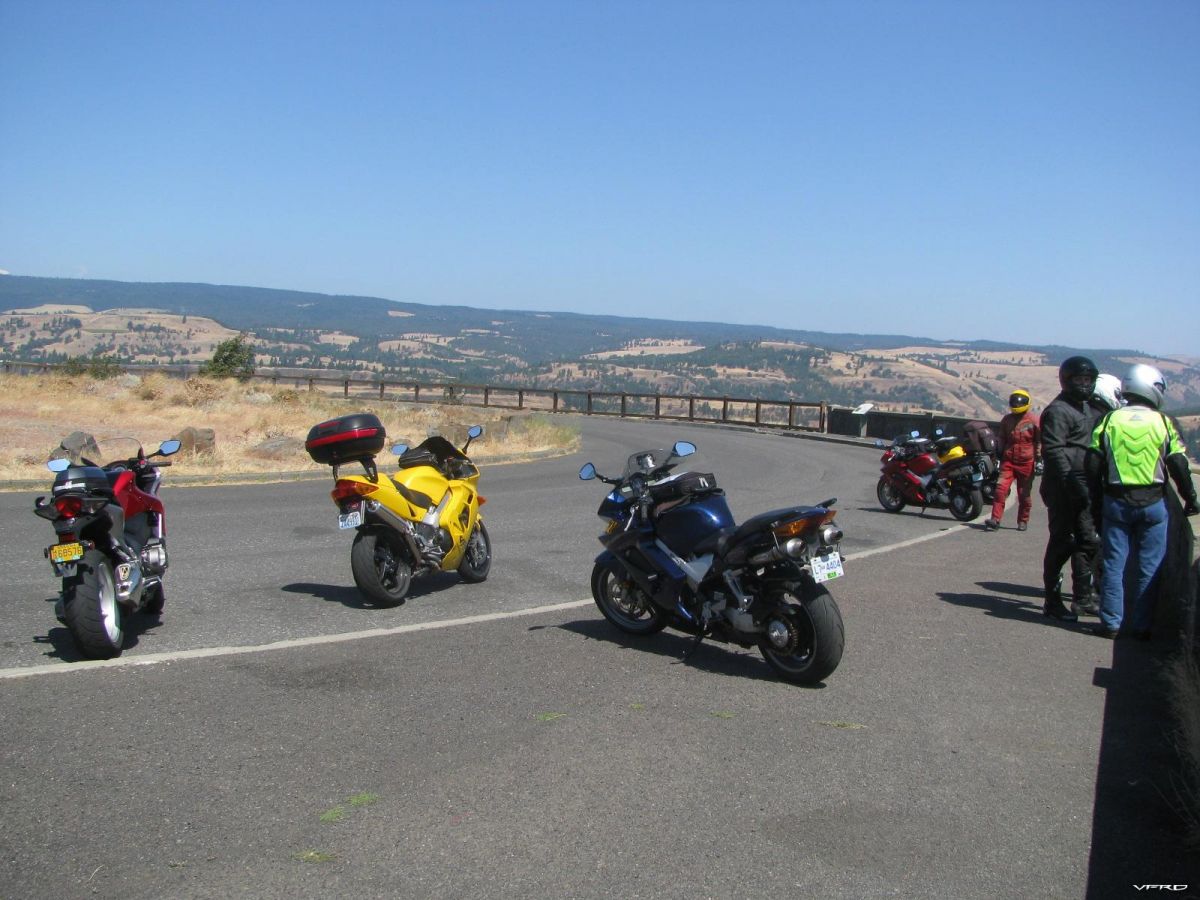 VFR's we all assaulted the Rowena Curves one by one
I was definitly feeling the lag of riding 3 x 400 miles days so soon after working a 12 hour night shift. So After riding the Rowena Curves I told everybody I was heading back on the interstate to the hotel - I had noticed that the Gorge had formed a funnel effect on the wind and it was getting very very windy along the highway. One good thing about being socked in with overcast clouds, at least the wind is not so bad then? So I said goodby and headed west on the interstate. Wow pretty scenery along the interstate even but boy interstate riding sucks! I had no idea I was so far out at this point thinking it would be a half an hour or so to get back - wrong I was a good 70 miles in at this point and I had to just sit there and grind out he windy windy miles! Some jackass in a rice burner with a coffie can for an exaust blasted past me and shoved his car past me with maybe a foot of room to spare? Then he sat there in front of me at 55mph? So of course I backed off and got into the slow lane but rv afer rv after semi trailer forced me back behind him till I found some daylight and took off at 70mph - the posted speed limit! Rice burner did not like that and got like 3 feet behind me for about 2 miles till I had enough of that too. Then I thought I would see what a 1200 vfr could do on the interstate when you roll on the trottle. lets just say rice burner became very small in the mirrors till I ran up behind a semi, then I worked in between and around them and the mirror got very small again. Turn off in Troutdale and waited for like 10 mintues for a flunky to come pour my gas? Jebus I hate that stupid Oregon Gas bullshit! What a stupid law!
I was getting hungry and I needed cash so I pulled into the safeway atm and saw a chinese resturant - its been months since I had chinese so I grabed some take out and put it in the top back and went back to the hotel for some lunch and an afternoon nap. Yes General Tao and Ruby Ale go together very well! Lights out and well I did not wake up till the vfrd get together was over. Darn it! I was really tired!
I asked my friends Radar and Did it what was on the menu for the way home and it sounded very good so I attached a line to the back of Didit and hauled along with the Canadians into Idaho for two more days of great riding. We rode some interstate again and then turned off on the only bridge for miles across the Columbia, and into Washington. We took some remote back roads into Bickleton where they say is the oldest Saloon in Washington? Is it Washington or Oregon I have no idea I was just following along and enjoying the hell out of myself.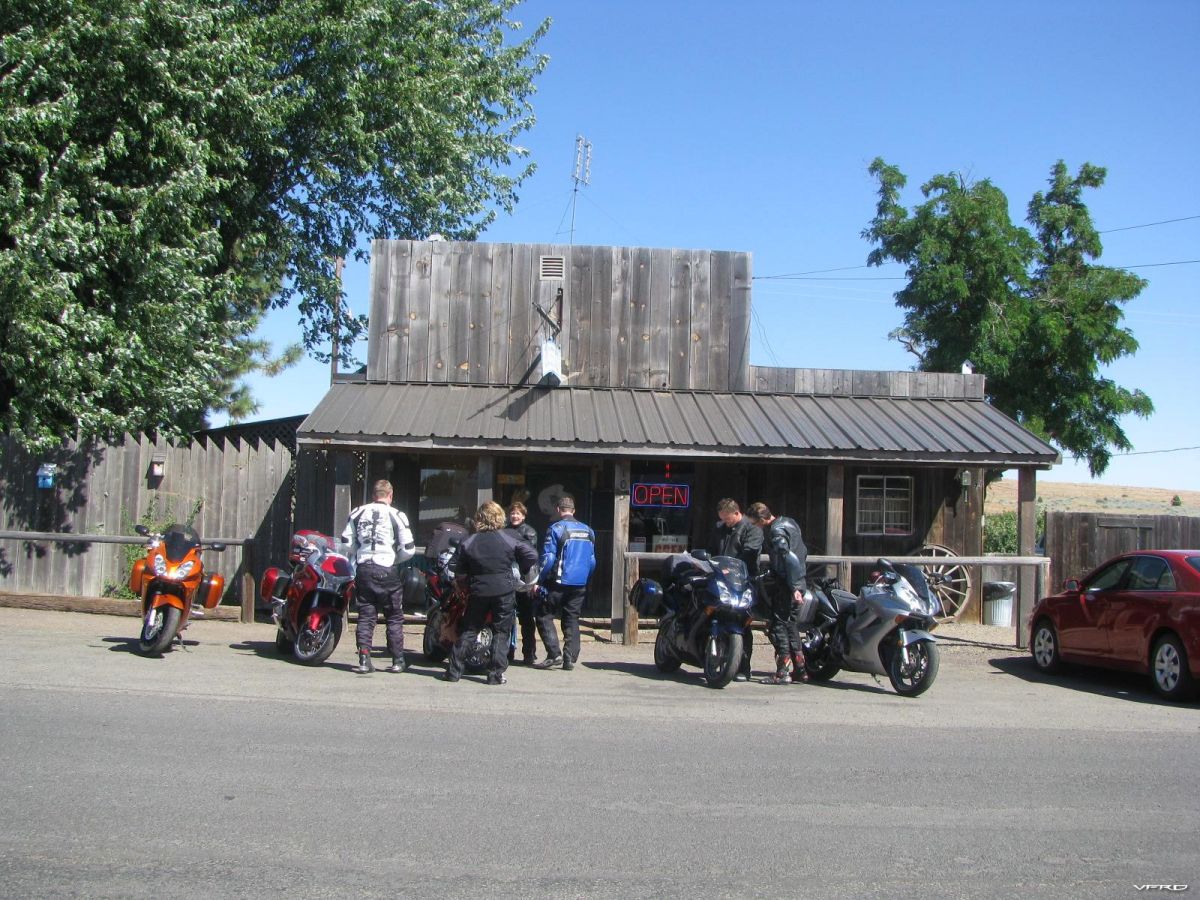 The Oldest Saloon In Oregon
Then we had to slow it down cause some of us were running on fumes all they way along the north side of the Columbia into Payson were we found an unattended gas station - no frills to say the least, but it had real gas! No Flunky to pump it either for you leaving you standing there for 5 minutes waiting to get served. It was the complete opposite of Oregon so yea I guess Bikleton is in Washington! I remember seeing Jeff and Axle 7 wizz past the rest of us on the sweepers of hwy 142 up the pass and seeing those two 2 up was like watching art in motion they looked so smooth together. I had witnessed this once before a couple on the Cherehola skyway holding off Baileyrock at the orginal fall meet - that was on a Kawaski with a liter engine so I must say to ride that that together on an 800 with a bad shock well its some darned good riding! HEH I am not that fast - I am not sorry about it either good stuff Derric and Tammy look great on that "Tamgerine" color vfr!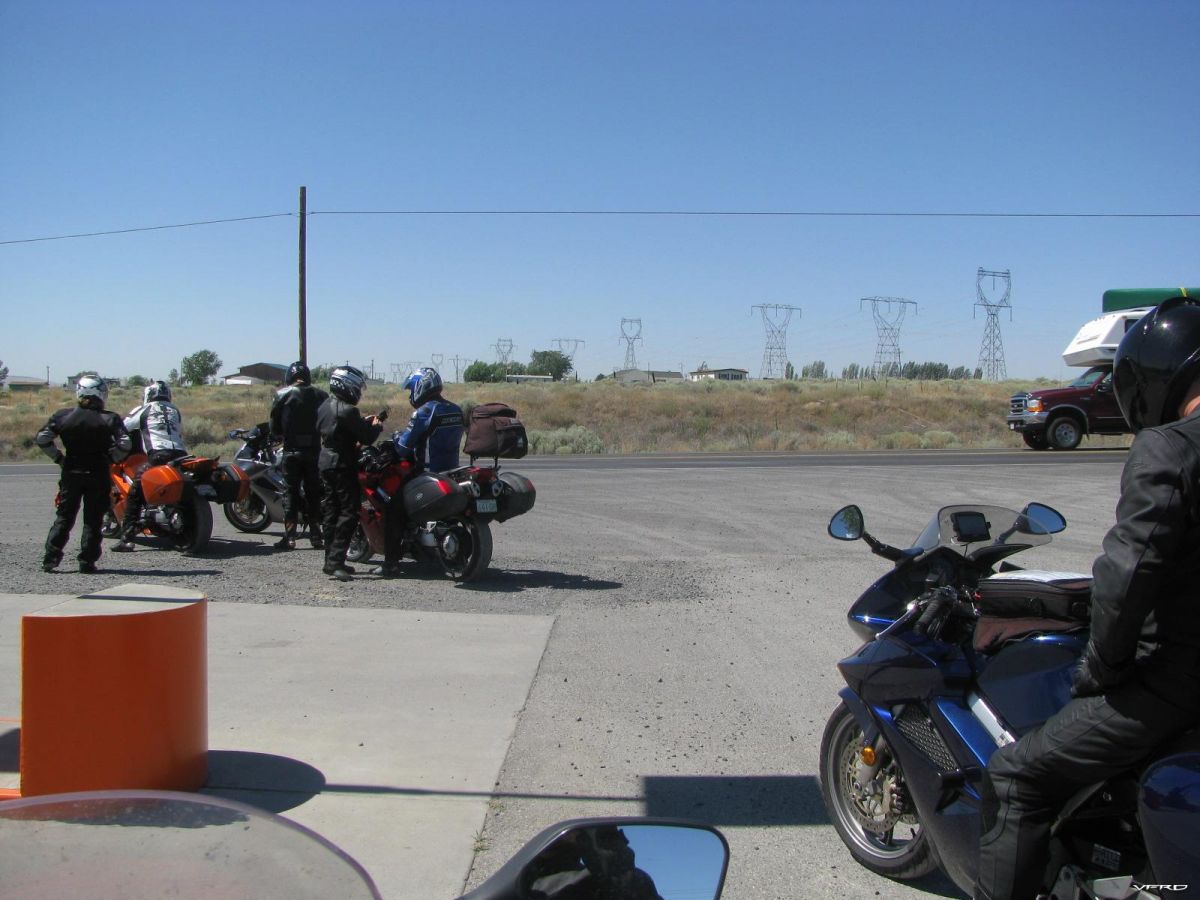 The only gas for 50 miles an unattended gas stop in Paterson WA
Lunch in Umatilla at a mexican roadside resturant was awsome, wasnt expecting good mexican food so far north, it was like back home in the southwest - a tex mex type resturant for sure. Lots of food and almost too much, well it was too much actually. They treated us good. Then off into the amber waves of grain of Eastern Oregon again, on some more back roads.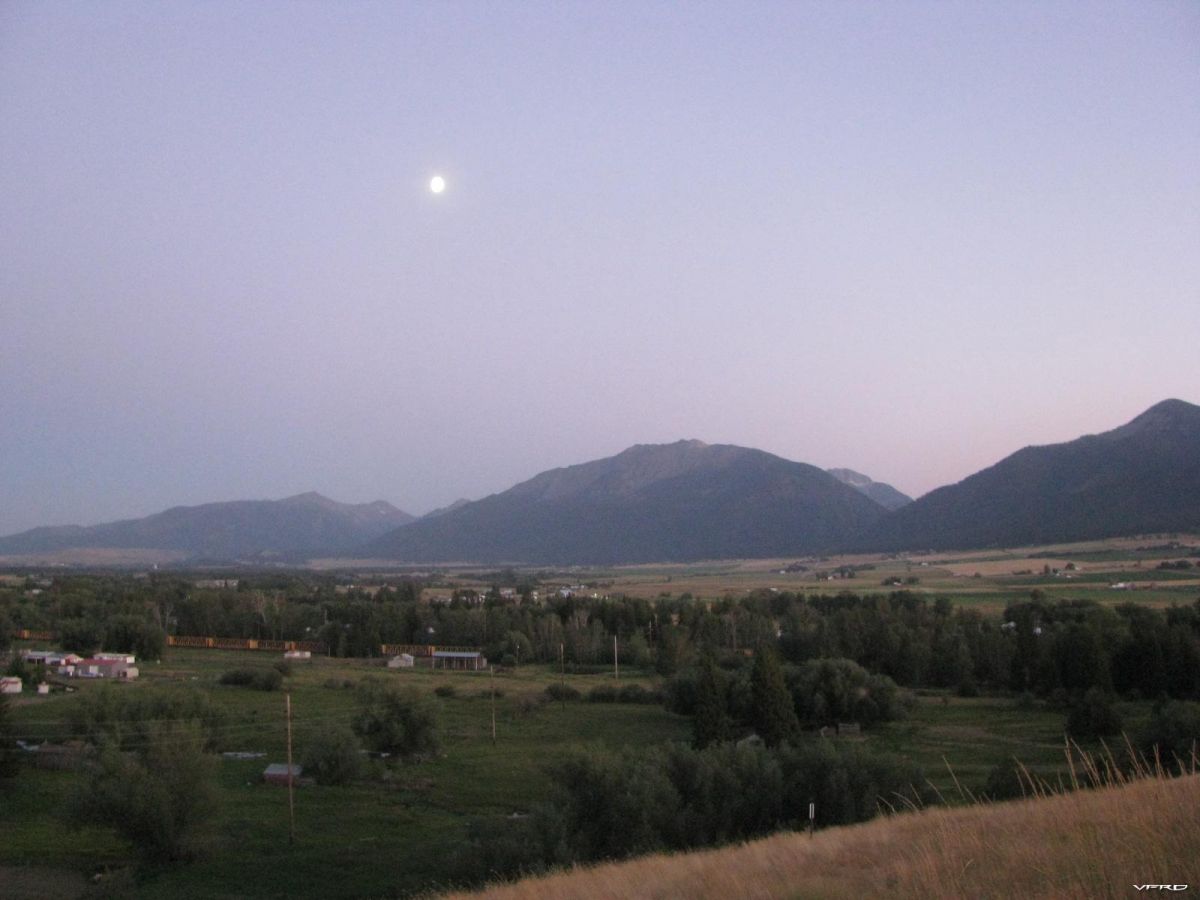 The Moon over Enterprise Oregon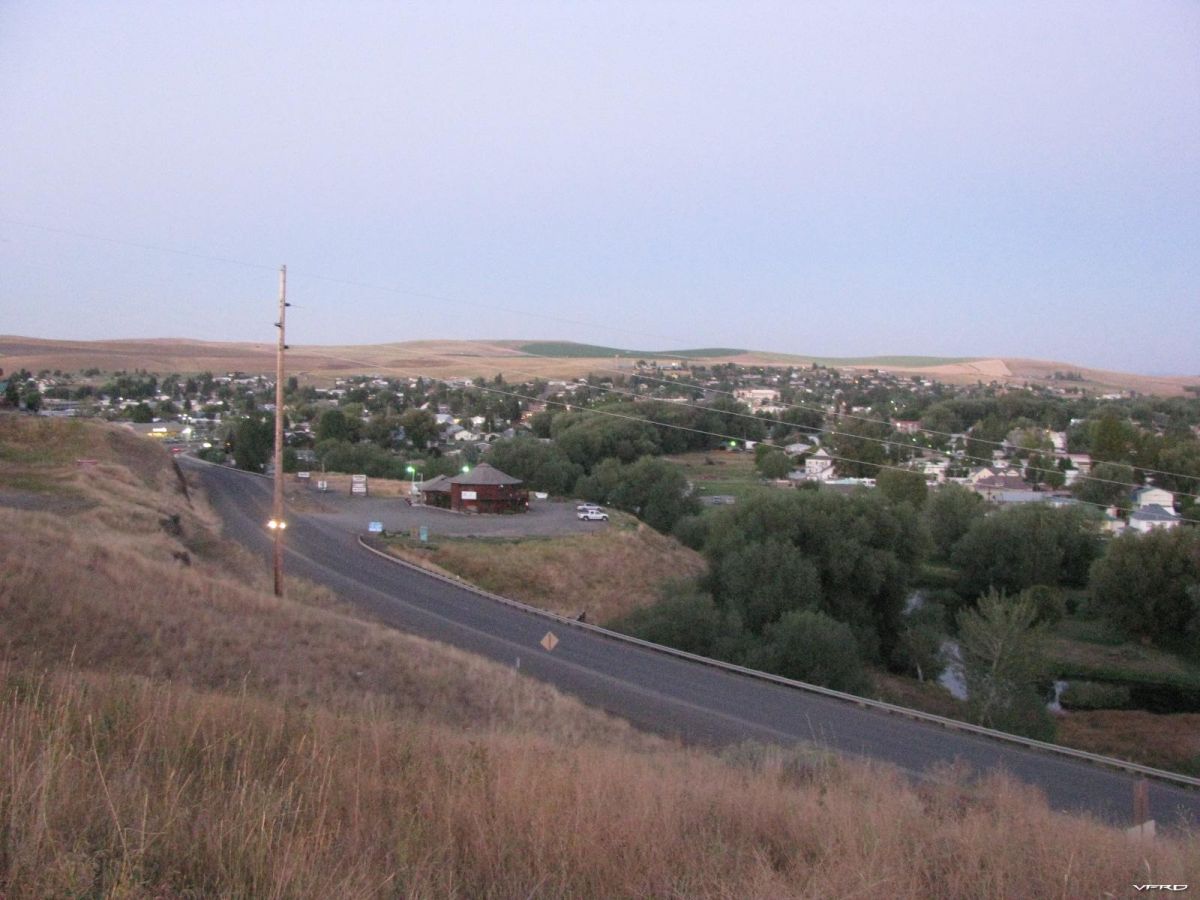 Enterprise OR
It was an awsome day of riding and the next day was even better - we found a great road up to Lewston that opened up into a huge canyon and well it was a little hairy comming into it cause it looked like gravel all over the road in the trees but as soon as we rounded the turns into that canyon it got very very good.
http://www.vfrdiscussion.com/forum/videos/491/lewiston.mp4
The day had only been an hour into it and we had already found some good stuff! A bit of slab from here into Lewsiston to ride the Old Spiral Hwy - a motorcycle destination mecca itself. I took more video there
http://www.vfrdiscussion.com/forum/videos/491/spiralhwy.mp4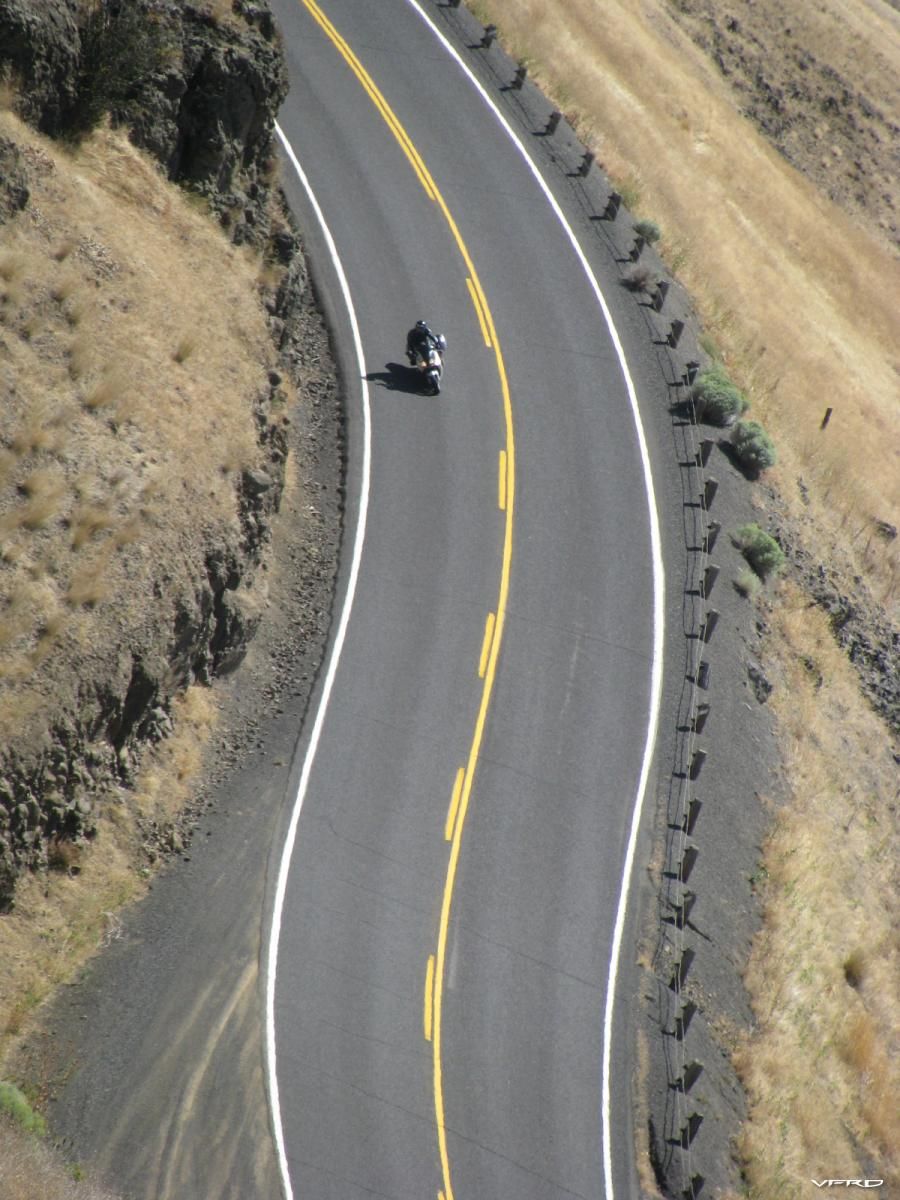 The Old Spiral Highway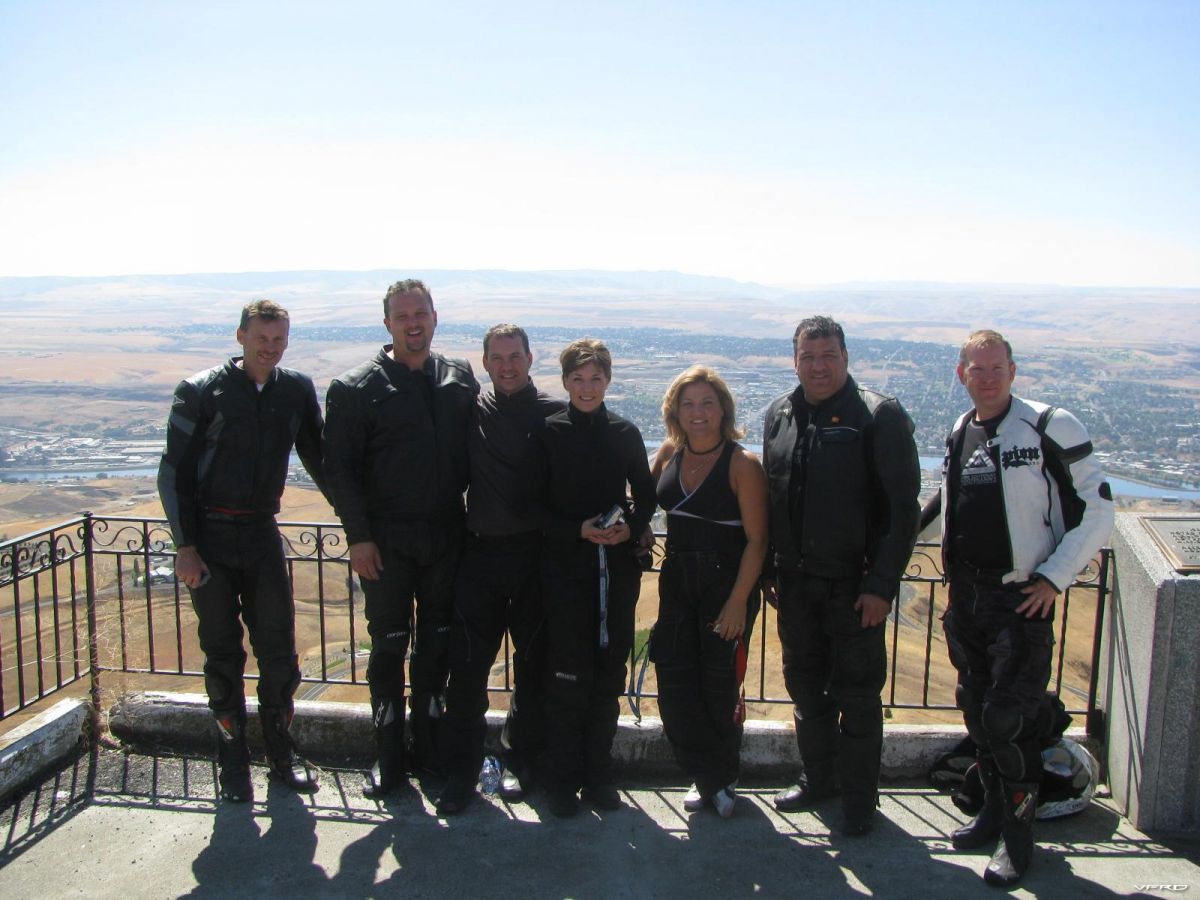 The Canadian Crew and Me at the lookout on the Old Sprial Highway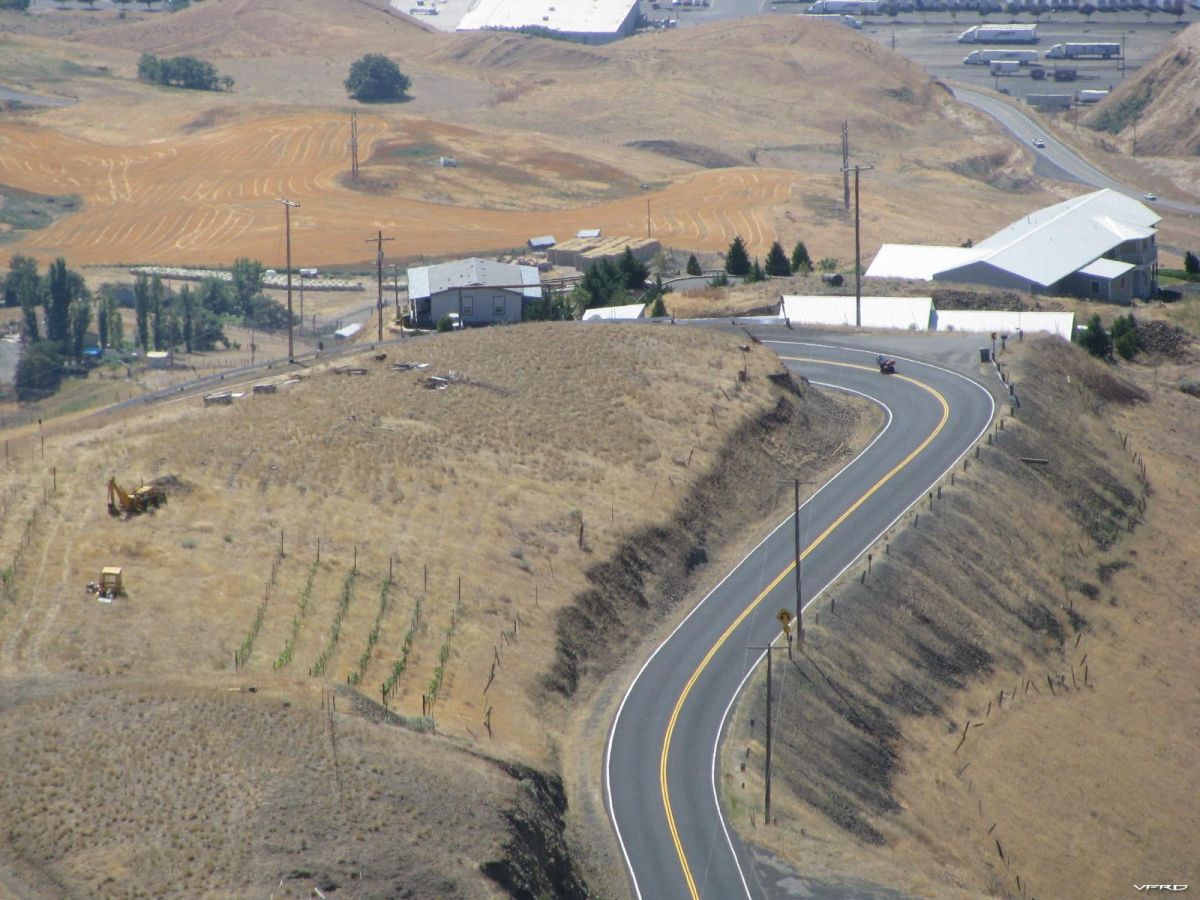 Axle7 Solo's the Spiral Highway
Then we found some more great roads to go up after that, a great sweeper road just would appear out of nowhere and challenge you for a half an hour or so then scenery then into Coeure D'Alene we found a tight tight twisty road hwy 97 that hugged along the lake for 20 miles, it was deals gap tight and it plumb wore me out! I was done and rolled off a bit and let Jeff and Didit go on ahead - And I just slowed down and looked at the pretty houses and boats along the lake. 30 mph turn followed by 20 mph turn followed by 15mph turn all at 60mph just wore me out after 11 miles or so. Big bike I got here takes some muscle to do that stuff for 20 miles on mile 300 for the day. I just needed a rest so I took it. I always ride my own ride anyway so I dont much care if you pass or get on ahead, some days I am the guy who gets away some times I am the slow poke, sometimes in the same day its just sport touring with friends - tis all good!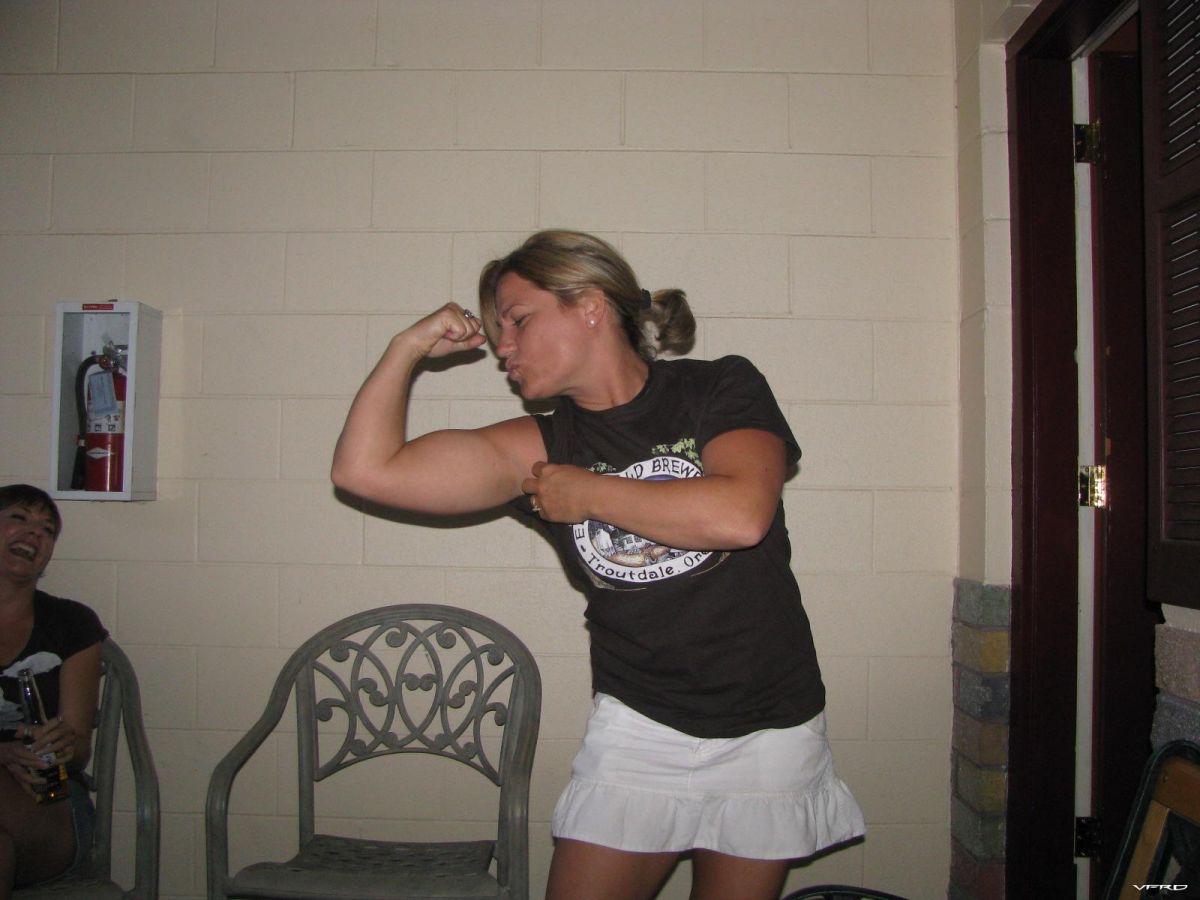 Tammy shows of her Muscles hamming it up
They all had resevations at the motel already and it was all booked up so I had to go get a place a few blocks away and we walked to the resturant - blue moon brewery and it was good, spicy too and I was smitten with the waitress she was captivating to me! Oh well Apricot ale was good and the company was awsome, Tammy was cracking me up the whole night she was really allot of fun! No she is not shy! HEH Good times good riding I was having the best vacation I have had in a long time! The next day half of us would split off for Montana and the other half up North!