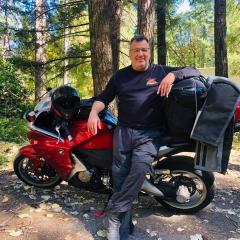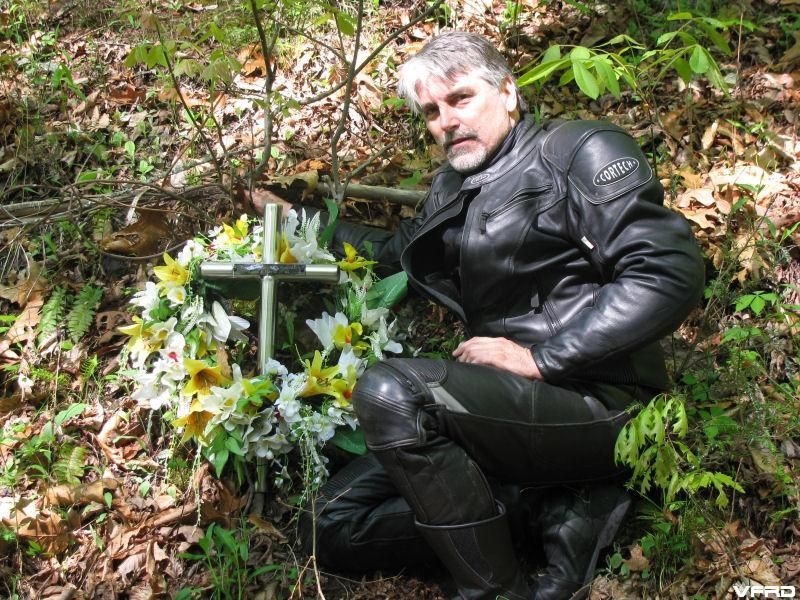 The second installment The Rally
Kevin attached his hard bags the night before in anticipation of an early start out of Nashville, and as usual I was groggy and not ready. We did the usual pin the tail on the donkey route out of Nashville from his house and I was totally turned around and confused as to which way was which. It looked like late afternoon to me and we where heading west, but the clock indicated 8am and so it had to be east - I know one thing it was I-40 cause the sign said so. With us was Dutch and it was a trio of VFRS on the way to Franklin, 3 gps units and none of us was sure about the route. Kevin stopped at the Cracker barrel and we all gassed up at the Shell right next door, I had to replace a blown fuse (the start of my troubles as the Hispanic-Flasher)
:media: Texasmac 2008 video high resolution wmv format, music by Suzanne Vega
I was having issues, leaving my keys in hidden places I was holding up the works, searching the ground, my suit and everywhere I finally found them behind a fold up display on the table where we ate breakfast. Kevin had us off the Interstate as soon as he possibly could and onto some rolling Tennessee hills, his route was a pleasant one and of course I had no clue where we where save for the purple line on my Zumo telling me (go here)!!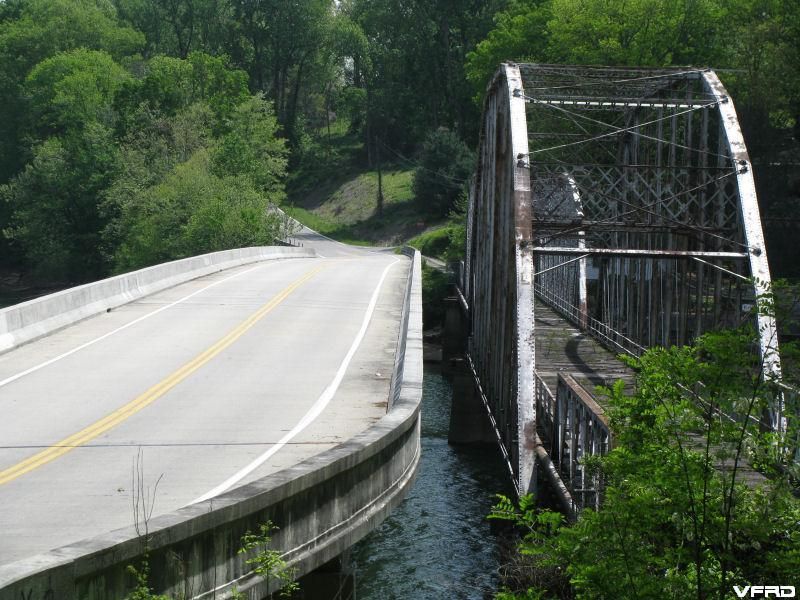 Old and New Rock Island State Park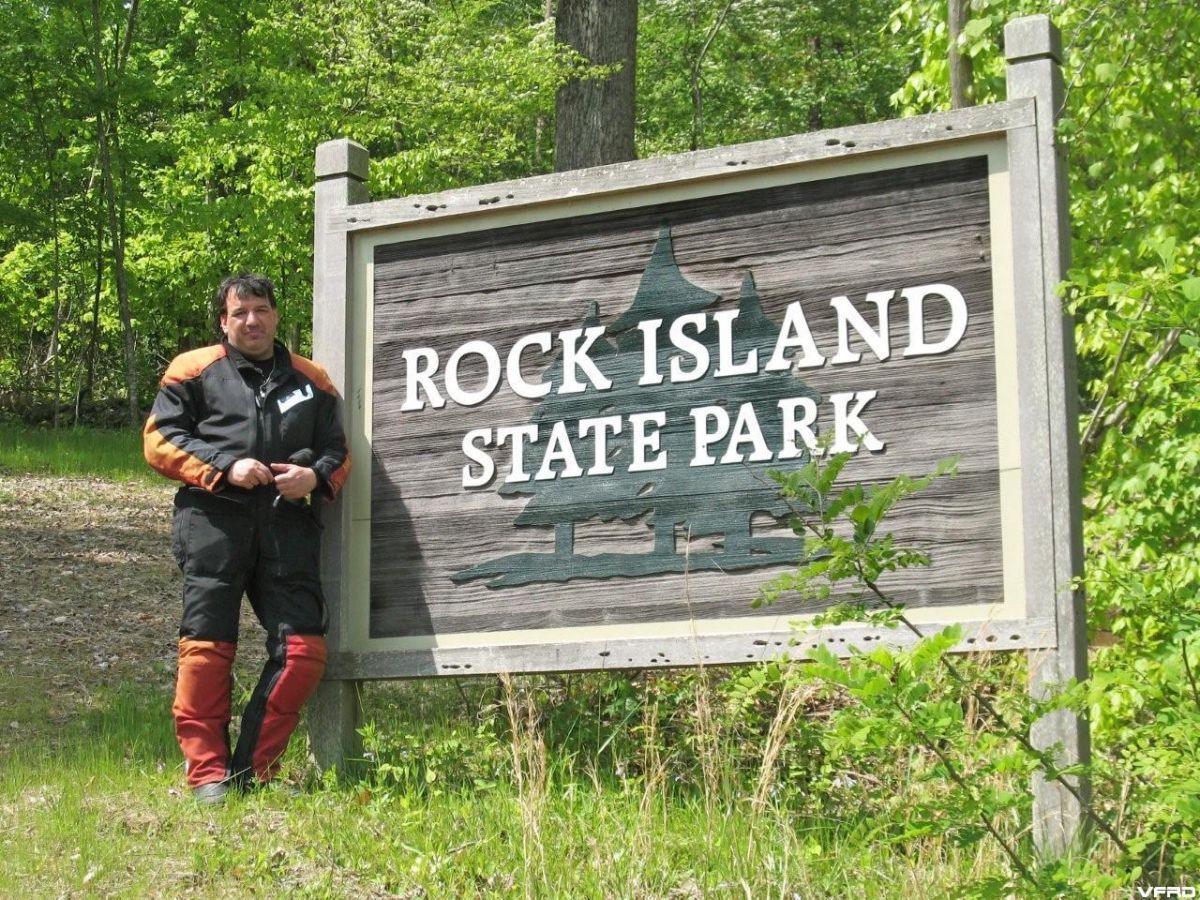 Dutch snapped this one
We rode sweepers, hills, tight back roads and stinky slabby roads to nowhere it seemed till at last it was lunch time at the Town Square Café in Tellico Plains - the food was good but boy my drink was nothing but ice! We where soon assaulting the Cherehola Skyway and at Baileyrock pace, or rather Baileyrock 3/4 pace? I don't know all I know is that my tires were sticking and I wasn't being dropped for once!
I was loving it, as it all ended too soon, for a 60mile road it seems to be over all too soon. I hate the part where it gets tight and gravelly I just cruised through that and let BR take off, as I am some 2000 miles from home and not taking stupid chances on a shitty road. Whya Bend road was more of the same, we ended up catching up with some other guys on their way to Franklin from the entrance to the Natahala State park there. They fell in behind us as we headed up the mountain, more gravel more bumpy tight stuff I wasn't liking it at all, however coming down the mountain was different it was CLEAN and so I upped the pace!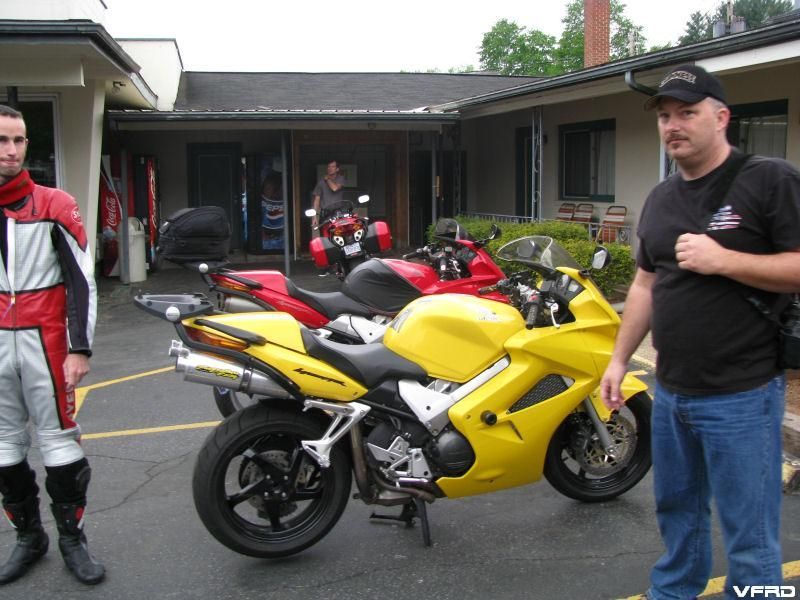 Aimlessly snapping photos Tinyminds and Dutchinterceptor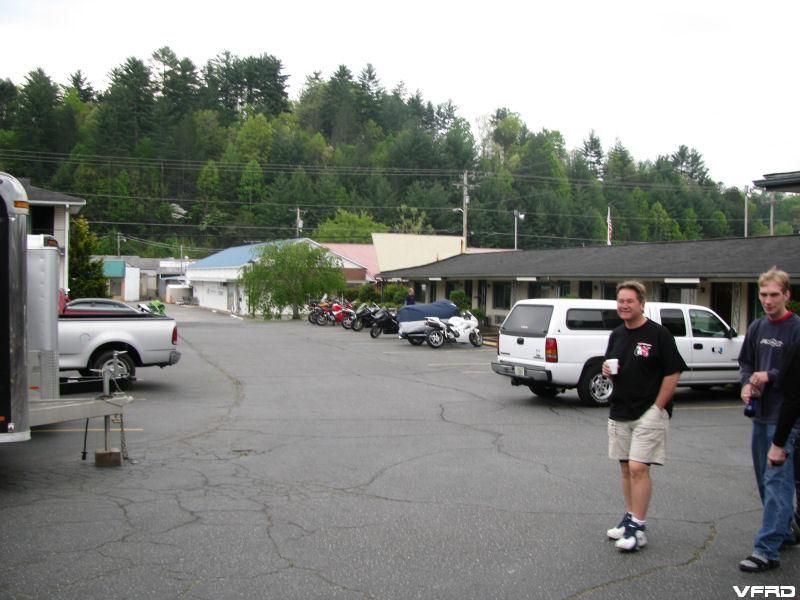 Watch out man with a camera Dbs05 and Sochiro
The Franklin Motel seemed like a great place to hold a rally, lots of space for trailers and a great open area to mingle with other riders, chairs everywhere, as long as the weather was good it was perfect. Married2apetbuilt was grilling burgers and dogs! Beer too - this is a wet county!
The Next morning we all met for a drill about safety (hmm some of us listened) and I took my group up hwy 28 for the long route, and boy it was a good day of riding. Just the right length and lots of good roads. Up the Cherehola again I scrapped my boot on the first hard right hander and freaked myself out a bit. I was intermediate to fast group, though some of the guys thought incorrectly it was on the slower spectrum. I took it easy for the most part, and hammered it in the turns somewhat, at least on the Chrerehola (Trace and the guys where playing musical chairs as to who was going to follow me) Every time I looked in the mirror I saw a different bike! It was a bit unnerving but they had to sort out who was faster among them so that the line was evenly distributed, Dutch was my sweeper.
Trace finally worked out he should follow since he had the pace on his RC51 and he did follow ( a bit close at times and it cost him ) so there were lessens to be learned there. Overall it was a good day to ride, some of the guys got tired and asked to stop, but I tried to keep the stops between the more difficult roads and gas stops, the highlights where the Cherehola, blood mountain and GA 344 wow that was something, After that I slowed it way down for Warwoman road cause that is not a forgiving road and it was late with critters sighted it was best to concentrate on being smooth and not go so fast. Of course this meant some cages would be a hazard, passing a pickup truck near Highlands turned out to be a disaster later cause he took a short cut and ended up in front of us again. Famous last words Trace "oh we will have to just pass him again" 10 minutes later he would suffer a broken clavicle and a busted up bike trying not to rear end me as I thought better about re-passing that same pickup truck on the short strait out of Highlands, he turned on his flashers and then turned into a right hand driveway - I had no idea wtf the guy was doing so I hit the brakes and settled in behind him - thats when I heard a whooshing sound and looked back to see an RC51 on the pavement. I started to panic but then realized Trace was already up and sitting on the side of the road, I got off my bike and Dutch and I picked up the bike and got it off the road. Minimal damage really it was a slow speed crash, Dutch pulled out a vise grip and fastened a make shift footpeg so Trace could ride it back to the hotel! I don't know how he did it but he rode that thing back 10 miles, and took off before we could all get gathered up to follow behind him. Dutch and I had to really push it to catch up to him 5 miles down the road. I don't know where he found the strength to turn the darned thing, good thing it is a lite bike!!
The next day it rained.....as many of you know so it was sort of every man for himself if you want to ride. I fell in with Earthshake, Steven, and Baileyrock for a ride to Warwoman road and back, we took it fast and then the rain fell, Earthshake took us over to hwy 7 to Cashiers and we rode another loop into the NC mountains. The Pilotroad2 where great in the rain. Then we had that funny lunch at the diner on the hill with the Canadian guys - a group of 20 of us overwhelmed the waitress, she had her pea shooter on overload trying to shoot down our orders, and freaking out cause there was nobody there to man the Shake Machine! OH NO! I forgive her cause my lunch was scrumptious! Good stuff even if it took and hour, I am on vacation here so who cares I have time!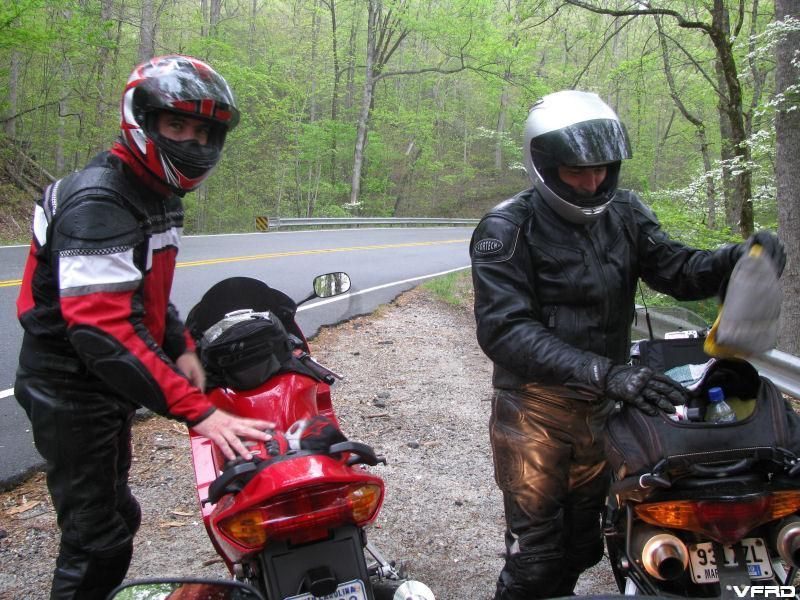 The rain comes Earthshake and Baileyrock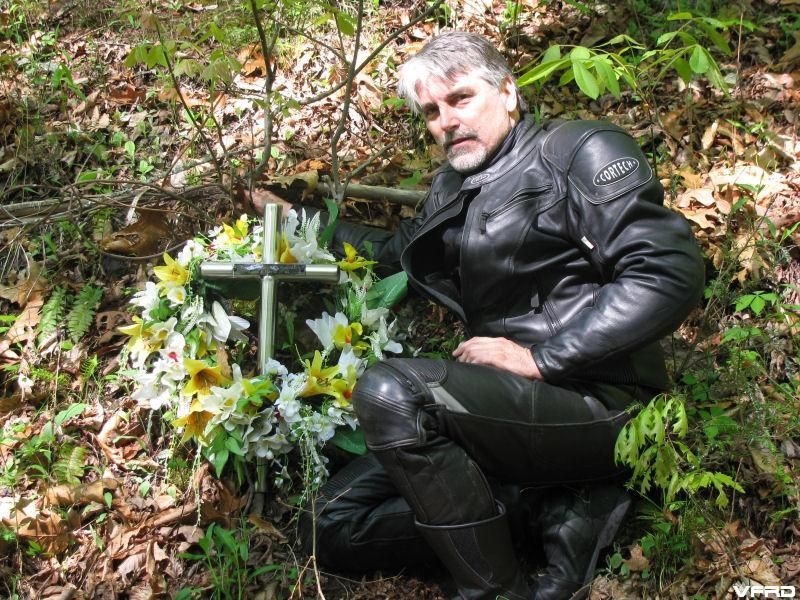 Balieyrock pays respect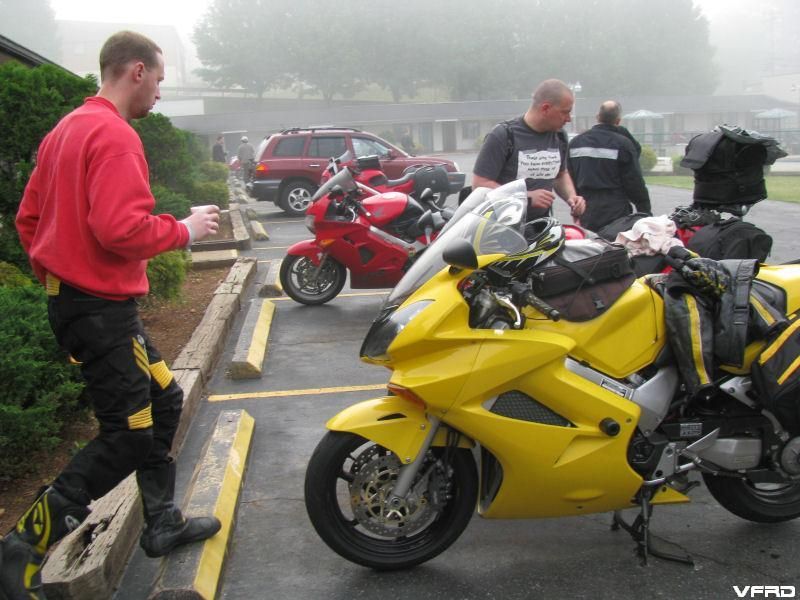 Fog in Franklin Sunday moring everybody prepares to head home
It seemed it was over before it really got started, I took some video of the Friday ride but it was mostly boring stuff, so I mixed it in with some photos everybody shared on the "official" photo thread and made a collection video