Banner Days In Mexican Hat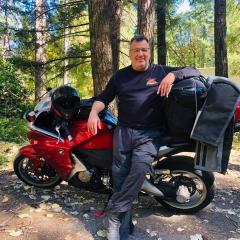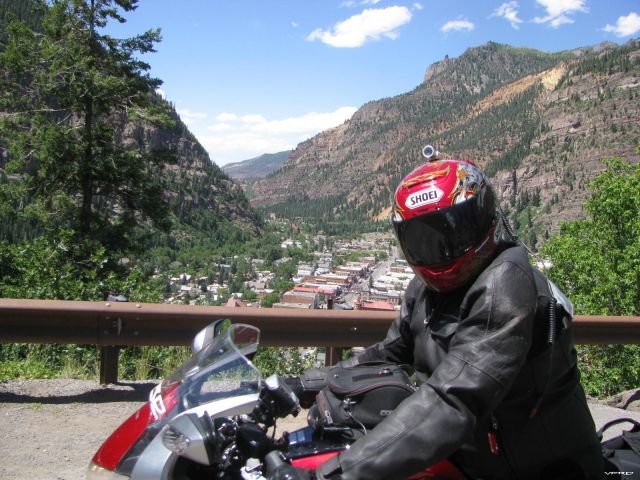 Me and the Veefalo ready for the Million Dollar Highway
So My Buddy Scott from work, better known as LDSRIDER here on the forum, says he is taking vacation to go visit family in Arizona. He really really wanted to ride his C14 down there instead of the usual minivan thing. So he tried is best to convice the wife that its safe to ride alone - but shes not buying it and so he enlists me to ride with him, if just for part of the way. So I agree! I ride a part of the way to Utah and Back. Mexican Hat is our destination. So we get new tires on the Connie - Angel ST Pirrellies that he read about on the COG forum. The COG guys are saying it the best ST tire since well who knows they are always saying that. I read a review about an all day Lemans race where they averaged 130mph for 24hrs on these things! wow thats some serious tire life and good grip too boot? First thing I notice is BOY the Connie has some heafty wheels! We spooned off the Pilot Road 2's and wow the Angels are heavy too. Serious sidewalls! OK heis all set to ride and so am I. I spend the night farkling up my com system and Radar detector since its 4th of July weekend and I am sure the State Pat Trolls are out in force!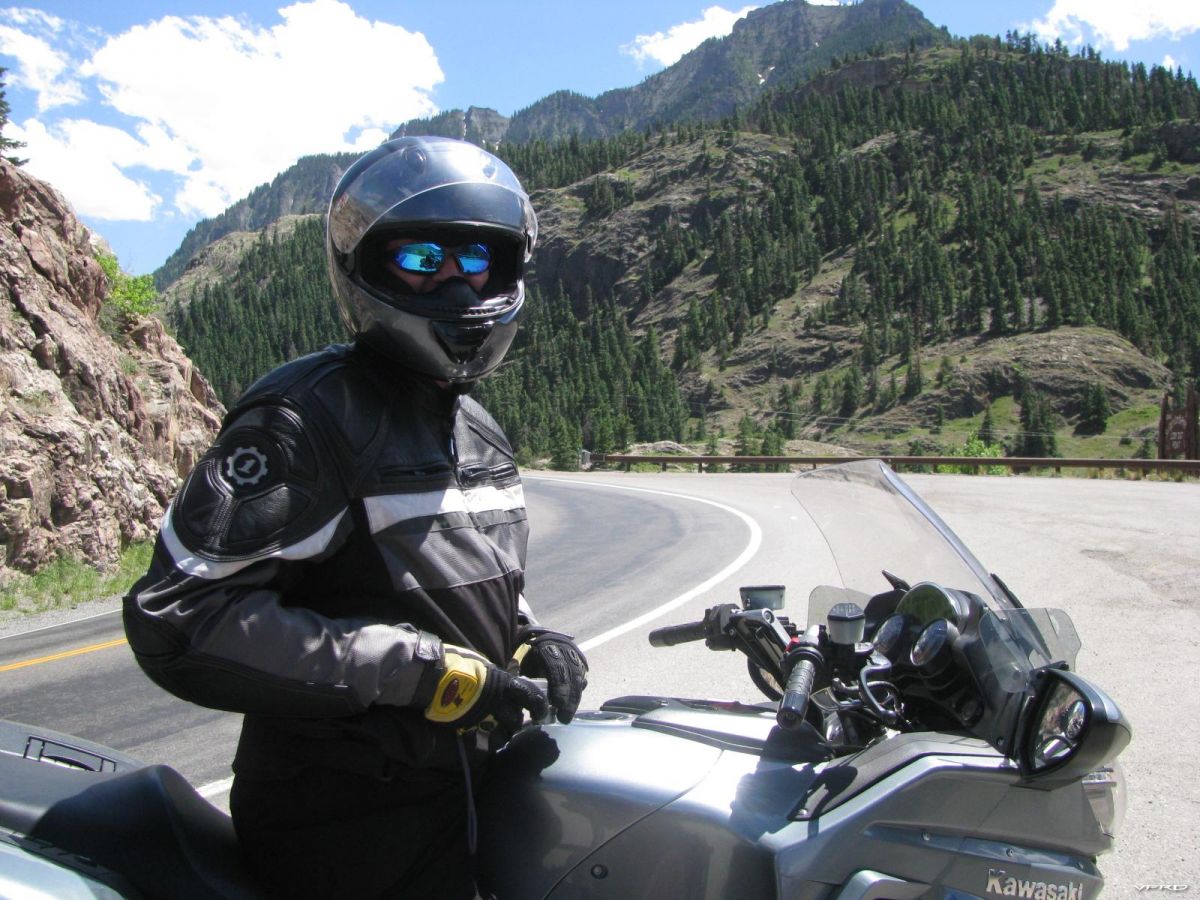 LDSRIDER on his Connie 14 this is his first time on the Million Dollar Highway
LDS says hes never been on the Million Dollar Highway so guess what thats where I took him. It was a Ho hum ride over to Montrose, it was hot and there where lots of bugs, a good breakfast in Texas Creek settled my stomach and Monarch Pass was good this time around. Finally no more delays! Seems theres always somthing going on on Monarch pass! The pavement was good on the way down but tar snakes on the way up heading west.
The scenery started to get really awsome right around Ridgeway and the canyons closed in around us. I notice my riding buddy is slowing down a bit, soaking it in or maybe just a bit freaked at the situation, no gaurd rails, tight road and 500 feet strait down? The Million Dollar Highway is no place to play around unless your an idiot, so I take it easy.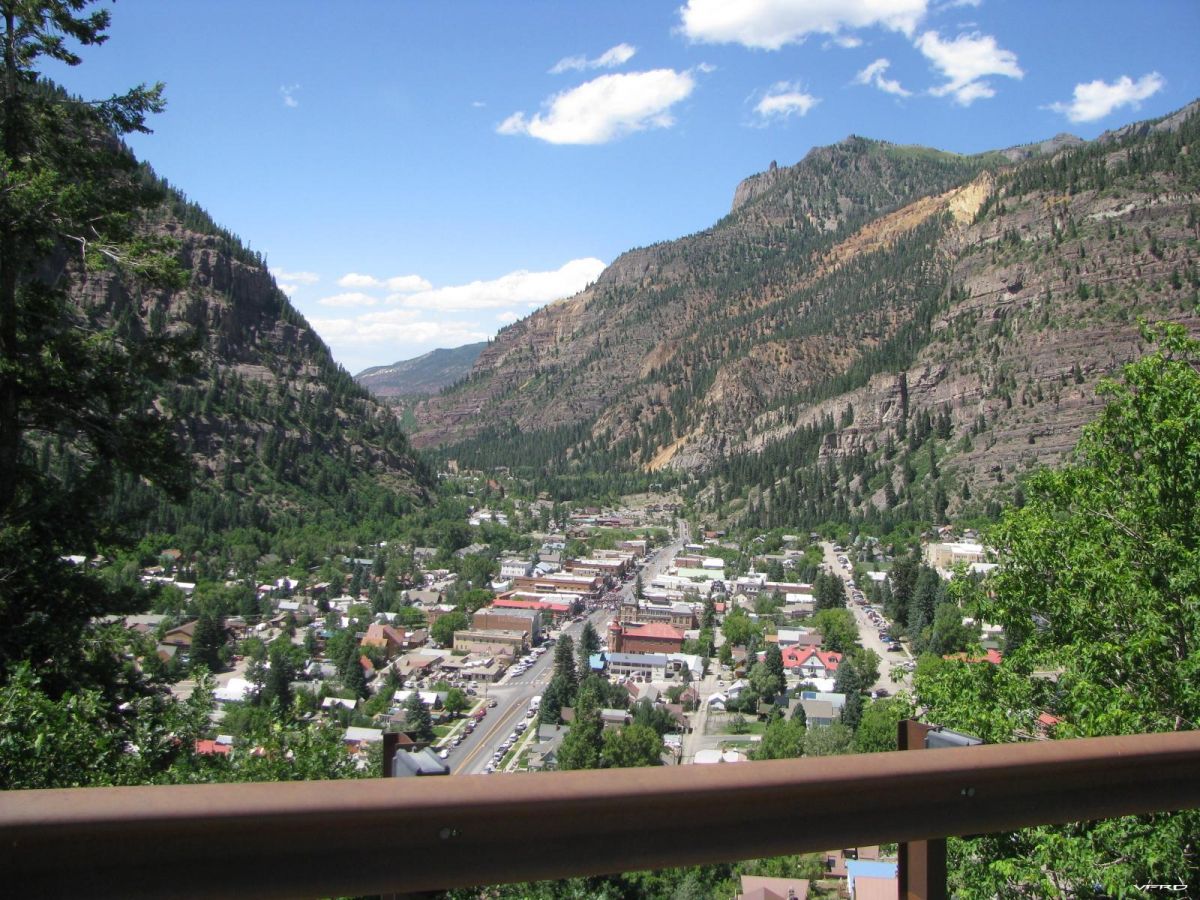 Ouray Colorado
This trip I am out on a hunt for a new logo picture for the website, trying to recapture the magic of the famous vtec on Molas pass pic, I can never quite top that one. However I tried.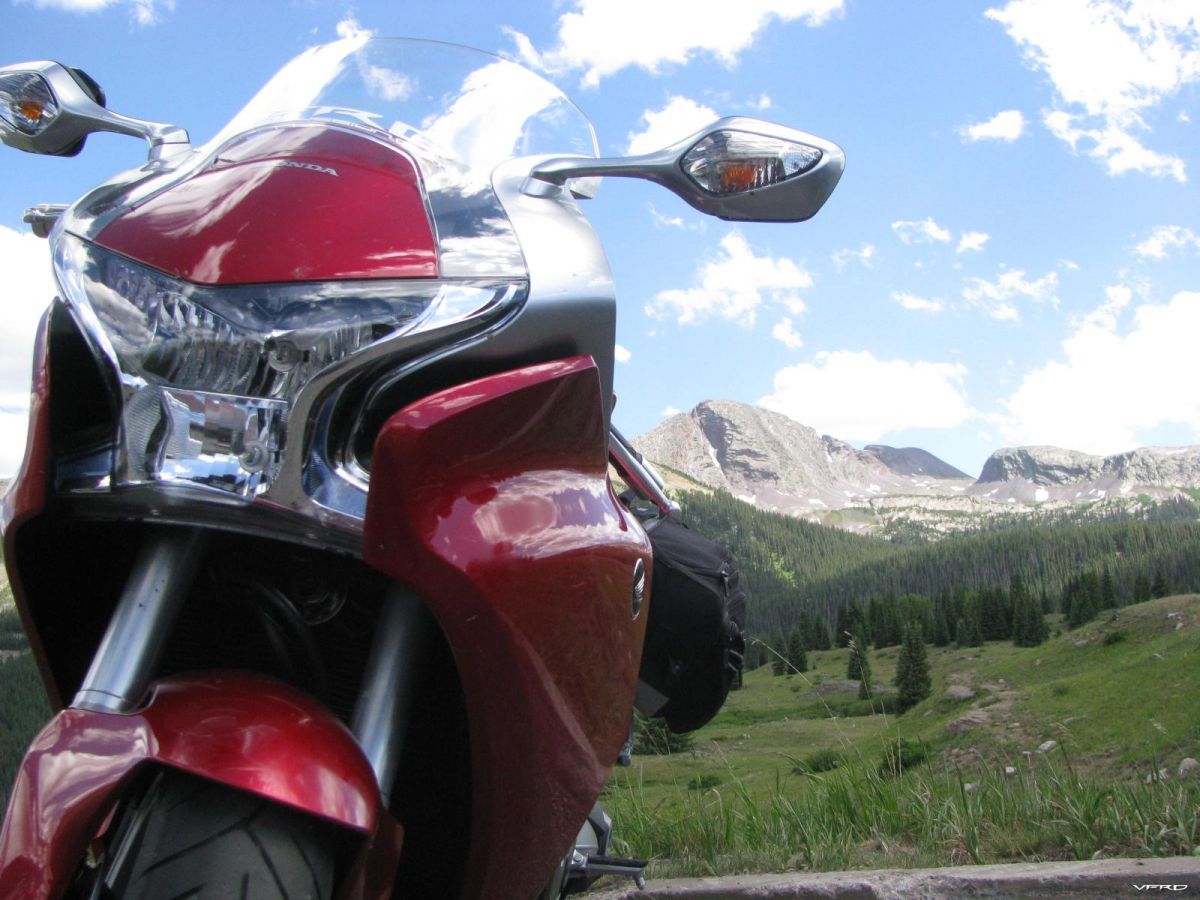 Molas Pass You old timer members might recognize that shot
I am gassing up every 150 miles even if I dont need it, the ride past Silverton gets a bit more bumpy so I wait more for Scott. It is a bit busier too so there is no point in carving up too much cause you end up just waiting behind another set of cars and RV's. Durango is our next gas stop and Scott calls to make sure they havent given away our rooms, 170 more miles to go. I switched bikes to see what the C14 was all about, its rather quiet too with that 4 foot bazooka on the side. The big I-4 is revy especially at take off, I feel like I am over reving it to let out the clutch. I am surprised the riding postion feels upright just like my Piggy back home - a dirt bike like riding position its easy to get used too. The seats more plush then the viffer, however the gauges are more - well just more stuff going on there. I could not concentrate on it, so I ignored it. She rolls under you when turning like riding a barrel. I felt like that once before riding an ST1100 5 years ago on a test ride. I think its rather raked out too cause it soaks up bumps like its raked out. Lots of power but surprisingly I felt the VFR was more powerful! I got used to it really quick its an easy bike to ride!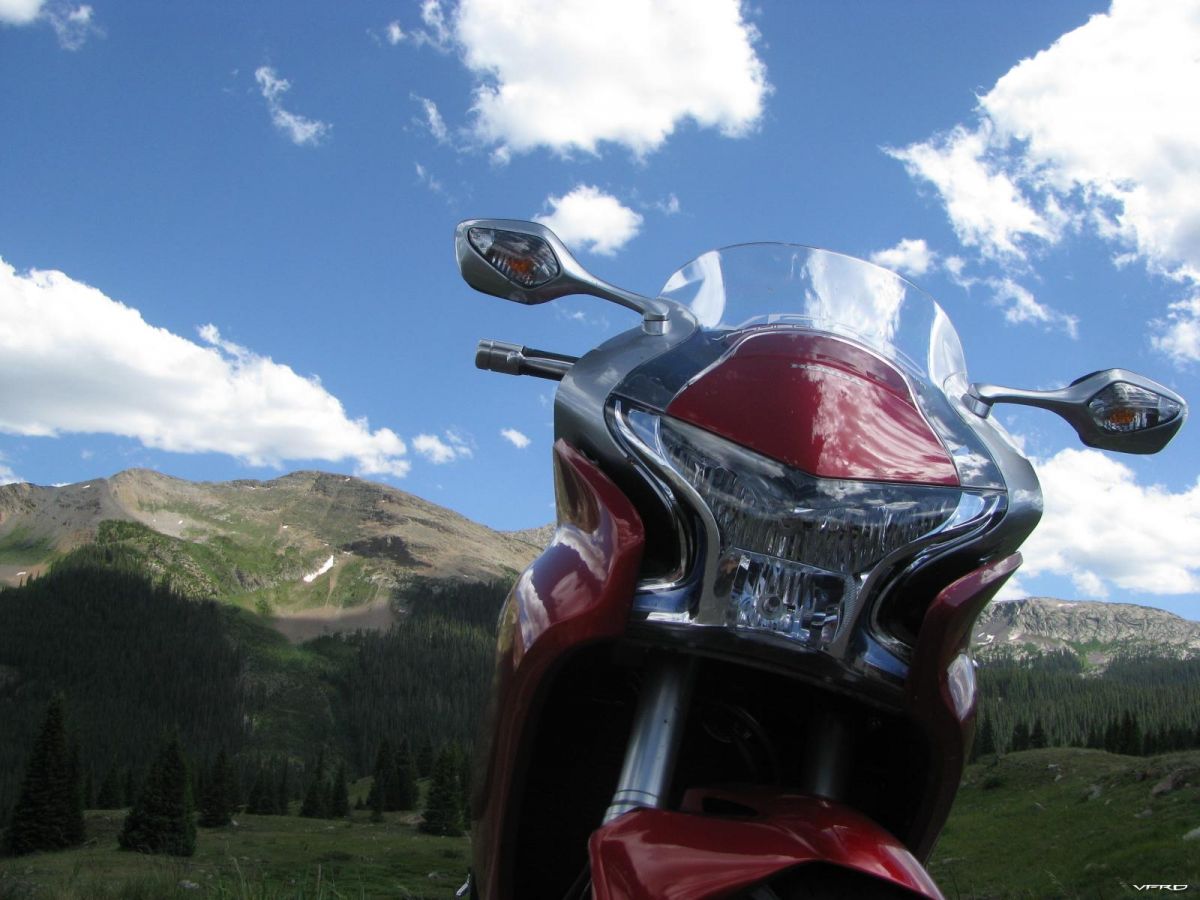 Trying to recreate a new version of the old logo same place different bike
Then we switched again and were soon in Cortez and Scott figured out why I did not want to stay overnight there, small and touristy, mostly fast food and bland! No charactor for a SW four corners town. We press on into indian land - I take a short cut over to Aneth and its bumpy as hell! I am slowing down where I cant see the next turn cause the road was very bumpy with a frost heave like depressions on the bottom of each hill, gravel in turns too. I end up following a woman indian driver who knows the road very well. Shes flying for the conditions 70mph in some places and gassing it in and out of the turns. I decided to follow close since she knew every turn and bump, I watched for her brakes light and sure enough a hidden bump was there, or a gravel strewn blind turn, she knew it well. I got a bit concerned when she tried to drop me though by crossing into the oncomming lane in places so I backed off not wanting to force an accident - I was just having fun not racing, I did not want to pass I wanted to follow cause well she knew the road!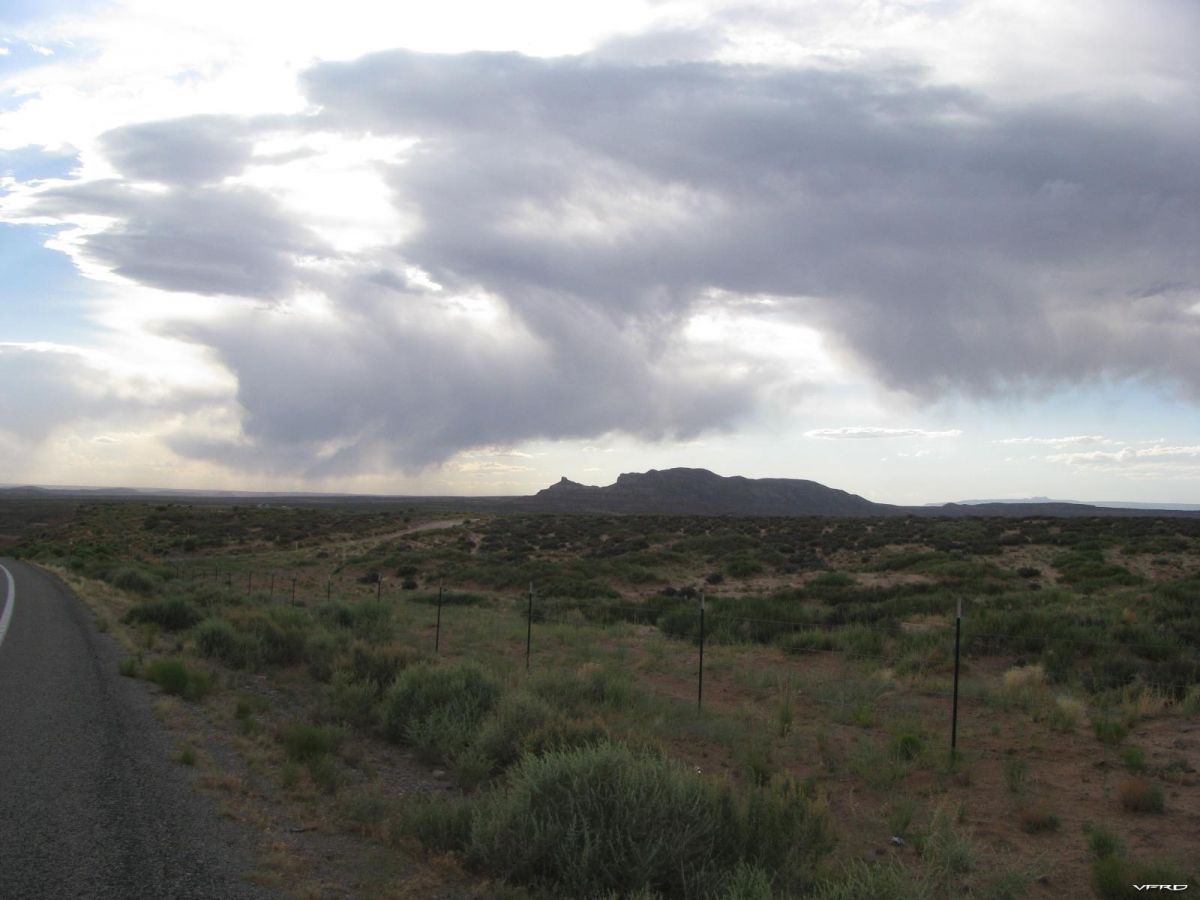 Utah Desert Indian Country near Aneth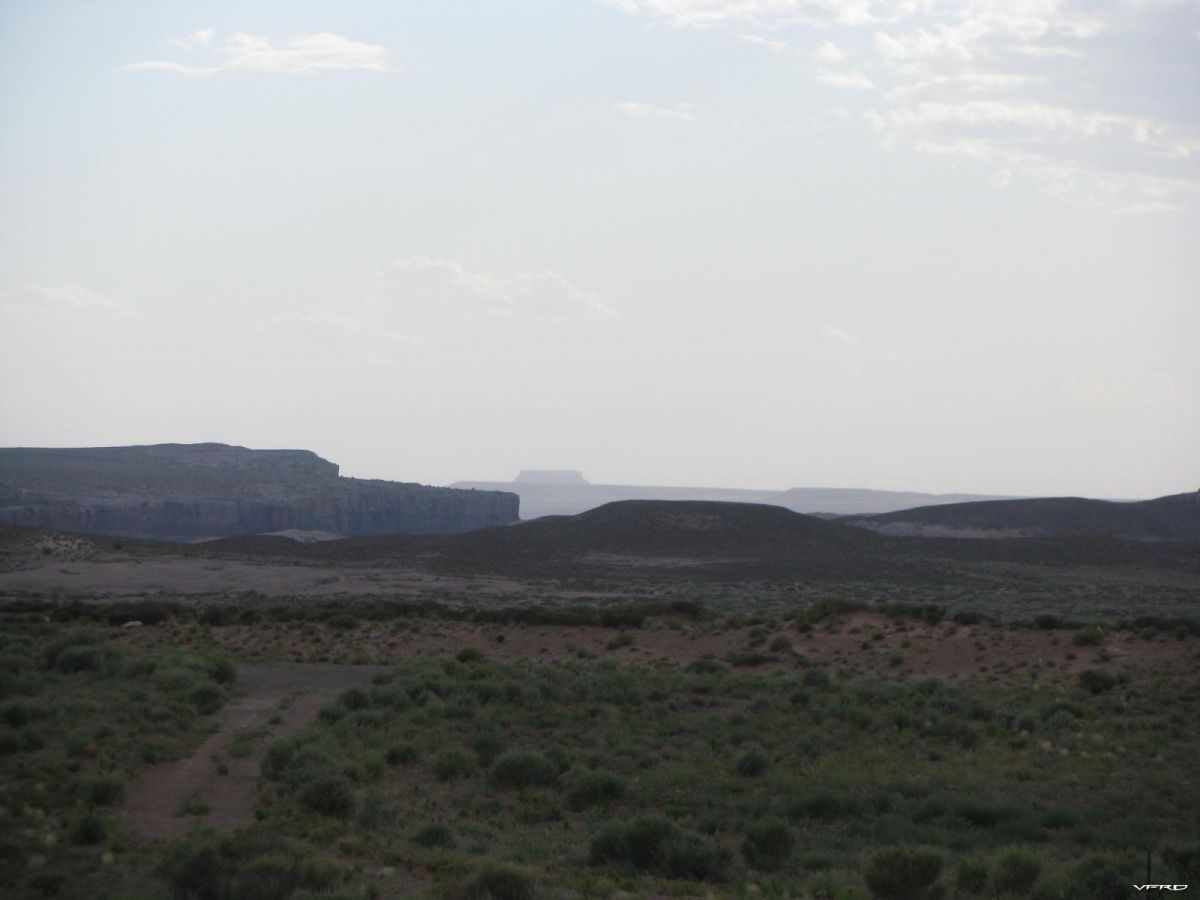 Comming up on Bluff Utah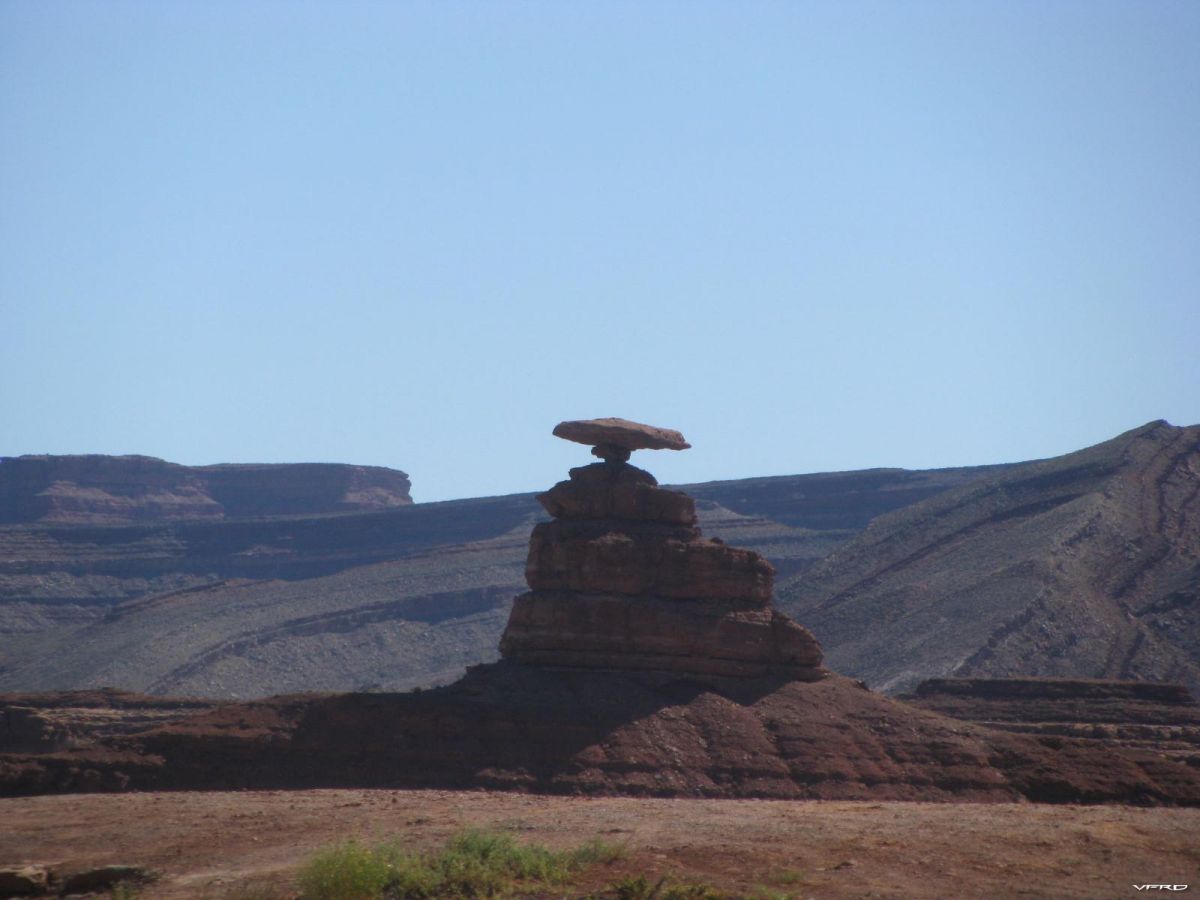 The Mexican Hat
In Mexican Hat Scott and I had a nice steak dinner on the swinging grill and enjoyed the evening in the Utah desert, Scott said he was going to take off early around 5am and so I said farewell, and I slept in. The beds there at the Mexican Hat lodge are very comfy. I always sleep well. Especially after a couple of Wasatch Brewery Polygamy Porters - only availible in UTAH.
The ride back I took a route to Telluride, its a rolling sweeper road all the way past Rico and so its fast, I averaged 70-80mph mostly and I watched row upon row of car and RV heading home the other way, It was like this for miles all going the other way - me I had my lane almost to myself, passing easily the stragglers in 6th gear since the vfr has so much torque to pass in 6th gear. I dont have to shift down anymore to do that!
I was getting hungary after a gas stop in Cortez - there was a Dennys right next to the gas station that looked like an old 50's Diner, it was all decked out in stainless steel, but the place was packed with a 15 mintue waiting line so I pressed on. I rode on over to Dolores 15 miles away to see what they had there. Lunch was a treat in I ate at the Ponderosa inn, a small wood paneled homey place with ceramic plates covering the wall as decorations - reminded me of Grandma and her plates hanging on the walls. The Hostes looked like she was in her 70's - here hair was colored flaming red and she wore a peach colored sport suit, and her penciled in eyebrows sort of followed around to the side of her head, I though it looked kind of wierd. I dont think she liked motorcyclist comming in her place but she was a good hostess, she put her initial reaction aside and decided to treat me like all her customers after I sat down and took off all my stuff. The whole mad max leather thing might be a bit scary for a woman of her age? I dont know? At first I was the only one there but when I left I the place was packed, a bunch of bikers stopped in, then a whole family of locals, and then more locals soon it was packed! I guess that shiny beautiful VFR parked outside drew in a few people? Ha I dont know I would like to think so! The Burger was great and the Onion rings were scrump-dilly-umptious.
The ride was pretty uneventful from there on, the roads near Telluride are in poor condition so I did not ride too fast, passing a couple of ST bikes pulling trailers, they were old bikes I had to pass them twice since I had so many bugs on my visor I just had to stop and clean them. My ass was killing me too, the Stock seat is good for about 300 miles then its a bit hard after that. I might scoop out a bit of foam and make it more bucket like as a future modification, the vynyl is just stapled on and glued in. Hit it with a sander and shape it better maybe soon?
I did not stop since there was so much traffic north of Telluride I did not want to have to keep passing the same people over and over again. Dallas Divide was spectacular - blue skies and fast sweepers going down to Ridgway CO. It was a nice ride. Monarch pass was sweet too, I love riding up the west side its really really fun if you have clear road. Its 2 lanes so you can pass slower vehicles but they sometimes think they own both lanes so you have to watch out in the corners! I was passing cars like flies. I almost made it clear the way to the top with open road but half way down I caught the steam train. Cars lined up as far as you could see behind semis and Rv's I was in for a slow one down. So I did not want to continue on like that into Salida so I stopped off for some Mexican food in Poncha Springs, cant remember the name "the sunflower" but in spanish I think? Good food and cheap.
It was getting late and the sun was waning and I remember that the Arkansas river canyon gets critters in the evenings crossing the road so I slowed down, I remember my buddy Craig 7 years ago waxing a young deer at this very time of day and going down on the pavement next to the river. Jumped out from the bushes right into him.
It was a good couple days ride.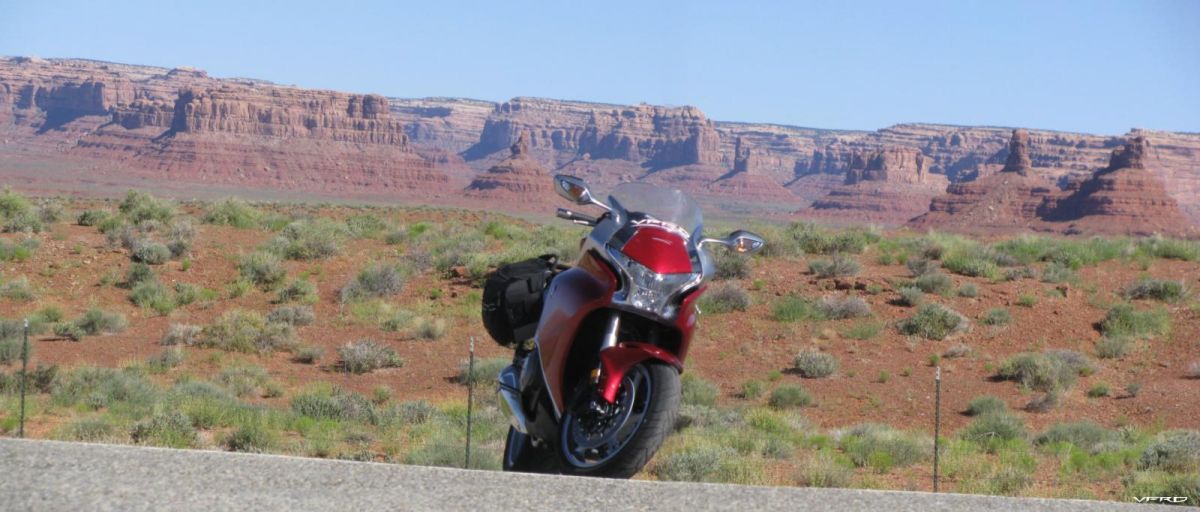 Valley Of the Gods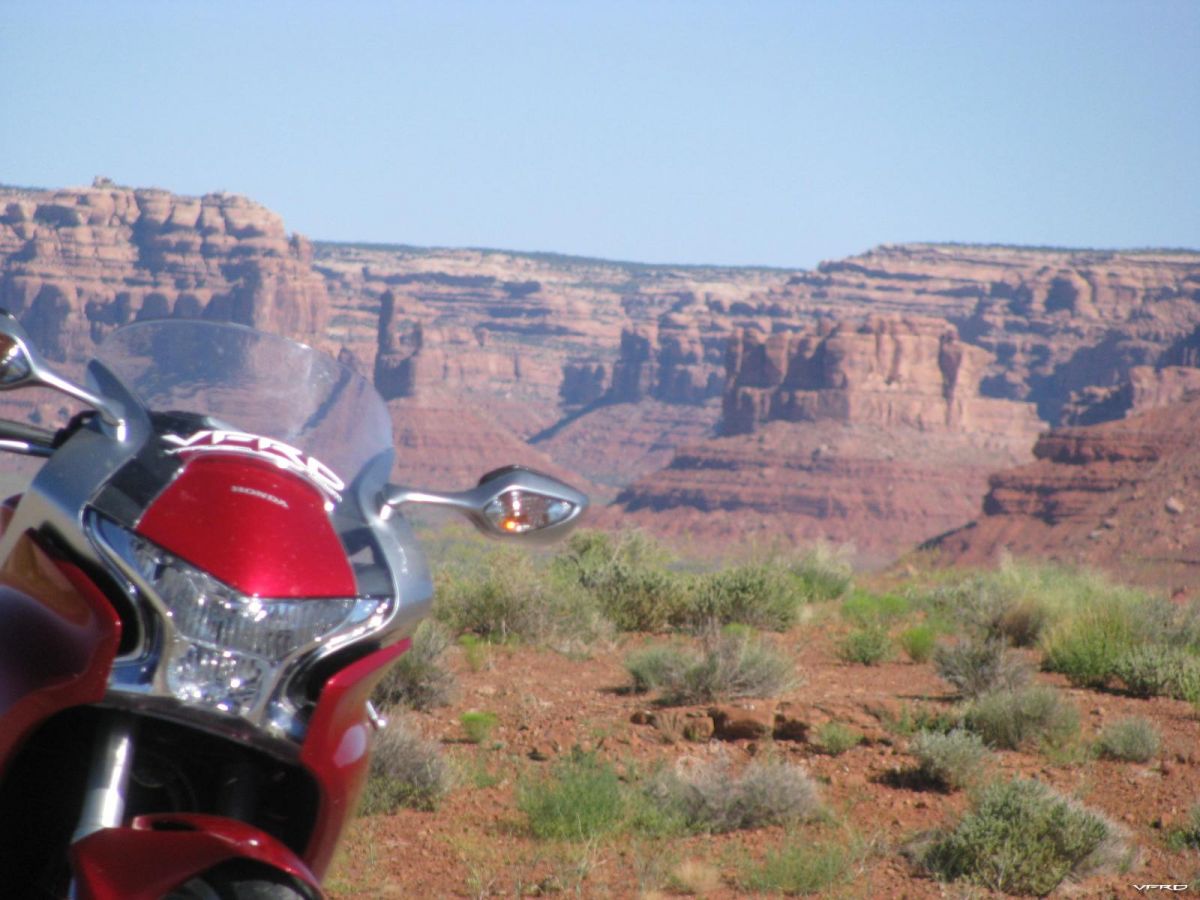 OH OH .. that would make a nice logo!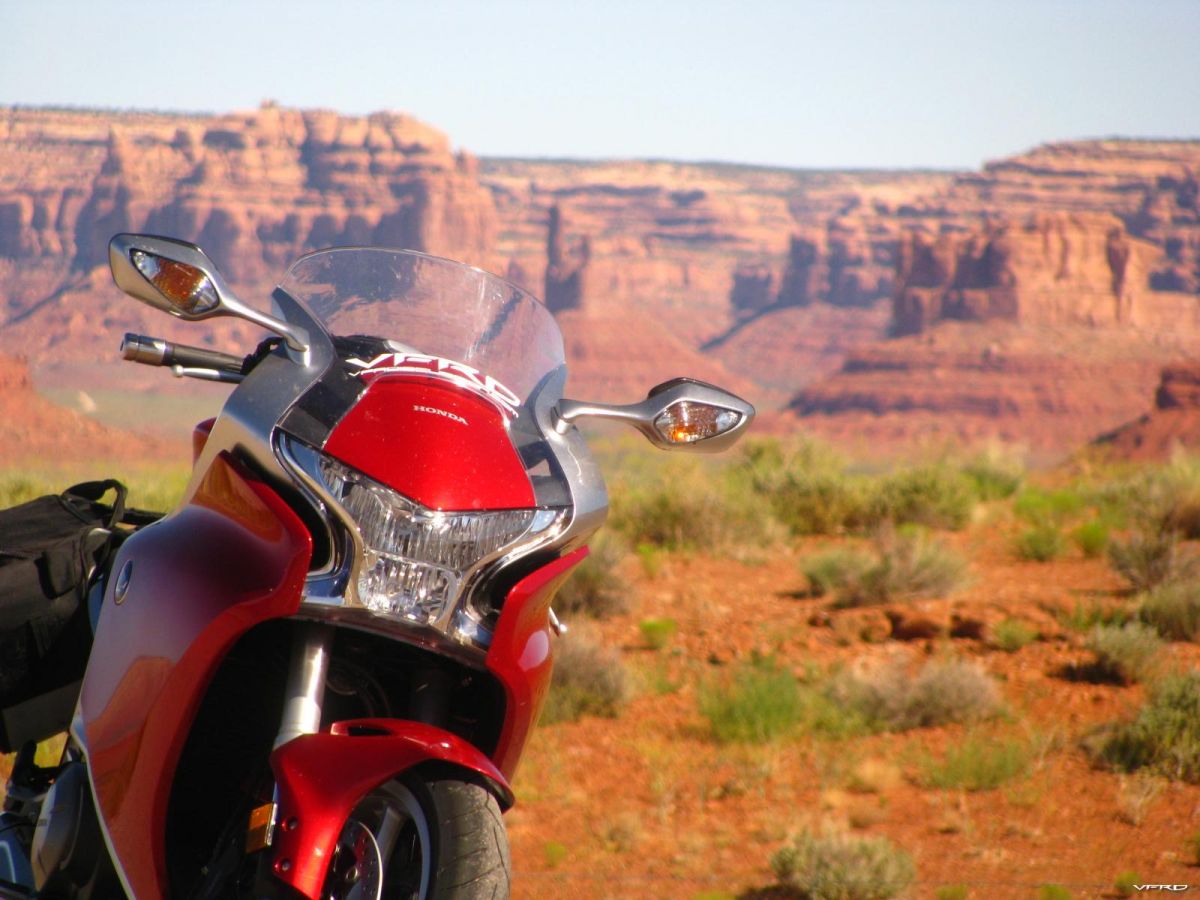 Now we got it! Logo pic for sure - stich in a few more pan shots and ..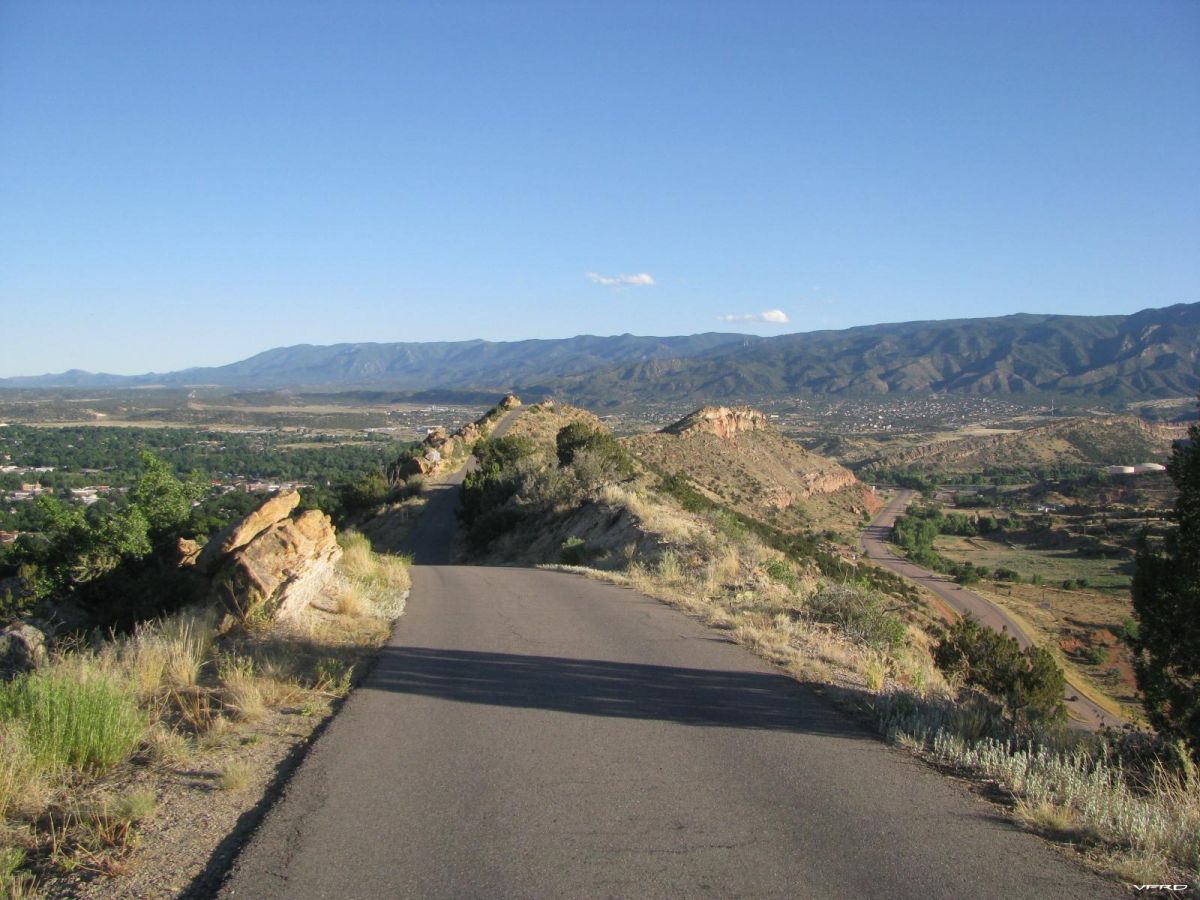 I had to take the new bike up Skyline Drive Canon City

all stiched up