The Back Way To Silverton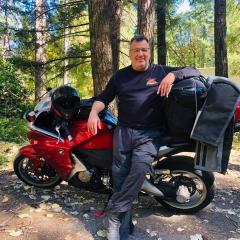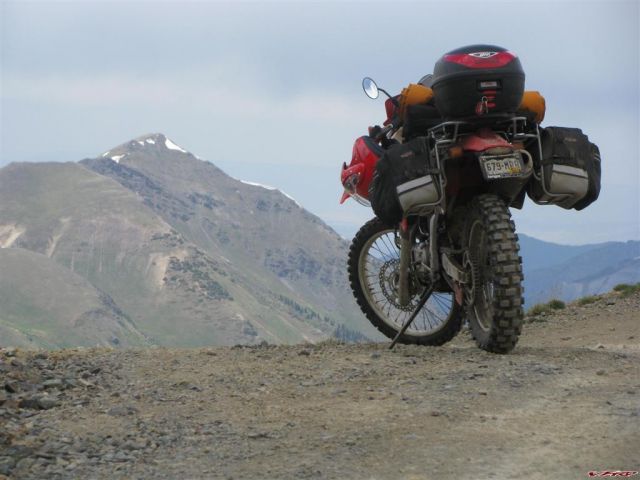 This is my first real ride on the XR650r this season, having only ridden it to and from work a few times and once to the movies it has been languishing in the bike shed all winter. I had recently outfitted it with a Turbo City Sequoia Rack and some Tourmaster bags it was ready for some touring. I saw an opportunity to also attach a plate for my mini givi top bag and so I installed a plate last October. I had been having fits with it for the 3 years I have had her, always out of tune, broken subframe, melted plastics, and sub standard tires IMHO. The bike would just start racing at stop lights or when ever I stopped cause I could never get the darned OEM carb dialed in correctly. I switched out needles and slow jets and main jets till I turned blue from playing with the carb so much I finally broke down and bought a Pumper carb from Endelbrock. Good old American made carb made all the difference. It was a snap dialing it in, no jets to replace just a main needle what actually has a real dial you turn to tune it - you just dial it in. It was easy as pie, just a few runs to check for smoothness - a few times pulling the spark plug to look at it for fuel condition and I was set - it runs perfect now! I don't count my self as an expert carb tuner but I dont think a pro could have done better on this one.
So once more this summer I planned to spend my forced vacation days on a bike, 3 days to the western slope of Colorado down to Silverton and back via mostly dirt roads. I would say I spent probably 65% of the time on backroads and the rest on pavement. I have documented the paved parts many times over so the pictures are of the back roads in this report. I took off late in the day and headed strait into the mountains on Old Stage road a 30 mile dirt road that climbs its way west from Colorado Springs to Cripple Creek. I don't think I saw more than 3 cars on that road - but I did see an unlicensed motorbike - he passed me in a turn when I wasnt expecting it and startled me. He had is green forest service tags but no licence plate - surely a no no that could get him in trouble. I did not even know he was there but being an experienced rider startled did not equal out of control. I just kept my line, slow as it was and watched him power up the hill on past me on his 400. I found him stopped at the top and I just kept going. There are a few trails up there that allow unlicenced motorbikes and atv's but this road is not one of them. This is the sort of thing that puts our rights in jepordy and citizens action commities rail against us then government has to clamp down. Come on people ride where you are supposed to or get your bike set up street legal like I did. Getting passed on that wide open easy paved road proved to be a bad omen for the rest of the trip there was more to come. I know I am not the fastest dirt rider, nor do I care but jeeze would it kill you to try the strait? I dont go that fast in the straits either?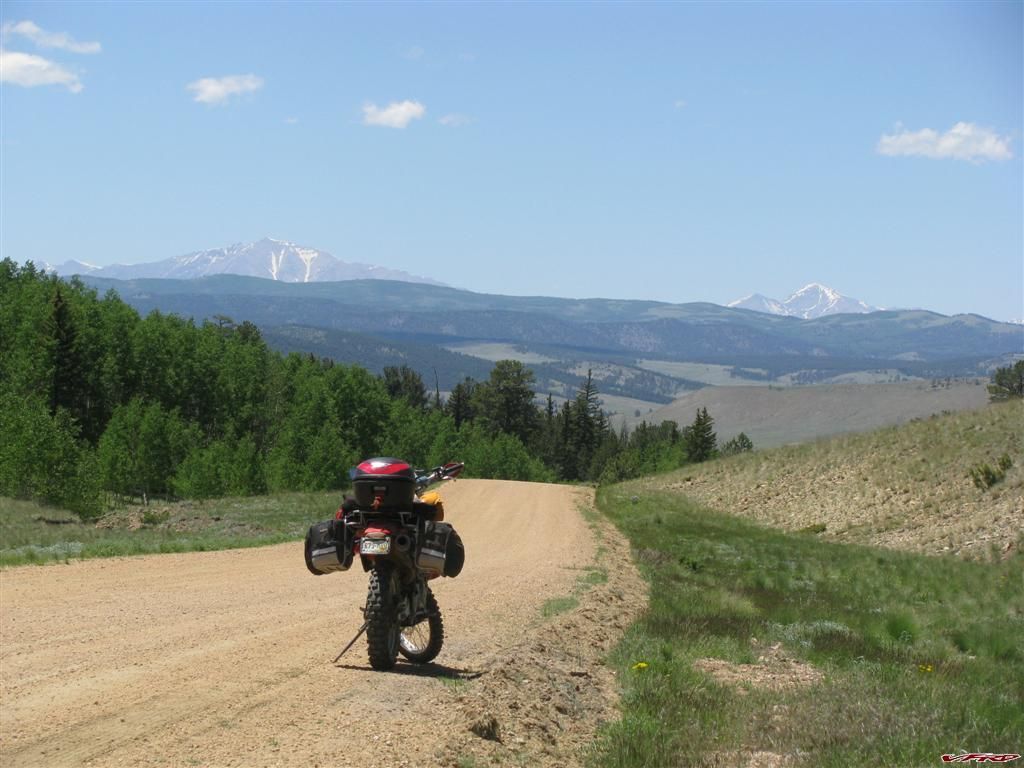 Ute Trail Part of the Trans American Trail on the way to Salida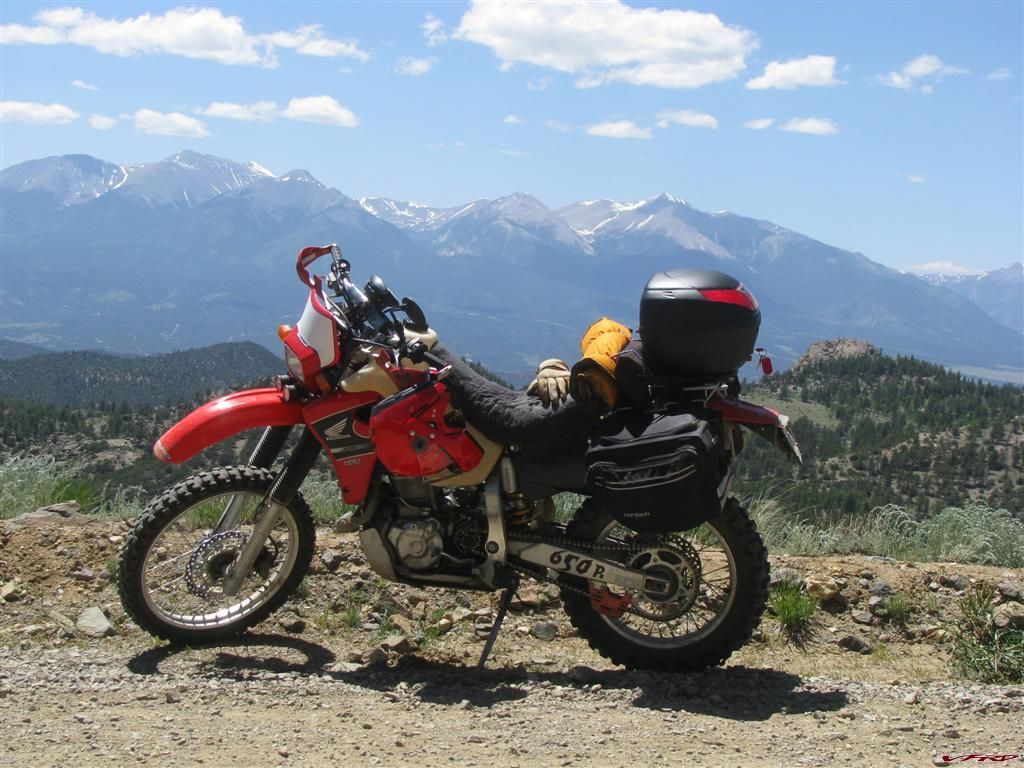 Colligiate Peaks at a place called School Section Spring on the Ute trail - land for sale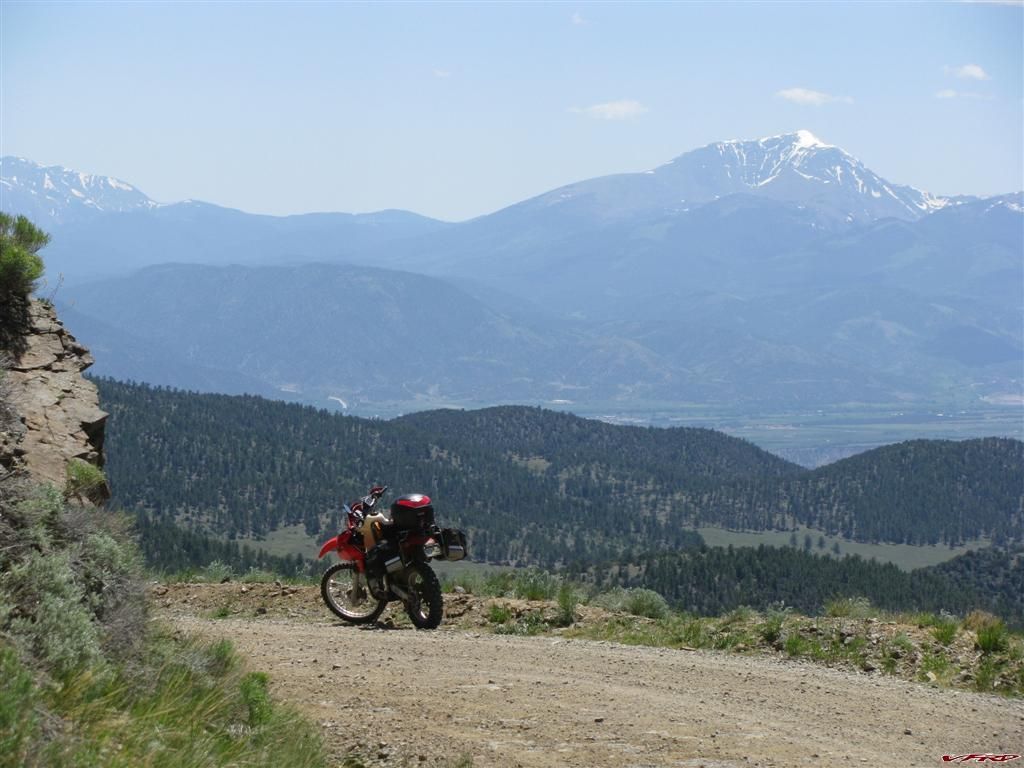 Mt Ouray from across the valley Poncha Springs/Salida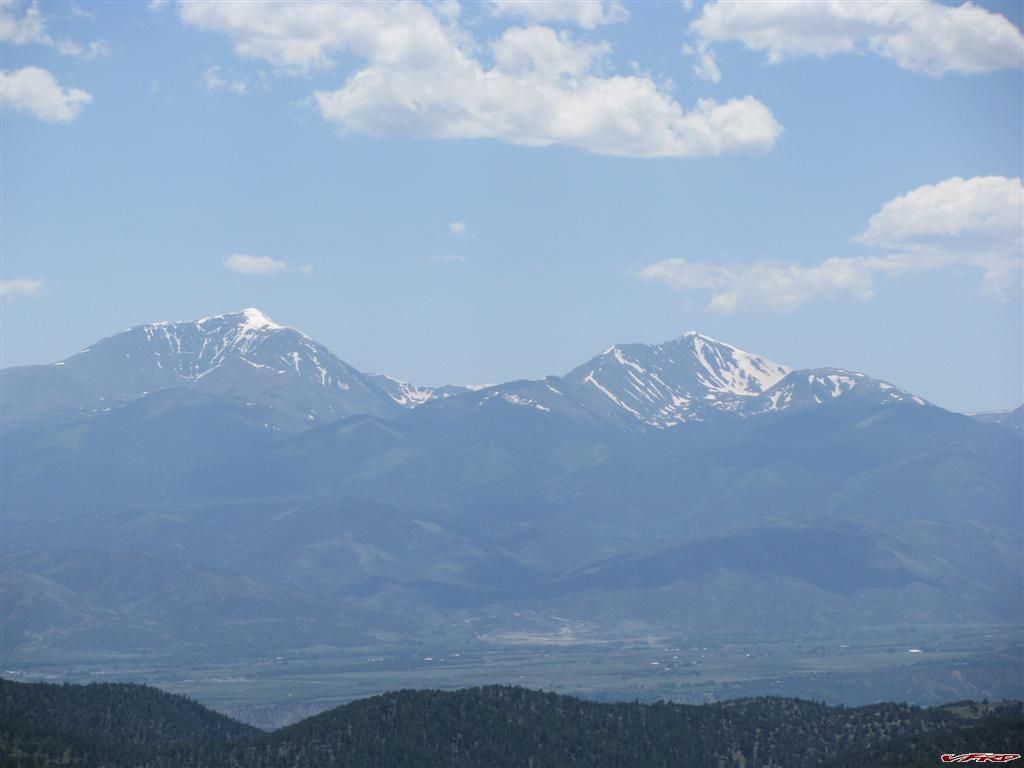 Mt Ouray and Chipeta Mountain Named after the great Ute indian cheif and his wife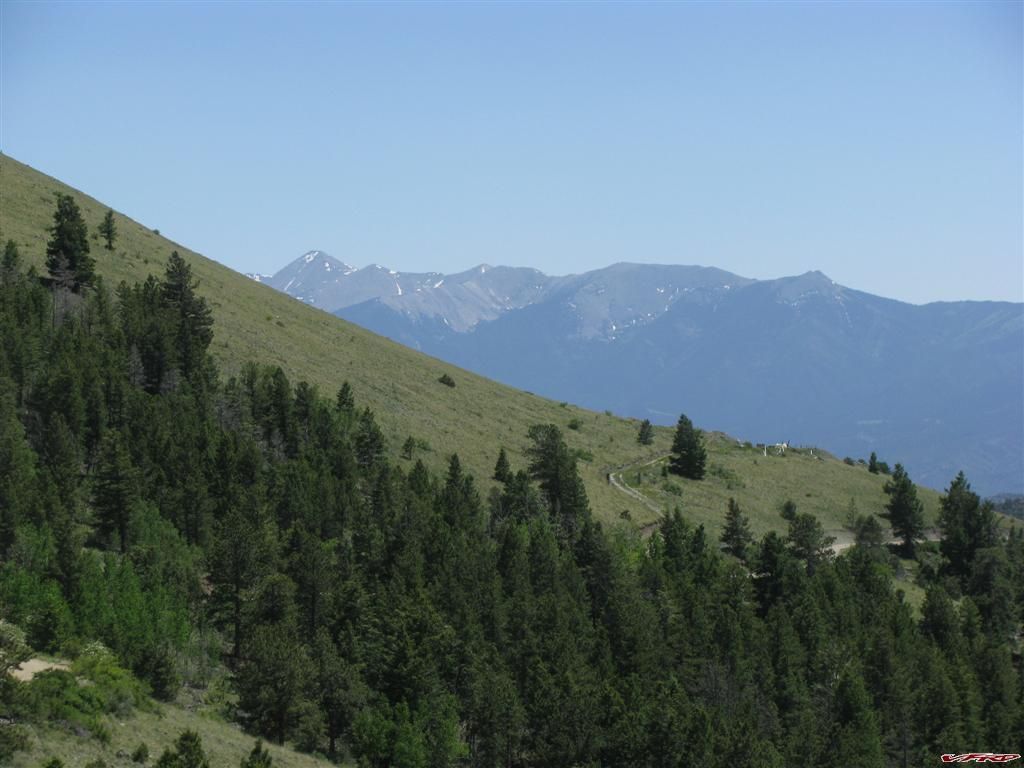 Sangre DeCristo Range starts here South ute trail winds down the mountain
It did not take long to get out of the cripple creek area and onto the Ute trail to Salida, it was near 2pm and it was the hottest part of the day, however being at 8k feet it wasn't all that hot up there. I was pretty much alone the whole 40 miles or so of the Ute Trail only seeing one pickup on the way up the pass from Salida - it was expected being so close to town.
I found a restaurant at the base of Ute Trail and had a good burger there, cant remember the name of the place it was attached to a motel. It was rather sparse for decorations, but the food was good. I had wondered if the girl who served me, if she was the only one there cause I saw nobody else, she must have cooked the meal too? She was nice and so I tipped her good. I could afford to spend money on food since I was camping for free. It was getting to be around 4pm by the time I was finished eating and I was soon on my way to Marshall Pass after gassing up in Poncha Springs. I bought a few powerbars (nasty things they taste awful no more ever again) for breakfast in the morning.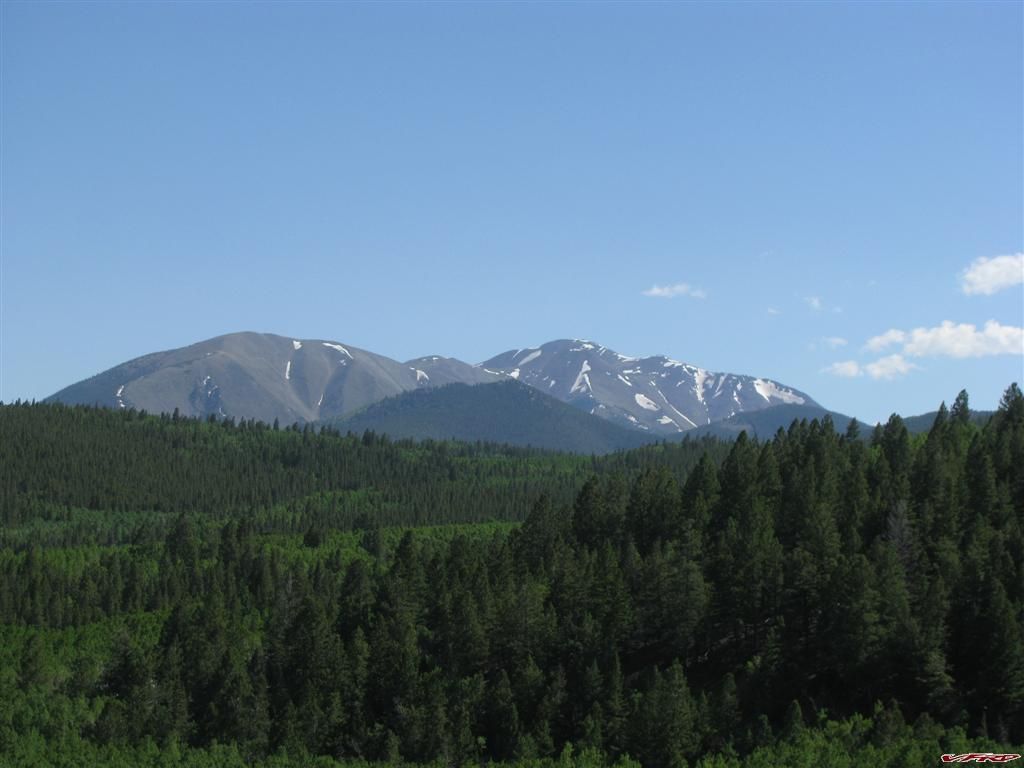 Sheep Mt and Antora Peak as seen from Marshall Pass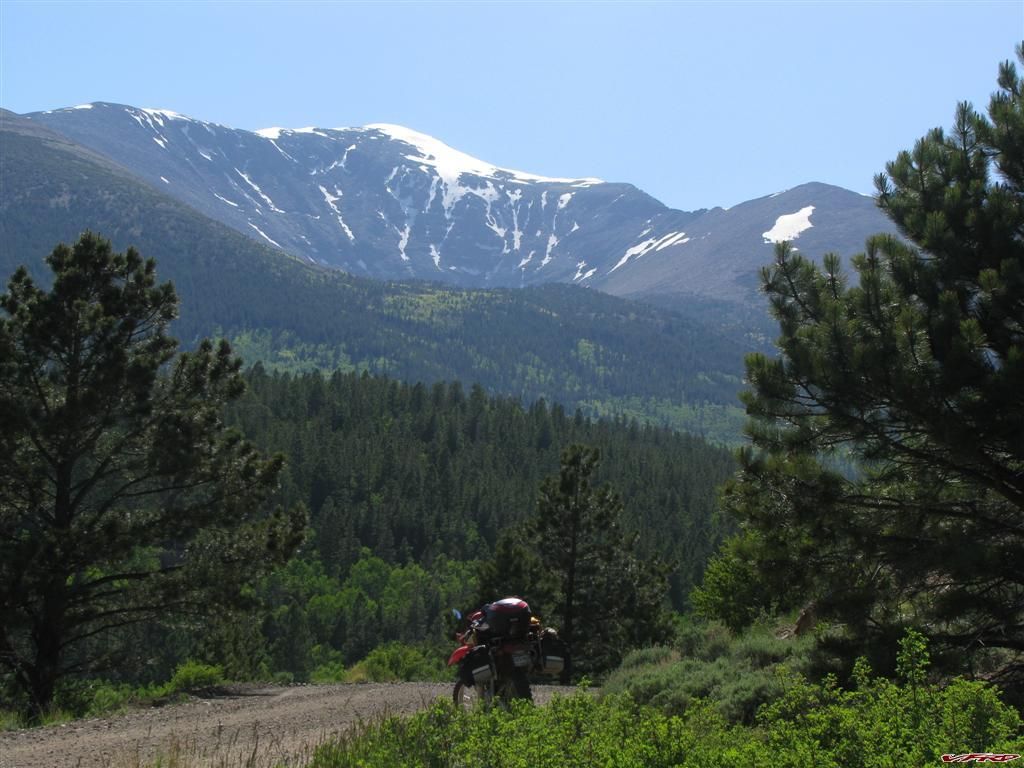 Windy Peak from Marshall Pass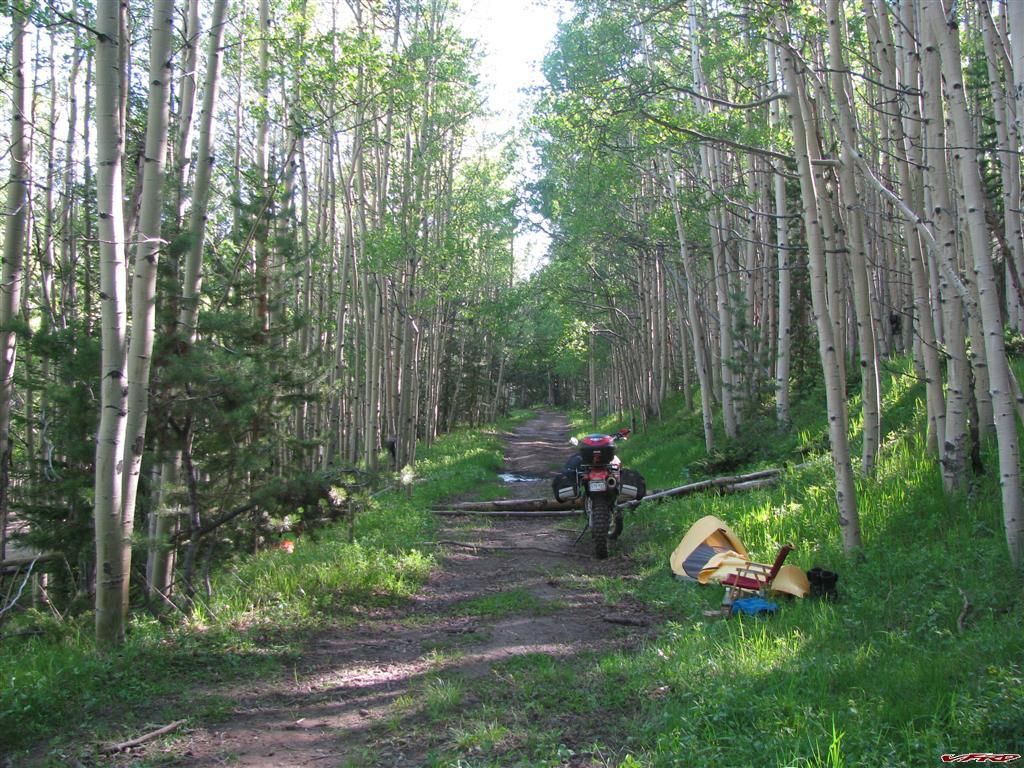 Camp site just off Marshall Pass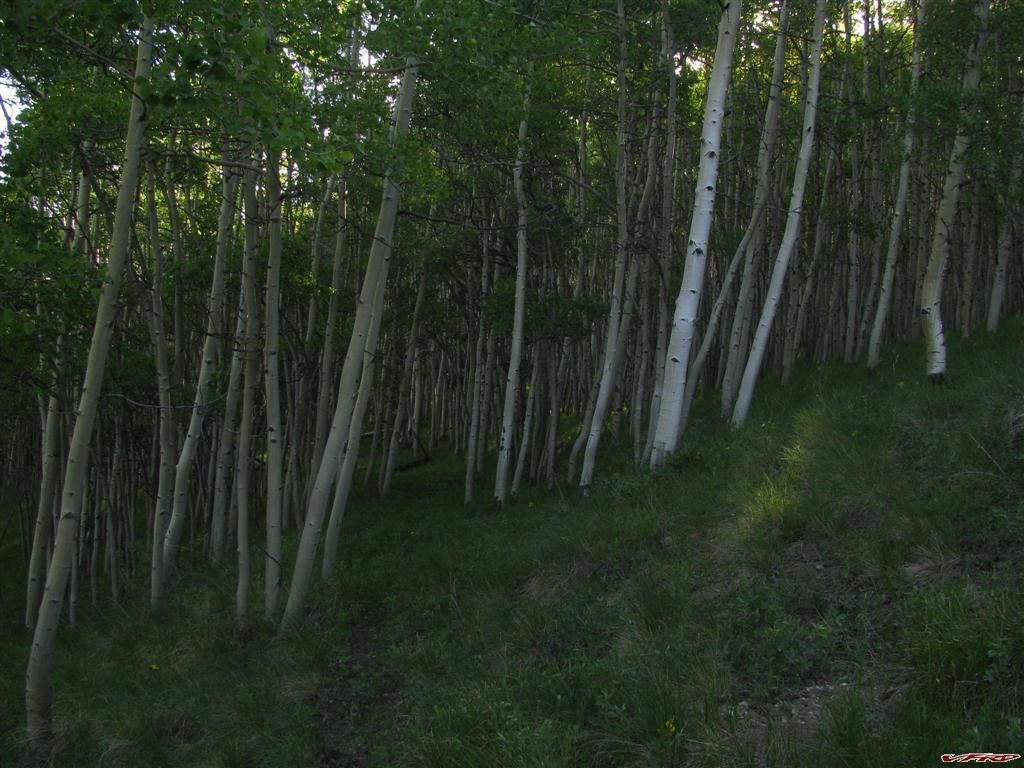 I went exploring a deer trail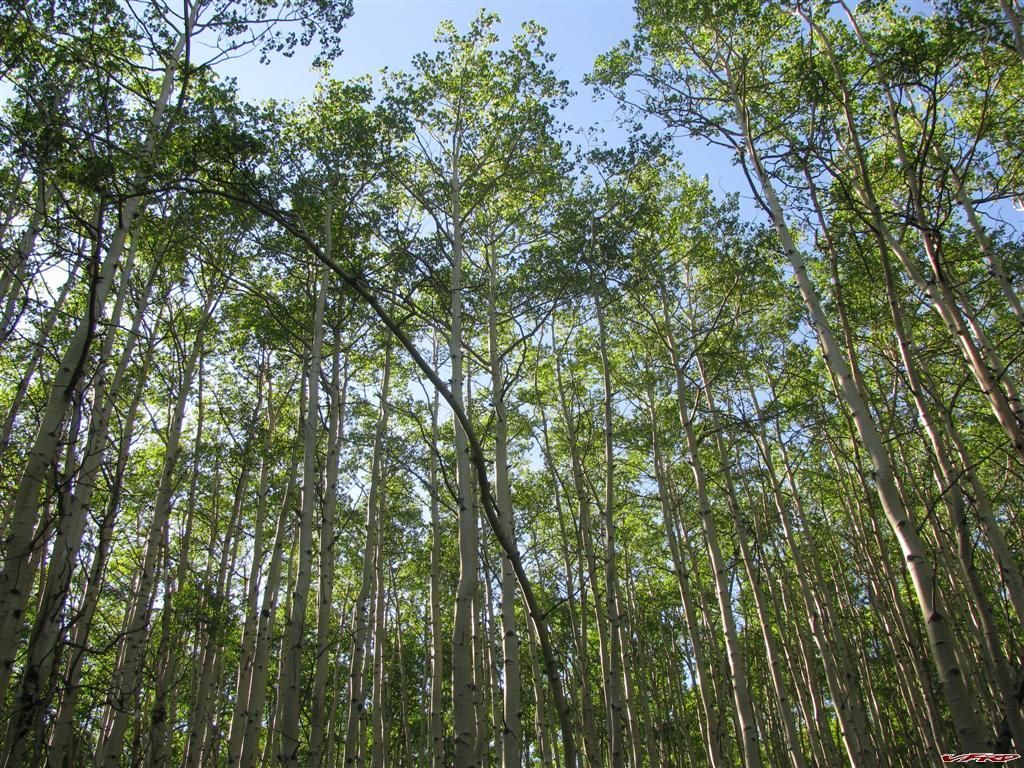 Aspen Groves 10k feet elevation
I found a little road that turned off Marshall Pass and ended about a quarter of a mile into a campsite just off the main road, it looked good to me so I unpacked the camping gear and set up my Kermit camp chair and relaxed in the evening reading and walking around a bit on some narrow deer trail to see the sites. I couldn't see much because the Aspen trees were so thick - I read a little bit then passed out in my sleeping bag. The mosquitoes were not an issue since I brought some OFF but the Bee's mane the Bee's all these damn Bee's buzzing around the tent all night long. I finally put in my earplugs and went back to sleep. They did clue me in on seeing the milky way in all its glory. Nothing like seeing the stars in the high mountains, they are incredible how many and how much brighter they are up there in the night.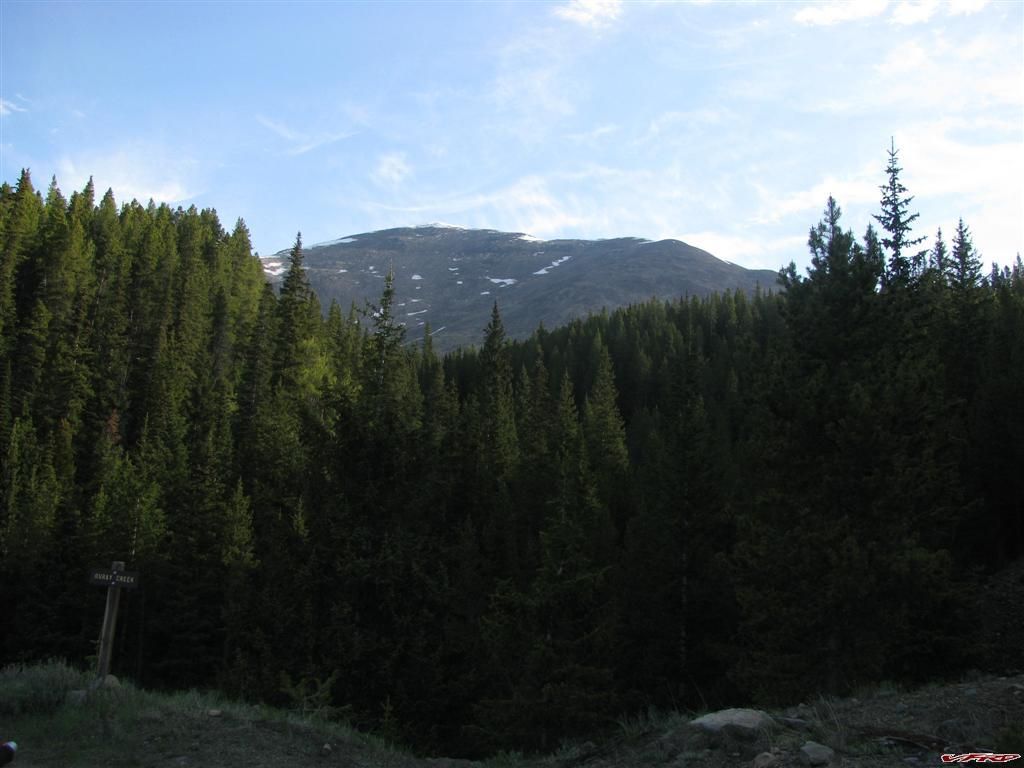 Mt Ouray from the other side the sign says Ouray Creek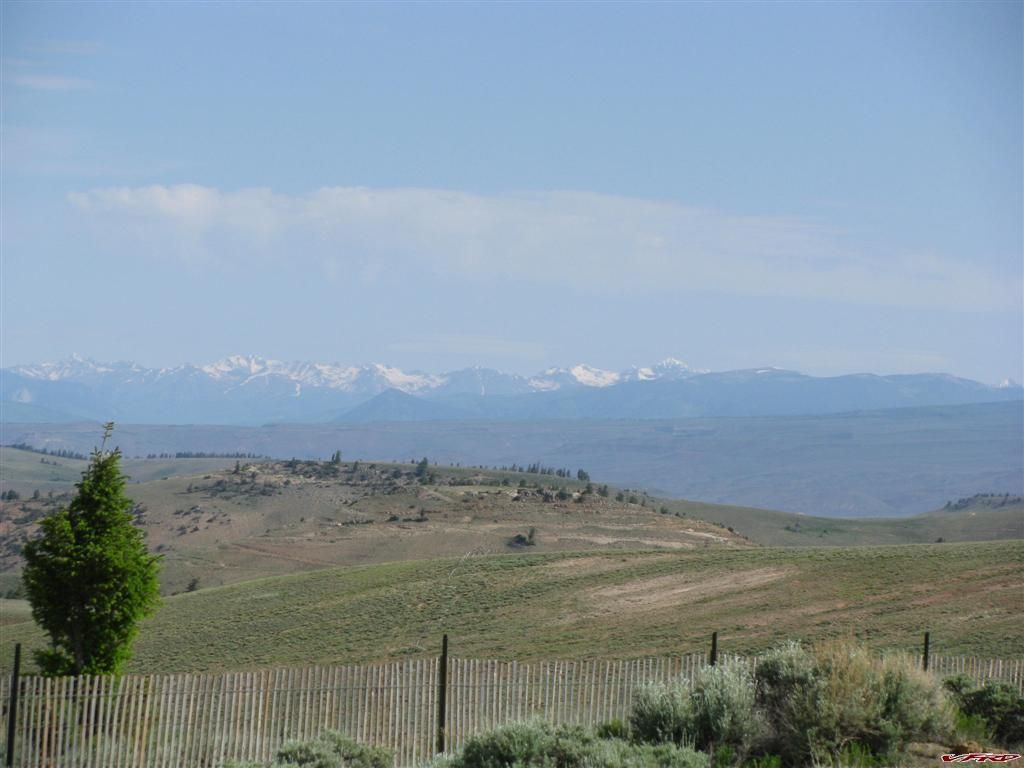 County Rd-14PP Looking North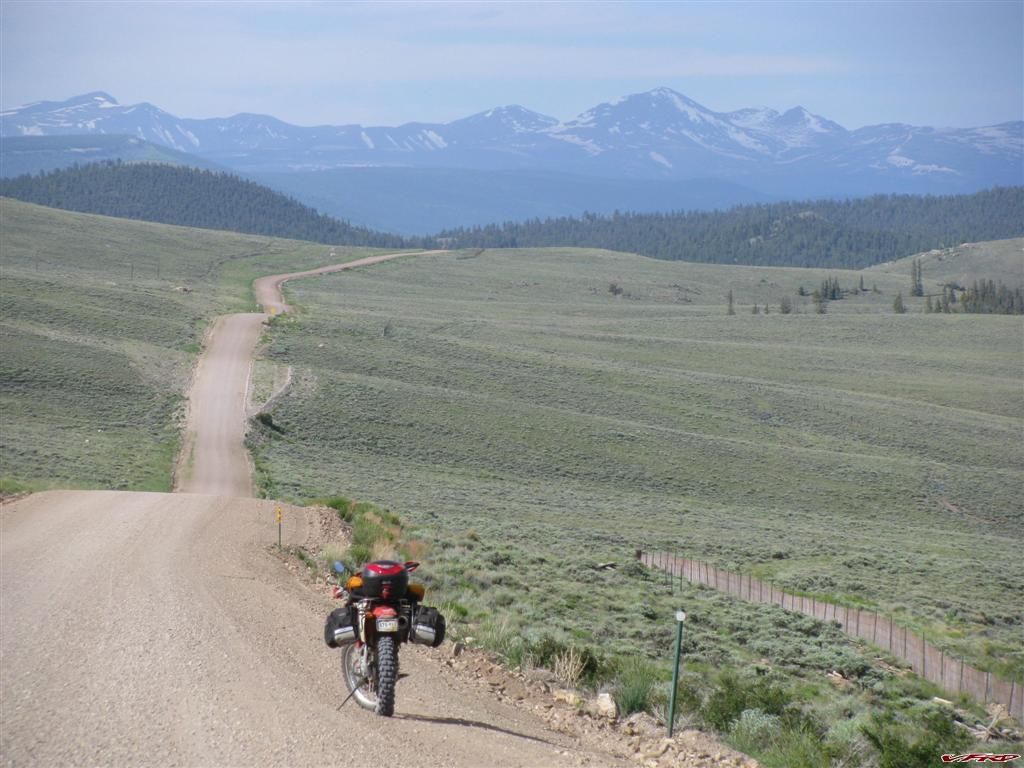 County Rd-14PP Approaching Cotchetopa Canyon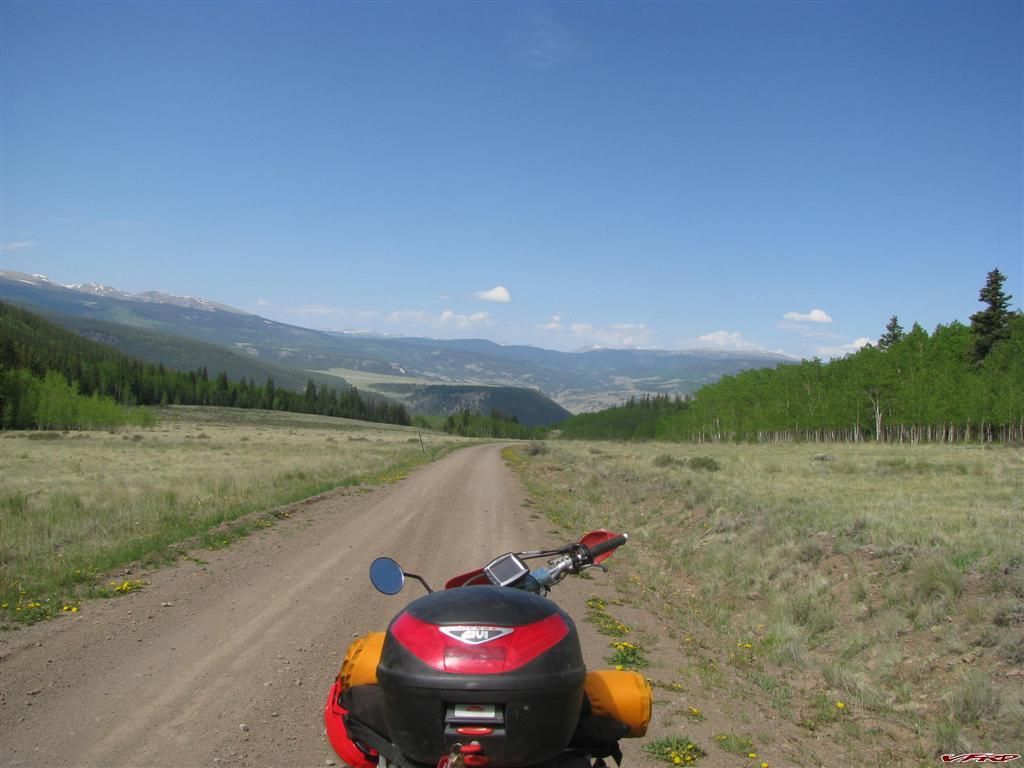 County Rd-KK14 heading into Cathedral
After Waking up I headed down Marshall Pass into Sargents a strange little village with a gas station at the base of Monarch Pass on Hwy 50 its built right ontop of a flood plane full of marshes - mostly log homes with that old rustic look to it like cabins but not quite all strewn together with dirt streets. I gassed up after 80 miles and only used maybe 2 gallons probably less much less. I was impressed my gas mileage increased with the new carb too. I have a Clark 4.3 gallon tank on it, and usually I only get 150 miles tops per tank I could tell I could top that easy. I worked out the milage on the old carb to 38-42 mpg on a good day, I was getting around 51 mpg on this trip and no issues, starts on the first kick too.
I spend some time riding the high plains along Cotchetopa Canyon, or rather above it and along side. I like the canyon but it scares me a bit on the vfr since it was the site of an awful crash on a ride I was leading. It is not a road you can take it easy on it demands all your attention and respect. I was soon heading toward Slumgullion pass on some more back roads and into Lake City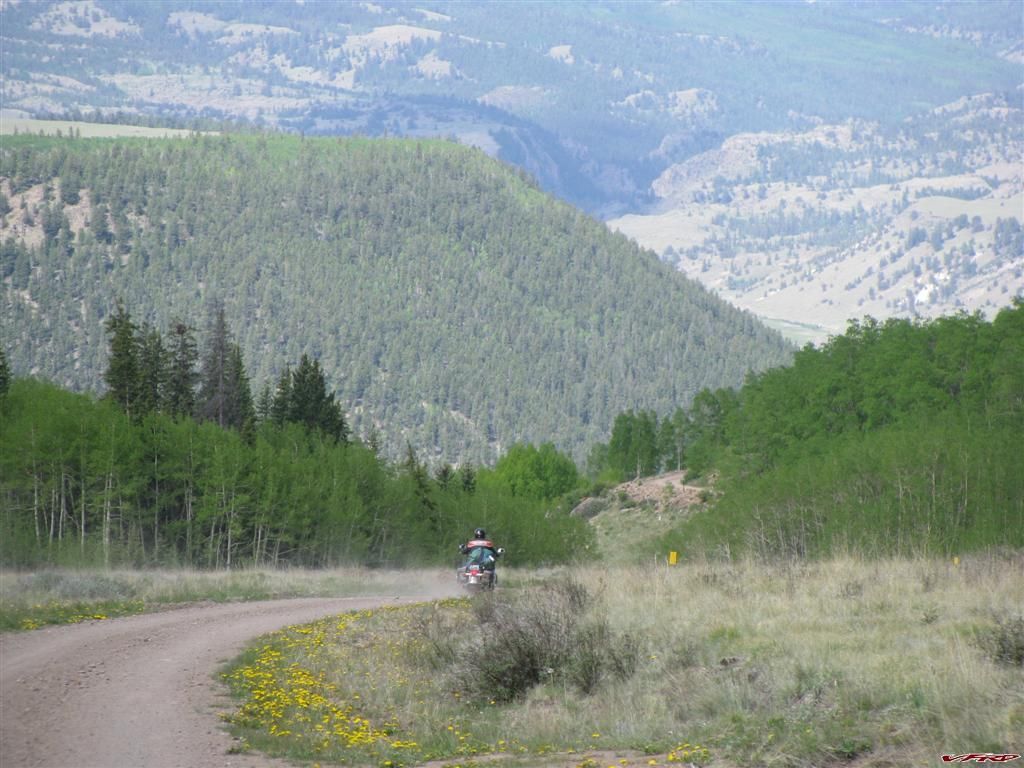 This was a surprize A Harley on a bumpy dirt road
Harley guy stopped to ask me where he was, I couldn't hear him over his bike cause he was very soft spoken and so I just warned him the road was about to get a bit more technical - and he took off down the road. I had stopped for pictures already and left my keys on the dirt and had to turn back around and go find them, only to run into this guy. Sure enough at the first sign of difficulty the Harley rider had stopped and I rolled on by. I took another hour to get to Lake City for lunch at a place called Southern Vittles - a Texan replant owned the place and he served up Dr Pepper from the fountain from Dublin TX - a real treat cause I am a Dr Pepper drinker since I was a Kid. Pure cane sugar and the original recipe - too bad his fried chicken did not live up to its southern fried claim. I have been to the south and this wasnt nearly as good as what I had in Tennessee. A bit under seasoned and lacking in salt the breading was hard too. Oh well it was decent though and it cured my hunger I left the greasy french fries on the plate. I put on the Stich and headed up Engineer pass for the difficult part of my trip.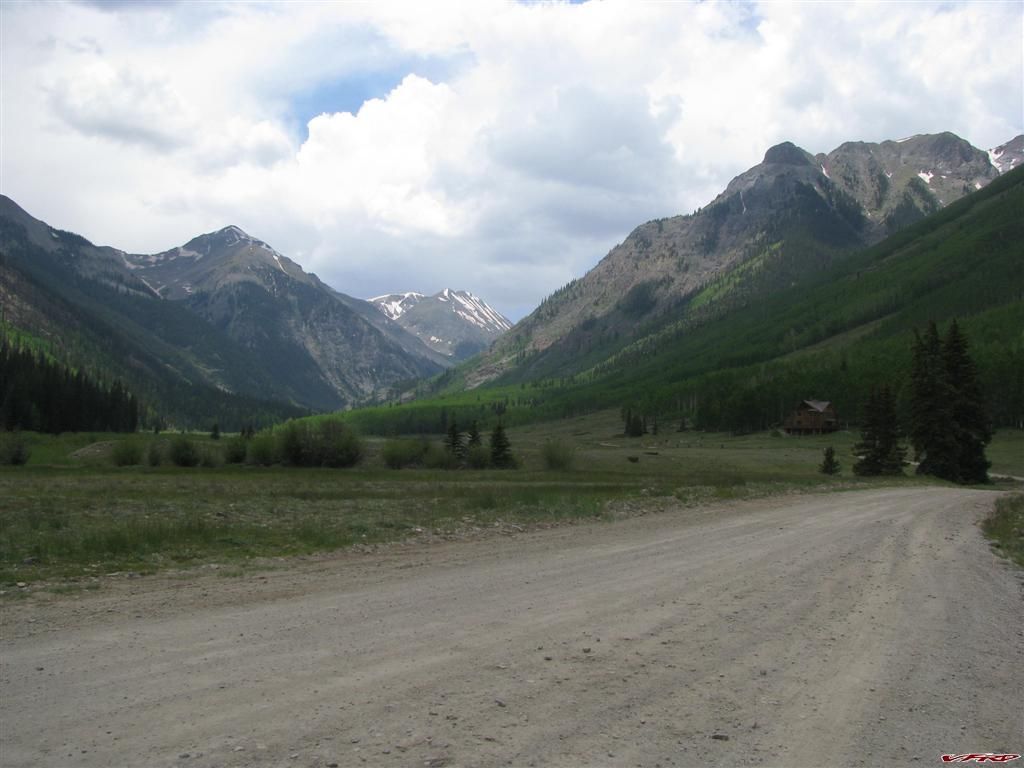 Start of Engineer Pass the easy part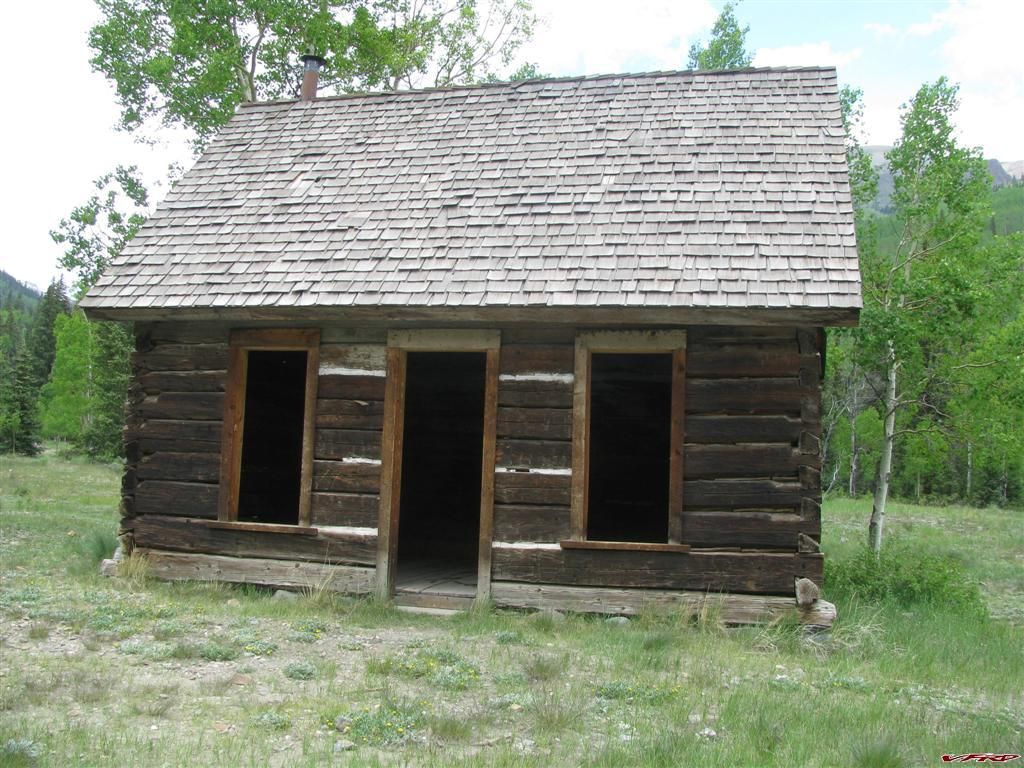 Historic landmark at Henson CO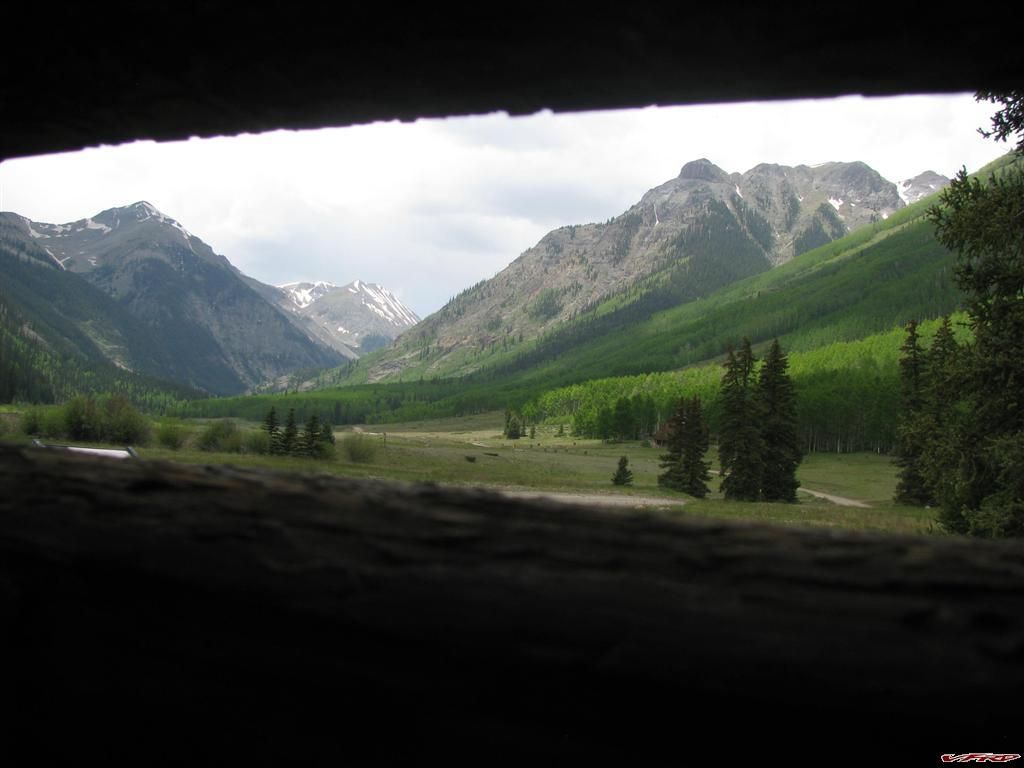 The cabin had a bit of a draft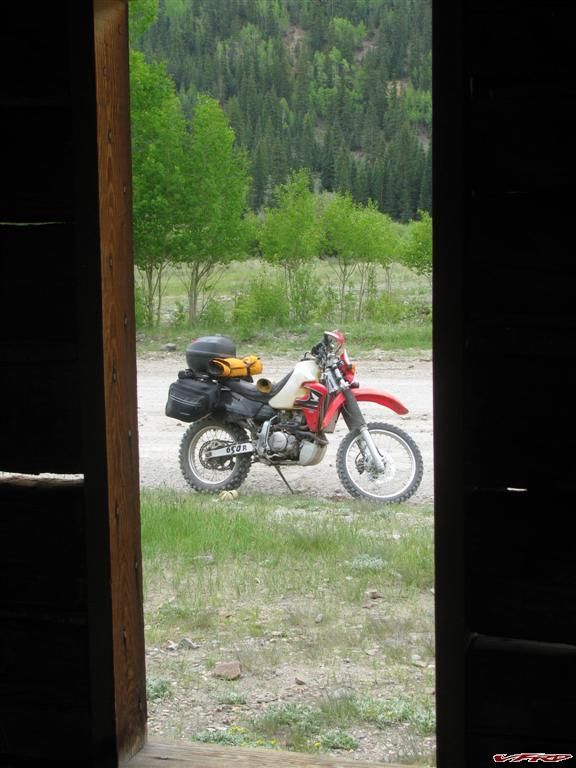 my steed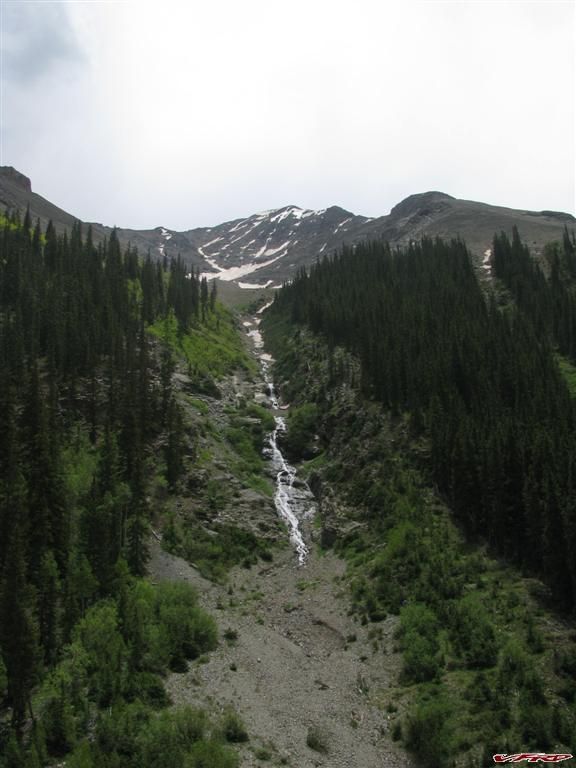 This is how rivers are made in Colorado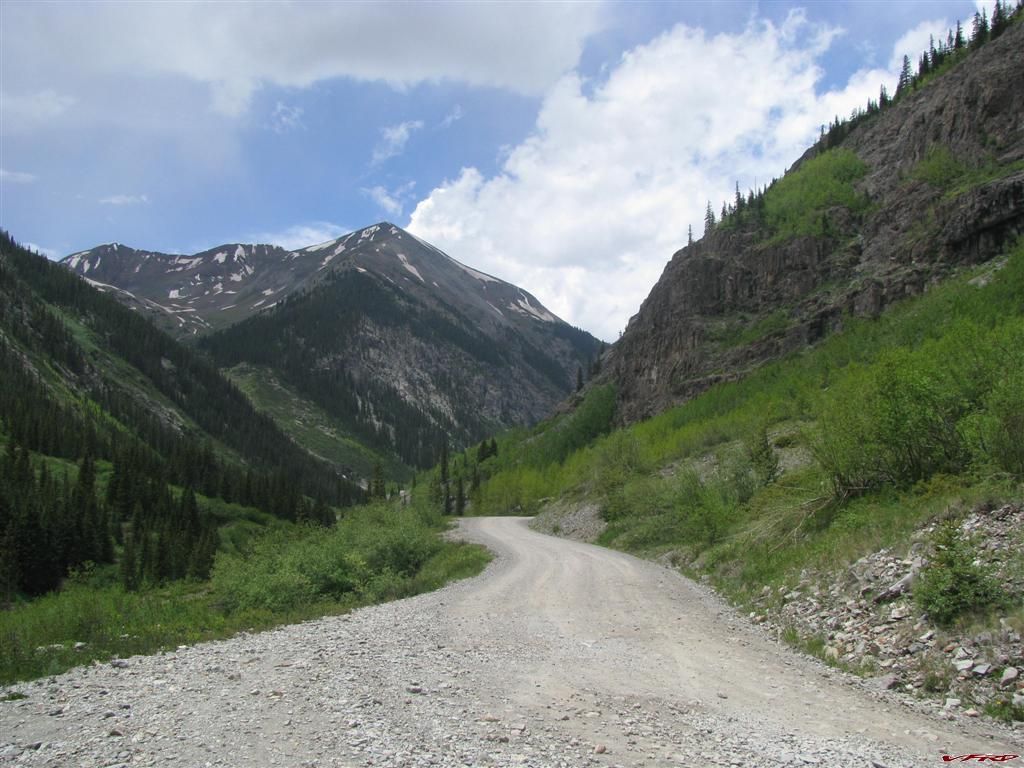 The pass begins to narrow a bit still easy at this point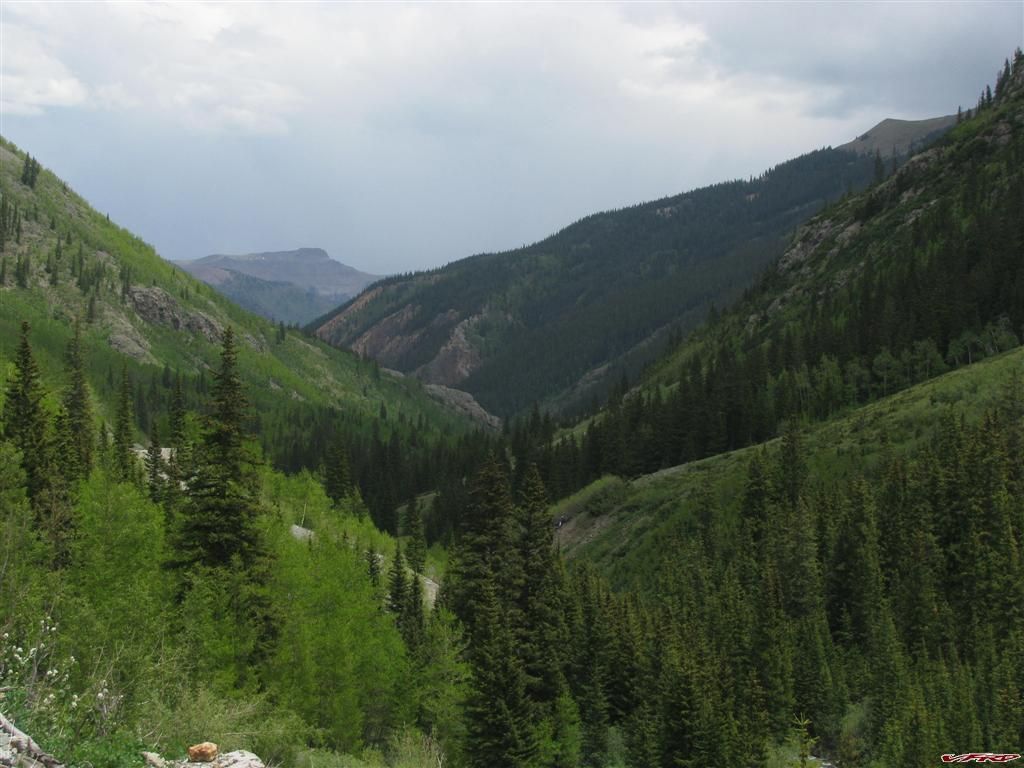 A look back
I missed a turn and headed into the wrong direction and the road just ended there, so I had to double back and turn up a steep rocky section and found myself teeth chattering along on a jeep only road, it had a sign that said 4 x 4 recommended past this point and with good reason. This is what my guide book called "moderate" I was behind a few jeeps now and motored on past at twice their speed since the XR was digging in nicely if not teeth chattering its way up the steep embankment. I just kept up the momentum and she powered up just fine. The only serious difficultly was stopping for Jeeps on the way down, they were numerous and it seemed always ended up in the way at the Switchbacks. I had to find a place to get off so they could pass cause the road was steep and narrow at this point. It was more challenging but nothing I could not handle.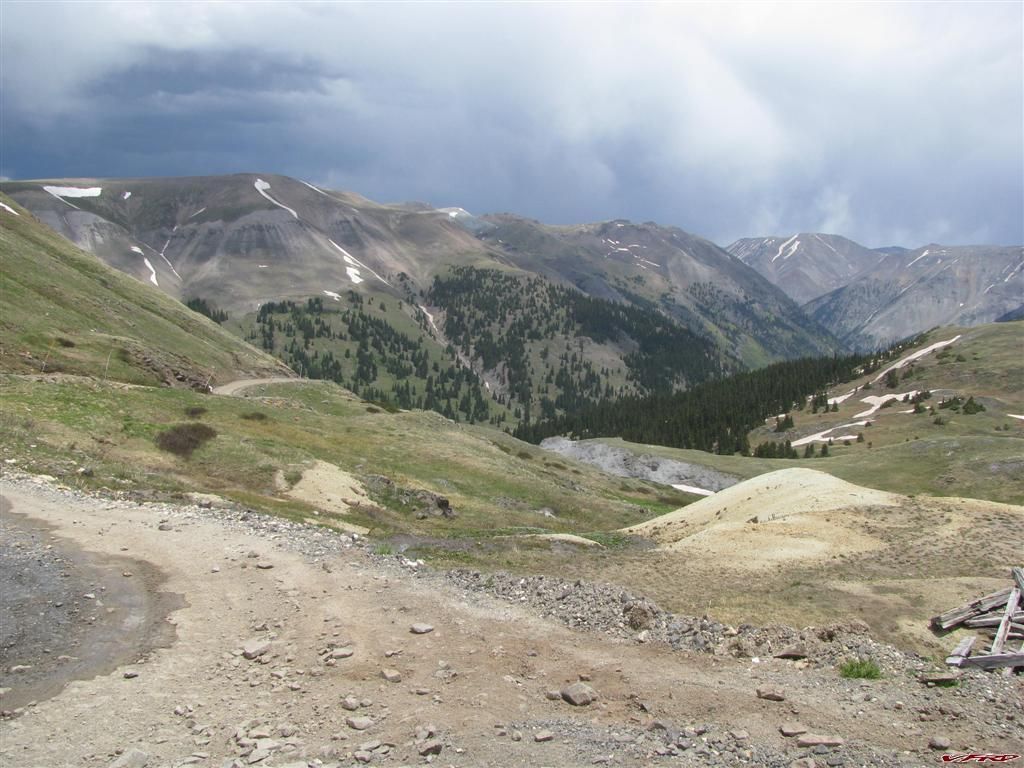 Engineer Pass as soon as I reached the tree line the road got steeper bumpy rocky and much more challenging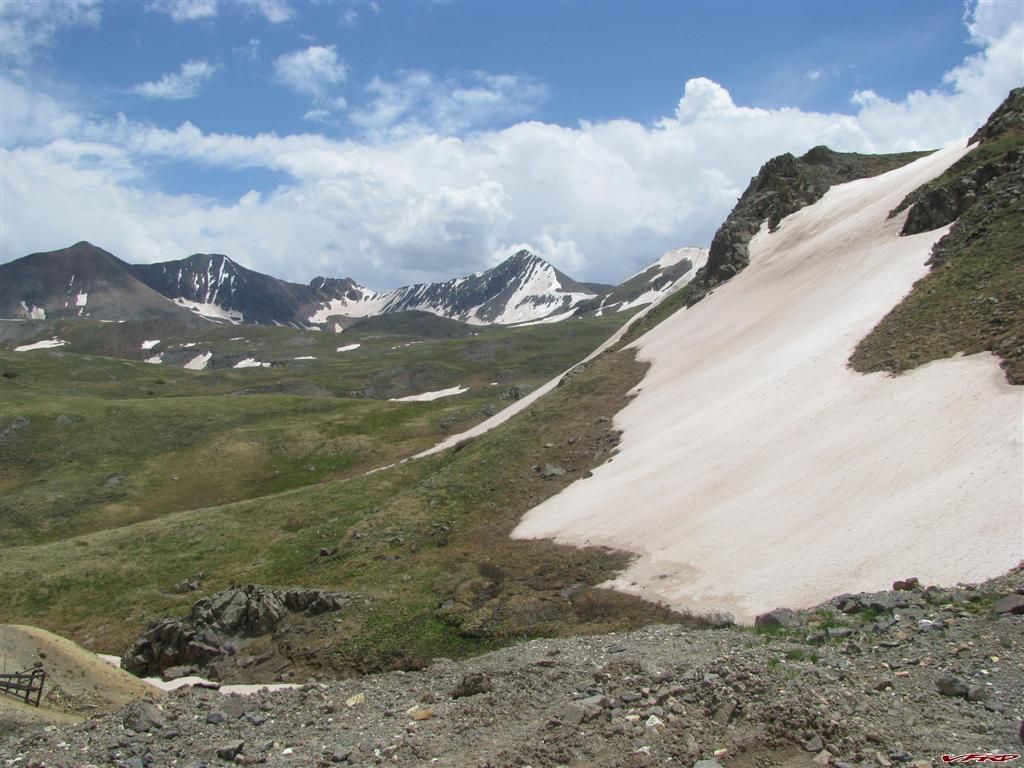 Snapped a picture while waiting for a caravan of jeeps to come down the pass - too narrow to pass safely I had to pull aside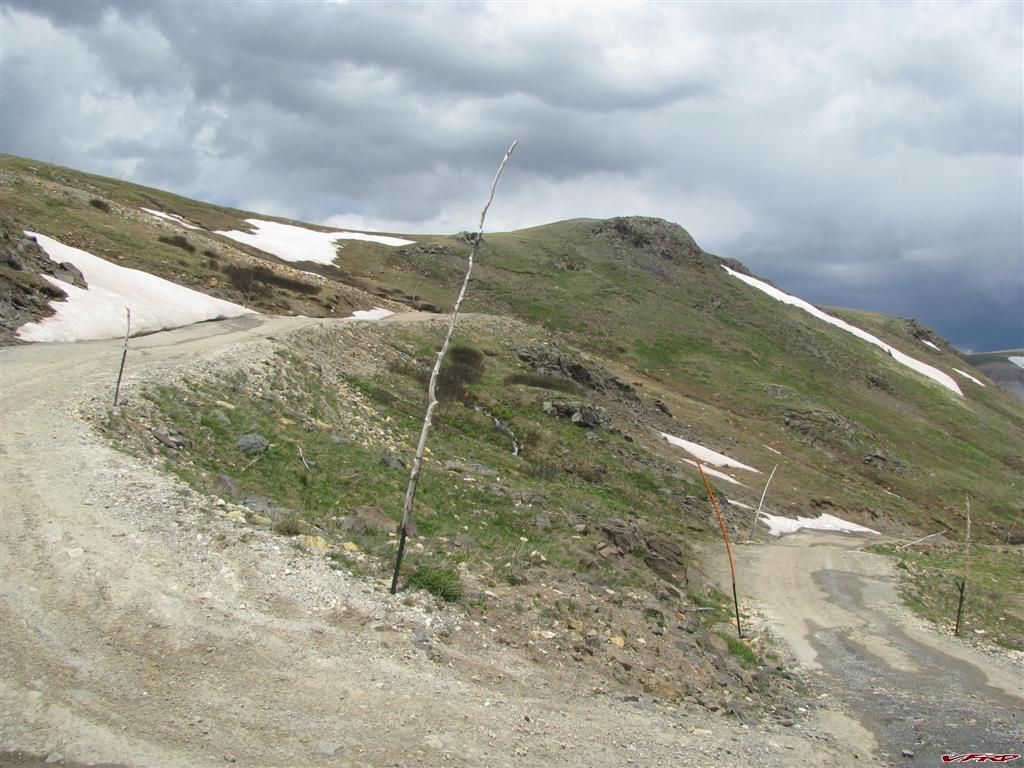 typical switch back this one was easy - no rocks but steep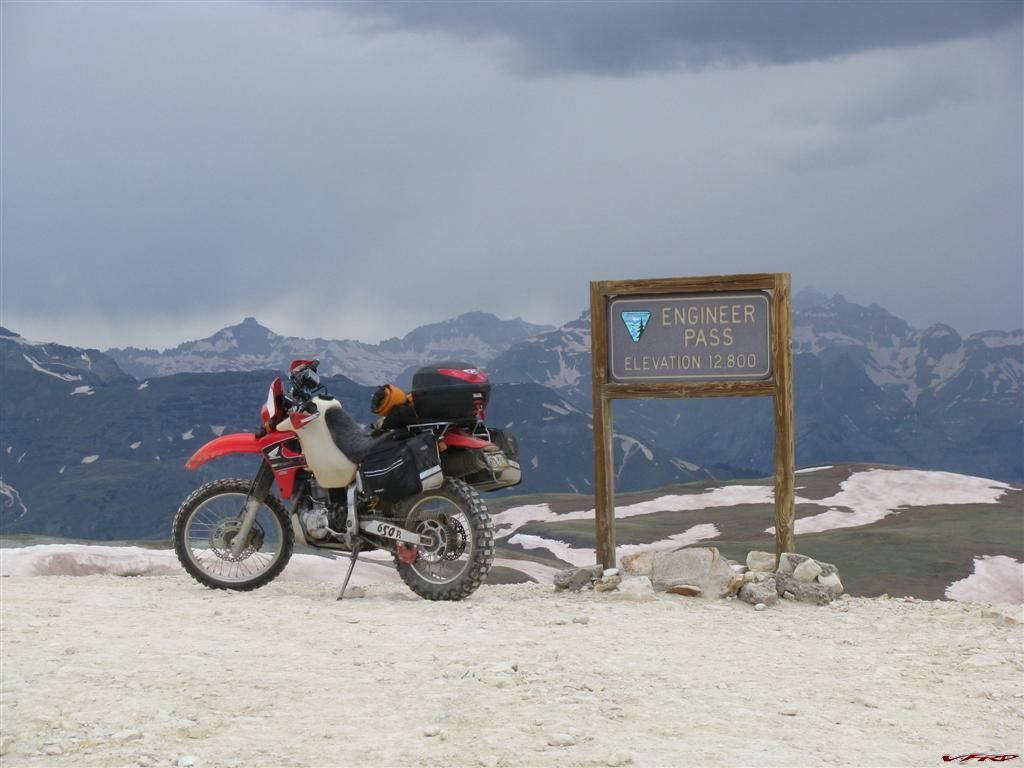 The top of Engineer Pass this was the easy part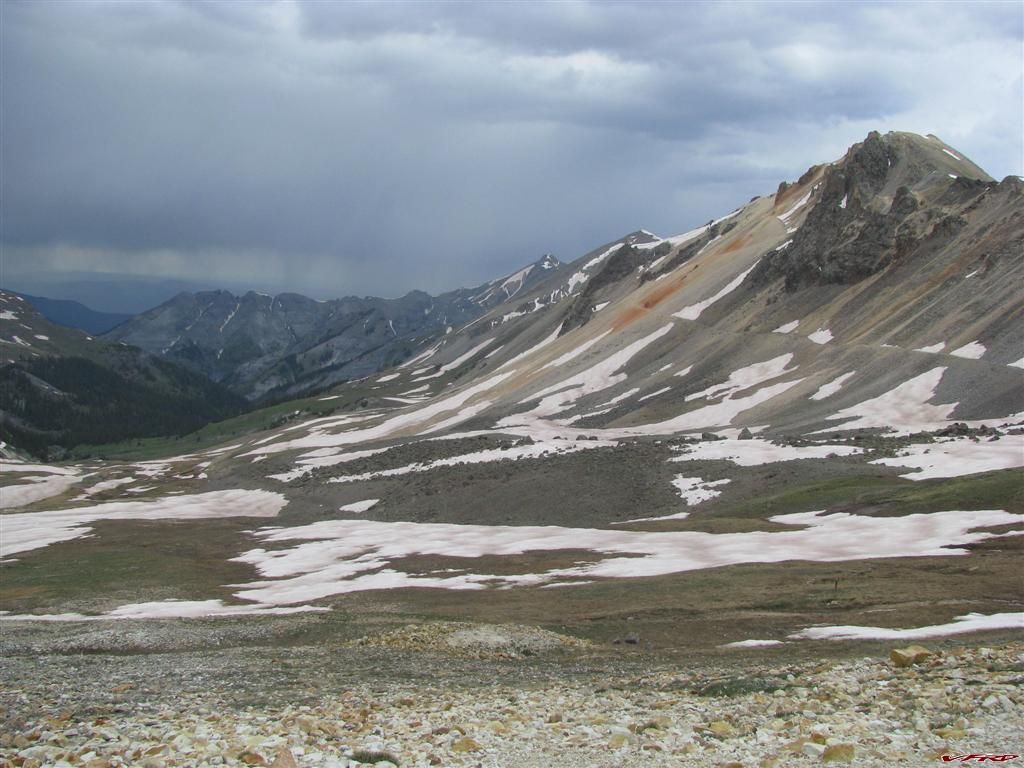 OHH Boy its raining over on this side actually I had a small rain at the bottom of the pass - this is looking north west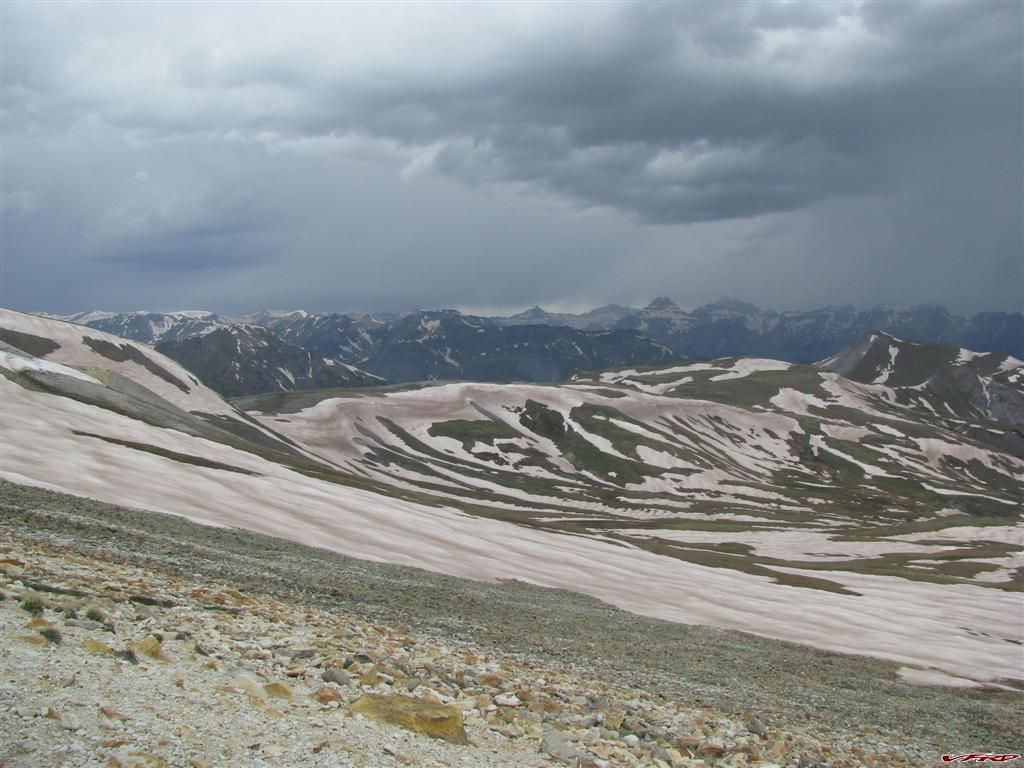 This is directly west of Engineer Pass Telluride is one the other side of that range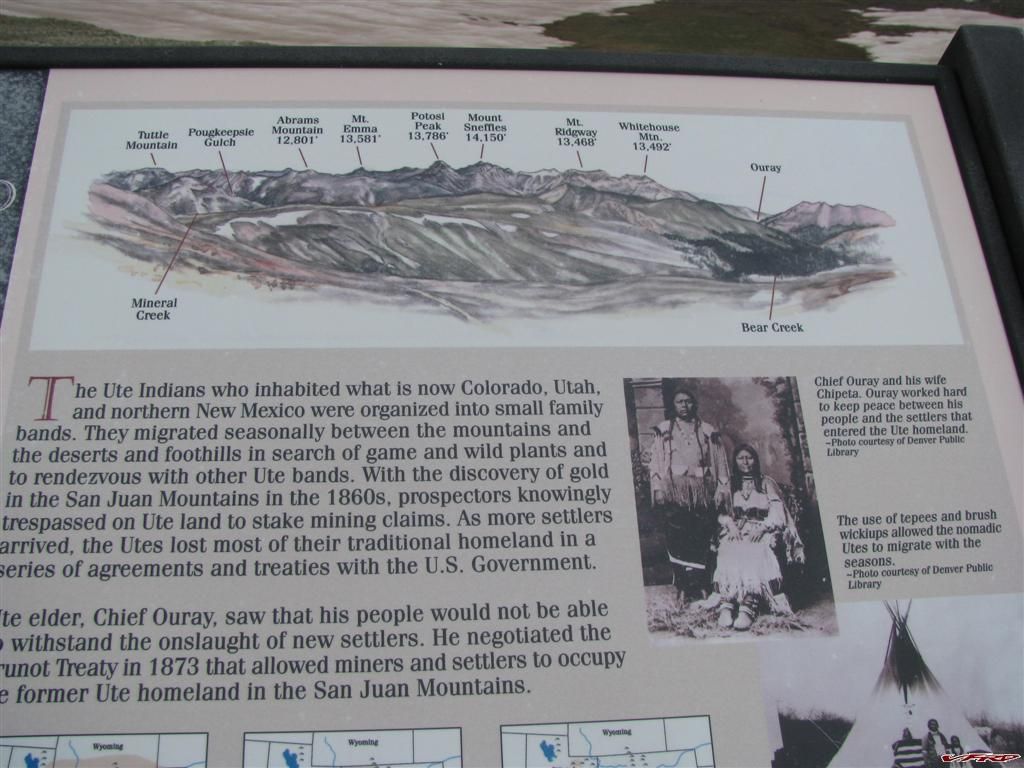 A information marker at the top Engineer Pass
I made my way across the tops of the mountains
California Pass turned out to be more of a challenge, the rocks were more numerous there where hoards of ATV's now, each of them with a child on the back it seemed and moving faster then the jeeps but slower then me. It seems I was the fastest guy on the mountain at the moment which I found hard to believe after all I am used to getting passed on the XR. California pass seemed easy compared to Hurricane Pass because this mountain was covered in snow and it was all melting on the road which looked more like a raging creek bed than a road. It unnerved me to be on the rocks as a steady stream of water spewed out of the melting snow at 12,000 feet up. One jeep caught me off gaurd on a paticularly tough switch back, it was all wet with runoff and it was steeper than the others with an 8 inch step - he was in the way so I had to back into the snow drift and darned if my motor stalled. He rolled on by and waved thankfully but I was a bit miffed about the stall and may have been a bit short with the guy. Kickstarting a bike in a tight switchback at a 25% incline at 12.5 k up is not easy. I managed but I was completely out of breath when I made it the half mile to the top.
California Pass this was tougher than Engineer - melting snow made the road a creek bed in places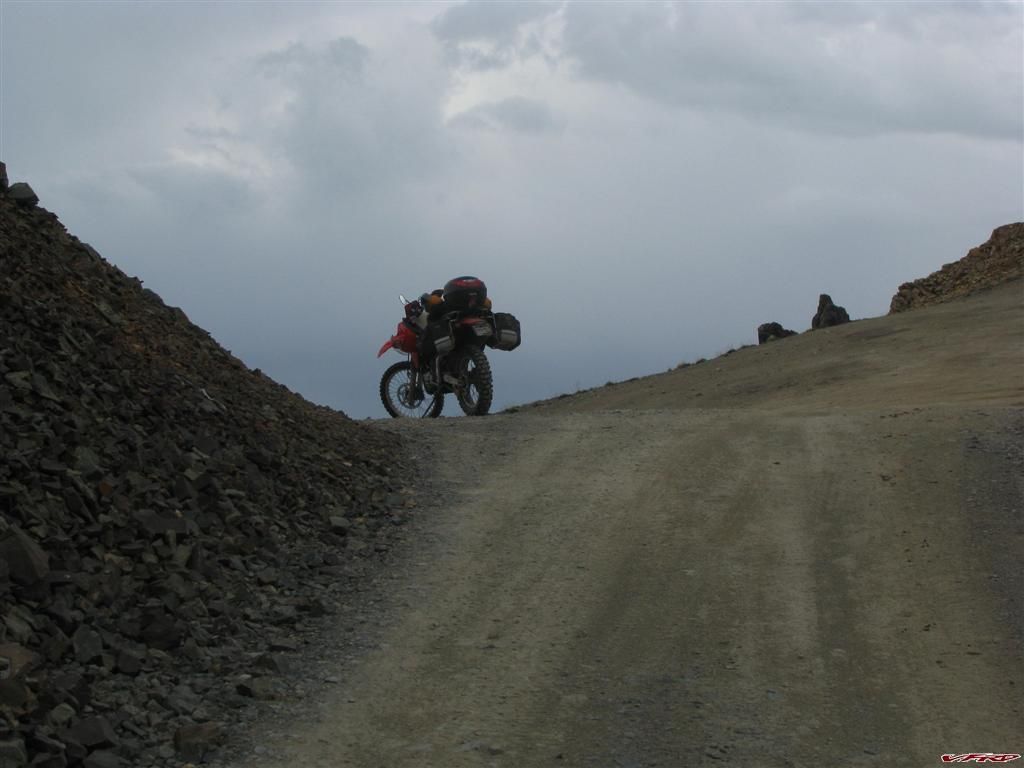 California Pass a bit steeper more rocks and lots of snow melt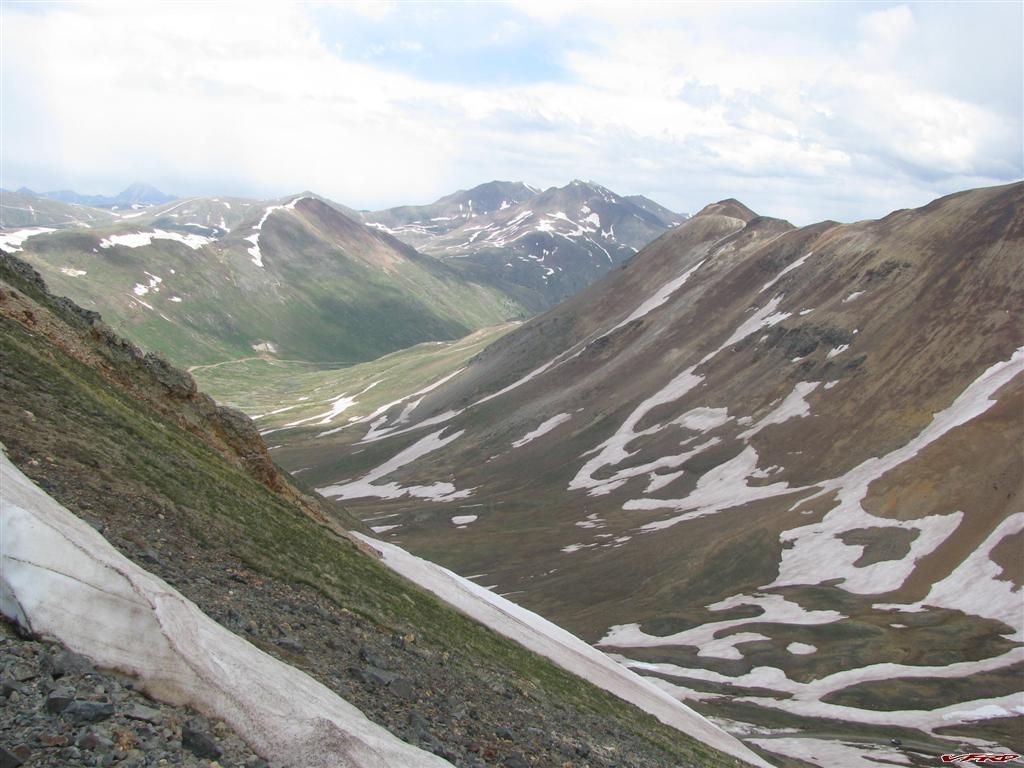 Oh ok down there then there were trails going all over the place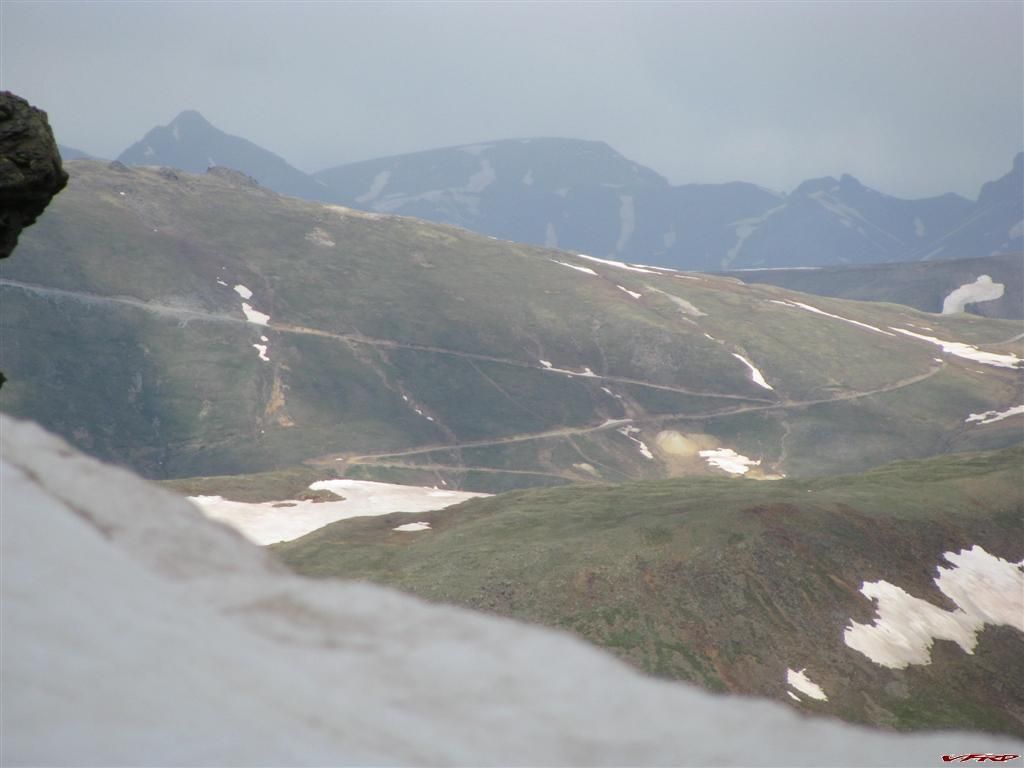 From where I just came going down Engineer and up California pass proved to be much more challenging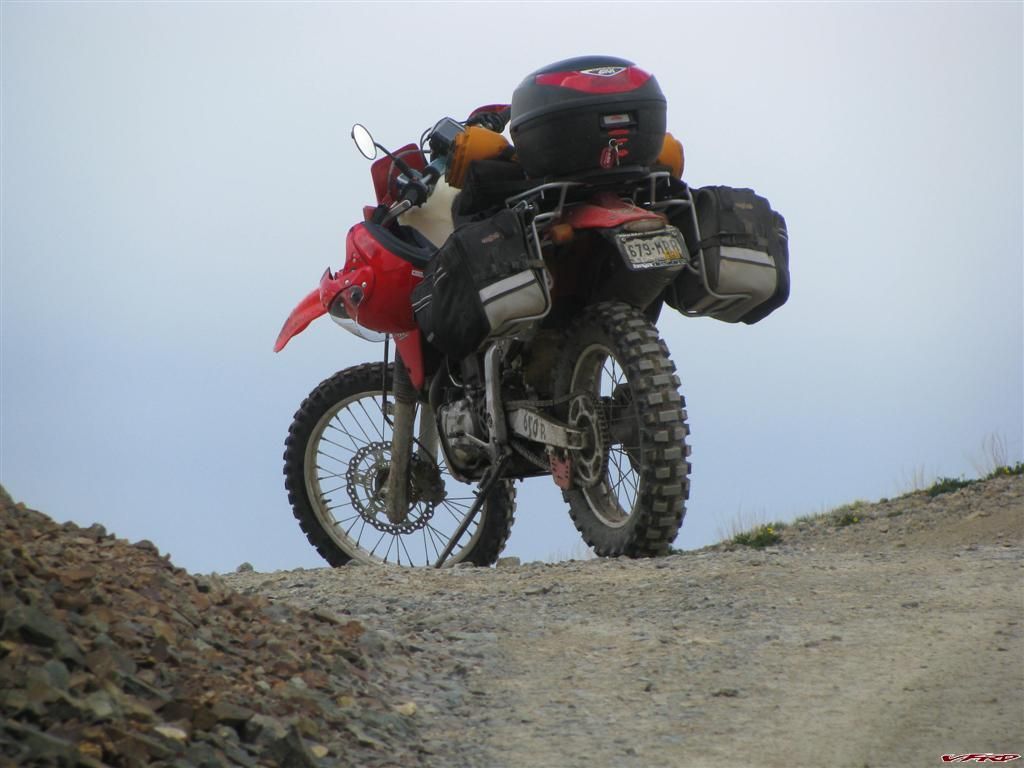 Xr650 weighed down with camping gear and tools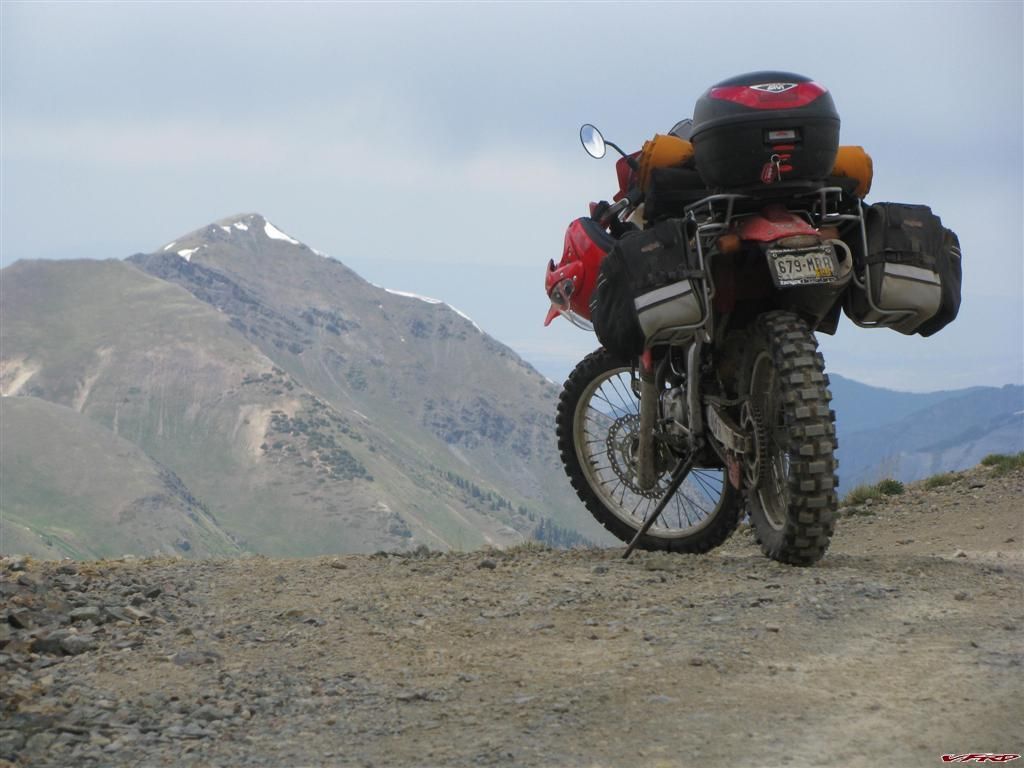 California Pass even more challenging now more rocks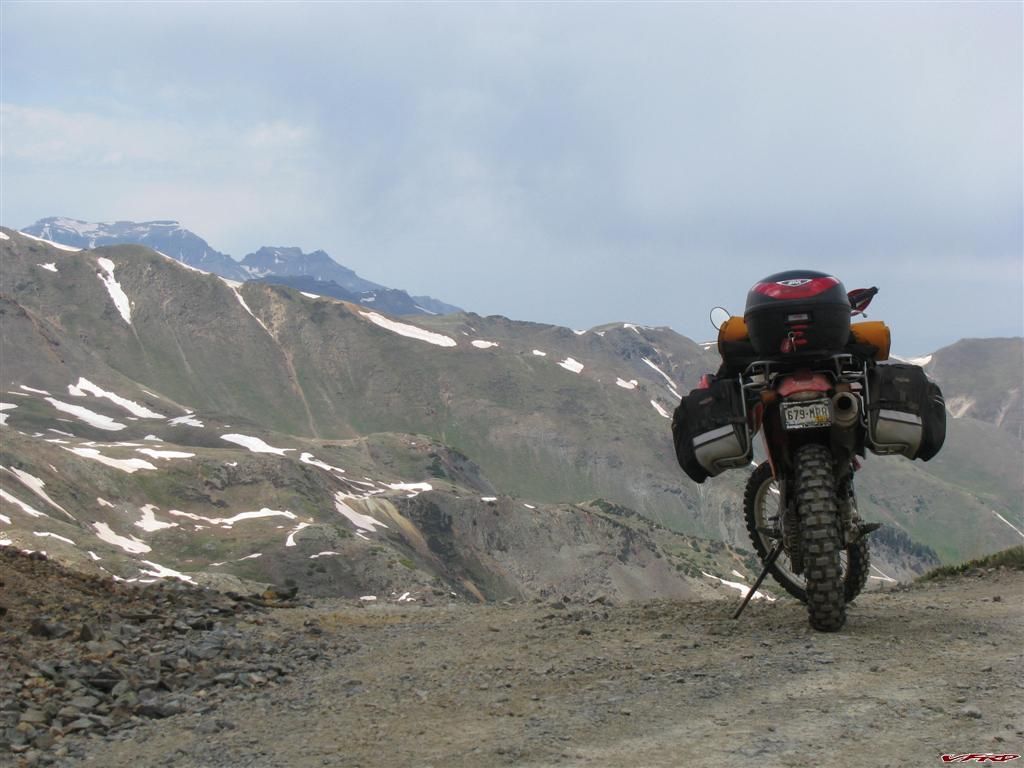 California Pass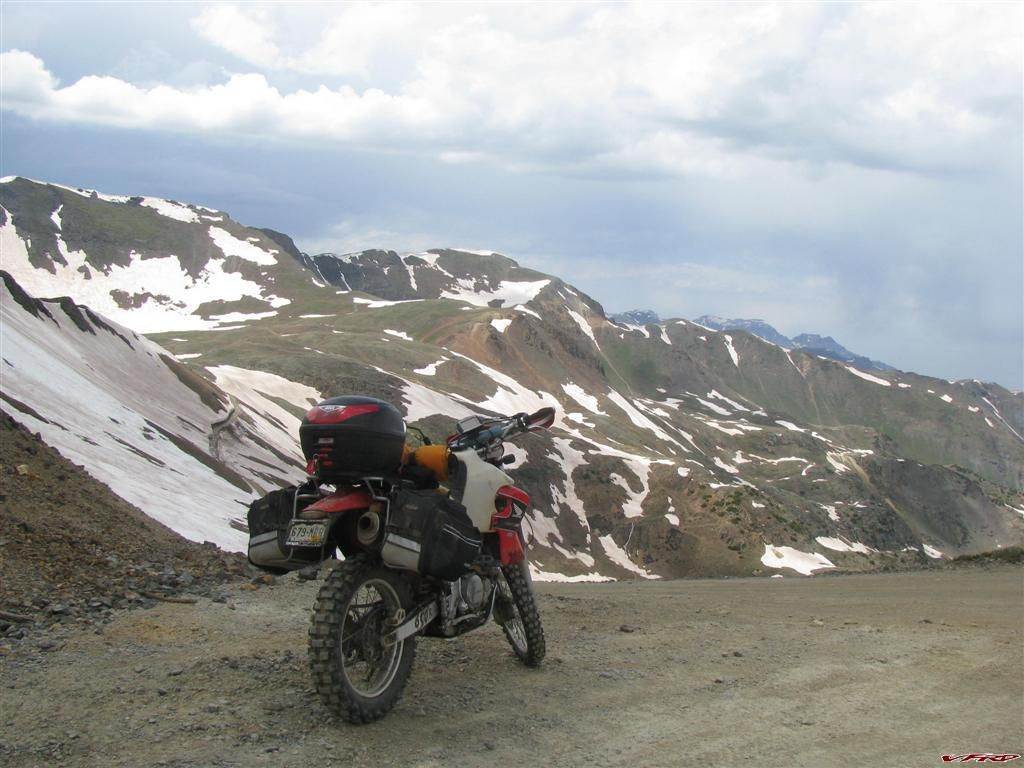 California Pass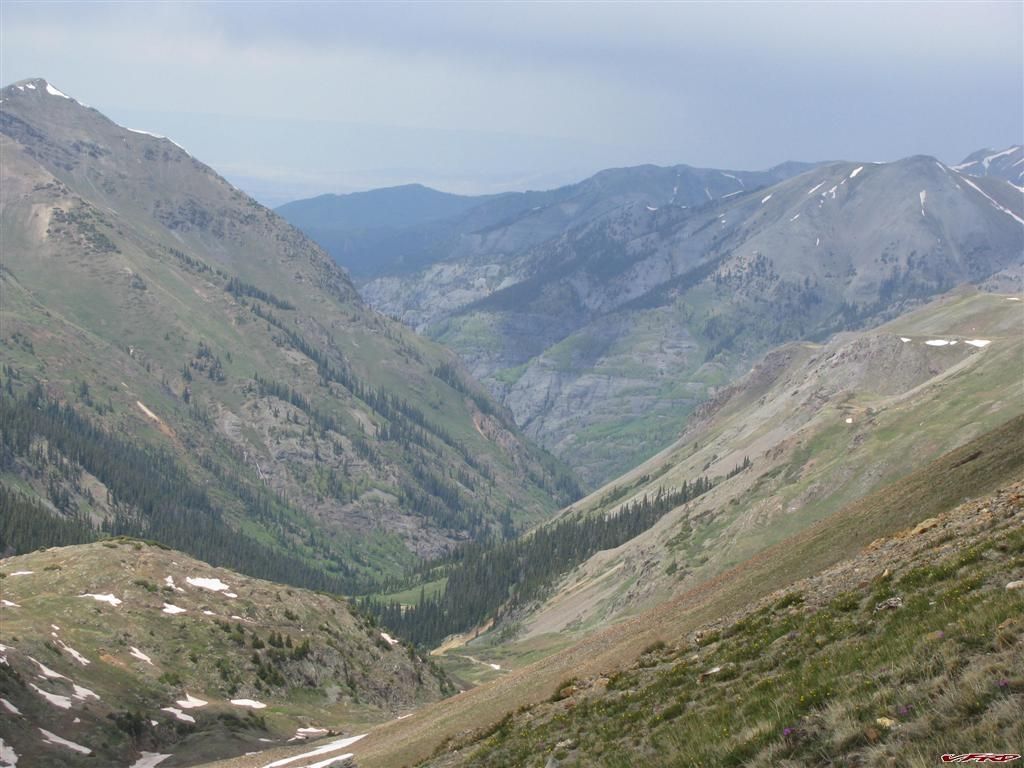 Poughkeepsie Gulch the trail was blocked by a huge snow drift at the top - a completely smashed up car sat there as a warning to all who enter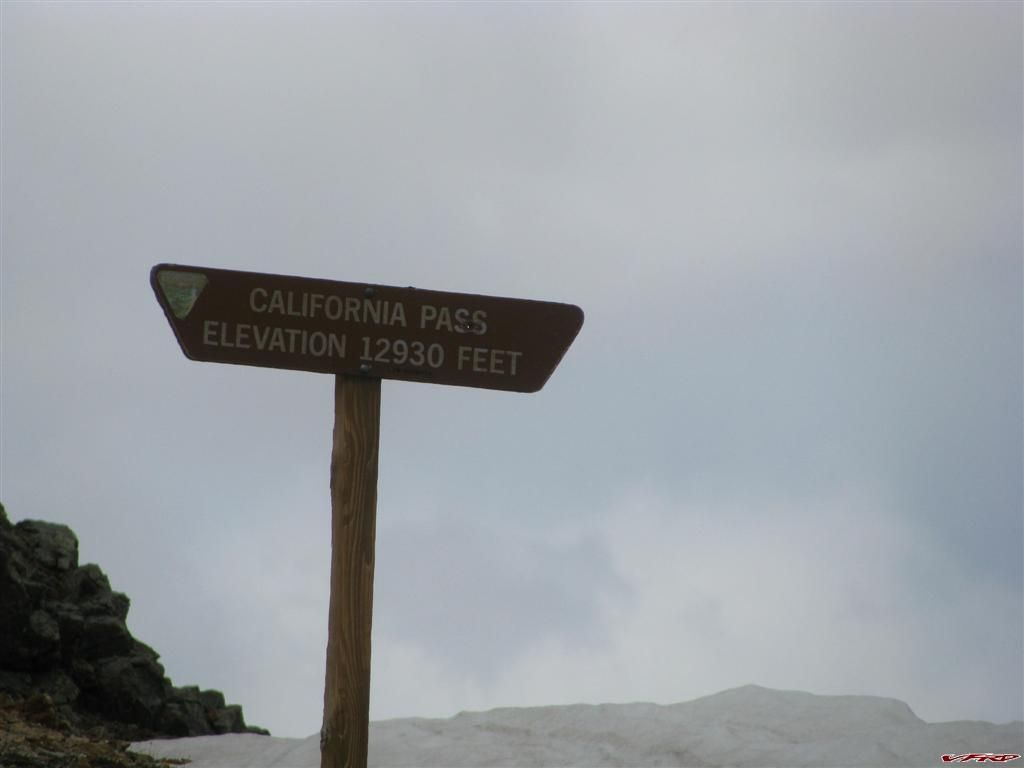 Finally at the top this road winded around quite a bit and lots of jeeps made for some interesting encounters
I looked down to see there was yet another pass and by now I was getting winded because of the lack of air and the increasing difficulty of the road, Hurricane pass turned out to be the most difficult for me, since I was a bit sore in the shoulder from sleeping on the hard ground the night before in an odd way. I was crawling up it now and going down was worse, California Gulch looked easy from above but it was rocky and wet too. I just plowed through it from the top. Going down was hard for me being loaded down there were places where the snow jutted out and cut the trail in half and the edge had a drop off that spelled disaster. I just kept my eyes on the road and tried not to look over, it was a bit scary in places. OK allot scary in places.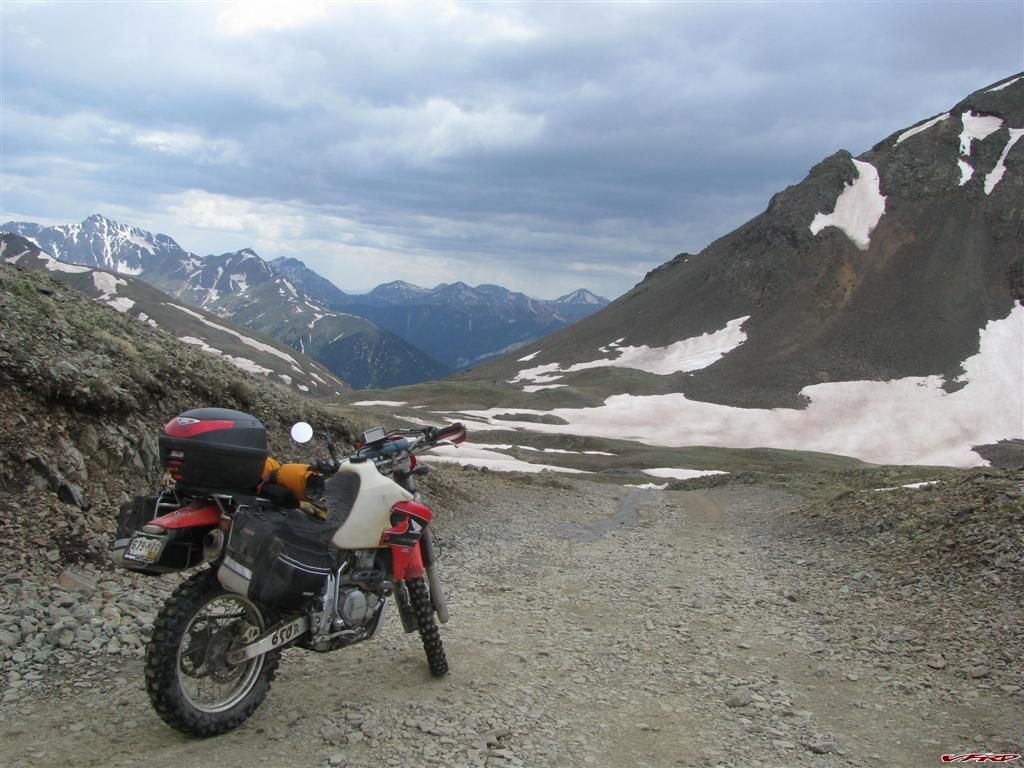 Hurricane Pass much more difficult either that or I was getting tired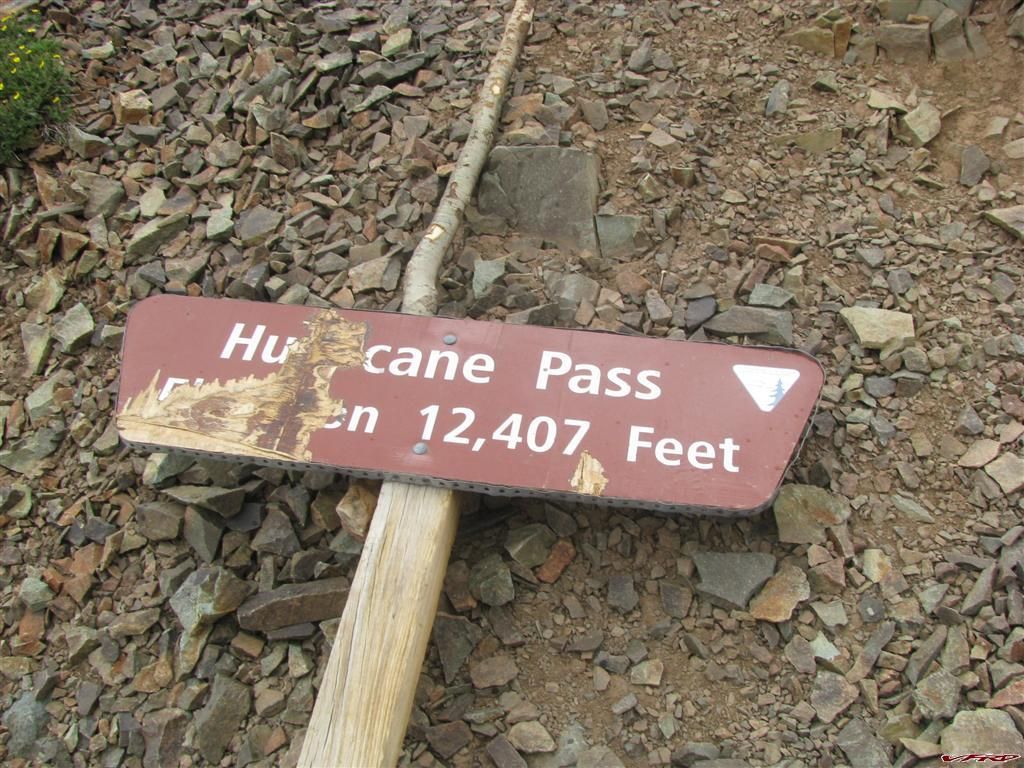 Even the sign was in bad shape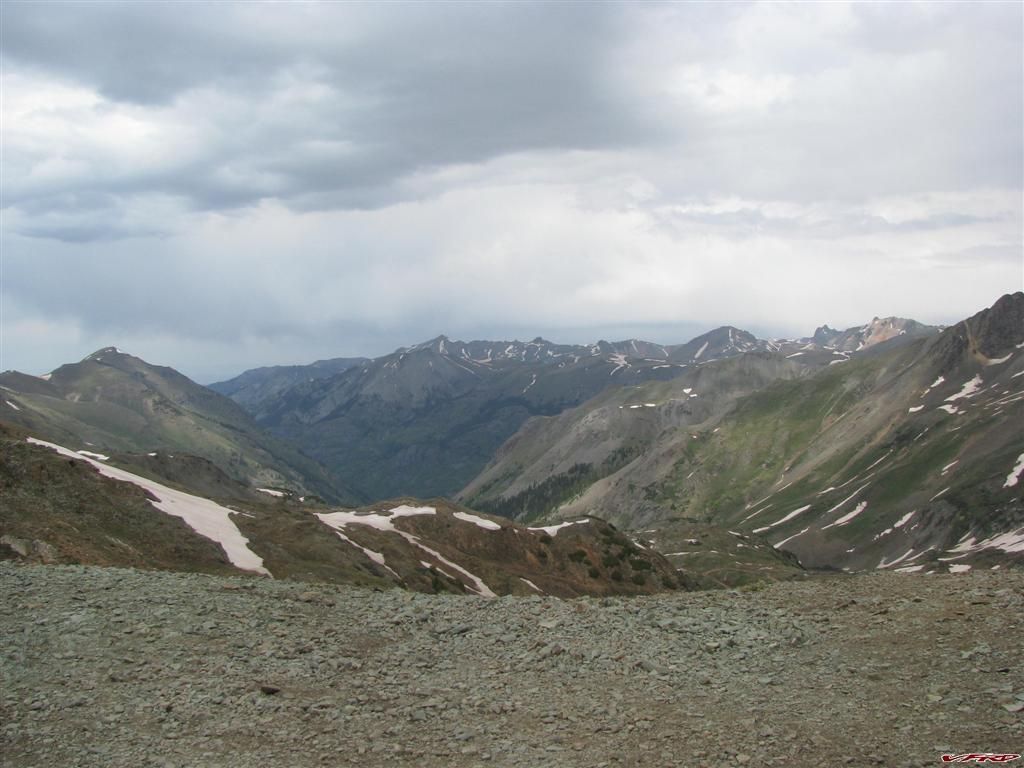 The view however was worth the trouble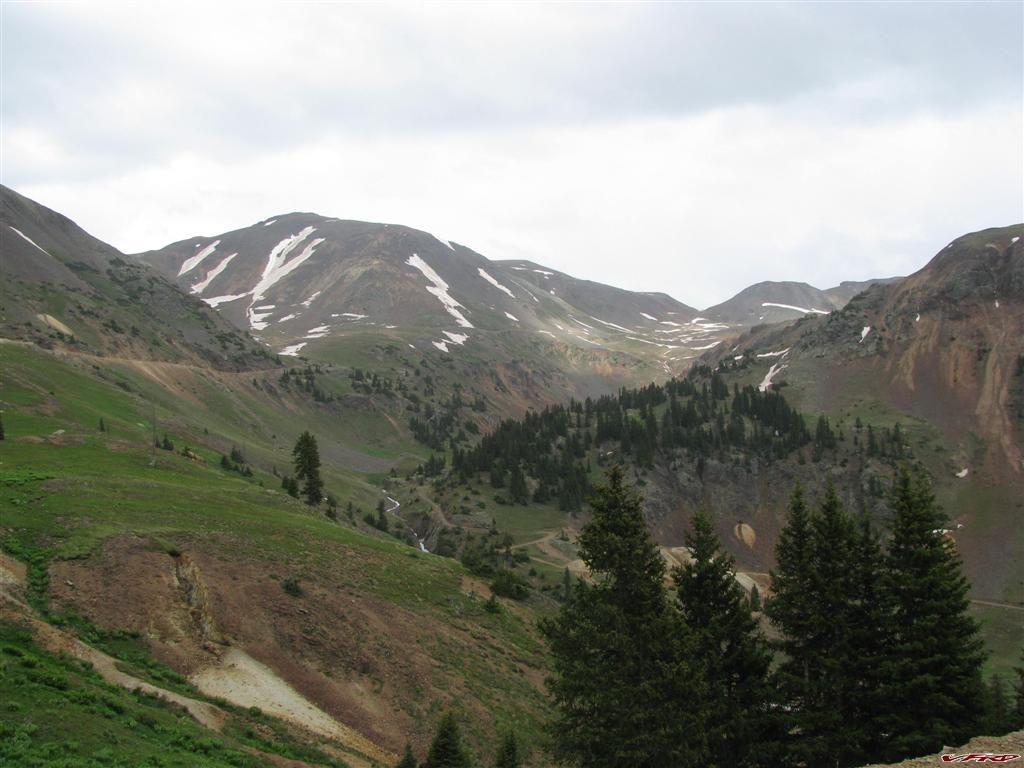 looking back up at Hurricane pass I had to stop cause my rear brake overheated too much load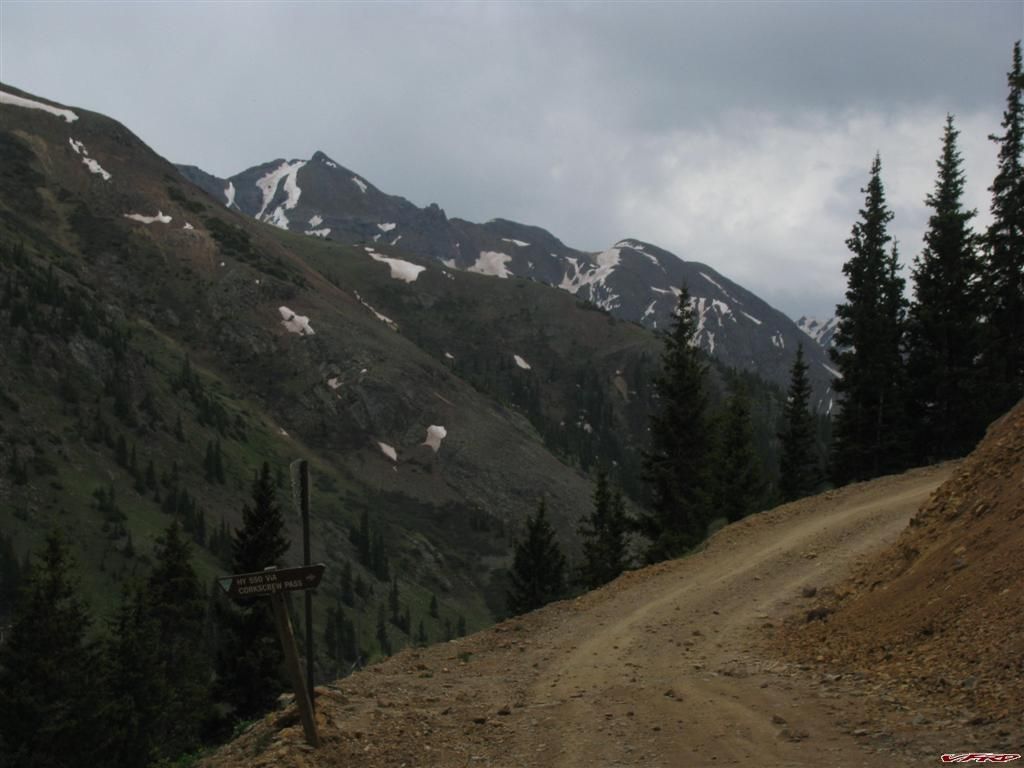 The start of Corkscrew Pass I decided to head to Silverton instead - 3 more mountains to pass - I could see it comming down Hurricane and it looked challenging
Hurricane Pass was the worse off all but it was short, the ride down was really bumpy and I overheated my rear brake - nothing on the petal I just slammed to the bottom with no stopping power I had to pull off and let it cool off till I got rear brake again. Some guy on a CRX stopped and asked me if I was ok I just waved and he rolled on by me at 3 times my speed - I was back to being a slow ass again. I was not going to try Corkscrew at this point I was pooped after being on the bike for 9 hours. My butt was starting to really hurt too, the widening of the seat and the Sheepskin cover helps but not after 9 hours! I just rolled into Gladstone on the big wide dirt road that seemed like a super highway at this point and soon I was getting blasted by all sorts of pickup trucks and jeeps now. I am no dirt track racer so I don't care if you pass me, I even pull off to make it easy. It was raining hard now and Silverton had nothing I wanted in it, so I headed up the Million dollar highway into Ouray where it was still raining - beautiful as ever Ouray has got to be the most scenic place in Colorado. Now I was getting tired so I decided to find a camping stop somewhere up on Owl Creek Pass cause the rain was every where around me except east of Ridgway where the pass is. I stopped and gassed up - got a sandwitch and some drinks and headed for the mountains again.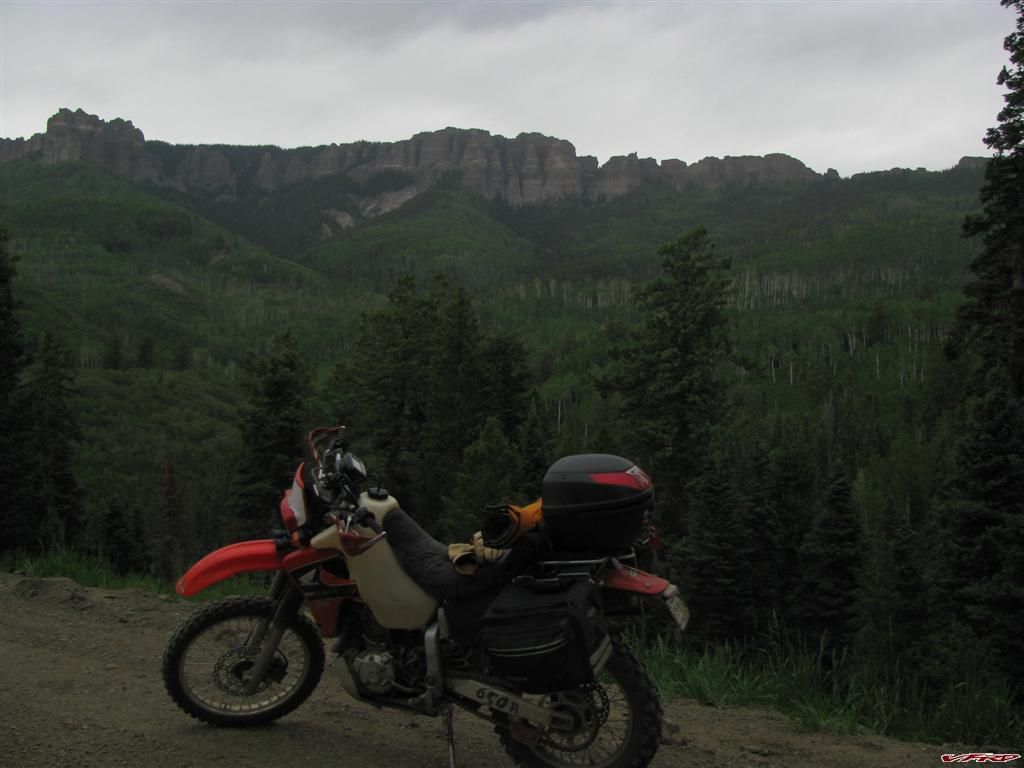 Heading up Owl Creek Pass East of Ridgeway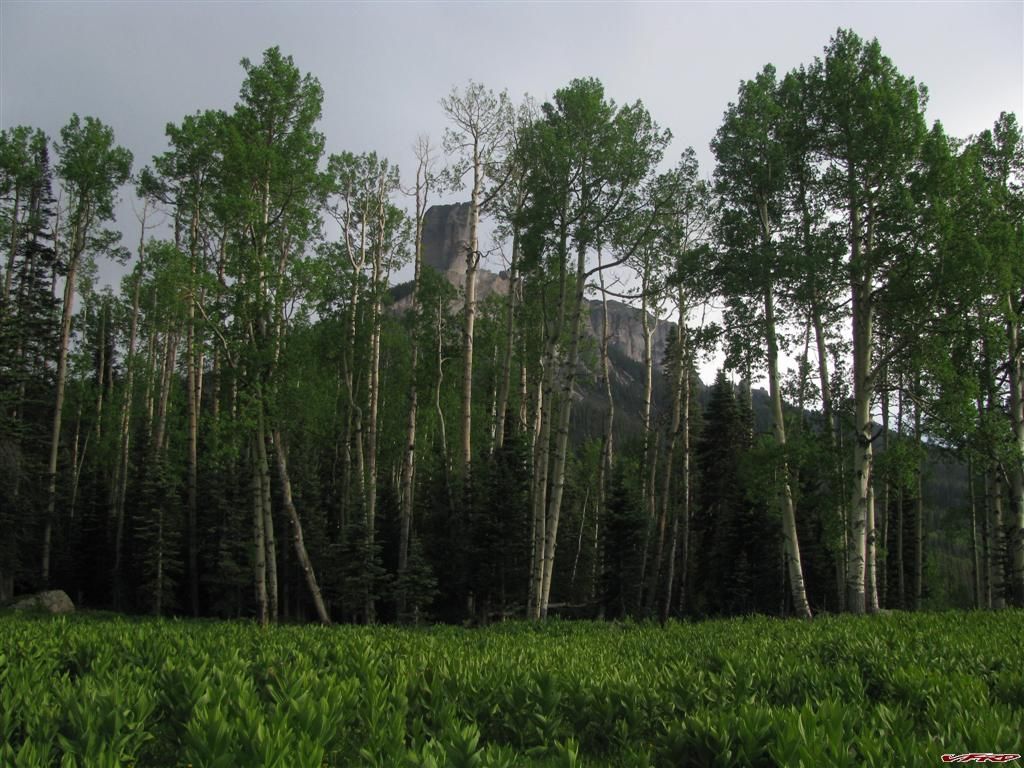 Chimney Rock this was my choice for a good place to camp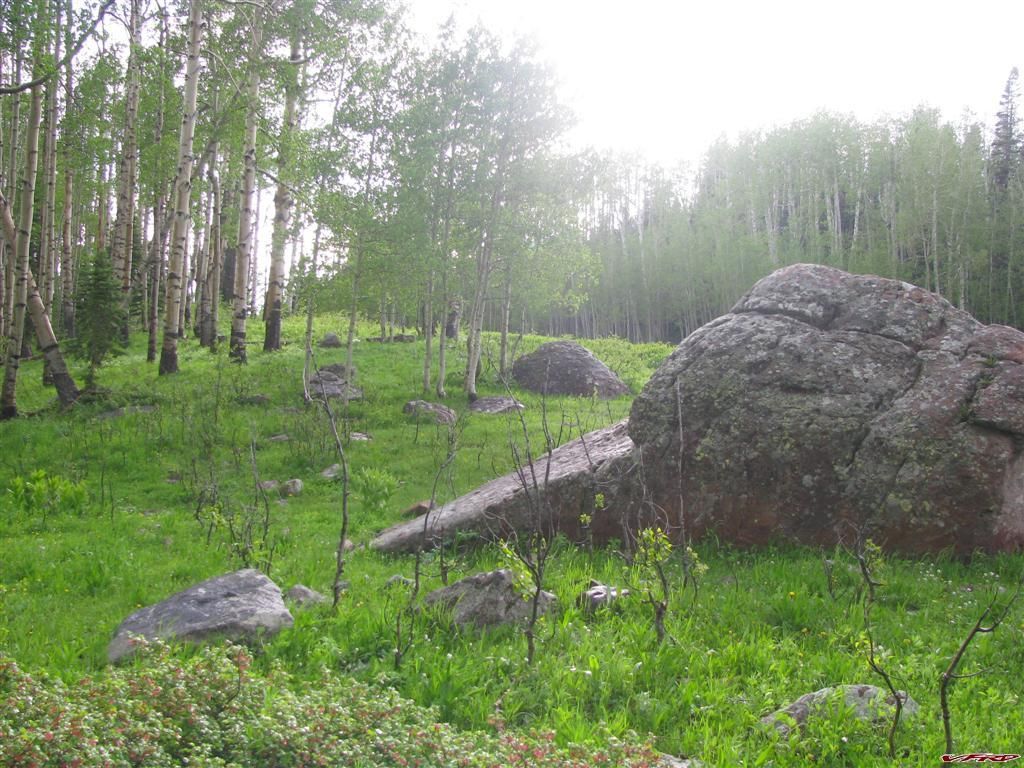 Alpine meadow after the rain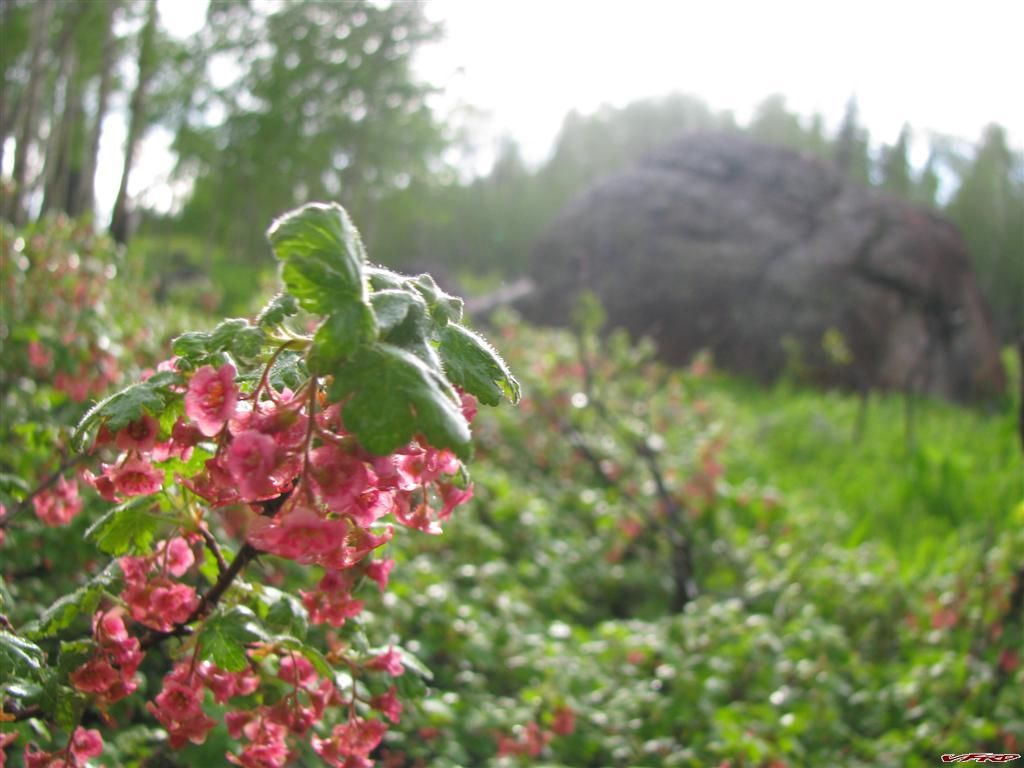 The blooming bush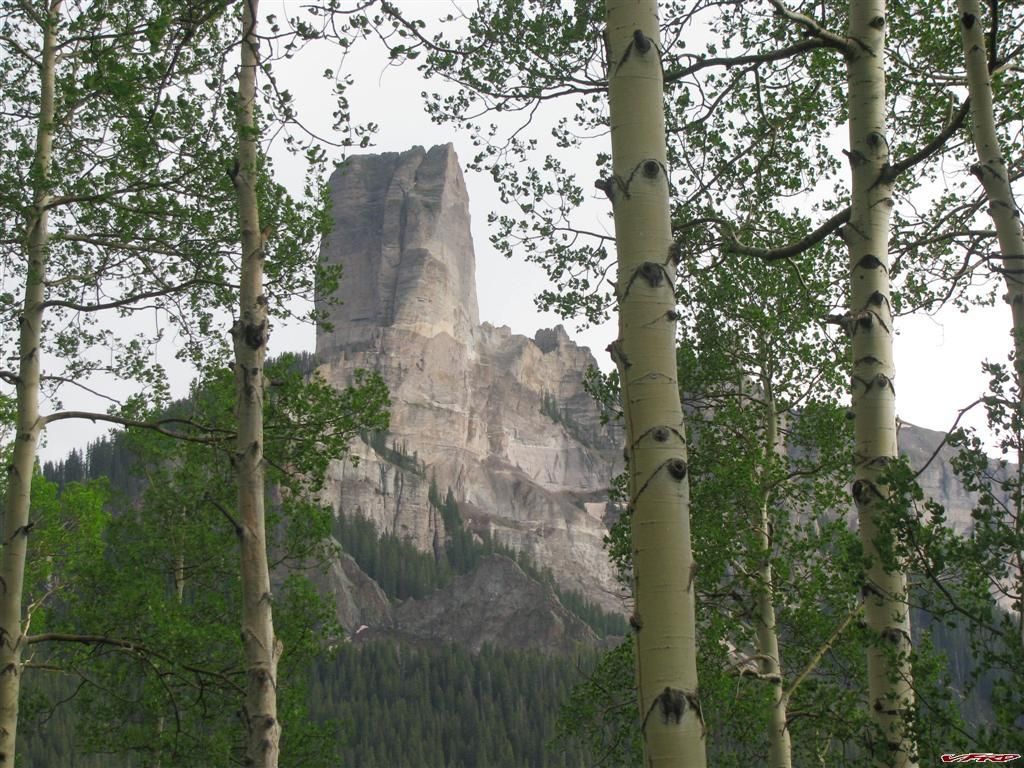 This was the view from my camp chair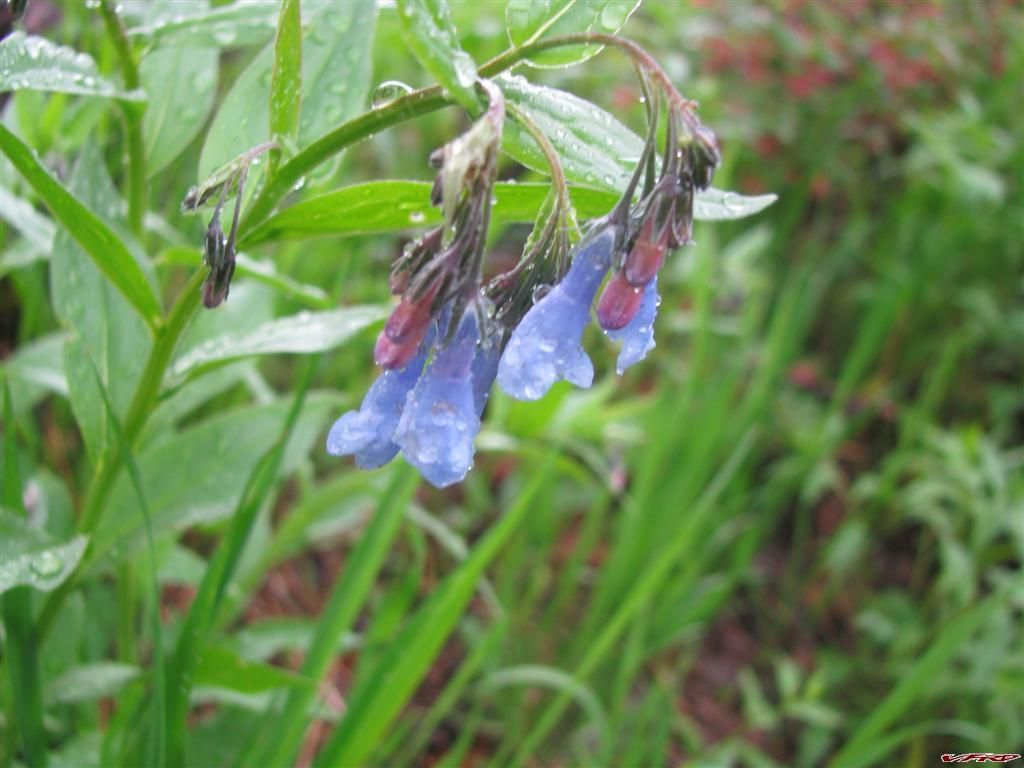 Weeping flowers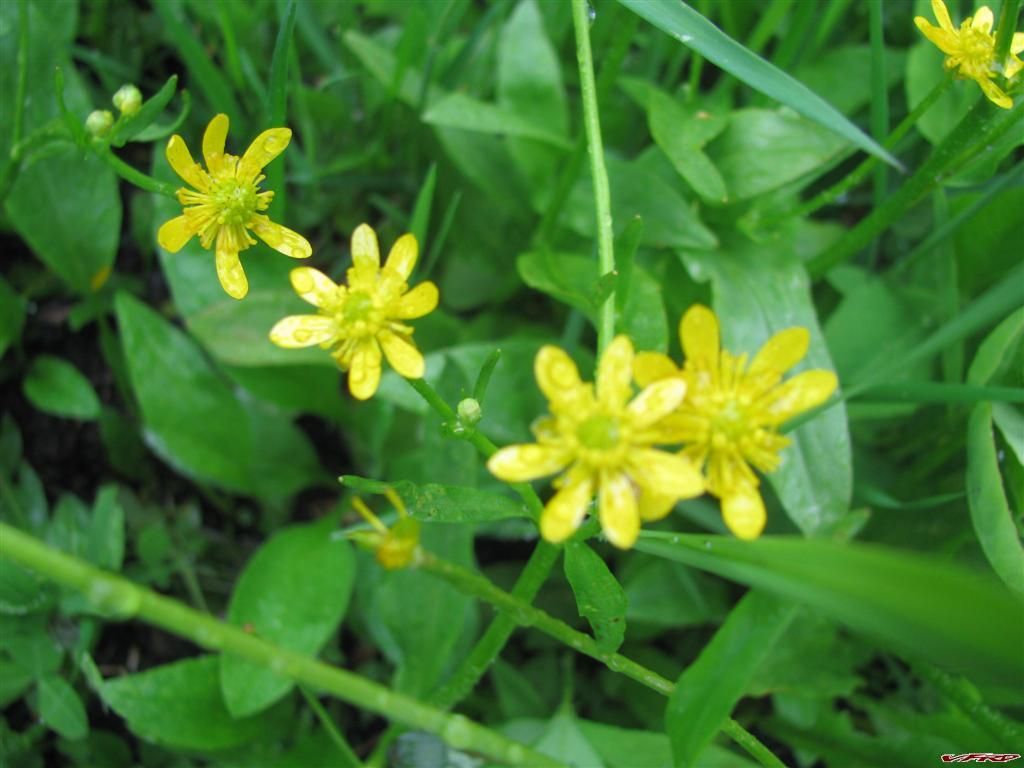 more wild flowers
Camping up there was wonderful not as many bee's or mosquito's as Marshall and it was very scenic, the stars were even brighter up there. I was surprised to see a whole slew of bikes roll on by at twilight, a few GS beemers, a KTM, and a V-stom leading the way in the dark. They stopped and talked to me a little while - but did not want to crowd the camp site, it was wide open as far as I was concerned but I think one of the beemer guys was more interested in a motel. So they left and gave me a beer as a parting gift for pointing them in the right direction. Its great to make friends on the road - even on the back roads.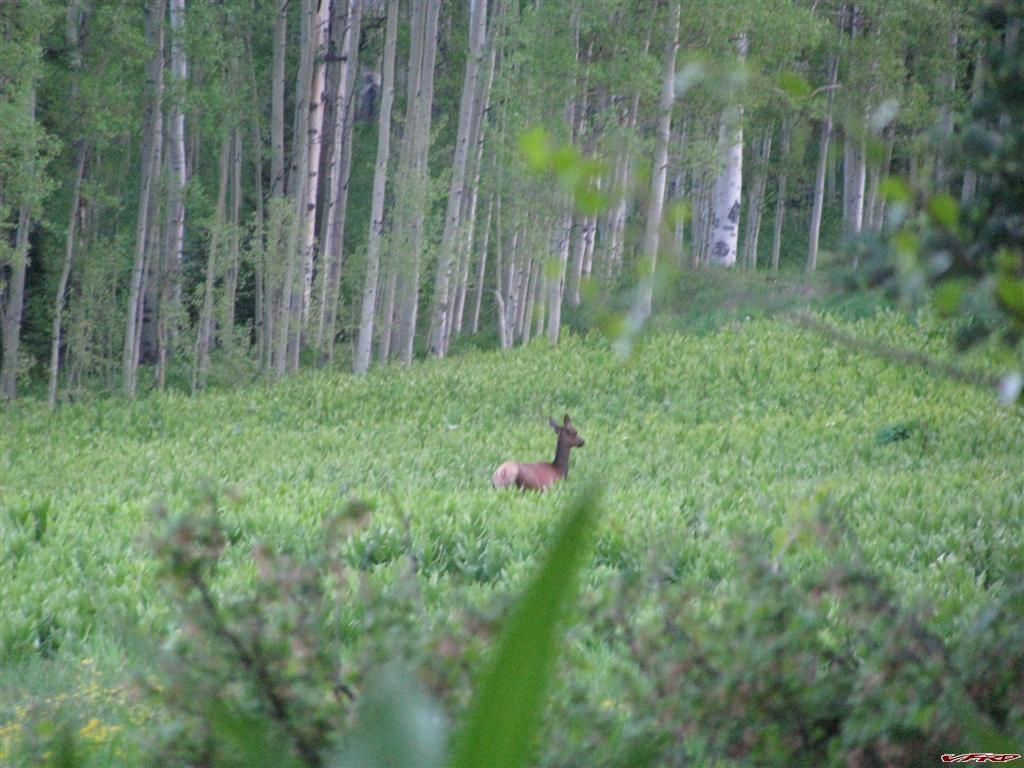 I woke up and saw an Elk across the meadow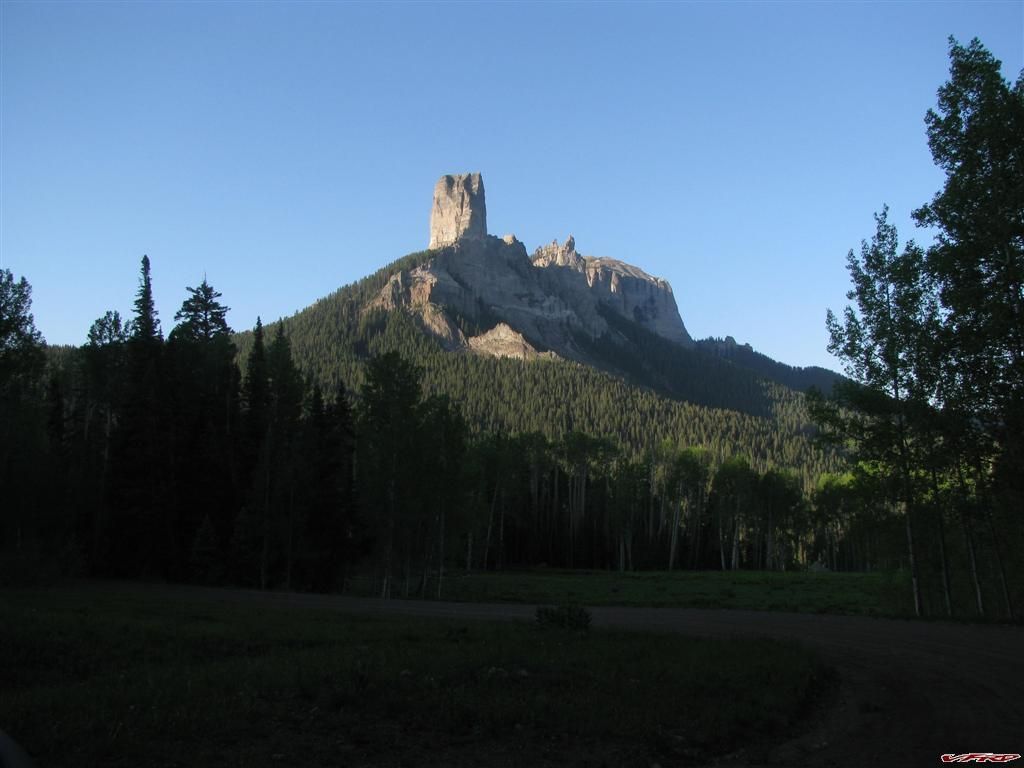 Leaving camp Chimney rock in the morning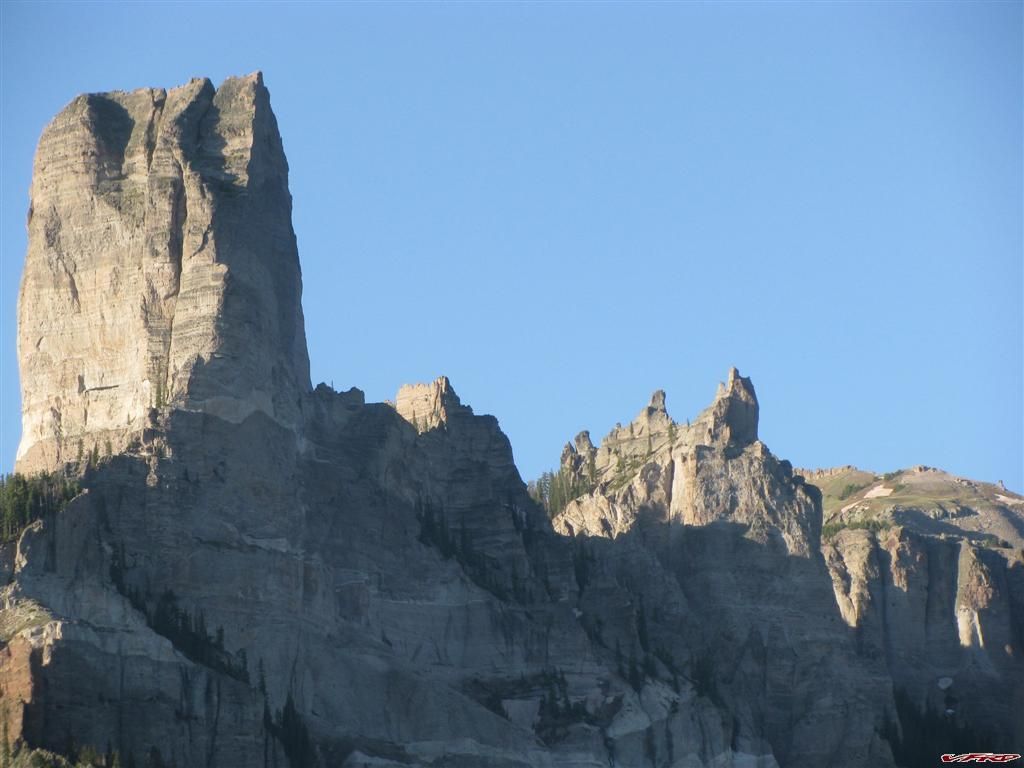 This rock is just like the rock in Alberta The rockies are the rockies after all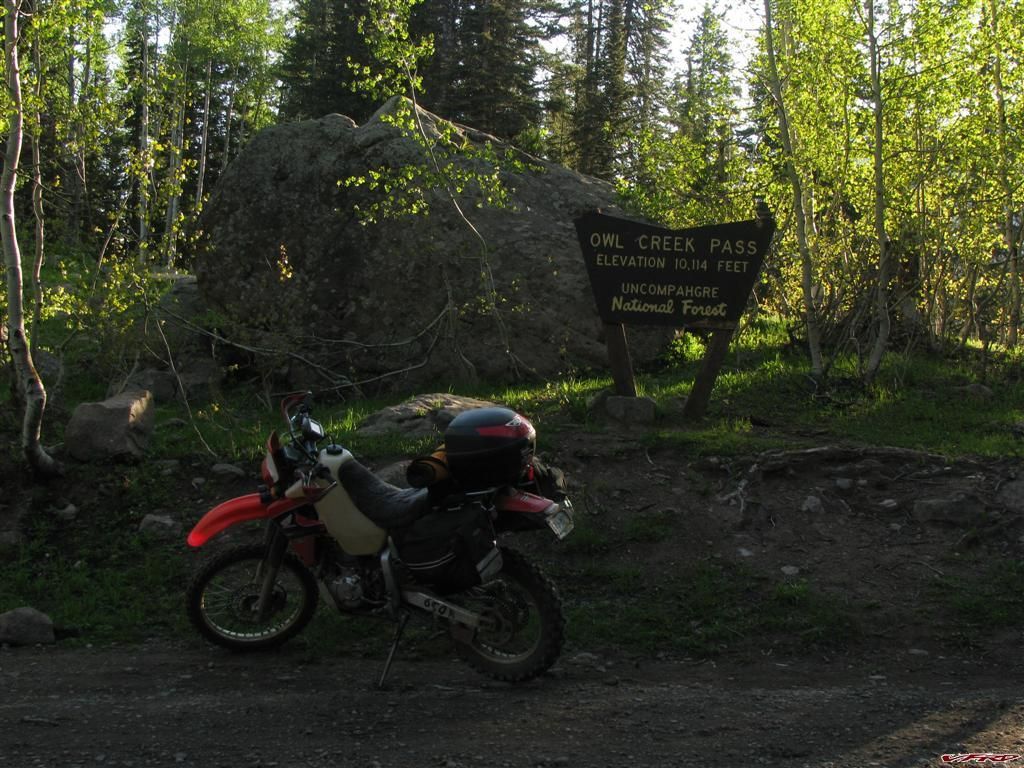 The summit of Owl Creek Pass 7am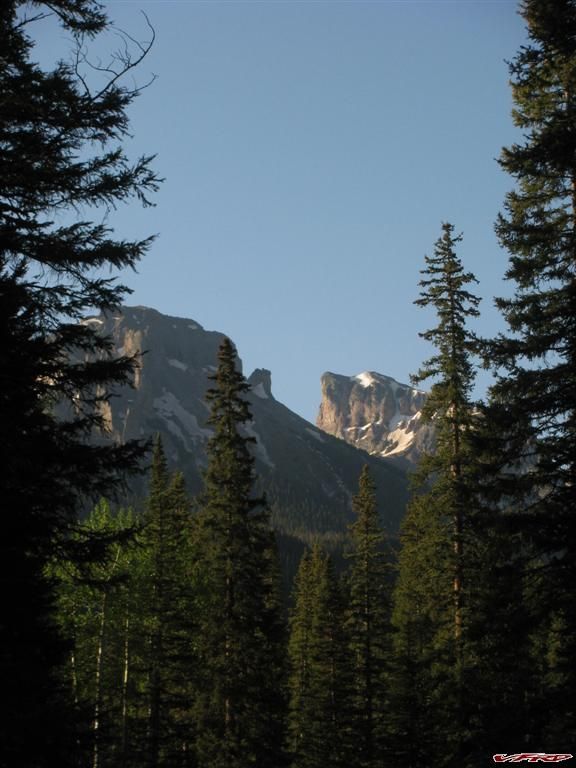 Views from the road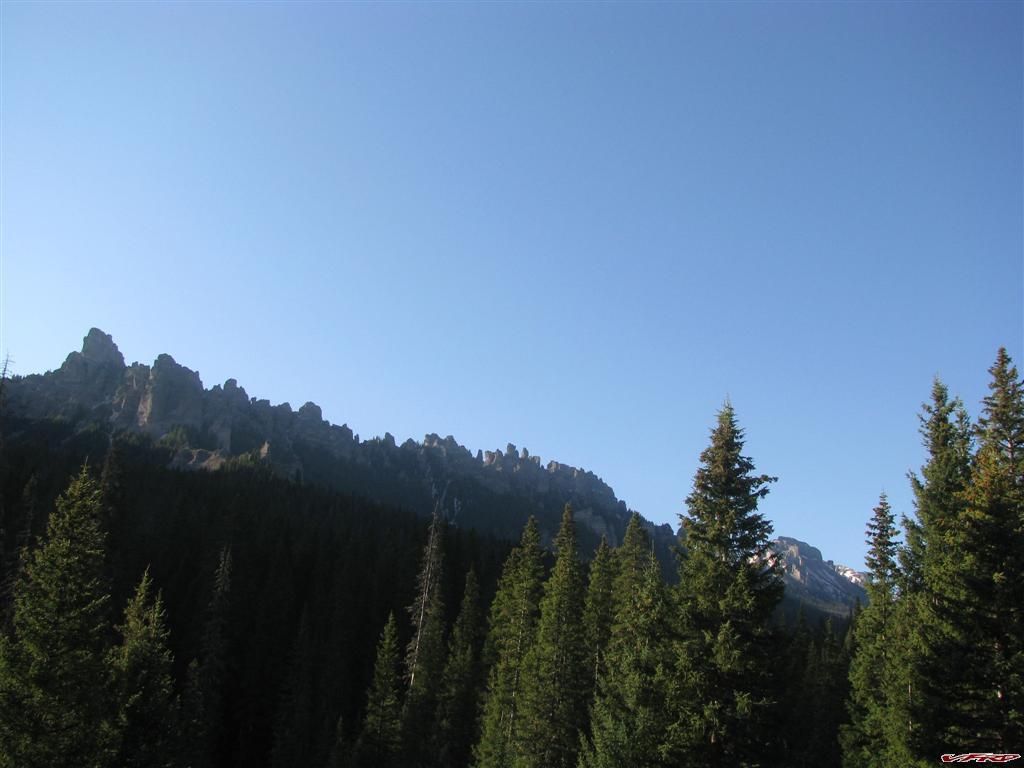 Turret ridge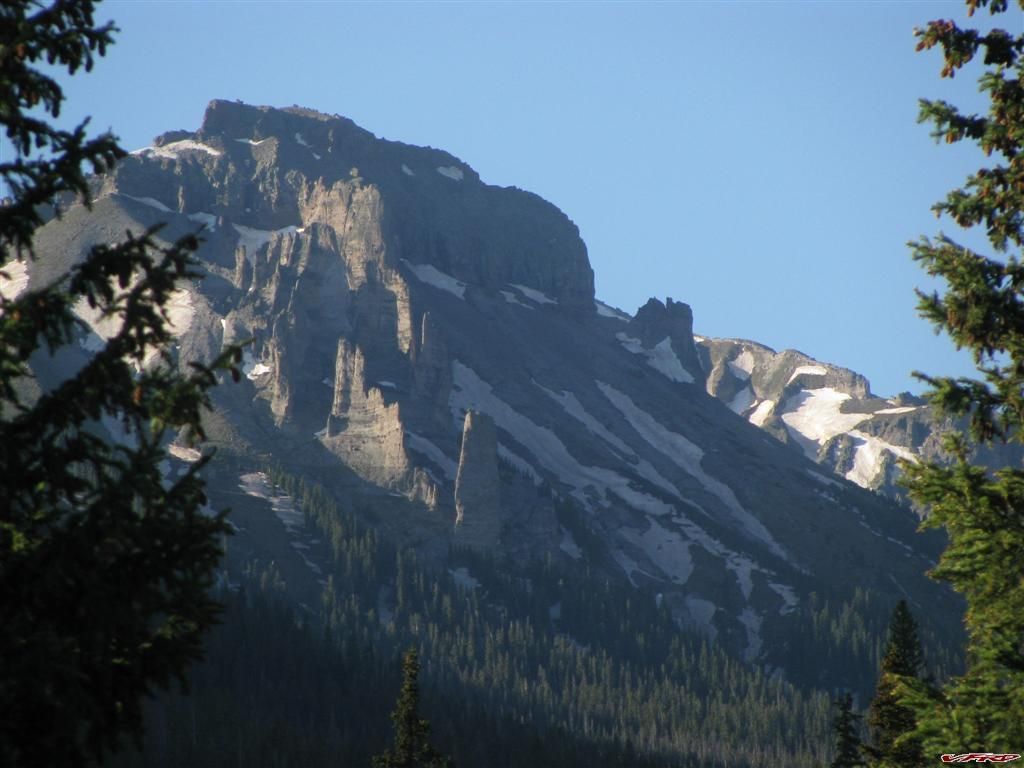 Views from the road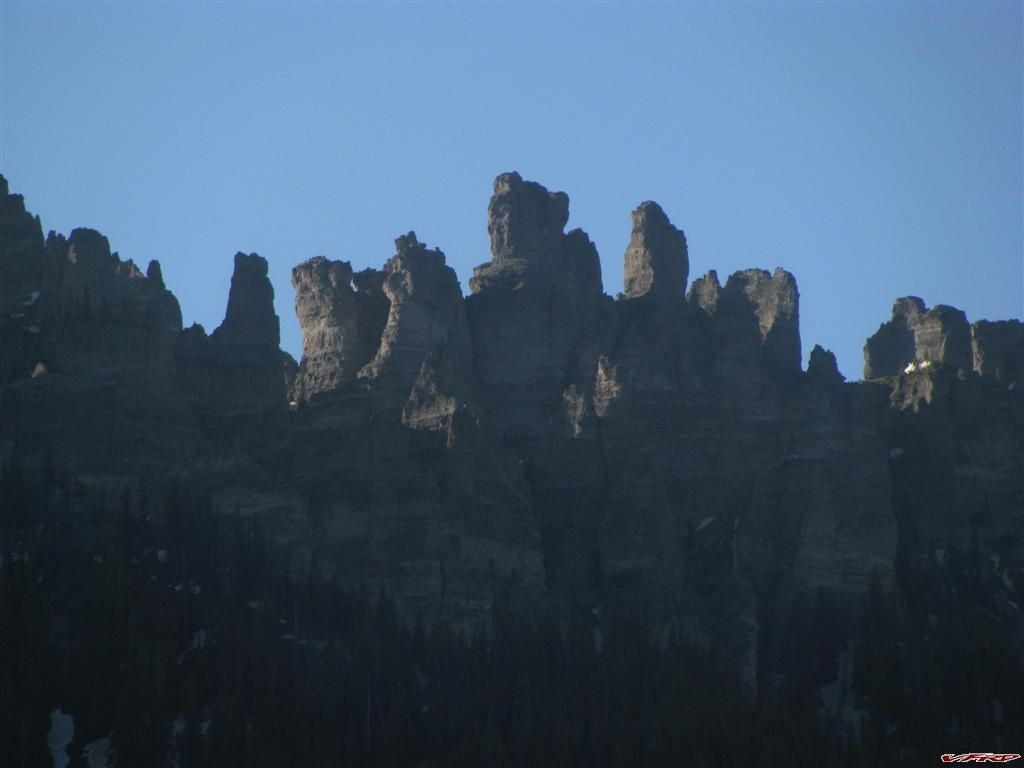 Turret Ridge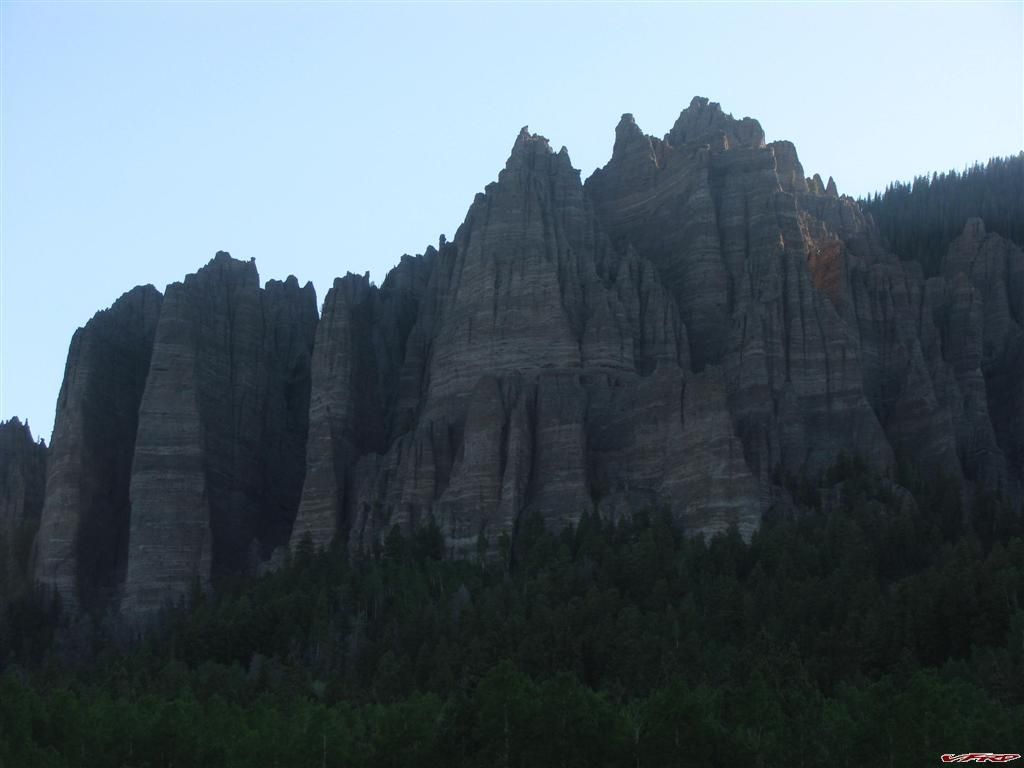 Rock formation at High Mesa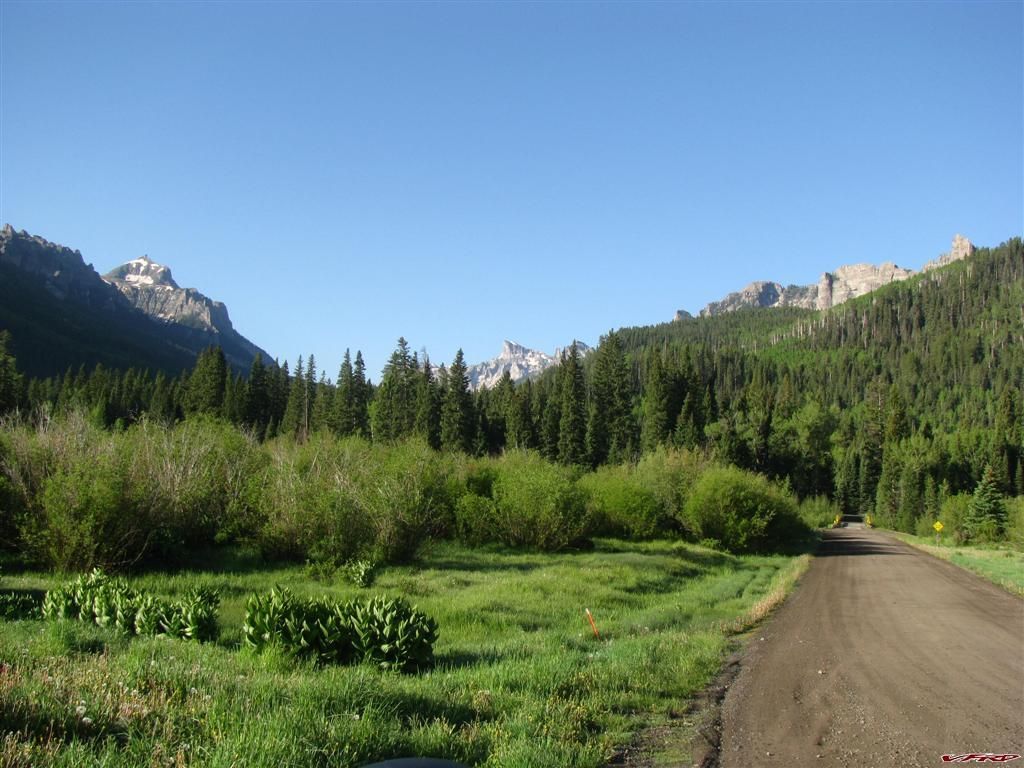 Looking back to Owl Creek pass at the cross roads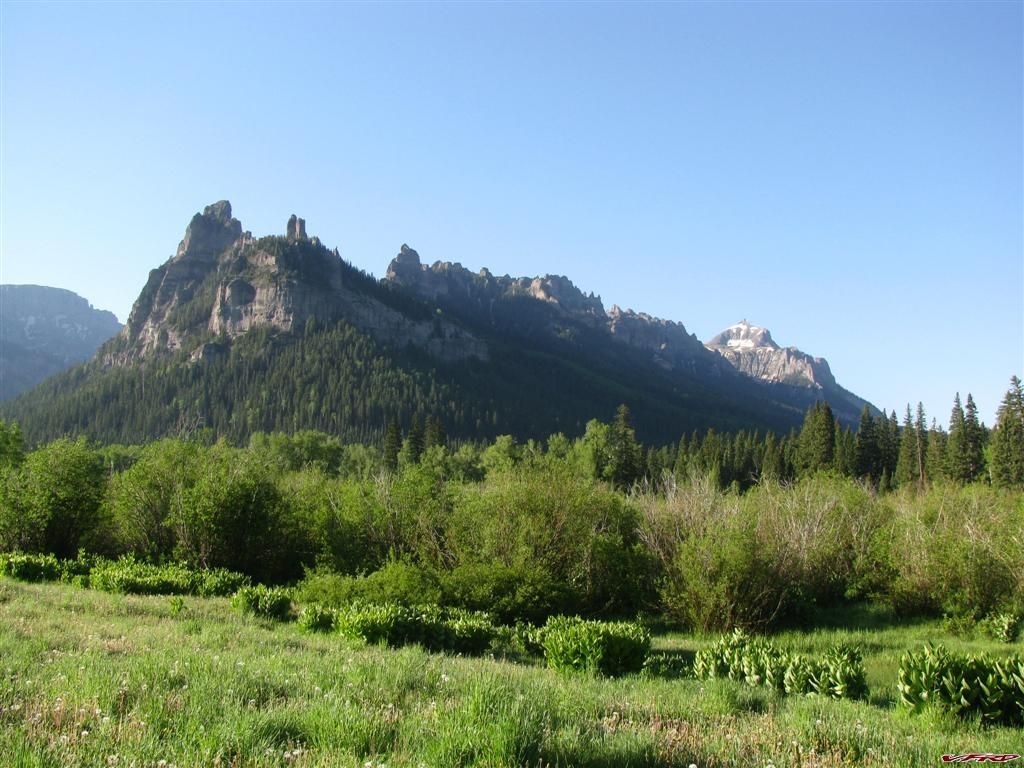 One last look at Turret ridge
Cimmaron Ridge at Silver Jack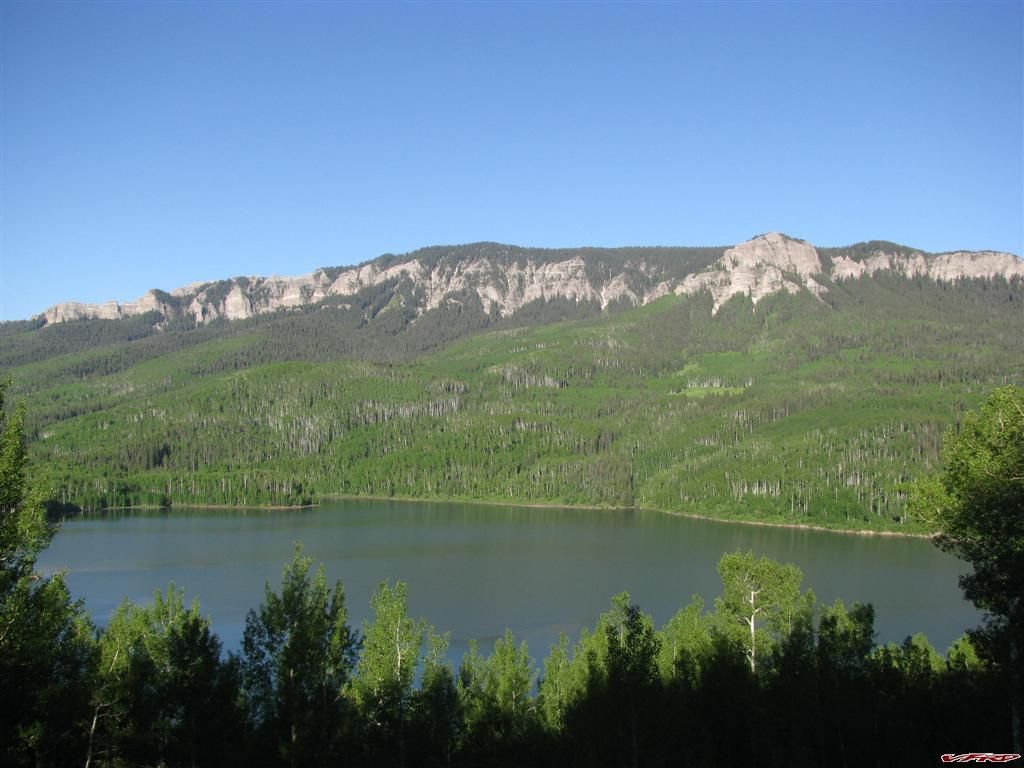 Silver Jack Reservoir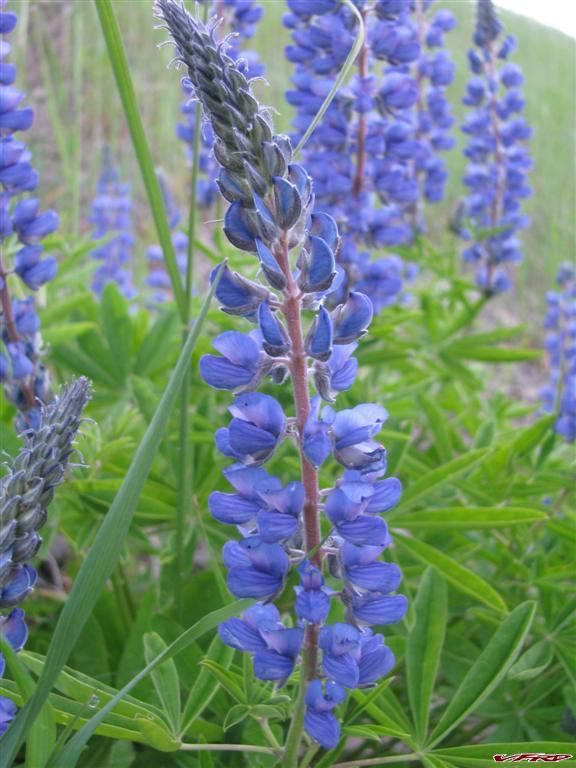 Wild blooms on the side of the road
It was here off Cimmaron Road I had an encounter with a Ford pickup 4 x 4 - a big one. I was on the road where they had sprayed down Magnesium Chloride and it was still wet and slippery, this asshole passed me in a turn and brushed me in the elbow then gassed it and sprayed me all over with that stuff. This sent me into a rage and for a short moment I was a dirttrack racer - overtaking him and I made sure to spray the hell out of that nice white paint with that Magnesium Crap they had on the road, and I rolled on the power into the rest of the turns and left him in the mud. I had a few moments where I was out of control and a bit scared he might run me down. I did it anyway and well it was childish and stupid but I was pumped after that and could have ridden another 600 miles that day. I turned off on hwy 50 and ran smack into a bicycle tour with what seemed like a 1000 riders. They stretched all the way from Cimmarron Road - to Gunnison and even turned with me up to Almont 45 miles long a least. Big bike tour I guess. I got gas in Gunnison even though I did not need it and headed for Cottonwood pass. Oh boy the tourists were all over the area here, Lake Taylor was full of tourist and fishermen in the creek by the damn.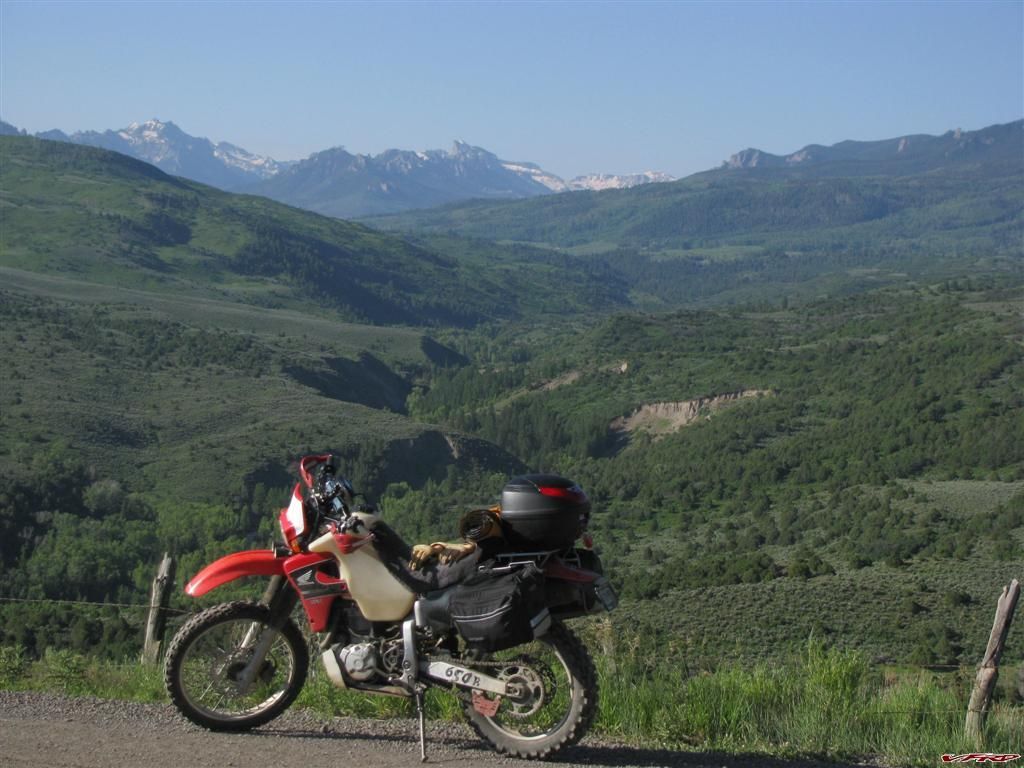 Cimmaron State Wildlife Area Cimmaron Road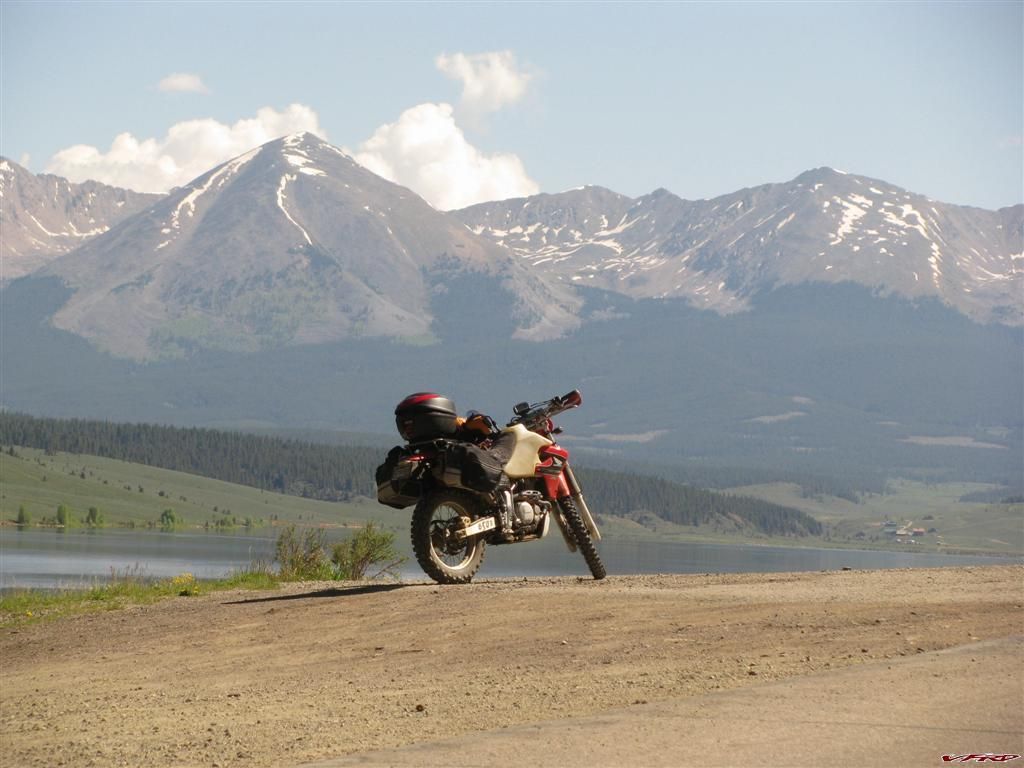 Taylor Reservoir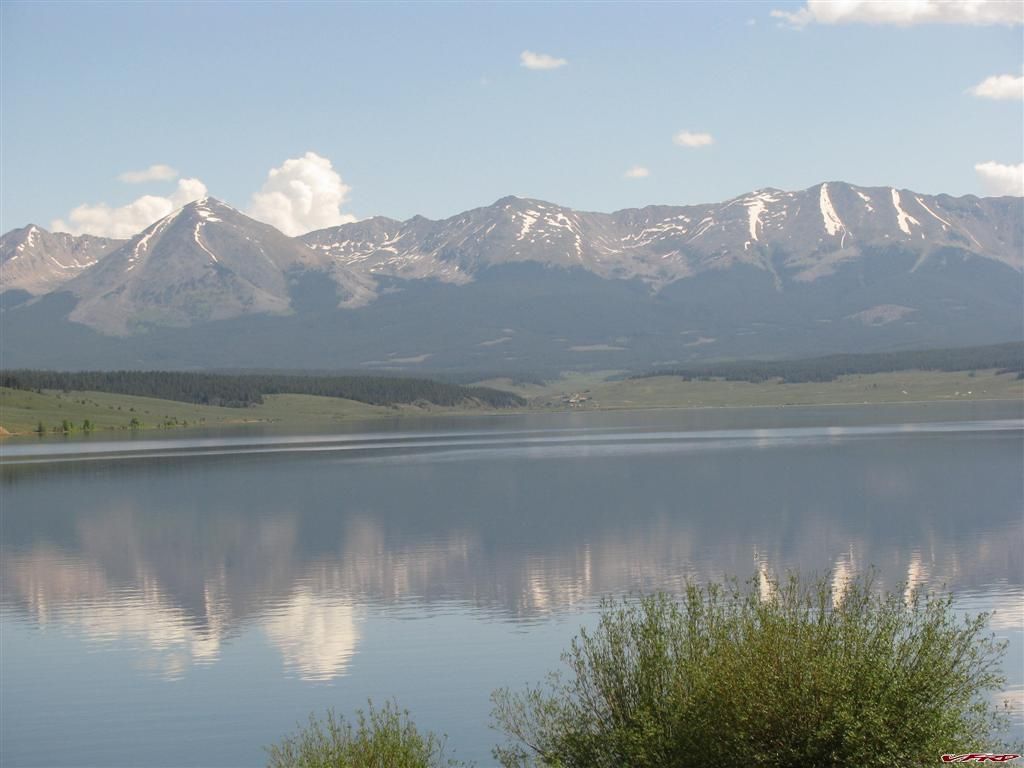 Taylor Reservoir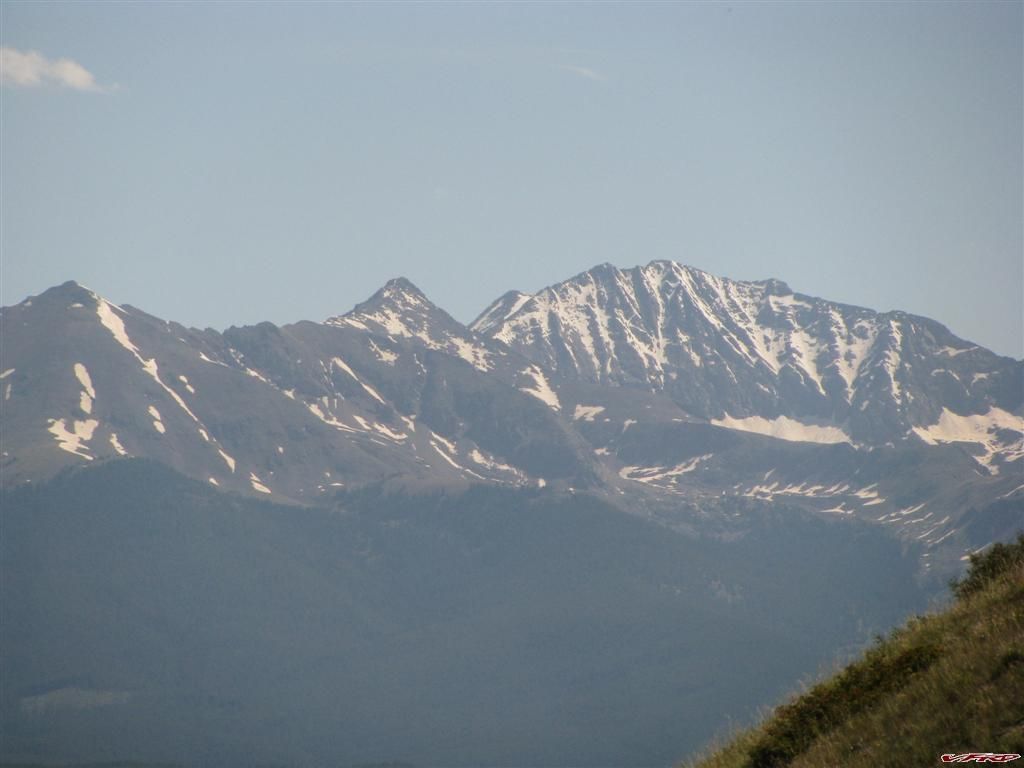 The 3 apostles and Ice Mountain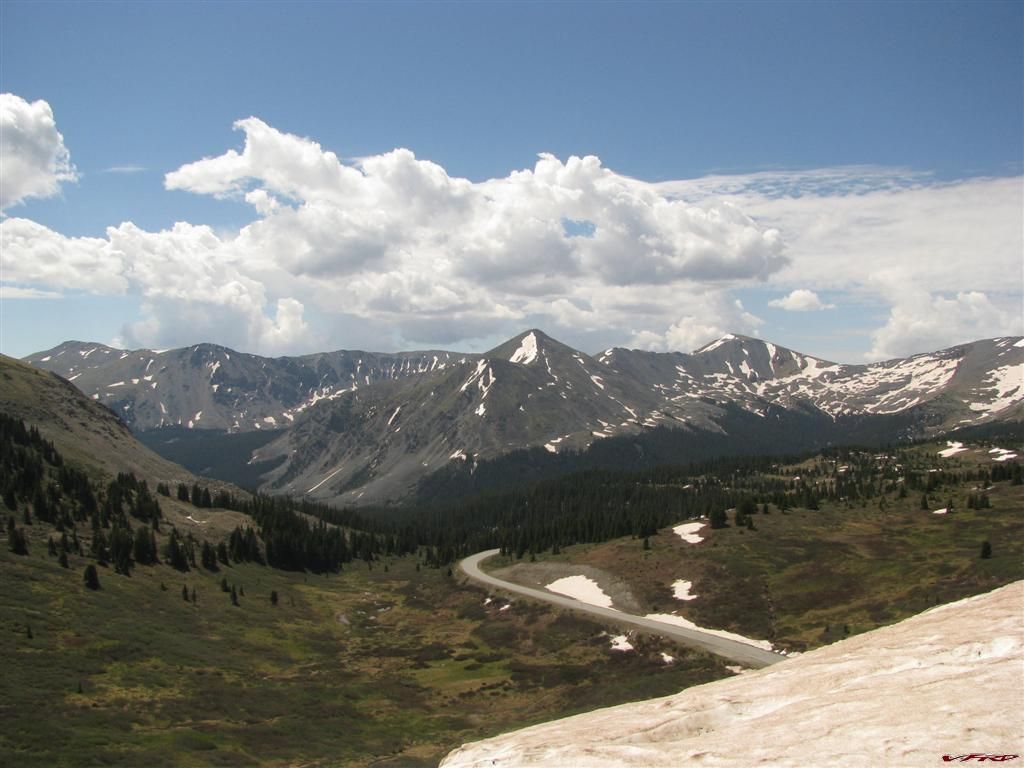 Cottonwood Pass looking on the east side of the continental divide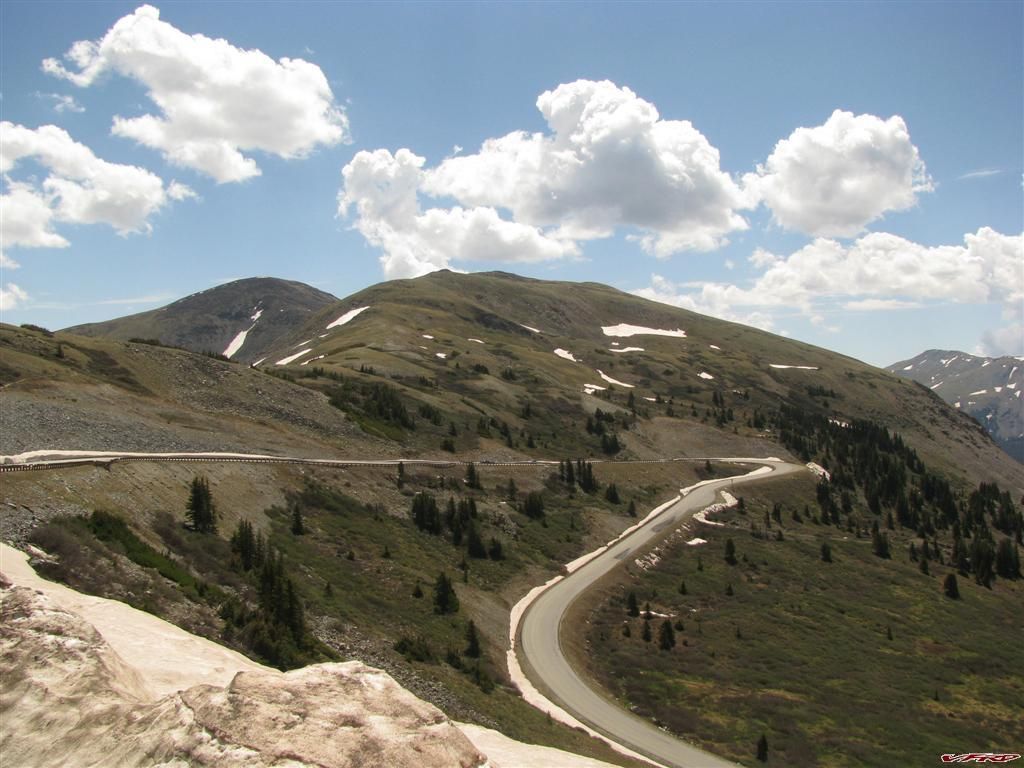 Cottonwood pass the east side is paved - the west side is hardpacked dirt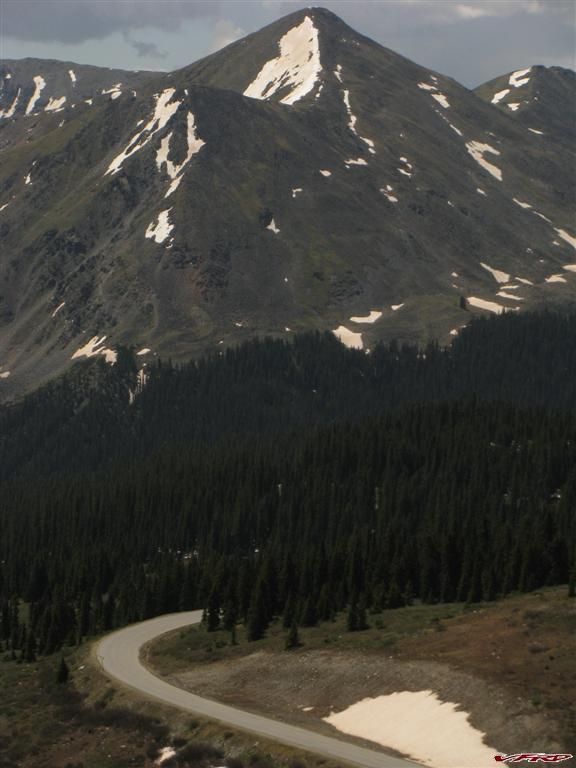 Some fun for a vfr here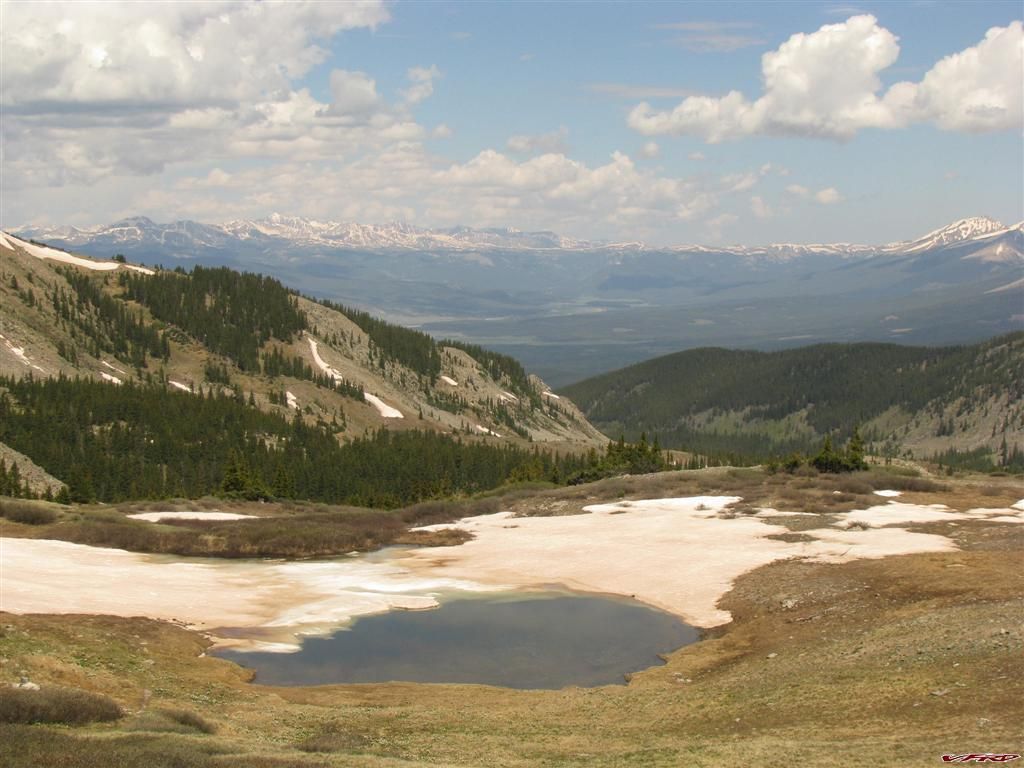 One last look at the western slope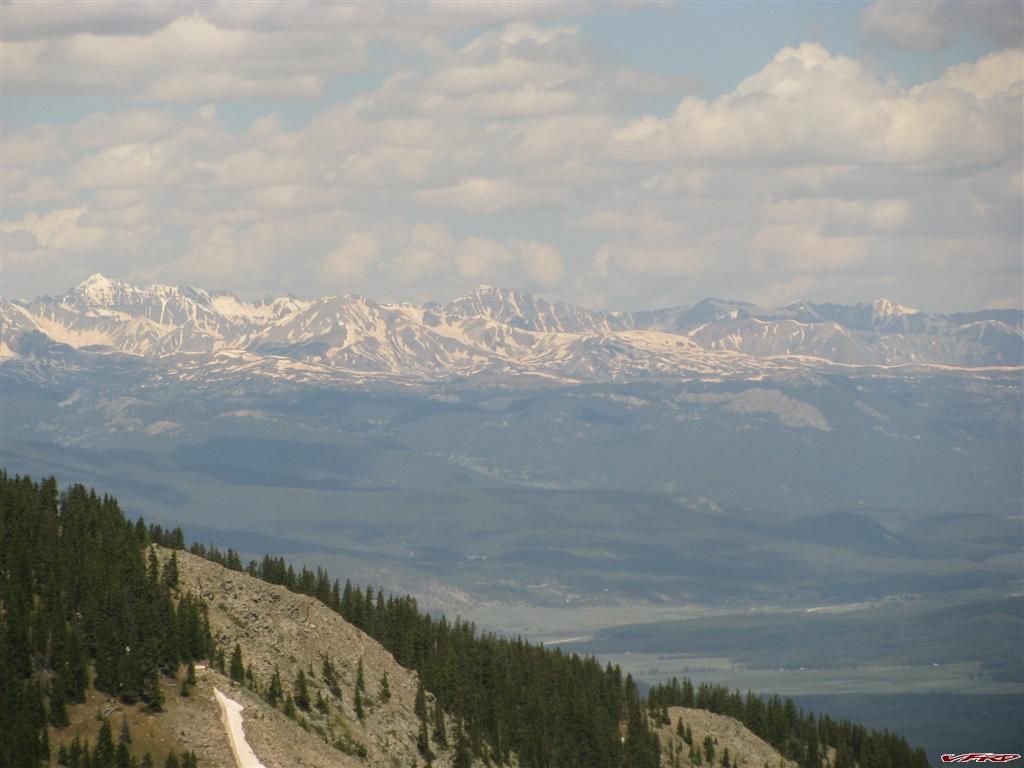 Across the valley American Flag Mountain stands out in the center
Cottonwood Pass west side
I pulled into a gas station in Buena Vista that had a diner in it and had some lunch the waitress was right at eye level when I sat down and I did not take notice till I went to pay that she stood barely 4 feet tall. She was very pretty but boy was she short. She was making fun of me cause I kept asking for odd stuff, I made her work for her tip - and I did tip her well. I think she was surprised how well cause after all it was a truck stop but I was a bit demanding service was good and the food was good.
Then I found a back way on the map to get to the ute trail again and so I took that way, it was only a mile up the road from the gas station and oops I had forgot to fill up, 80 miles already on the odo, I thought about it and figured out I had plenty to make it to Cannon city anyway.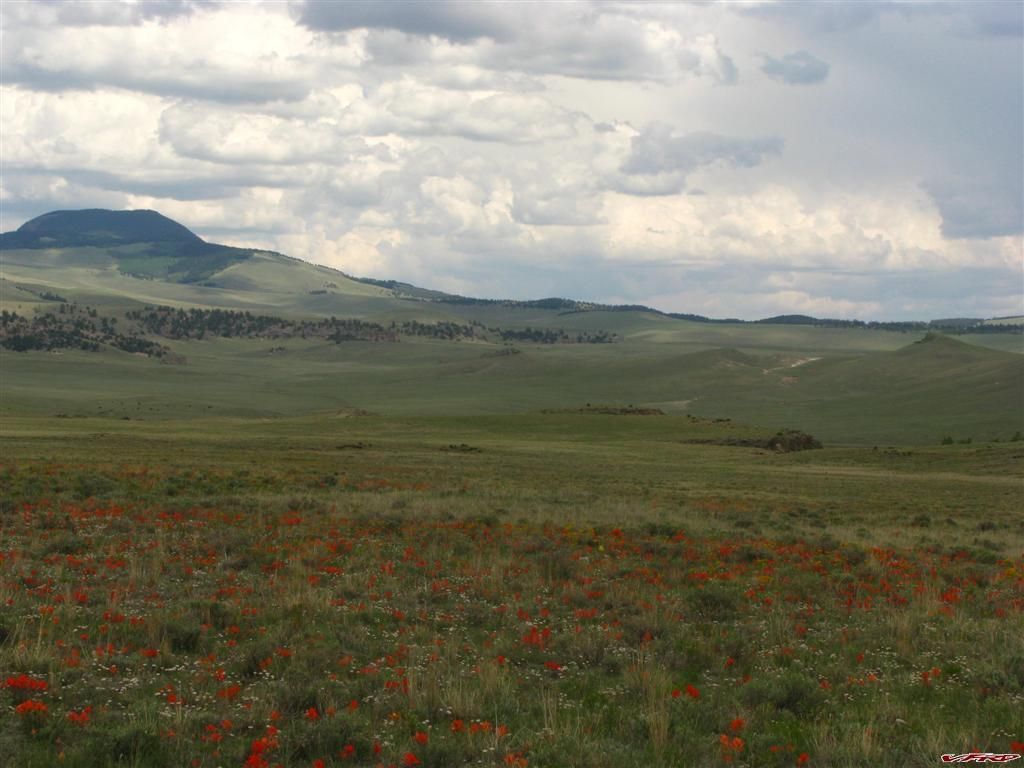 Badger Creek off the Ute Trail wildflowers grown on the high plains Agate Mountain to the left
It started to rain on me at the end of ute trail and I had though of tracing my path back to Cripple creek but the rain looked worse there so I headed down the mountain to Cannon City and boy it was hot there, 95 degrees out hot, I was melting in my stich so I found the nearest Baskin Robbins and had an ice cream in the air condtioning. Then the rain rolled into that place and cooled it off too. Wow the last part home was pavement and uneventful but I could barely sit up cause my butt hurt so much, 500 miles on a dirt bike can be painful
Day one
Day two
">Full Size
Day three
I am also attaching my gps tracks and a google earth path file so you can view it in 3d if you like.
d