http://www.vfrdiscussion.com/forum/videos/491/pigchasingpirates.mp4

I was itching for another out of state ride, the NY ride was going on around the same time up in the Catskills but boy I just could not swing that much time off it takes 4 days just to get there reasonably and no way I am gonna ride interstate the whole way out there! I decided I wanted to ride the Ozarks again. So I contacted a bunch of vfrd people who live relatively close to the Ozarks and a few who live close to me and low and behold found out that a bunch of Texans lead by Dutchintercepter where already going. Turns out they were all from around the Tyler Texas area and have known each other for years. I have known and ridden with Dutch for a few years myself so I asked if I could tag along. "Sure" he said and soon I was on my way to Arkansas.

It was a bit of a gamble since I would work the night before leaving, I asked my boss if I could leave at 4am so I could get in a nap and he agreed it was OK, so I would be somewhat awake. I found out from an email list that one of my favorite musicians was playing in Lawrence KS so I bought tickets and headed for Lawrence Thursday morning, I skipped my nap and headed strait for KS in the pre dawn moonlight. I was excited I would get the chance to see Pat Metheny play again - I have seen him once before in Denver 15 years ago and was delighted. I was going to head into Oklahoma and pick up gswanson and then head to the Ozarks but the Pat Mentheny gig was too tempting. Lawrence KS is the home of KU the Jayhawks and its not too far from Topeka KS where Lee2002 lives and he asked me more then once to come and stay with him. I thought a good deal about it but did not think it was fair to show up at 3 in the afternoon and then go strait to bed for 3 hours! So I headed to a motel in Lawrence and did exactly that. The trip out to Lawrence was rather windy and well crazy. I was blowing gusts of 50 mph in Colorado as the sun came up, and cold about 40 degrees on the plains near Kit Carson Colorado I was freaking cold I ended up stopping to put on a layer of clothes under my transit suit and thicker gloves.

Colorado was the worst part since the road was 2 lanes and bumpy, bumpy and windy is a sucky combination and will it plays havoc with your gas mileage! 130 miles and my tank gage was flashing already! Good thing there was a solitary gas pump in Kit Carson, I filled it up and was rather amazed at the amount of traffic there was at 4 and 5 am in the morning on the way of of Colorado springs, lines of cars rolling into the Shriver air base and into Colorado Springs it was crazy, folks live out in the sticks and a whole bunch of them, commuting every day from out there must be a real chore!

I made my way strait east to Oakley KS for another fill up since well the wind was still blowing 30mph but more steady and not so gusty and the smooth interstate made for a much nicer ride to be honest, the wind wasn't so bad anymore and I could cruise and listen to music for the rest of the day. Only my ear buds stopped working! Jeez, I pulled them out and stuck in foam ear plugs and boy everything got quiet and serene - even the 30 mph wind was quiet and I just cruised down the interstate with 50 miles more per tank then I got in Colorado! All damn day long the wind was relentless! I stopped again in Hays for a burger at a steak burger place called Freddie's good stuff! I like that place, not so much Hays but the burger made for a nice meal. Then I put my head down and settled in for the rest of the ride, the further east I went the less windy it got, so much so that each town would get a little less brown and a little more green, more trees popped up and the moisture in air became noticeable, still windy mind you it did not go away but it wasn't killing me anymore!

I could see signs up for places like Abilene KS - good place to live and have a career? What? OK good for you Abilene, I suppose it goes along with the Abortion is a sin signs on hwy 50 - Kansas is a conflicted state, strait up bible thumping fire and brimstone side by side with heartland hospitality? I guess the further west and windier it gets the crazier it is! By the time I made Topeka I waved at Lee thinking "well hello sorry I will see you come next summer summit", I really wanted him to come along on the trip but hes only go so much time off and family matters pressed the weekend out. So I rolled into Lawrence on some back road to avoid the toll on I-70 and had to stop for a crazy accident , a car had gone off the road and over an embankment cops everywhere! I finally rolled into the hotel and got my key then laid down and set the alarm for 6pm and dosed off for a nap, up for 24 hours is not good! But I think I could have rode another 300 miles if there were some twisties to keep me awake!

I woke up and headed for the Theater and was surprised to see Lee standing on the corner waving at me to park his bike next to his! Wow I did and walked up to him in disbelief I was not expecting to see him there? He chastised me for not staying at his place and I explained myself and well it worked out - turns out Lawrence has a first rate brewpub its right next door to the Liberty Hall theater where Pat was playing so we stopped in and got a brew and talked for a bit, Lee just sort of had a little did not even have a drink really handed me his beer after I finished mine, he had to go to work at 11pm so he was just being nice. I was glad he stopped over, way way out of his way to come meet me. Lawrence is a nice place, and there was a very large group of folks at the show, it was amazing, I said goodbye to Lee and walked in sat down and 2 seconds later Pat came out and started playing a whole list of my favorites and a few new ones, just a duet and a scaled down version of his Orchestron, a one man band computerized synthesizer that he did some amazing music with. Just him his guitar and a bass player, and the Orchestron. He is a very gifted musician. He even played my favorite tune of his.

Great show and afterward I walked next door and sampled another beer from the Free State Brewery again, and listened to the local conversation about meth labs from a biker dude out on the patio, bantering back and forth with a lady about the state of the justice system and drug policy in the USA. In any case I had enough and went back and finished off the night with a big mac and fell asleep with the tv on back at the hotel.

Up early in the morning surprised to see the parking lot mostly empty - boy these Kansas people get up early in the morning! I took off south and looked for back roads into Missouri apparently another vfrd member from Kansas saw the veefalo as she headed out of Lawrence while he was on his way to work at KU, Huskysooner saw me leaving and pm'ed me asking if that was really me! YUP! I met him a few years ago at Lees Kansas meet in Topeka.

I stopped in Baldwin City KS for breakfast knowing I was gonna be alright speeding when I left cause just about every cop in the county was having coffee in the restaurant in the next room over from mine, I had some eggs and listened to the locals joke - some guy comes in he says "hello darling" to the lady at the table next to mine and she says "well if you call me darling what do you call your wife"? He says back "old bag"! Then he says "maybe thats why I have been married four times"?

Like I said all the cops were still drinking coffee so I made my escape from Kansas in a big hurry doing some good time on the back roads trying for Harrissonville MO - but somehow I got ahead of myself and had already turned off just blindly following the gps route I made the night before and passed right through it without even knowing it! I was gonna look for a new set of ear buds since my singing to myself was getting tiresome! That area of Missouri is a bit flat, but allot of trees and the further east you go the more the roads get like roller coasters, not many turns just a lot of undulating up and down and some of it quite dramatic you can catch some air if you are going fast! And I was - and I did! Thrills come cheap on a motorcycle! I just kept on going and going and going then I turned on a familiar road I have been one 3 times before or so I thought I did? I ended up taking a frontage road and not the main road and had to double back, strange place called Tightwad MO! Lakes around there are nice, and further up the road I missed the turn, and ended up going through Warsaw a couple of times cause I missed the right turn on hwy 65. Then I turned off that road again onto hwy 7 another road I know from before - this one still is a roller coaster but it has some turns in it. Unfortunately the locals like to think they can race you when you get behind them and proceed to make their vehicles go faster then they are capable of safely driving! Dude in a beat up Chevy pickup tried to hold me off as long as he could and the oncoming traffic is the only reason I waited patiently behind him as he drover over the double yellow a number of times and then onto the dirt shoulder in the right turns, what an idiot. I saw a dotted line and clear lane and was past him so fast he had no idea - then he disappeared in the mirrors just as fast!

I stopped in Lebanon MO at the walmart and was back in business with tunes when I picked up some JVC mushroom buds, the fit just right and isolate the sound just as good as the foam earplugs I was using, best of all my rendition of "landslide" by Fleetwood Mac in my head was finally over - why do I torture myself with the same tune over and over again, who knew you can make that song last 3 hours if you sing it half assed half remembered lyrics and made up lyrics to fill in the parts I did not remember! Thank goodness for walmart!

Well I have had just about enough of the up and down roller coaster shit of Missouri and well almost 1 mile into Arkansas the road started to turn RIGHT AND THEN LEFT - oh yea I forgot what that was! TURNS THESE ARE TURNS and good ones too! I turned off at hwy 178 to follow along Bull Shoals Damn and ran smack into a nightmare of traffic? I don't know why all the businesses were closed and 80% of the buildings were shuttered? It was depressing but I did get to see the Bull Shoals Damn! I am sorry for the bad pics the camera was set to low resolution quite by accident.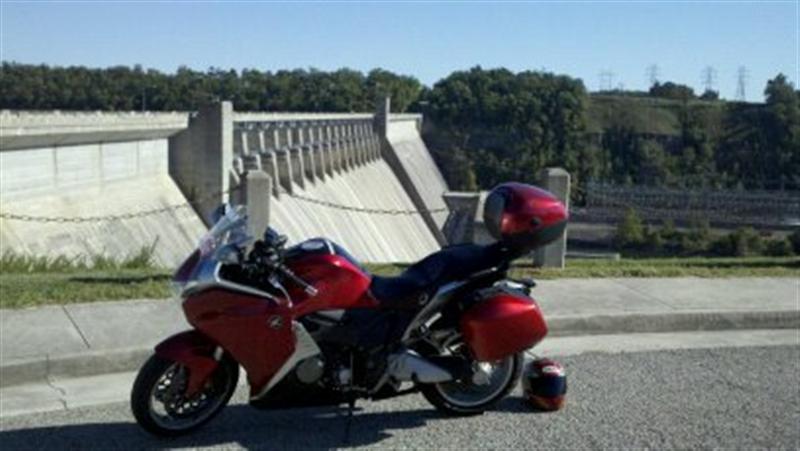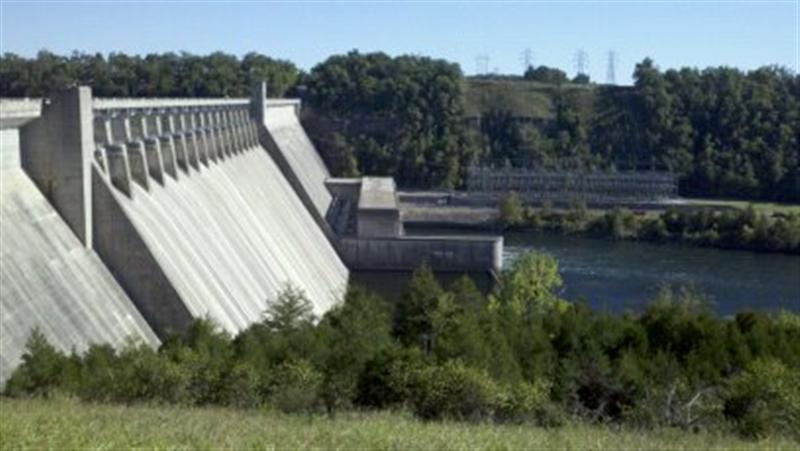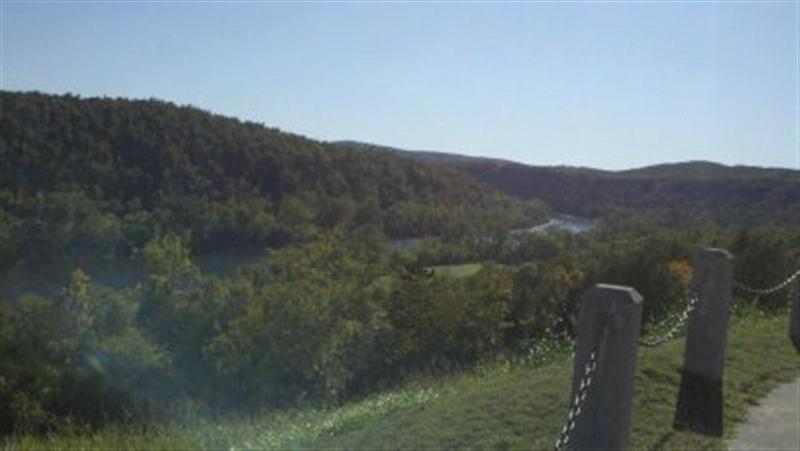 The road got interesting after I got past the lake, and the traffic thinned down, I got behind a caddy of all things that was keeping a very good pace in the turns, I got around him soon enough and he stayed with me a bit until the turns got tighter and tighter then I was gone, and there was Yellville up ahead - I pulled into the Carlton Motel and saw a bunch of bikes from Dutch's Tyler Texas group and talked with the guys, then about an hour later Gswanson pulled in with 2lthr (Gary and Steve) and then Dutch himself pulled in on a KLR? I see he tells me hes parting out the black viffer cause he cant deal with all the electrical issues and wont sell it outright cause he does not want to pass that mess on to somebody else? Rumor has it hes gonna pick up Gswansons old Betty? Gary got a RWB vtec last year but still has his 5th gen in the garage. Its already black!

Then here comes flavadave and his girl on the back 2up, we walked over to the bbq joint down the road and had some grub. Dutch joined us, it was good, the food in Yellville is OK but not great, but the BBQ was the right price (CHEAP).

The next day the Texas crew took off onto destinations their own and I had prepared a route for the viffer group, down the fast sweepers on MO 14 and over to Push Mountain for an early morning romp - we actually ended up behind one of the Texas guys Dutch's buddy on his Bandit, he lead us up to Push mountain and said he was just going to run it a few times and go back. I was rocking it pretty good on the veefalo when all of a sudden a fast moving red blur went by and I could swear it was another vfr1200! sure enough it was but he did not stop. Everybody thought I had turned around and was coming back since I was leading and got ahead just 2 of use alone for a while me and Steve.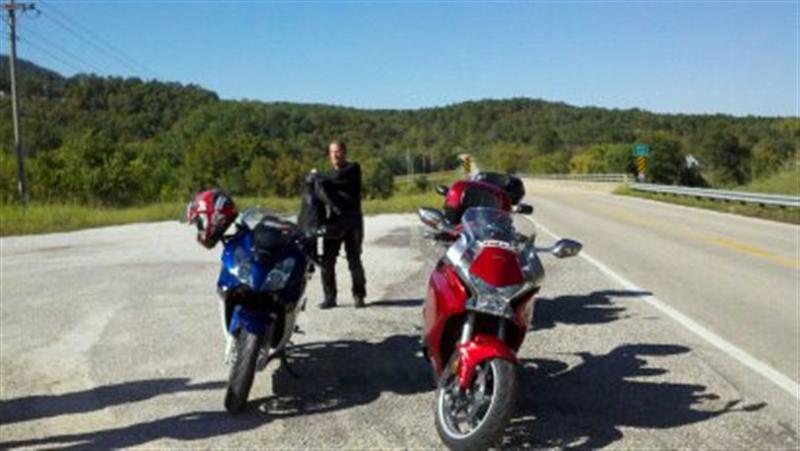 Then we headed over to North Fork and took in the sights at the North Fork Damn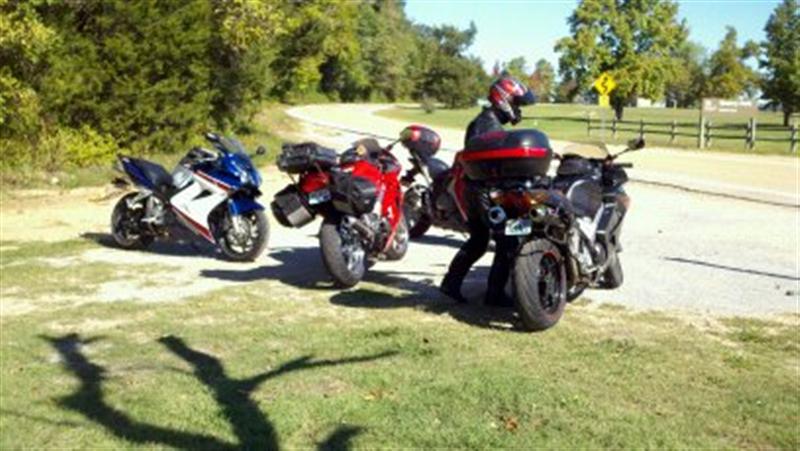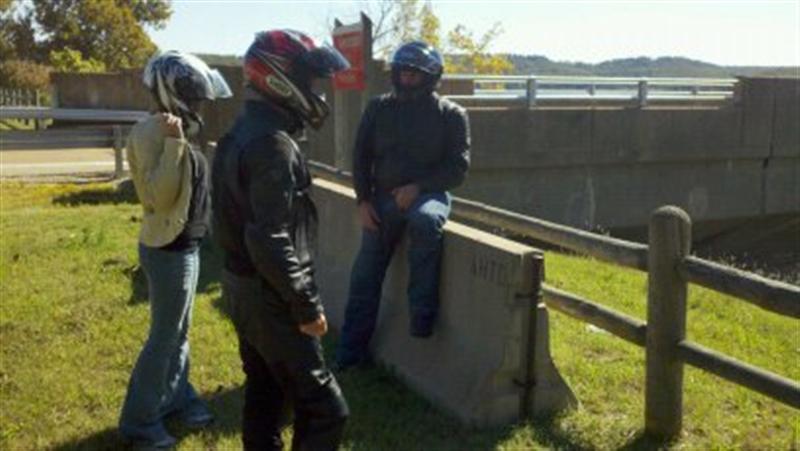 Then we settled in to some great roads all day long for 350 or so miles of Ozark bliss! I call it the Ozark lullaby since some of the roads just sweep back in forth like a waltz, and you just get a great rhythm going, then we came up on hwy 16 and then the fun started it was more challenging and technical, I did not remember it being so much fun I love that road, one of my favorites and I think I like it best of all of them personally, Pulled in for a stop at Pelsor and then we hit hwy 123 as seen in the video above, those pirates would not get out of the way! I had to pass the whole group on a long bowl between two hills with a mile long passing lane at full speed, full speed cause the lead pirate tried to speed up his HD to hold me off? I guess 110 hp and 170hp v4 is a big mismatch! He got small in the mirrors too! The only thing in them anymore after the next few turns was 3 vfrs behind me they all made it safe around the pirates!

Douche bags on Harley's think they own the road? Why not just let the faster bikes pass and be done with it? Jeez? Back to the motel and more food at the café down the road it wasn't bad - it was a buffet! Then beer and sleep! Most of the Texas crew was already back so it was an all night party and BS session! Good folks these Tyler riders, most of them are on two wheeled Texans a bigger site then vfrd and they all know each other!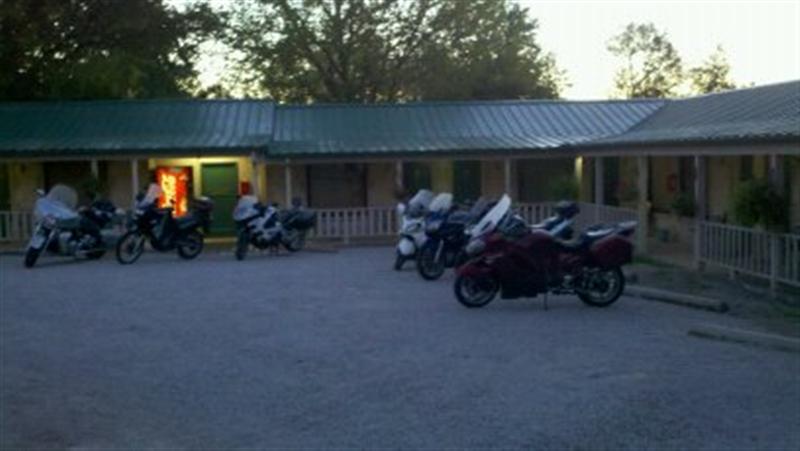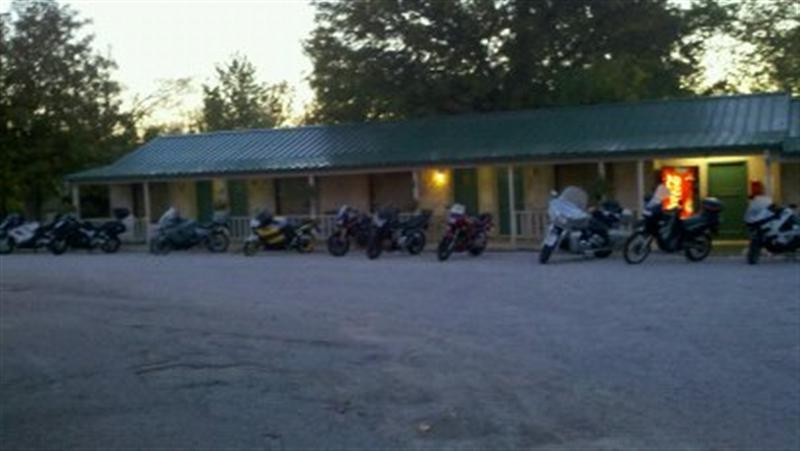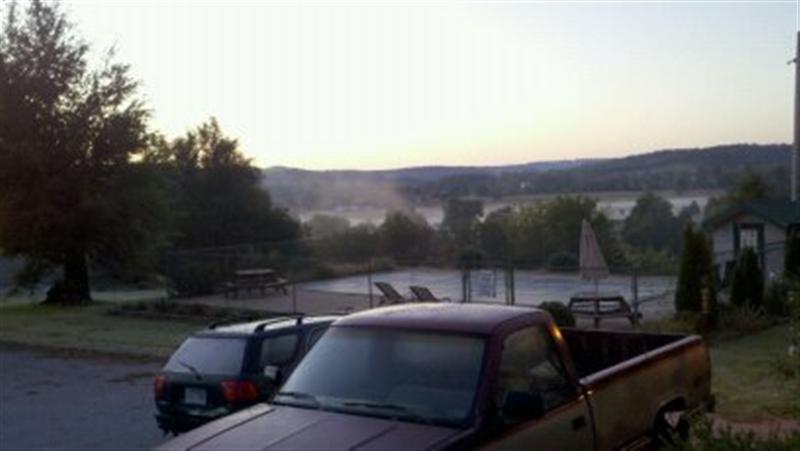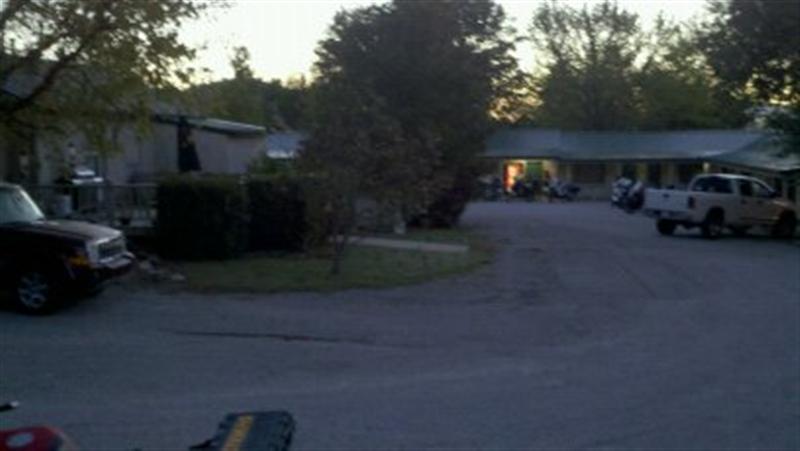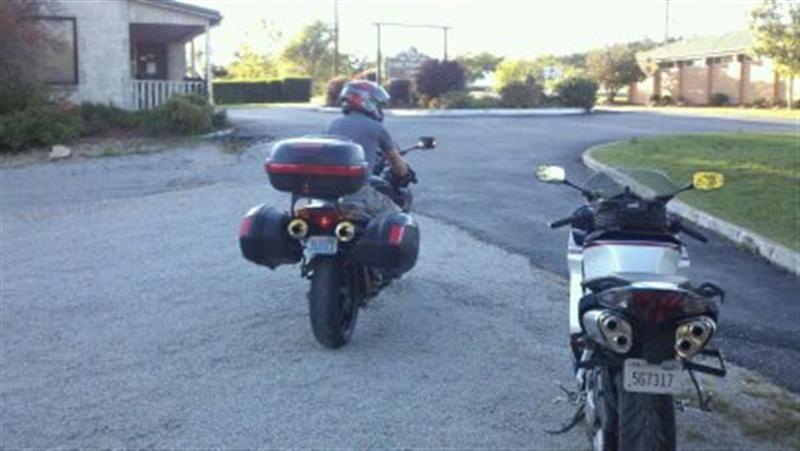 The next day I found out that the pirates were a small percentage of the Harley's in Arkansas that weekend - Blues Bikes and BBQ was in Fayetteville for the weekend rally some 10000 cruisers in the Western Ozarks - good thing they limit themselves to 200 miles or less cause we were far enough east to avoid them for the most part except that group on hwy 123, its a famous road and is featured on most sites and motorcycle maps as a destination, the 10mph hairpins on Mount Judea are the attraction. I personally like the sweepers better especially when there are no Pirates on them!

Too bad we had to go west past that bunch of vagabonds! I decided to head into Oklahoma with Gary and Steve the next morning and stay in OKC with Gary - hes always such a good host. We took 100 across, and I made a route full of back roads and side trips off the main drags and for the most part we missed the horde! But it added an hour or two to our ride some 500 miles back to OKC! I lead from Yellville into Oklahoma and then Gary took over from there, and took me past Tinkiller Lake and cool side track with hills and turns in Oklahoma I was not expecting, good to know! Then 200 miles of strait boring road into Edmond, then Steve cut out for home and Gary and I made our way to his house and I got a great home cooked meal of beef stroganoff - Garys wife Cathy is a great cook, and a dog lover, they have so many dogs I cant remember how many there are, she liked the tee shirt I was wearing of my local brewpub cause it has a picture of a Lab on front! Laughing Lab the beer is called and so I told her when I got home I would get her one and send it in the mail!

Gary had to work in the morning and always commutes on the bike when the weather allows so we were up before sunrise and I was off on the road myself back to Colorado, and sure enough the further west I got the more the wind started blowing soon it was like Kansas all over again! I headed across the Pan handle and that bumpy mess - budump..badump..budump..bang (a big pot hole) badump.. for about 2 hours strait! I was relieved to be back across the boarder and into Colorado but the very south eastern tip of it, meaning another 2 hours to go at least. I found a road that skirts along the Comanche National Grasslands into into the Northern tip of Pinion Canyon and enjoyed a western change of scenery after 6 hours of plains plains and more plains, but then I was back onto the plains when I came out of it.

I stopped in Rocky Ford for a cold drink and was sitting in the shade by the side of the gas station, on a milk crate when an old Hispanic man came up and walked past, then a few minutes later he came out of the store and stopped to talk to me.

He says "did you see that couple arguing at the gas pump"?
Me "No sir"?
He says " the woman was yelling at him.. its your baby I know it is yours"!
Then he says "the guy was yelling back.. its not mine.. no its not"!
Then he hits me again "the woman yelled and said I know for a fact its yours...the other 3 I am not so sure about"?

He completely blind sided me with a joke and so I must have laughed for an hour strait! Old fart sucked me in, and got me! What a way to end an out of state ride.... come back home to jokes!