Too bad I only made it down to Newport on Saturday, I would have loved to have been there all weekend.
You see, I had some family obligations that I had already made a year ago (before the date for the PNW meet was every decided on) so that?s way I missed most of the meet. I was up in Long Beach, WA with my parents for a Goldwing Road Riders Association campout; lot of fun actually. Anyway, I managed to skip out on Saturday and ride down for the VFR meet.
So, I left at about 4:30 AM from Long Beach heading straight down US-101. Never again will I ever ride down highway 101 that early in the morning. There was so much mist coming off the Pacific and, being that it was pitch black out, I could see a damn thing when it stuck to my visor. Plus, since it was only 42°F is some sections, my visor kept fogging up. Cracking it open didn?t help at all since all the mist would find it?s way onto the inside of the visor, so I ended riding a good portion of 101 with my visor open. <_<
So, I arrived at Georgie?s Grill in Newport at 7:45 AM, about 15 minutes later that I had hoped for and I was greeted by a parking lot full of bikes!
After breakfast, we all headed up US-101 to OR-229, the Siletz Highway, just south of Lincoln City. We blasted down that until we reached the town of Siletz. From there, we jumped onto OR-411 and proceeded east. About 18 miles down the road we all stopped because the road turned to gravel (just like Keith warned us). It was only about a mile of gravel to get though so no big deal. I was kind of cool to see a huge conga-line of sport-bikes winding down a gravel road.
The next spot that we regrouped at was in Nashville, right at the end of OR-411 where it runs into OR-180. Here's some pictures of us all stopped: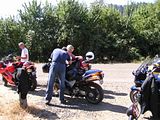 We then proceeded east on OR-180 until it ran into US-20, which by the way is the longest US highway in the nation, going from Newport, OR to Boston, MA (a nice piece of trivia I picked up from Keith). As a side note, if you interested in the history of US-20, here's a pretty good site that has some information: Link.
Anyway, we stopped at the junction of US-20 and OR-180 for a quick breather. From there we went east to OR-34 (right outside of Philomath) and then took that south to Deeker Road. At the end of Deeker Rd, we turned right onto Bellfountain Rd and then took an immediate left onto Greenberry Rd. About a mile up the road, we turned left into Tyee Wine Cellars to do some wine tasting. After sampling a pinot noir, a pinot blanc, and a chardonnay, we all had are own favorites. I personally liked the blanc the best and I thought the chardonnay was excellent too. After some of us had bought a bottle of our favorite wine, we left for lunch.
Following Deeker Road back out, we went back up OR-34 and then turned right down Grange Hall Rd for a fantastic lunch at Gathering Together Farm, a little organic food shop/restaurant. After lunch, we gassed up in Philomath and then headed down US-20 to hit OR-34. We hit some awesome twisties on OR-34 and they so much fun that some of us turned around to do them again. Here's a picture that Keith snapped of me:
And here's a couple of pictures I took of Keith on the same corner: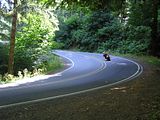 At think it was at this point, when some of us stopped to go back into the twisties and some of us waited for those of us in the twisties to finish up, that a group of us ended up headed off without the rest of us. Apparently this group went on ahead to where they thought the rest of us were going to meet them, but we never shown up. Opps.
Anyway, the group I was in finished up at the twisties and then proceeded to Waldport on US-101. It was on the way there that I almost ate it in a corner.
So, this is what happened: I had just changed my clutch and brake fluid on Wednesday and somehow I screwed up putting the clutch master cylinder cover on because it was leaking a little bit. I had been watching it all day and cleaning of the clutch fluid whenever it seeped out. Well, I was using my left glove to wipe some of the fluid away and when I looked back up to see that the road was gone. All I saw was a giant wall of rock and dirt, and three yellow signs with black arrows pointing right. I didn't even have time to think and I immediately dove right in my lane. I hugged the double-yellow all the way around the corner easing off the throttle trying to scrub some speed off. Wow! What a pump of adrenaline! I was so pissed off at myself for not paying attention to the road and for getting myself in a fatal situation that was 100% avoidable. Ok, lesson learned.
Once we hit Waldport we blasted up back up to Newport. Around 6:00 or so, we started showing up at the Rogue Brewery. There was a washing station set up and we all cleaned our bikes before putting them inside the brewery. I took pictures of everyone's bikes, but some of the pictures came out blurry <_< . But, here are the pictures that didn't:
Keithbob's bike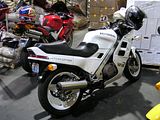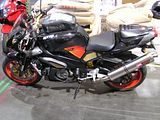 Keith's brother John's FJR
.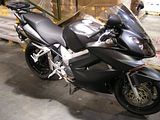 Some crappy 6th gen :D
Sunline's 5th gen with Givi Bags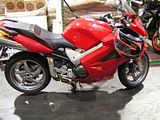 Flailer's 6th gen.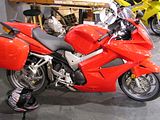 Superfunkomatic's bike.
Silver788's blue 5th gen.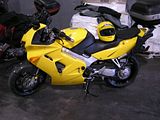 Avid One's yellow 5th gen.
Richmerrill's RC51.
I must apologize, but I don't know who owns every bike here. So if you see your bike and I don't have your name underneath it, shoot me a PM and I'll add your name under your bike's picture.
I also went on the Rogue Brewery tour as well. It was pretty interesting actually. Here are a few pictures I snapped of it:
Beer everywhere!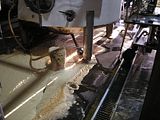 Ahh, the miracle of beer!
Claudia looking at all the beer.
More beer!
Can't wait until next year's PNW meet in Vancouver, WA. Magellen will be the offical host of it, but I'll probably help him out as much as I can (since I only live across the river from him).
~Tim