Woo Hoo!!! I just noticed that I've reached 1000 posts today!!! Yeah for me. Now I have six of those blue boxes after under my name!
Here's the story about how I got my VFR.
My friend, Fred, was up visiting from San Francisco for the weekend. He had just bought himself a brand new 2003 SV1000S that a dealer had leftover. This really got me thinking about what my next bike was going to be. At that point in time, I was riding a 2001 Honda VLX600 Shadow, which I bought new in October 2001. The Shadow was my first bike and it was awesome. I'd managed to only put 7000 miles on it in the three and half years that I had owned it. It was great beginners bike, but I had out-grown it.
http://i6.photobucket.com/albums/y215/dennytim/Shadow/Shadow1.jpg[/img]
http://i6.photobucket.com/albums/y215/dennytim/Shadow/Shadow2.jpg[/img]
http://i6.photobucket.com/albums/y215/dennytim/Shadow/Shadow3.jpg[/img]
I eventually sold the Shadow to a nice lady a few months later. She and her husband ran a floral shop out southeast of the city and they had been looking for a bike that she could ride. She was pretty short, so the Shadow fit here perfectly.
Anyway, back to the story. So, Fred and I were out at Beaverton-Tigard Honda look around at bikes. I was interested in sport-touring bikes, like a BMW R1150 or a Honda ST1100. Cruising around the showroom floor, I was looking at bikes nonchalantly when I saw it: a 2003 silver VFR with hard bags. I immediately feel in love with the bike. It looked so good, and it come with hard bags. Perfect! After a quick test ride on it, I knew this was the bike for me.
I tried negotiating with the dealership, but they wouldn't drop their price. Despite have a hideous dent in the tank, some rash on the tail section, and about 2500 miles on the odometer, the dealership wanted $10500. Why?! Because it was a new bike. WTF?! Apparently, because nobody had every officially owned it, they consider it brand new motorcycle. I'm sorry, but a used bike is a used bike, doesn't matter if it's ever been "officially" own by someone. Plus, there was no way in hell I was going to buy a bike that had obviously been down at full MSRP.
Later that night, I was searching on Craigslist and ran across this pristine 2002 Red VFR in Lake Oswego. Here are the pictures that were in the ad: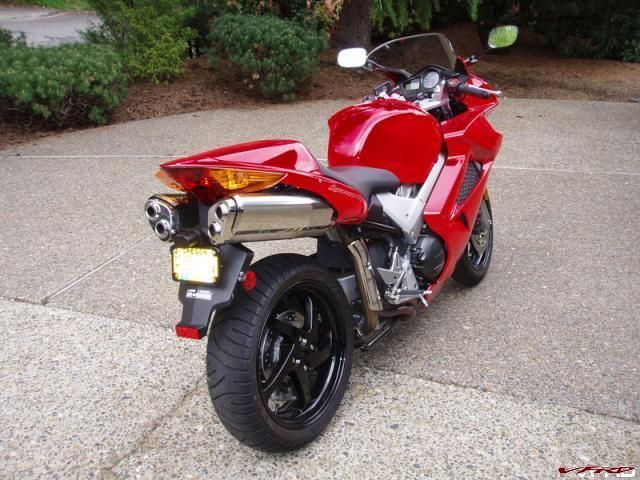 Bike1.jpg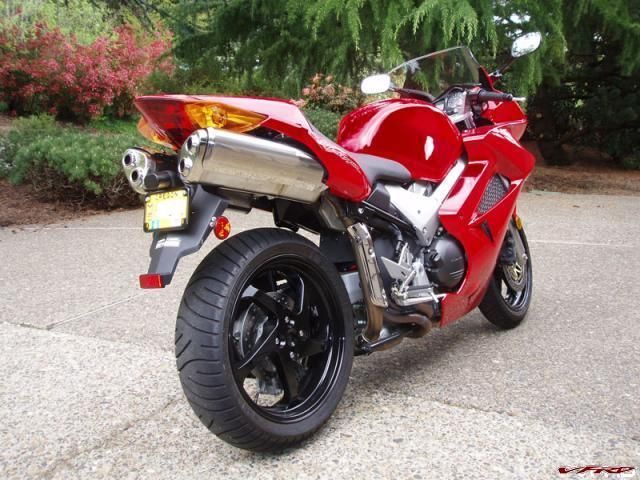 Bike2.jpg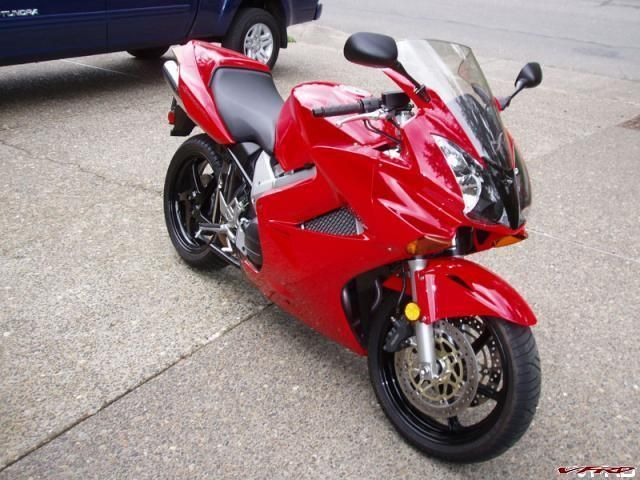 Bike3.jpg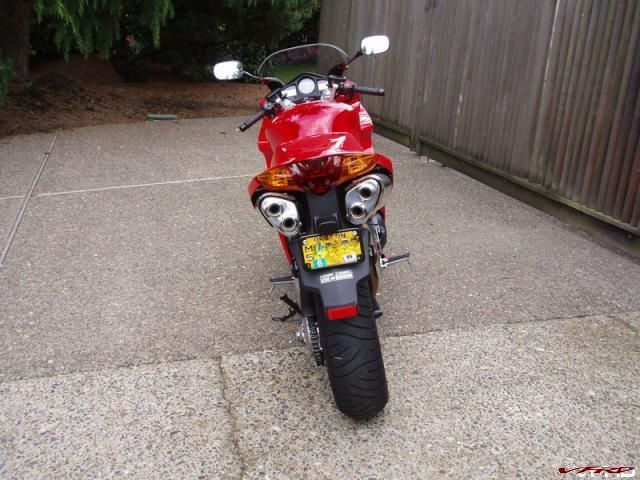 Bike4.jpg
Bike5.jpg
Absolutely beautiful. :wub:
So, the very next day, May 1st, turned out to a be a grand day. Fred and I went out to Lake Oswego to meet Mike, the owner of the red VFR bike. It only had 533 miles on the odometer and it had already been in for it's 600-mile service. His asking price, $7900 firm. Hmm, a bit more than I wanted to pay for a "used" bike, but it was a pretty good deal, especially since the bike was basically brand new. I knew Mike would have no trouble getting his asking price for the bike, so I couldn't play the waiting game because somebody else would come along and snatch it up immediately. So, I took the plunge. A couple of weeks later, on May 12th, 2005, I arrived with a check in one hand and a helmet in my other. The bike was mine! And then a few days after that, I official joined VFRD on Monday the 16th.
So, I've been a member of VFRD for 438 days and I've got 1000 posts! That's over 2 posts a day, perhaps I should cut back a little. :D
All in all, I've very happy with my choice. The VFR has been great. And, staying within the theme of this blog, I figure I should post a picture I took on a very "grand" day. :thumbsup: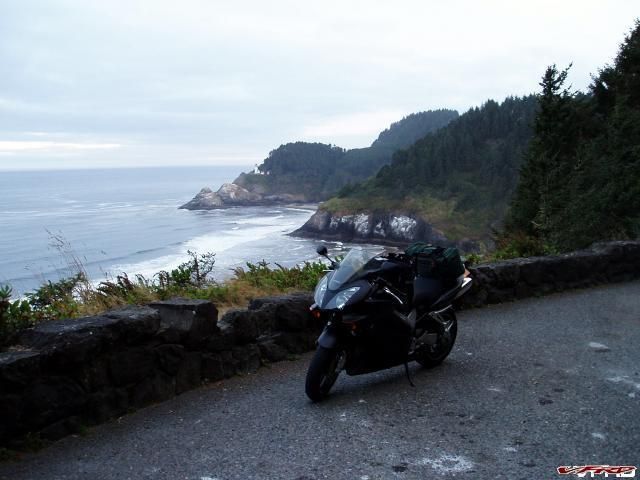 Oregon coast, during my Saddlesore 1000