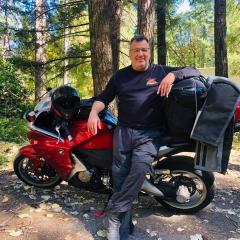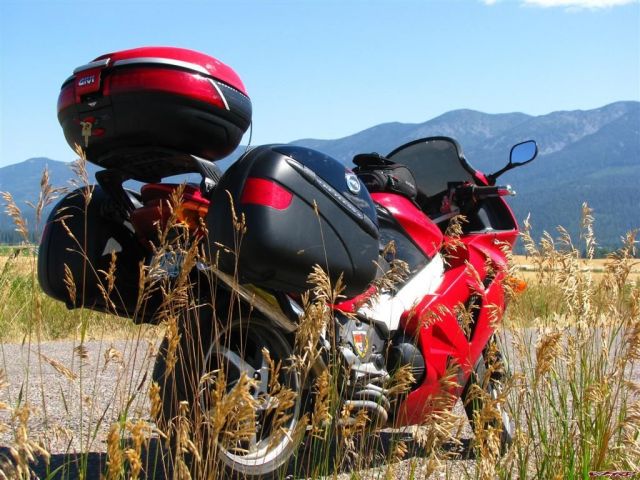 August 14-21 marks an epic vfr trip, some 4000 miles from Colorado to Nelson BC and back again. Craig and I started out around noon on Sunday and headed for Grand Junction to get a head start on the trip, after taking a 4 hour nap after working all night. we took hwy 24 all the way to Leadville and it was Rather uneventful except that there were so many rv's on the road we thought wtf its not even close to Labor day yet what is going on, then Craig figured it out. It was the last weekend of the summer break before school started again. Every year schools seems to start earlier and earlier.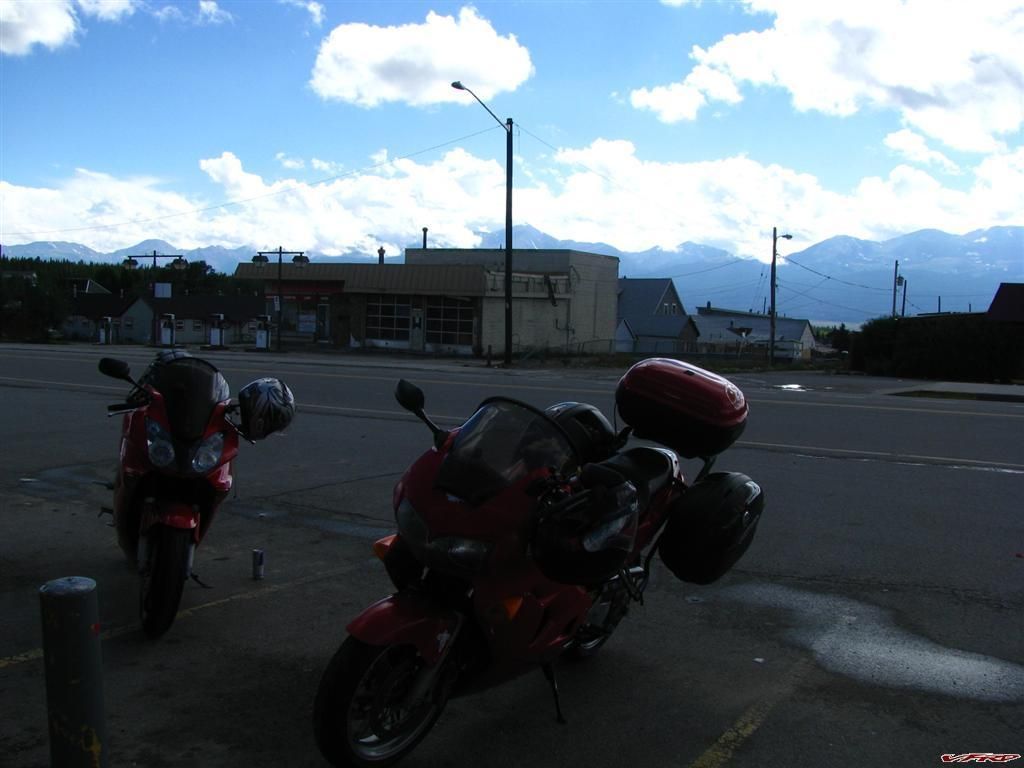 Leadville Colorado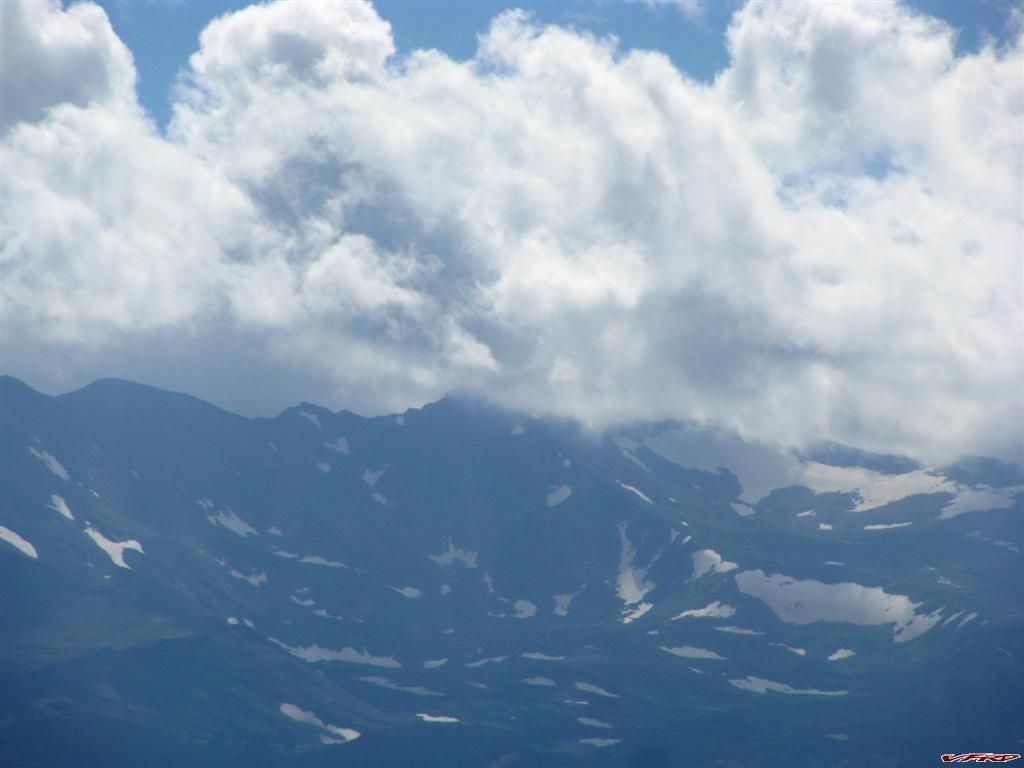 Snow on Mt Massive
When we stopped in Grand Junction we had to pass through Rifle Colorado where there is this massive Mesa top that towers over the area, a storm was brewing over it and the wind was spilling off the mesa down into the valley at 50mph! There were some places where I was almost blown off the road, Craig and I got separated and I had pulled off under an over pass to get out of the wind while he went over it. Oh well we got past the Mesa and the wind died down significantly after that, it was crazy. Not many twisties except a short section over Battle Mountain pass in Minturn from Leadville. There was some guy on an R6 with full leathers hanging off but not leaning over, Craig said the dude drifted over into his lane in the hairpin and gave him a yelp. He looked ridiculous hanging off like that and not keeping the bike steady in the turn, looking too short no doubt and chopping the throttle mid turn. We stopped in Minturn at some bar and had some tacos since thats all they had, nothing but weak Mexican food.
The Next Day we got up early and headed up Douglas Pass, a bumpy frost heaved road with gravel in all the corners and Cows chewing on the weeds right on the side of the road. It was pretty up there but the riding was a pensive. I was on edge no doubt, going the speed limit cause of all the hazards.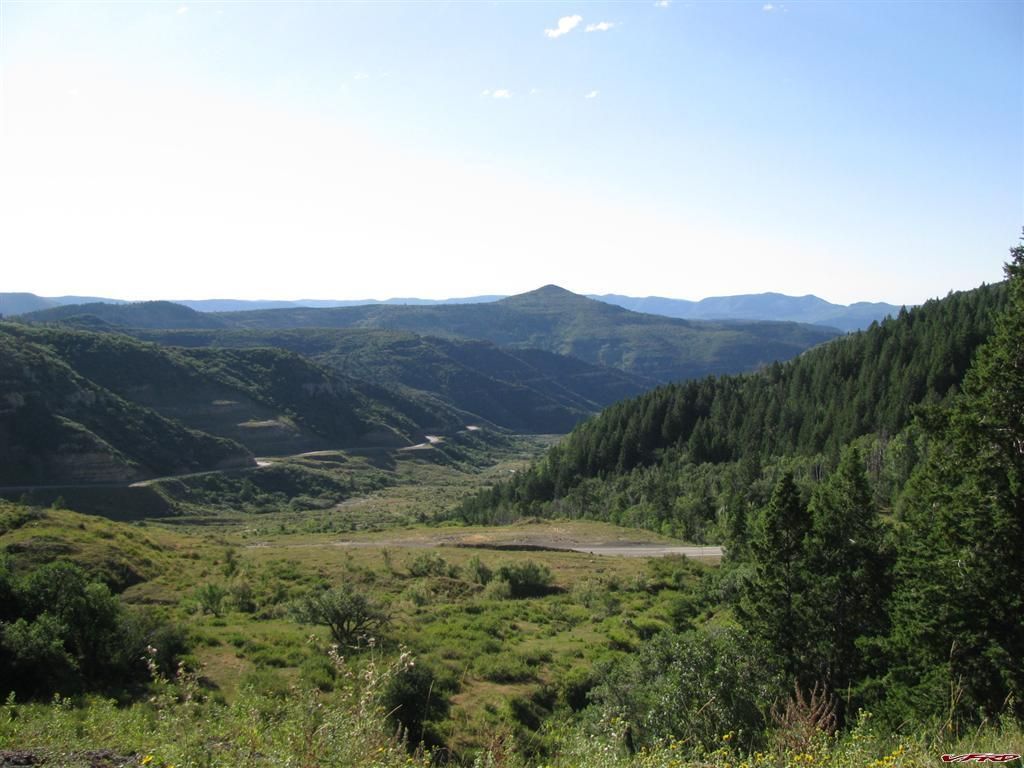 Douglas Pass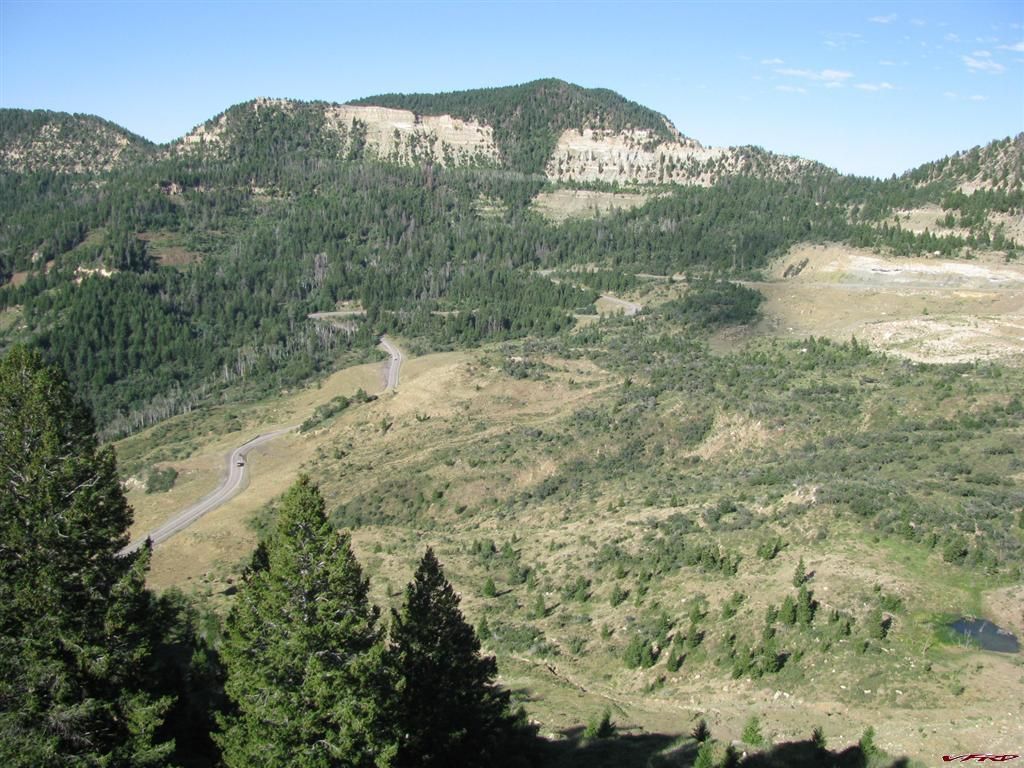 Douglas Pass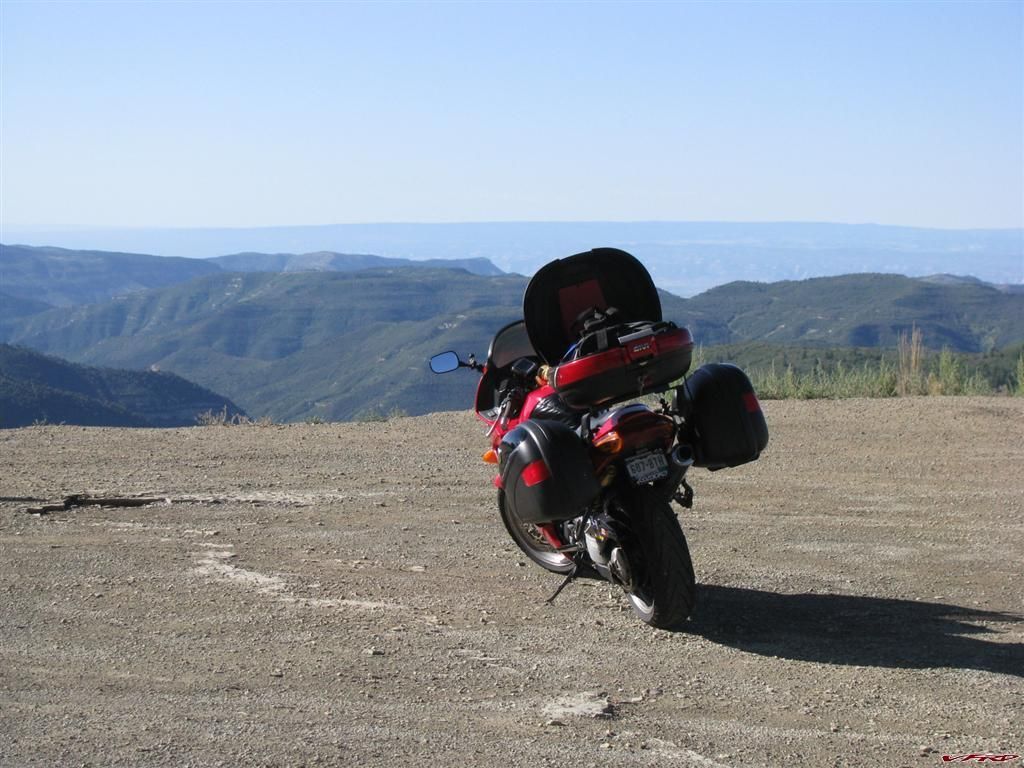 Douglas Pass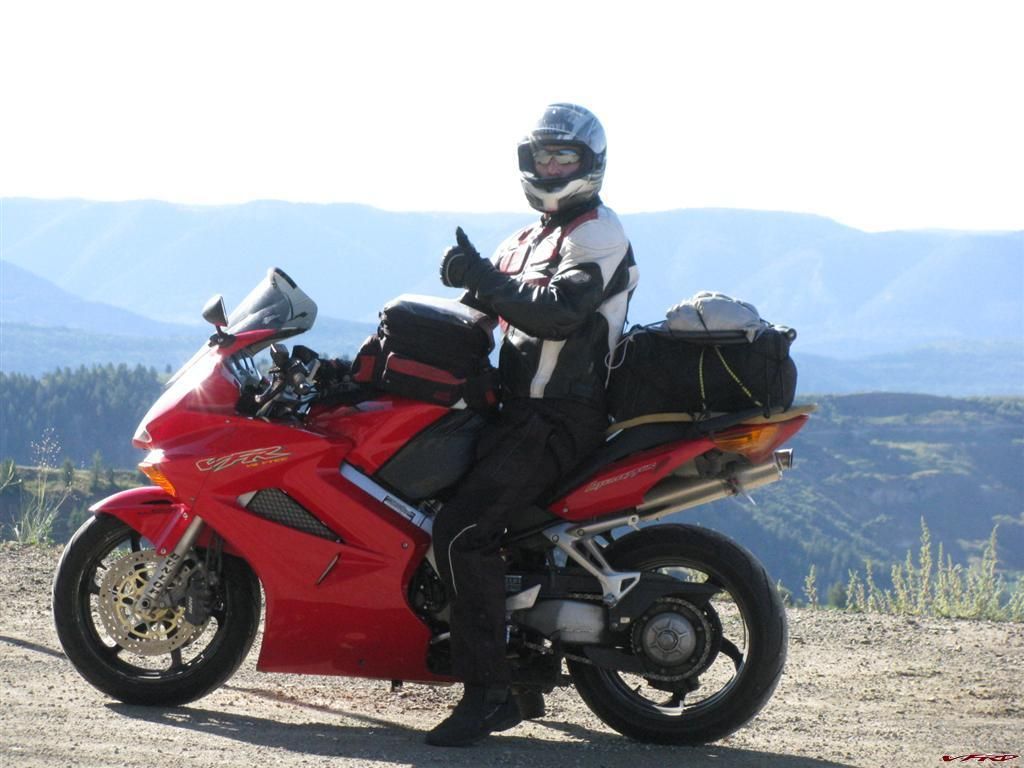 Craig on his VTEC
It wasn't long before we where in Vernal UT at Betty's diner, seemed it was the only restaurant open downtown, so we stopped for lunch. the joint was packed and I had a Betty's Burger but after looking around it seemed the Locals where still eating breakfast. Breakfast? Shoot we had already ridden half a day already Breakfast?? From Vernal we shot strait up to the Flaming Gorge.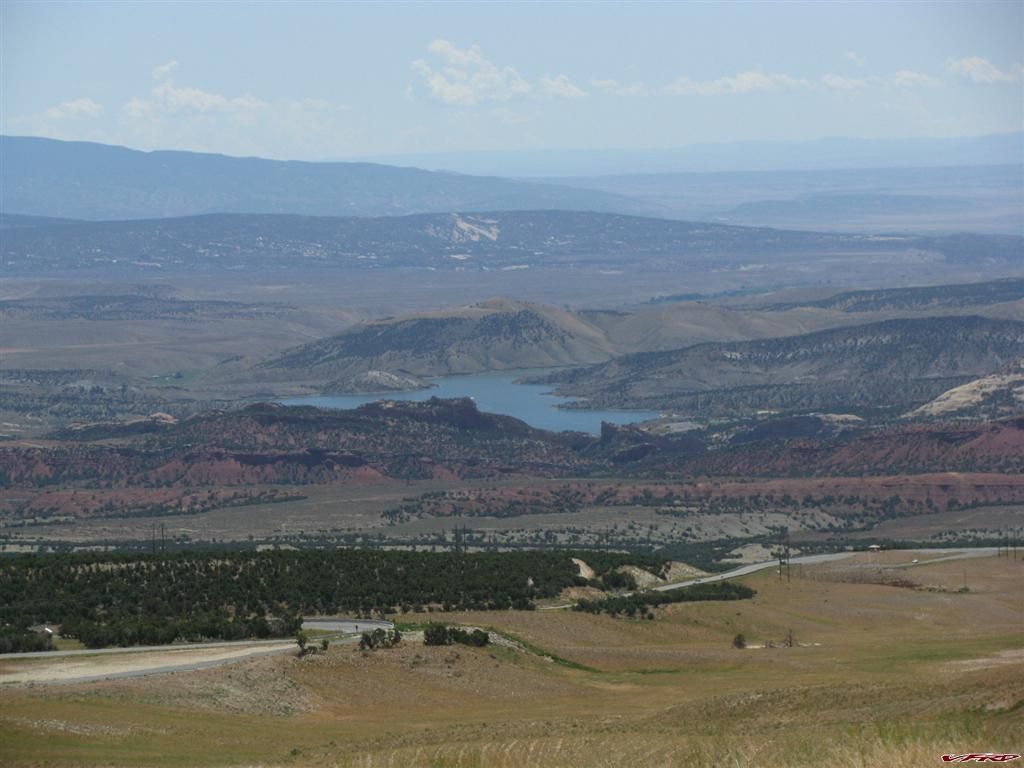 Stieneker State Park UT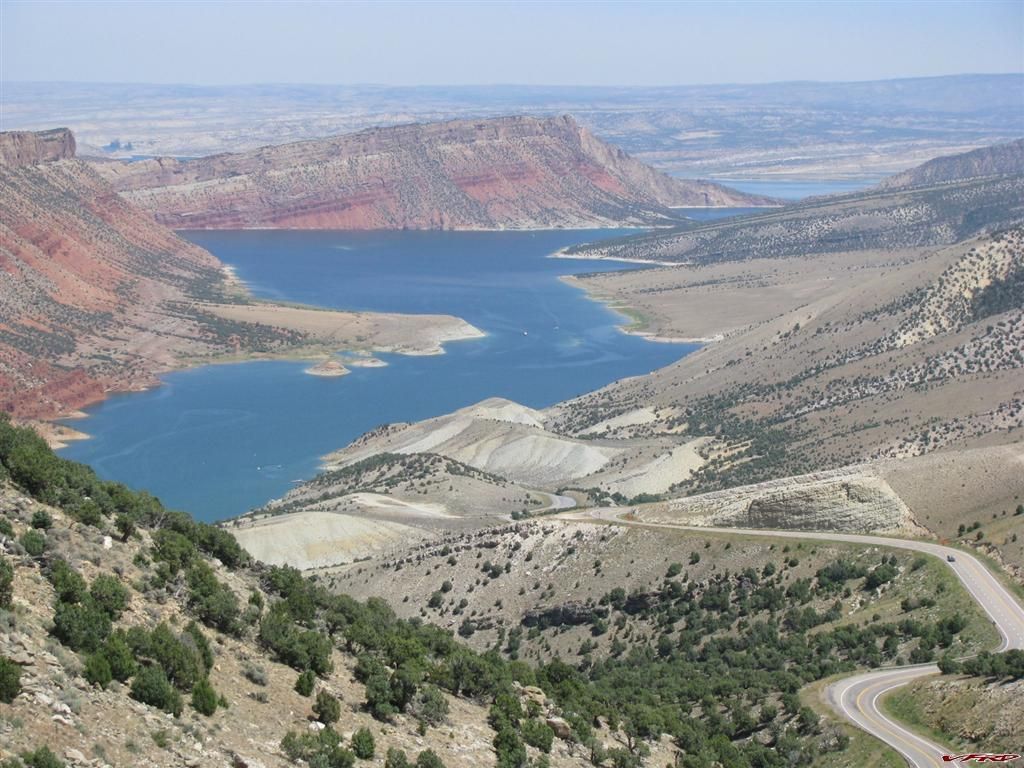 Flaming Gorge UT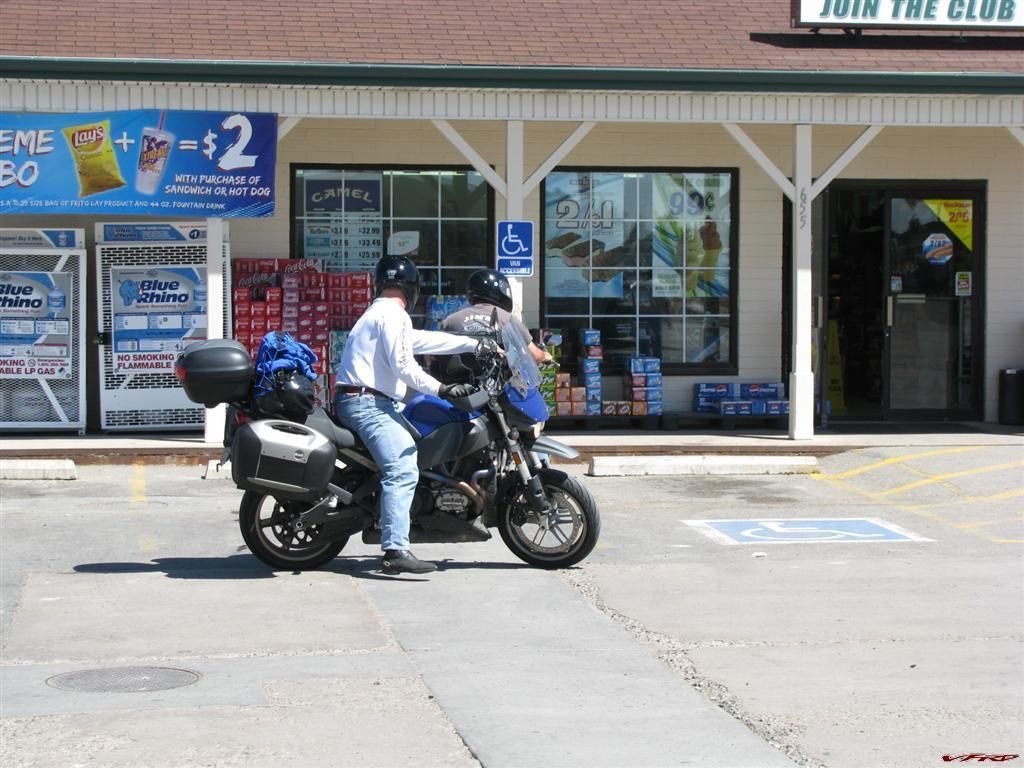 Met a couple of guys on the road
These two guys we met at Mountain Home Wyoming - coming from the big Harley Fest in Sturgis, we where admiring the Ulysis in touring trim. Onto Utah again cutting into the sw corner of Wyoming cuts off some time on I-80. We turned off at Evanston to ride the Wasatch Cache area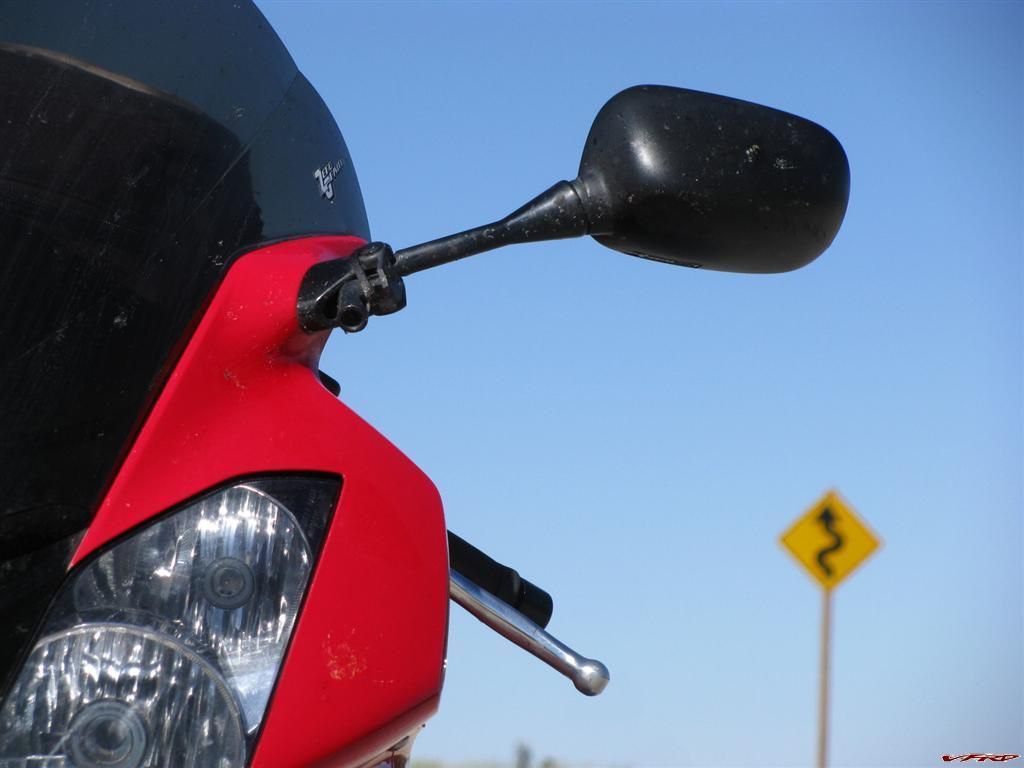 Twisty Sign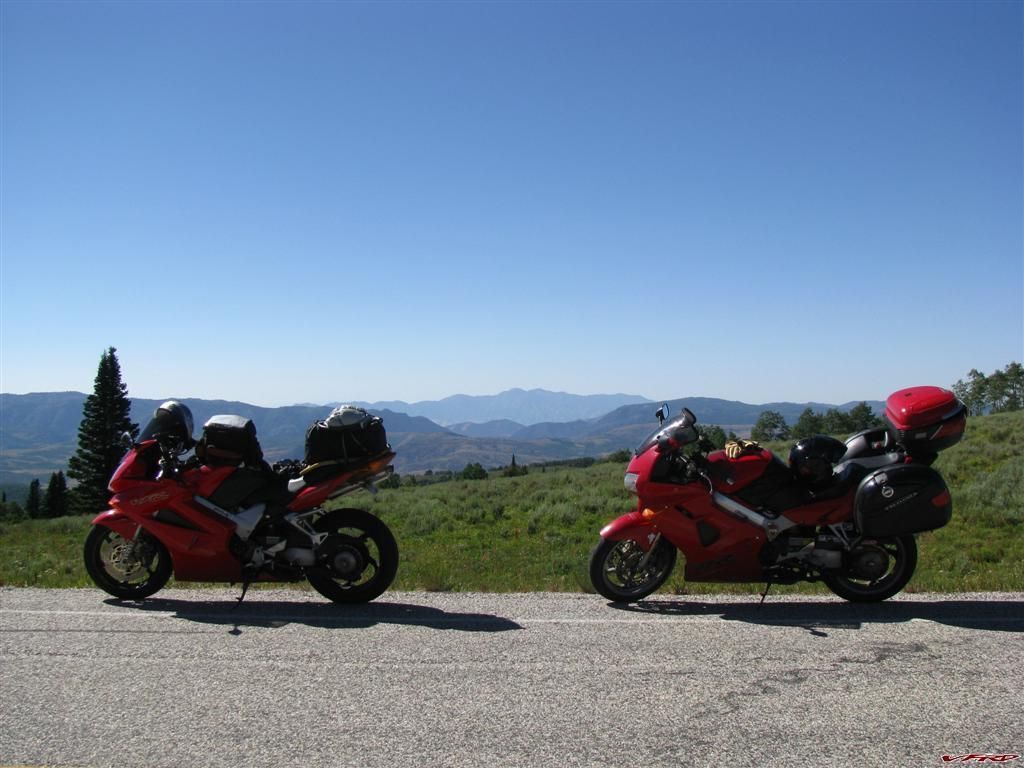 Wasatch Cache National Forest UT hwy 39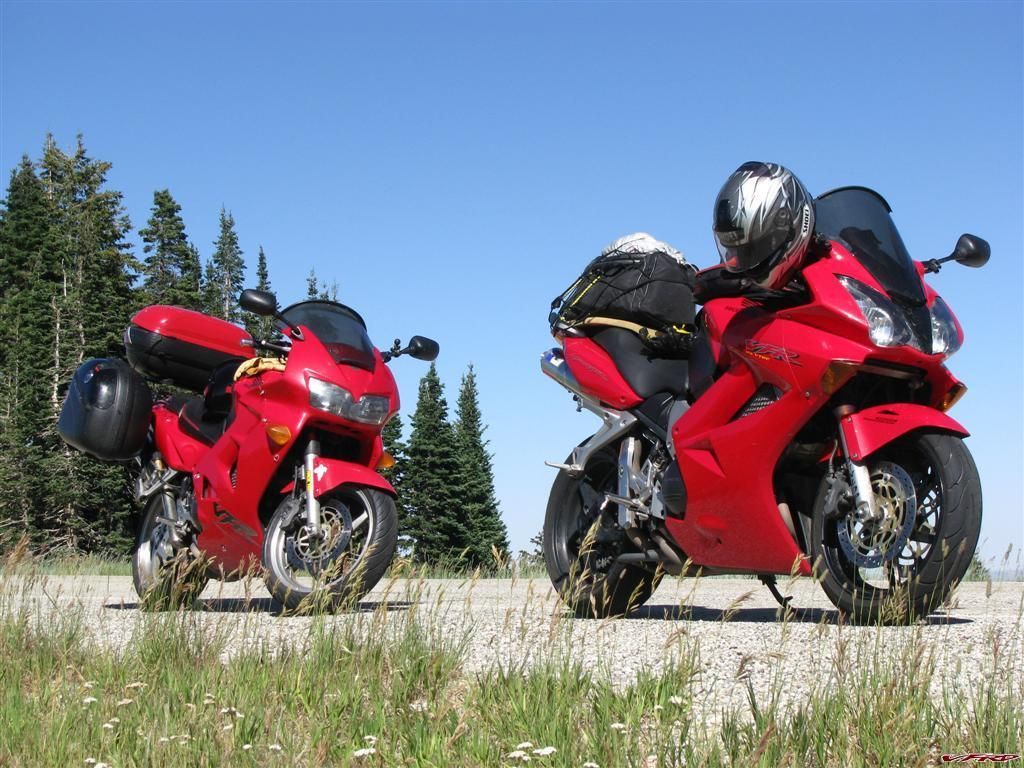 vfrs in Utah
Craig and I overnighted at the Motel 6 in Ogden, it was the nicest Motel 6 I had ever seen, more like a mid priced hotel than a sixer! We loved the mountains there, but of course they are opposite of us and on the east side unlike Colorado. Ogden has an airstrip where the National Guard flys f-16's wow they where impressive but I am sure the residents get a bit tired of f-16's flying over their homes on full afterburner! We rode a mile north of the hotel for a nice steak at some local steakhouse. The waitress seemed like she was bothered a bit, slamming plates down cause well she just had to be there. Craig was joking "there goes 1%, and another, and another" heh we liked the food anyway!
Tuesday we where slabbing it to Boise where my Uncle lives, for a visit, Craig has a couple of friends in Boise he used to work with so we got on the interstate and headed North to Idaho. It wasn't long before I had enough of that crap - too slow for the fast lane, too fast for the slow lane and I was going EXACTLY the speed limit! That gets old fast, you just cant cruise at all! So I turned off on hwy 83 and we went off into the marsh land north of the Great Salt Lake. There was a huge rocket factory there that took up nearly 20 miles called ATK formerly Morton Thyocol Infamous for the Columbia disaster. They obviously did the same work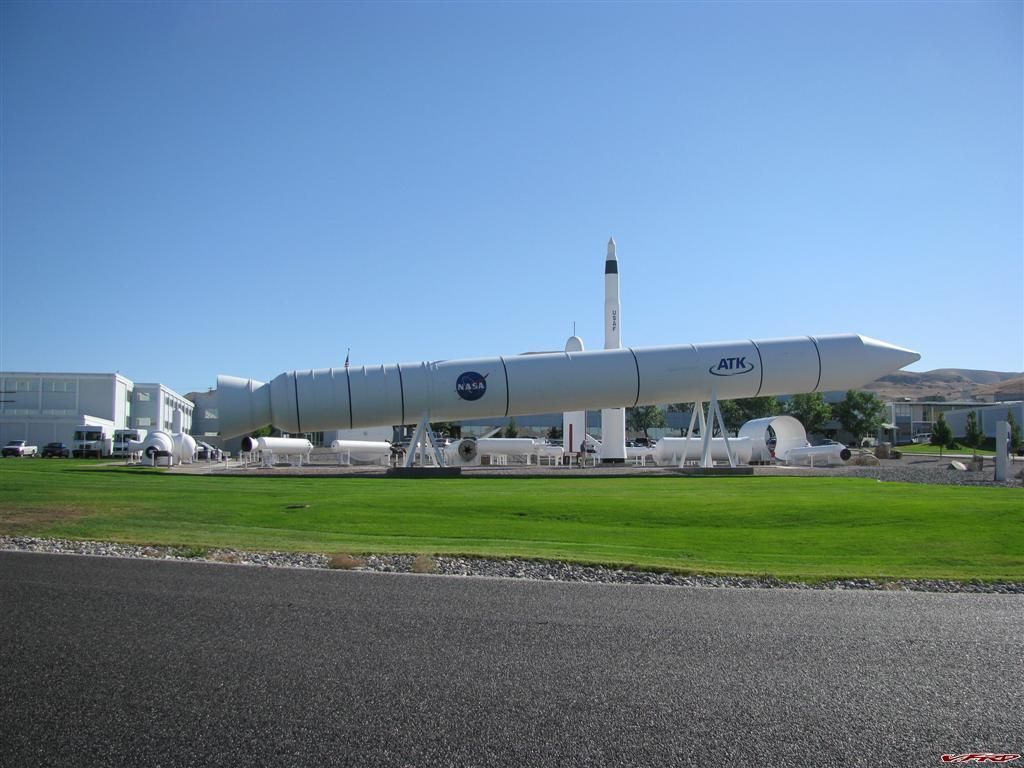 ATK Rocket North of Ogden
Then we were back onto the interstate for a little longer and I turned off again and headed up hwy 81 for some lonely desert miles, no semis no more, no nothing till we got to Conner and turned off. Mindful of our gas tanks we where wondering if we hadn't made a mistake turning off. But my zumo said there was gas within 20 miles, turning off on another county road 77 at Malta Idaho we headed up an interesting pass and the road got interesting. Rolling into a nice little town we gassed up and looked for a place to eat in Albion Idaho. Boy did we find it!!!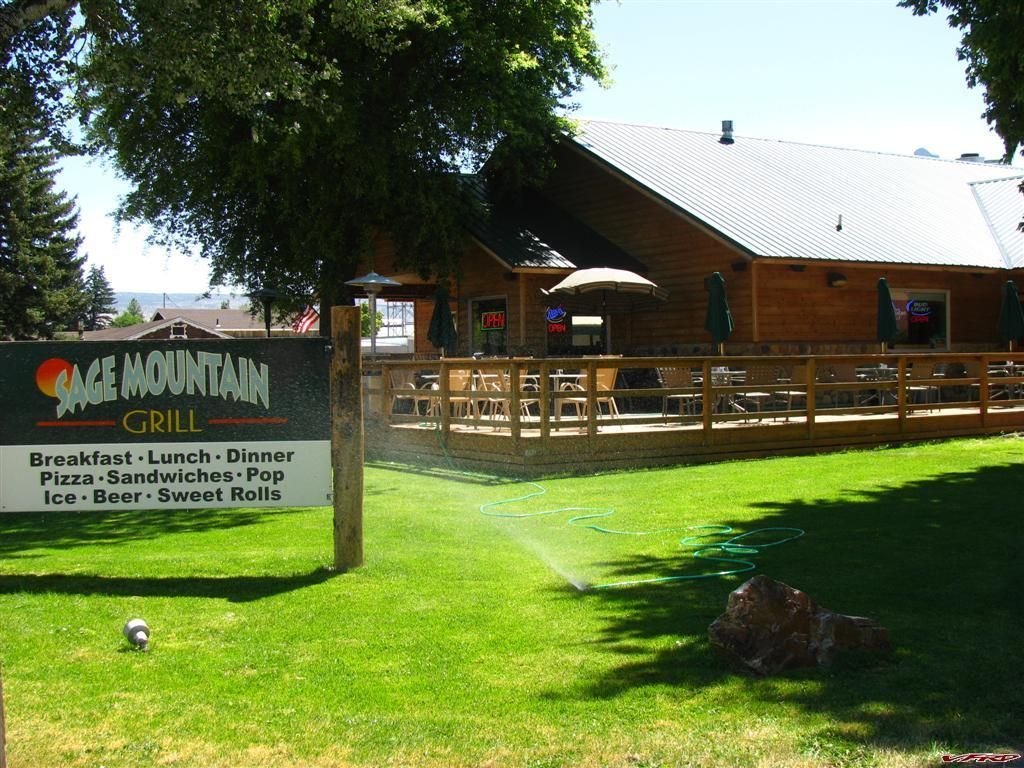 Sage Mountain Grill Albion Idaho - incredible great food
The special was Chicken Cordon Blue and a Prime Rib Sandwich. Expecting sliced prime rib I went ahead an ordered that it turned out to be a prime rib steak with garlic cloves on a slice of bread for $7!! wow it was better than the steak in Ogden! and the Waitress was this very nice lady who was 6 months pregnant. I have yet to meet an Idahoan who wasn't nice! we loved it, and she mentioned desert and that was great too, and Apple tart for me and some ice cream on top. I was almost too stuffed to ride. Albion Idaho some times it pays to get off the Interstate!! We wanted to make some time so back on the interstate again, following some guy from Washington pulling a rock crawler 4x4 and a camper. We met him and his wife at a rest stop - he was coming back from Moab (it sucked he said) well ya, its summer man Moab must be 200 degrees hot in August! Never again he said but I suppose he missed all the great stuff cause Moab has some great stuff if you know where to go. It sucked, that sucked, this sucks, heh OK buddy have a good one!
My Uncle let us do some laundry and fed us a home made potato taco salad he put together - it was good, and we watched the Olympics and talked all night, drinking of course and having a good time. We had a good night and I saw them off at 5am to go to work. Never been to Boise before we where soon riding the Payette River on the way to Lolo Pass the next day. We found some good twisties before that off hwy 55 going north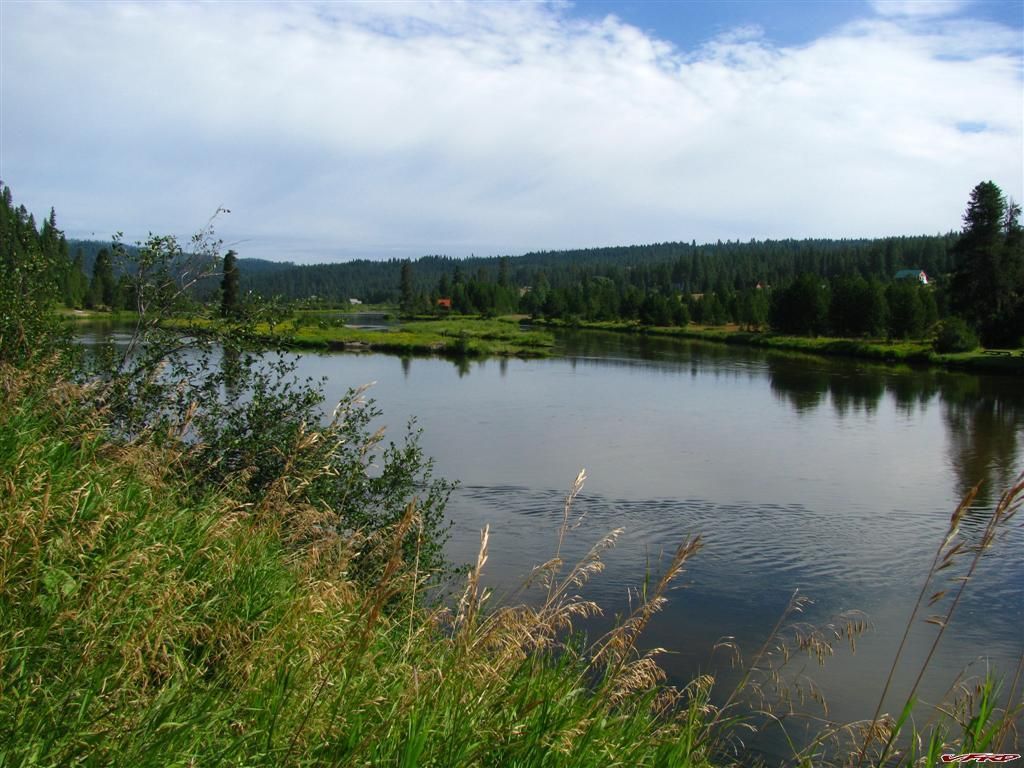 Payette River ID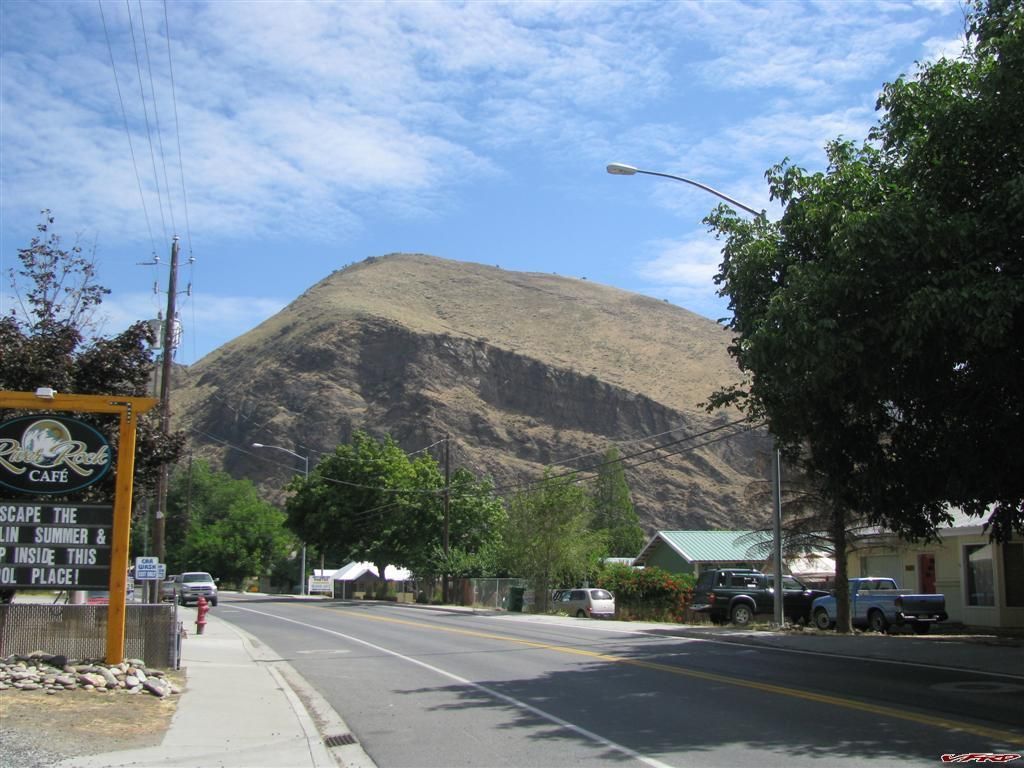 Riggins ID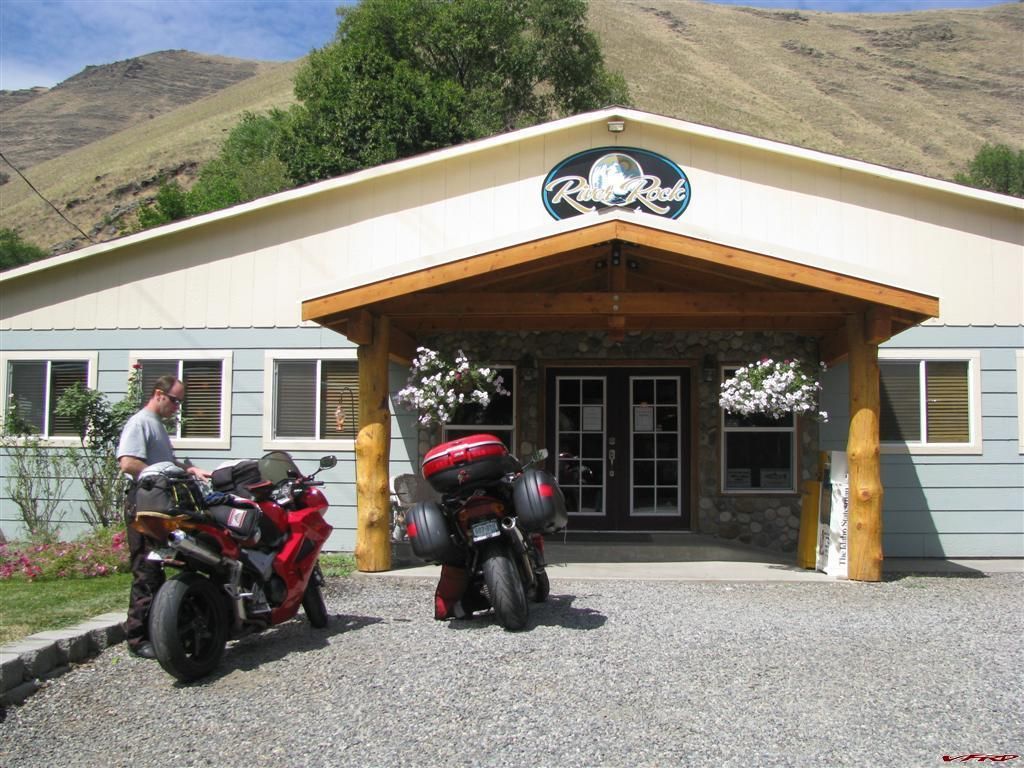 River Rock Café Riggins ID
There was a great pass near Payette Lake from Macall to New Meadows that was railed, Craig took the lead and we got in some tight ones there, very exciting for about 10 minutes. Then we rode along the Salmon River a bit all the way to Kooskia at the bottom of hwy 12 to Lolo Pass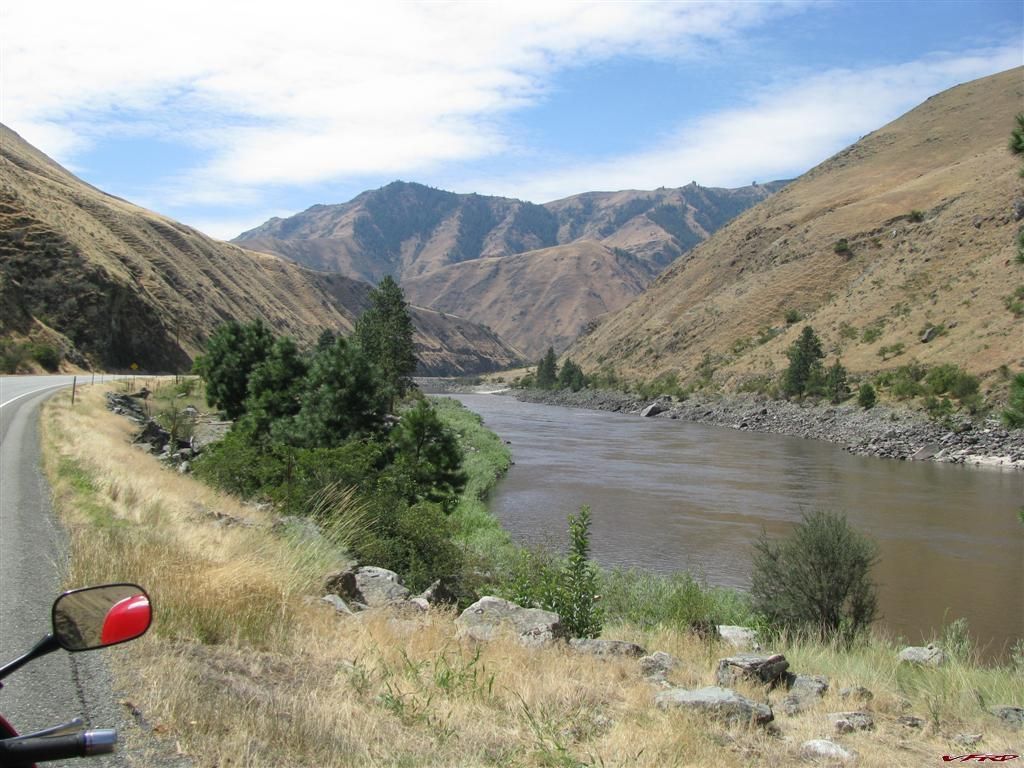 Salmon River Idaho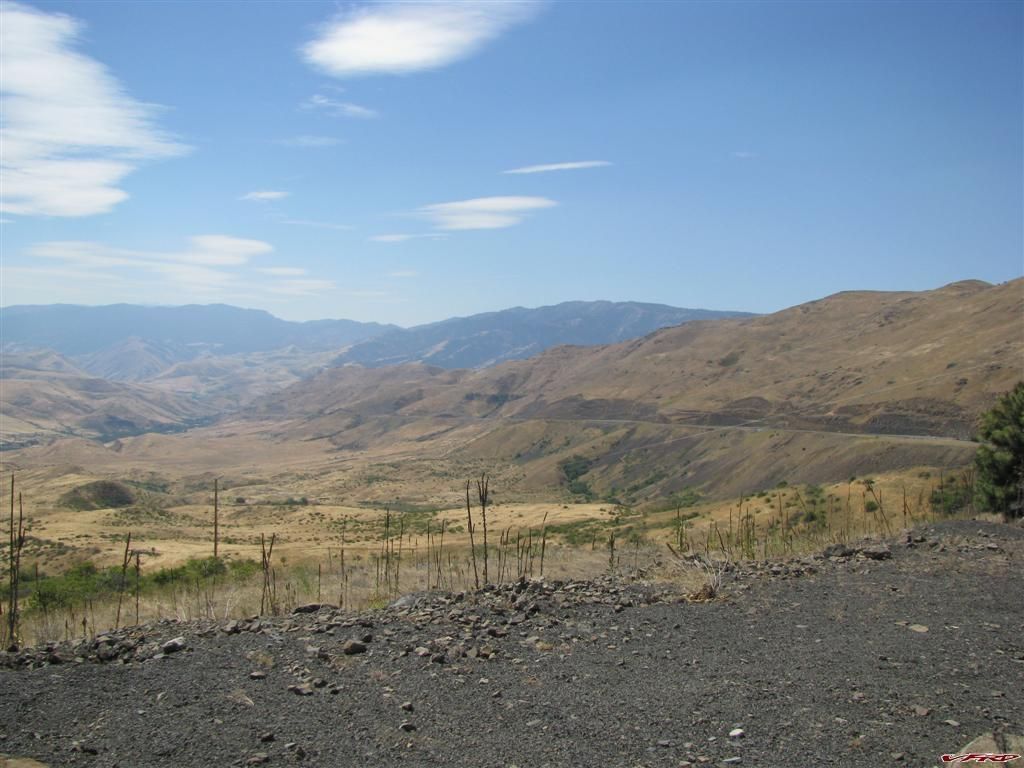 Nez Pierce War Monument Pass hwy 95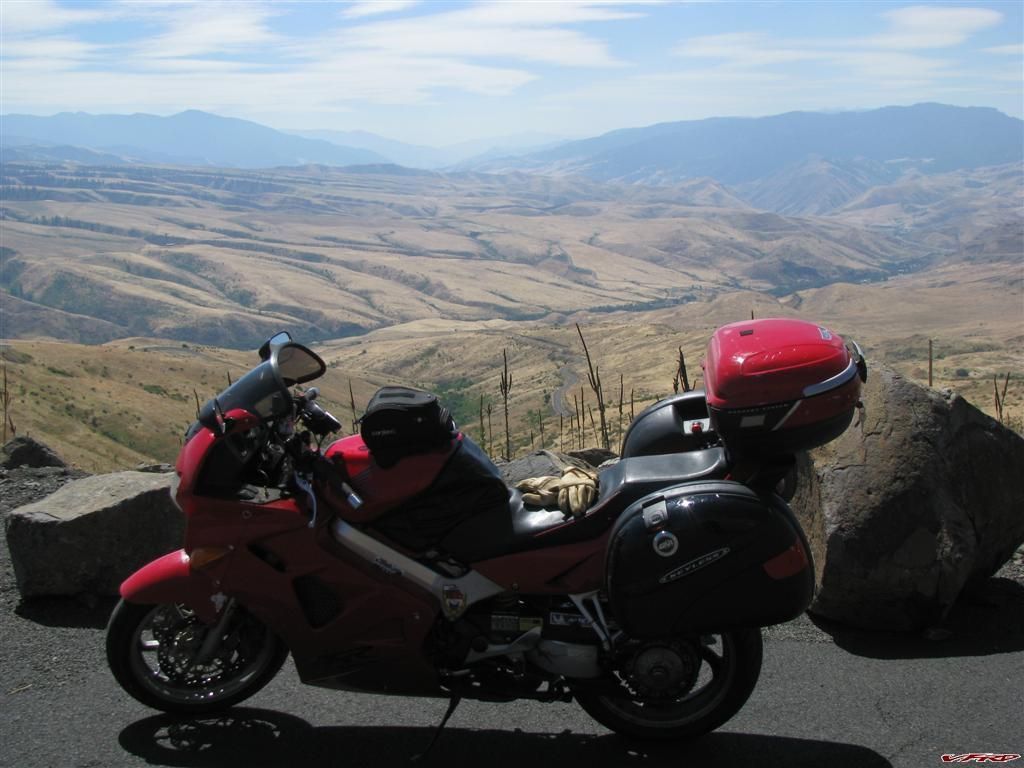 Nez Pierce War Monument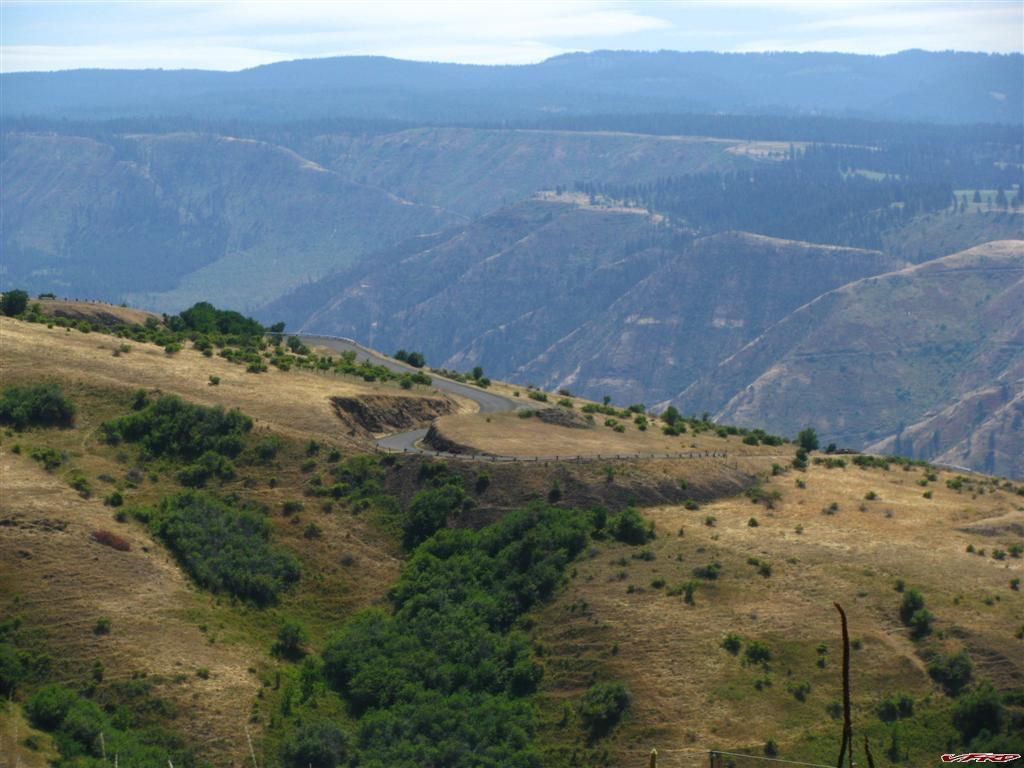 The Road to the Monument
LOLO PASS was anti climatic especially since there were better twisties on hwy 13 just south of Kooskia that were far better than hwy 12!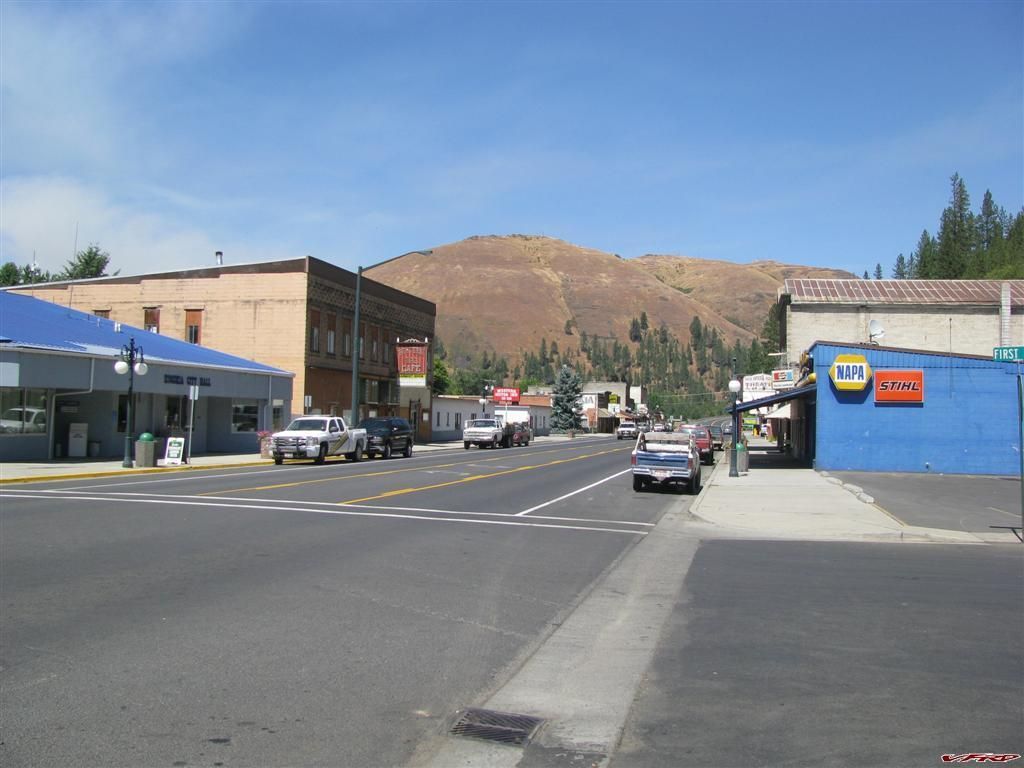 Kooskia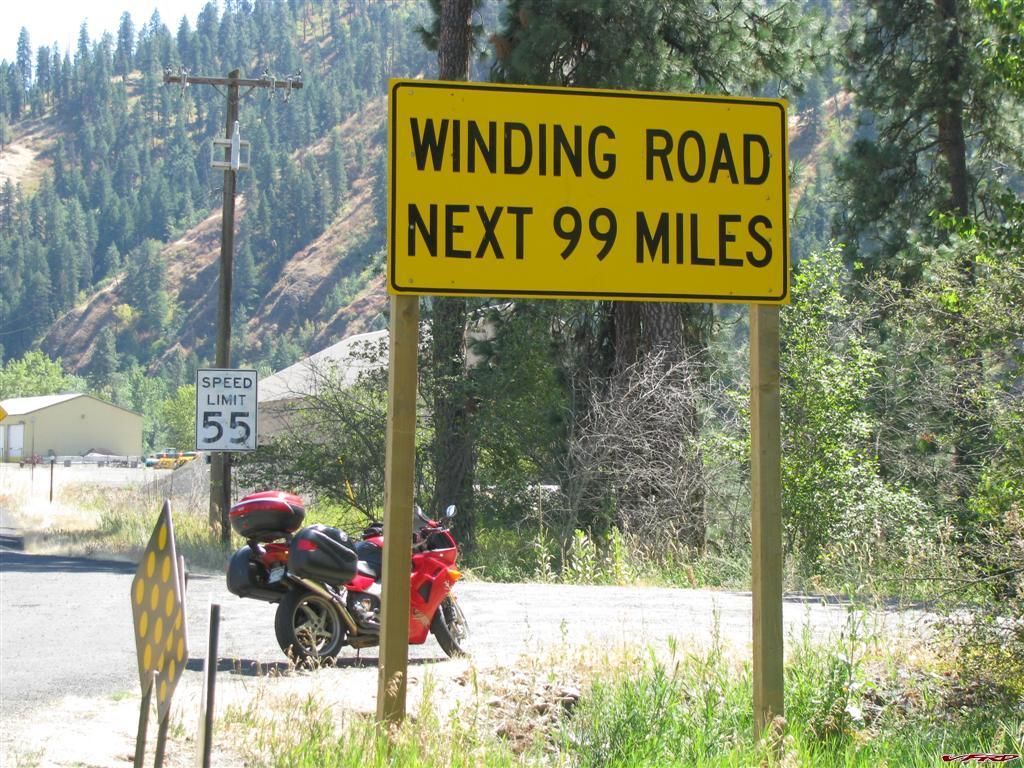 Beginning hwy 12 to Lolopass along the Clearwater river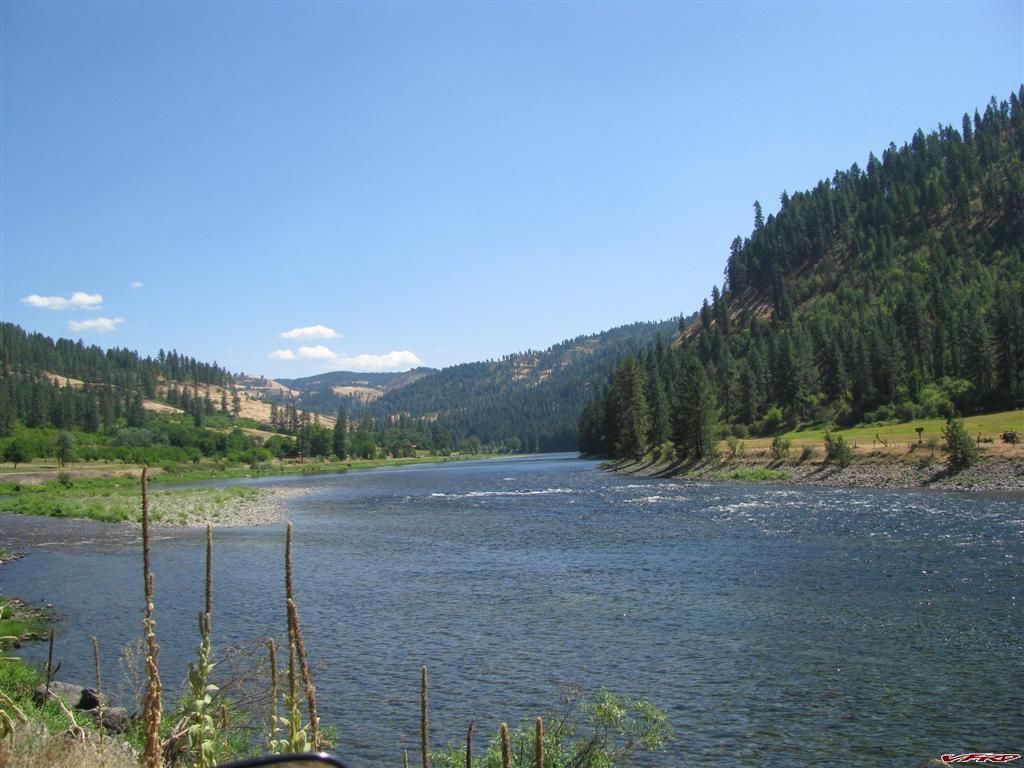 Clearwater River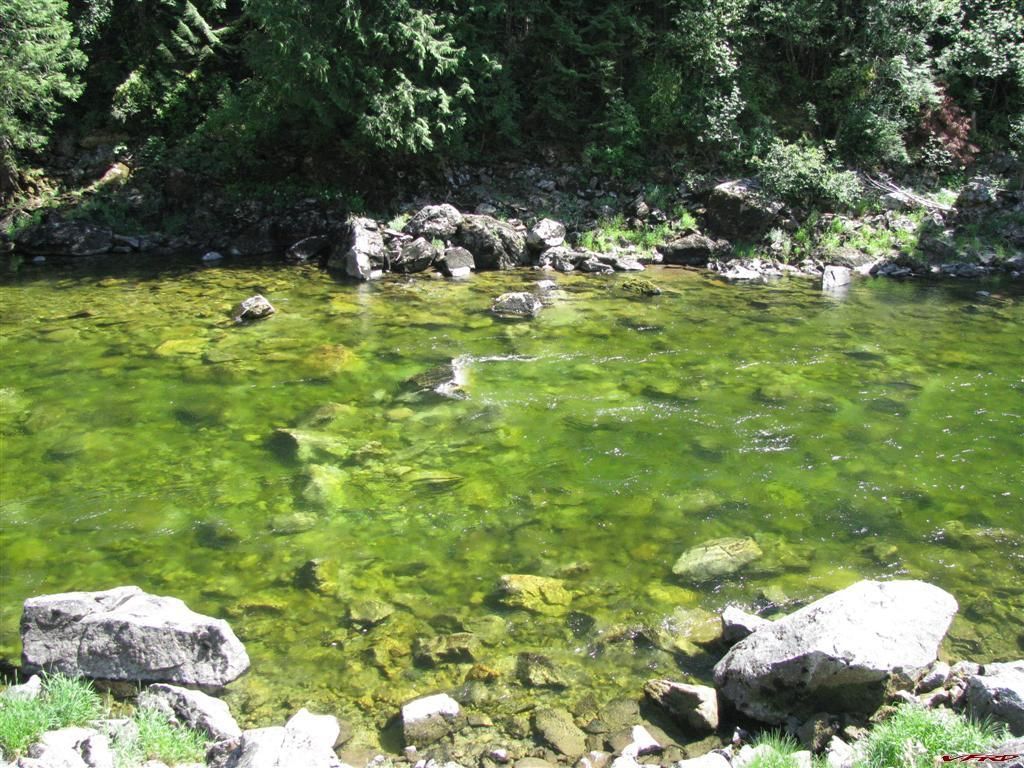 Clearwater River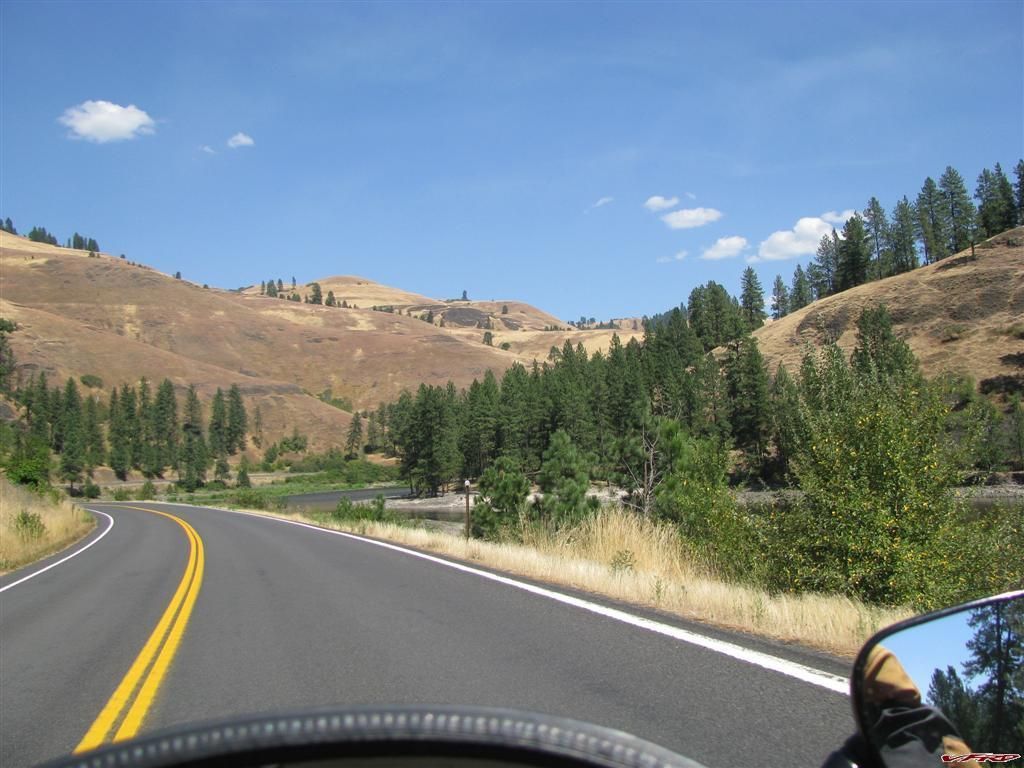 hwy 12 ID follows this river for 80 miles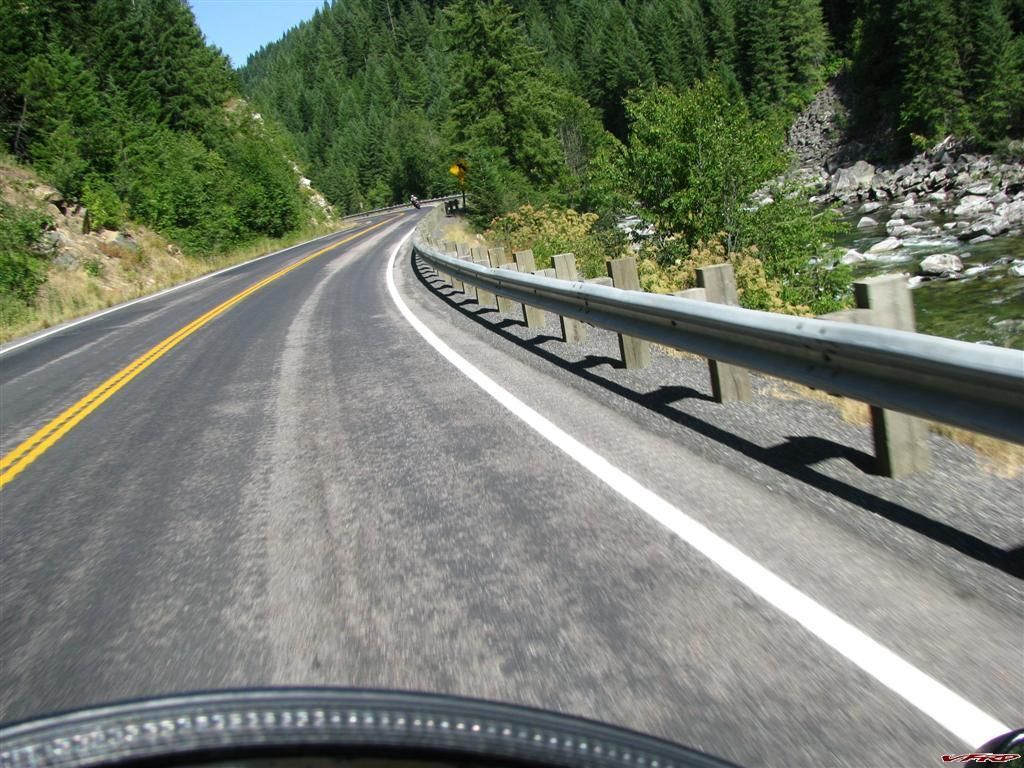 Lolo Pass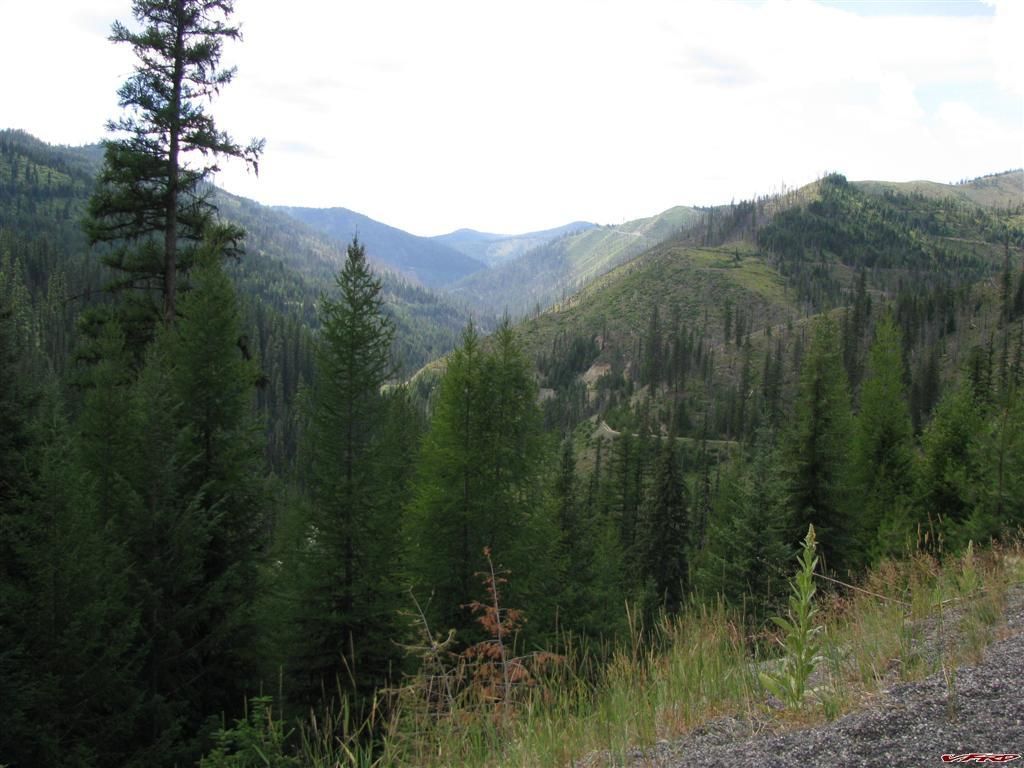 Lolo Pass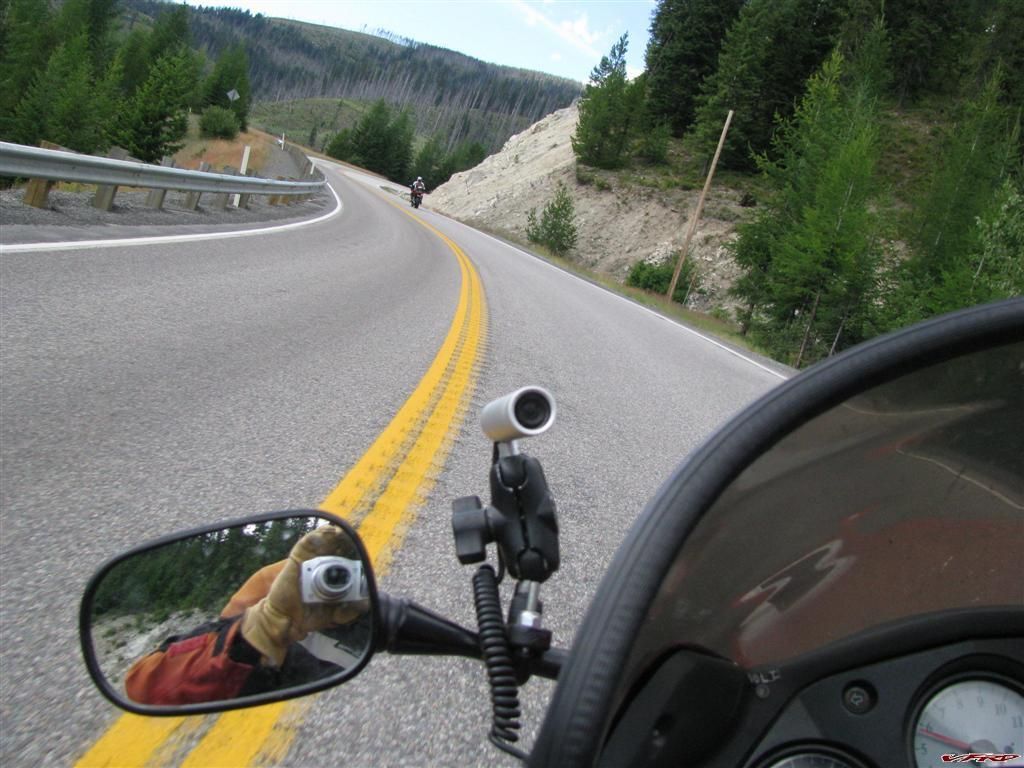 Lolo Pass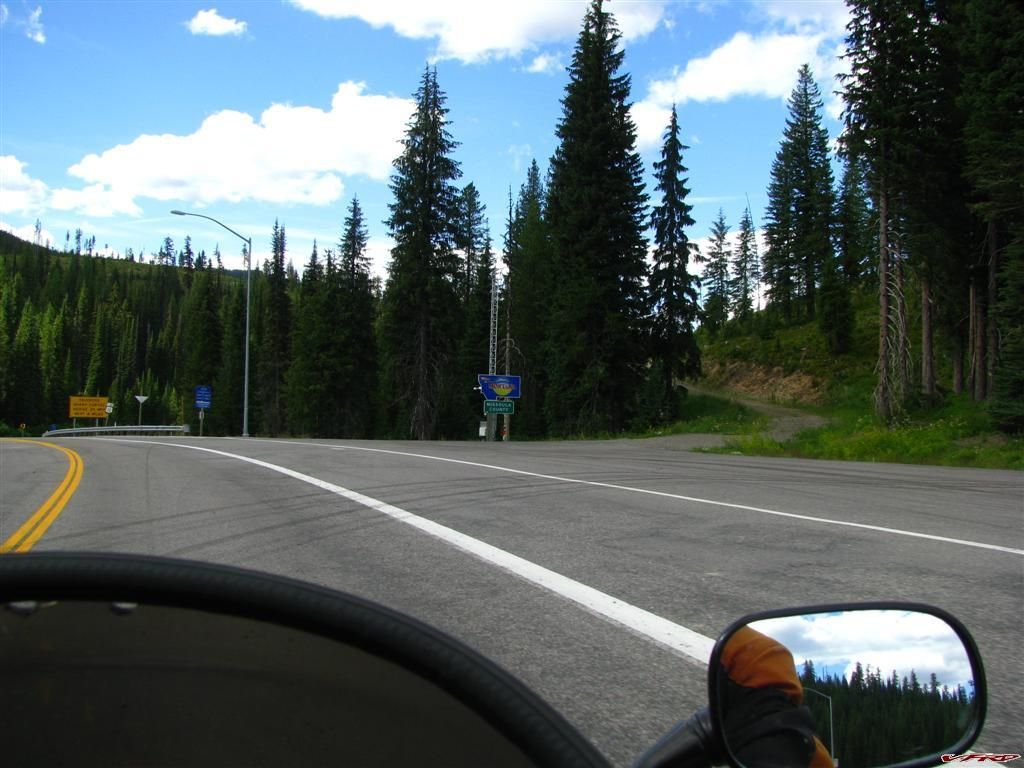 Welcome to Montana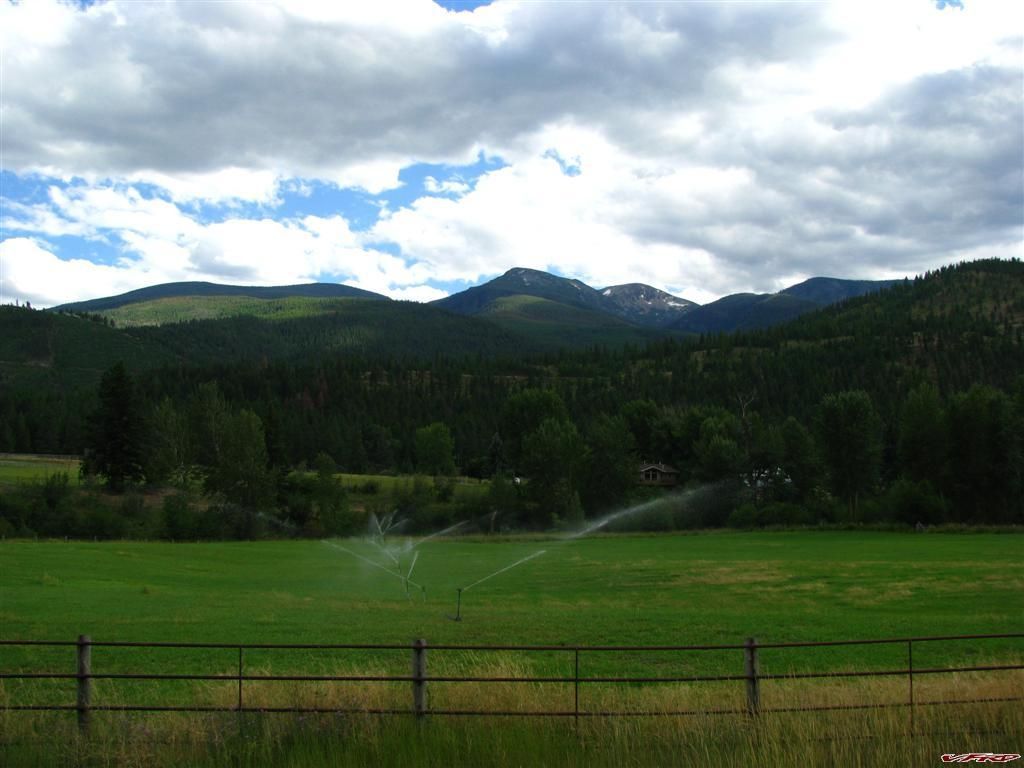 Lolo Hot Springs
I enjoyed the road - it basically follows Clear water river for 80 miles then heads over Lolo Pass for about 12 miles and into Montana, all sweepers and no tight stuff at all, very clean and you can rail it if you want to go 100 mph for 2 hours, we did it at 80mph instead and just cruised. A logging truck overturned on one of the tighter sweepers and we had to stop - other than that there wasn't a police presence at all all day long! The Whole trip for that matter so far! They had us stop as they loaded the logs onto another truck with a Caterpillar.
Missoula is a beautiful town and we stayed over night there, but we where just too tired to go explore it, opting instead for some pizza delivery and beer from the gas station down the street, I passed out. The next day we had Glacier National Park to explore
GLACIER NATIONAL PARK - the crown jewel of the National Parks system does not dissapoint, we still had a 100 miles of slab to do before we made it there, I decided to bypass Kalispel and go around Flathead Lake on the south side. but just getting to the lake was a bore, they where laying down new asphalt for 20 miles then on top of that they where chip sealing the road? Never seen anybody chip seal new asphalt before? OK whatever - 35mph was getting to be too much so I hit the Detour button on my zumo and it had us turn off on some side road, very scenic for sure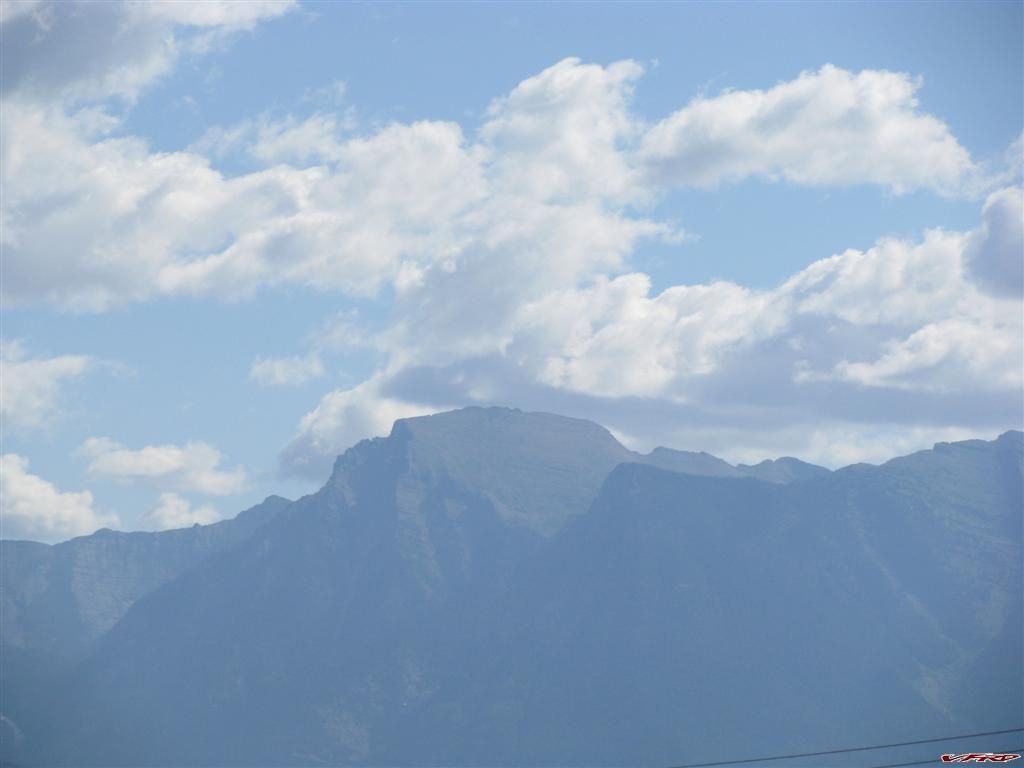 Montana Mountains from Near Lake Kalispel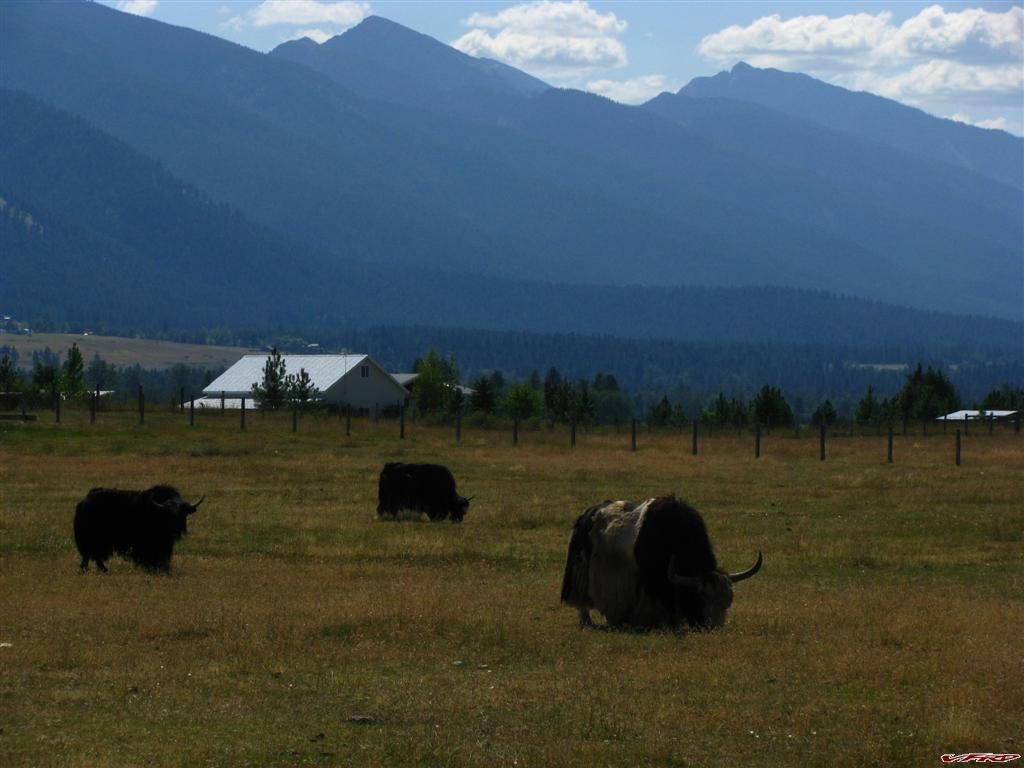 Yack Yack Yack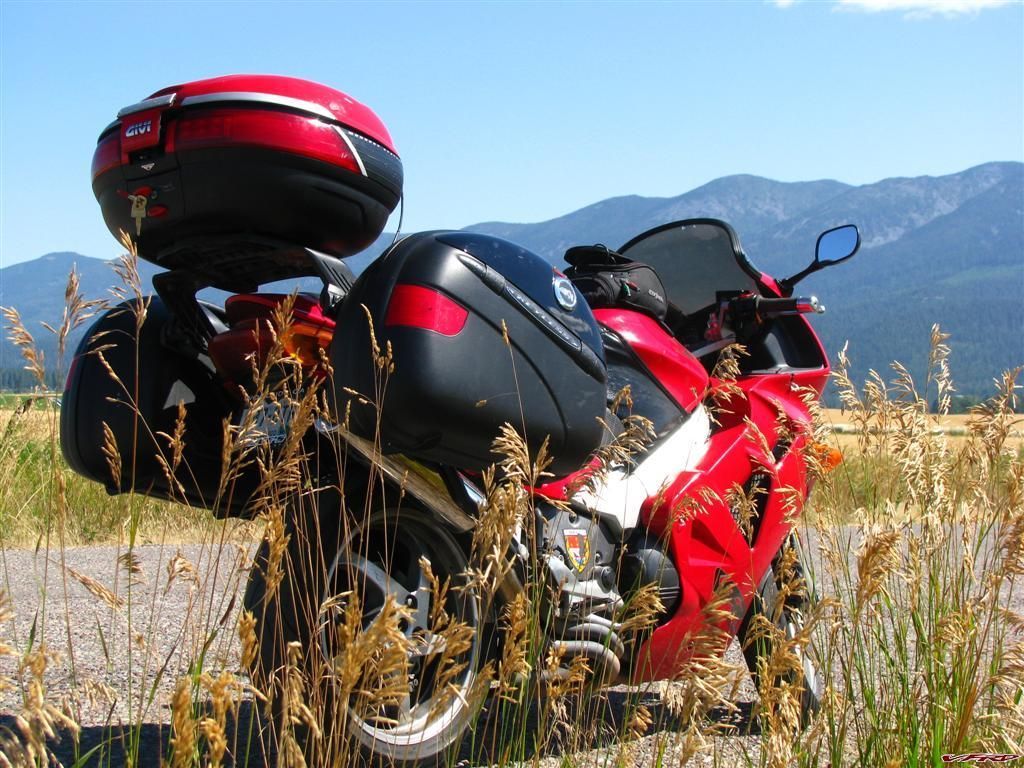 The Zumo Detour button is cool until it puts you on a full on Jeep road going down hill at a 15% decline
This detour almost turned into a nightmare - starting out paved but worn, then some flat hard gravel road, no problem but then the road went up a hill into some trees and all of a sudden we where on a damn Jeep road that was so bumpy I thought I might get tossed off the bike, lucky it was only a half mile long but the hill was so steep brakes were useless so I just rode it out in gear using the motor to slow me down and doing my damnest to keep it up, but at the bottom we ran right into Flat head lake an cut off 10 miles of construction.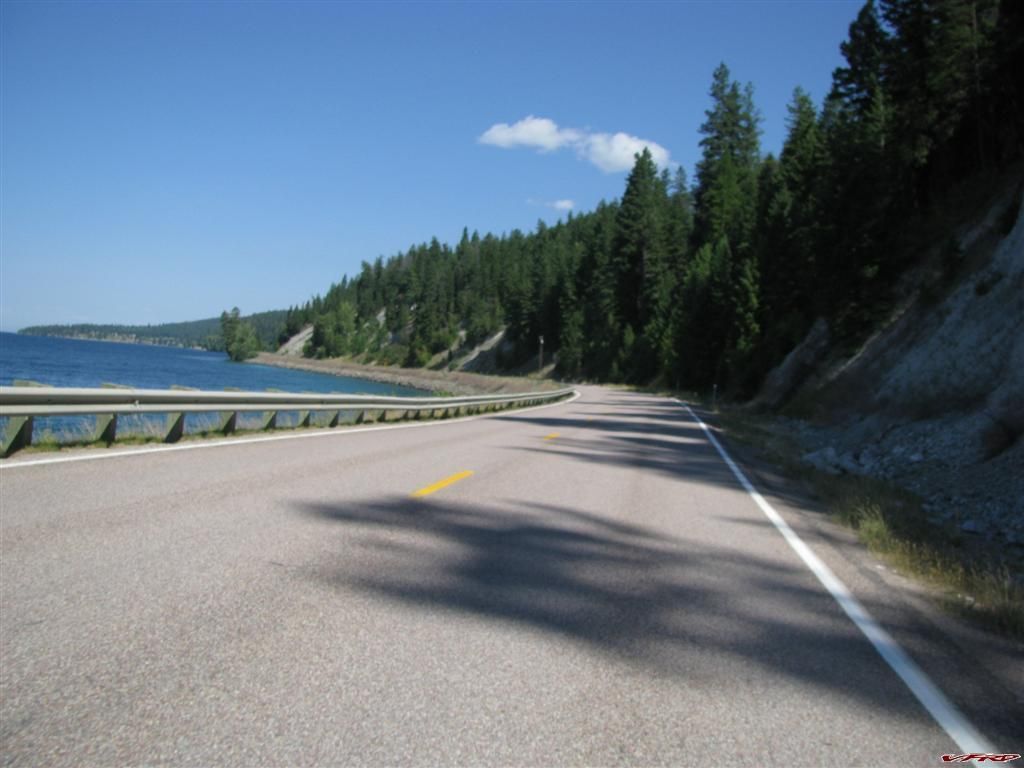 E shore Road Hwy 35 on Flathead Lake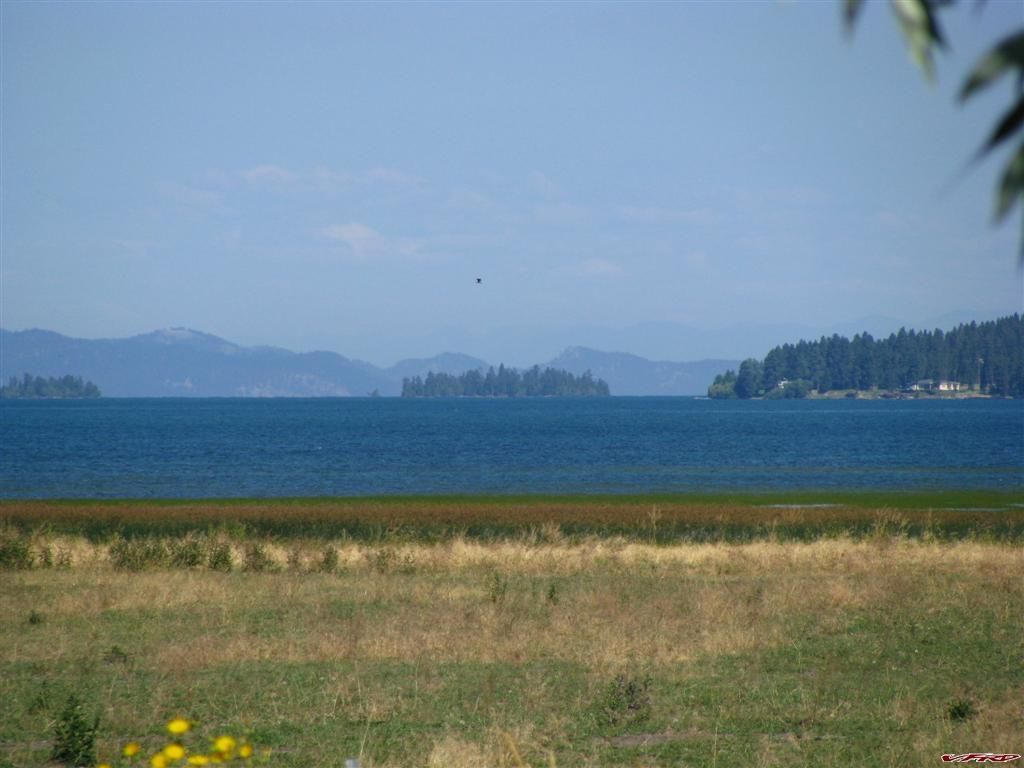 Flathead Lake Montana
the Road along Flat head lake is very pretty and there are cherry orchards all along the hillsides on the east side - we should have stopped cause I love cherries but we wanted to get to the park, stopping only for a hot dog at the gas station -casino-deli at the crossroads a few miles down the road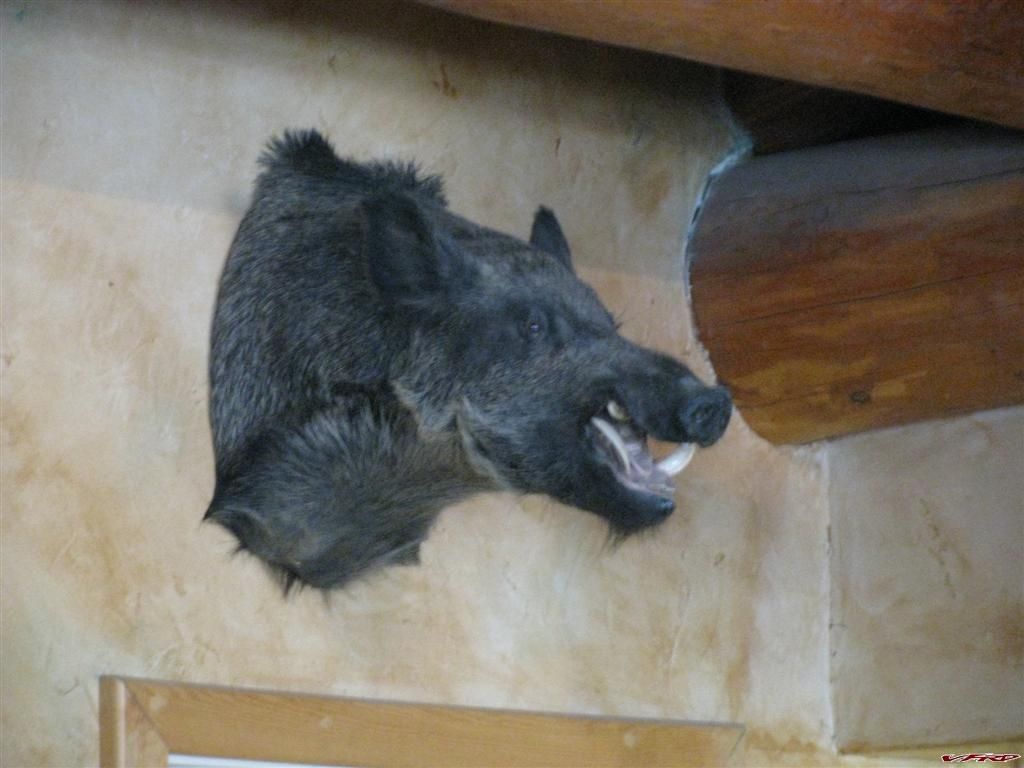 Welcome to Montana gas station/casino/sandwich shop at the crossroads of hwy 35 and hwy 206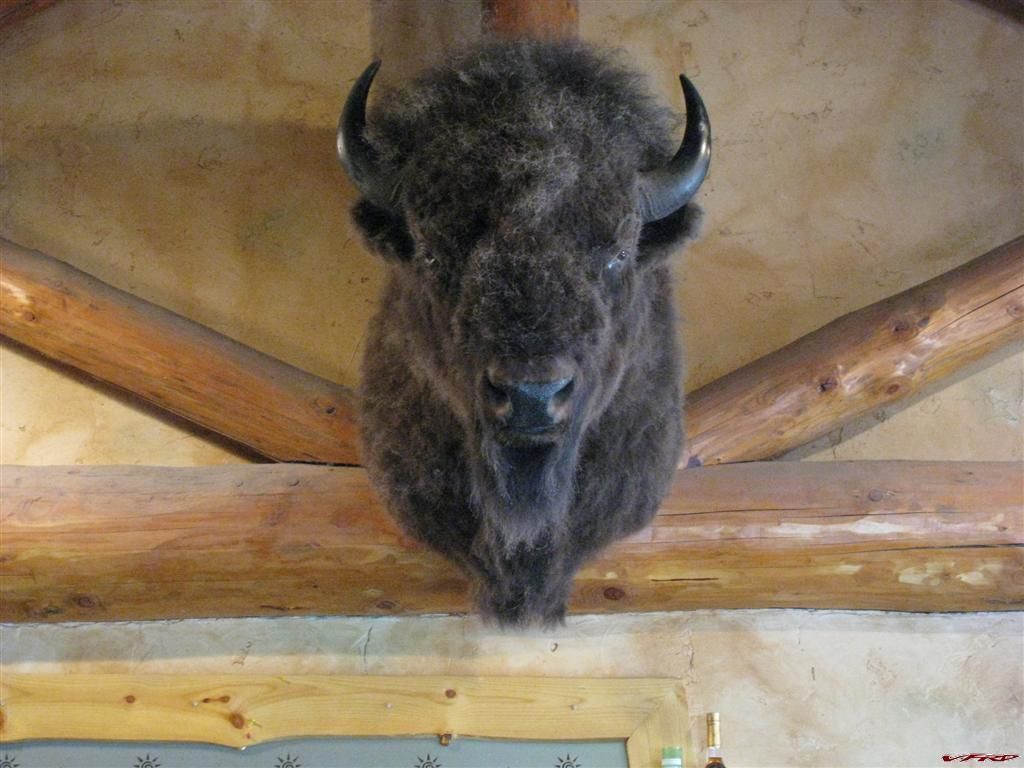 I got one of these in my bedroom the German Judge gave this one a 7.8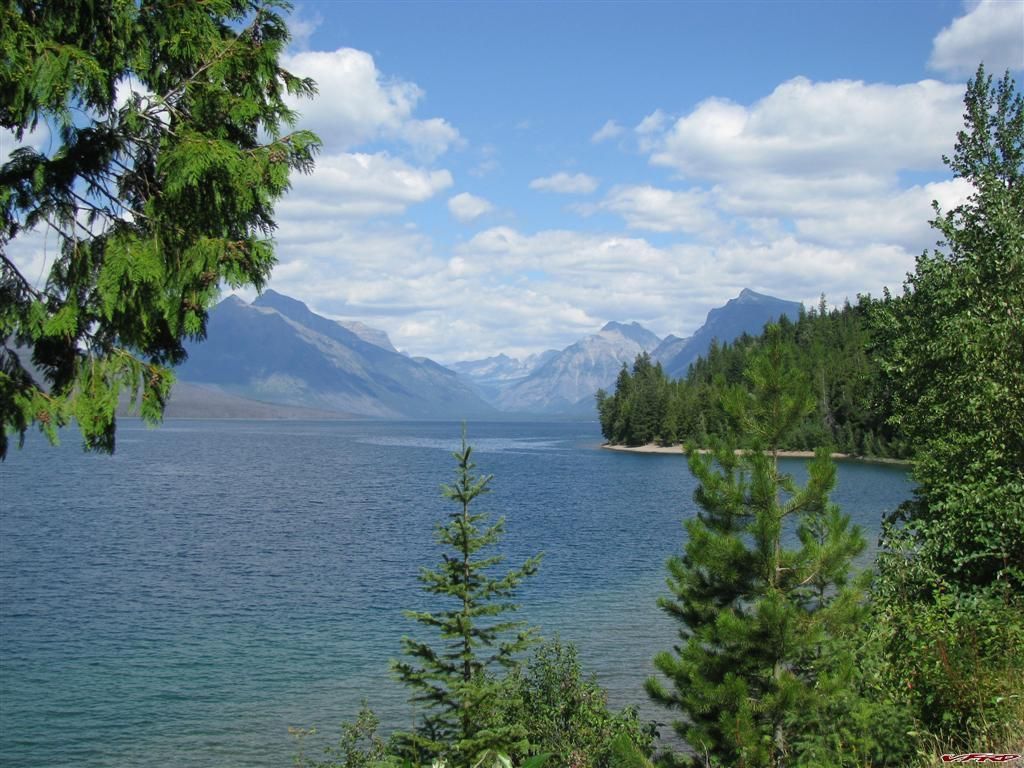 Lake McDonald Glacier National Park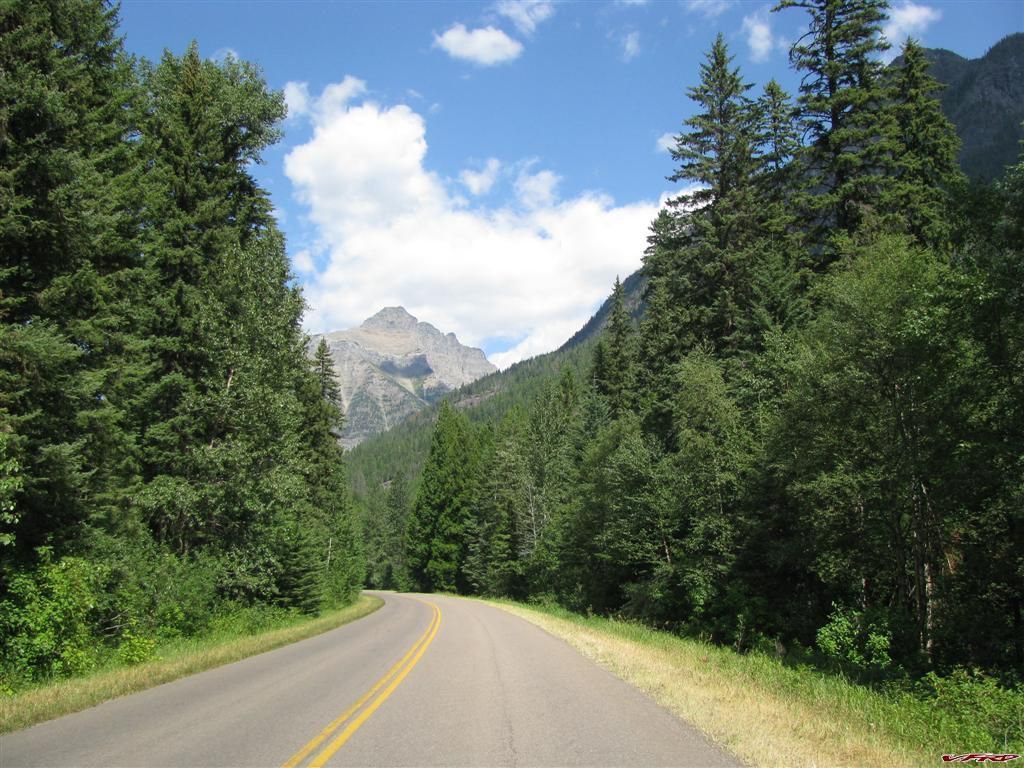 Mt Brown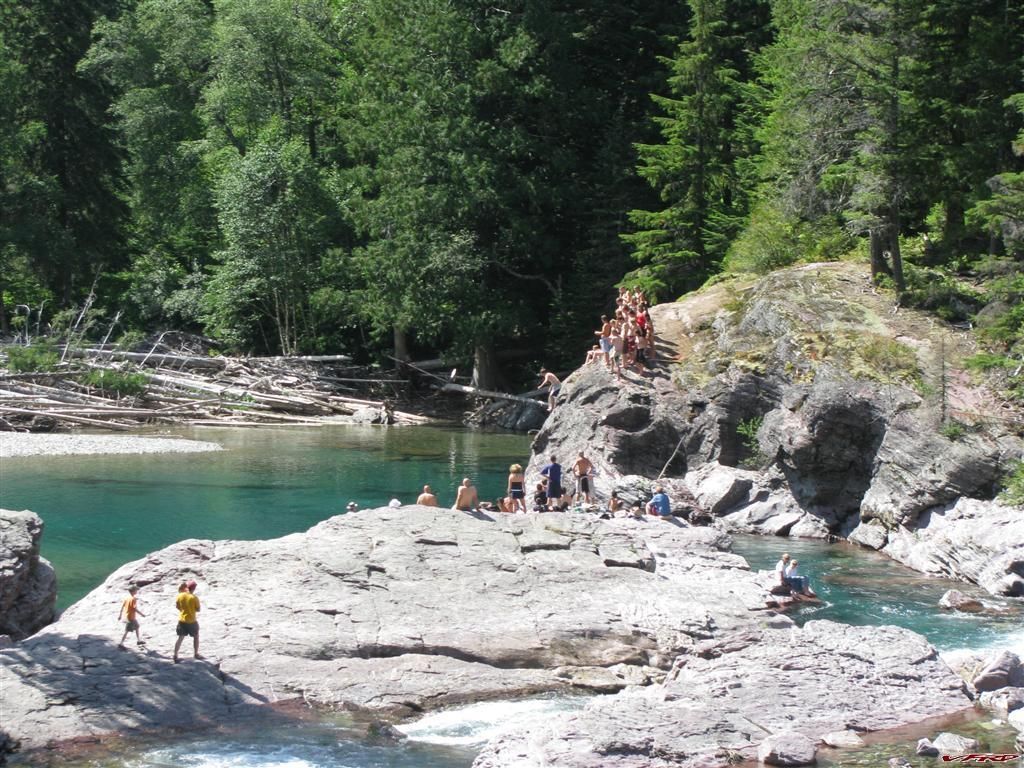 People Jumping off the cliffs at Sacred Dancing Cascade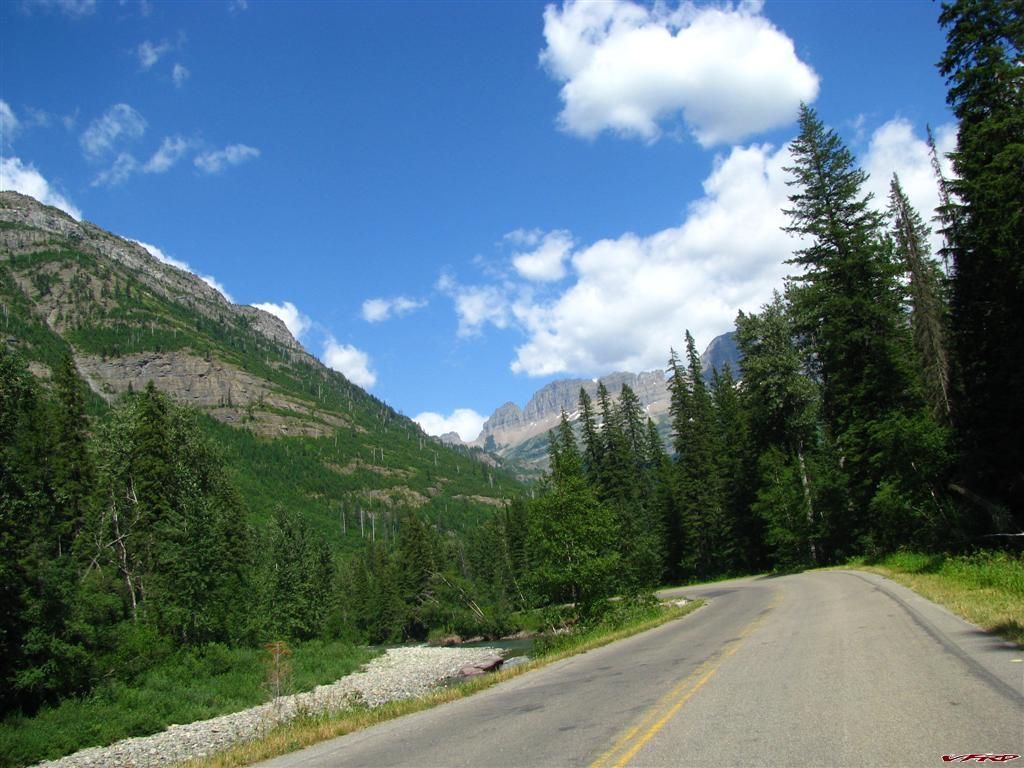 Going to the Sun Road West side of the park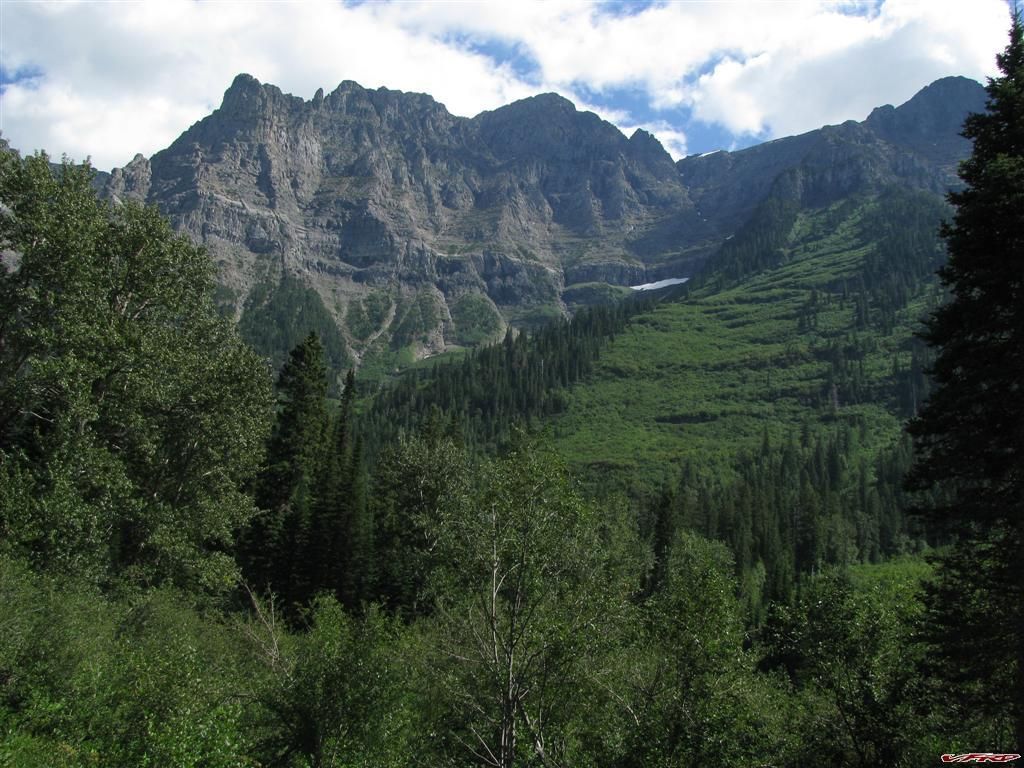 Glacier National Park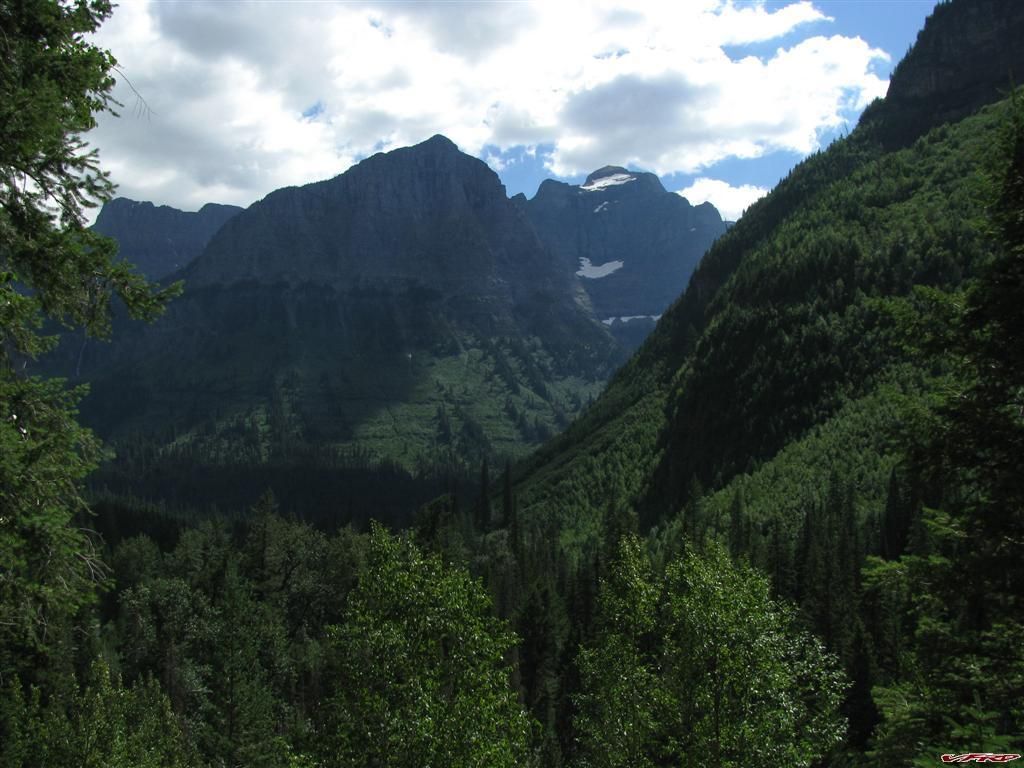 Glacier NP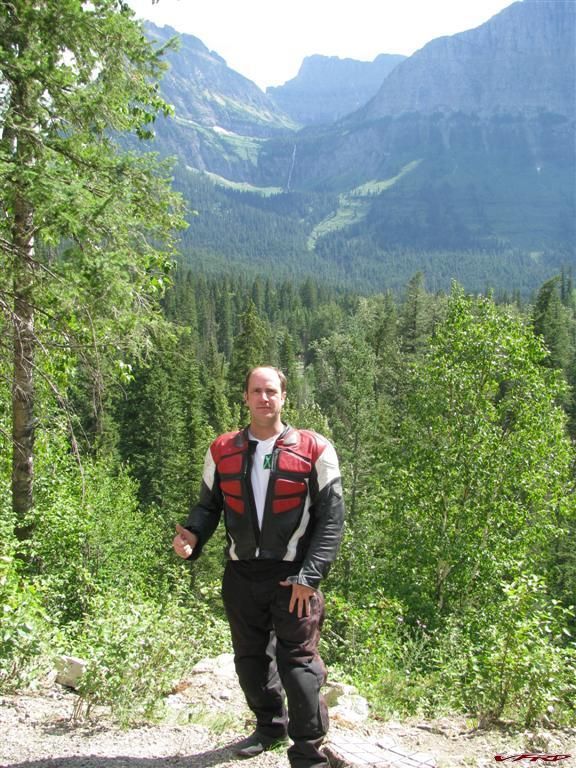 Craig soaks it in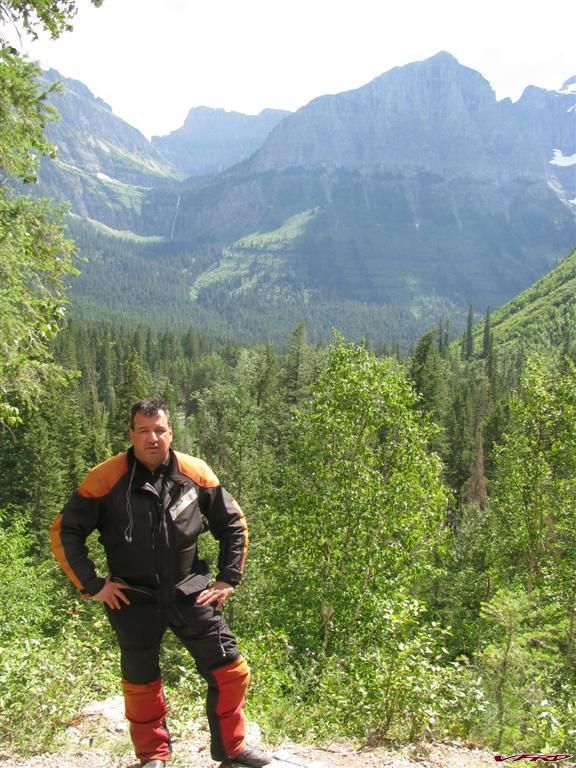 My Turn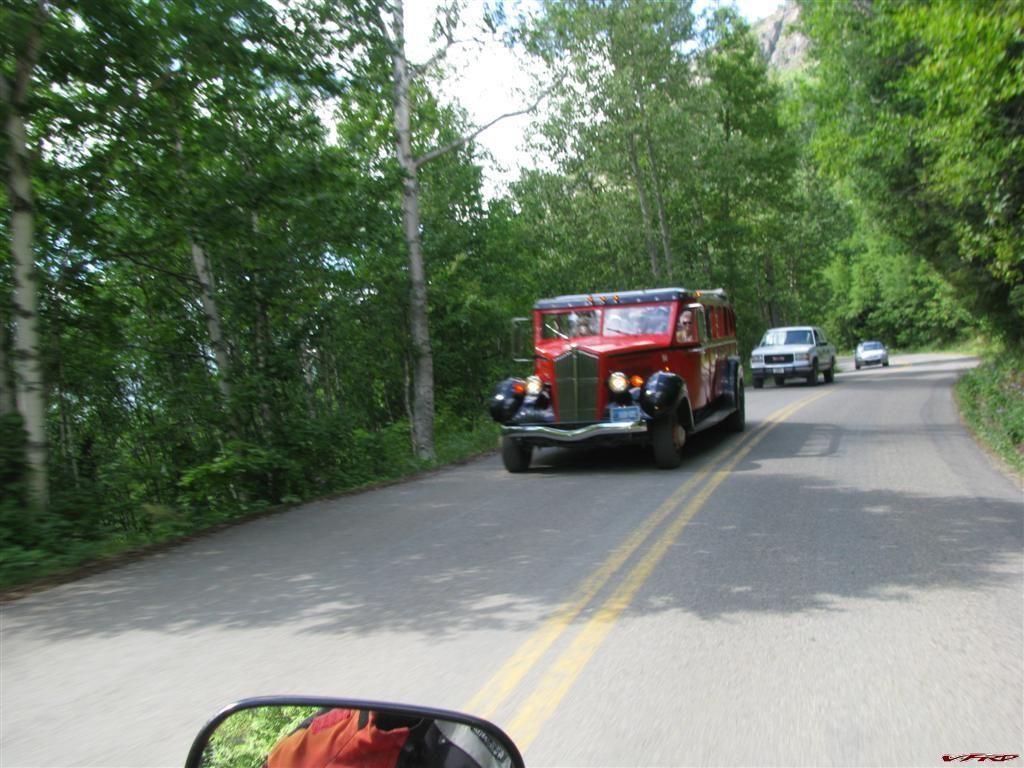 Only one place in the world to see these busses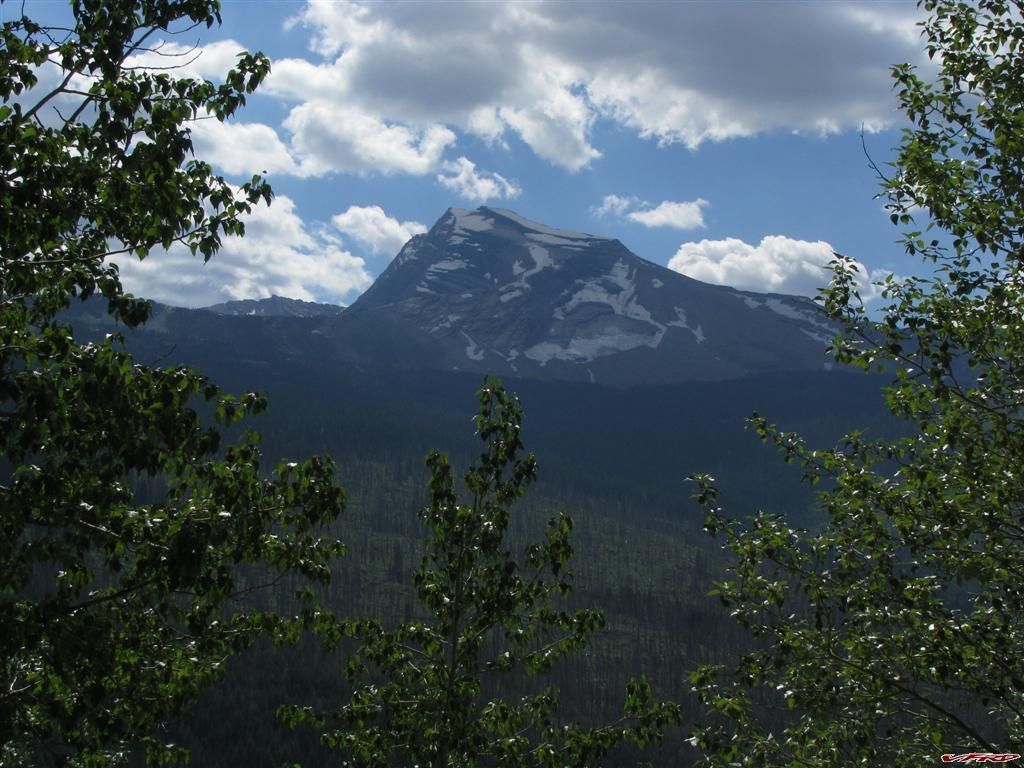 Heavens Peak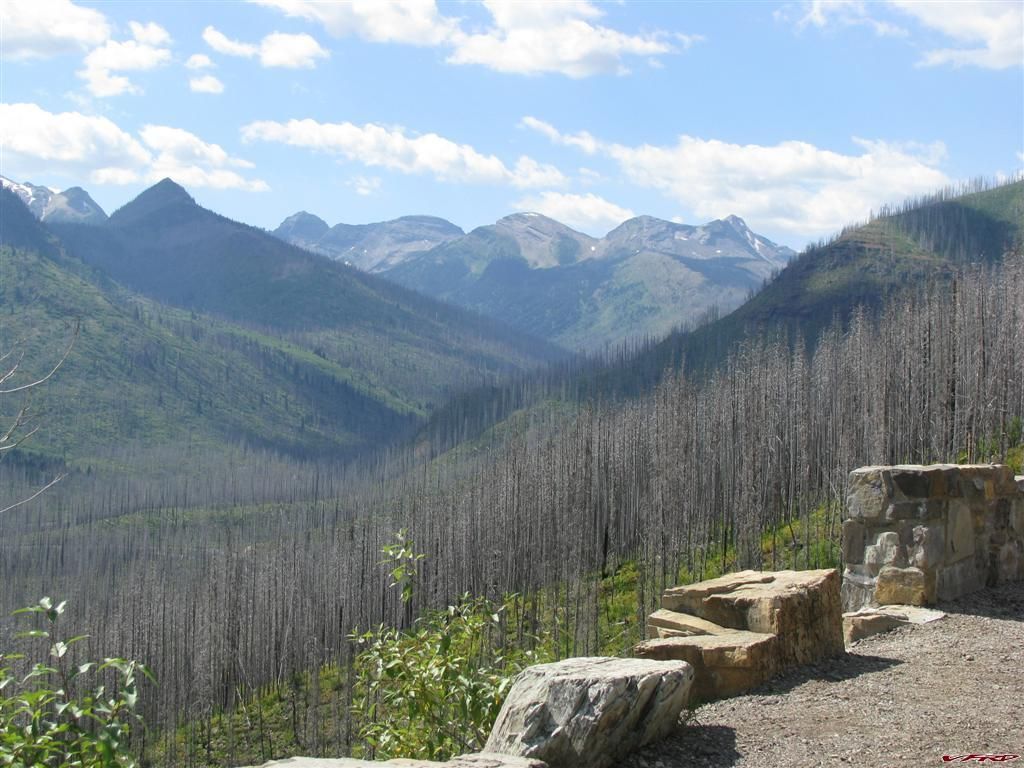 Beatles are ruining the trees in the PNW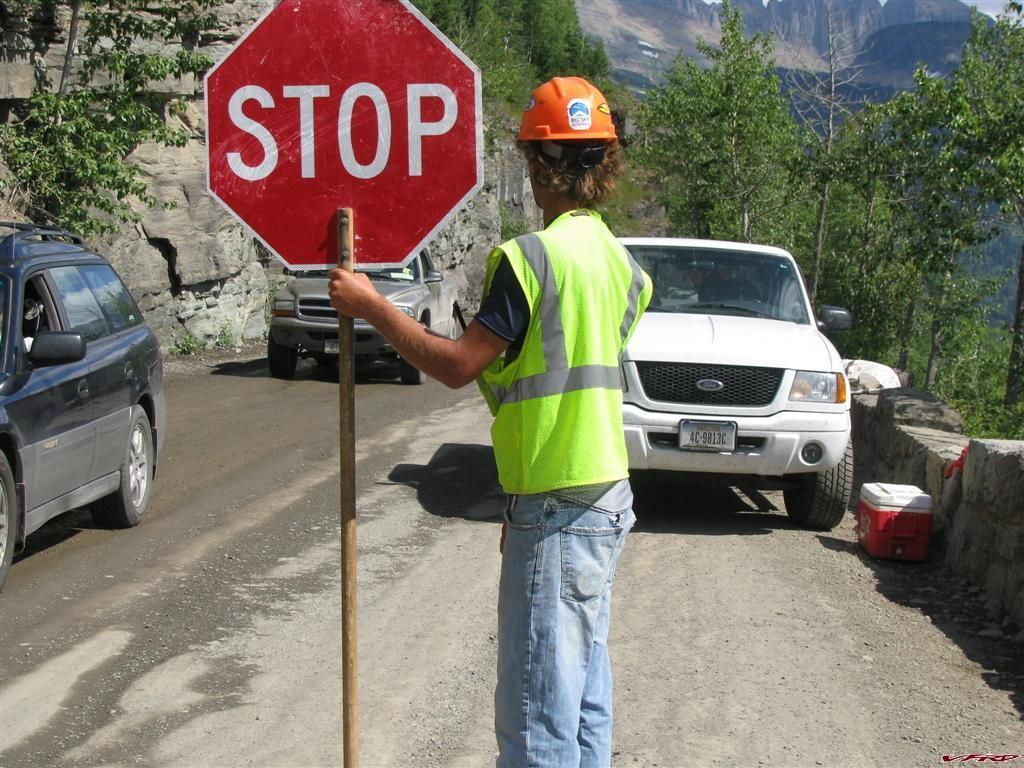 construction zone 1/2 hour to 4 hour delays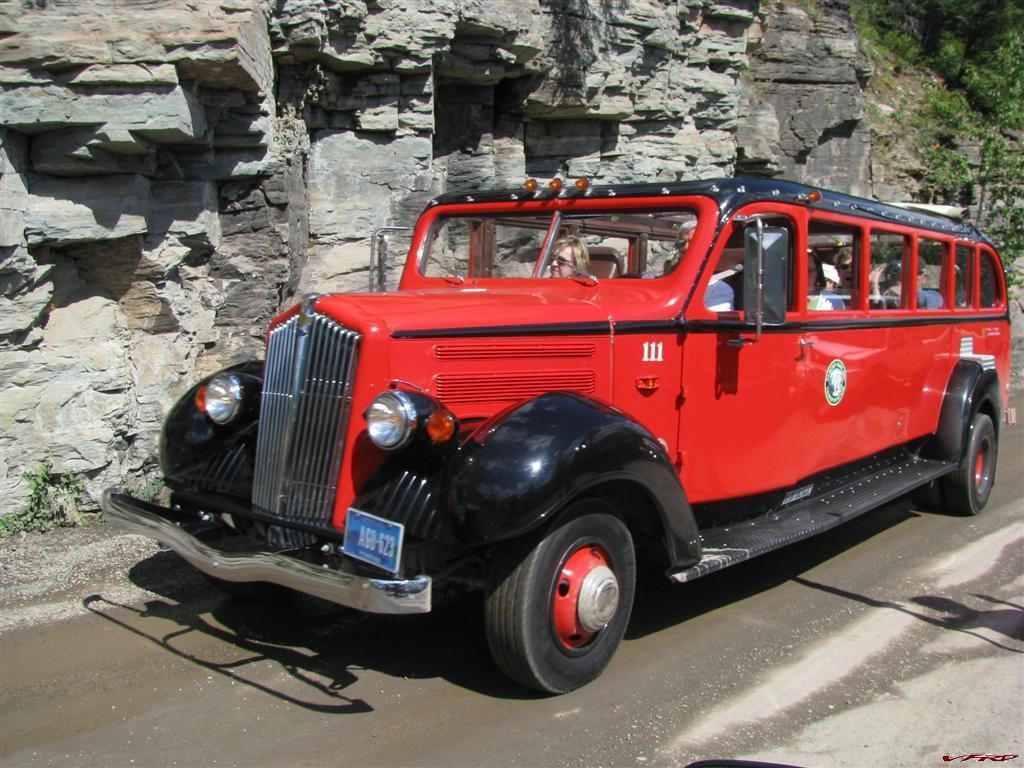 four of these busses went by most of them waved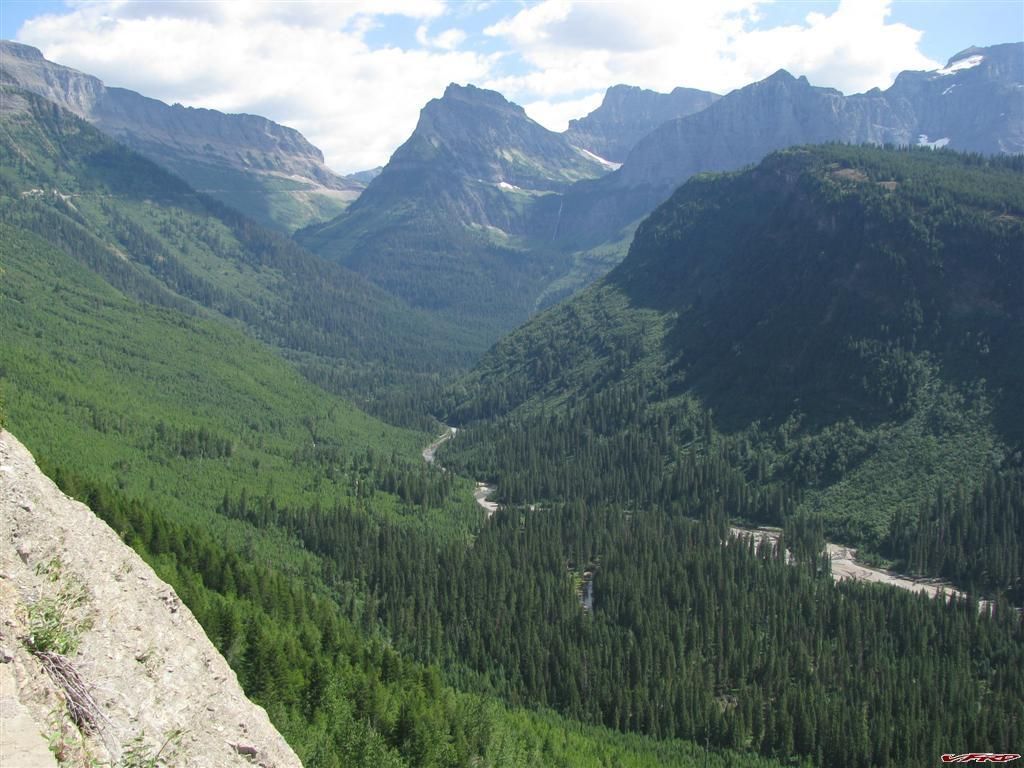 Construction stop its nice to see stuff like this if you have to stop, see the road on the left side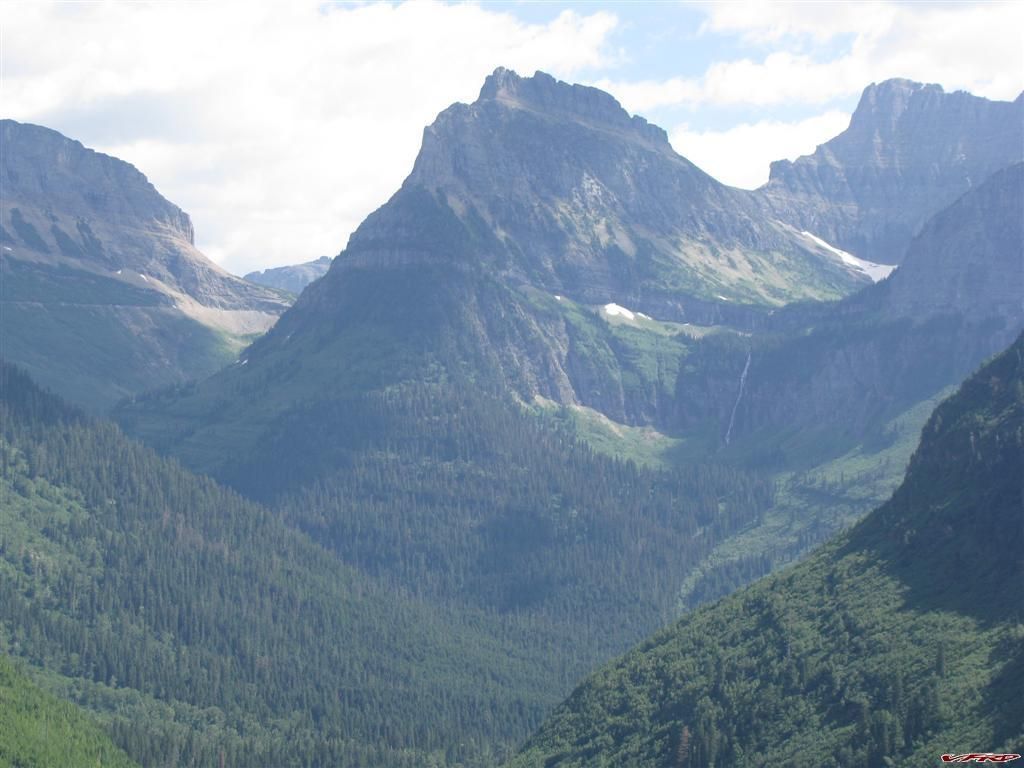 Mt Oberlin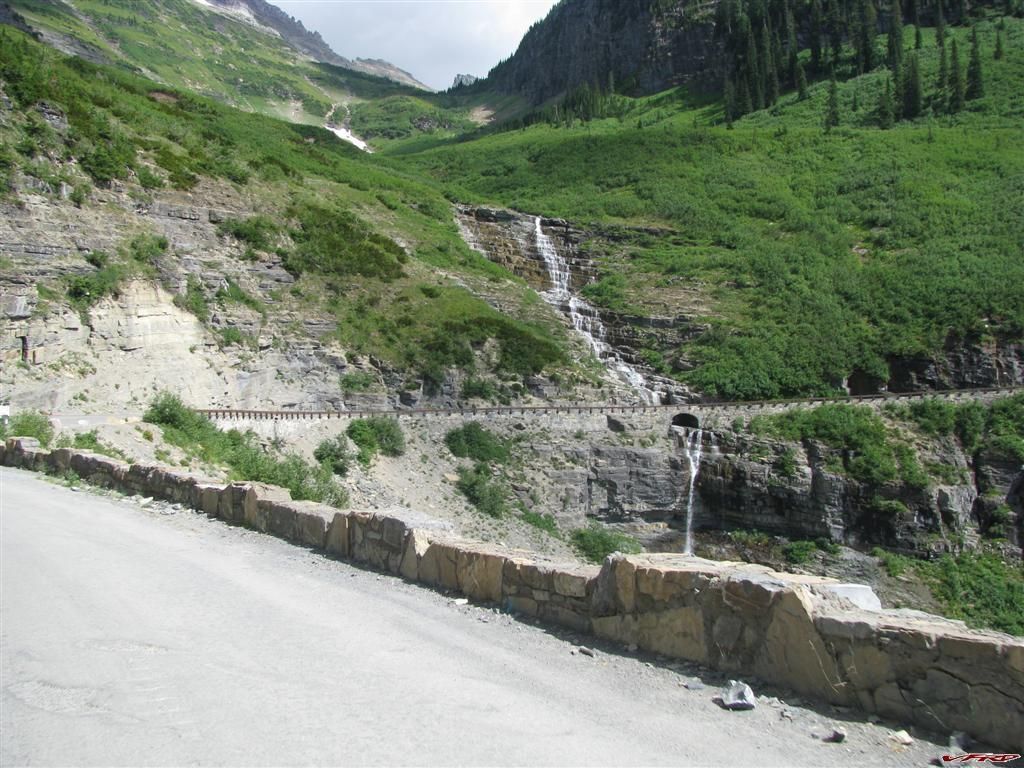 water falls everywhere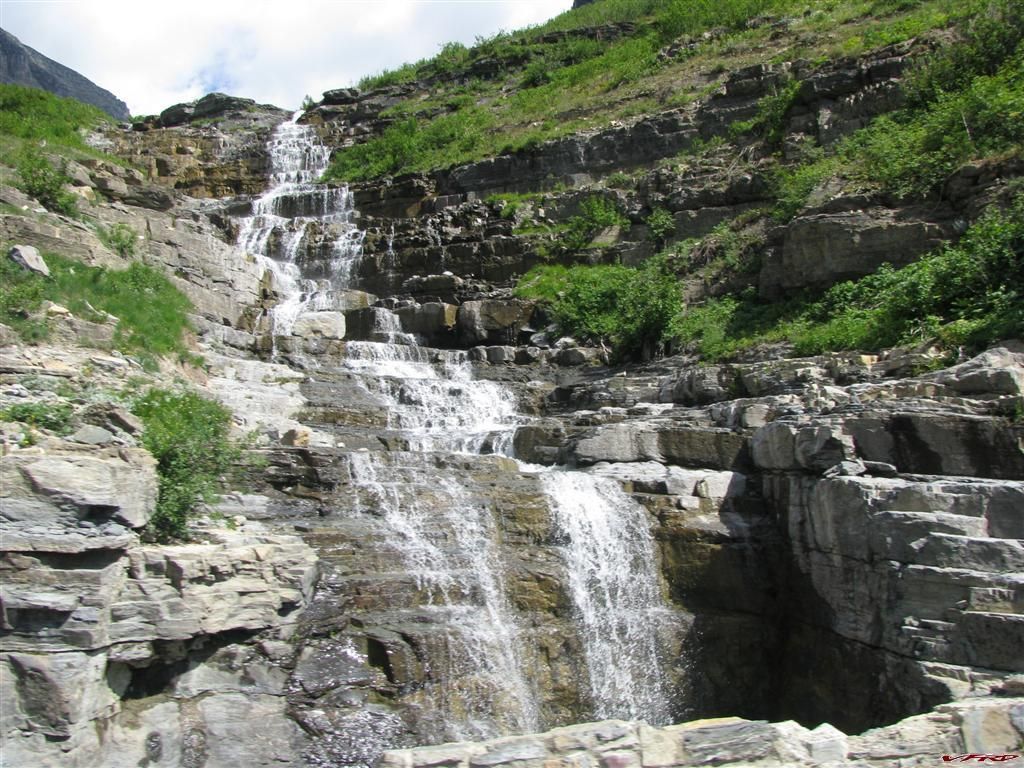 closer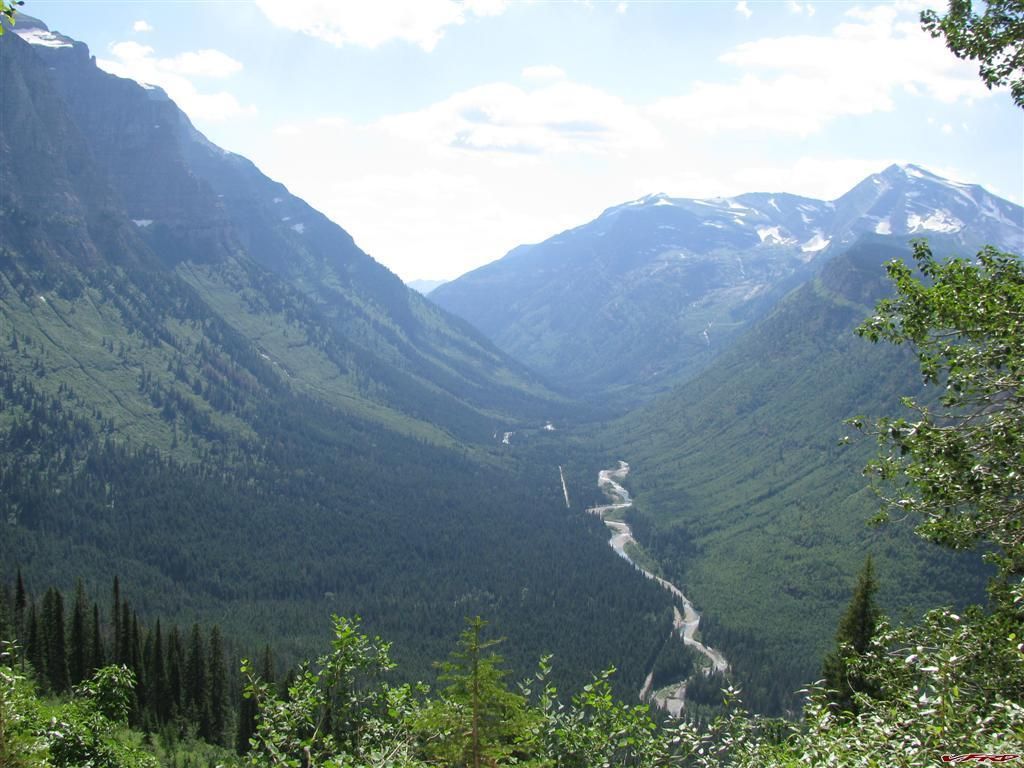 The Valley below from where we came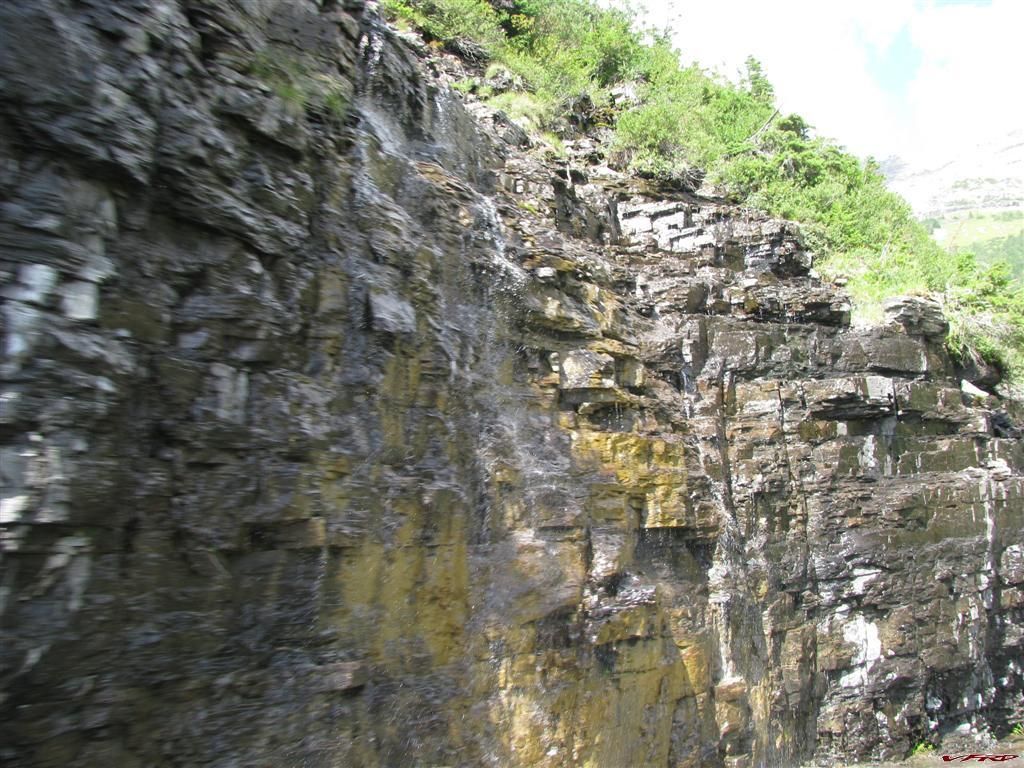 The Weeping wall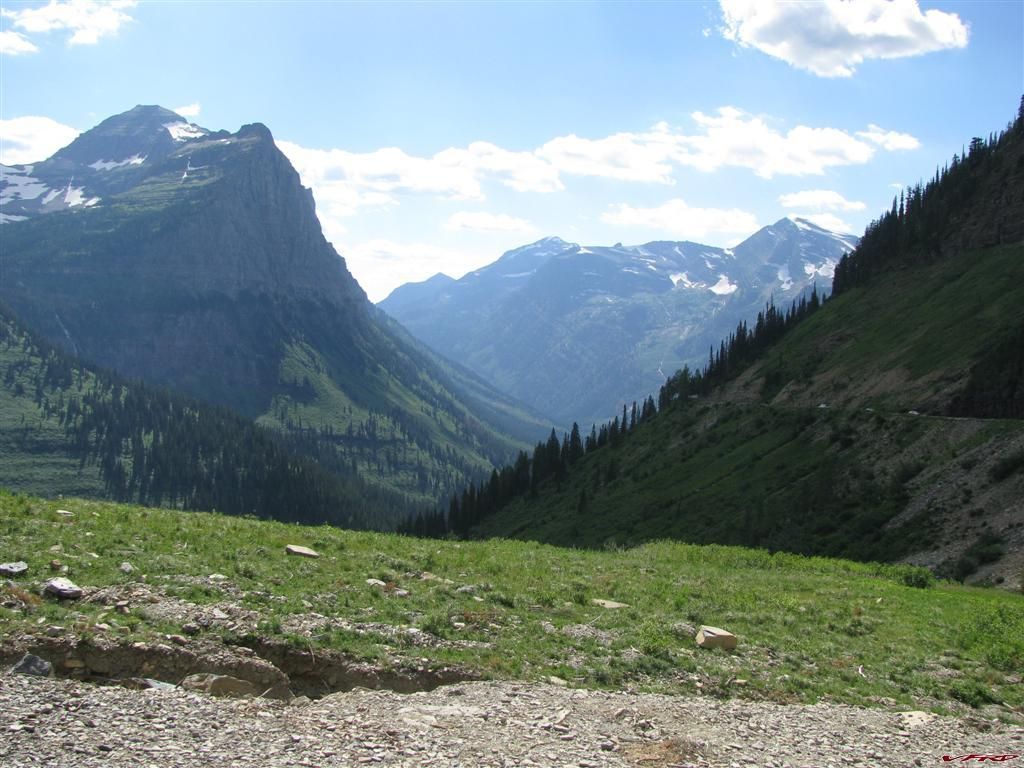 Logan Pass the overlook Mt Oberlin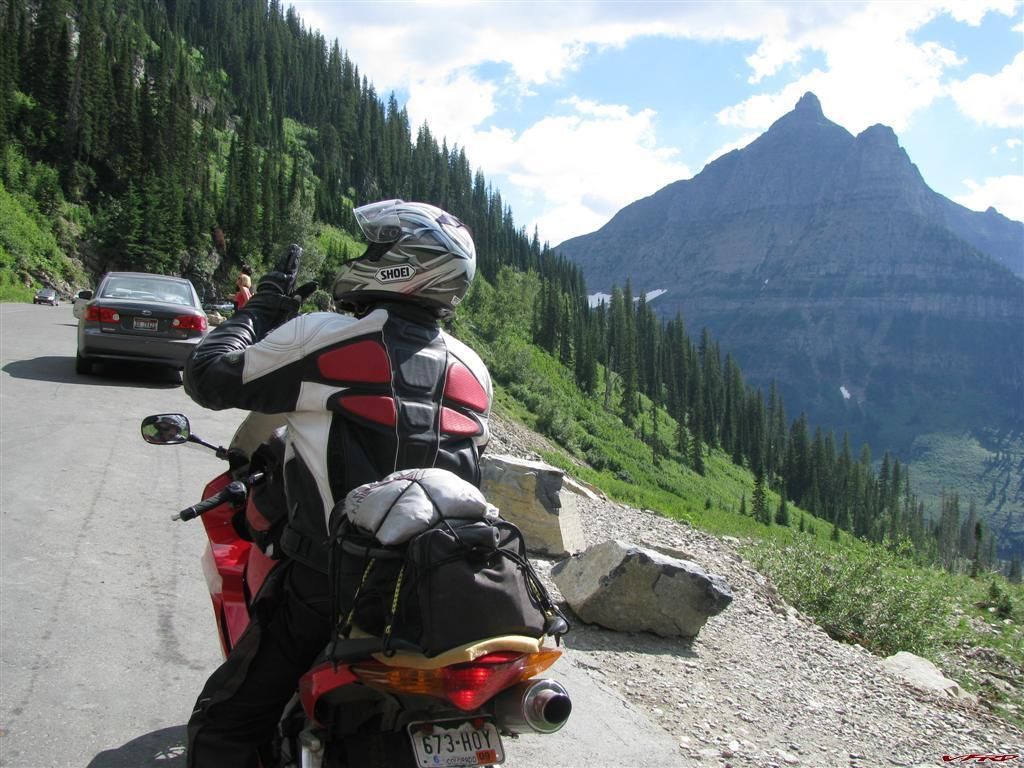 Clements Mountain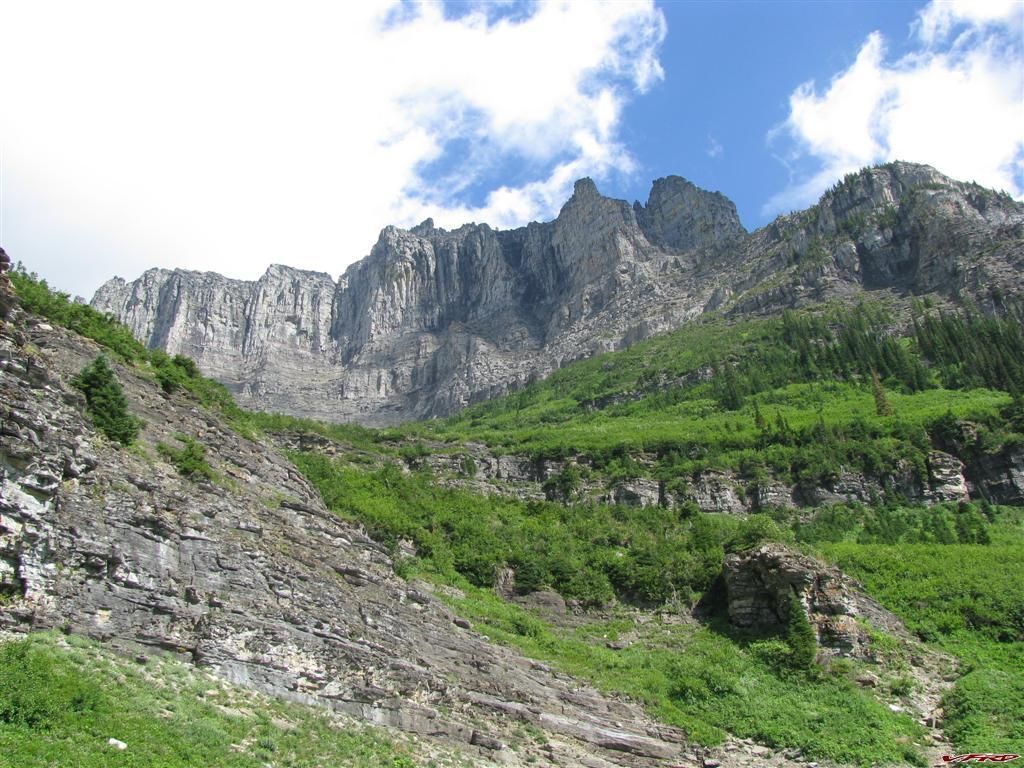 Bishops Cap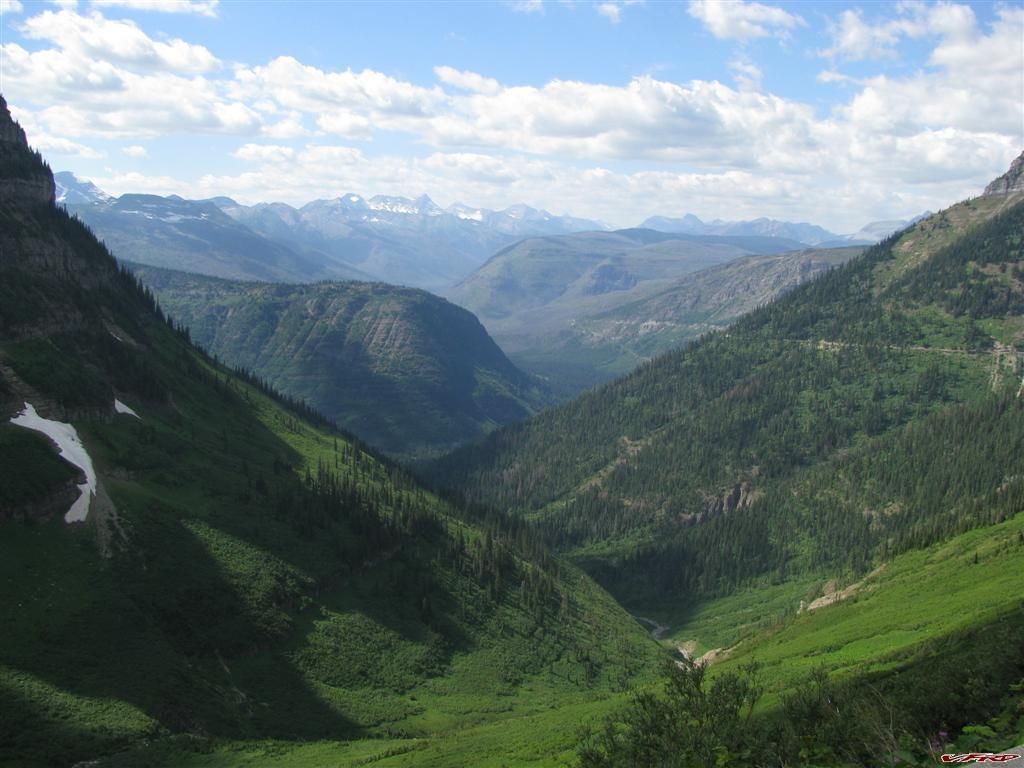 Looking back (north) Going to the Sun road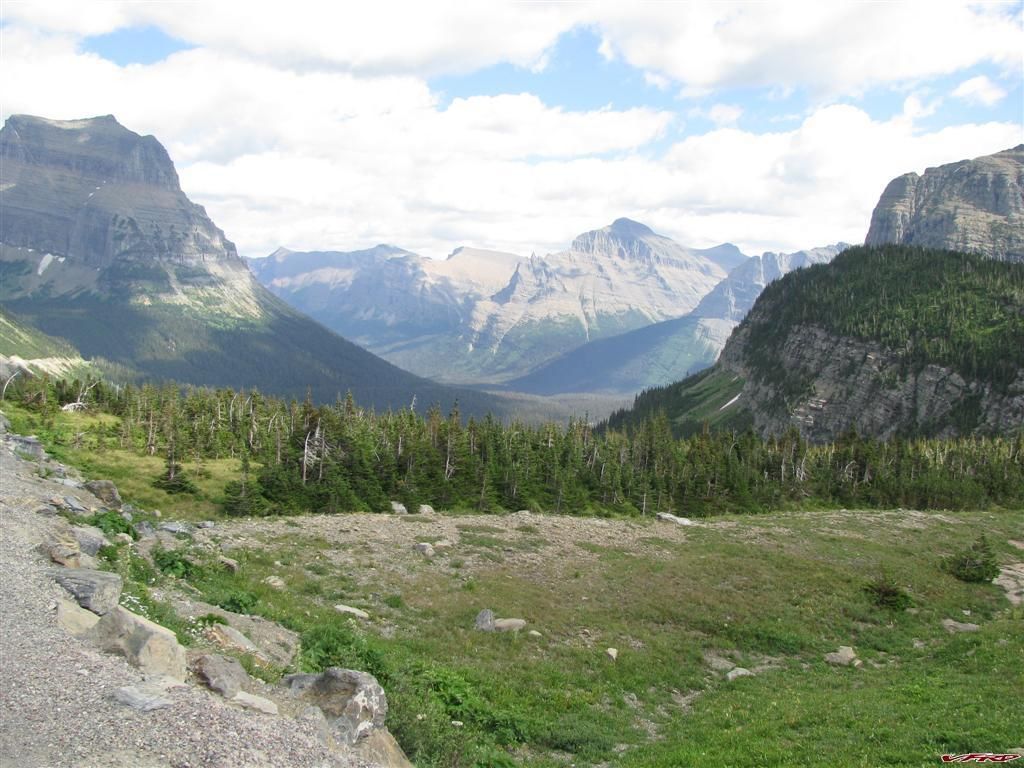 Cresting Logan Pass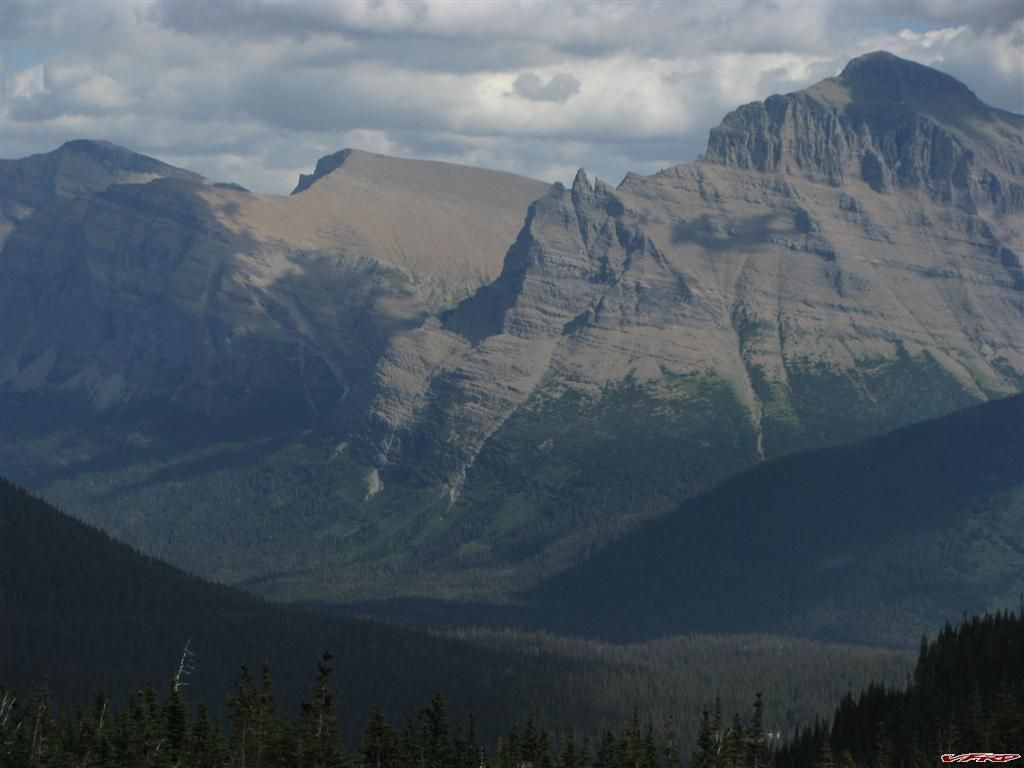 Dusty Star Mountain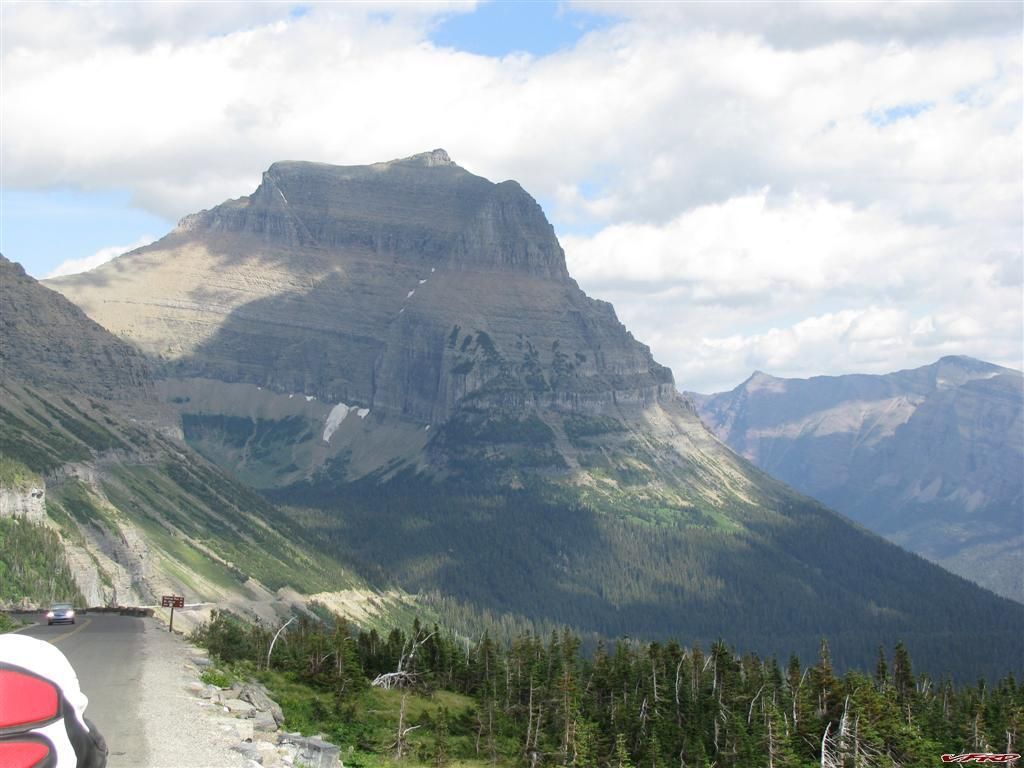 Piegan Mountain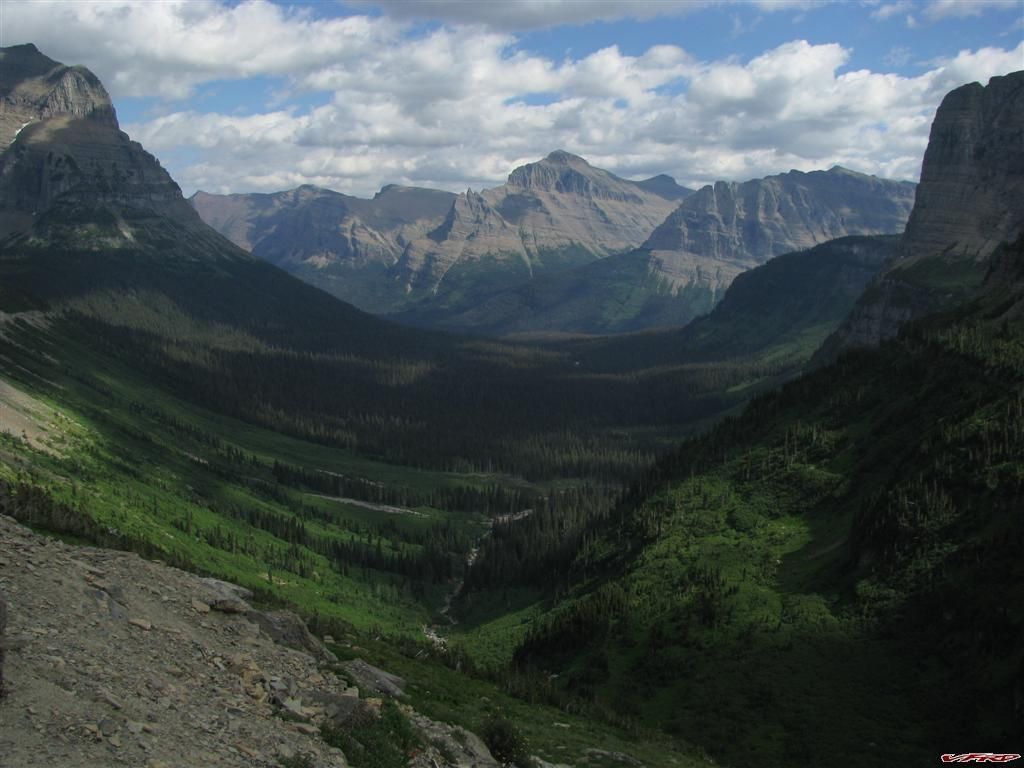 WOW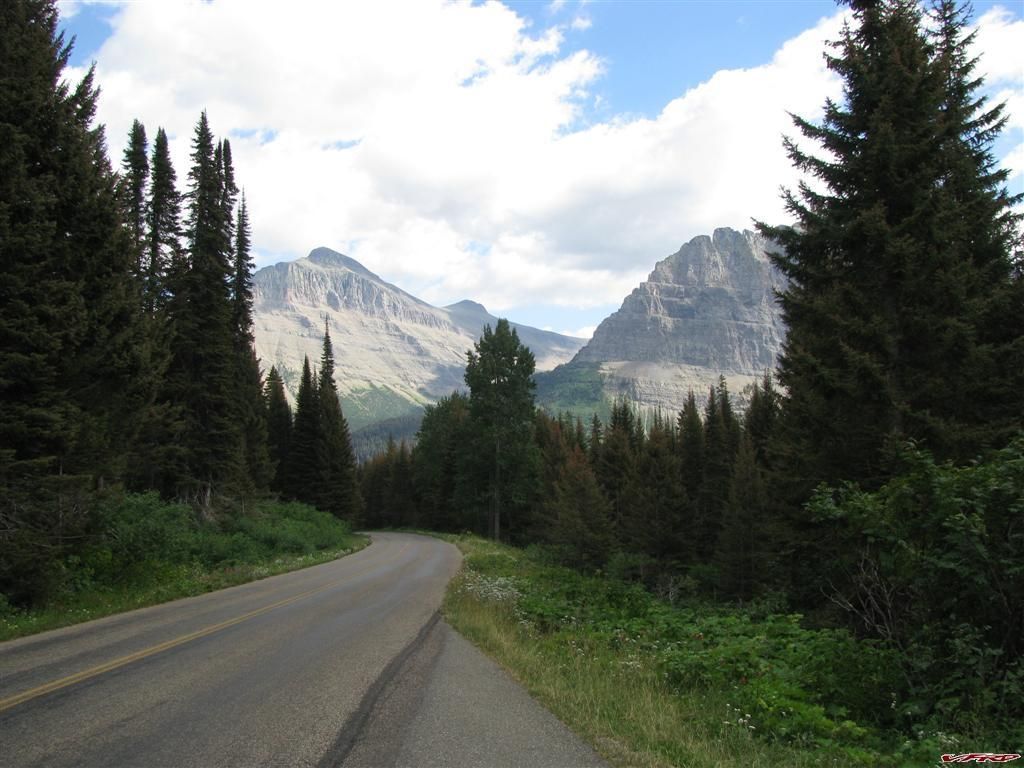 Glacier National Park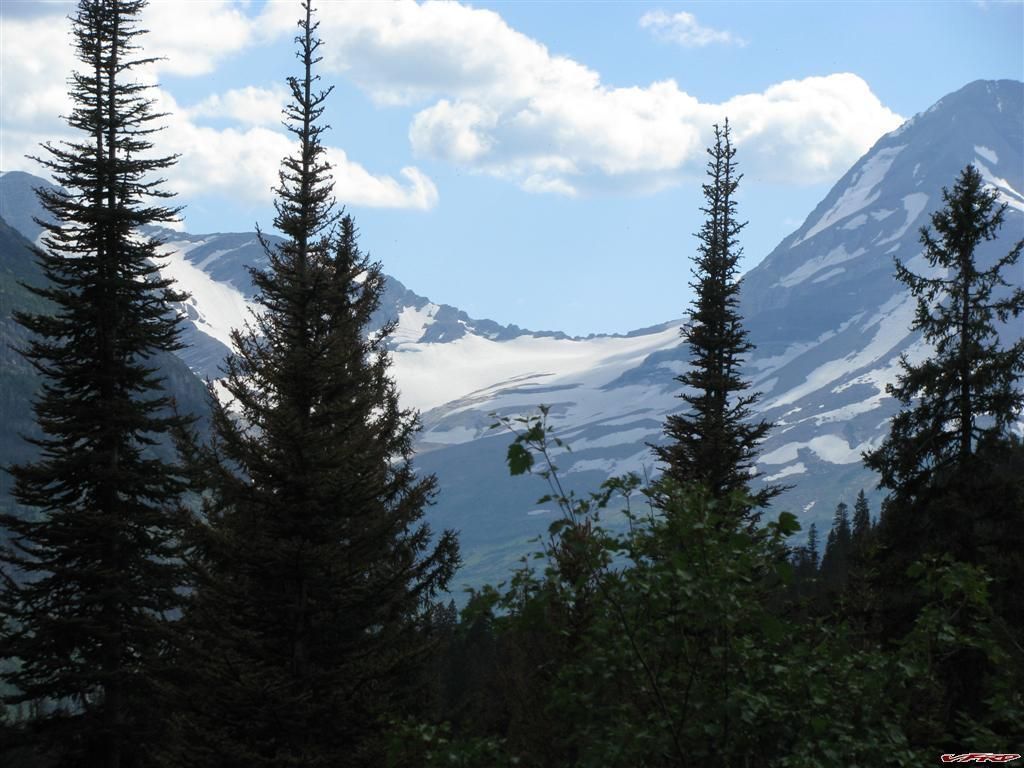 Reynolds Mountain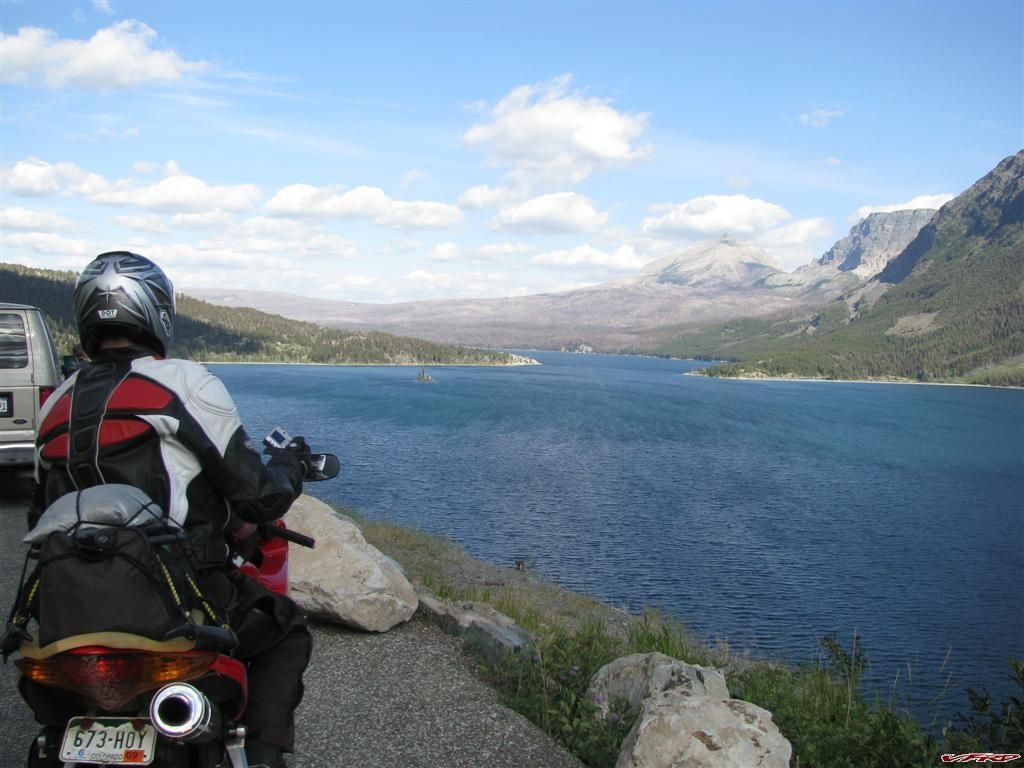 St Mary Lake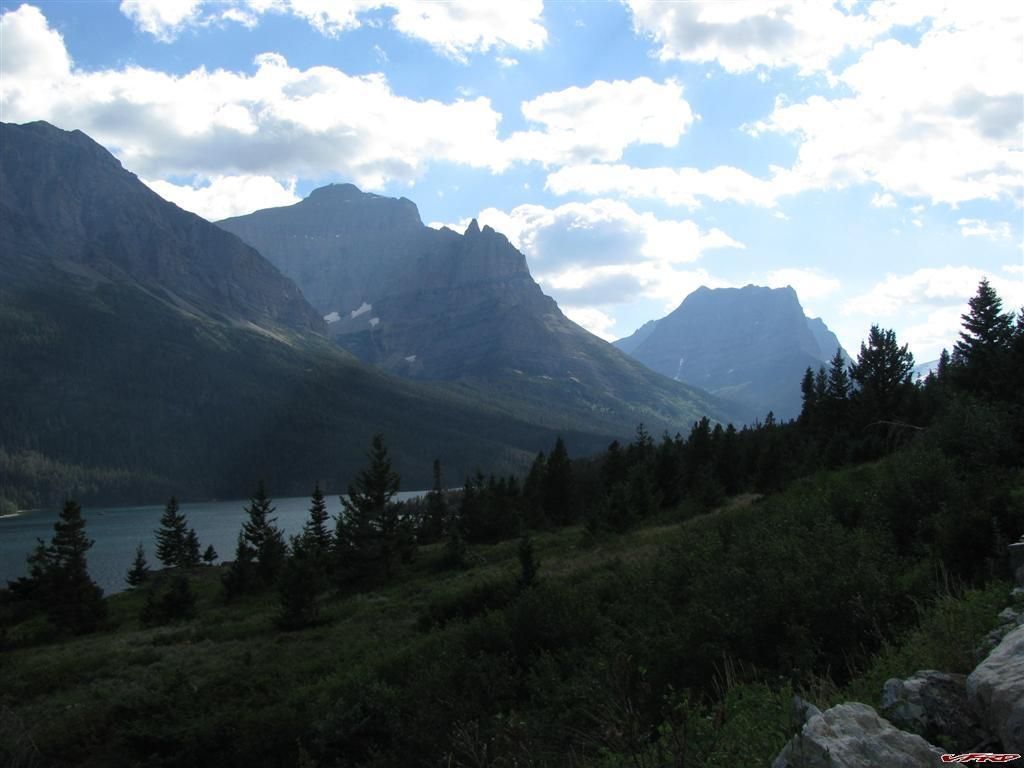 Glacier National Park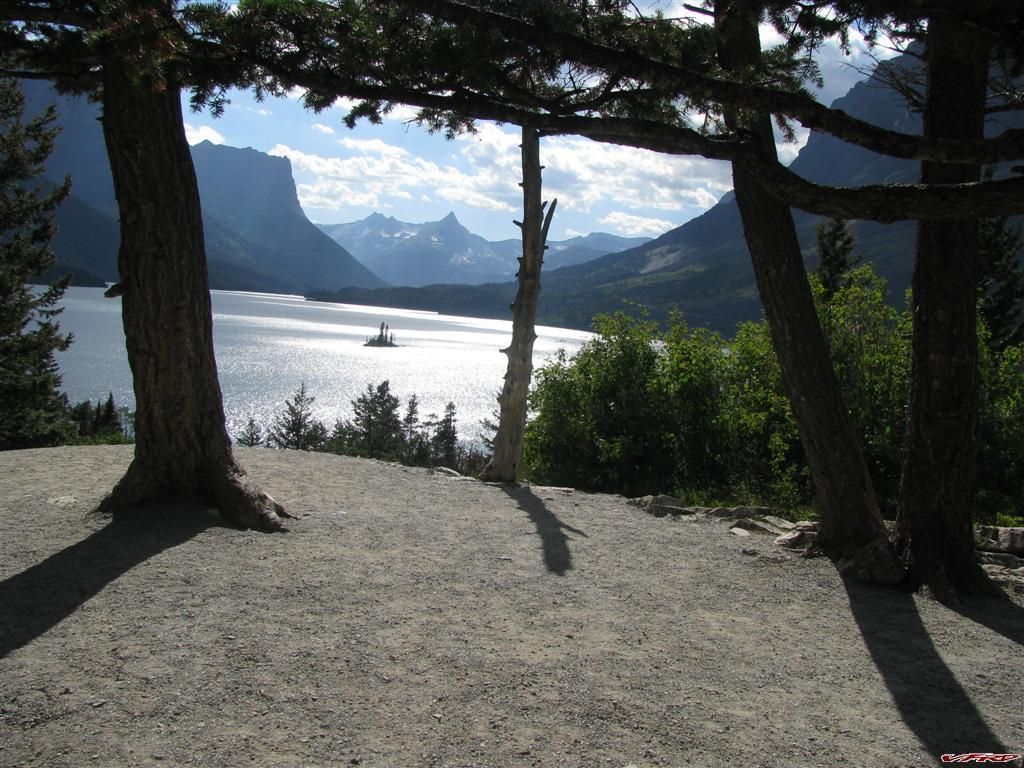 St Mary Lake
We overnighted in Kalispel and I thought I recognized the place we stayed, it was the same place I stayed the first time, did not like it then, still don't. Kalispel is a pit really, don't do the scenery justice, such an ugly town for such a beautiful place. The next morning we where on our way to Canada and the Hootenany. Not much to see really but a few lakes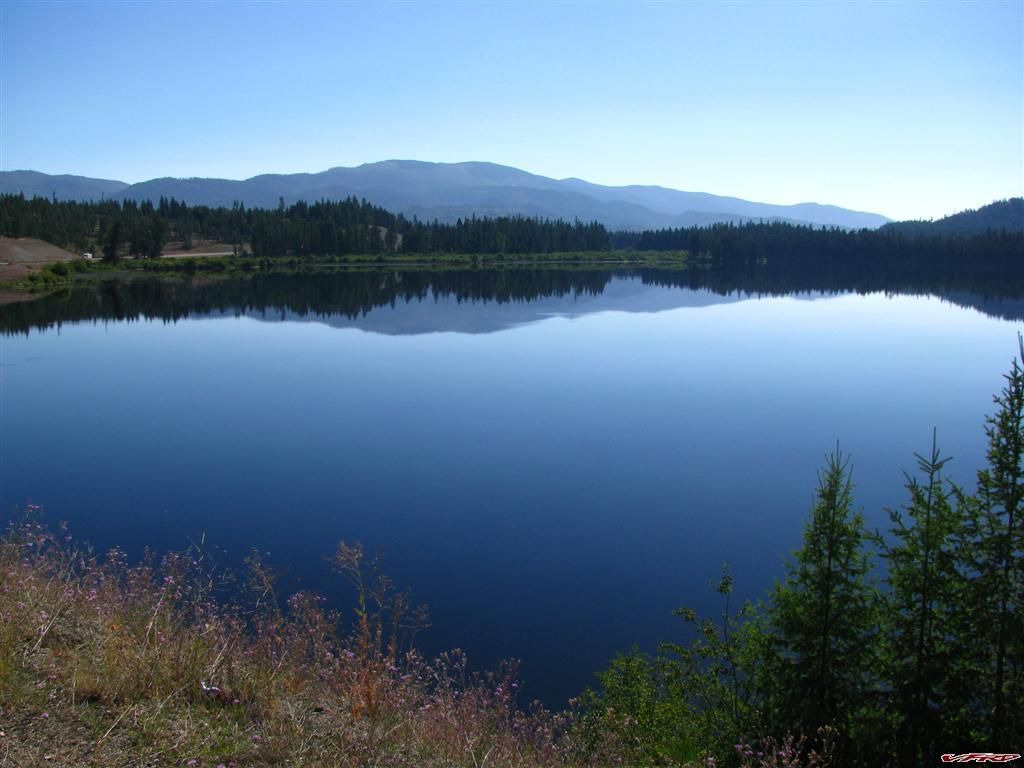 Loon Lake it was so still hwy 2 Montana
THE MAP
right click and refresh if the map is blank
THE VIDEO
[vid]44[/vid]