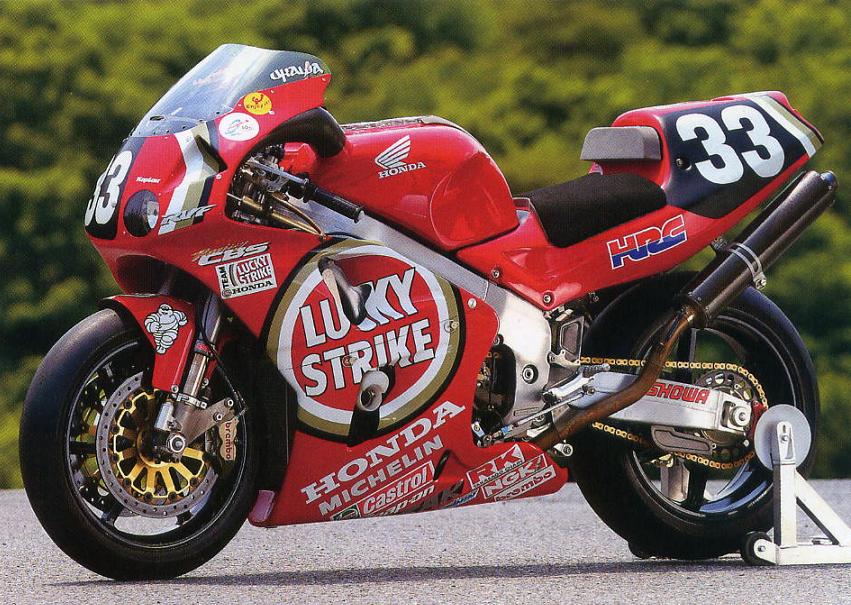 Content Count

21

Joined

Last visited
Community Reputation
5
Neutral
About monstar
Rank

Club Racer


Birthday

09/24/1976
Profile Information
Location
In My Garage:

2003 RC51 RVT1000R SP2 (SOLD)
2002 CRF450R Supermoto (SOLD)
1995 VFR750
Recent Profile Visitors
The recent visitors block is disabled and is not being shown to other users.
Previous owner/s deleted what I now find out is the fuel cut relay. They jumped the black wire and the blue&black wire and the bike ran. The fuel pump works but what I found is the red&yellow wire goes to the #4 coil and the ignition box. I'm guessing that if the #4 coil is not in the loop the ignition will not work. Turns out the ground wire to my #4 coil has broken. Hoping that was the problem. Not sure if that makes sense or if that is the cause. We'll see.

Damn, I was hoping it was something simple. Now I have to go back and trace my connections. It was pretty straight forward shortening the rear harness and I think it might be the tip sensor delete. I'm sure I did it right but who knows. After I charge the battery I'll go through it.

I trimmed down the rear wiring harness. I don't think I did anything drastic. Do I need the stock tank's sender to start it?

Thanks, I actually found his project on youtube before I bought the bike. I followed his facebook but was disappointed there was no more progress. He definitely has time, skill, and tools that I don't have. I would love to do a traditional swingarm conversion at some point. I like the look of the SSSA but it's heavy. Wish I knew of a swap with no modifications to the frame or linkage... and that looks good like the endurance style swingarm.

Thanks, that's good to know. There were a couple hoses not connected to anything coming from the carbs. Previous owner did it. One I believe should go to a little filter outside the airbox the other I'm not sure about. The bike ran fine but before but I'll have to identify them and hopefully one will do the trick. Maybe I'll take a picture or just look it up in the manual. Finally found someone to make me bearing spacers to use the vfr front wheel with the 25mm suzuki axle. Hope my measurements were correct... vfr wheel has a wierd offset side to side.

Sounds like a lot work and headaches! I was thinking of doing that to my stock tank but was not confident that it would turn out well. Trying to keep things simple. Cheap plastic tank cover and a fuel cell. Interested about the fitting and hose to equalize the pressure to the carbs? I know that's a thing with turbocharging carbed motors but is that necessary? Which hose? Sorry for the questions but how did it work out?

Trying to get my ram air to actually function. I decided to not screw with the stock tank and have a fuel cell fabbed up soon. Love to see how you did yours.

Thanks, in the process of that. Chinese parts are so cheap but you get what you pay for... now I'll probably have to pay a butt load to ship them back to china. I knew better but rolled the dice!

Christ! Someone (myself) should tell me to never buy important parts from china (ebay)! Waited a month for front rotors and while they looked nice they did not look like the picture advertised and the machining was not symetrical?! How can you fuck up a brake rotor if you're copying it from a legitimate manufacturer? Sorry, but China sucks ass. Sure, the people are nice but they're screwing everyone. I'm an idiot... hope people don't buy brake rotors from china... you may end up dead, which is probably the intention.

Been on here randomly for a few years just asking dumb questions. Sold my rc51 and my crf450 supermoto before I got married 7 years ago (Big mistake! Not the marriage part but selling my bikes. I want them back, well the one that wasn't totaled after the idiot crashed it and wanted to buy the spare parts that I was including with the bike but he was cheap... live and learn). I love singles and twins and never should have sold them but always wanted a V4 and growing up when the RC30 and RC45 where debuted I wanted to complete the trifecta. Can't afford a rc45 so I picked up a 95 vfr750. Already had a gsxr front end although I can't stand the three spoke wheel. Also, it has the 8 spoke wheel from the 3rd gen. Rode it 2-3 times in a matter of a couple weeks then parked it in the garage for at least a one year+ slumber. We had a baby girl 14 months ago. Been buying parts here and there to "try" to make my 45 dreams come true and things just started to come together! I have a NC35 tail but my taste kinda changed so don't hold it against me. I can always swap out the tail for the nostalgia. I'll post more pics and if anyones interested on parts and quality I'll share that too. Sucks being old when a iconic bike like an rc45 has been forgotten!

I've only found cbr900rr swingarm conversions talkabout here. Nobody has got anything else to work? Heard about 600rr but the linkage didn't work or was too difficult. Just found this swingarm that looks awesome from a cbr650f. Never knew they even existed. Has a little room on the right side and shock mount is different. That could be a good thing, no linkage. Thoughts? I have no idea of dimensions.

AHHH! Told myself I would never be on facebook but I had to create an account just for this build. Christ, this guy is super meticulous almost to a fault. Don't get me wrong he does awesome work but it's never gonna be a rc45. He must have hundreds if not a thousand hours into this plus parts. I'm all about minimal time and money for a lighter weight, better performing, cooler looking vfr750. At the end of the day, if this guy crashed this masterpiece replica he's screwed.

I picked up the bike in sacramento. I should have stopped by your shop. Could've sworn seeing your posts on speedzilla or something back in the day? rc51 or crf450 supermoto stuff? It's been so long... maybe 8 years so I'm old and forgetful.

Thanks for those pics. That's what I'm going for or at least mimic. I've seen the rvf project youtube videos but that website is down. Really sucks, I wanted to see the progress. I don't think I would be capable or want to mod the frame like he did... there's gotta be a dual sided swingarm that would work without changing the rear pipes and just shimming the frame. Anyway, here's a pic a the bike with the tank cover sitting on top. I still need the tail to get the tank/tail/subframe relationship worked out. Anyone know what's up with tyga-performance.com? I ordered from them a long time ago, wanted to place another order but forgot my password. The site says they sent an email to recover my password but I haven't got it. Plus, there's no contact info... seems sketchy now. Anyway I need some TYGA parts! Anyone?

Thanks for the welcome. I actually signed up back in 2008 when I still owned bikes. After selling them and getting married I finally found a deal on a V4. So I'm back! I'll get some pics up tomorrow. Nothing special, only had the bike about a month. Rode it a few times now it's kinda stripped down. Been cold and rainy here in CA for a change, so it's a good time. I usually skim through the posts to find pictures as well.