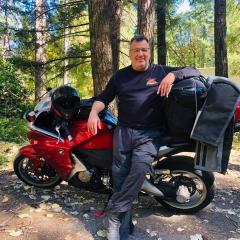 Bad Karma is Kicking My Ass as usual! I have never been one to live my life by a set of unbreakable rules, nor am I paticularlly Pious by any means, however I do have a stong sense of right and wrong and knowingly once in a while, I take advantage of the situation. It never seems to pay off since Karma comes back into play to make things more interesting. Such as my Helibar procurement - of which I am sorry for, read thread if you havent a clue - on "Throttlemisters and Helibars"
I took the low road on that one! And It surely was strewn with mud, and a lot of members more than willing to sling some in my direction! I know I know! I was wrong, I confess I did it, I regret it but I needed those bars, as I am begining to suffer from riding, some new discomfort did not have before. After riding Baileyrocks bro's bike with the bars I saw that there was somthing I could do about it, and not loose too much sportyness but at the tune of $200 dollars plus?
Then I saw an ad in the classifieds for them at a substantial discount, albiet used! I had to get them!
So I emaild the guy from Cali and asked if they were still availible, - waited till he wrote back then pounced! Not thinking I deleted the thread, I guess I just assumed it was a done deal, clicked the delete button and poof no more classified! OPPS! Wait I did not read that all the way, his reply he did not say SOLD!??
Aw crap what did I just do? Oh well too late now! and for a couple of weeks it nagged me, then having completed the deal with the bars in my hands I realized wait I cant use my throttle miesters with these?? Payback for being greedy from the Karma police? Yea it was greedy and well Karma strikes again, but I still feel guilty for what I did! Bad Karma was not enough to repent!
So I posted a question and just sort of tacked on a confession of what I had done and wow I feel way better! Half arsed too, Of course it got back to my detractors, the same ones who always seem to pounce on every oversight, or any mistake, any thing that I should be doing with VFRD that I am not doing now that they could do better! Those who see themselves as doing my vfrd job better than me and make every effort to let me know that! More smilies man more smilies!
If I wasnt using this POS Invisionboard but instead boardIneverheardoff.com nobody uses we would not have been hacked! I am btw the reason that hackers exist, without me there are no hackers they have no reason to hack without me right there is no challenge in not hacking a board without Miguel to spit on!
Yea right hmm perhaps If I bought out microsoft tommorow and replaced it with firefox all the hackers would just dissapear never to be seen from again, never mind that you have to download 400 plugins to see a webpage now!
OPPS off on a tangent there! Back to cleansing my soul!
AHEM clearing my throat!
Its winter time here and I am bored, tired from long hours at work, and working nights, seems that days of sunshine just dont exist anymore!
I know there is sunshine I saw the pictures! I remember it riding my vfr, and while blowing up my xr on Rampart Range road! Damn my wrist hurt! My back is killing me and My knees hurt, my butt is a bit sore too! Hey look there are some Heli Bars on VFRD! Hey its not too late either I will just dash off a quick email to the guy and see whats up home! - I work with young folks I pick up slang
Got the check. I will deposit and mail them early next week!

On 1/22/07, Scott wrote:

> $85 will be plenty I'm sure. I'll mail them as soon as I get the check!

>

>

>

> On 1/20/07, Miguel wrote:

> > Scott,

> >

> >

> > Great! I wrote a check out for $85 should cover shipping USPS is fine.

> > Goes out with tommorows mail.

> >

> > Thanks again

> >

> > Miguel

> > ----- Original Message -----

> > From: "Scott"

> > To: Miguel

> >

> >

> >

> > > Sounds great. (then added his addy that is nonya bizzness)

> > >

> > > Address is:

> > >

> > > Scott

> >> > >

> > > On 1/18/07 wrote:

> > >> well I can send a check then if you like? I can put it in the mail if you

> > >> provide an address.

> > >>

> > >>

> > >> ----- Original Message -----

> > >> From: "Scott "

> > >

> > >> Sent: Wednesday, January 17, 2007 11:28 AM

> > >> Subject: Re: Heli Bars for Honda VFR '99 - $75 (SOMA / south beach)

> > >>

> > >>

> > >> >I can definitely ship. How would we work out payment w/o Paypal. I

> > >> > don't use it and don't plan to sign up for it just for this one item.

> > >> >

> > >> > I've been to MotoGP the last few years ever since it started coming

> > >> > back to Laguna Seca. It's a blast, especially on Saturday night in

> > >> > Monterrey. But, this last year hotel prices were at absurd levels and

> > >> > I expect the same next. I think this year may just be a Sunday ride

> > >> > for me to save the $400 hotel room costs.

> > >> >

> > >> >

> > >> >> Great! I am in Colorado, Colorado Springs to be exact 80906 to help

> > >> >> you

> > >> >> figure out the shipping. I can Paypal you the money if you have Paypal

> > >> >> or

> > >> >> I

> > >> >> can send the money, whatever. Oh and thanks for note about vfrd I

> > >> >> try

> > >> >> to

> > >> >> keep it fresh - On a side note, comming to Laguna Seca this summer to

> > >> >> see

> > >> >> the MotoGP, I cant wait! Maybe I will see ya there?

> > >> >>

> > >> >>

> > >> >> ----- Original Message -----

> > >> >> From: "Scott"

> > >> >> To: miguel

> > >> >> Sent: Monday, January 15, 2007 4:41 PM

> > >> >> Subject: Re: Heli Bars for Honda VFR '99 - $75 (SOMA / south beach)

> > >> >>

> > >> >>

> > >> >> > Yes. Are you in the Bay Area? BTW: I love your message board.

> > >> >> >

> > >> >> >> Are the Heli Bars still availible?
Hmm I dont know why I added that quote - it was a suggestion from one of my detractors, a long standing one who I happen to actually like but hes a ball buster none the less! hes funny so I am amused by the guy even though I know he doesnt like me much! I guess I am just a whore for my fans! More smilies man more smilies! Miguel you suck theres not enough smilies! Why wont you post that video of me at the Texasmac ride last year - but your other videos suck! How do you mount your camera btw I have some videos I can post there are way better? Some member here posted a how to on how to fix your chain can you fix his pictures? (what that was you oh never mind?) I forgot my log in password. Hey you passed that car on a double yellow in that video you give all motorcyclist a bad name! HMM even the ones named Michele Dumbas Dicoff? Shoot a boy named Sue, we already have girl named Martin and guy Named Stephane! You mind if I give you a bad name? I passed on a double yellow so here you go your now named Jabbadodeeddeeee!! (With 6 E's) Barf! gagged on that suggestion post haste! Ignore that one at all cost! Bad name giver that I am, so you see there is no Karma that isnt bad Karma - as I understand it the road to Nervana has no Karma! I expell you Bad Karma! Go git! I confess I suck!!