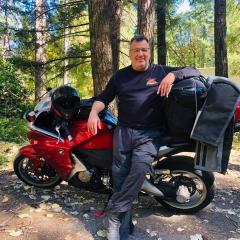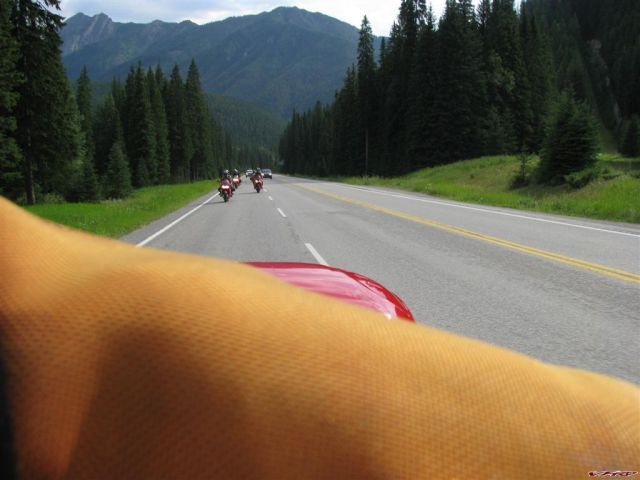 Kootenay National Park Calagary Crew fall in behind me
It occurs to me I never posted the second half of my trip to Canada from 2008? Sheer tiredness prevented me from finishing it up last year, so many picture so many stories. Stories I can't remember anymore, but I still have the pictures, the wonderful ride pictures from that trip home. If you bear with me I will show you the best of the best pictures, and try to remember the good things that happened on the road.
It all was part of the Kootenay Hottenanny 2008 in Nelson British Columbia, a wonderful place that reminded me a bit of Colorado, yet it had a very european feel to it and definitly foriegn to me, loonies and all ya know. Still I can understand english rather fluently so it was not that much of a stretch. Sort of like visiting a cousin who lives all they way across the map. You can see somthing familiar in the eyes and ears, the funny walk and yet you know they have different parents. That was Canada to me like visiting cousins, beautiful cousins in fact. I was amazed at the all the pretty people there, everywhere we went pretty people. The few fat ones like me unmistakenly had tags from the USA? Heh - I come expecting biting wind and fuzzy hats and I find a heat wave and beautiful pretty people? Go figure - I like pleasant surprises so I was pleased. It just seemed to be a really laid back place to be, much more easy going and a somewhat slower pace of life, yet not without sophistication at all. Canadians are certainly a complex sort, more than willing to give you an educated opionion about what they think of you or what your doing. It all seems very much like a perpetual small town. Even complete strangers seem to settle into a familiar ease of live and let live. The money thing though is a bit steeper then I was ready for, who would have thought the land of Aspen and the Home of Broncos would have a lower cost of living? There we go with that cousins thing again, you cant help but compare hands and feet, counting toes and fingers and such, it seems to be the natural thing to do.
[vid]67[/vid]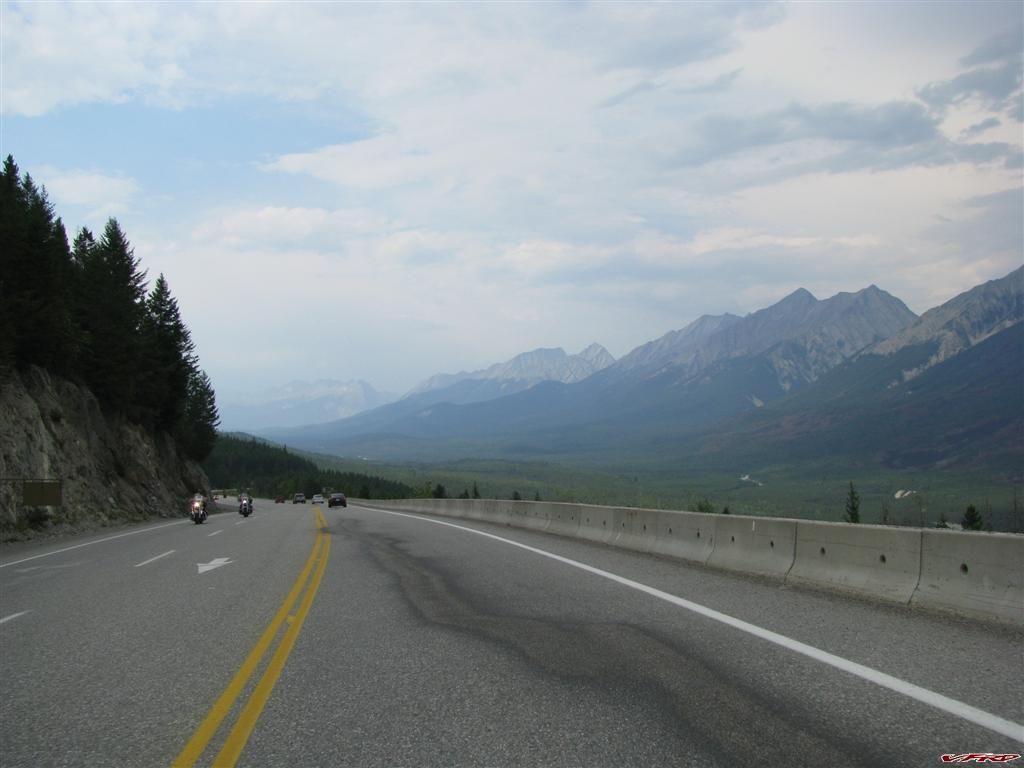 Kootenay National Park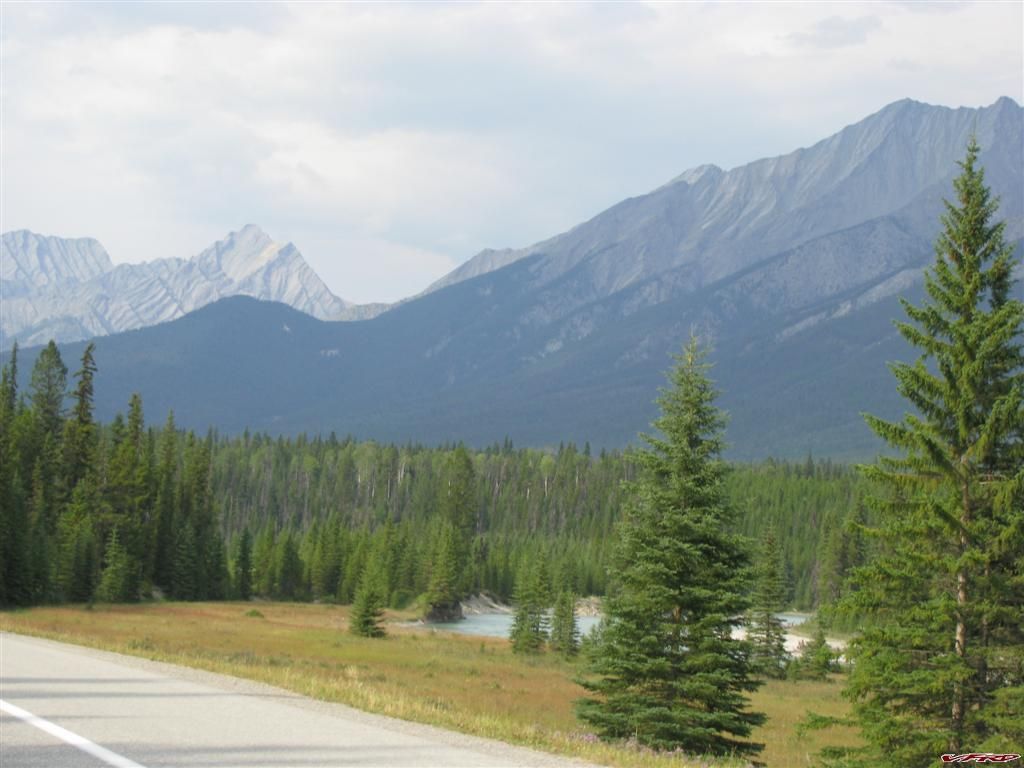 Near the boader Banff National Park
After the wonderful gathering in Nelson - a large contingent of us gathered together to ride to Calgary, well mostly to Calgary anway, Craig and I would be stopping in Canmore for the night then heading back into the USA the next morning. The ride across British Columbia was fun, the trip across lake was fun too, never been a boat that big before. I am land locked you know, I know mountains but I dont know water.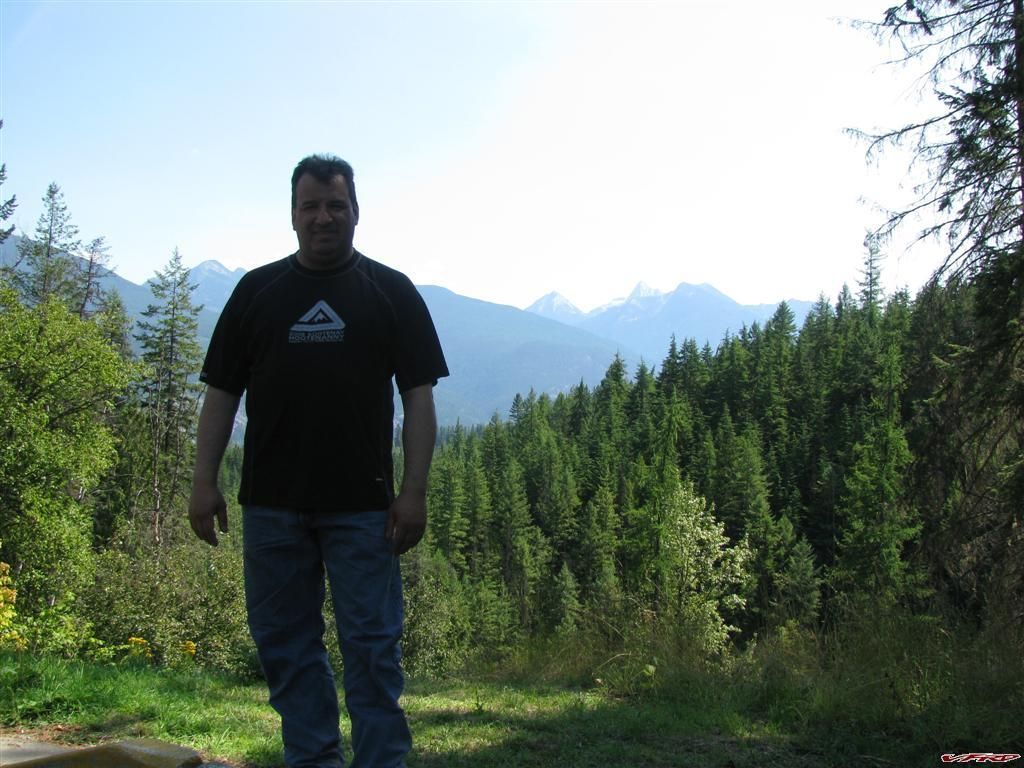 Me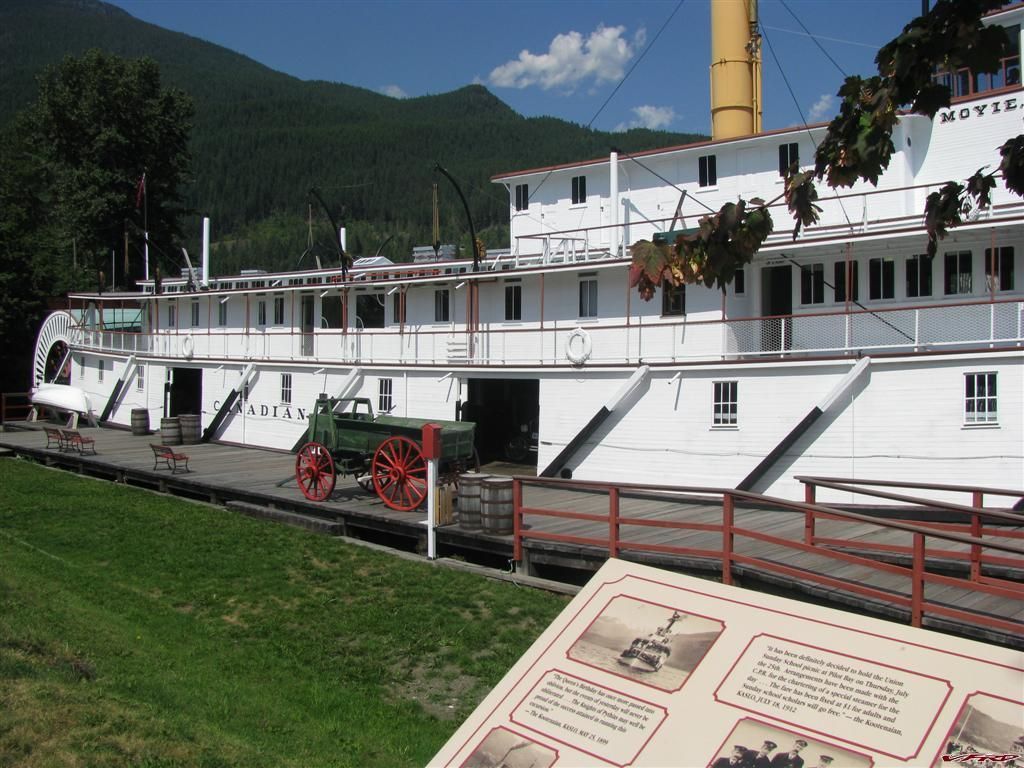 The Moxie Kaslo BC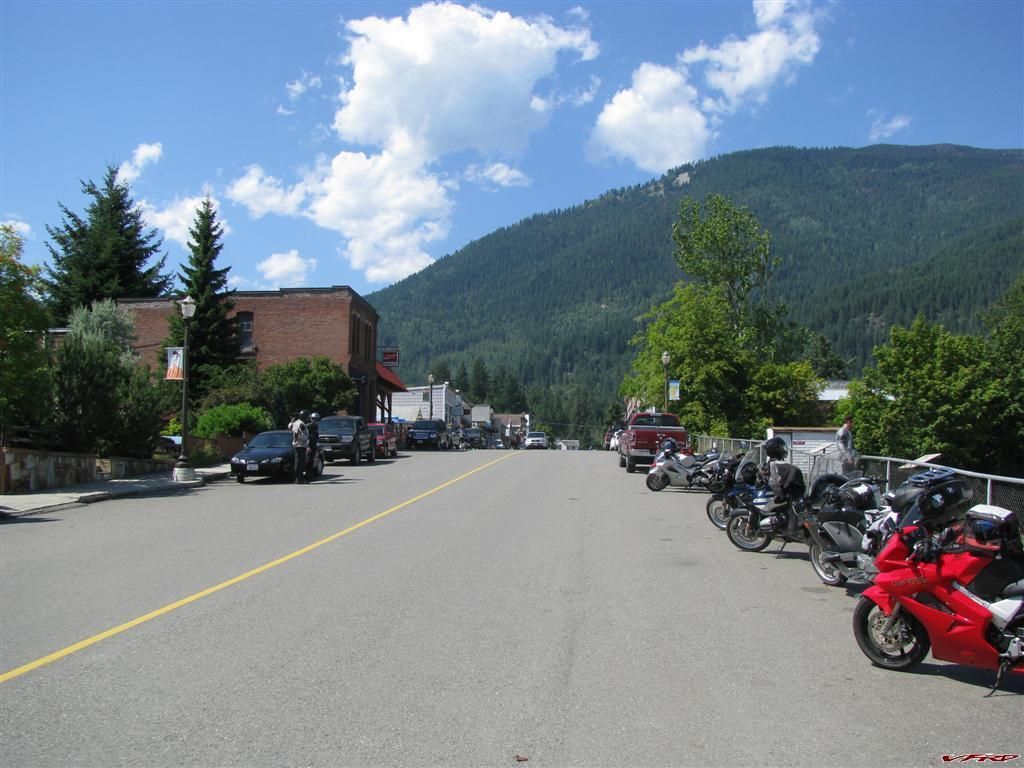 Kaslo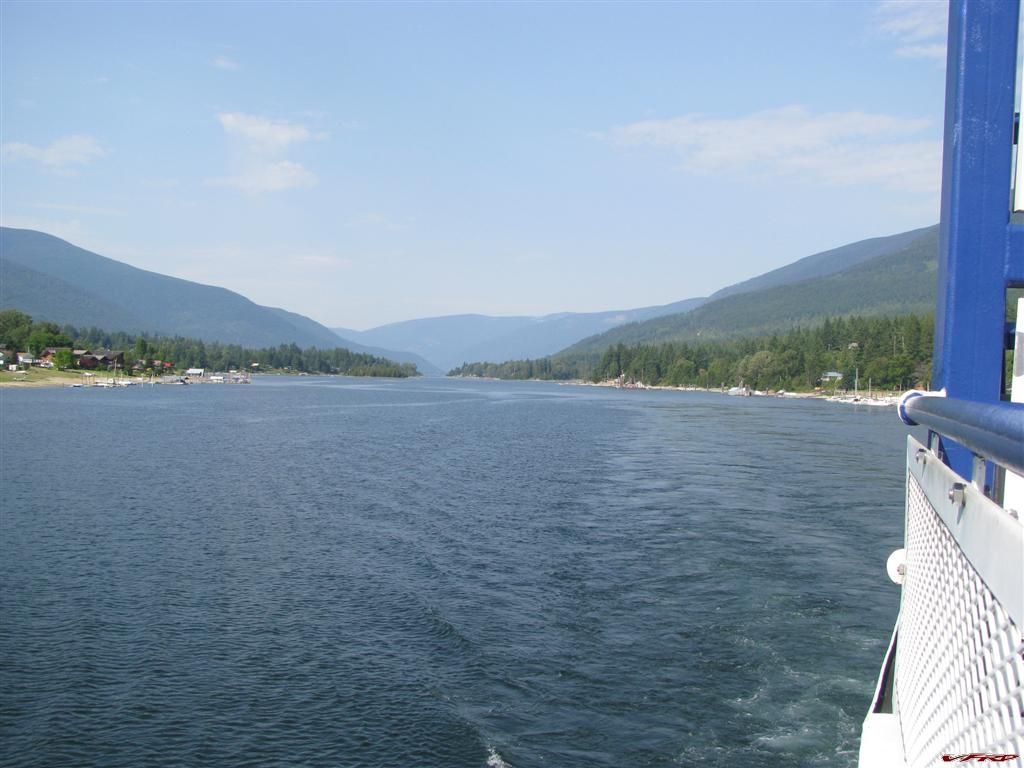 On the Ferry Lake Kootenay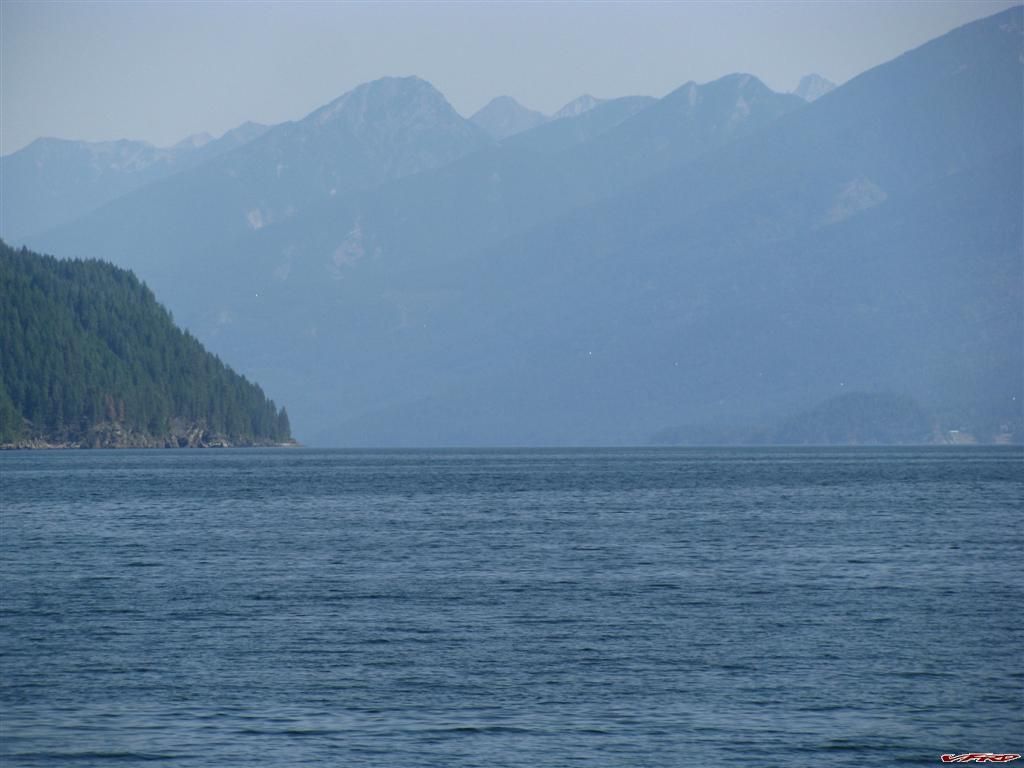 Kootenay Bay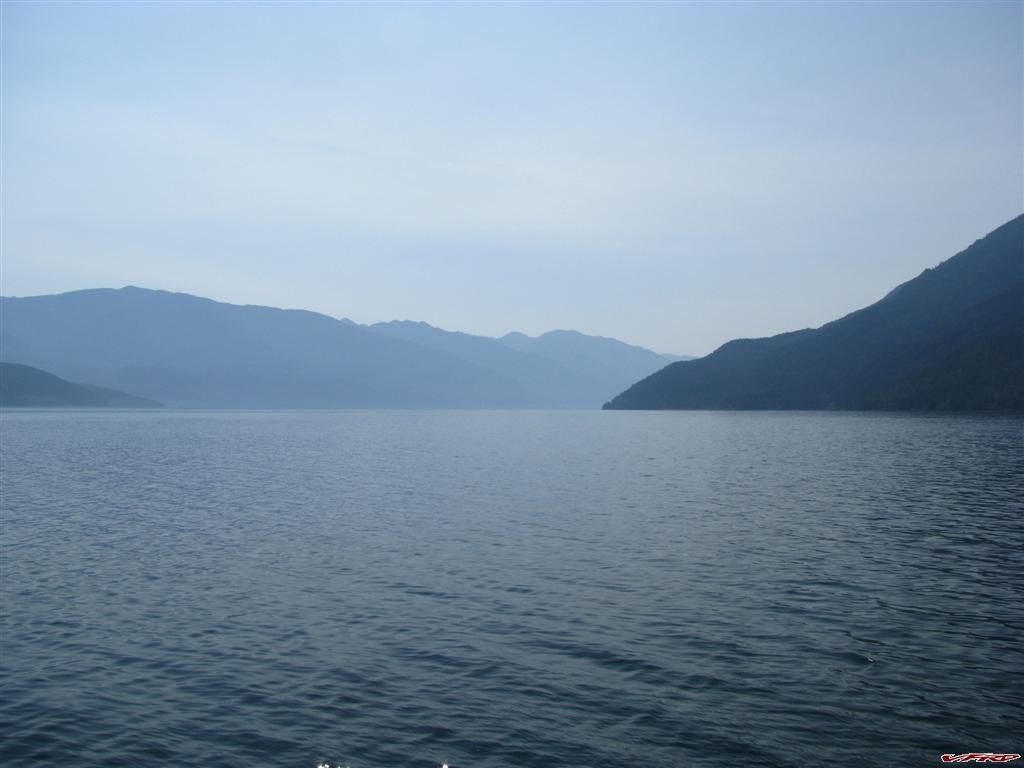 Kootenay Bay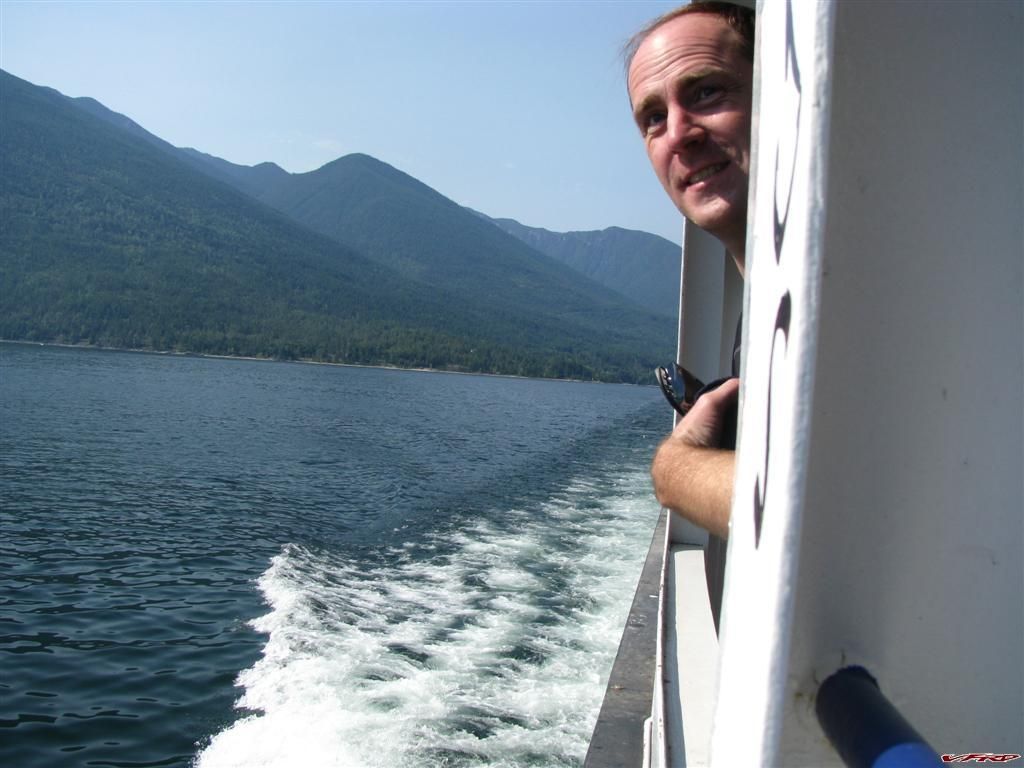 Craig Soaks in the scenery
I might have some of the pictures out of order, in any case I can vouch that the real thing is much more scenic than what any camera can capture. The pristine lakes against the backdrop of the Rocky Mountains is somthing to behold, It takes your breath away at the incredible beauty of it. The Crew, that is to say the "Calgary Crew" chose me to lead the way, which of course for a guy with a gps is not too difficult but it sure was odd. I did the best I could and passed cars that were annoyingly slow, and they all followed gulping up the miles with ease. I tend to be a bit of an Iron butt so I may have gone on a bit far in places without rest - and yes I heard about it later when we did stop. Hey I was drafted, you cant complain about that now.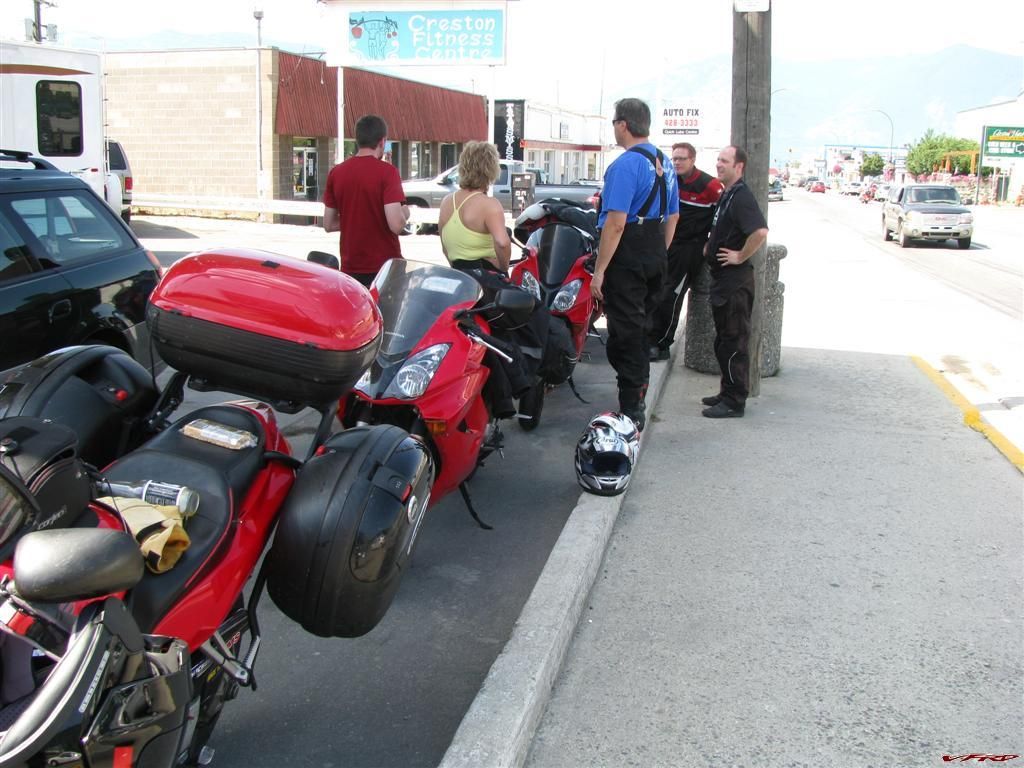 Calgary Crew Fueling up in Creston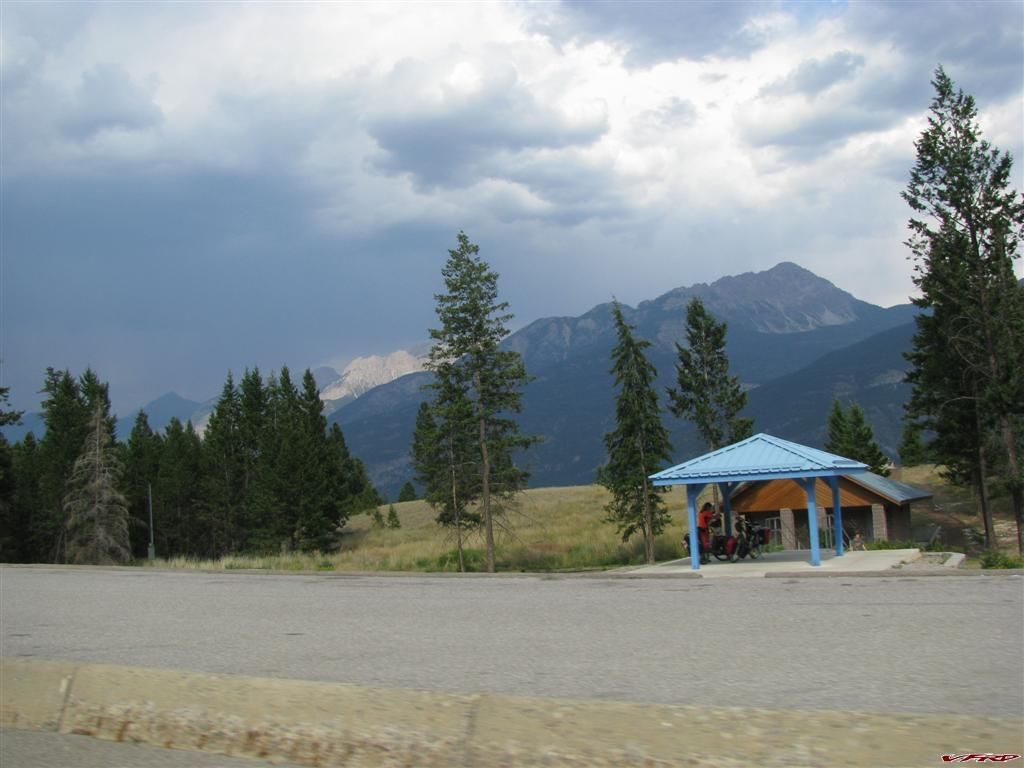 Bicyclist seeking refuge from rain Near Fairmont Hotsprings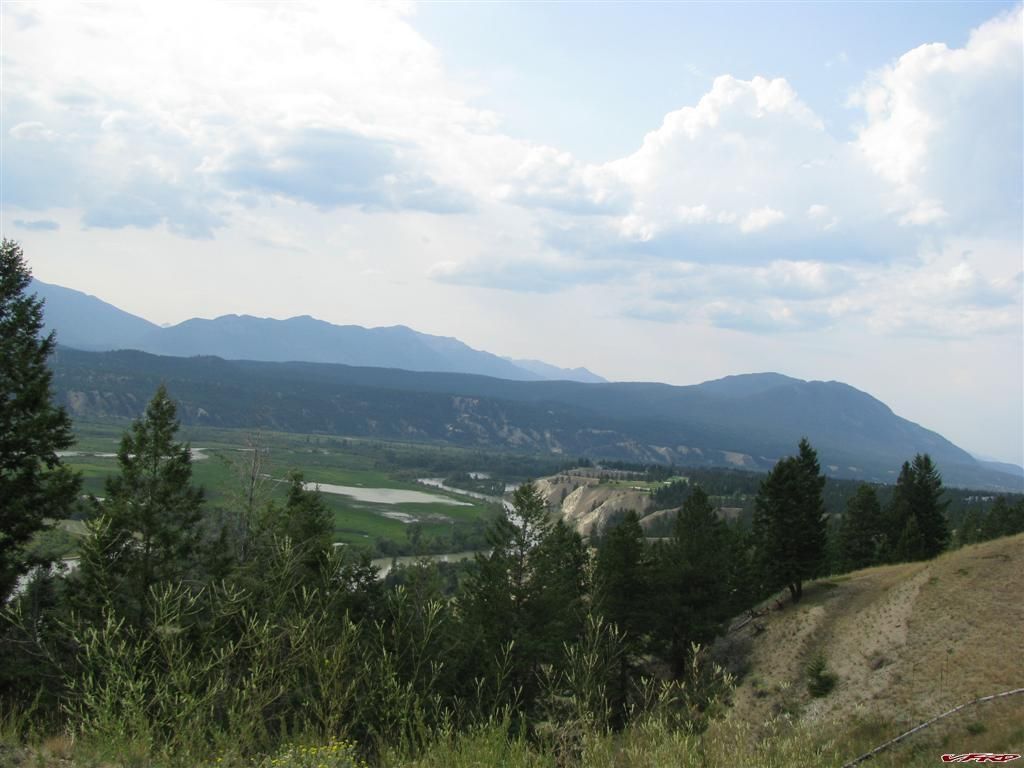 Near Canal Flats
The day was over and our party of motorcycles disbanded, it was just Craig and I headed back to the USA now, we took a road that Superfunk recommended to us and bypassed Calgary, it was not all that twisty but boy it was scenic.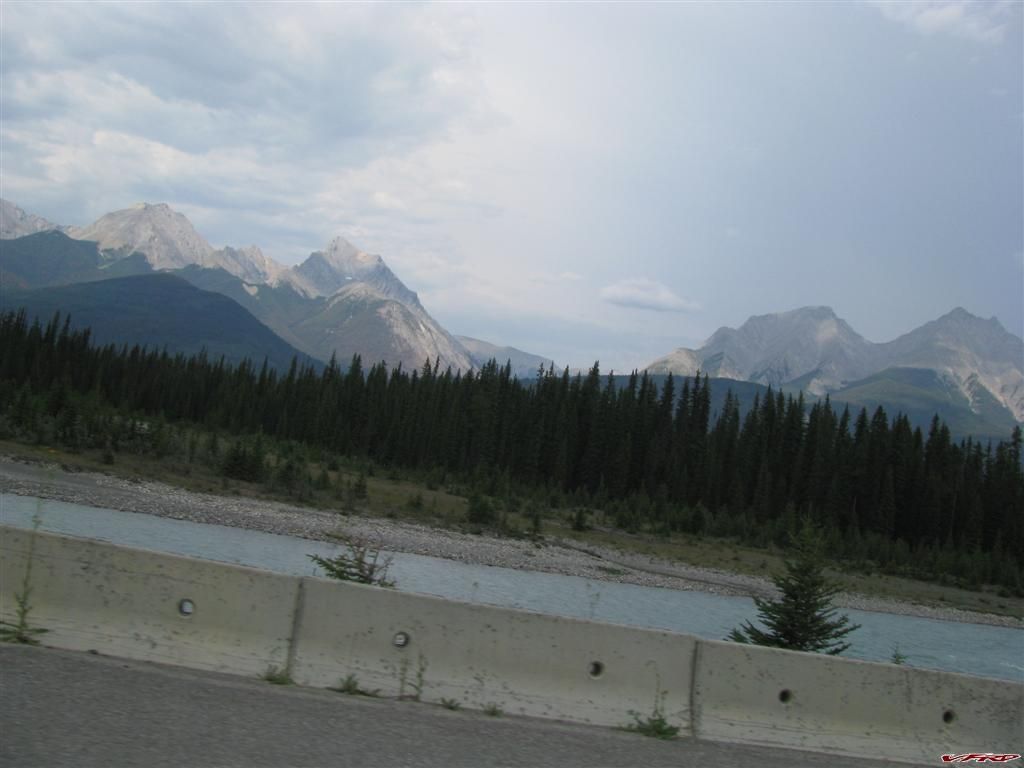 Canadian Rockies knife edge rocks
Banff National Park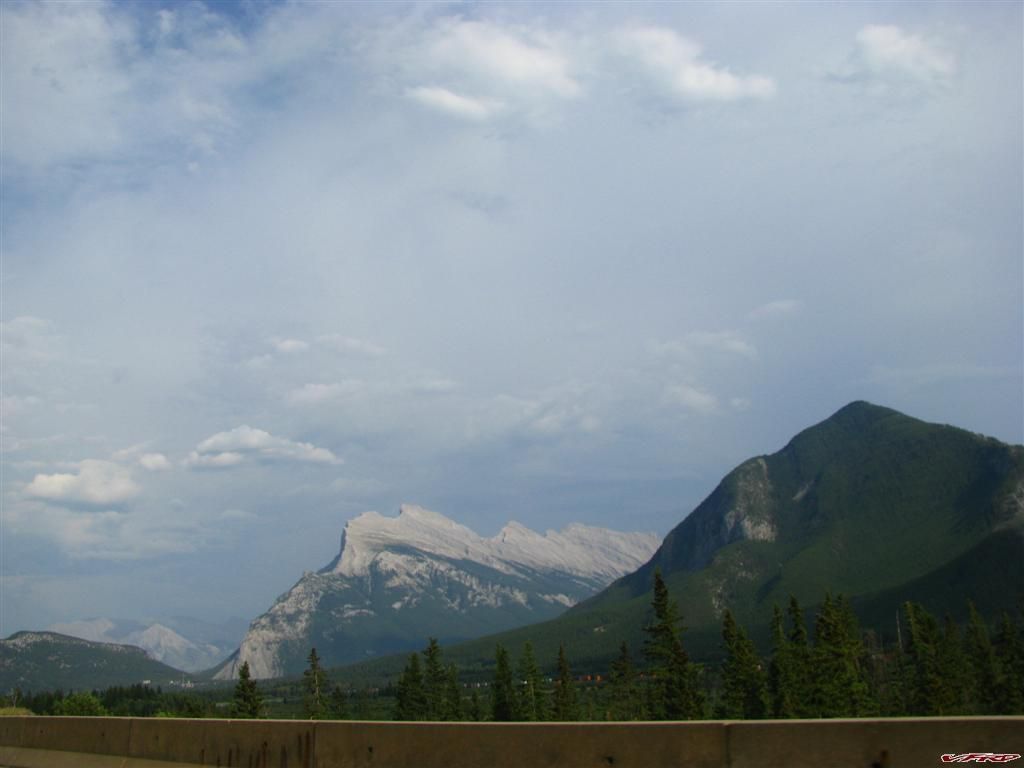 One of the most photographed mountains in Banff Mt Rundle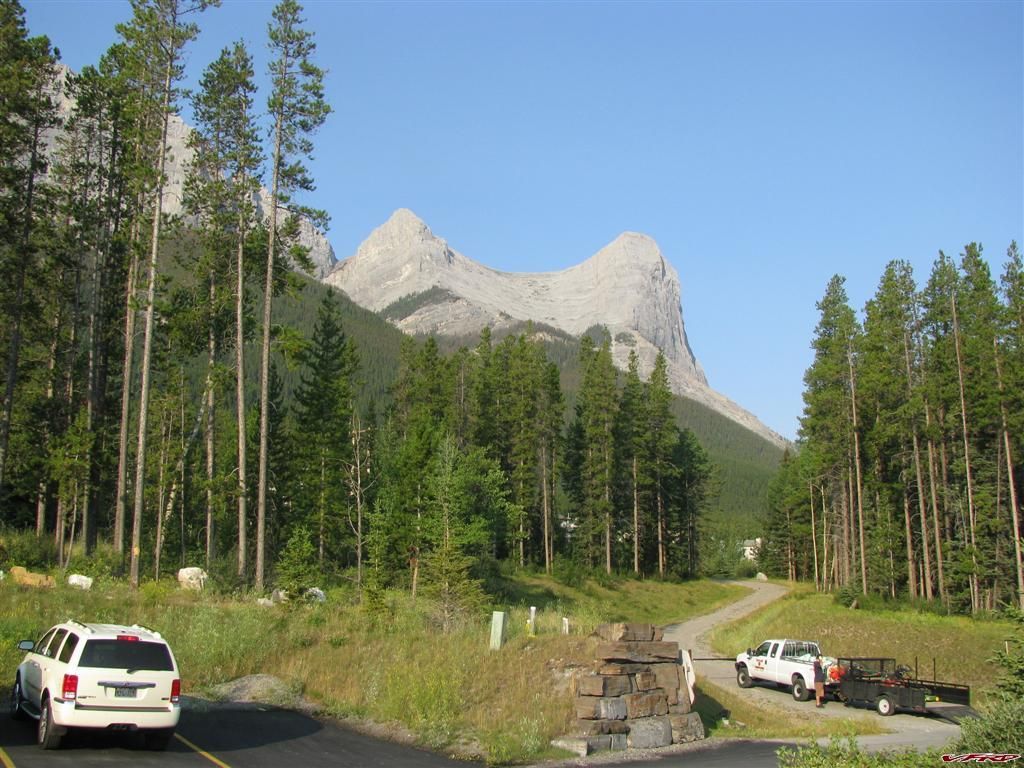 The View from the Lodge in Canmore Alberta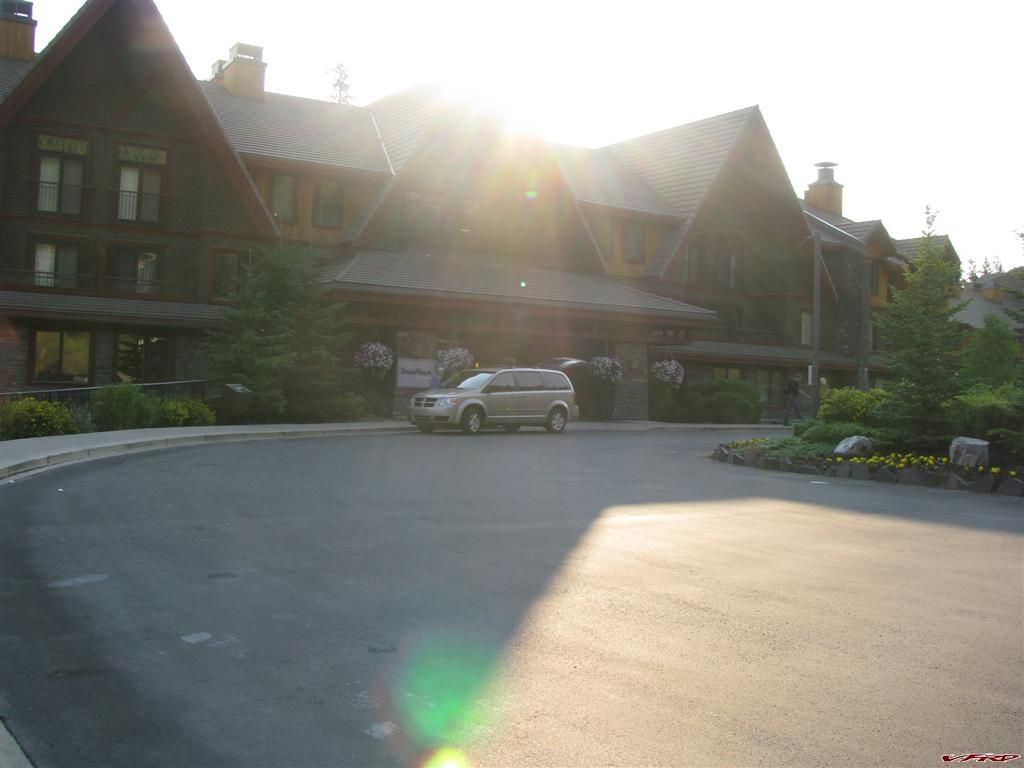 The Worldmark Lodge In Canmore My uncle is a member he let me use his points.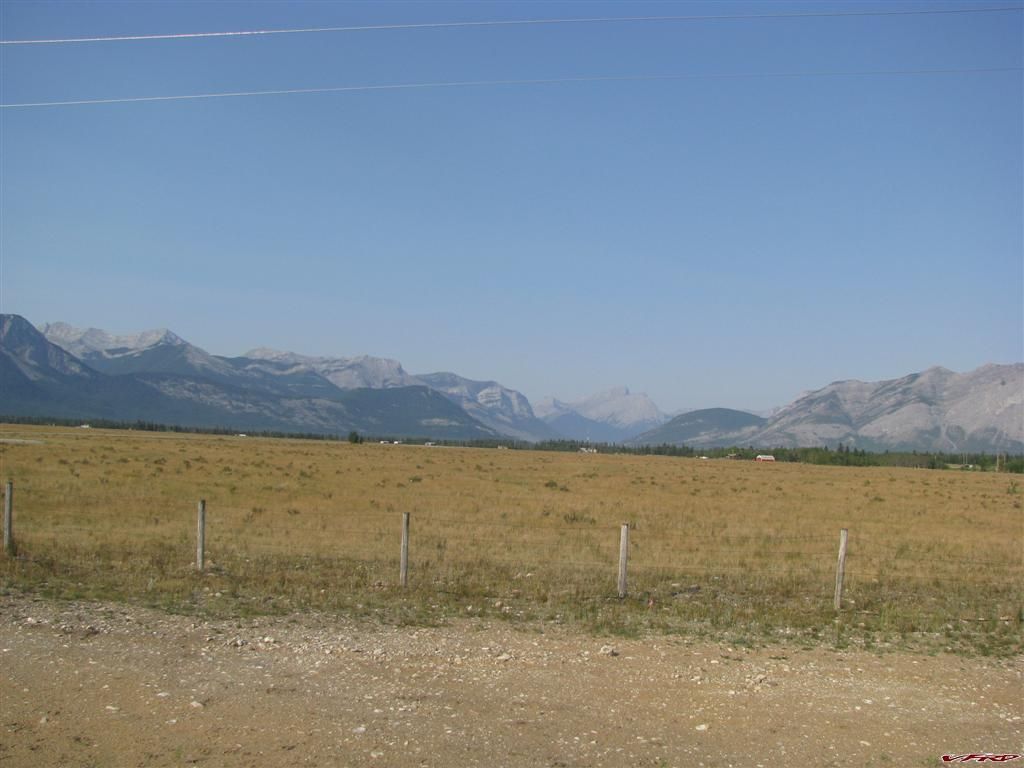 The Incredible Canadian Rockies at the Seebe Junction of Canada transhighway 1 and Alberta Highway 40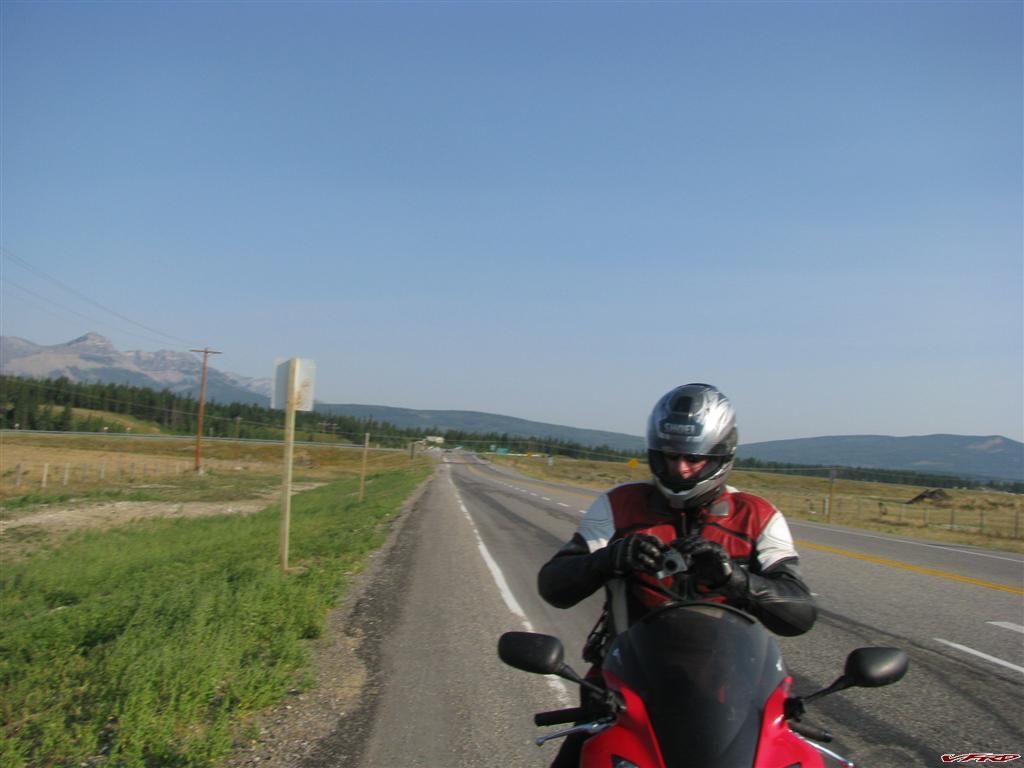 Craig dusts off his camera for a shot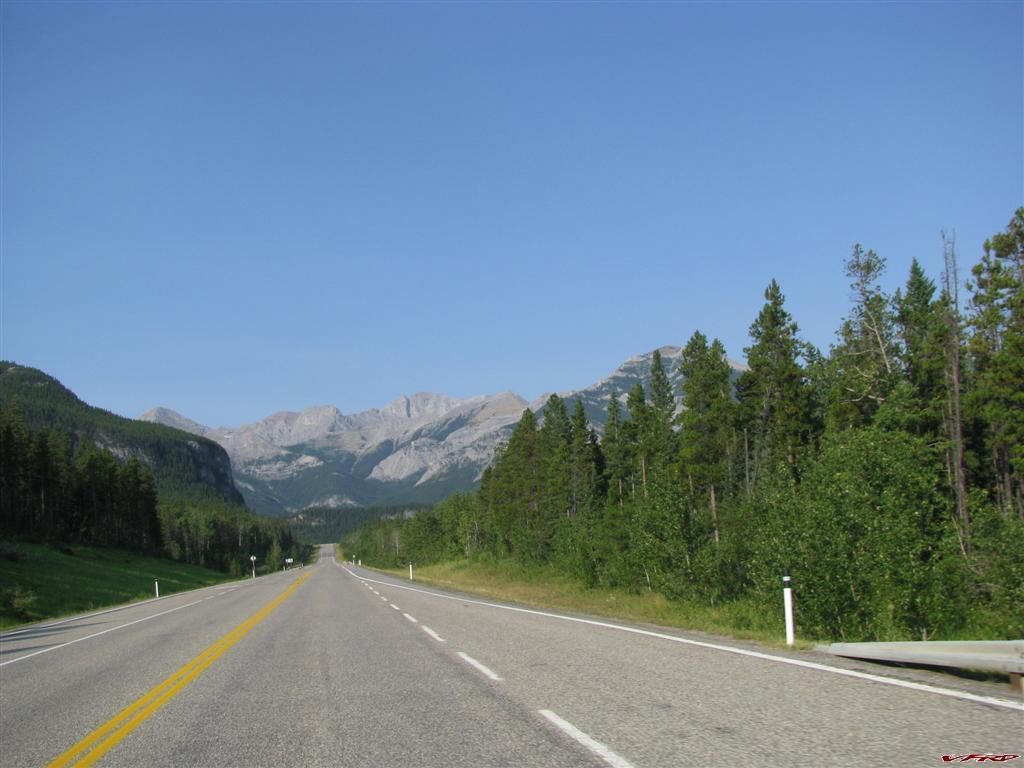 Alberta Highway 40 I enjoyed this road more than hwy 93 through the Kootnays there was hardly no traffic at all.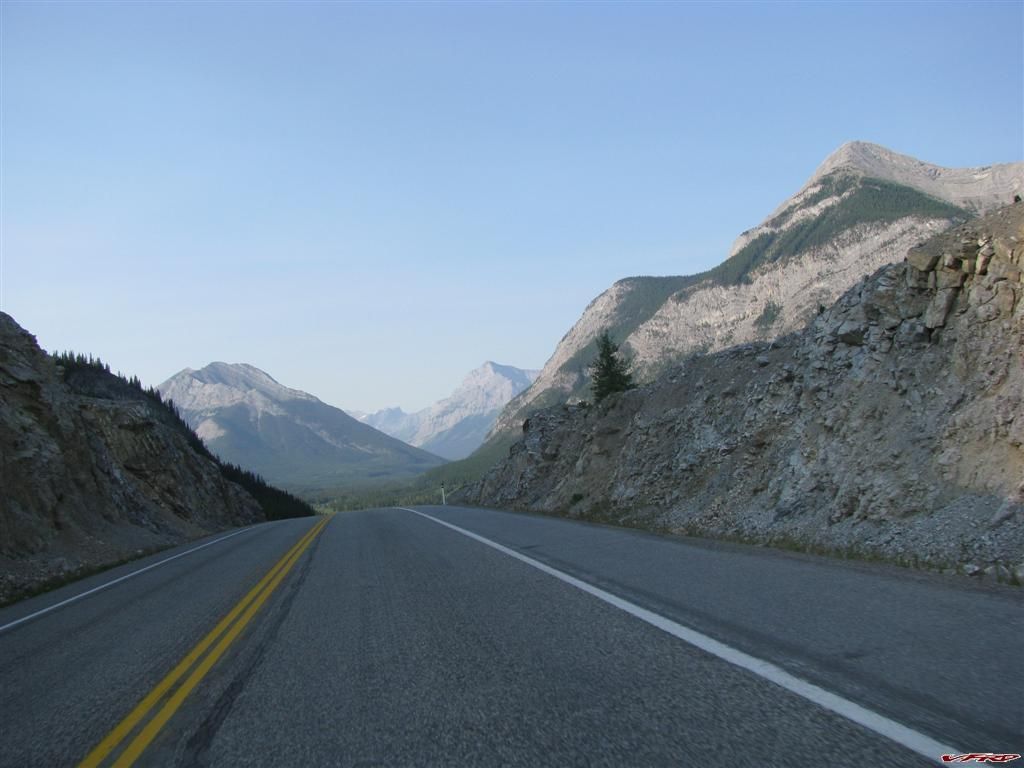 Hwy 40 Alberta this view topping the crest of the hill took my breath away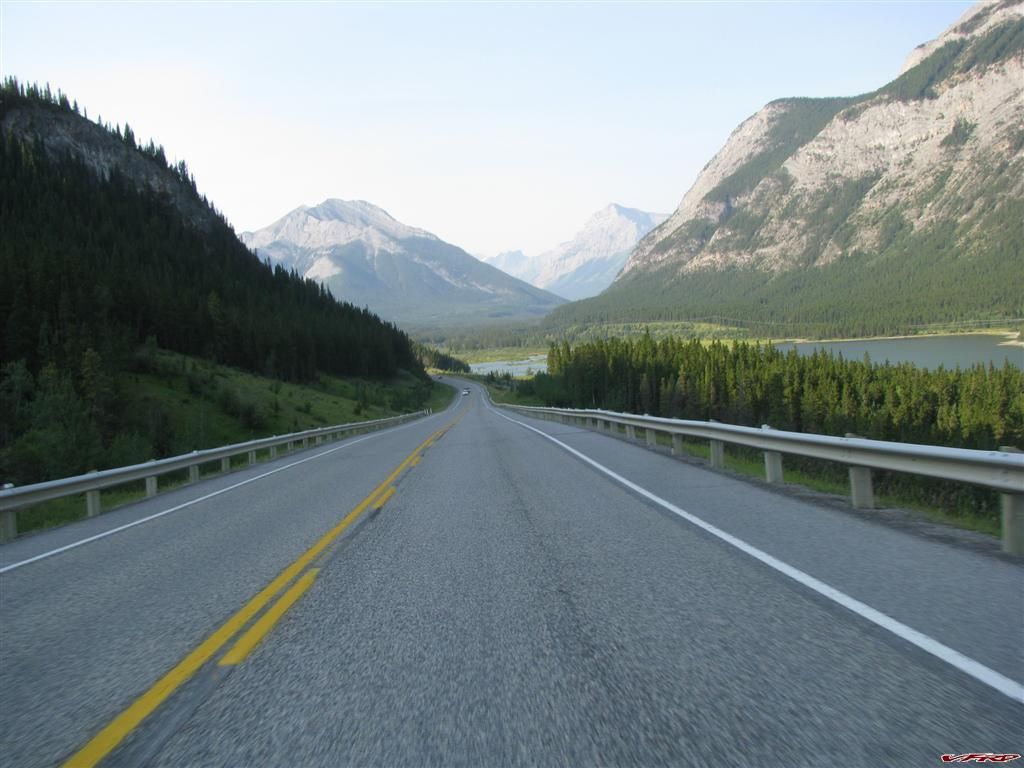 I was going gagga over the view I did not notice the deer on the right side of the road getting ready to cross right in front of us a car flashed me and thats when I snapped out of it and slowed down for them (Cagers helping motorcyclist wow)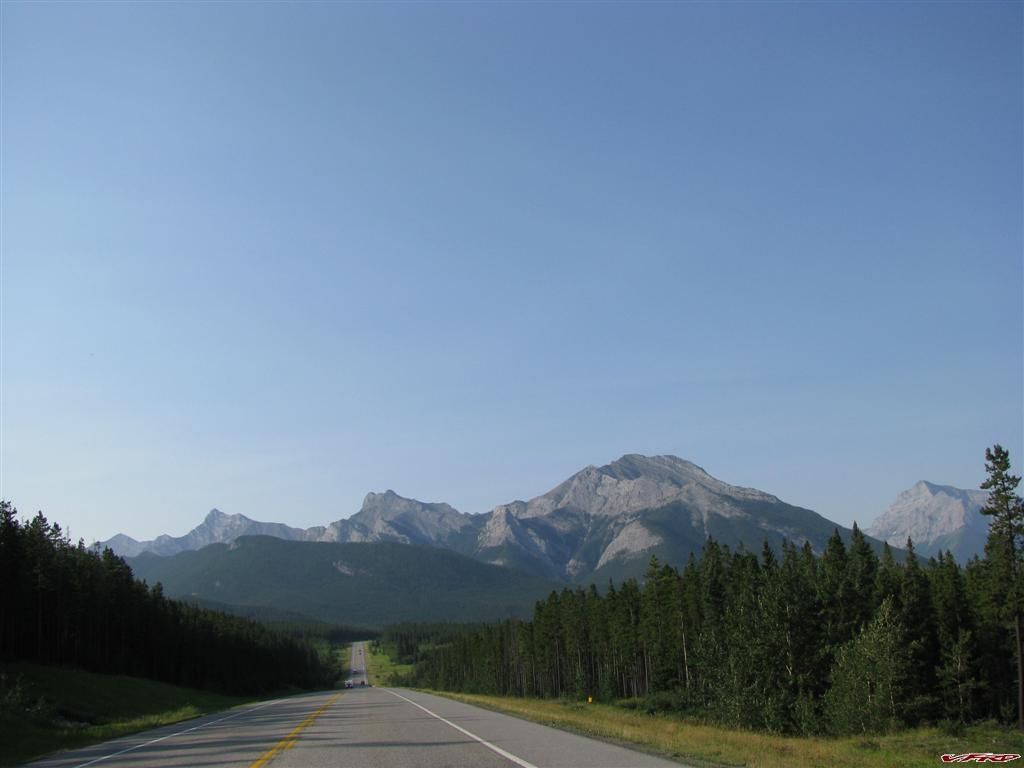 Not very twisty at all but your too busy looking around to care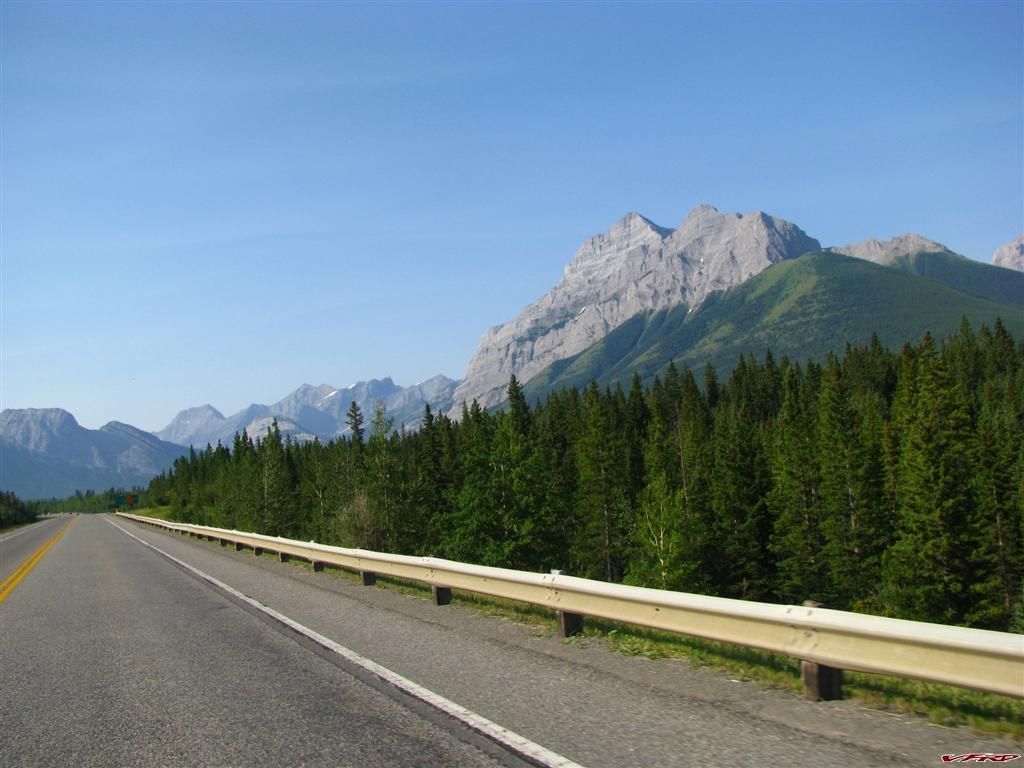 Each turn brought more incredible scenes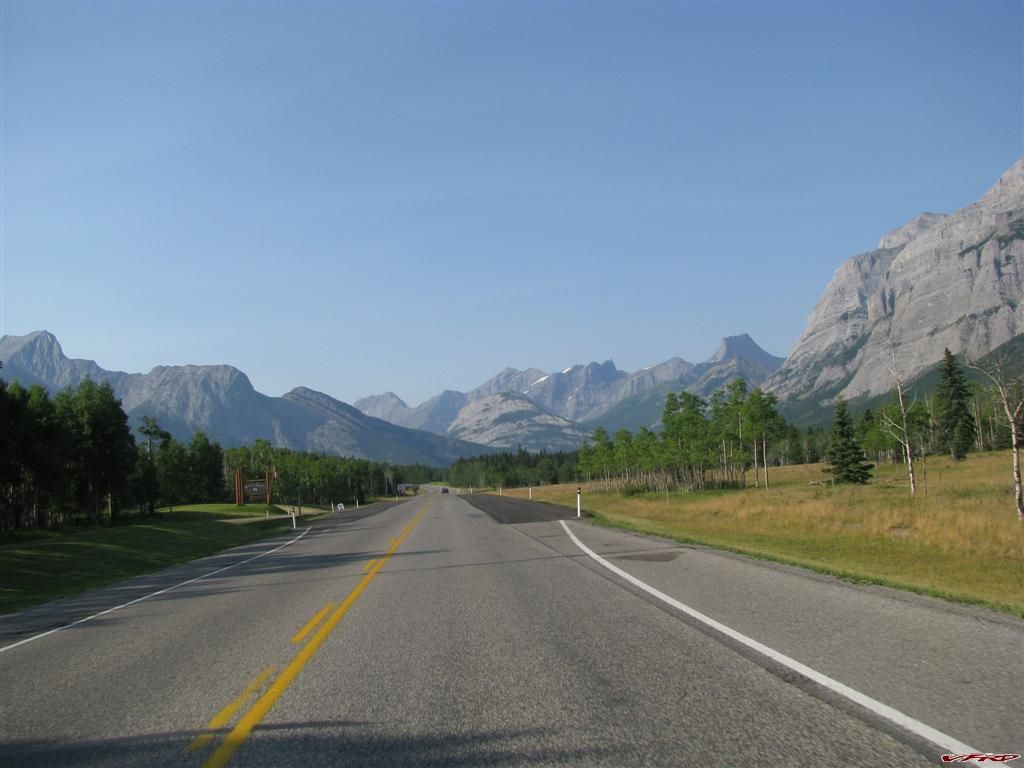 Peter Lougheed Provincial Park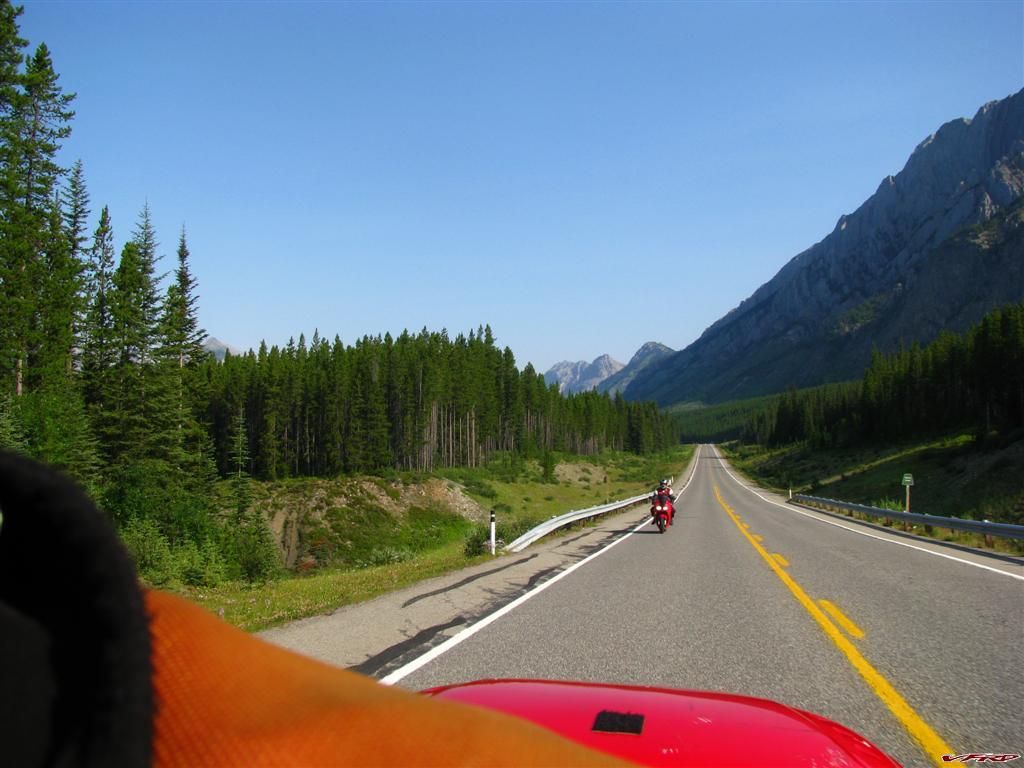 Craig in tow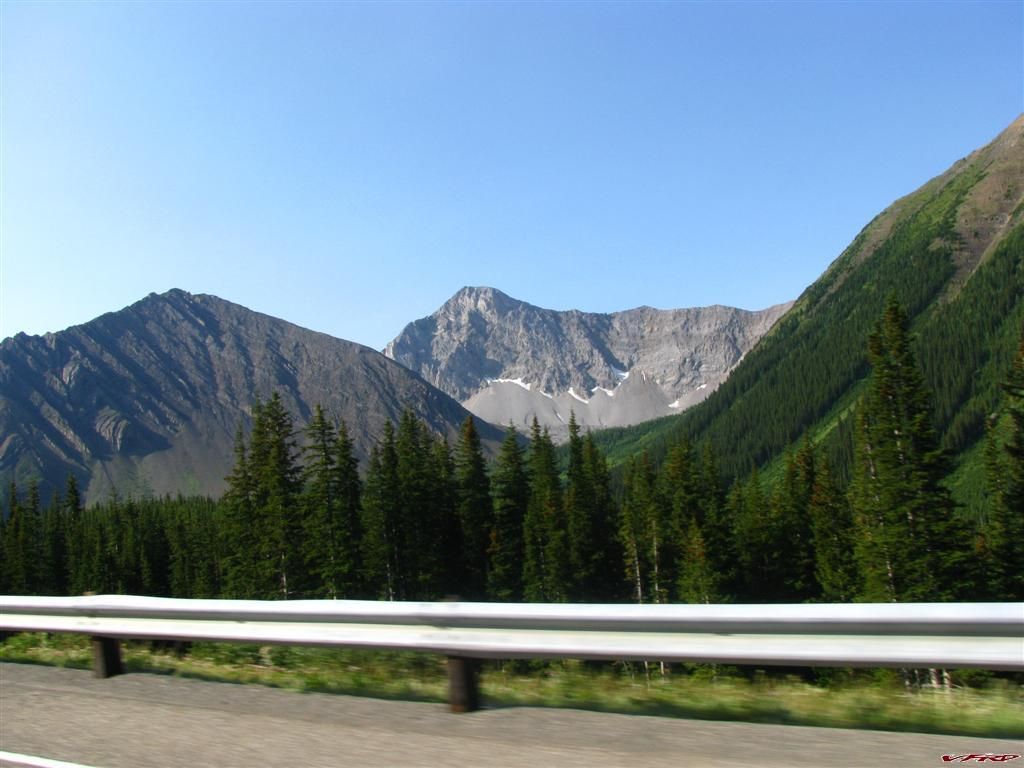 look this way somthing cool - look thatway somthing else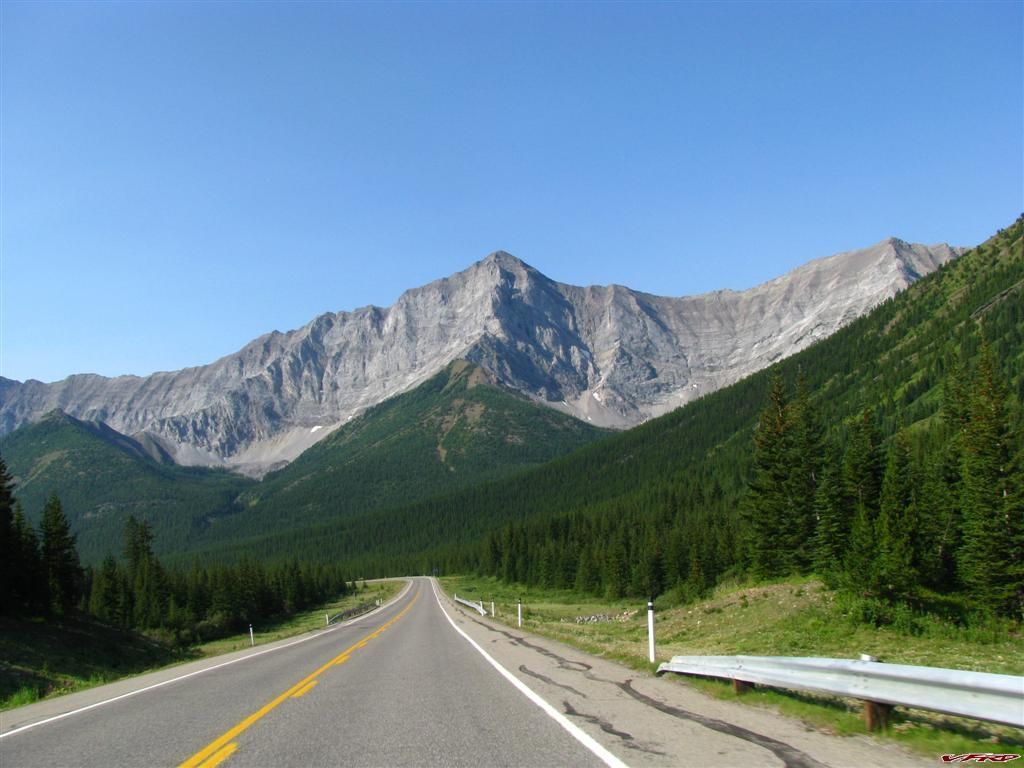 Alberta hwy 40 has got to be one of the prettiest the scenery was spectacular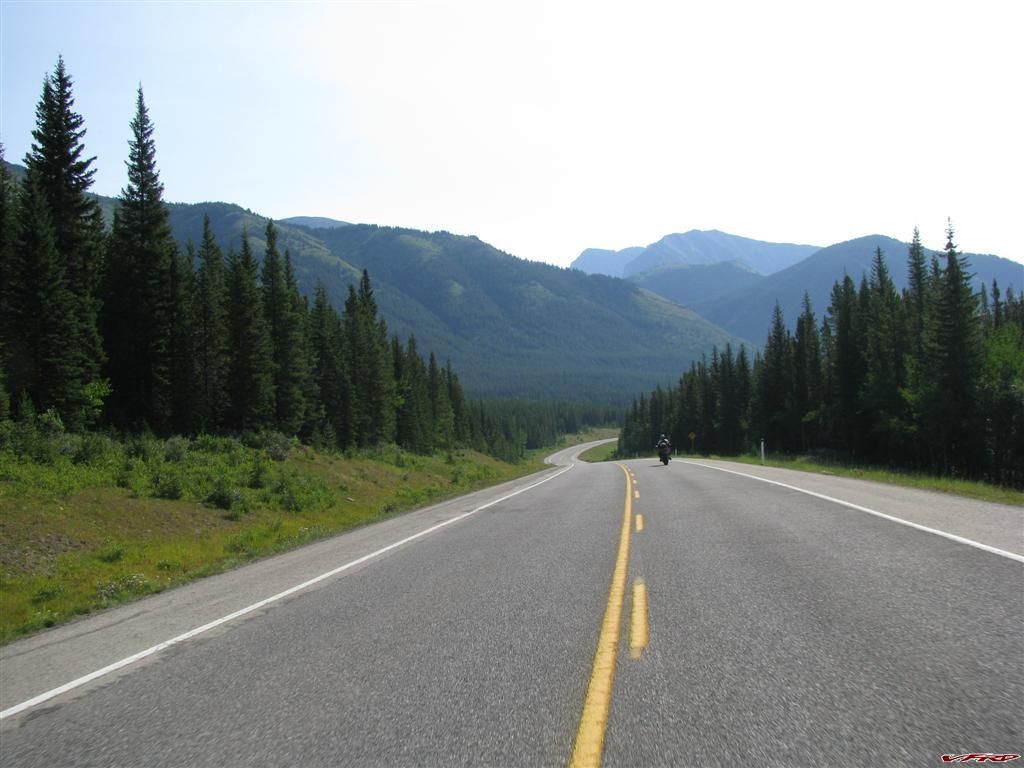 Craig takes over lead duty after scurrying off into woods for a rest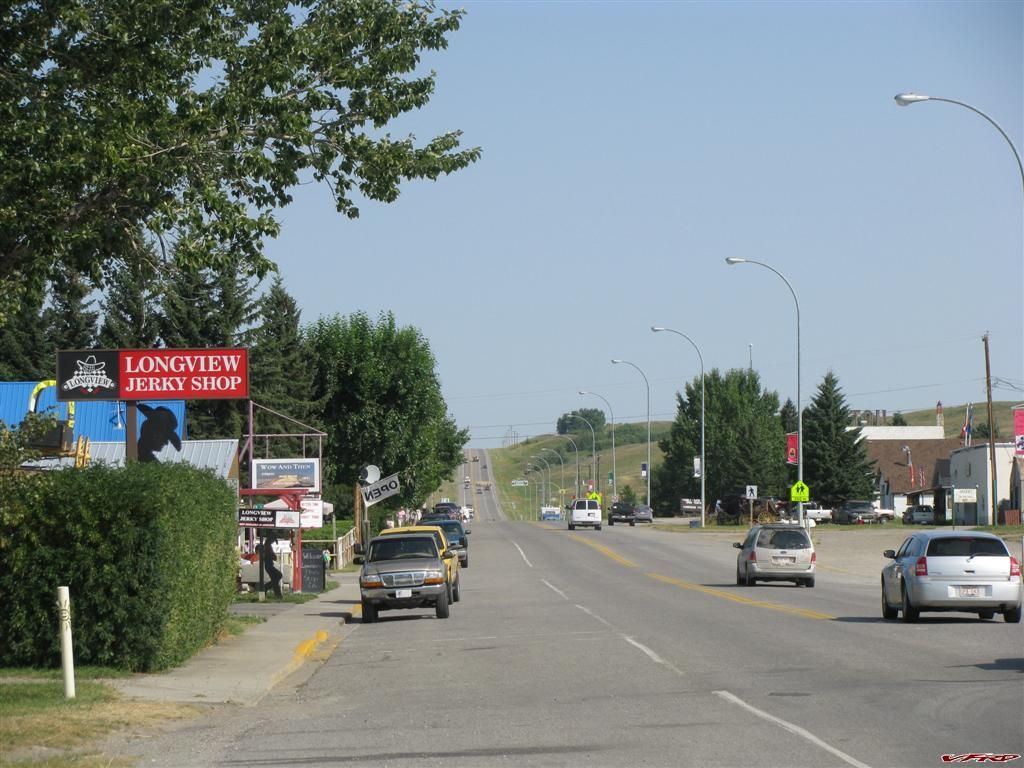 Longview Alberta stopped to stretch our legs
It did not take long to get out of the mountains and onto the grasslands and farms of southern Alberta, where it seems it was just like Montana, and in return not that much different that the farm land in Colorado, it all seemed to be familiar to me.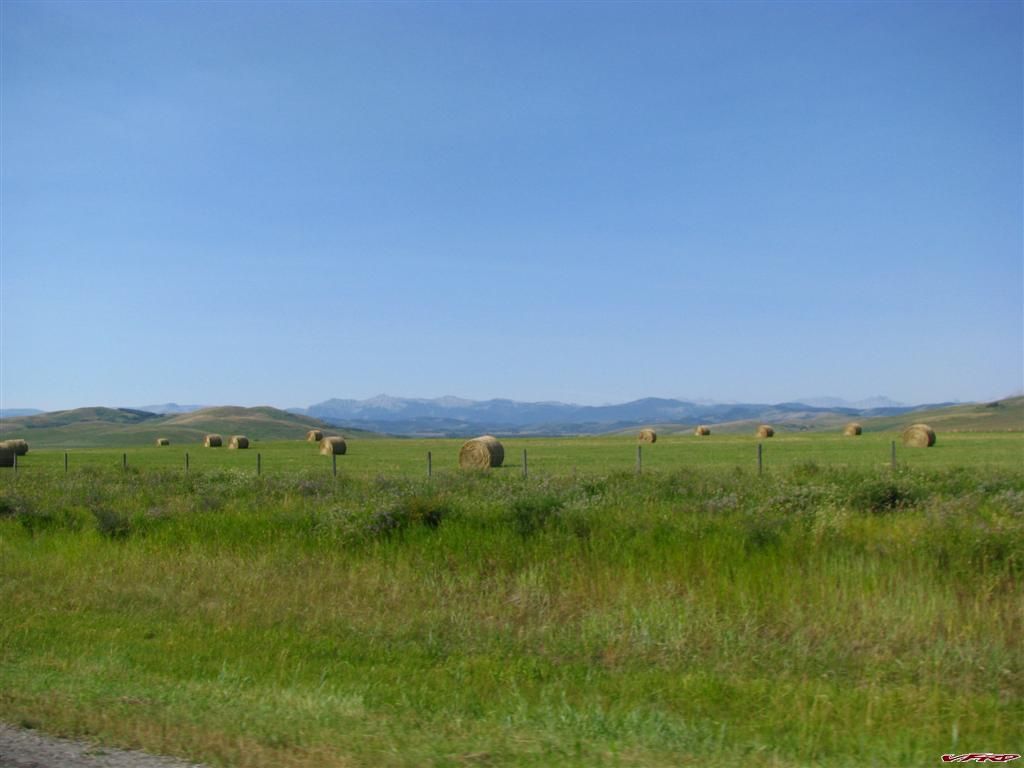 Pastures haybales and the Rockies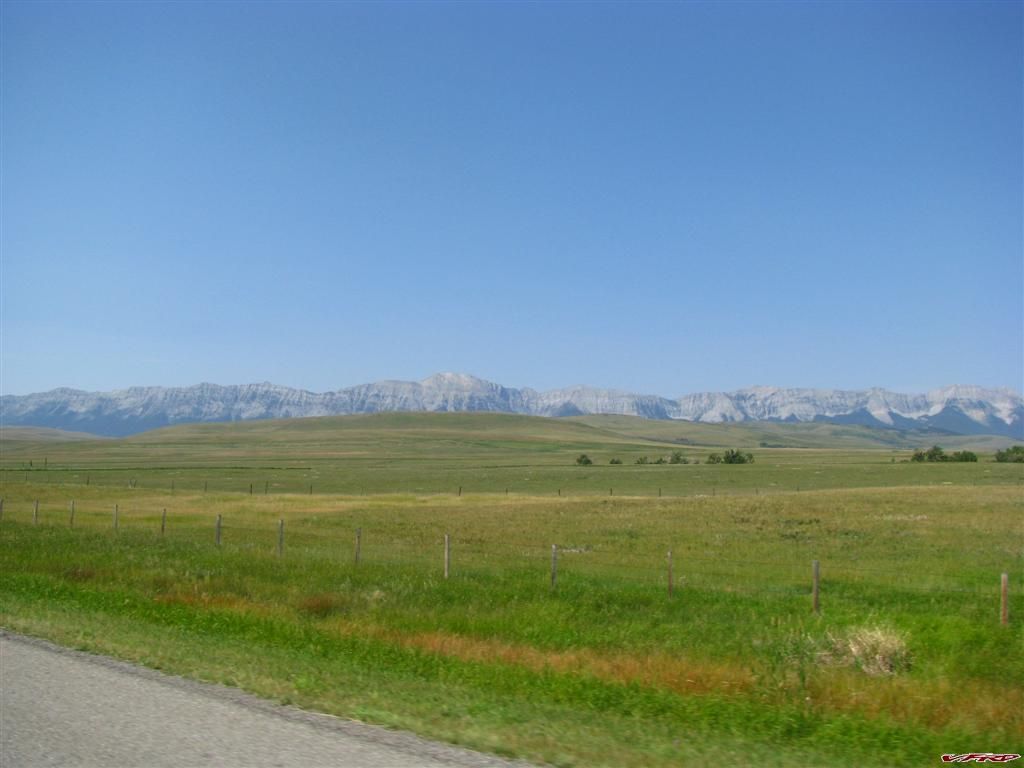 Sharp as a razors edge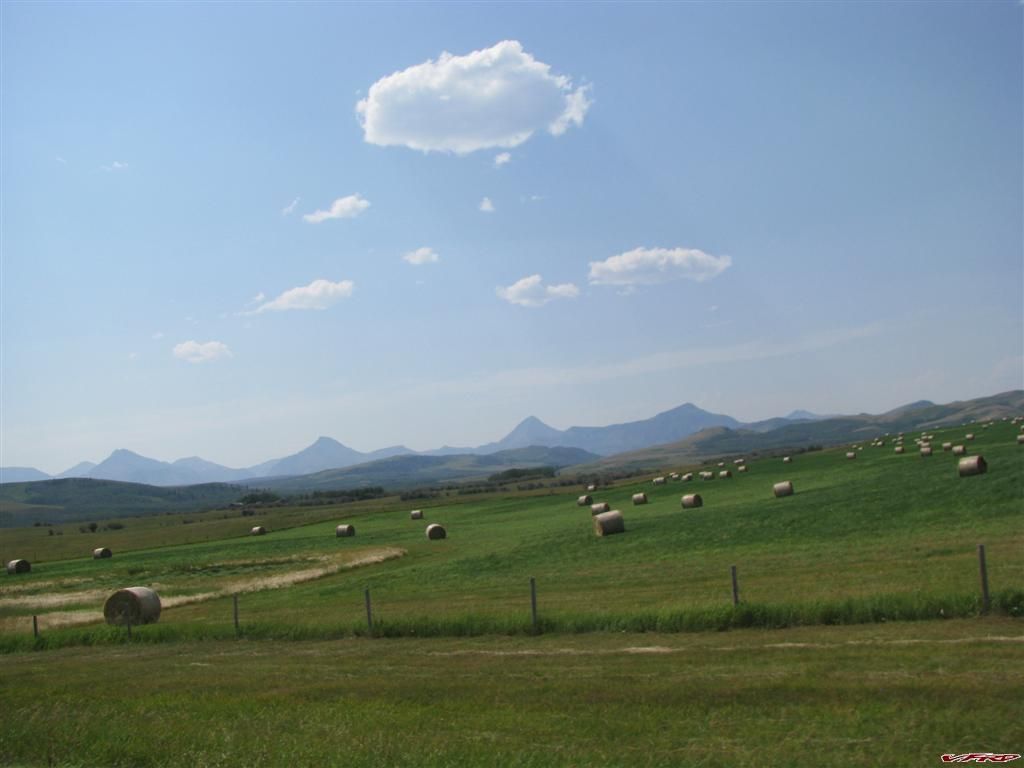 Rockies haybales and pastures this time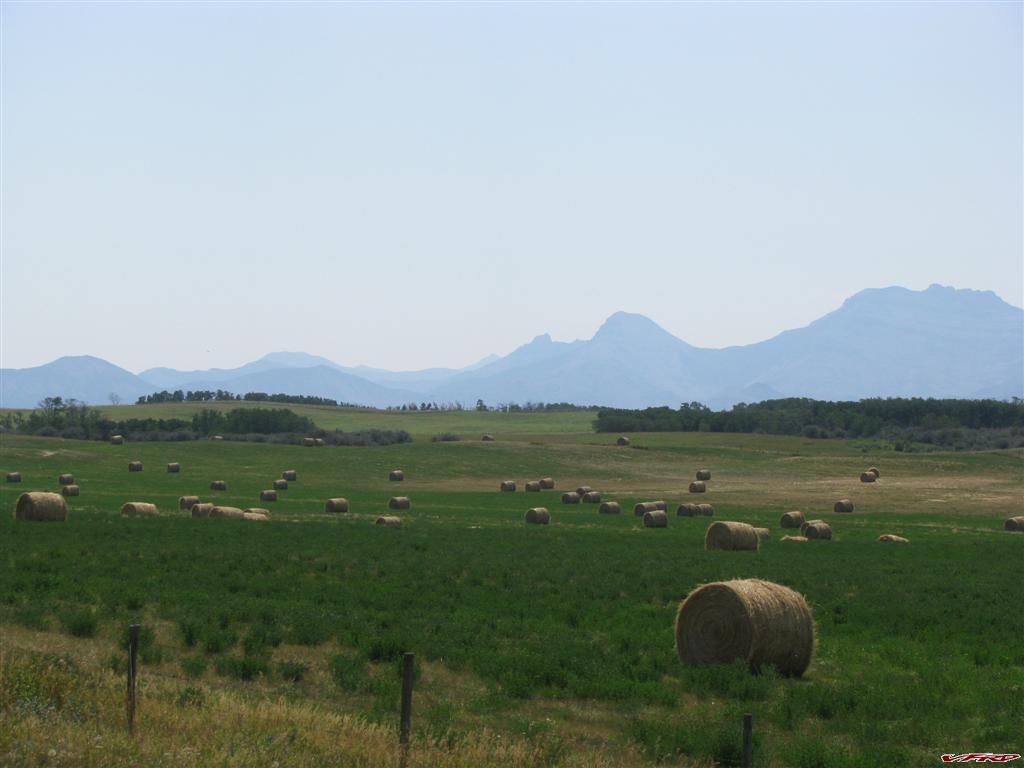 Haybales Rockies and Pastures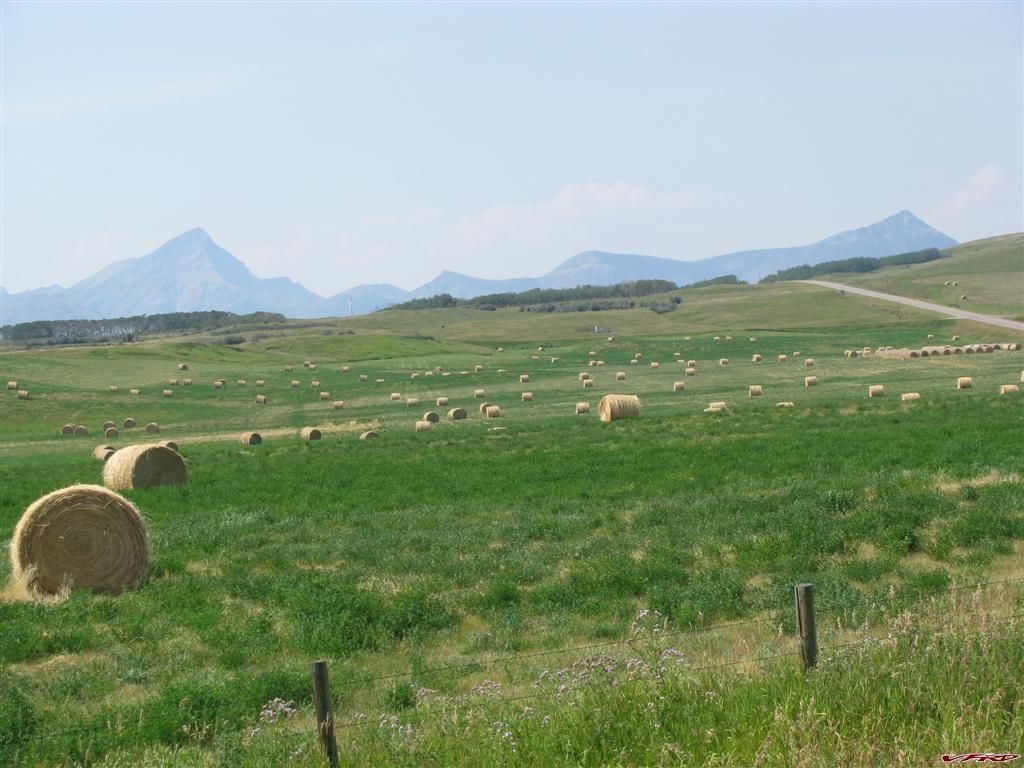 Its hard for a typical American who has never been to Canada not to imagine a snowbound scene, its not much different than Montana really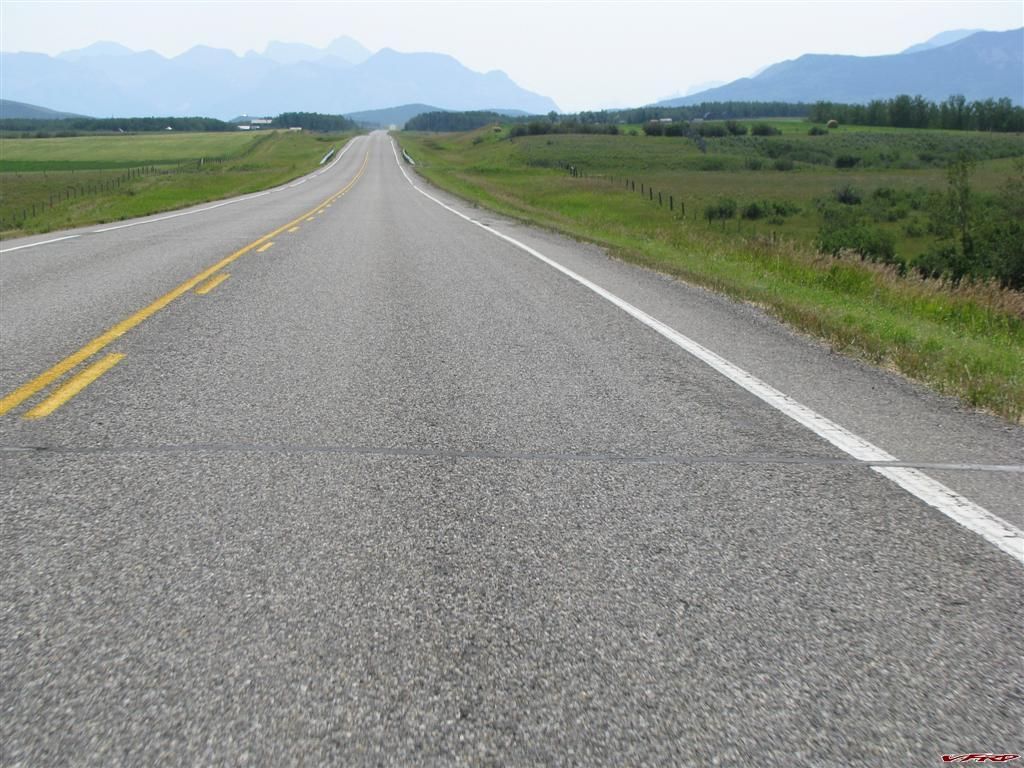 hwy 22 seemed to go on forever reading off the Kilometers instead of miles I had no idea just how far left to go.
We crossed the border into the USA at the Peace Park, the woman did not even ask us to open up the bags it was clear that 911 had subsided in these parts - not that I was all that concerened, but then again we had passports and they had a computer and must have figured out we were not Taliban - no sooner than a bottle of water was downed we were back on the road and riding again. Honestly the stop on the way into Canada was more rigerous.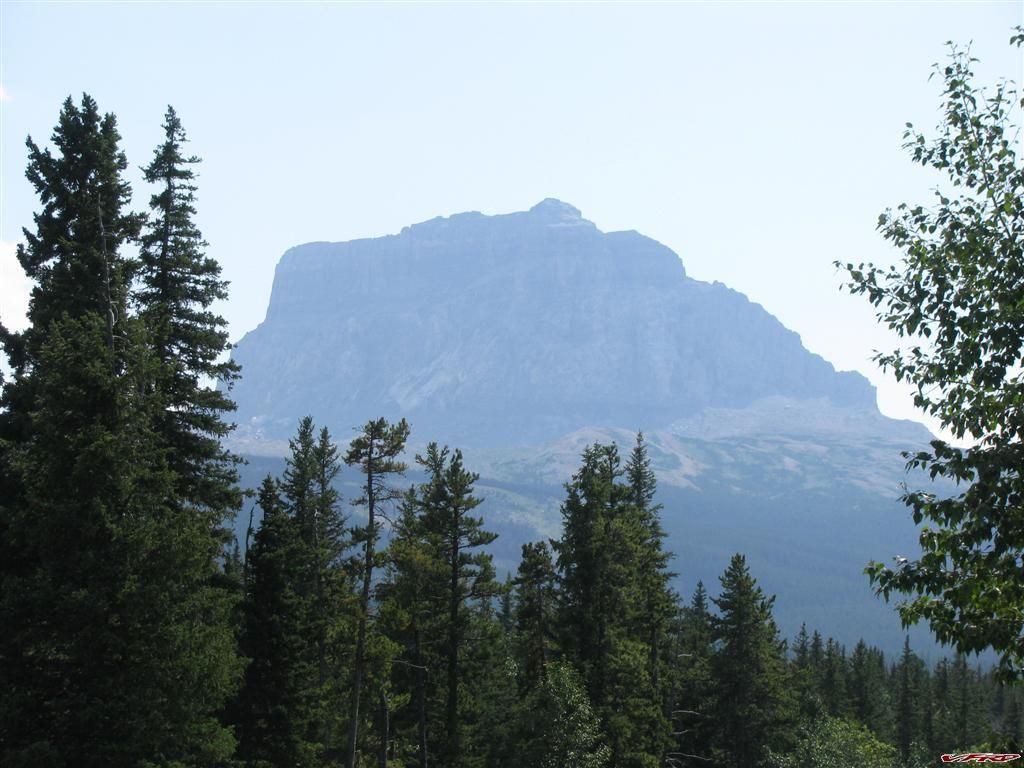 Back in the USA Chief Mountain Glacier National Park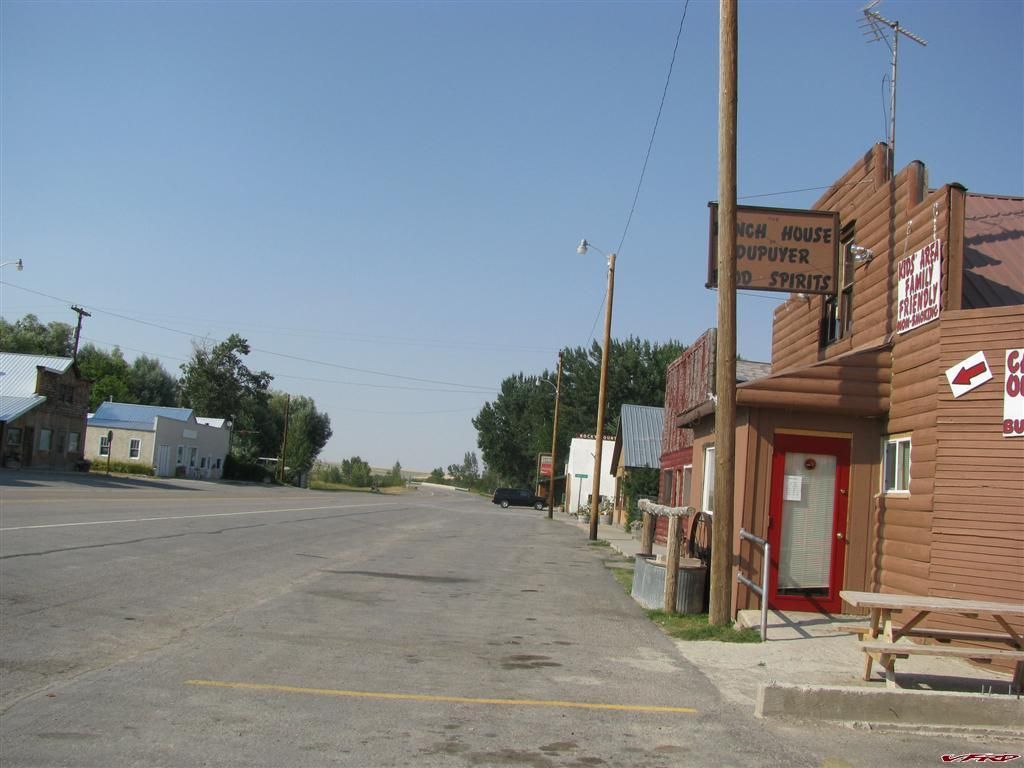 Dupuyer Montana Nothin absolutly nothing open for a drink
The Second half day of riding in Montana was all plains, all the way into indian country of the Blackfoot Nation, and into Great Falls. The town was dull and we had a fast food dinner, and my riding partner Craig was I think overwhelmed with the trip at this point. He miss judged the sturdyness of his rear tire and was worried he wasnt going to make it home, in need of a new tire. We scoured the internet for a place to change his tire, on my netbook. He looked to no avail and wasnt interested in my plans to find him a tire, so we settled on a parting of ways at this point and I left early in the morning to ride more twisties and he off on his own to get a new tire. Too bad it went this way but I was not about to miss out on Bear Tooth Pass, not a second time. (my first time I could only ride half of it since it was washed out on the Montana side 2 years earlier). I said goodby to Craig and left before sun up to ride as much of Montana and Wyoming as I could in one day.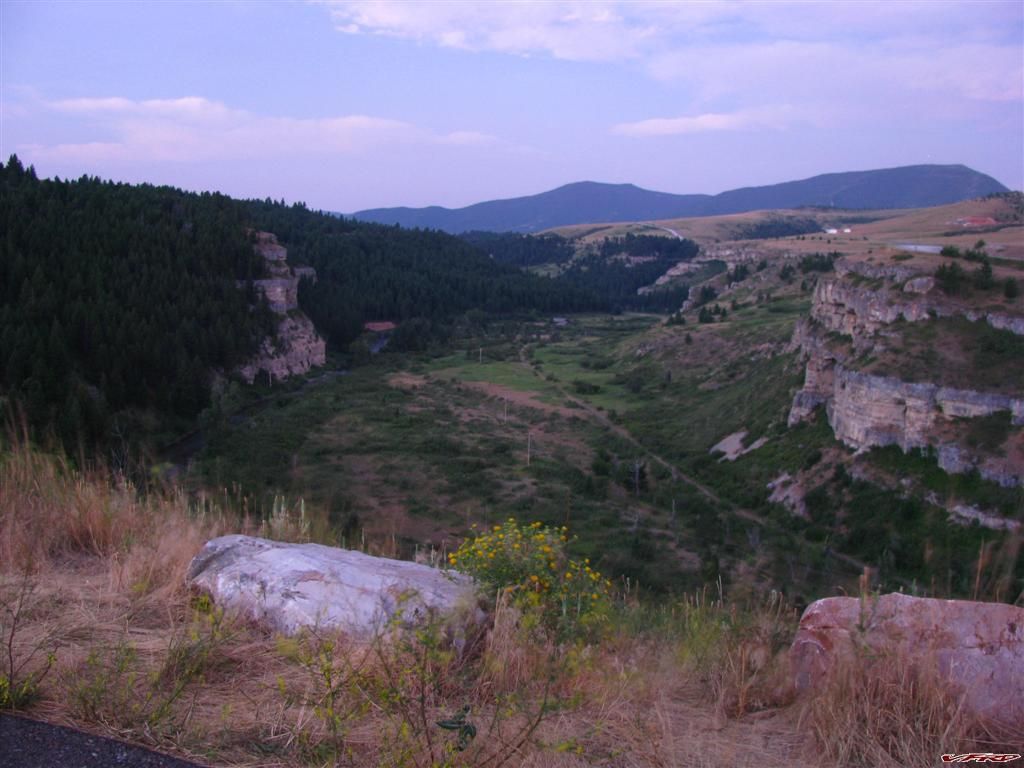 Sluce Boxes State Park Montana 5am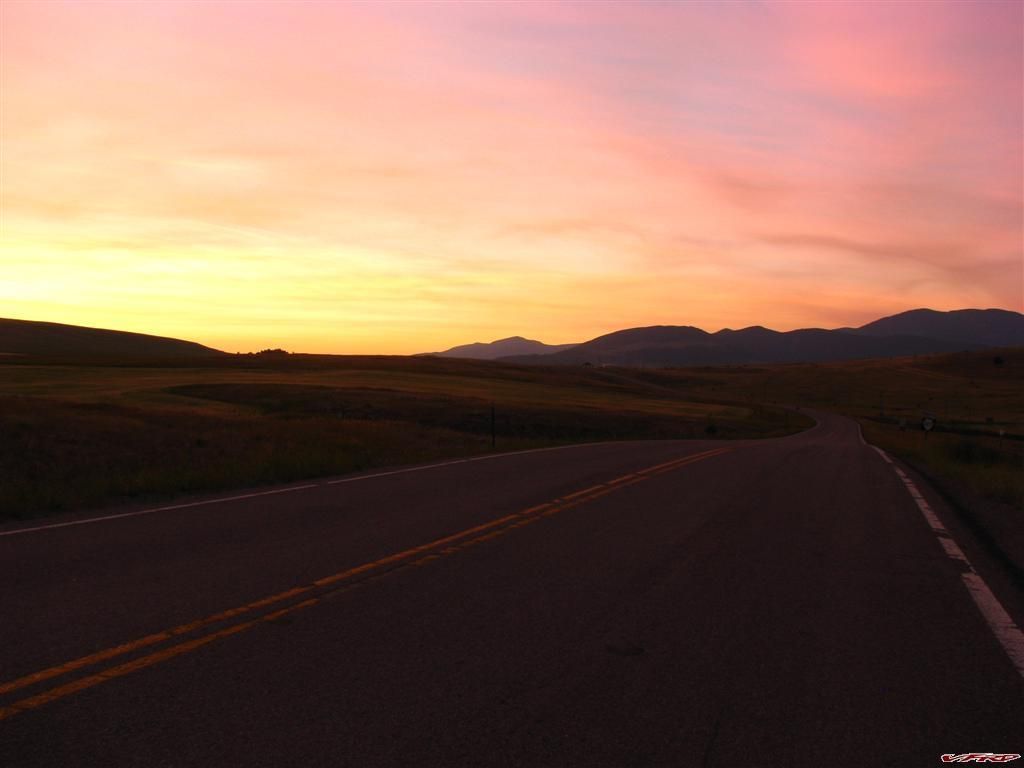 Montana Hwy 427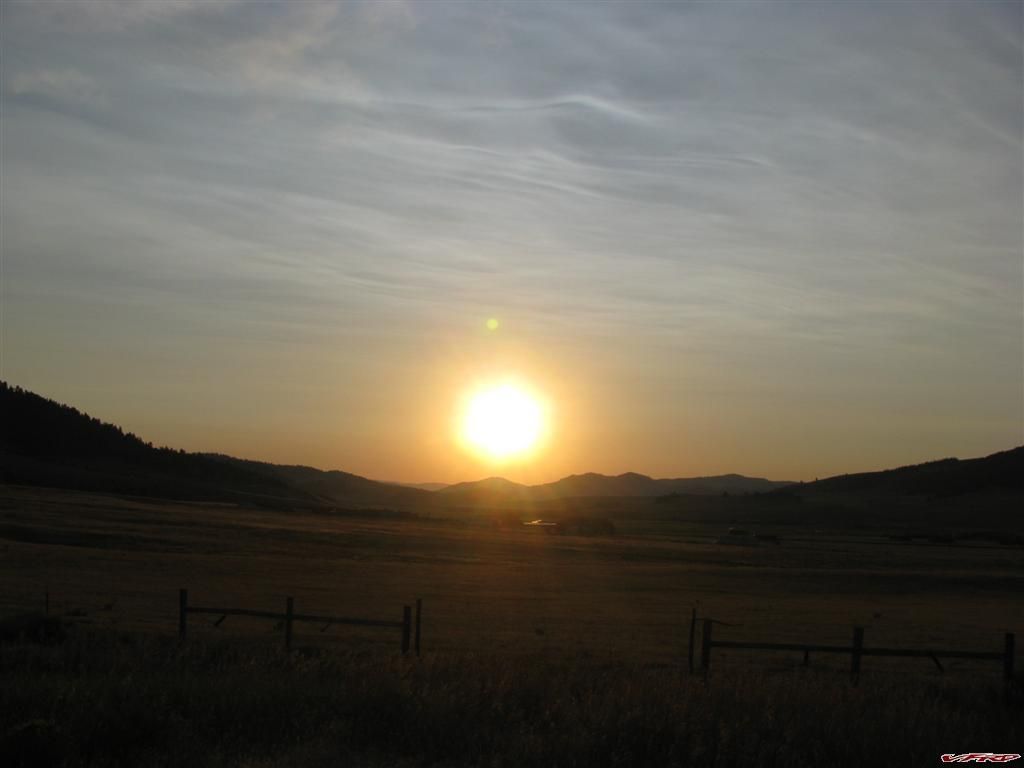 Montana Sunrise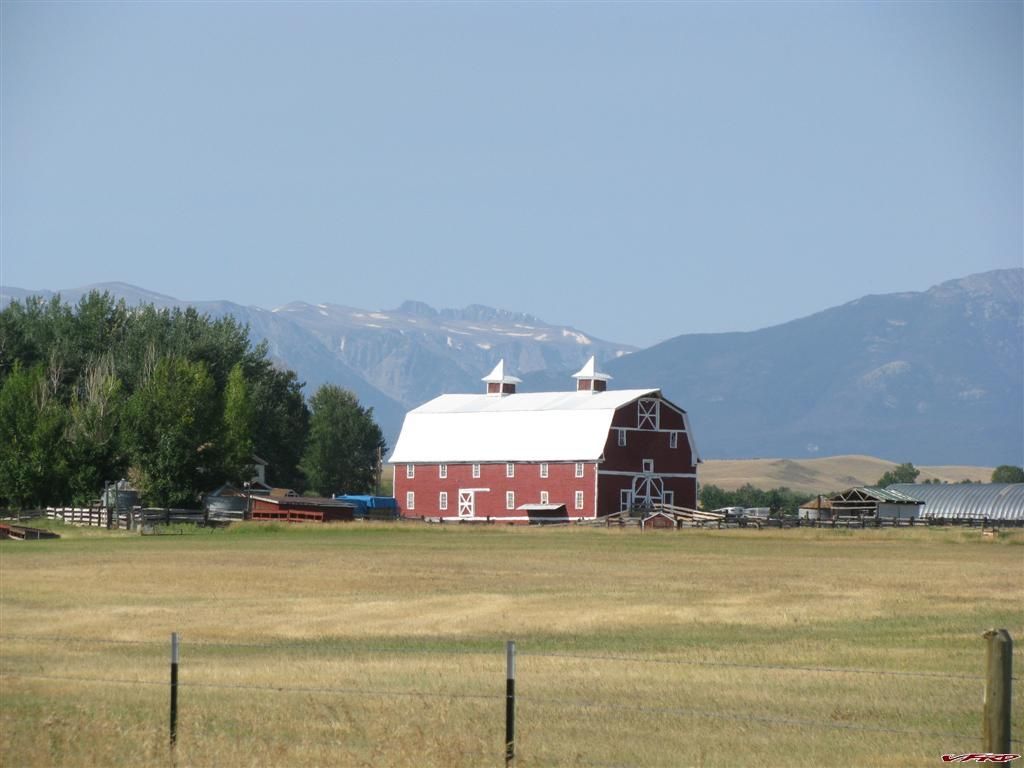 Rosco Montana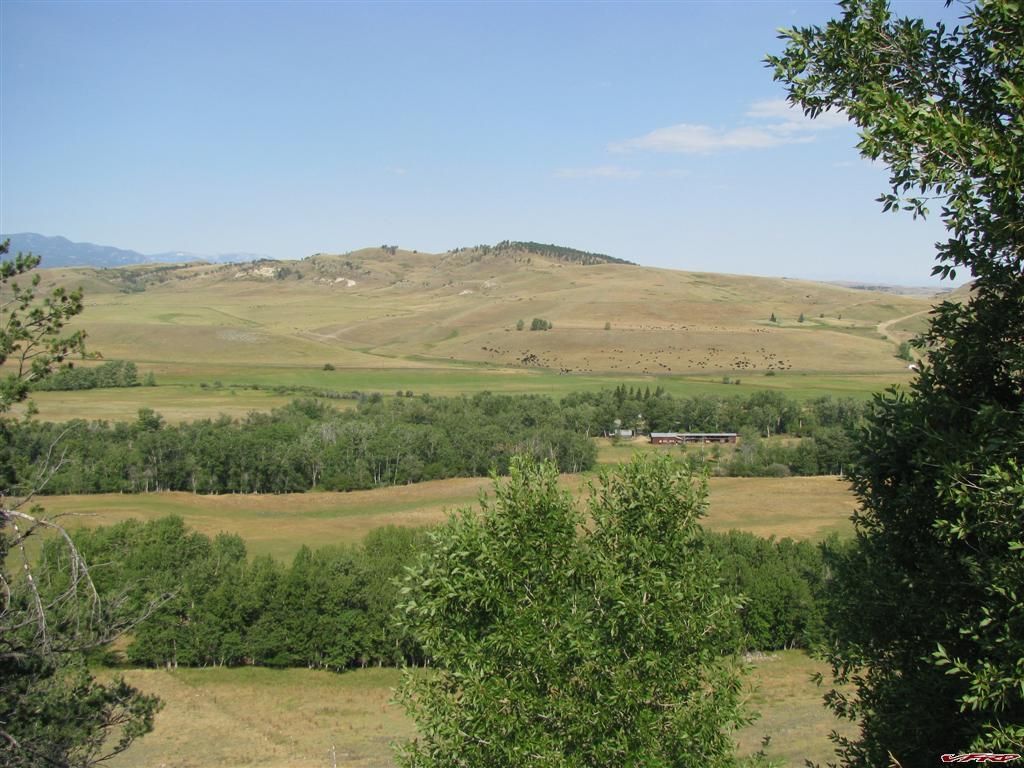 Roscoe Montana I had to pull off and take a moment, after narrowally missing both a deer and a wild turkey in less than a quarter mile up the hill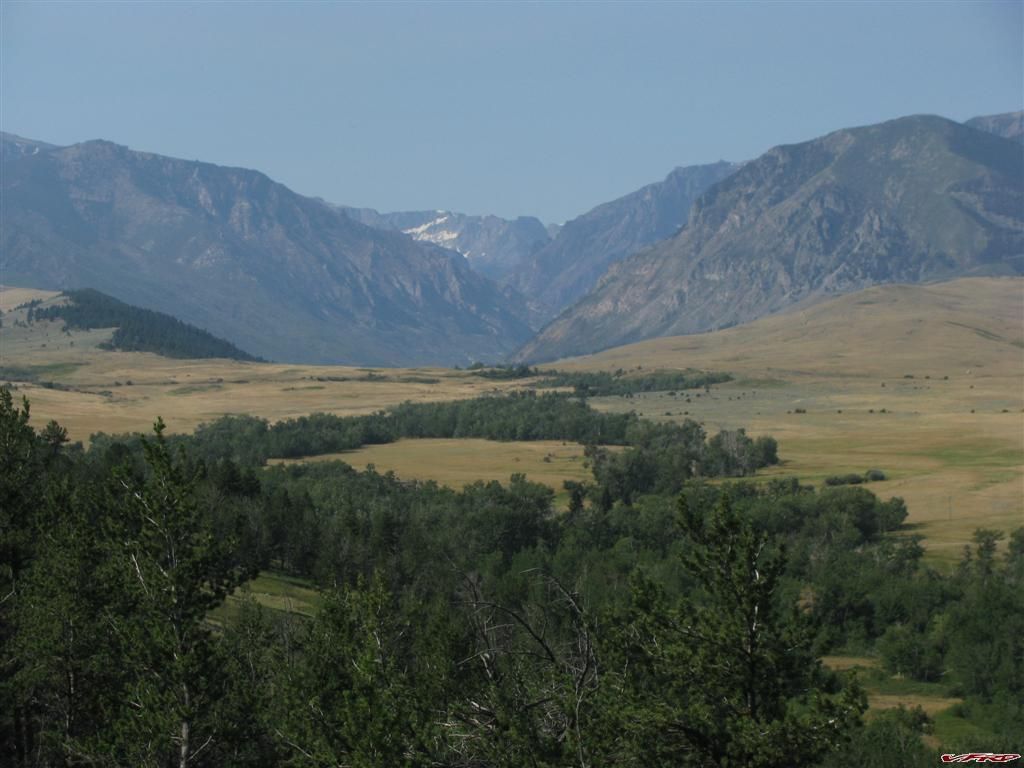 Bear Tooth Pass Beckens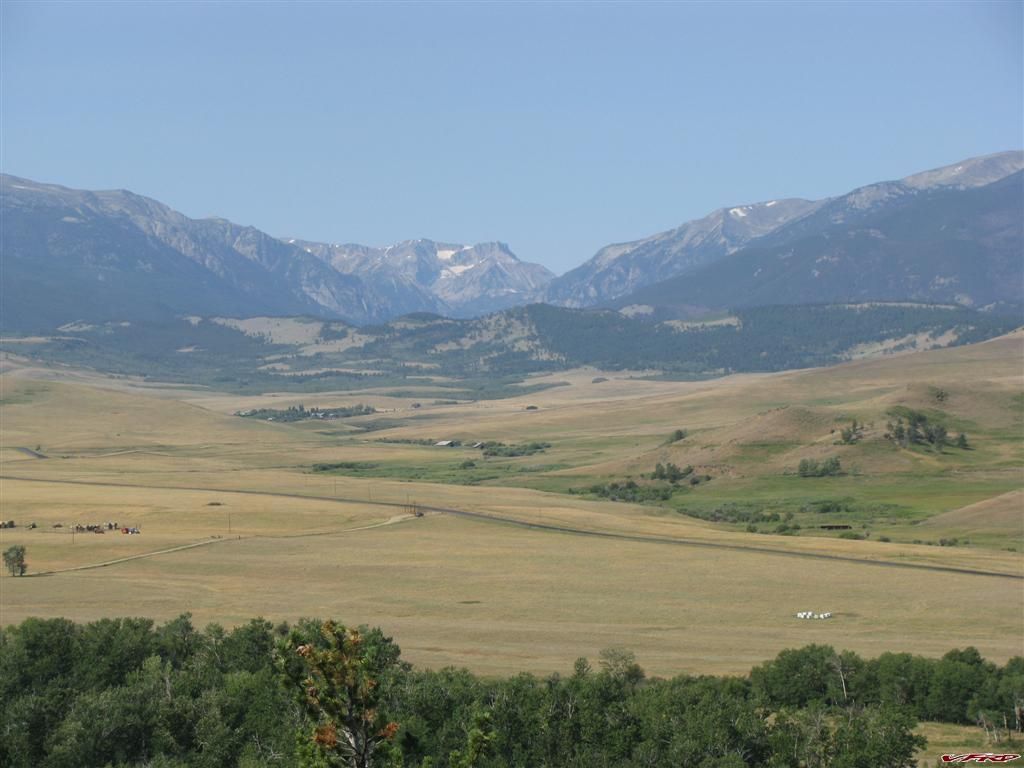 Montana Rockies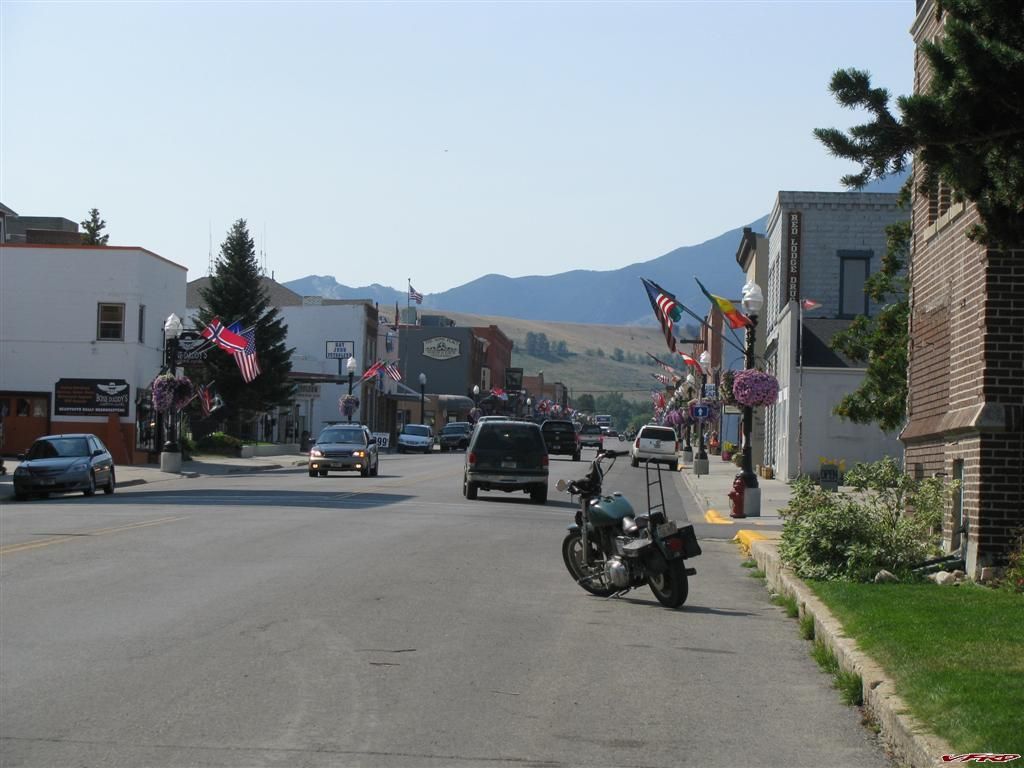 Red Lodge Monatana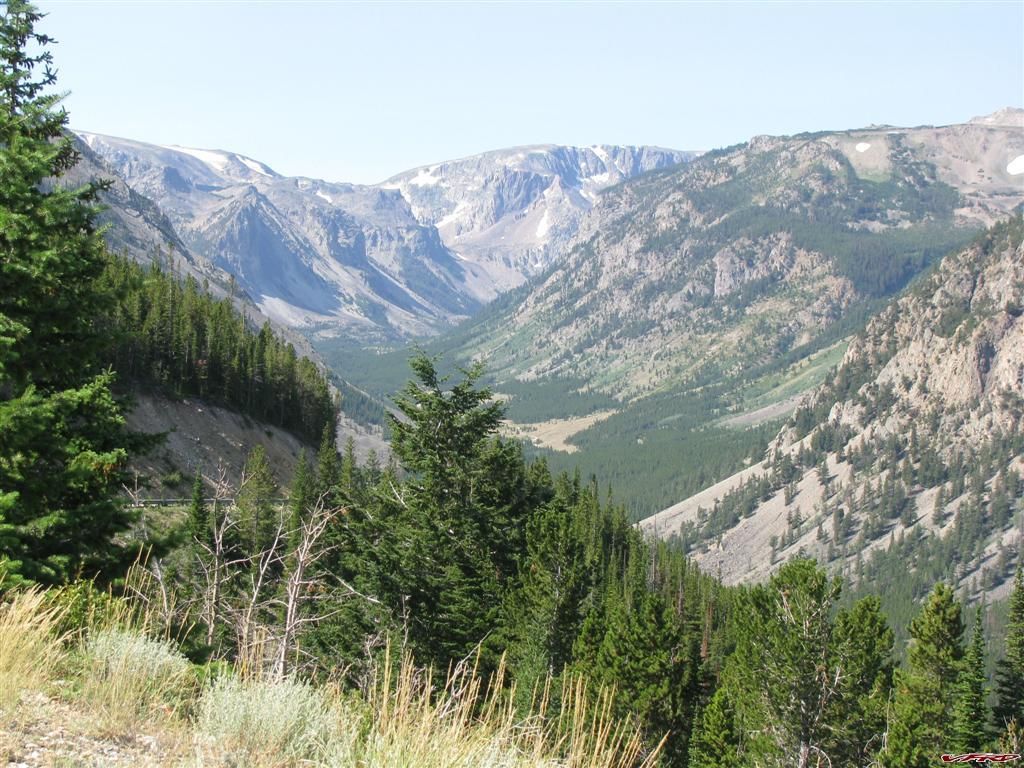 Entering Bear Tooth Pass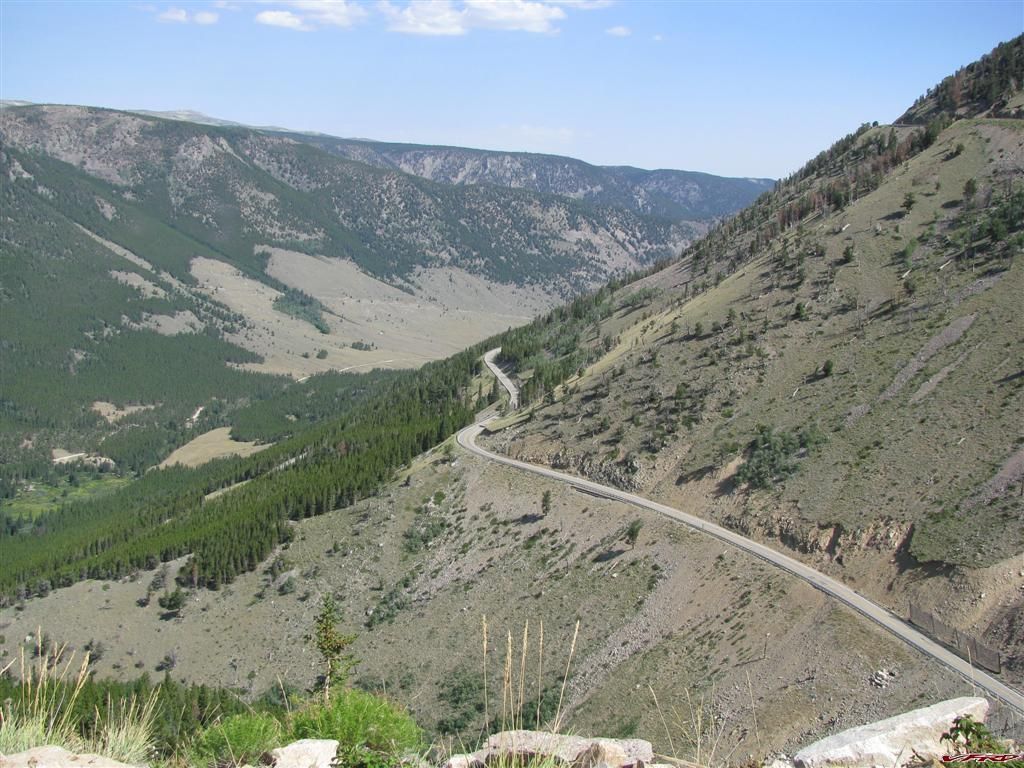 Bear Tooth Pass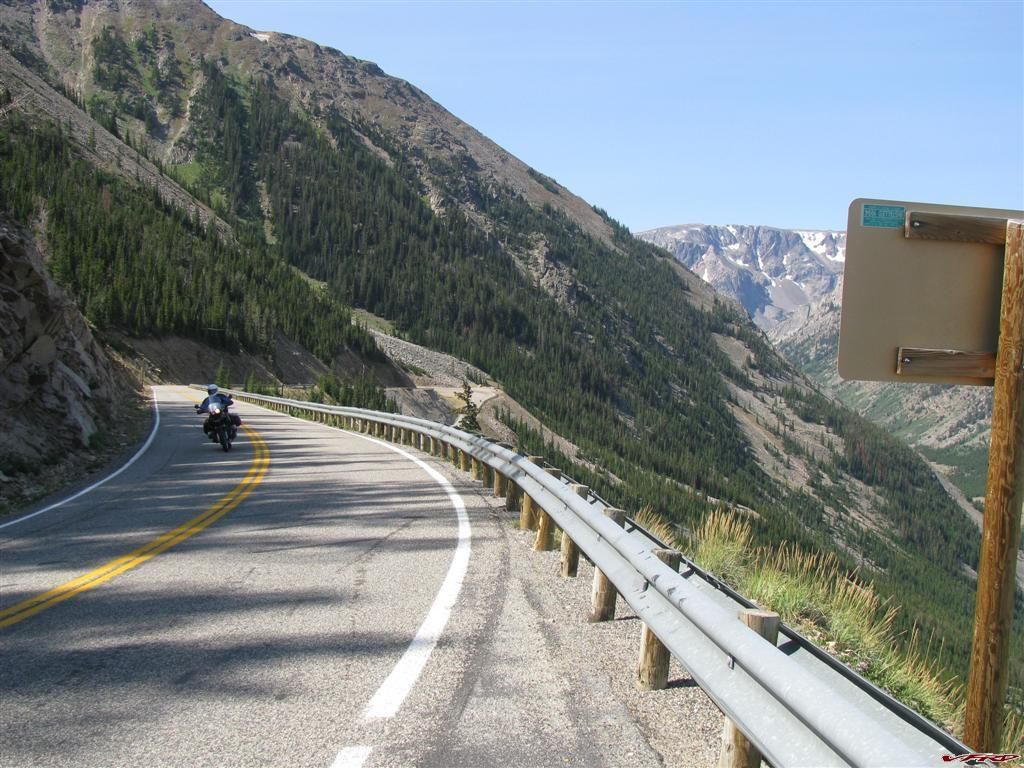 Bear Tooth Pass a popular motorcycle route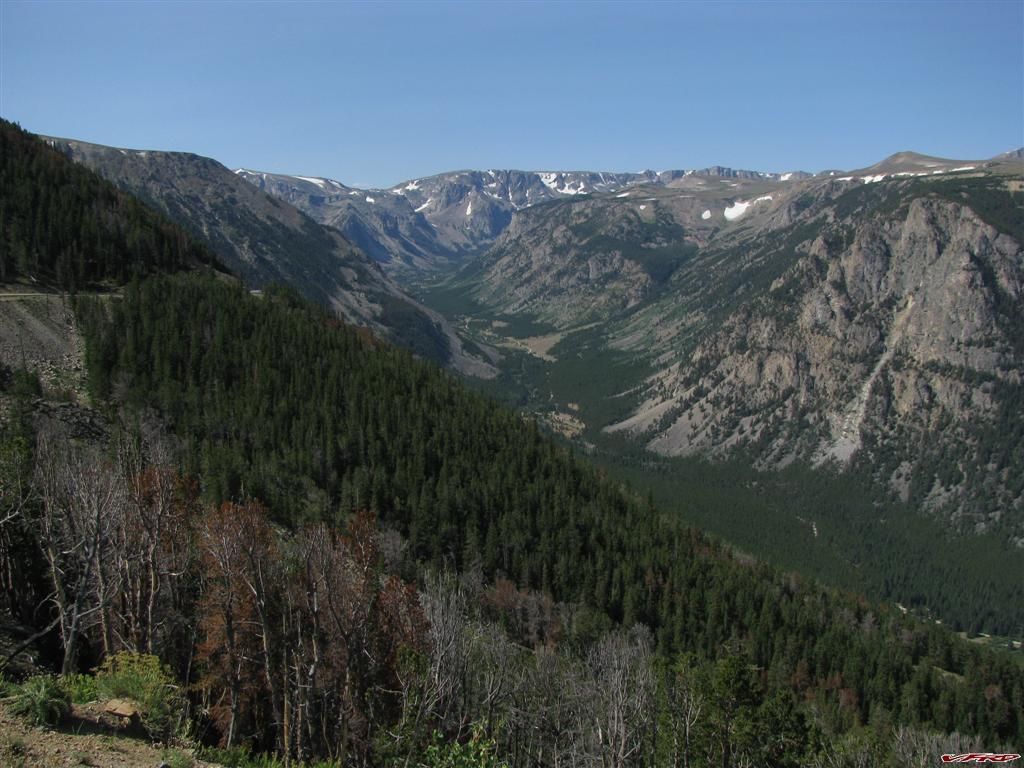 First Leg Bear Tooth Pass completed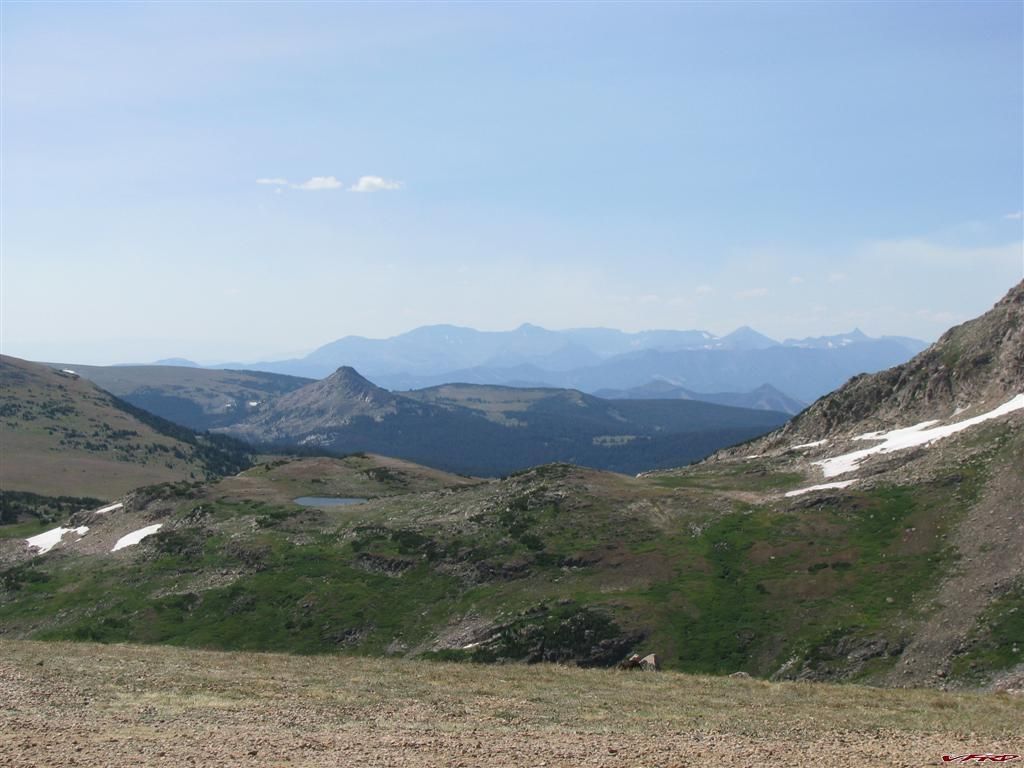 Top of Bear Tooth Pass Wyoming and Yellowstone ahead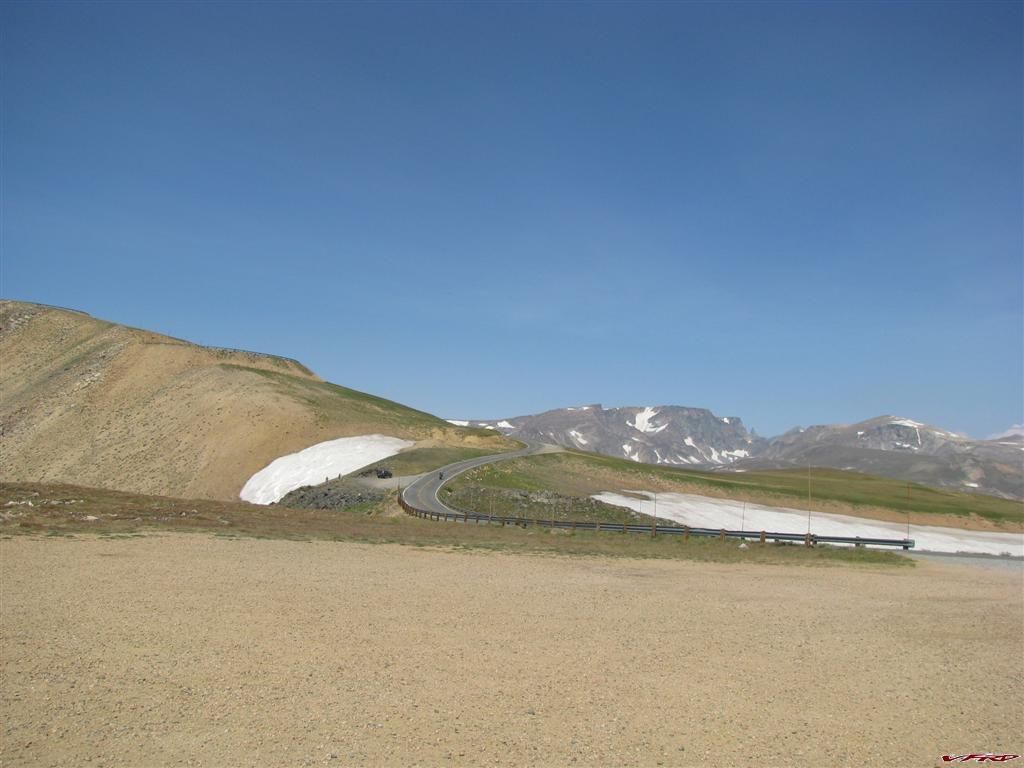 I followed a 929 most of the way up thats him ahead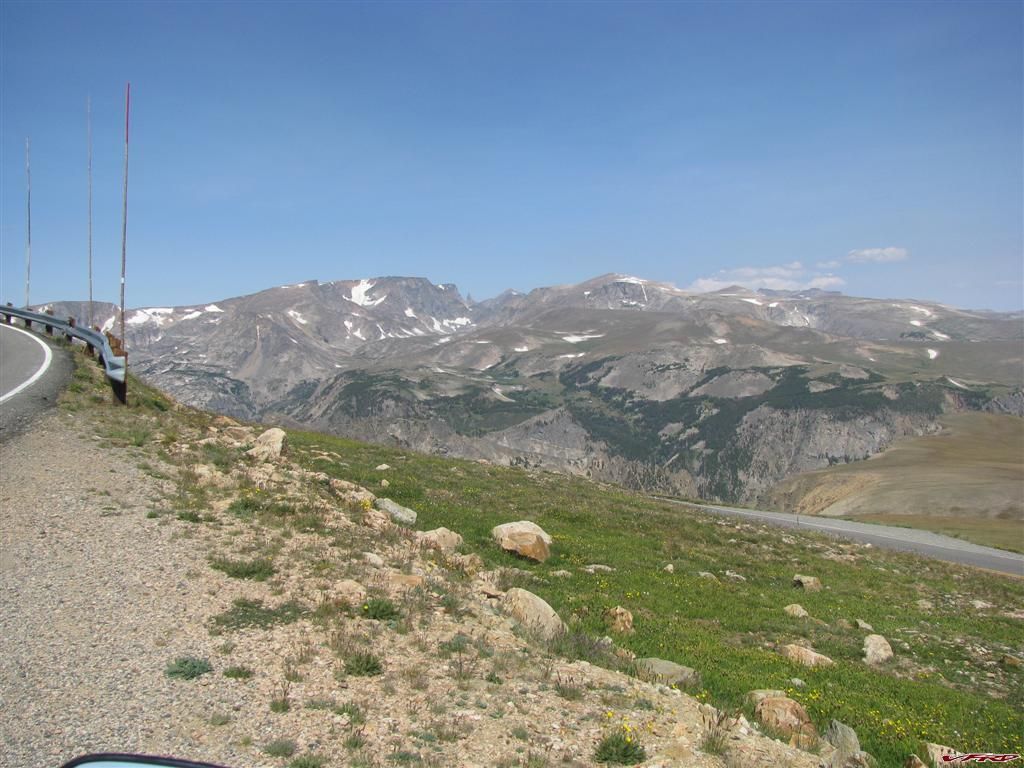 One Last Look at Montana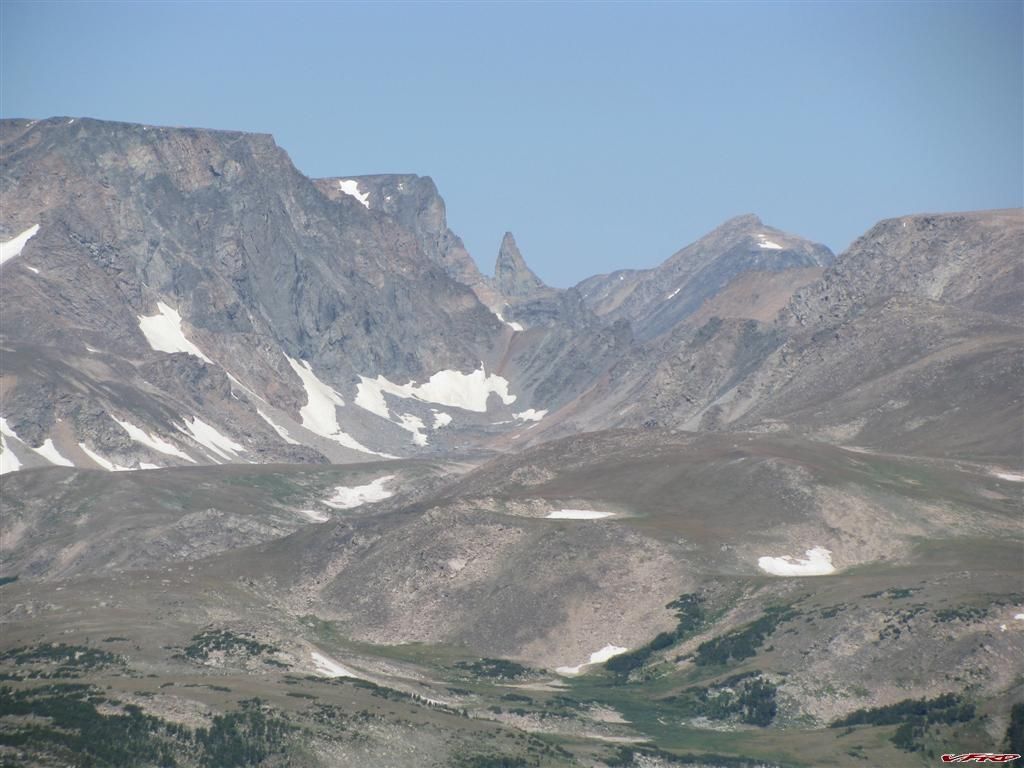 Montana Side Bear Tooth Pass
A bumpy and challenging road down Wyoming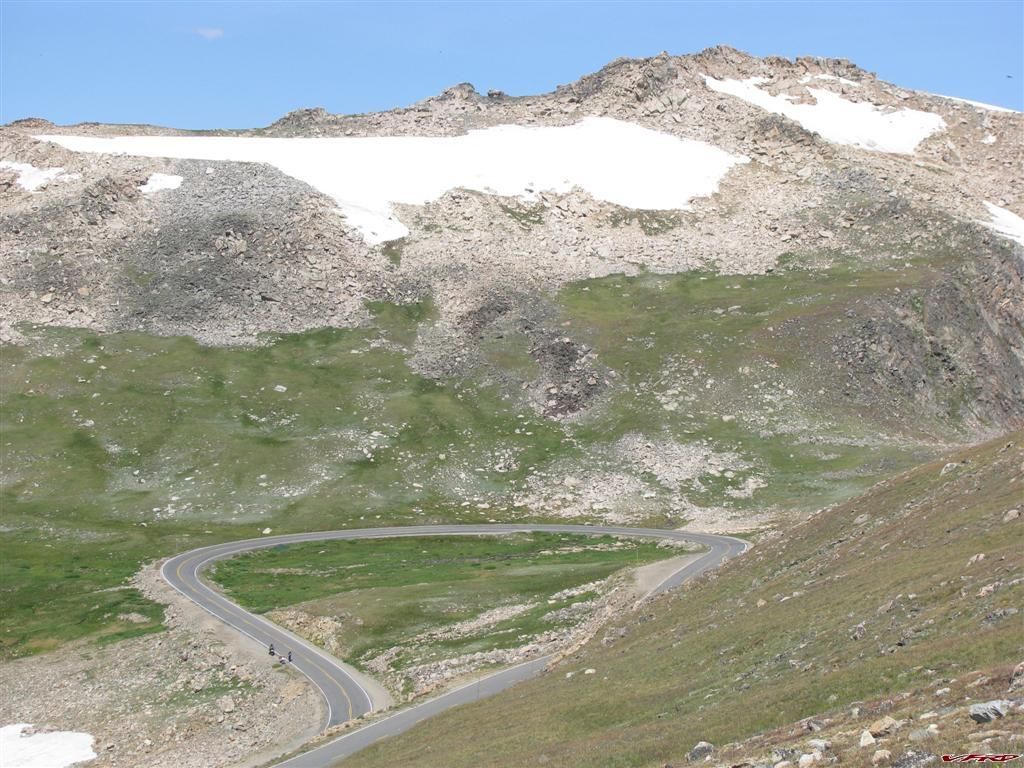 Bear Tooth Pass more motorcycles ahead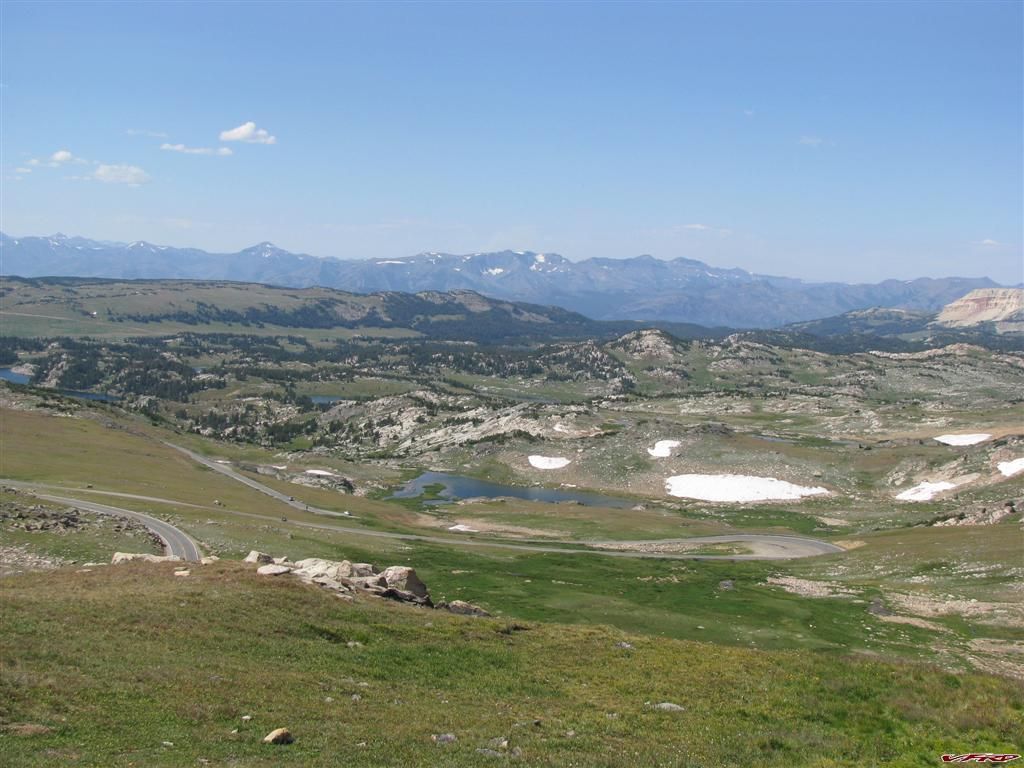 Wyoming vista From Bear Tooth Pass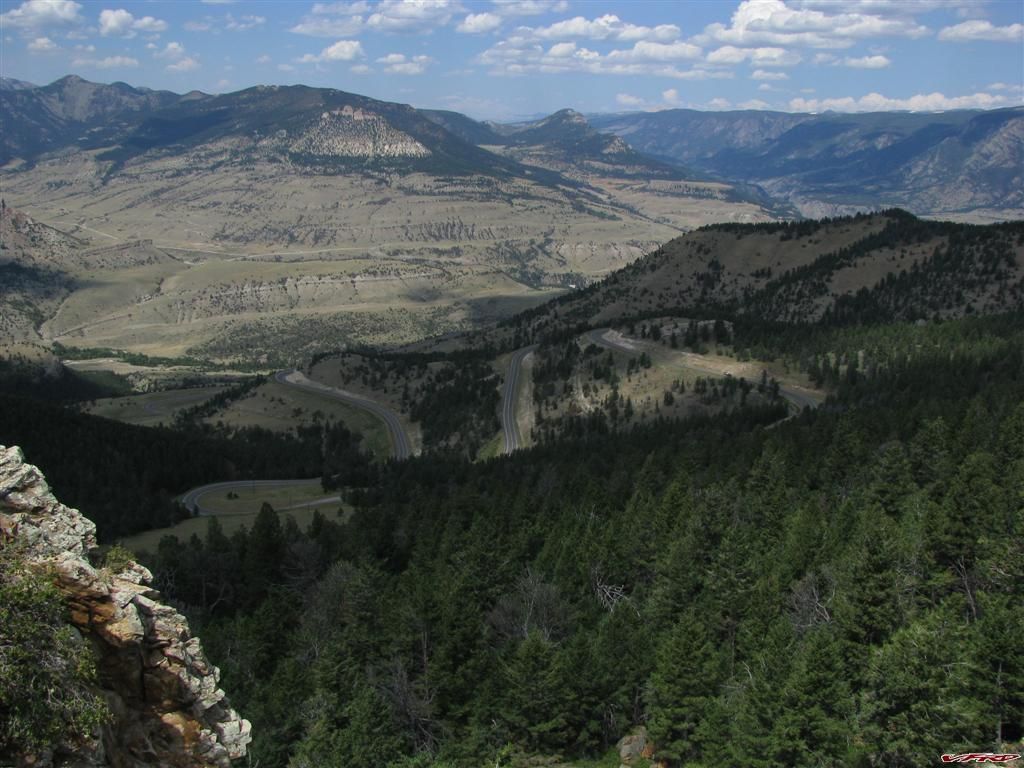 Cheif Josheph Highway Wyoming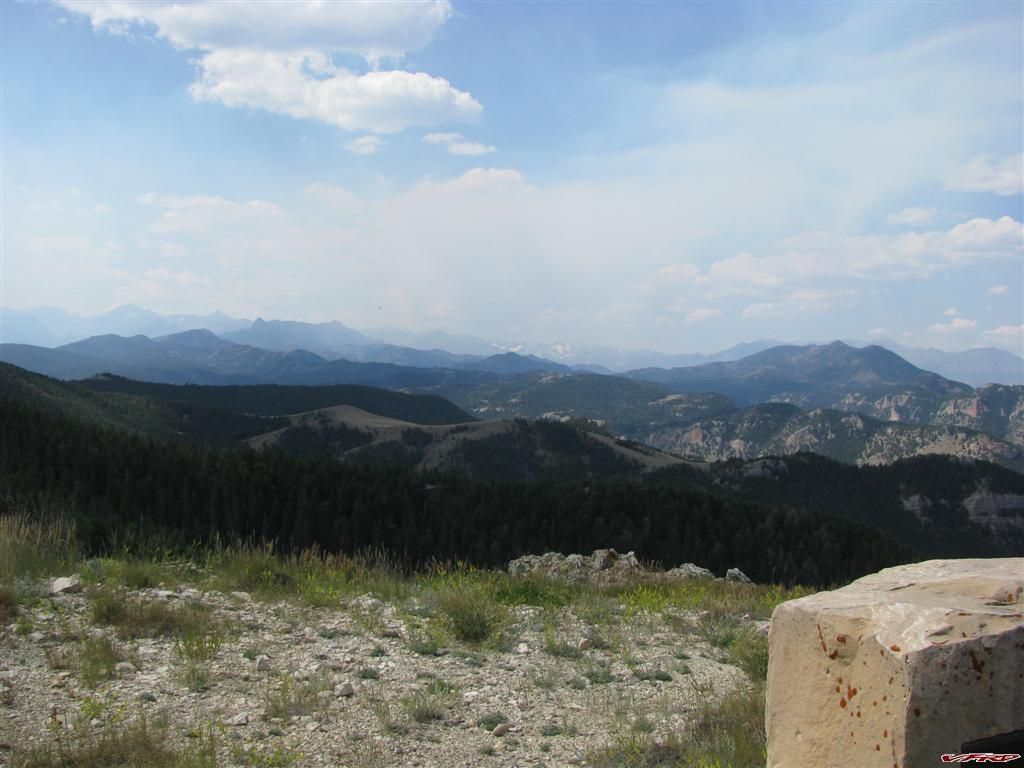 View from the summit Chief Josheph Highway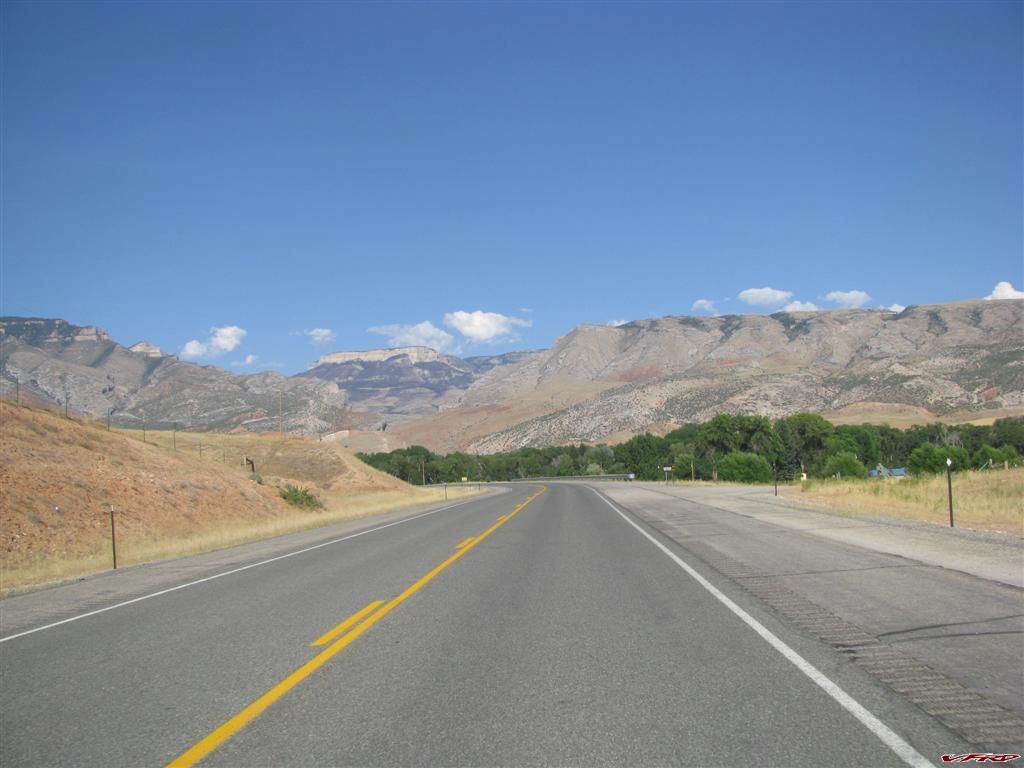 Entrance to Shell Canyon Big Horn Mountains Wyoming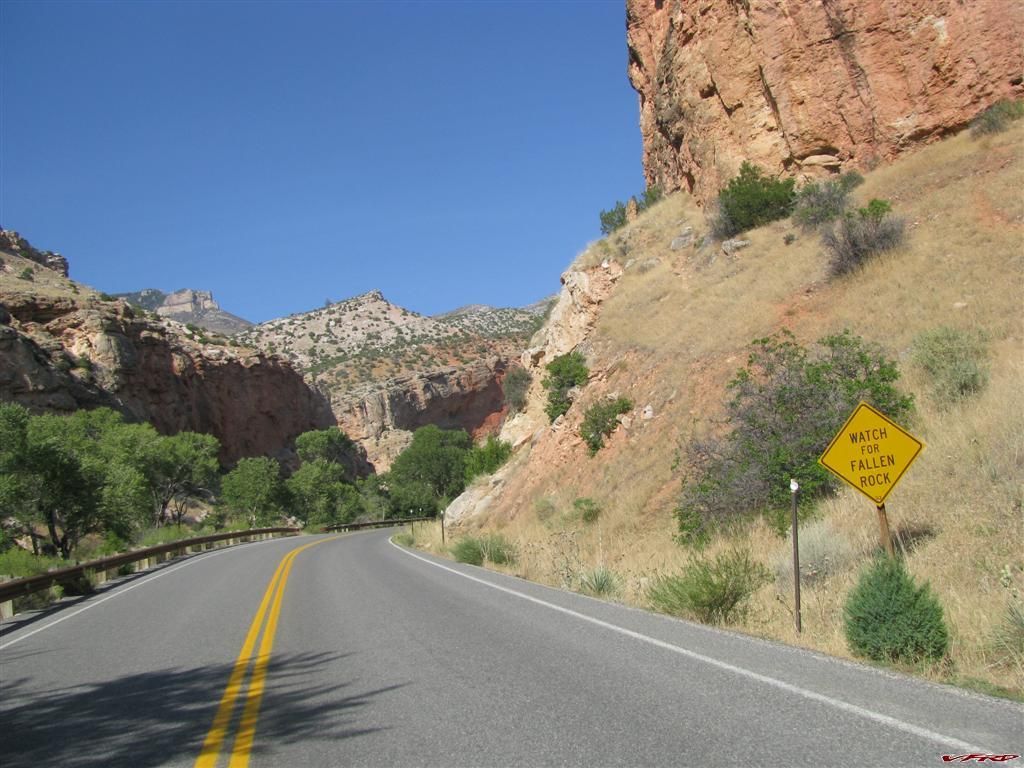 Shell Canyon Incredible road here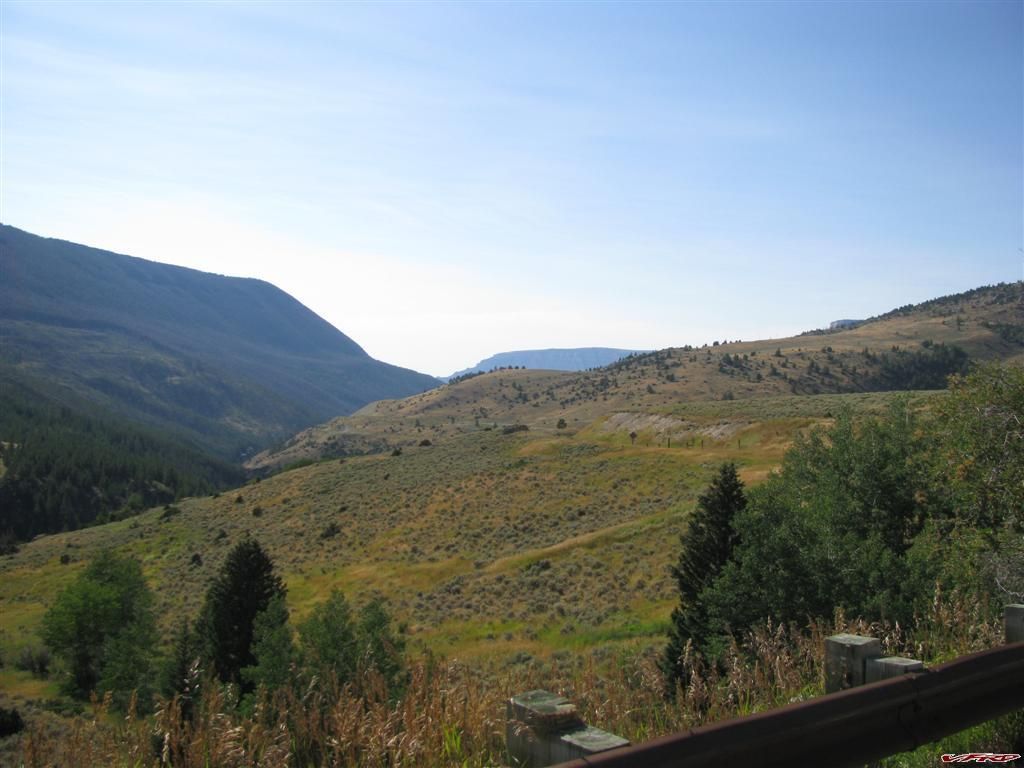 Top of Shell Canyon
I actually ran into Craig again on I-25 in Sheridan, at the gas station the next day. I was still trying to ride more scenery and he was not trusting his new tire he got from Billings so he stayed on the interstate, me interstate? No way I have too many lonely roads yet to ride. Lonely for sure, scenic? well ok my route was not so scenic after doing Beartooth the day before. I spent that night in Ranchester a small ranch community just north of Sheridan, just at the bottom of the hill from an awsome road comming out of the Big Horn Moutains. I stopped at a little dive of a hotel and walked to the liquer store across the road and found it was a bar and grill. It seemed most the town was there for supper. It was steak night and so I shared in the beer and steak night with the local folks and watched the Olympics on the TV with them, I had a great time and a great supper. I wont soon forget the fun and freindly folks of Ranchester Wyoming. Too bad the ride across Wyoming the next day was so forgetable, I cant really recommend any roads south of Casper as I have yet to find anything worth riding. North Wyoming is a hoot though, just watch out for the small towns - they take the speed limits very seriously.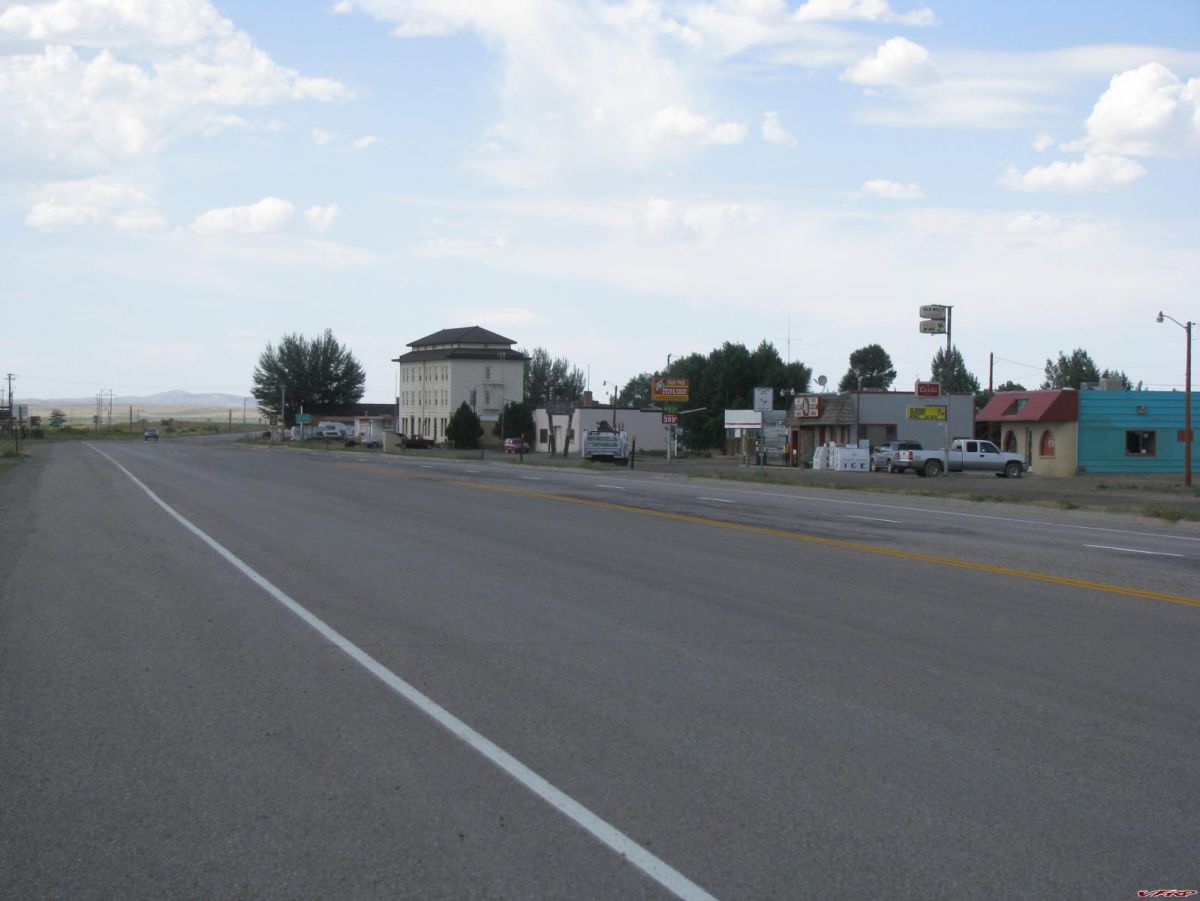 Medicine Bow Wyoming