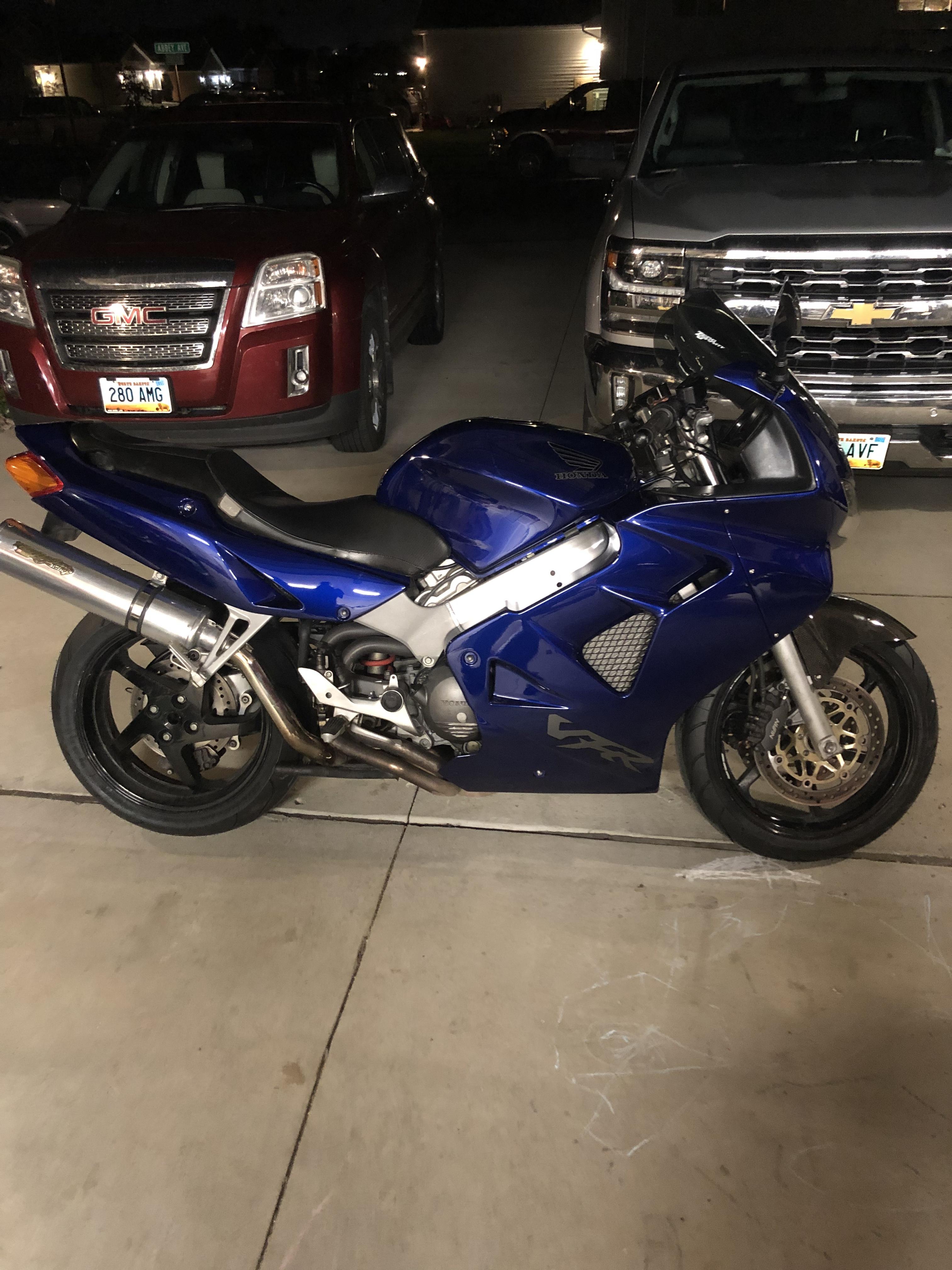 Content Count

8

Joined

Last visited
Finally finished it! Many of my older friends know that I loved to ride motorcycle when I was in my early twenties.  Having kids and being focused on them had kept me from buying a new bike up until 7 years ago when I came across this one sitting in some kids garage.  I threw him an offer and he was good with it, so I brought the bike home. It wasn't running when I bought it but I took care of that. Then it was on to cleaning it up and getting it painted.  I got the plastic prepped and ready for paint, and then life got in the way of finishing it. Once we had the house built and the kids got deeper into sports, I just didn't have the time, or even the desire to work on it that much.  I did scratch the itch to ride by picking up a couple of dirt bikes for the kids and I to rip around on, but that only lasted a few years.  It lasted long enough for Hayden to ignite a love for riding though. He didn't want to see the dirt bikes go, but they just didn't get ridden near enough to keep them.  Back in late March to early April, he asked what I had planned for this bike. I told him that I just wanted it gone to the highest bidder because I had no time and no desire to even mess with it anymore.  That's when he asked if he could have it. He thought it would be fun to finish it together and then he would have himself a bike to get around on. Of course I was a little leery as a father, but I knew how much I loved them when I was young so I wasn't going to tell him no. Once I agreed to it, it was all he could think about. Most of my last texts from him are asking when parts will be here, or links to videos he had found of what it sounded like.  It wasn't very often that he was excited about anything, but he was pumped about this.  After my beautiful son left us, I made this thing a priority. I spent a lot of hours out in the garage trying to get it as close to perfect as I could.  With the help of some amazing friends and a whole lot of temper tantrums, I have finally been able to call it done.  Now I haven't said much of anything really about all of this on Facebook, but I just wanted to share this with all of you because it meant so very much to him. It has been something that I could pour myself into when I missed him most, and it has helped me get though a lot of tough days.  Now I get to ride it in honor of him. I know he would have loved this thing as much as I will.

So I wrapped the front brake lever while I was away for the long weekend. Came home and it was the same. Speed Bleeders arrived yesterday so I installed those and bled everything again. Still no better. So I replaced the pads, slide seals, and cleaned what I could without completely removing the calipers. Greased up everything and put it back together and the brakes are great now. The brakes were the final battle. I had all of the plastic painted and will be picking it up this evening. Hopefully I will have this machine on the road this weekend. Thanks again!

I have bled the brakes in the correct order, even removing the front left caliper. I did stop at the rear brake because I don't think bleeding the rear caliper at this point will help fix the front brakes. I intend on finishing the process once I have the front brake issue resolved unless it will actually make a difference on the fronts. Using a vacuum bleeder almost felt pointless because it didn't move enough fluid and it was pulling air from around the bleeder valve. I have speed bleeders on the way to help simplify this process as well. Maybe there is just some air stuck in the master cylinder that I can't get out. I will be leaving for the weekend, so maybe I will pull the strap the front lever in for the weekend with the master cap open a little bit and let it sit. See if the air will work it's way out over the long weekend.

Picked up a 2000 7 years ago that was a project bike when I got it. I went pretty hard for the first few months but life caught up and it ended up sitting until this spring. I am so close to having it road worthy except for the brakes. I have bled the hell out of the front brakes and can't get them to build up enough pressure. I have done the bleed process from the front back to the PCV valve. I stopped short of the rear caliper because the lack of pressure in the front is driving me up a wall. I have pulled the calipers off and given them a good cleaning without doing a full rebuild. I have the rebuild kits on the way, but I would like to get it on the road soon. I live up north, and once you get into September, you really never know when riding season will come to an end. I have noticed that if I press the rear brake pedal, and then pump the front lever a couple of times, the front brake pressure is there. I can release the rear pedal and still have the pressure. The pressure goes away once I release the front lever. I honestly don't know what else to do other then a full rebuild of the front brakes. I am not worried about doing it, I was just hoping I could get the bike on the road (safely), and then do the brakes in the winter. Any suggestions?