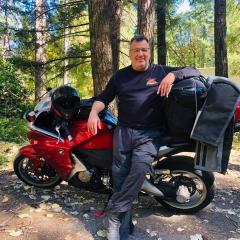 Well from my previous blog entry you can see I took the XR650r out for a long jaunt in southern Colorado, long enough to screw up the bike again! I can't say the bike has been unreliable, cause it always starts and keeps running taking me from here to there and back home again - in that respect its always gotten me home! However she is a fragile beast in the cam shaft deptment and has a few quirks the vfr just doesent have!~
Last spring I rode her out 300 miles and came back home with a burned up valve and tore up cam shaft/rockers. I spend a good deal on rebuilding it,replacing the parts, new rings, valves, oil locks, gaskets, cam chain, cam shaft, new rockers, and all the time I spent doing that myself. I got home last Tuesday with a familiar tapping but not as pronounced as the first time, I had hopped that the bike was just out of spec and needed a valve ajustment. So I did that yesterday, easy enough but when I got her all back together it was still tapping hard?? I guess I fubared another rocker/cam shaft set AGAIN!! Damn this sucker is either running dry on oil or getting too hot. I remember stopping for gas and checking the oil each time, on the last stop it needed oil so I topped it up. What was more significant was the oil was smoking when I opened it up! So I checked the radiator, the thing was dry! Darned it I overheated her again!
Once I got home I took a look at the thermostat, it was stuck open and the pin had jackeknifed inside the housing! Replaced that! Then I bought a higher pressure radiator cap 1.6 bar Kawi lid so it wont spew so easily, more pressure but if a KLR can take it so can an XR! At the altitudes I ride at it tends to boil off way to easy. I have an oil temp gauge I monitor as I ride and rarely does it go over 200F but I should have stopped when I saw it go down to 150f, that indicates a problem, not enough oil on the dipstick to register the temp!
OK so I replaced the main components that control the heat and filled it up with new radiator fluid, now I have a new camshaft and rockers on order - waiting to get that, so I can go adventure riding again, perhaps with more confidence it wont spew antifreeze all over the dirt so easy!
I know hot means lean condition but it boggs down otherwise up in the high country, my problem is I ride up and down mountains too much the jetting issues are difficult to get right!