For years now, whenever I've been driving on I-5 between Portland and Seattle, I've been seeing these statues on the side of the highway. I've always wondered what they were, but I've never gotten around to stopping and seeing them up close.
Well today I was up in the Seattle area picking up some VFR parts and on the way home back to Portland my friend Bryan and I decided to stop and see these statues. The monuments are near mile post 60. Here are the pictures I took:
Informational billboard visible from the interstate.
The statues.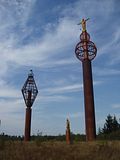 Monument for the Holocaust Victims, Mother Teresa, and Jesus.
Statue of Jesus.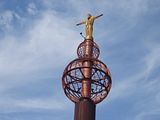 A close up of the Jesus.
Another view of Jesus.
Monument for the Victims of the Holocaust.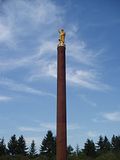 Monument for the Indian Tribes. I believe the statue is a representation of Chief Seattle.
Statue of Mother Teresa (with Bryan in the background).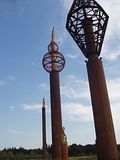 Another view of all four monuments.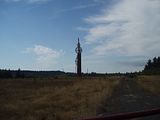 View from Camus Rd, near Toledo, WA.
Some land use action billboard.
The statues were built by Dominic Gospodor in 2002. Apparently from what I've read, he had plans to build five more monuments in honor of African-Americans history, the people killed each year by drunken driving, polio-vaccine developer Jonas Salk, women's rights activist Susan B. Anthony, and William Seward (who bought Alaska from Russia in 1867 for about 2 cents an acre). But unfortunately, Mr. Gospodor cannot get anymore permits to build his statues. The DOT apparently has problems with the monuments causing traffic problems on the interstate, and they're afraid if new monuments are constructed the traffic problems would get worse.
Anyway, the statues were pretty cool. I had a huge spider crawling around on my back that Bryan pointed out. That wasn't very cool. So now, if you're driving on I-5 between Longview and Chehalis, you'll know what the statues are all about. :cool: