Bashing into Boise - on my way to the PNW in Troutdale
---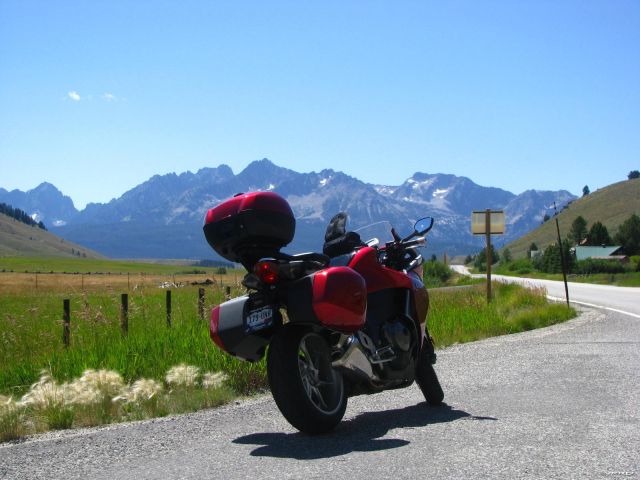 The Sawtooth Mountains Stanley Idaho
Continuing on from my last blog entry - I spent the night in Waldon Colorado - then early in the morning I packed up and headed out on the veefalo north. I just blindly followed my GPS that for some reason had switched to automatic route recalculation which sent me over the pass into Laramie. I had it figured out just about the time I found some really great sweepers on the Wyoming side - I decided not to turn back but rather to find out just how far this rabbit hole would go! I was enjoying the 30mph marked turns at double that speed and it was rather chilly so I only hit the good ones in the sun and not so fast in the shade. I dont ride too well when I am cold. I suppose a racing career for an overwieght 45 year old is out of the question so I will just stick to touring and writing in my blog and keep my night job.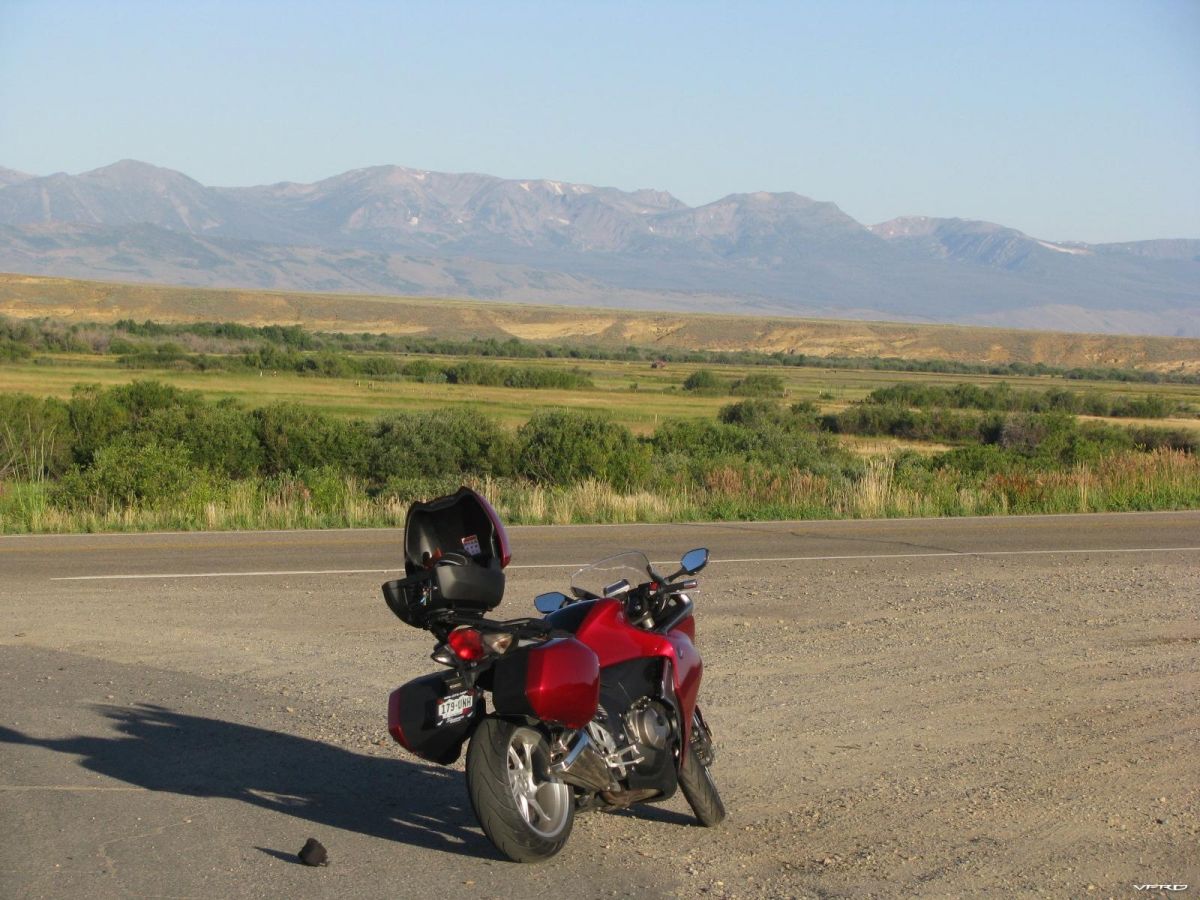 Sheep Mountain Waldon Colorado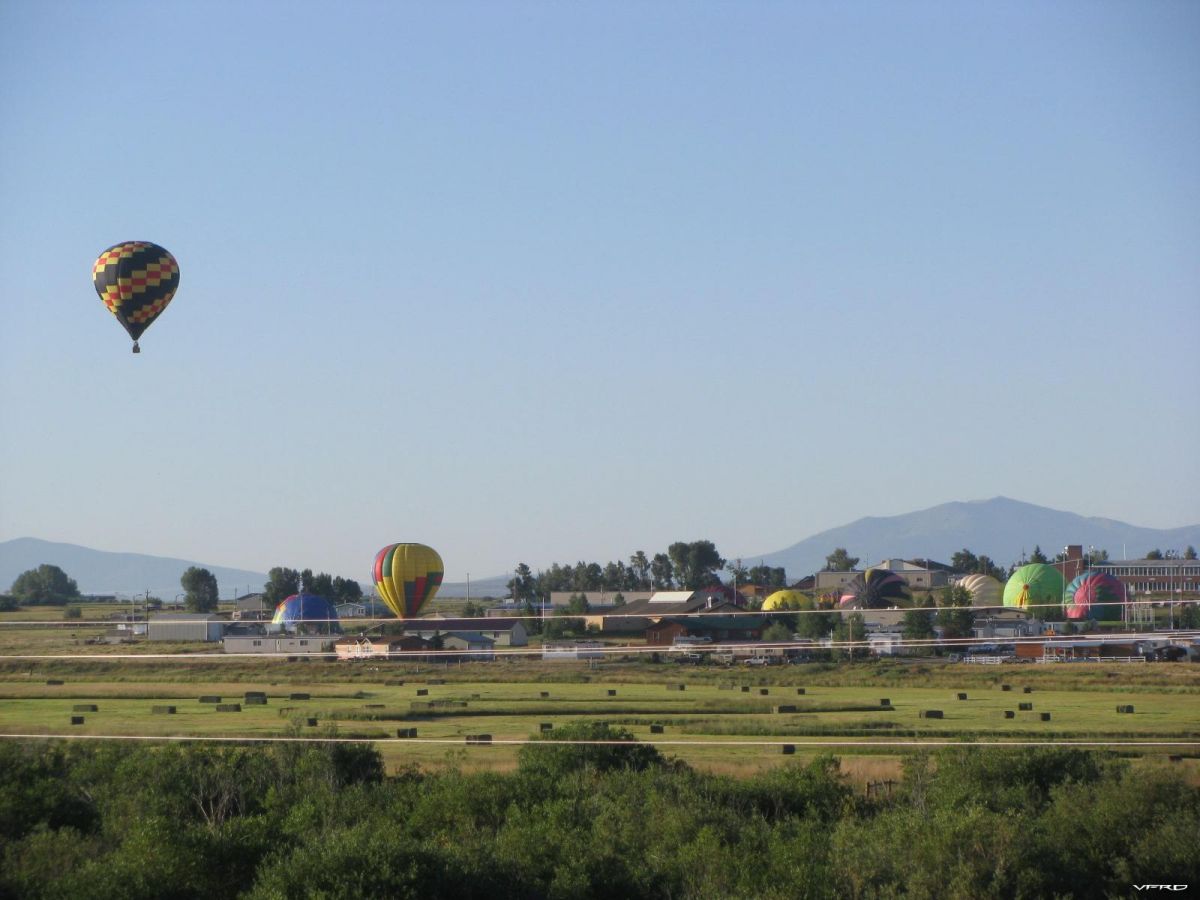 Balloons in Waldon 7am - 45 degrees out - still cool air perfect balloon weather
So having figured it out that I had basically added 50 miles to my route with this stupid zumo reprogram job. I figured I needed to gas up in Laramie and grab some cash at the wells fargo ATM since I was already in town. Which sent me to an interesting gas station - tackle shop - gun store - candy store - resturant where the owner had fish bait and chewing tobbacco on the same shelf. Helpful though he pointed me in the right direction to the wells fargo with detailed directions right down to the shape of the windows in the Taco Bell next door. Right by the Wyoming Cowboys stadium he said. Sure enough there it was. Then 100 or so plus miles of super slab on I-80 to Rawlins. It was here I discovered my bike was covered with oil encrusted dirt pellets all over the forks, swingarm, and radiator. So in Rawlins I cut over to a car wash to get that crap off, and the 1/4 inch high pile of dead bugs on the windshield.
Rawlins is the sort of place I like to just pass through, if it were not for the gas situation I would have! It did get me off the interstate and that dueling semi nonsense for the last hour or so - they always seem to look in the mirror and see me comming then try to pass each other before I get there - nope - snails dont make for good racing! So I would have to haul it down to below the posted speed limit and wait behind the chain of cages that also are stuck behind this 18 wheeler fiasco - interstates might be the fastest way to cross the USA but they sure are a pain in the ass on a motorcycle.
I turned off for more slab, but this time it was 2 lane slab for another 150 miles till I hit the edge of Dubios Wyoming where the scenery took a turn for the better. Here it started to get interesting - I should have stopped for more pictures cause the whole way from Dubios to Jackson was very scenic. Too bad the highway department thought different. Togwatte pass was all tore up to the dirt and bumpy as hell since it was being repaved. It was all tore up for a good 15 miles and after that there was mud all over the brand new pavement. All the way into the Grand Tetons National Forest. Turning the corner and cresting the hill and seeing my first sight of the Grand Tetons was amazing, it took my breath away it was so spectacular!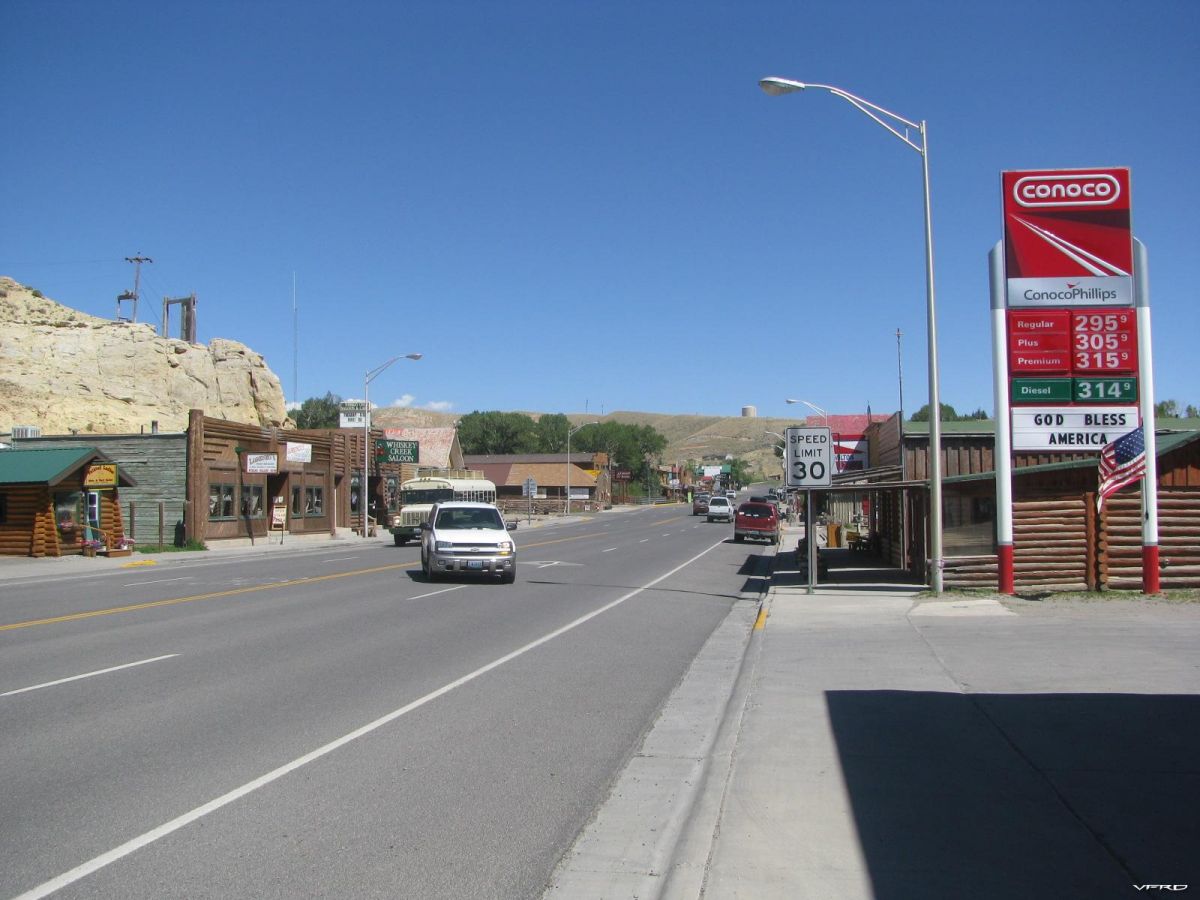 Dubois Wyoming pretty little town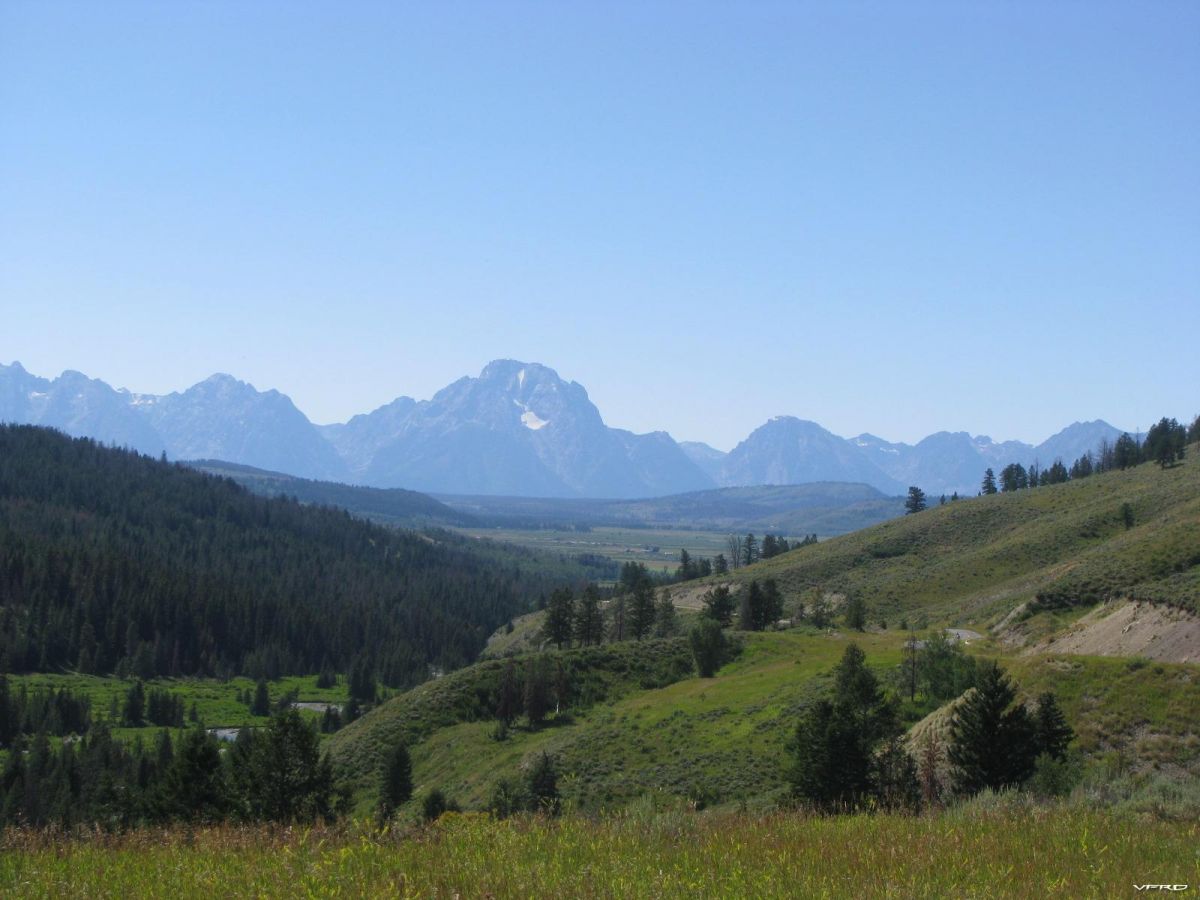 Grand Teton Range impressive sight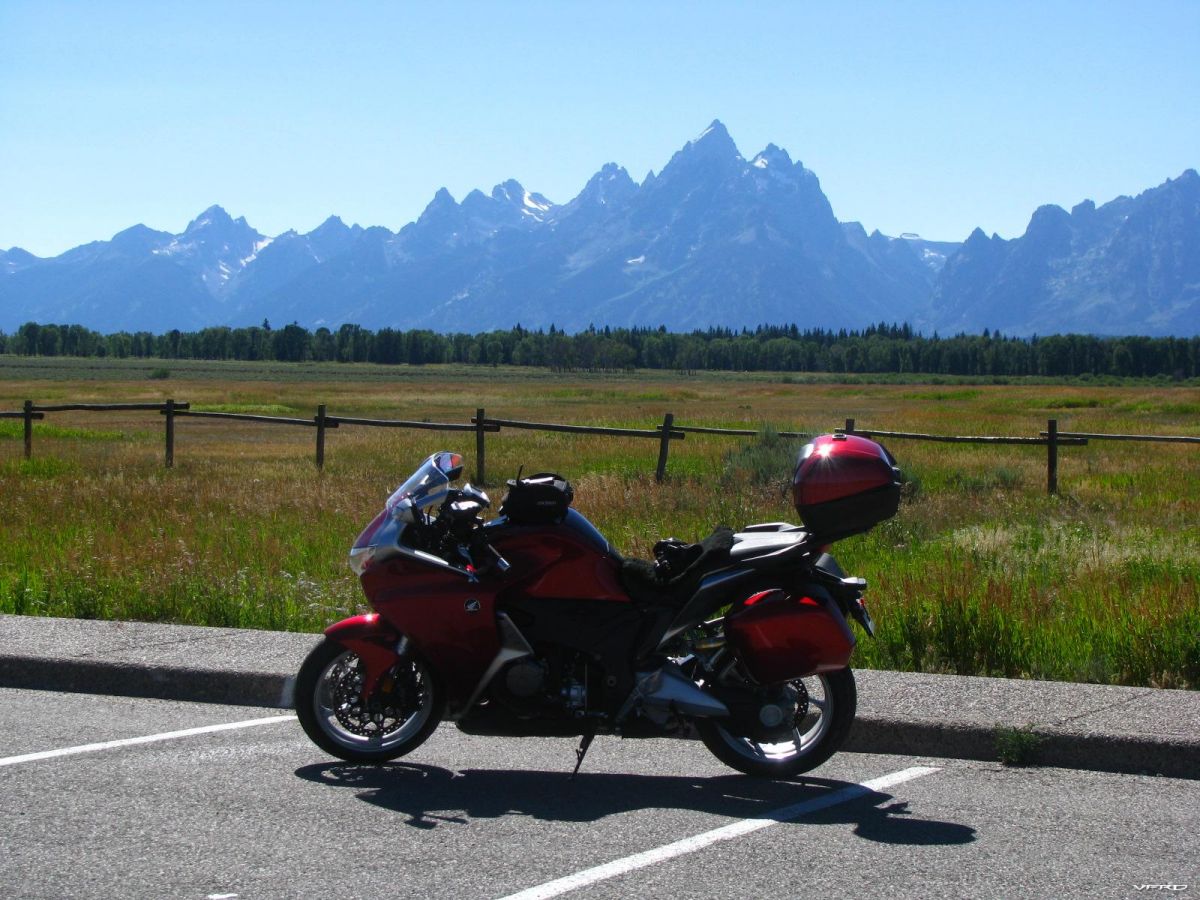 Grand Tetons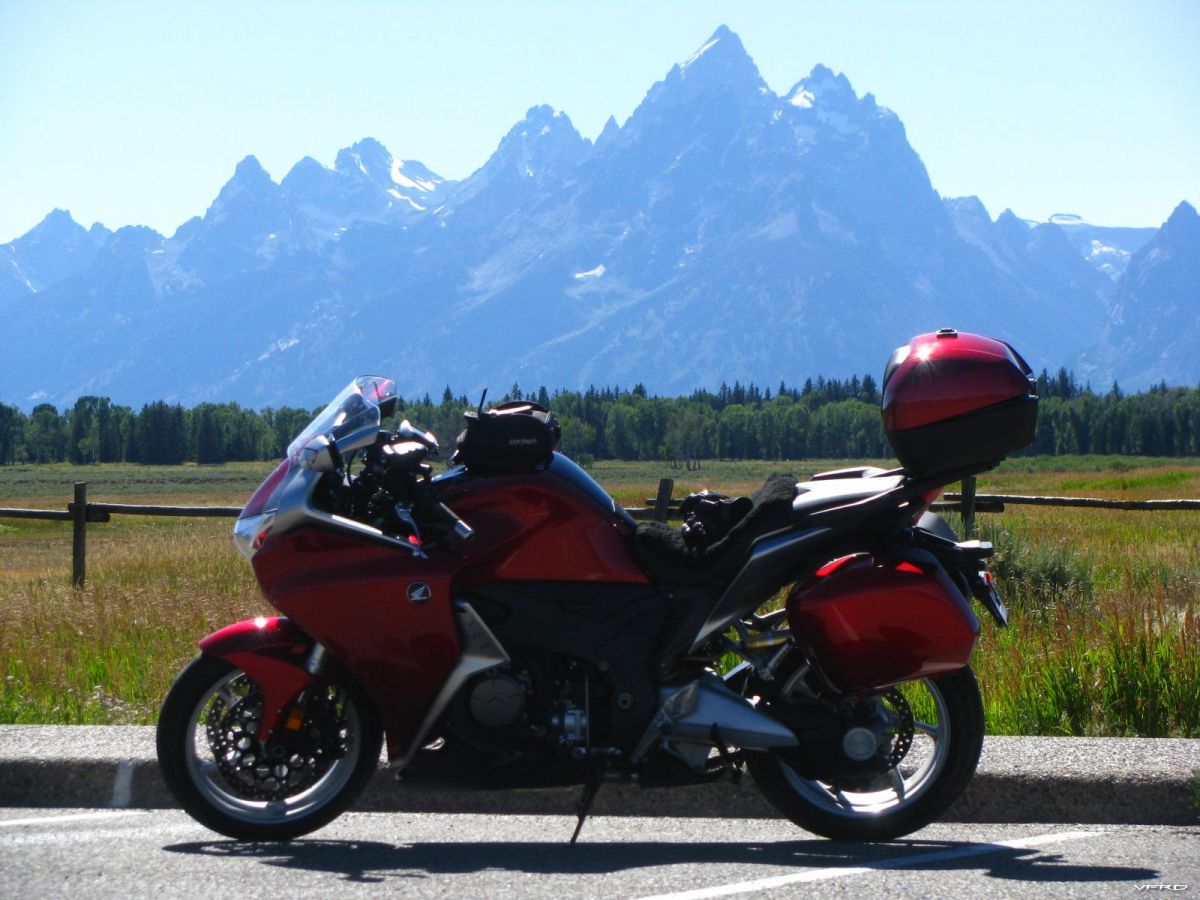 Veefalo at Grand Tetons
Jacksons Hole Wyoming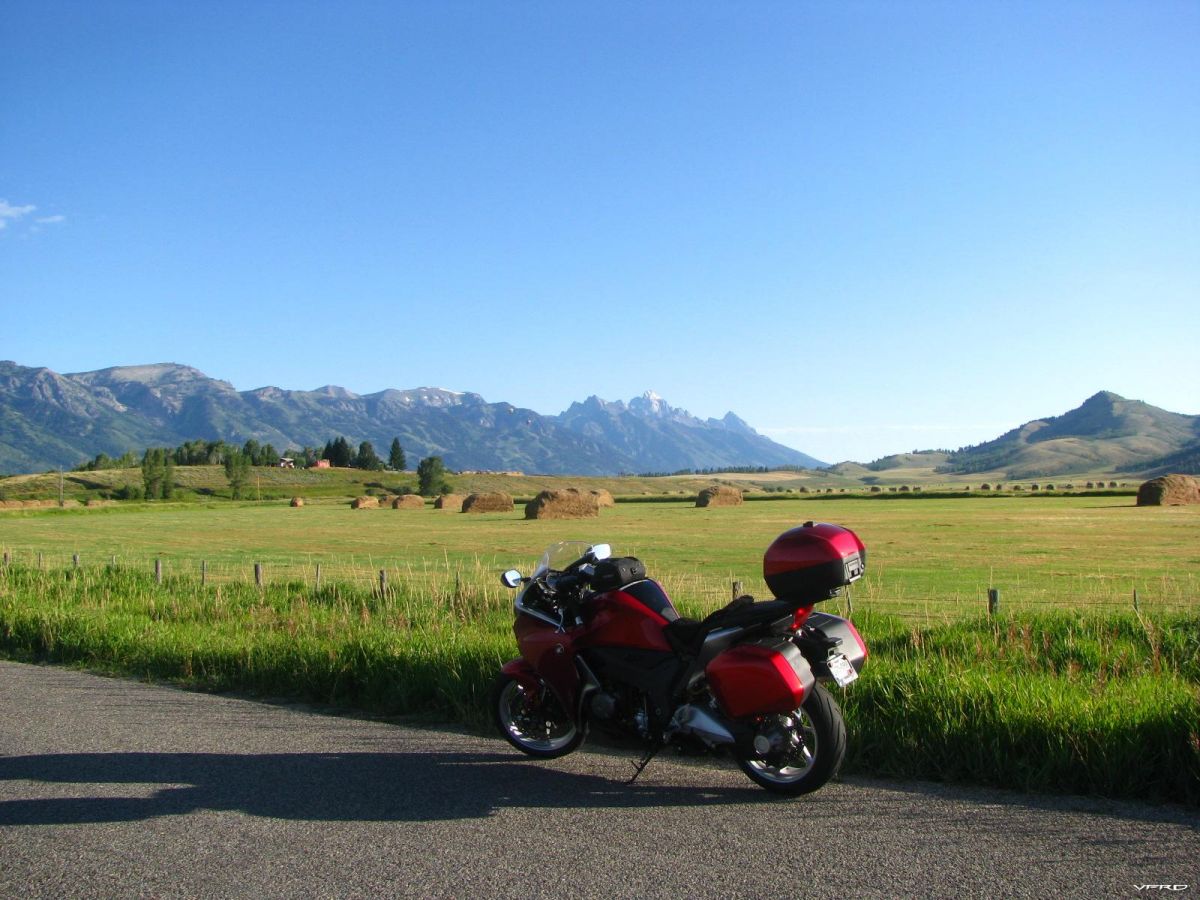 Jacksons Hole
I was going to try to make it to Idaho City but it was getting late and the sun was about to go down so I found a place to stay in Jackson, it was expensive so I did not splurge on food opting instead for a burger at the DQ and an ice cream. I walked over to the Cowboy bar and looked at the strange wood fixtures - mutant wood with what looked like wood tumors all over it and saddles for bar stools. I had a bottle of beer and walked around downtown Jackson. It reminded me alot of Durango where I went to school. Only a bit smaller. Its a tourist trap too in the summer time.
I got up early and headed out, I had a room just below my bike so I could just lift my bags up onto the pavement and not have to carry them so far. I wound my way over Teton Pass passing scores of cars 5 at a time which was easy since the grade was 10% so they were barely moving 30mph at most. I had a little of the pass to myself just in time to catch a whole nother line of cars and pass them too. It was too busy to really do anything fun. Lots of traffic heading over to the Tetons and up into Yellowstone. I was glad to get off the main highway and over to Pine Creek Road where I had it all to myself. I really enjoyed the 50 miles of that road - and stopped for breakfast at a little run down joint run by a mother daughter team. The lady behind the grill looked just like my great aunt Jenny I am sure I made her uncomfortable they way I was squinting to see if it was really my grandmas little sister - and the daughter - she was very pretty too. Good food and plenty of it, pork chops eggs and homemade salsa. The daughter was a good conversationalist if a bit unnattentive as a waitress, Mom though set her strait a few times, "get the coffie honey" she said, and "bring those plates back here" gentle but firm. She seemed more annyoned at having to finish up the night shifts work than being a waitress. Aw but the food was special.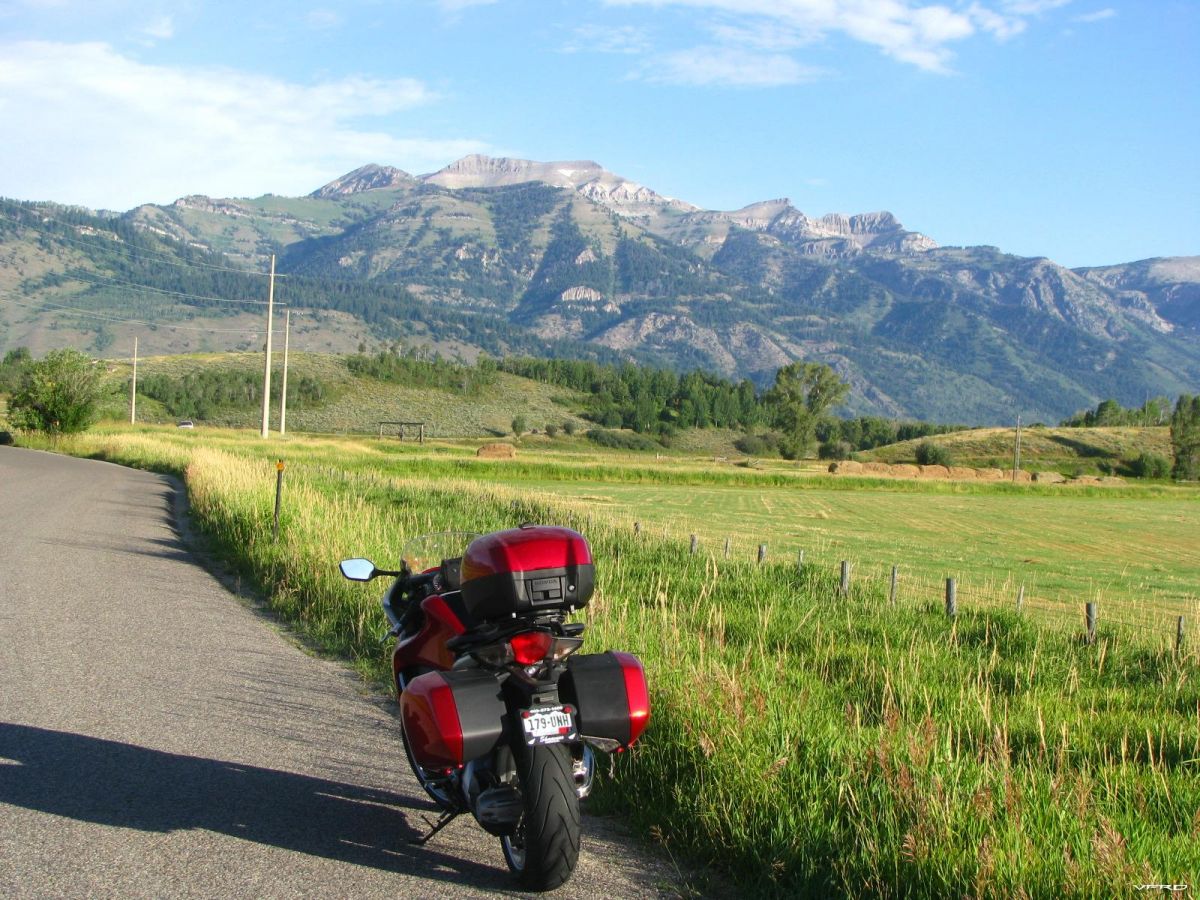 Starting toward the pass to Idaho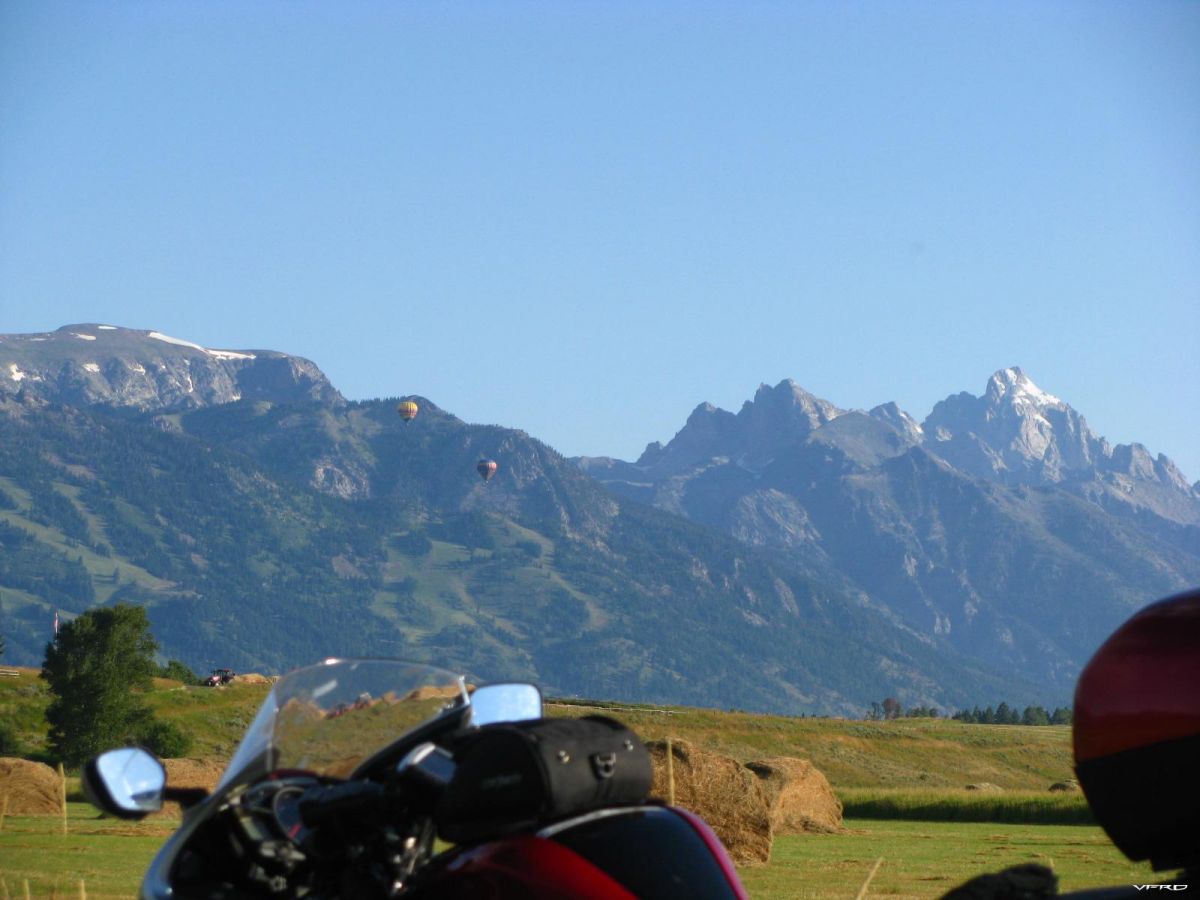 Balloons on the Tetons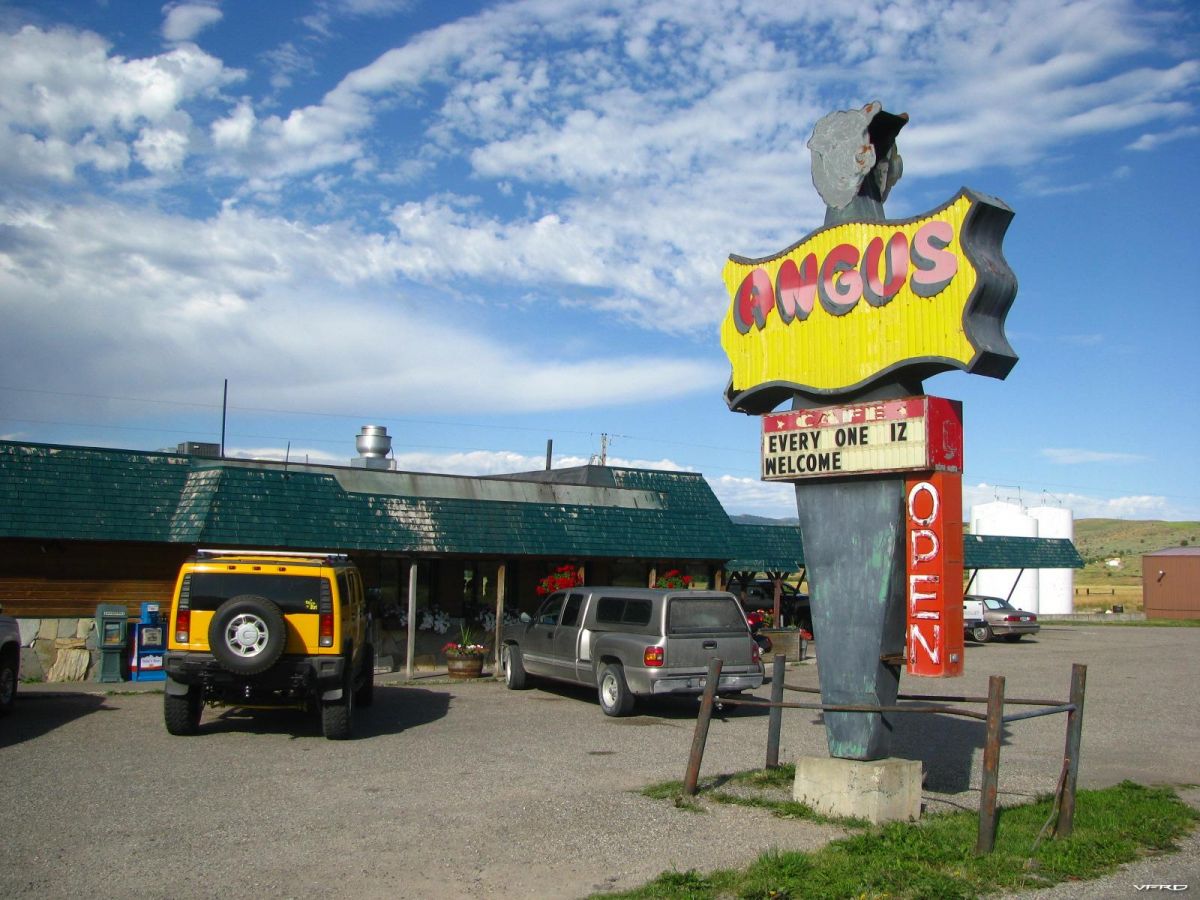 Angus Cafe Swan Valley Good breakfast but he outside is a little run down Swan Valley Idaho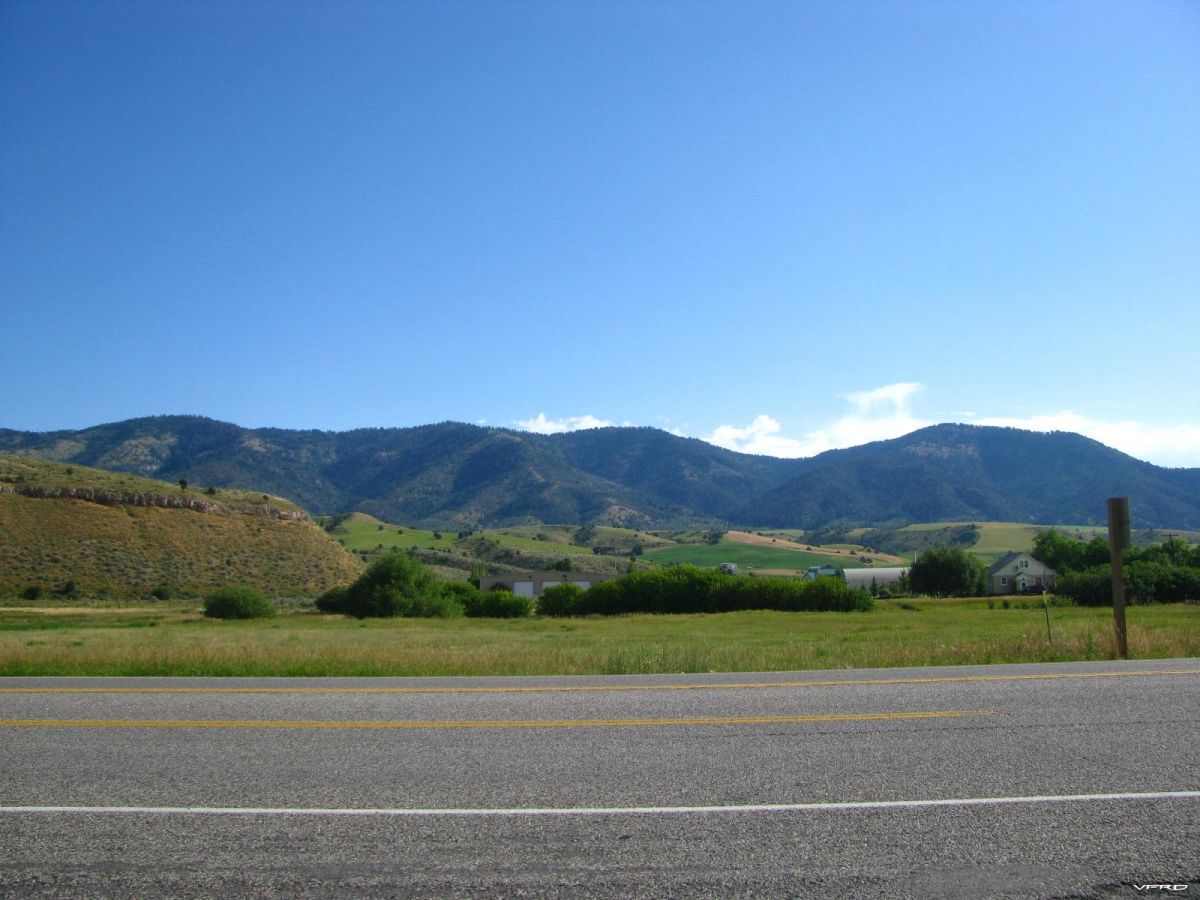 Swan Valley Idaho
From here it got slabby again and into the city of Idaho Falls I ran into a 10 mile length of constuction with crazy 4 inch pot holes that I had to aviod. The car infront of me was going so slow I had to back off way back to get a good idea when the next pot hole was comming to avoid it. The cars behind me where no comfort!
From there I gassed up in the boring town of Idaho Falls - note to self any town in the west out on the planes with the word "falls" in it is probably a sink hole! On my way into Atomic City Idaho I passed Harely Davidson after Harley Davidson after Harley Davidson. They seem to think that a 115 cubic inch HD can hold off a 1200 vfr? Not even close! I would pass with a simple 6th gear roll on and be done with them in a hurry. This thing cruises at 100mph while they struggle at it. Try twice the rpms and more HP its not much of a match, add in turns and its all over! I might see you on the way back.
So I looked up some maps and headed up north a bit to hit the Salmon River roads stopping again in Arco to gas up since I have no idea where the gas stations are gonna be. It seemed prudent andnd once again in Challis since this was a back way or so I thought going along the Salmon. Nope it was busy, busy with all sorts of anglers fly fishing the river and driving along the twisty road. It was fun and fast. Then the canyon opened up and I saw the Sawtooth Mountain range for my first time and it Rivals the Grand Tetons in scope if not as sharp but massive, I stopped to take a pic.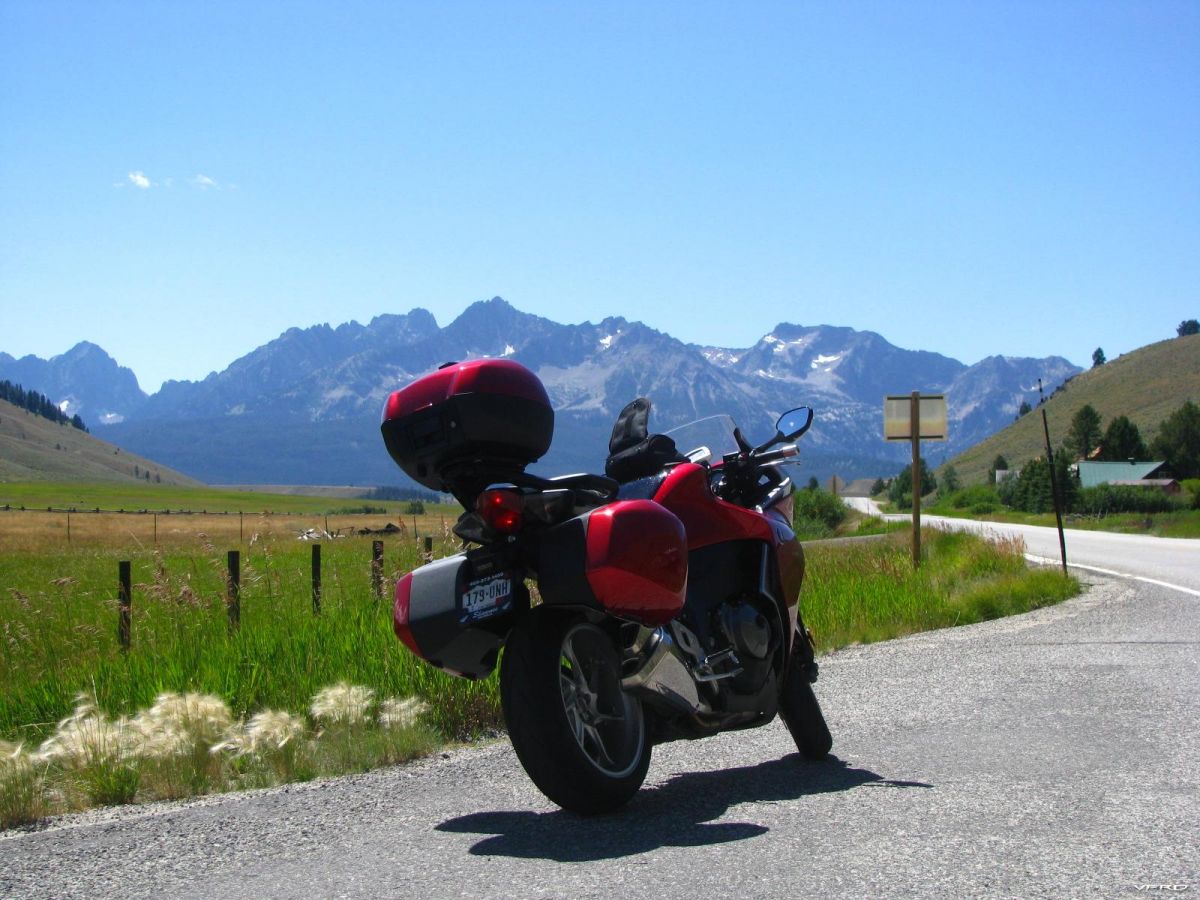 The Sawtooth Mountains Stanley Idaho
Then I turned on what I thought was going to be the best road of the day and it was strait as an arrow, so my Uncle Told me! For a good 20 miles it was strait then slowly it started to get a kink here and there, then after 40 miles it was getting better and better, pretty soon I was enjoying it alot. Passing everything in range I was having fun on the fast sweepers, it was all good chip seal the kind that is done right and not loose anymore - not scrapped off by snow plows either just good chip seal. Its grippy and confidence inspiring.
The at Lowman Idaho I turned a corner and the temperature went up 20 degrees and I started to sweat and then all of a sudden - whammo - tight tight twisty - deals gap of the west road! My Uncle had not set me wrong!~ I am glad he pointed this road out on the map to me at Christmas - this is some good stuff here! Wow I was not so sure about this bike up till now and I just leaned forward and gassed it smooth and let her rip and bump and lean and pitch. Flicking the bike side to side just like as if I was on the old girl. I think it was this road that made me think that I do have a good bike! A bike I can ride now, I was riding it well and it was responding well. I was happy with the veefalo all at once and completely focused on this road. I was having fun railing it and it was responding like it was too! Wow moments like this are a real treat, its not always you feel like your one with your bike or that its just an extention of your will, it was handling and turning like it was a sport bike! OH Harley guys try and follow me now!
I looked down at my gas gauge - uhh oOHH its blinking! Aw shoot, 15 miles to Idaho City.. will I make it? The road started down hill and switch back after switch back melted away with ease, a little slower down hill I am still enjoying myself but trying to conserve gas. Then sweepers again till I saw what looked like a small village and a gas station on the side. I pumped 4.2 gallons and went over 150 miles, that last gas stop in Challis all they had was ethonol blend and I dont think I filled it to the rim, just topped up. I was really reving the pants off the bike for the most of 75 miles - and another 40 along the Salmon river. I really ran that section hard.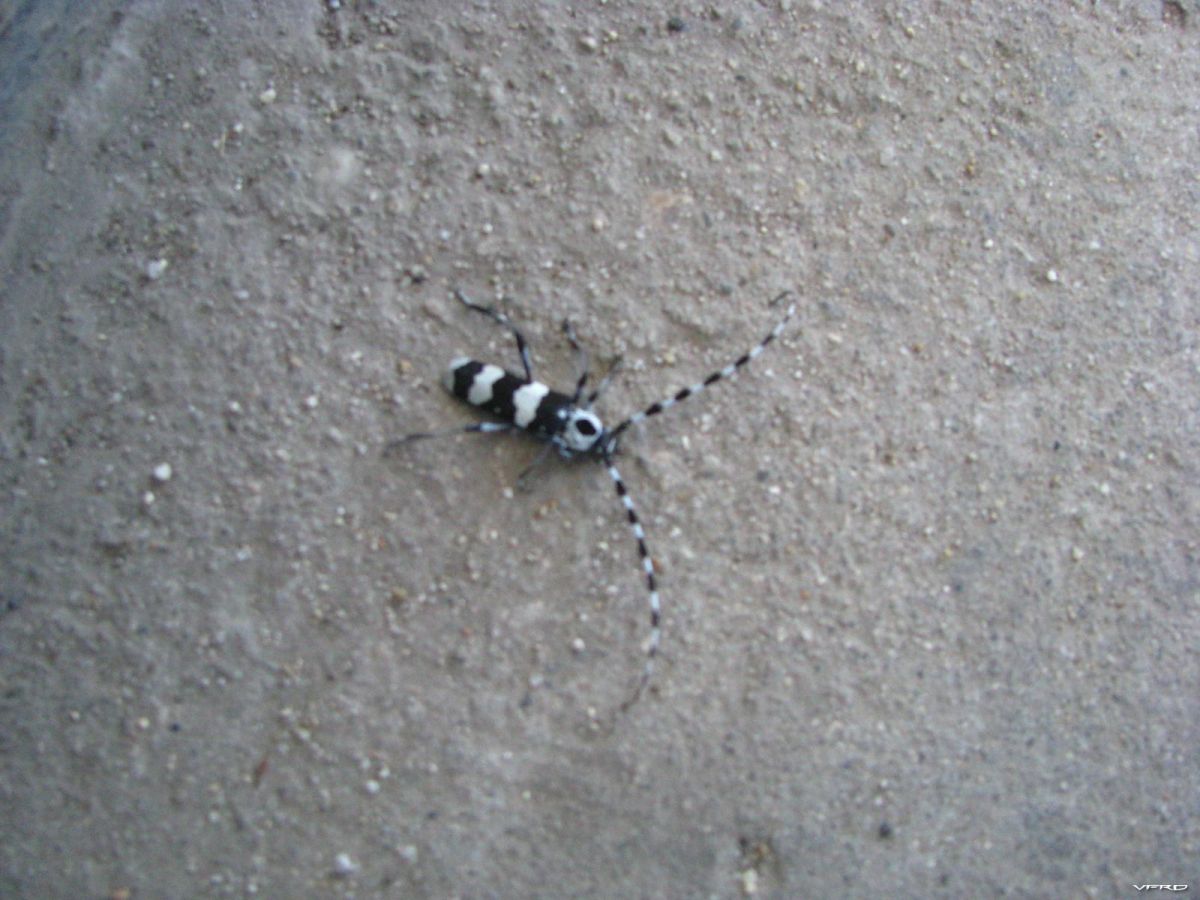 I think your brother is all over my windshield
Stange looking Zebra beetles in Idaho City they where everywhere - never seen bugs like them before? Cool looking especially when in flight. I stopped and fueled up and fueled up my belly with some Red Bull Cola and an Ice cream. I was only 50 miles to my Uncles place and was really happy with the bike! I feel like I broke an invisable barrier on that day!