Last weekend I decided to head down to San Francisco and meet up with some friends. I took Friday off from work and rode 650 miles down to San Francisco. I had just put a new chain and sprocket on Thursday night, so I was constantly checking and adjusting my chain.
Saturday morning, Fred (wazzufreddo) and I headed out of San Francisco to Livermore to pick up another friend, Dennis (who's actually a vfrd member, but lurks here most of the time). From there, we head to Yosemite. Outside Escalon on highway 120, we had to stop for a train. Time for some photos!
Here's a picture of Fred. You can see the train in the background.
And here's a picture of Dennis. In this picture, not only can you see the train, but you can also see the commuter train that also went screaming by while we were waiting for the freight train to pass.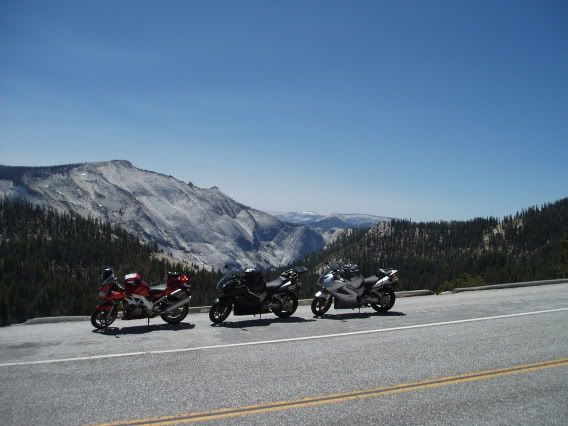 Here's a picture of the bikes at a view point in Yosemite.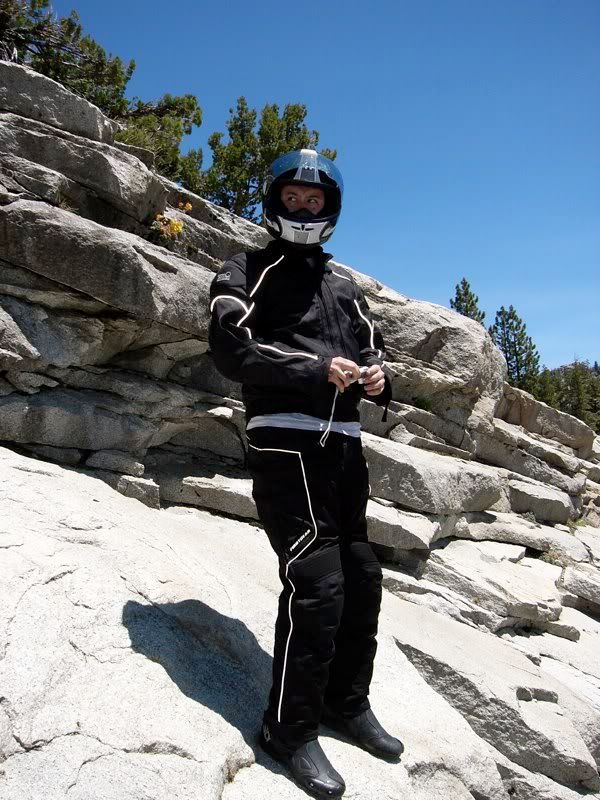 And here's a picture Fred took of me when I was standing on the rocks getting ready to take the picture of the bikes that you see above.
There were some other bikes at the view point too. Most of theme were Harleys, but there was one guy on a BMW RT (I think). Well, he come over to say hi to us and then offered to take a picture of all of us next to our bikes. Awesome! Thanks dude, whoever you were.
This would make a decent desktop background.
We eventually made it out of Yosemite and got some lunch at a gas station where highway 120 and highway 395 meet. Pretty good food there. After lunch, we took off to head back home.
Heading north on highway 395, we stopped real quick to check out Mono Lake. For all the safety-nazis and ATGATT guys out there, calm down. Both Dennis and Fred are wearing armor underneath their jeans.
And here are the Viffers up on Sonara Pass. Wow, what an awesome road. Lots of twisties, switchbacks, and hair-pins, all the while going up a 26% grade. After making it though the bulk of the twisties, Dennis had to stop for a quick break, so I snapped the picture above.
And here's Fred coming up on his SV. Poor guy; he was dying by the end of the day. Of course, he didn't get any sympanthy from Dennis or me since he did it to himself.
All in all, Fred and I did 530 miles that day. Dennis, since he started in Livermore, only did 480 miles.
Sunday after breakfast, we all headed out to a big parking lot in the Presidio of San Francicso. Fred and Dennis swapped bikes for a bit so Dennis could get a taste of the SV's massive torque. I ended up practicing tight turns until I found some traffic cones. So I ended up setting up a low speed slalom and we all took turns running through it. It was pretty hard to make it through, since you had to go back and forth between full lock right and full lock left. :thumbsup:
Nothing special happened Monday. Just spent all day riding back up to Portland. All in all, I put about 1800 miles on the bike in four days. :beer: