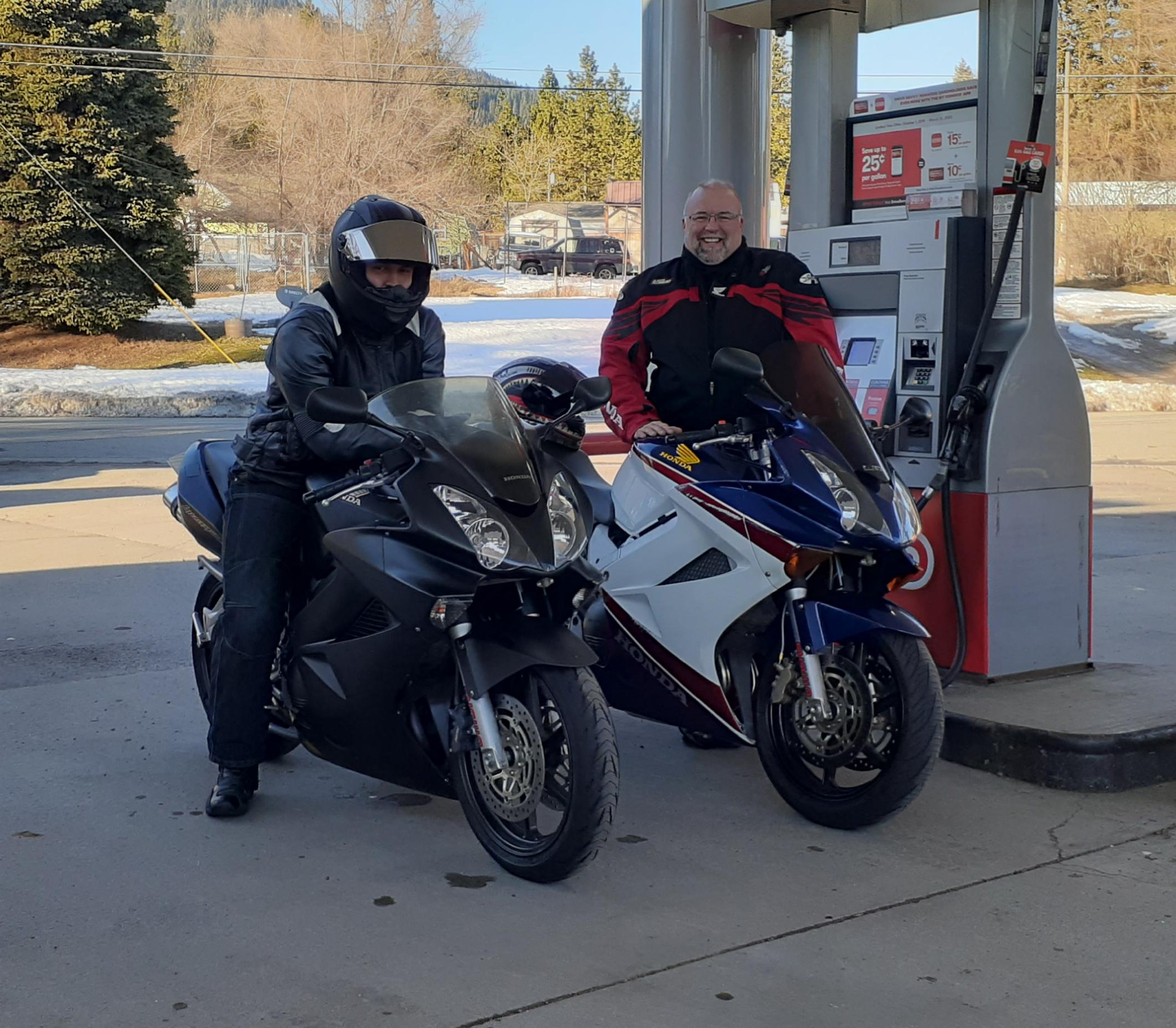 Content Count

7

Joined

Last visited
Community Reputation
8
Neutral
Profile Information
Location
In My Garage:

07 ST1300
01/04 VFR800
07 VFR800
04 CR250R
04 XR650R
Recent Profile Visitors
The recent visitors block is disabled and is not being shown to other users.
Update- Several thousand miles later, Bike runs great! Had to relocate one of the rear coils to the rear of the airbox after it rubbed one of the connectors and developed a short. Had to replace the clutch-miles were unknown on the 01 motor, and the plates were in pretty bad shape (started slipping after some practice drag race starts). Starting my next project- 02 also getting an 01 motor, this one will have a 929 swingarm and forks. If anyone is in need of a 50k mile 02 motor, ecm, coil packs etc., 02 forks and brakes, 04 ABS stuff, I got 'em!

I can't seem to find the more detailed pics from the build, I'll take some more when I have things apart again. It will definitely outrun the 07 vtec bike that I have. So far no problems and everything works great. I'm already planning another lighter version with 929 swingarm and forks.

Hi, I didn't support the back of the bike when the engine was out, I built a wooden box that fits around the oil pan and put it on a floor jack. Unbolted the swingarm and motor which was secure on the floor jack and lowered, then having reattached the subframe I removed the frame wheelbarrow style. It helps to have an extra body.

Hi, new to this forum and I just wanted to add to this thread that I have viewed many times. I was a Honda dealership mechanic for 26+ years and always a v4 nut. I acquired an '01 vfr800 motor and chassis some years ago with the intent of swapping into a gen 6 frame or building a racebike. It sat on the back burner until last fall when I purchased a nice 04 with a blown motor in Seattle. and after reading various threads on the swap, I got started. There is NO modification needed to the engine or chassis, it bolts right in with no issues. I used the 01 wiring harness and ECM with the 04 fuel injection rack and a power Commander 3 PC. Wiring and relocating the ECM to under the seat were the biggest challenges, but not that difficult. The 04 gauges were pretty straight forward to wire to the 01 harness. Delkevic header for an 04 fits the 01 motor perfectly, and mates up to the 04 Two Brothers system that was on the bike. Mounts for the 01 coils were easily fabricated, space not an issue. Deleting the ABS and delinking the brakes created extra space, especially under the seat. Can post pics if anyone is interested. Thanks for the great forum!