Down To The Lump.......finally!
---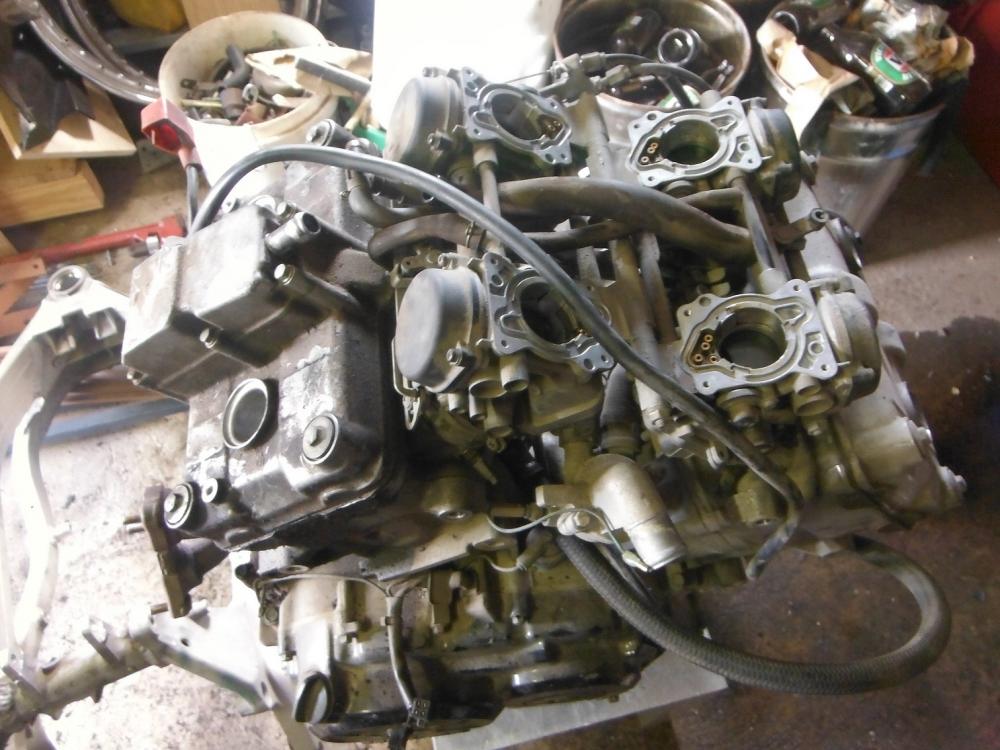 This is what it looks like, when you get to the start of things.......Well, almost the start of things. Most of the engine will be going back into the bike. I'm still tossing up weather it's worth going too much deeper into it. Maybe a hone, and a port job, but just maybe. It DID take alot to get it to this stage, so i'll see how I feel as things progress. My first missions are to replace the steering head bearings with conical items.....but that'll only be once I decide which front end i'm going with. For a bike that has so much potential, and so much weight, i'm surprised that Honda went with such a (reputedly) limp front end. In any case, I was completely taken aback, when I got to the point where there was just an engine and frame. There's less weight in the package than i'd have thought. I'm well aware that there are a hell of a lot of things that will bring the weight back up, but these are the bits that MUST be light to start with. If the core of anything is heavy, then it'll be heavy, no matter what you do to trim the fat off it. I've set a goal to get down to 190 kilo's half wet. For those not familiar with the term, that's with all fluids, minus fuel. The 'curb weight' is 236 kilo's ( 520 lbs). I'd say, at a guess, that 16 kilo's of that would be fuel. So.., 30 kilo's off????? Just the muffler weighs 6.2 kilo's. I'd say that all of the rubber shielding, metal brackets, center stand, obsolete wiring harness parts (wait and see...), huge dash, fuel level indicator, bar end weights, useless tool kit, plastic inserts, and constant overuse of massive bolts that hold tiny parts. Really....they're everywhere...There are, at least six M10X25 bolts holding absolutely nothing...All that would have to be worth another 15 kilo's, at least.
30 kilo's? A challenge, but not an unrealistic goal, I reckon.