Overshooting The Runway.....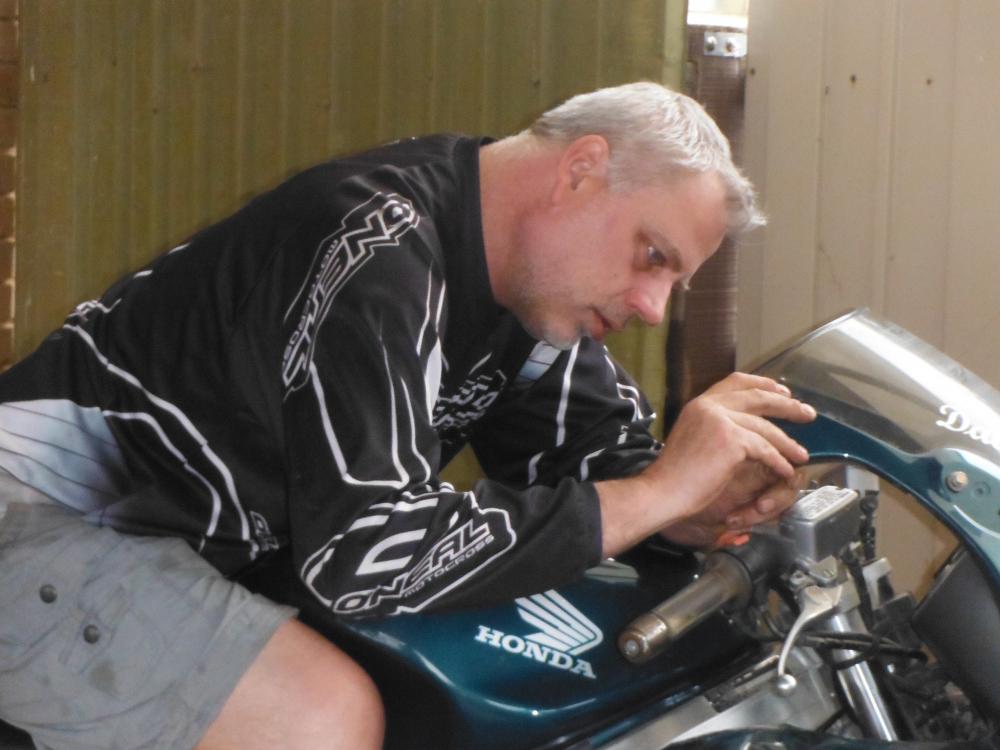 Hi all.
I recently purchased a 4th gen VFR 750 FV, with all good intention to simply wash the crap off it, fix the fairing, and ride it 'till it died. It's got almost 200,000 k's on the clock, and isn't worth putting an enormous amount of time or money into, as far as i'm concerned....or was concerned, should I say.
I picked the bike up cheap, with no rego, pretty crappy fairings, and a wish to have it ready to ride before summer gets here. I started off by taking off the fairings, then deciding that the bars are too high....then ditched to pillion stuff, as I probably won't be needing it. Before I knew it, I had a major project on my hands, and no way to turn back. There were bits going in the bin, left right and center. Visions of tuned pipes (2 into 1 for the front cylinders, and 2 into 1 for the rear), clip ons, rear sets, and flash new styling. Wrapped exhausts, single seat, chopped sub-frame, custom instrument panel, and one off glass bodywork. Now all I need to do, is to divide my time between my family, my job, and my Son's half made FZR 250. Simple! I'll be doing pics along the way, so if you're interested, keep an eye out. This may well turn out to be the lightest VFR on the planet.....and quite possibly the ugliest.
O.K.......First technical hitch, as far as this blog. I'm unable to add any photos, at this time. Some kind of drama between here and there is stopping me. You'll just have to imagine a picture of a half dead VFR, for now. What i've found, so far? Well....The bike won't run, if you turn the handlebars. Simple fix. I've narrowed the fault down to a faulty wire between the ignition, and it's connector. Now to some stuff that's important, if you want to get rid of a few kilos (or pounds, if you're that way inclined). Some of the things that would surprise you.... The bar ends weigh an incredible 195 grams EACH!!!!!! If you add the cap screws that hold them in, The total weight, for something that's not really required, is almost 420 grams. Things like this are usually forgotten, and when all added up, can add a huge amount of weight, with no benefit. Sure, there has to be something there, but nylon ends, with Aluminium cap screws will weigh virtually nothing. I've always taught my Son an important lesson, when it comes to shedding weight off bikes, and that is that a thousand drops make a bucketful. Small parts that are no required can make up a massive weight saving, without having to really do much, except be a bit ruthless. There are so many fancy rubber guards, and plastic shields on this bike, that i'm amazed. All up, so far, i'd say that i've managed to reduce the weight of the bike by three kilos, and haven't spent a cent. Now, I know that there are going to be people who will disagree that this has any real world impact on performance...and you're all welcome to have your say.....BUT, here's the facts of the matter. We'll say the bike weighs 216 kgs, and produces 102 BHP. It has a power to weight ratio of 0.472 HP per kg. The weights and measures may not be right for a VFR 750 FV, but bear with me....it make s no difference. If I just removed 3 kgs from our bike, it now has a power to weight ratio of 0.478 HP per kg. Yeah....not very impressive. I know. Let's say, though, that I can manage to reduce the weight by 20 kg's (which is a realistic possibility). We now have a power to weight ratio of 0.520 HP per kg. That's not bad, when you consider that there has been zero dollars spent.