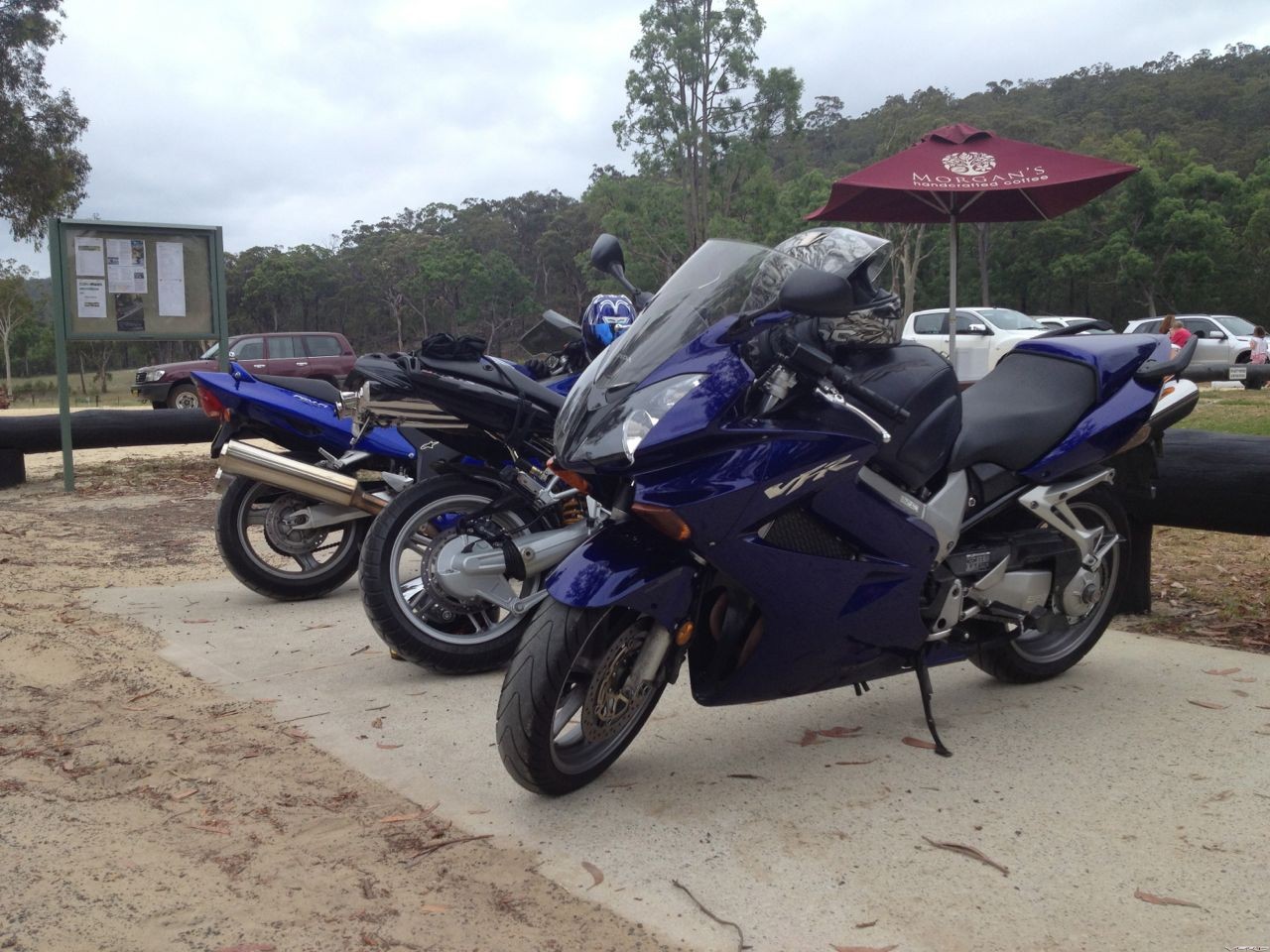 My wife has made a couple of new friends over the last couple of months through her gym. Turns out that one of the girls husbands also rides (he has an 03 CBR1100XX). Last week he invited me on a ride this Saturday. The plan was to ride up the Putty to Singleton, then the rough idea was to head west, before coming back over the Blue Mountains to Sydney.
Wife had no objections but I did have a couple of concerns. First up is that the proposed route looked pretty long, like more than 8-10 hours away from home. Second is that I was supposed to be on call at work that weekend. To actually get called out is pretty rare, so I figured I could do part of the ride and then head home. I figured I could head up and back the Putty for a shortish day trip. Killing two birds that would also mean I'd only be away 6 or 8 hours.
I rode to his place where we waited for the third guy to arrive. He turned up on his BMW R1100 and after a dash to the petrol station for a top up and tyre check, it was off to Windsor to start the Putty.
Yesterday was the hottest day on record for Sydney. I think it made over 45C in the city, and parts of the suburbs were almost 47C. Today was not. Overcast and only 20C when we started, the forecast predicted rain later in the west. I gambled and didn't take any rain gear. I also wore my leathers and not my summer jacket.
The Putty was in good shape and the weather stayed even as we found our way to the Grey Gums about 1000. We stopped here for some breakfast (none of us had eaten before we left). I recommend their pies, the bacon and eggs looked pretty good too.
A bit of a chat watching various bikes come and go, before we set off ourselves. We rode north to Singleton to fuel up before backtracking slightly to turn onto the Golden Highway. This was all new territory to me, the Highway being pretty straight and a little busy. It was warming up now, clear and 30C. I was starting to regret not wearing my summer jacket.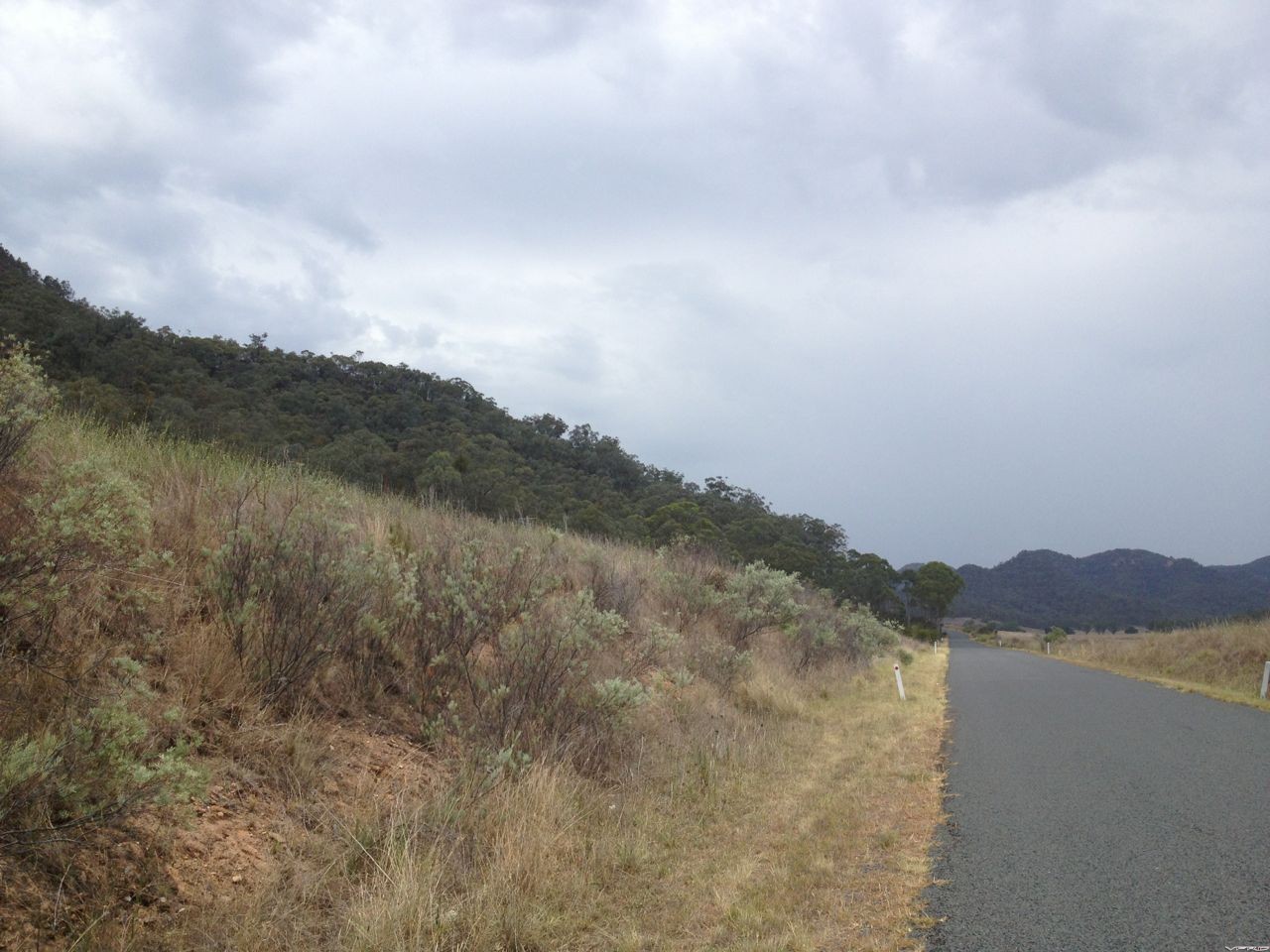 We turned left just before Sandy Hollow, towards Bylong and Rylstone. Up to Bylong was okay. The seal had gotten a bit rough and each had unsettled moments on various lumps and bumps along the way, thankfully no one came off. A small shower just before Bylong was a bit worrying as we stopped for a break and to figure out lunch. I was feeling a bit worn out, I think it was mostly dehydration. I drank a bottle of water and munched an ice cream for some quick energy. A sit down (to finally stop the bumping…) helped immensely and we decided to head to Rylstone for lunch, only about half an hour away. More than one choice there.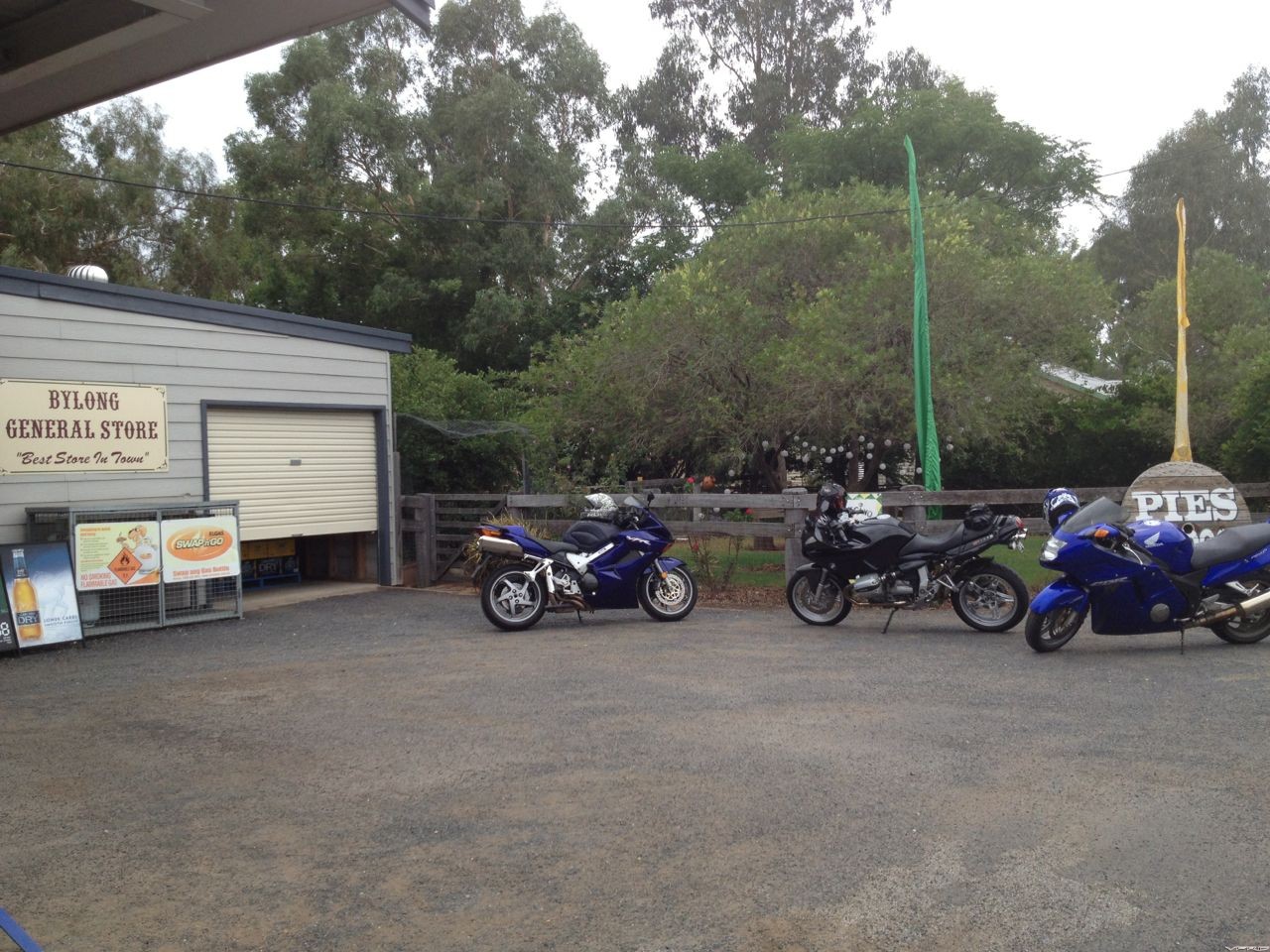 We left Bylong and climbed out of the valley. This was a really nice patch probably the second best part of the ride. Once up top though, the rain arrived. I got wet and the locals (and my mates) had a little laugh when I arrived in Rylstone for lunch, looking a bit damp :)
Lunch at Number 47 Gallery was tasty (we had thought it was a cafe, and it is, but also a Gallery) and the others debated whether to put their wet weather stuff on. I think they were just doing it to tease me :) The rain had lessened a fair bit when we headed off. I wasn't going to get much wetter, but I wasn't go to dry out either.
We headed for Lithgow in the rain, taking it easy. In the dry this would have been a swift flowing ride until we hit the busier Castlereagh Hwy. By the time we got to Lithgow it had cooled down to 14C, so we were getting a taste of all kinds of weather on this ride. Now I was happy I had worn my leather
We fuelled up in Lithgow, and said our goodbyes as didn't plan another stop on our ride down the mountains before we split off to our homes. The ride home was a crawl thorough traffic and roadworks. Made even worse by the fact that the Mountains were in cloud, so a good chunk of the ride was peering through the gloom. At one stage I found a traffic light and realised that I was halfway through Katoomba and hadn't even noticed I was in a town, the cloud was that thick.
It wasn't raining though and the road was dry so the riding was okay, just had to watch the visibility. Eventually the hwy turned into the M4 and I was on my way home, arriving a little after 7pm, covering about 600km. I'd been away for 12hours and was expecting to be sleeping on the couch that night.
But no, I wasn't in trouble as I had been led astray by the other husband. I figure me not in trouble with my wife, him not in trouble with his meant it was all ok.
I've attached a map, though if you find Lithgow,
I've created the map to loop back to Windsor so it goes down the Bells Line. We actually headed back towards Penrith so went down the Gt Western Hwy.
I spent much of the ride far behind the others as our pace were quite different. If you're not careful there's a lot of pressure in this kind of situation to ride faster than you're are practiced at and get into trouble, something to watch out for. But if you ride your ride (as one said at a stop… race yourself, not us) you will be fine.
I think (and the ride turned out like this) I really enjoy starting of with a "We'll meet at XXXXXX" and everyone just rides and there's no pressure to stick in the group. It does mean that if you get into trouble, your friends might not notice as quickly, but with everyone riding their own pace, trouble is less likely. So that's my plan for the next time I go out in a group.
Sorry for the lack of photos, I didn't want to hold them up more by stopping for pictures. I do reckon I need to get a GoPro or Drift camera, to show you guys the Aussie roads better. Any suggestions on which might be better? I really like Drift's Video Tagging option.
Bike wise, I am going to book in for the CCTs to be replaced, at some points the VFR sounded like a Ducati with a dry clutch rattle! The original ones last 50,000km and these have lasted 80,000km so not too bad.