woohoo a Ride! (yes, that's with a capital R)
---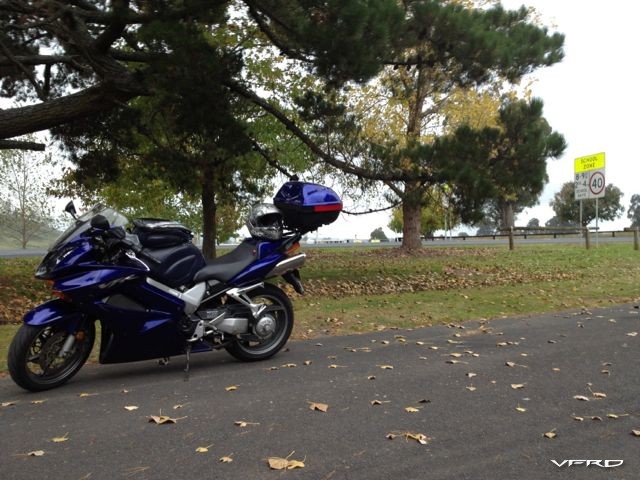 Once again, work had sent me to Canberra and once again it works out a lot more convenient for me to get myself there... and that means a ride. And once again, the weather was doing its crazy thing. Summer here was complete washout, but Autumn had been pretty nice. Warm, not hot, not much rain... perfect. But of course the weather changed as the ride drew closer.
I left on Tuesday. On Monday they were warning us about flash flooding and downpours for the next few days. If it rained, whilst I could still ride, it wouldn't be as much fun and I may be tempted to slab it. I was already planning to slab it home anyway due to time constraints again. If the weather meant slabbing both ways it would be a real disappointment.
As I had all day and generally it takes me about 5-6 hours to get to Canberra the scenic route, I planned to leave about 9am. However 6am the dark clouds were getting ominous and the weather radar was starting to show lots of pretty colours. I hit the road.
The rain was costal initially, the opposite way to Canberra. A dash from the city limits was decided, and then from there I would take it as it comes. My routes to Canberra do generally give me an option to change to slab about every hour or so.
Down the M7, then the M5, which becomes the Hume Highway (31) and rolls all the way to Melbourne. I arrived a the Picton turn off, still having avoided the rain and decided that it was time for some fun. I followed the road up into Picton, then a pleasant 30 mins or so along the road, headed towards Mittagong. This eventually lead me back to the Hume.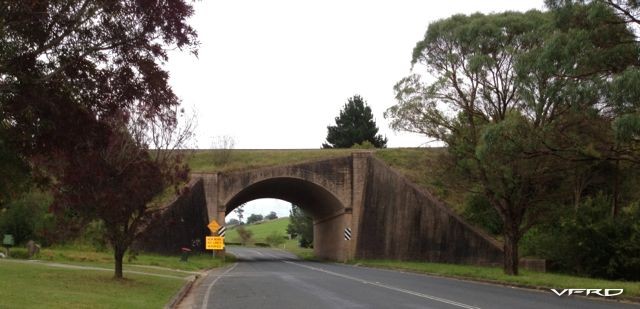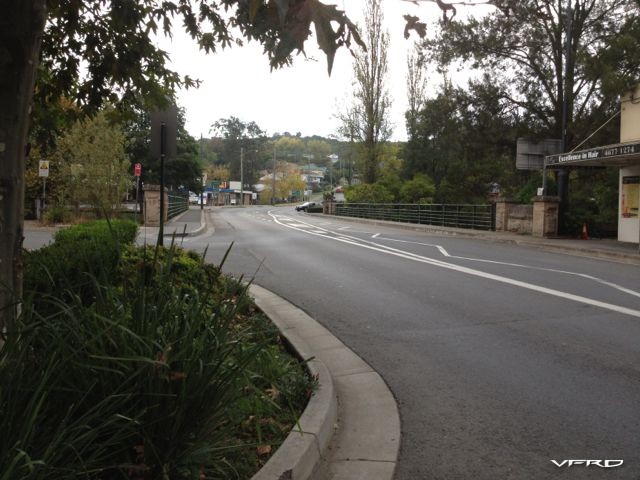 Now my previous few runs down here, I've turned off at Mittagong and wound my way through the small towns, before reaching Moss Vale and eventually turning up towards the good bit along the Highland Way. Over the years these towns have grown so that they almost merge together and the ride becomes a stretch of slow speeds, traffic and towns. Not a lot of fun.
So something I planned last time, but missed the turn. This time, from the other direction it was a lot easier. I slabbed along until the turn for Sutton Forest. This got me back on the back roads, but skipped Mittagong - Moss Vale. I'd been on the road for something over an hour and hadn't even had breakfast so I stopped to take a break and eat the sandwiches I'd packed. As I stood around munching away, the rain slowly started. I geared up and headed off. A few shaky moments as I settled into the wet roads, and my wet gear again. I'm sure the car caught up behind me was shaking their head.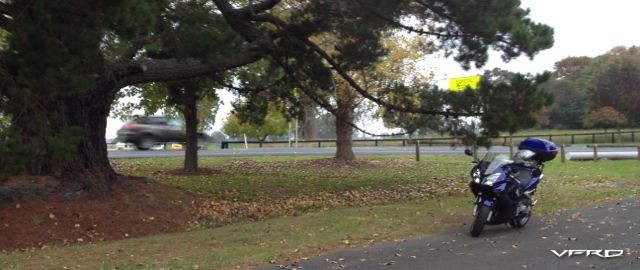 In Bundanoon I stopped for fuel and the shop owner described the wet weather chaos I had left behind, third hand from callers to the radio station. Sounded like I got out of there just in time as the rain was only light here. On the move the rain swiftly dissipated until and for the remainder of the ride I had a mix of overcast or broken clouds but no more rain. The wet weather gear stayed on for a long while just in case.
I cruised along what was fast becoming one of my favourite rides, the Highland Way. Nearly no traffic, mostly 100 limits, good condition road, though not always a full two lanes of seal. An hour or so later I arrived back at the Hume. Another quick bite and took off.
This time for something new. I had been browsing Google Maps a few days back and hit on a new route, which I asked some other trusty explorers I know about the condition. It came as a recommended option. Turning at Jerrara Road, towards Bungonia (don't you love Aussie place names!) then on through Windellama (or Windy Llama!) before turning west again towards Tarago, Bungendore and eventually Canberra. That was the plan.
And I almost stuffed it. Whilst on the short stretch of Hume towards Jerrara Rd I came across road works where they were building a new overpass/on ramp. The signs read "South Marulen Rd" but as I passed the new overpass the old road appeared just past it. I spotted a sign down the road JERRARA RD. Crap, the turn off. Luckily we're still in the construction zone so I braked and veered into the cones. in the relative safety of the cones I did the most insane thing, turning around and heading the wrong way up the freeway. Inside the cones or not, any copper gong past would certainly come over to have a quiet word. About 5 metres later I turned up the road.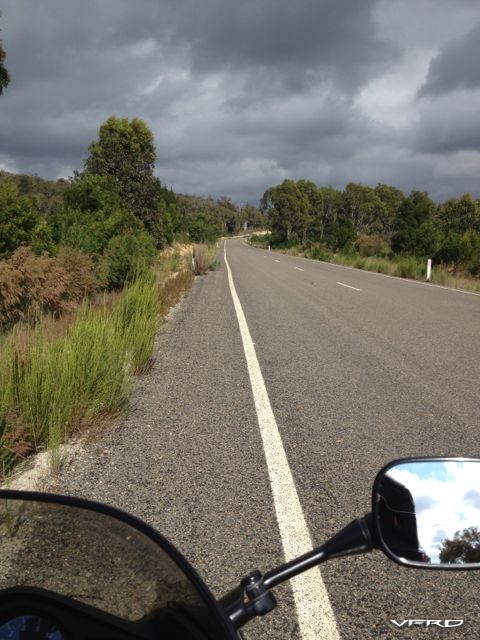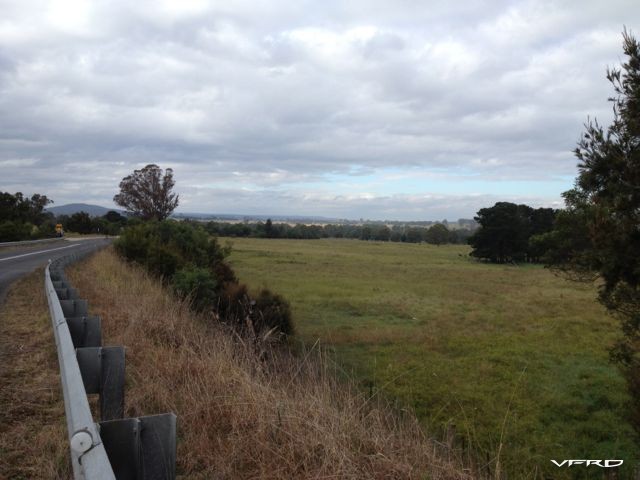 This road wasn't as quite the same build standard as the Highland Way, but it was in good shape and flowed nicely at 100 (or a little more) So another hour or passed smoothly as I wound my way south and then west. Eventually I passed through Bungendore and into Queenbeyan and finally Canberra.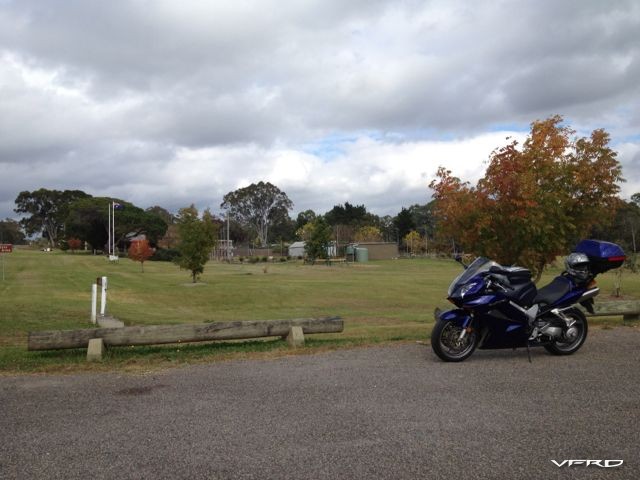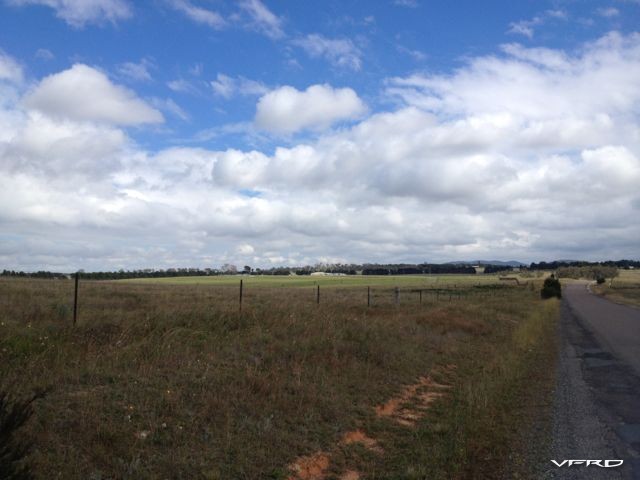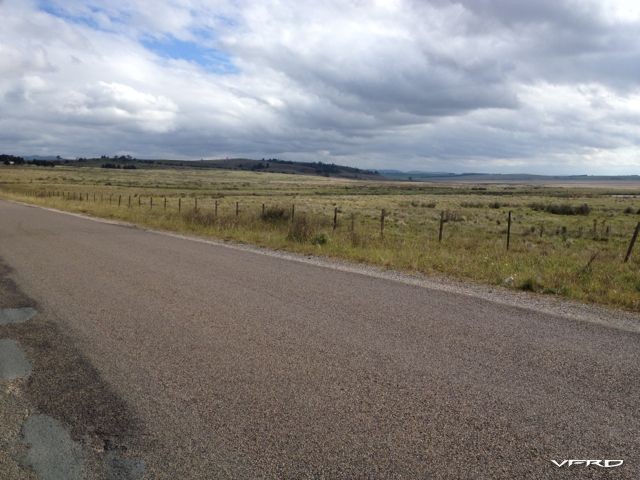 Overall several pleasant hours winding away at a brisk and not usually licensing worrying speed through the countryside. I even arrived in Canberra in time to catch a movie on cheap Tuesday (Tuesdays the cinemas traditionally have almost 50% discounts)
The route on Google
Day Two
My meeting was scheduled for the morning, and it turner out that the drizzle and rain finally caught up to me so Canberra awoke to some light rain. I wasn't too disappointed as the return trip was always going to be Hume Hwy the whole way.
Gearing up I was on the road with about 90mins of extra time up my sleeve. The rain though got steadily more constant and steadily heavier, until I'd been riding in rain for about 3 of my 3hrs and 30 min trip. My visor completely lost the plot when I hit the city freeway traffic, no idea why, but it made for a very nervous rider as cars appeared out of the gloom. Sadly my rain gear didn't quite live up to its own previous standard and I was very wet in some areas. Though I'm not sure any rain gear would have held up, I was wet, but not cold so it was alright.
But slabbing is
absolutely no fun at all!!!
I have to go back to Canberra in May too..... hmm