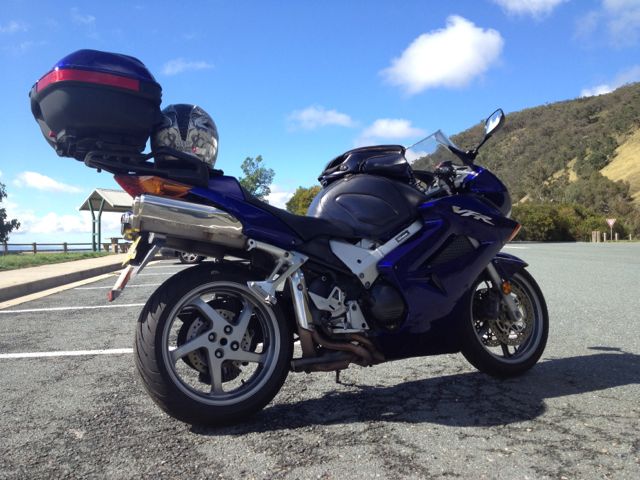 Work insisted that I attend a meeting in Canberra. The nation's Capital, about 2.5 hours away on the Hume Highway (or Doom Boreway). Unfortunately as I was attending a different meeting away from work for the two days before that it was going to be really awkward to organise a car from work, the normal way to head to Canberra. With a grin, I decided that the most convenient solution was to ride down.
Watching the forecasts from about a week prior, they steadily improved from predicting solid rain for the whole two days to the forecast the day before described some light morning showers. That I could easily deal with and would still be able to enjoy the ride.
So, Thursday morning, 5am, just before the sun is peeking over the horizon I did a last check of the various weather radars online and geared up. There had been a little bit of rain overnight, but the roads were already dry. I did wonder about the roads further out, less traffic and more tree cover, but I would see. The alternative was to split off the back roads, back to the Hume and continue that way if I decided it was too wet or the weather really turned nasty.
My planned route took me past Bowral from my last post before continuing to parallel the Hume through Moss Vale to Bundanoon and rejoin the Hume just before Goulburn. Here, depending upon time I could turn off again towards Bungendore and eventually approach Canberra from the west (actually closer to where I had to go in Canberra for the meeting) or follow the Hume and rush in from the north. It's the route I took that's listed as Sydney to Canberra in my
Catching Up
post. Only about 7 years later.
So after getting quickly out of my area I was on the road towards Picton and followed the route I had taken the other week. The roads were dry, there was some cloud, but it wasn't even 7am by this stage. I had miscalculated the temperature though. The day before at 7.30am it was 23C. Today it was more like 10C so the summer jacket with a very light t-shirt (actually designed to wick away sweat) just wasn't cutting it.
At a stop I dove into my top box and dug out the other t-shirt and light fleece that I had packed. Though still drafty through the summer jacket it did improve things a little. None too soon as the temperature continued to drop as I rose up into the Southern Tablelands.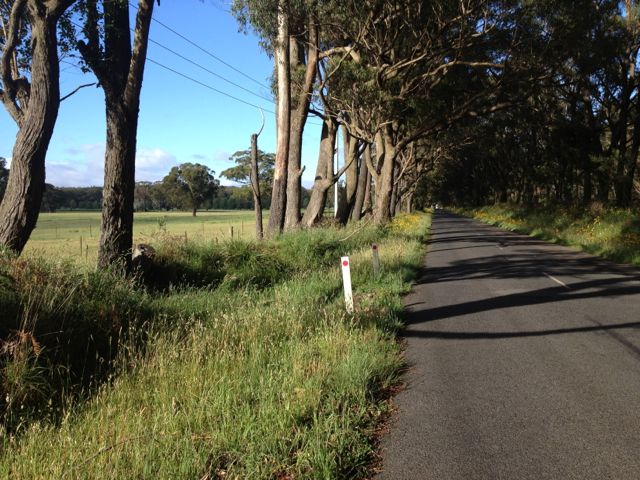 Eventually I was past Bowral and Moss Vale. I turned away from the main road here as it leads back to the Hume and I headed for Bundadoon, Tallong and several other funny Aussie named places. The stretch we had covered the other week, that I had just finished was lots of small busy towns, with 50kmh speed limits and very little "open road". This all changed from this point on.
I had a good hour or more of 100kmh roads with sweeping turns and no traffic. Even now it was still early (9am) but while cool, it was fine and I really enjoyed it. I determined to investigate if I can cut out the previous parts of the route by staying on the Hume in order to get to this new part much quicker next time I come this way.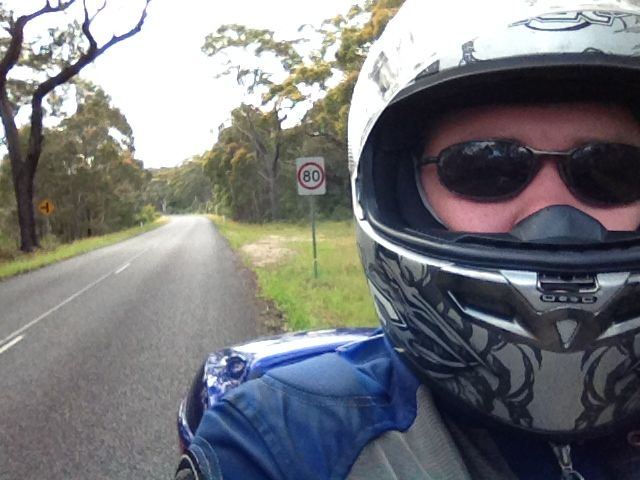 Eventually it had to end and I was on the Hume. I decided I should actually get to my meeting seeing as I was already late (they had been warned not to expect me before lunch) so I followed the Hume down around Lake George to Canberra, eventually arriving at my meeting just before 10am. Cracking open my top box I was happy that my tricky packing meant that my uniform looked no more crumpled than if I had been wearing it in a car and had just driven down from Sydney.
Lake George is funny thing. A massive lake with very little water for many years. Occasionally it fills up (originally they didn't know where the water came from as there are no rivers flowing into it, I'm not sure if they've explained it yet) and before they built the dual carriageway, could even cut the main road out of Canberra. Most of the time, probably 3/4 of the lake is used to graze animals.
Day One Route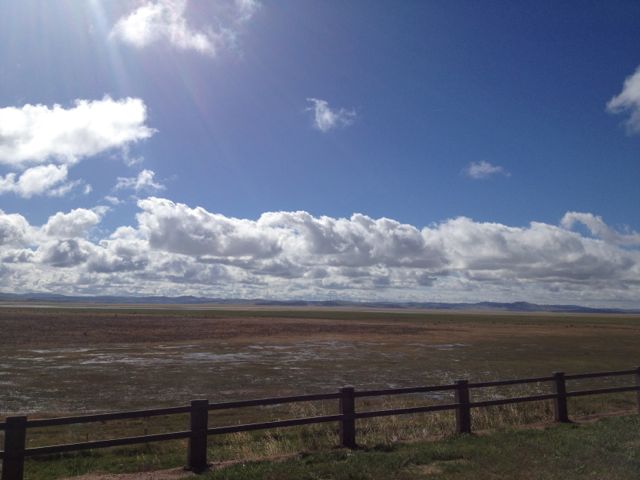 I spent the night at a nearby base and again reviewed weather and routes. I decided that I would head though Queenbeyan then Goulburn to hit the nice part of yesterday's ride. Then after that part, I'd hit up the Hume to get home to family. Again, weather looked okay, though during the evening there was a lot of dark clouds and a little bit of rain about.
About 5.30am I left the base and started out. Another great road was the stretch all the way from Queenbeyan to Goulburn. About 90mins of 100kmh, open roads with nice curves to cruise along at a steady, quick pace.
It started to get pretty wet, so a stop and I was off again in my wet weather clothes. I use goretx jacket and over pants that I bought at camping stores as I find it much more effective than most "wet weather" gear that is available in Australia. It stopped raining about 15mins later and when I stopped for breakfast in Goulburn about 7am, I put the gear back in the top box. It didn't come out again for the rest of the trip, but it had done its job :)
Breakfast at Goulburn was a hot pie, but I was having the same trouble with temperatures that I had yesterday. Note for next time, check the rain AND the temperature forecasts.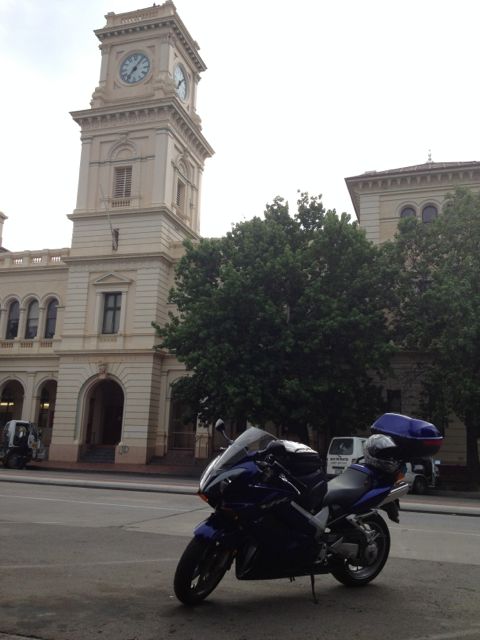 That beautiful leg from Goulburn to Moss Vale awaited and it didn't let me down.
I missed a turn somewhere and ended up on the annoying stretch from Moss Vale, past Bowral etc that I had planned to avoid. I checked the map eventually and decided to carry on as the next on ramp to the Hume was at the end of the Mittagong stretch. No point in doubling back, too far.
Day Two Route
I did have one bad moment. I had been following a school bus looking for somewhere to pass. I called it and pulled out and was about even with the bus when I decided that there wasn't enough road left to get in front, pull in, slow down and make the turn that was a lot closer and tighter than it had first appeared. I braked to let the bus come past and turned back behind him. Safe, but there was several seconds there where I was on the wrong side of the road on the facing any traffic that decided to come around the corner. That could have ended very badly. A poor decision, that thankfully didn't end badly.
I got home about 10am, so both rides took about 5 hours. I had a great time, found some fun roads and put some proper miles on the bike again. Harking back to an older post, I definitely enjoy solo touring/riding much more than group ride. I enjoy the social part of those rides, but maybe I could just meet them at every stop rather than riding with them or something like that. Something to consider for the future.
Now it's time to put up the Christmas tree, fix up the lights on the house, and I have a lamb roast to cook :) Yum.