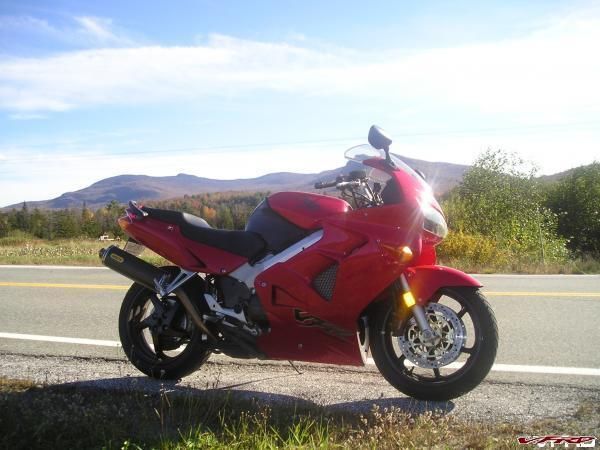 Well I made the Friday barbeque of the "We Don't Give a Hoot" WDGAH rally in Lyme,NH. It was my first real rally and I had a blast. I started by taking a half day and driving down to Lyme. I left work about 12:30pm and took a beautiful route down. I left work and went down Rt. 2A to Rt. 116 and picked up the Appalachin Gap (Rt. 17) adn took it to Rt. 100 south to I89. I rode hard and had some fun on the App Gap rode. I found the Gap Road to be very bumpy. I had some fun leaning in the corners. My knees were pretty tired. I then got on Rt. 100 which is beautiful and had some good twisties. When I stopped for some gas and gum I saw that my rear tire was really warn down to the metal threads of the tires in the middle. So I took it easy to the rally.
When I got to the rally it was about 3:30pm and there were maybe 15 bikes there. I got to meet alot of folks and take about bikes. I never ended getting out of my pants and boots. They are so comfortable. By the end of the evening it there were 50 bikes and 75 people. A great group with some interesting folks. I definitely want to go for the full weekend next year.
The ride home was slow and unexciting. The GIVI screen made a huge difference as well as the ear plugs. I got home about 9pm. The tire is pretty warn.
So I ordered a new Dunlop D220 Sportmax rear tire from Ron Ayers for $118, 131 shipped. I will get it mounted at LandAir for $30 hopefully in a week or so. I riding easy on the current rear.