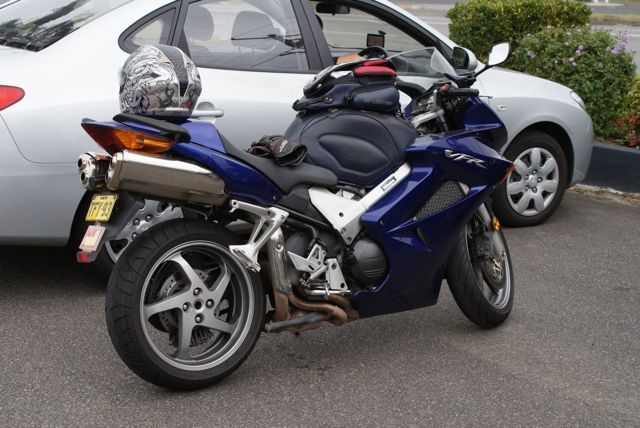 This time we planned Wiseman's Ferry in reverse, with the ferry being the last leg. We had started this route a couple of weeks back but it was rained out. After several beautiful spring days during the week, the morning dawned cool and heavily overcast. Not promising.
I headed off to the usual meet point to find the regulars gathering. Only 8 bikes this time, and the newcomer was a Wee Strom (650 VStrom). Headed up towards McGrath's Hill to get started on the route. Initially we turned up the road towards Wiseman's but shortly turned right, staying on the near side of the river as we snaked along, following Cattai Ridge Rd and Bay rd. This leads into Berowra Waters and another ferry. It was a good stretch, but my weakness at downhills meant I ran a bit slower than the others. I will have to keep practising. Uphill I'm a lot more confident.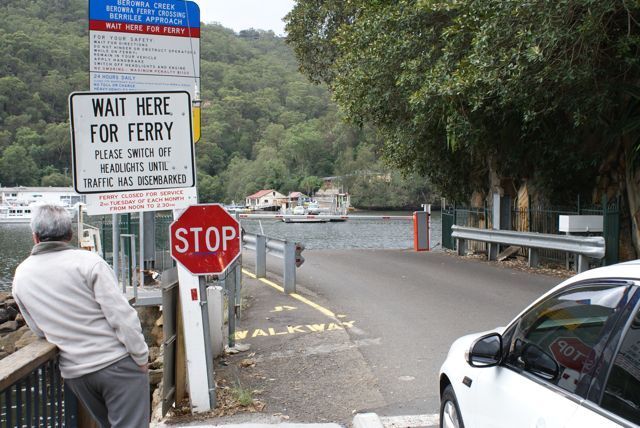 Berowra Waters Ferry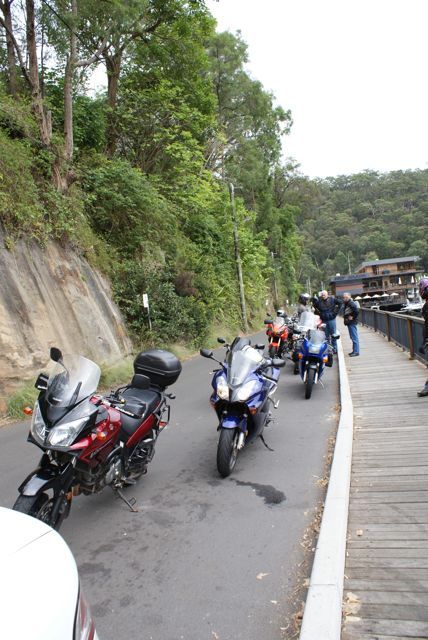 At Berowra Waters Ferry
The roads were a little busier than normal. Today is a State election and all were out to vote (it's compulsory here). But we had no real holdups. The first kilometres into, and out of Berowra are pretty narrow, really only 1 and a half lanes, not the full two, so you have to watch out for cars not keeping to their side properly.
After the ferry we headed up towards the Old Pacific Highway. I've described this earlier and its still the same. Busy with all kinds of people, police and inappropriately low speed limits. This picture isn't actually very representative of the Highway. It's mostly a lot lower quality. This is probably a picture of the kind of bitumen we'd really like but don't get in this state very often.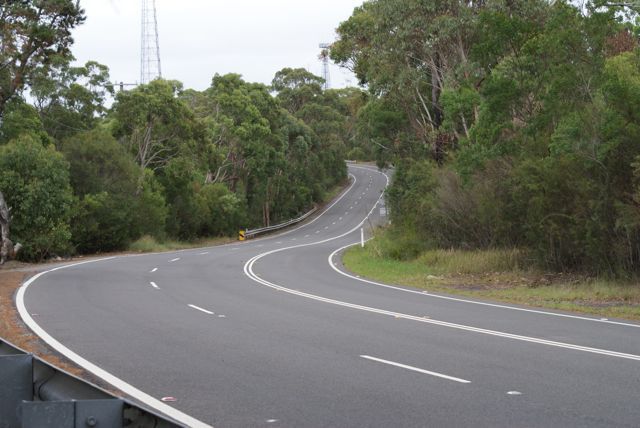 Old Pacific Highway
We stopped at another well known cafe on this road, Pie in the Sky. My first time here and I was impressed by the range of pies. I choose a "Lamb, Honey, Chilli and Garlic" and it wasn't bad. Afterwards I discovered that they sold burgers (my staple on most rides) as well so I was a bit annoyed. In previous years, Pie didn't have the same bike culture as Road Warriors (further up the highway at Mt White) however Road Warriors closed down a couple of years ago, to the surprise and dismay of all. So Pie became the default stop.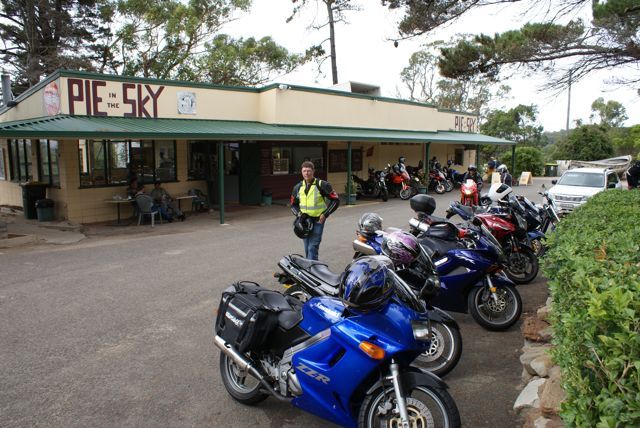 Pie in the Sky cafe.
We hit the road again and headed up towards Central Mangrove. As we passed Road Warriors site I noticed a new cafe there. Plenty of bikes as well, so will have to go past another day to check out the new version.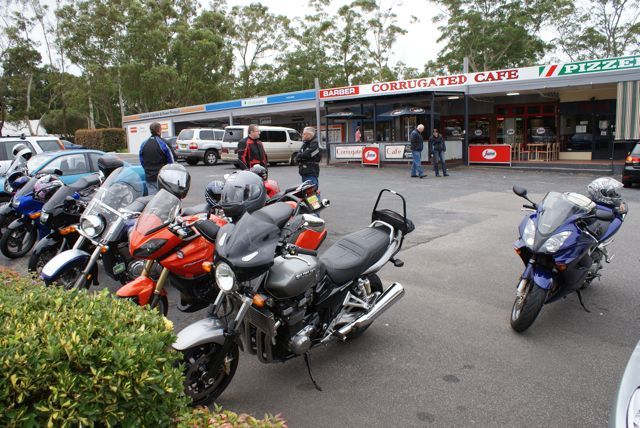 Parked at Peates Ridge (Corrugated Cafe)
About 40mins later we pulled up at The Corrugated Cafe. Having thought that the previous stop was lunch, I wasn't hungry, but snagged a couple of chips of the other guys. Very nice. From here it was up to Central Mangrove (strangely enough a hill, not a swamp??) then down into the river valley towards Wiseman's Ferry. This was probably the longest stretch of the day. It was made worse by the fact I was running short on time to be home and keep the peace there. Mostly the road is falrly comfortable sweepers, but can be narrow in places. The old wooden bridges have all been replaced with concrete.
From Wiseman's we headed back up to McGraths hill and home.
Safe...with 15 mins to spare.
Here's the route on google.... http://maps.google.c...3,0.771103&z=11