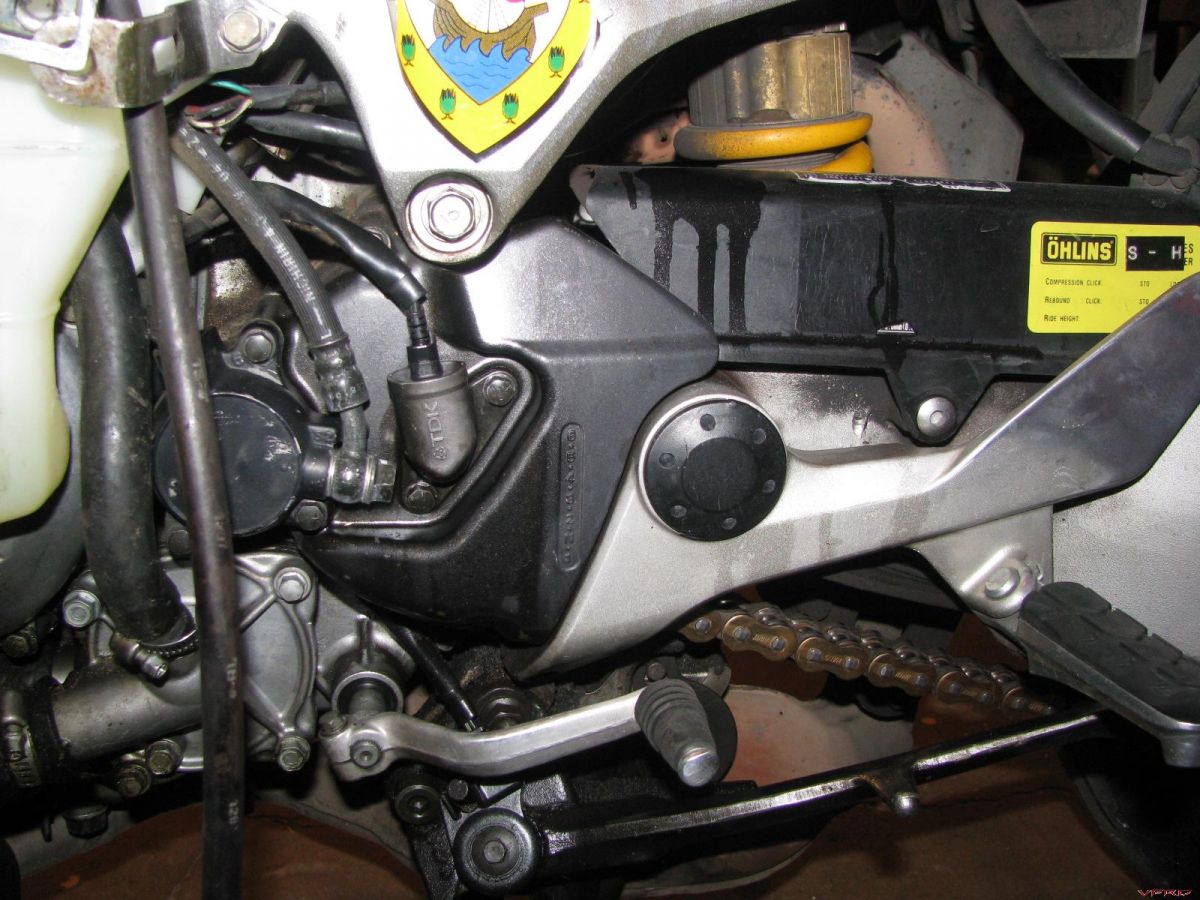 Where to start starting with the chain
All my parts arrived one by one, the chain and sprocket set first, then the brake pads, fork oil, fork seals, and various other things. I decided to replace the cradle on my Zumo and with it install a bmw style plug in the head tube from Powerlet. They make a vfr kit so I bought it, using the existing molex setup I had before I just solidered the molex wires to the kit and then taped it all up good. I figure I need a disconnect if I want to use the new head stand I bought, I will need to move the wires out to use it.
I took a look at my brakes and boy they look good up front, I decided to keep them on since the new ones are not much thicker. I was under the impression that my brakes were in bad shape when I bought the parts, not the case. So I set about removing the front wheel and taking out the forks. Fork service has become easy for me, lots of practice with the dirt bike and my vfr, buddies bikes too I have done it a number of times. My fork oil was dark and dirty as it can get. I removed all the parts and cleaned it up best as I could and then replaced the bushing and slider with new parts, new seals and topped it up with new fork oil. I thought perhaps my forks were a little harsh so I checked the spec with racetech and sure enough I had too much oil in there, I must have used stock oil hieght - I used 120 mm for the gold valve/racetech setup I have. Should be a bit less harsh on the bumps with a larger air pocket. It took me an hour to finish both forks off and anther half an hour reinstalling the front end and torquing it to spec.
Country music blasting in the garage cause I cant stand Prarie Home Companion - sombody please tell that guy Garrison Keeler that he cant sing for squat, please stop! Sometimes its funny the skits but I dont agree with the guys point of view - So I changed the station. I never listen to Country music let alone a nationally syndicated program from Nashville but for most the night it was kind of fun easy listening, the longer the night the twangier it got.
I got the forks done and decided to make a how-to-video (not yet edited) on chain and sproket replacement. I did not think I had time for the fork service, to stop and go over every step and deal with the camera so I skipped that. Changing sprokets is a messy job. On into the 3am region (I work nights so its old hat for me) I was done by 5am. The garage was a disaster area and grease and grime everywhere.
Sounds like an opportunity to change the radiator fluid, I sort of lost my fan switch this summer and so I was boiling off on a trip to New Mexico, I used alot of water to replace the boiled off stuff, I fixed the fan switch but by then I had spit out a good portion of my coolant onto the road. A stop at the grocery store in some small town and a bottle of distilled water topped me back up. Its been super cold lately and so I started it up to see - what if I got too much water in there and not enough antifreeze? I wasnt about to chance it for the rest of the winter, the worst is yet to come! So I changed the antifreeze. I did a great job on it tightended the plug so much that it got easier as I went, so easy in fact that it came right off! Snapped - damn it! I did not have the correct size and my easy out was not getting the broken part out. Good thing I had a bucket handy I just drained off all the coolant, a sort of half ass flush job all over the garage floor. I did manage to get most of it into the bucket. I took the cover off and drilled out the hole and then tapped it with a larger plug, works doesnt leak and it did not snap off this time! '
Much more work to go, need to remove the shock and get it serviced, my old Ohlins has 70k on it now! wow time flies. My plastics are in bad bad shape and my tank is too. In think I need to replace them, I cant paint for shit so I wont even try that! Unless anybody is a painter wizz on the forum? I happen to like red! I could put some VFRD graphics on it! That would be cool eh?
Removing the speed sensor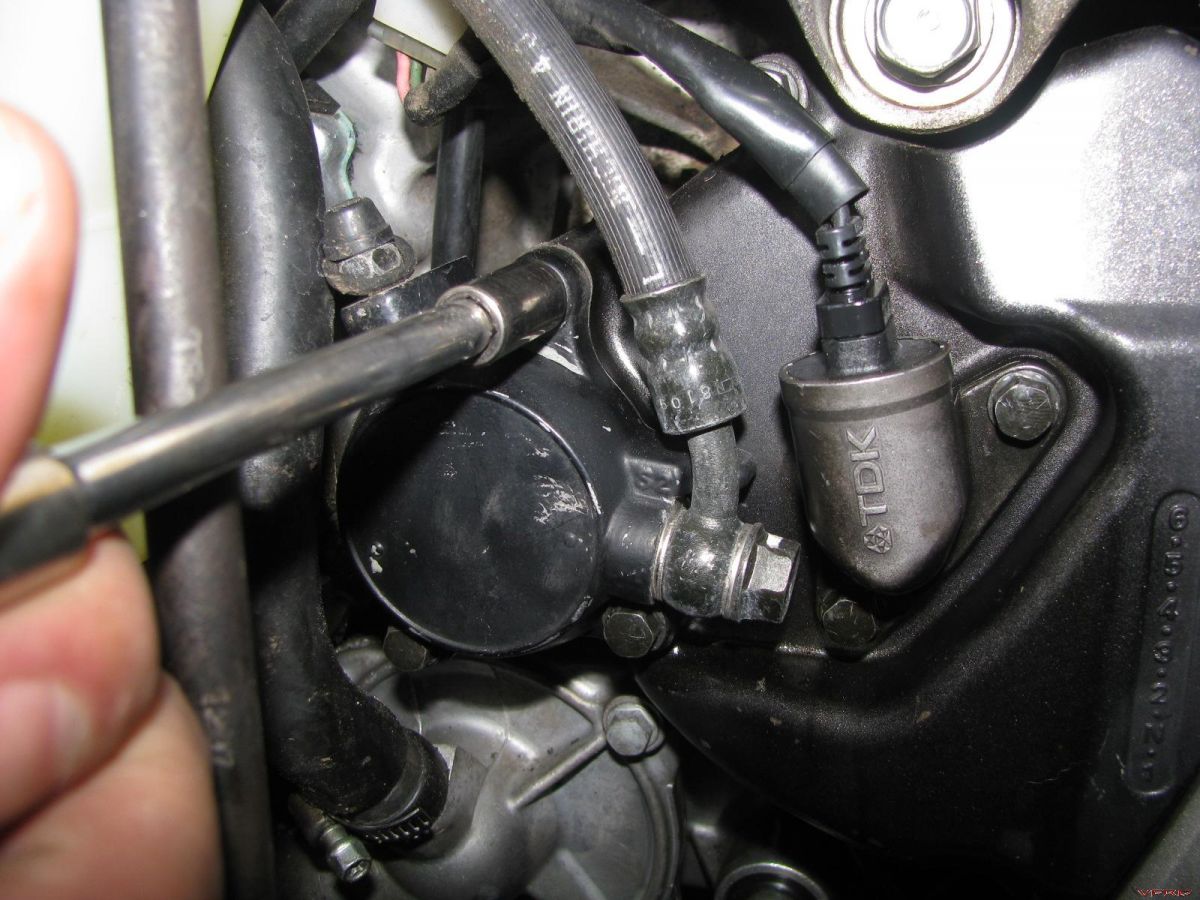 Removing the clutch slave cylinder