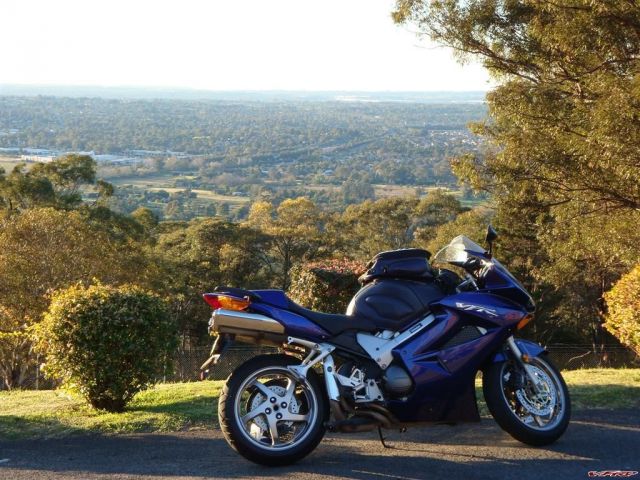 I'll leave this photo here so people know what BR was referring to, but it's not in order here, being from my second move to Sydney. It's taken from my previous workplace and the view is basically the entire Sydney basin, from the mountains to the sea. On most days like in the photo you can actually see the city skyline, some 80kms away. On some other days all you can see is the top of the fog below you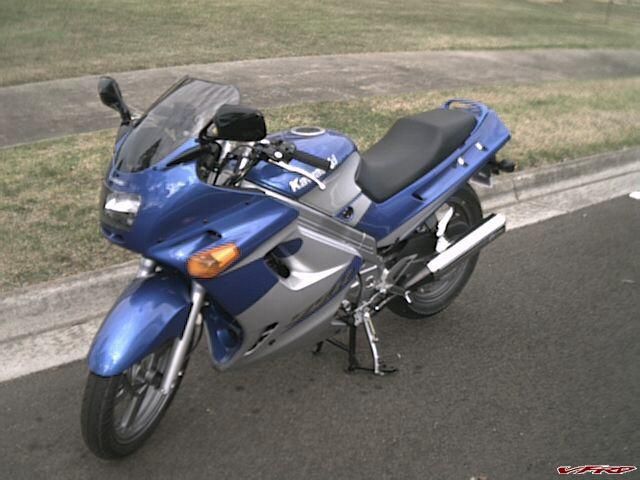 My first ride, the Kawasaki ZZR250. In 2 years I put 50,000km on it, before I traded up to the VFR.
I've gone back to a single post. I think it makes a little more sense this way. Basically this is a summary of the rides I've been on since I took up riding. Doesn't seem like much, but I've touched on most of the rides within easy reach of Sydney and Melbourne. Please note - the stuff written like this is supposed to be a caption for the picture above it :)
Firstly, Melbourne
Melbourne is reasonably bike friendly for an Aussie city and there is plenty of us around Melbourne no matter what kind of rider you are. The city has provided a lot of motorcycle parking around the CBD and we have marvelous idea of footpath parking. The rule is that you can park on public footpaths for as long as you like with two conditions, don't block the footpath and don't block people getting out of their cars. You aren't supposed to ride onto the footpath... I said you aren't supposed to. Another tip for Melbourne: watch out for tram tracks when its wet.
Phillip Island, MotoGP: I got my Learners while living in Melbourne, and while still on my L's the GP circus came to town. Well why not ride there! Actually this is a rather boring ride. The road is continually being upgraded and is pretty much a double lane divided road the whole way. It takes around 2 hours from Werribee in Melbourne. There are several fuel stops and towns so no dramas about fuel and refreshments. For the GP the parking is in a big field next to the track [For the Superbikes, you park inside the track fences and can even ride about instead of walking!] Take a bit of wood to rest your stand on if you are worried about it sinking into the ground and toppling your bike over.
The race is great. My favourite spot is Lukey Heights, but I can recommend anywhere. You can see almost the entire track from anywhere and they place massive screens so you can catch the rest of the track, replays and all the stats.
Almost as good is the ride home. For about the first 50 kilometres there are bikes everywhere. The locals come out to view the spectacle and wave at all of the riders going home. Something a little different. Cops seem a little more lenient of speed on the open road, but will not budge if you're playing silly buggers in the towns.
Off to Sydney
I had been in Melbourne for a few years, but only picked up my licence about 6 months before I was expecting to move away. As such it was mostly spent knocking over my Learners and getting onto my Provisional licence, as the Provisional can be transferred from state to state.
Sydney. I am not a fan of the place and their total disregard for motorcycles doesn't get them any extra points. Almost no parking, no consideration in tollways [forced to use electronic tolls, but no devices available for bikes, what are we supposed to do?] and a complete disregard from the cagers on the road. You can get away with parking on private property. You won't be booked, but you run the risk of the building security having your bike towed. I've gotten away with it two New Years Eve's running parking right next to the harbour road closures, so it can be done.
Wiseman's Loop: Soon after MotoGP I moved to Sydney where there are some nice rides. Amoungst my workmates were a lot of riders, about 20 all up. We had a wide range of experience including two Stay Upright instructors. We often met up in the weekends for rides. The first I managed to attend was a Wiseman's Loop run. There are several ways to do this run. We start at McDonalds McGraths Hill and head up to the Ferry [and it is actually a ferry!] then either head left towards the Putty or right towards the Old Pacific Highway. I have done both. Can't say either way is worse/better. Both have their fans. The Putty has a bit of a boring patch and some gravel. The OPH has a lot of cops, low speed limits and plenty of silly buggers.
The first time we went via the Putty. We had a small incident, some minor fairing damage and some more stories to tell. It has a lot of nice curves but you do have to watch out for gravel where it shouldn't be and cars/bikes on the wrong side of the corner. Fuel is a little sparse so I recommend filling up at every chance you get. Premium is espcially rare.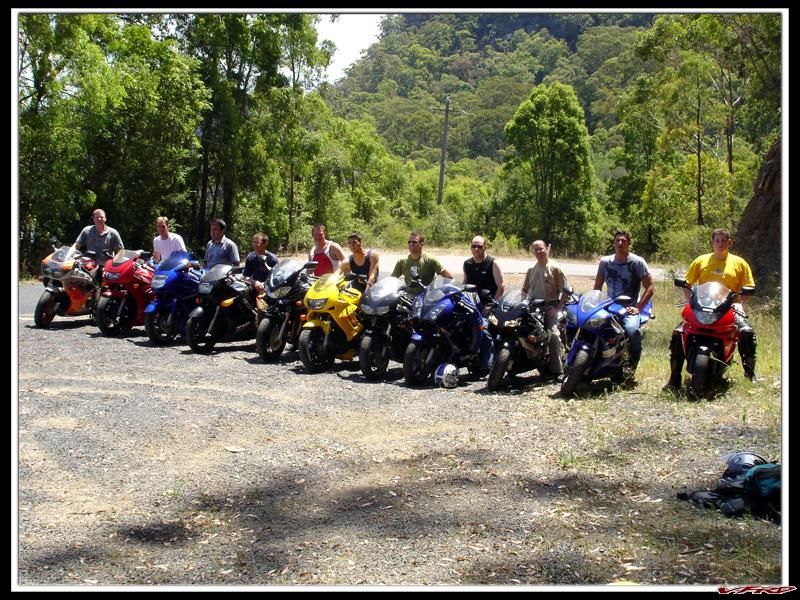 The work crew on a Wiseman's Ferry ride (that day was 40C) - by some digital trickery everyone is in this picture!
Picton: I lived in Liverpool in SW Sydney. There are several roads to Picton, which is a popular weekend day ride to the coffee shops for Sydney riders. It isn't far (less than an hour from Campbelltown) and the roads are generally smooth and not too busy. A short day ride to get back into the swing of things.
Sydney to Canberra: While still on my little 250 and on my P's I decided to visit my mates in Canberra one weekend. Firm in my resolve to stay off the Hume Highway (the main interstate freeway) as it would be boring and dangerous with my 90km/h limit (the road has a 110km/h limit) I decided to try the scenic route. I had already ridden to Picton, which was the start of my route. I then linked together towns such as Mittagong, Moss Vale, Bundanoon, Goulburn, Tarago, Bungendore and Queenbeyan, eventually coming into Canberra as the day ended. It had been a long ride, but I took it pretty easy and had a ball. The mighty ZZR250, with tankbag and backpack strapped to the backseat handled the job well.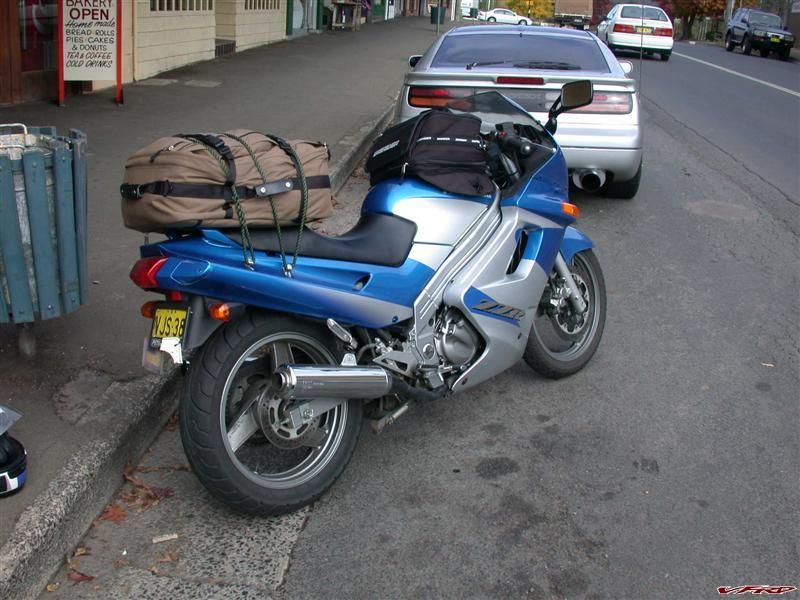 The first time on the ZZR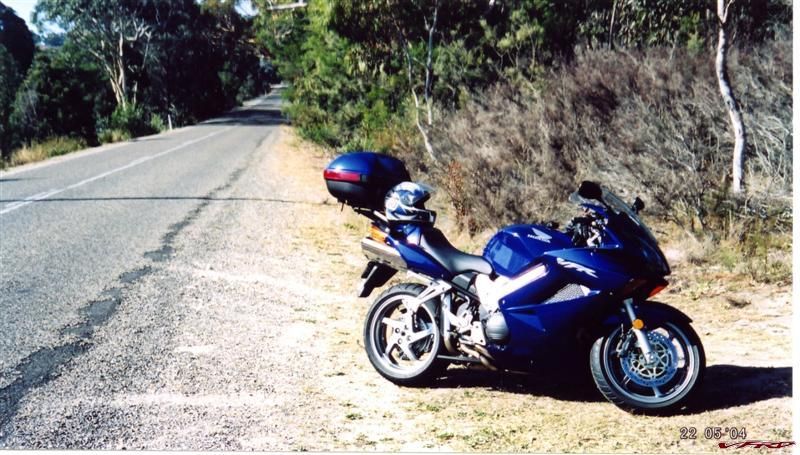 And then about 18mths later on the VFR
I highly recommend this ride. The roads are in great condition and aren't busy. There are several well spaced little towns with coffee shops, pie shops, and fuel. The roads are quite flowing and nice to cruise quickly along. I managed to avoid the freeway for almost the entire distance, only the patch between Marulan and Goulburn proved a little too difficult to find a way through (about 30kms?) I returned the same way and have repeated it since on my current VFR800. In fact it took about the same length of time on the bigger bike! I think that says more about my easy riding style than anything about the bikes.
Royal National Park: I did a few rides up Wisemans but was looking for something different, so hooked up with some guys from the internet for a ride through RNP to Kangaroo Valley. The Park is quite twisty, with a couple of very tricky turns that catch a LOT of riders out. It is also narrow and often slippery (being under tree cover and damp and mossy in places) so I wouldn't recommend it. The view once you hit the coast is pretty good though.
It quickly became obvious that these guys rode a lot faster than I was comfortable with. When I caught a glimpse of them again, I waved them good bye and returned via Picton. I probably wouldn't head up the RNP again.
Old Pacific Highway: I've had some poor luck on the OPH. My first two rides were wet. Not really a good opportunity to experiment on the roads. My third ride was up to see a Motorcycle show. I wasn't paying attention to my speed while trying to find the show and got nabbed by the cops. A silly as the limit may have been for that piece of road, I had no excuse. Ah well.
It is a popular road. And the cops know it. But it's also popular with the "Fast and Furious" type cagers as well, so there can be cars all over the place, oh and cyclists.... the list goes on. It is popular because it is a nice road to ride, you can do the whole thing in one gear if you practice! Then you can rest up at RoadWarriors Cafe, at Mt White for another round. A real motorbike hang out, you can find all kinds of bikes there, especially on Sunday. The food's great too.
Bell's Line of Road: For people in Western Sydney this is quite a short ride. It is often ridden as part of a longer ride, but my first time up that way it was the ride itself. You ride up the Great Western Highway for a ways, until you are up in the Blue Mountains. Then you hang a left either at Lithgow or Mt Victoria, joining the Bell's Line of Road. This leads you back over the hills and down to North Richmond in Sydney. It's a really nice ride, but the Highway can get pretty busy as evening arrives with people headed back to the city. There are a lot of fuel stops on the highway side, but not so many on the Bell's Line.
Sydney by night: One of the groups I rode with in Sydney, ORoadSports.com, meets in different places, all over the city, every friday night for coffee night. This often involves a ride to the cafe as people gather from all over. There are also often rides that start from coffee night, usually as its winding down. These rides can end up a bit of a tour of the city as you wind through back roads to places like Bondi or Watson's Bay. An interesting way to see the city, but you can quickly get into unfamilar territory so getting home can be an adventure itself!
Sydney To Newcastle: And Back...Work sent to Newcastle for a weekend. I hadn't managed to get on a ride for some time and this seemed like a great opportunity. It was. I will add for all you out there with partners, don't forgot to mention that you are riding up, not taking the company car! Loading up the VFR with my uniform, I set out by heading up Wiseman's Ferry. Then I turned for Wollombi. This is also the route through to the Putty, so I had been this way before. At Wollombi I was on new territory. Unfortunately the pub's bistro was shut by that time and so I grabbed a bag of chips and hit the road. I headed towards Kurri Kurri and finally towards Williamtown, my destination. I had left after lunch so the last couple of hours were in the dark and quite busy as it was Friday night.
It was a pretty good ride and if I had left earlier I am sure I would have enjoyed the last stretch more. In the dark, hungry and not entirely sure I was still headed in the right direction was a bit more stressful. Fuel is sparse between McGrath's Hill and Cessnock. But I got there, did my work over the weekend and returned home. I was in a hurry to get home so headed down the main highway. While quicker, it was dull. I also had little fuel left and there is a long stretch south of Newcastle where a petrol station is nowhere to be seen. I finally pulled off at about Wyee and found somewhere. Almost cut off the motorway onto the OPH for the last leg, but needed to get home.
Sofala and Bathurst: The ORS lads often organise rides and when work and my new wife permitted I joined in. The intended route was up Bell's Line from North Richmond to Lithgow, then on to Illford, then to turn back to Bathurst. This was carried out with a mix of twisty stuff (Bells, Sofala to Bathurst) and highway (a patch out of Lithgow) We rode around the famous track, some more than once and got a photo of us all at the top. We left as the cops turned up. The track is a public road, and the locals quite rightly get fairly pissed at hoons racing around it. They must have a hotline to the police. We were mostly well behaved.
We had intened to head for Jenolan Caves from Bathurst, but the day was getting on, so we got on the highway and headed home. A really great ride. Fuel was only a problem between Lithgow-Sofala-Bathurst (150km).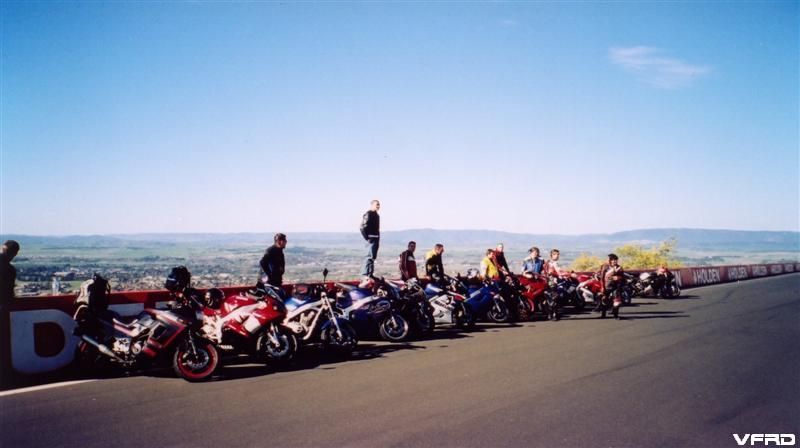 Stopped for photos on "Skyline"
Jenolan Caves: Having failed to get there the first time, a second attempt was quickly organised. This was from North Richmond up Bell's as well. We cut across the Causeway and up the Western Highway until turning off for Jenolan Caves. After lunch at the Caves about half of us headed home, the others staying on for some cave tours. I had seen the caves before so joined the group for home and we rode back on the highway.
Another good ride this. There is no fuel after Mt Victoria (I think, might be at Little Hartley) until you get back there (about 140km). The last couple of kms to the caves wind down the gorge wall and are extremely twisty, tight and slow. Traffic is one way (or was) and they were in the middle of upgrading it a year or more ago. Watch out for road works. When you get to the caves go past the hotel area, the carpark is up the hill on the other side.
Back to Melbourne:
After 3 years, I returned to Melbourne, now on my full licence and with the VFR as my stead. I was also married now and about to find out what it's like to live in your own home. I also discovered shift work :(
Brisbane Ranges: Yes it would appear that the Brisbane Ranges are near Melbourne, not Brisbane? I was looking for something close by and a map off the internet showed a route that looped around these ranges starting and finishing from my part of town, so why not? The route was a bit more complicated than the few intersections on the map suggested. I missed several turns and rode quite a different route in the end.
From Werribee I headed north and west to pass by Bacchus Marsh headed around the back of the Brisbane Ranges. I missed a tiny place called Durdidwarrah completely and found myself in Anakie travelling in the opposite direction from what I had been expecting. I backtracked to turn up Granite Rd, missed a turn and ended up on Staughton Vale Rd. Realising my mistake and after some consulting of the map, I cut across to the Geelong - Bacchus Rd via a dirt track, before regaining my the planned roads and and heading back towards Werribee. There was practically no fuel for my entire route (140kms) and only a few kms of twisty roads. These range from gentle high speed curves on two lane roads to a nasty hillclimb up a single lane sealed track climbing up out of Yaloak Vale. So I ended up not returning to this area.
Once again the birds were out to get me: I disturbed a large eagle off his roadkill and he took his time getting any altitude. Later a flock of about 30 cockatoos were roused from their trees and were a little unsure as to which way to head to avid the noise. Both were avoided with judicous use of brakes and I got home safe and sound.
MotoGp 2006: Once again the MotoGp rolled into town. I managed to not be working that day (how did that happen and a mate and I rode down there. Once again we were in for all seasons. It was cloudy when we set out but early on it cleared to a beautiful day. About 2/3 of the way we hit fog, before it cleared around the Island again. The one rule of Phillip Island - Always, I mean, Always pack your wet weather gear and a hat and some sunscreen. At lunchtime I was worried about sunburn, and the GP bikes had to come in for wet tyres.
The ride itself is an easy couple of hours down freeway or open road. There is plenty of petrol, but the round trip from the city is only 270kms so if your bike has the legs there's no need to join the (long) queues. It's still a dull ride, but the variety of bikes can be interesting. The venue is great still and the ride home is unique. Even the Superbikes in March aren't even close. There must be 10,000 bikes trying to get home. Just amazing!
If you do head down, there are things happening in the area from Thursday (Barry Sheene Memorial Ride, The Cowes ride) until the Sunday, so it may be worthwhile to spend lots of time there. I understand the Superbike School runs at Phillip Island the next day after the race as well.
Mt Dandenong area: There is an area behind Mount Dandenong where there are a lot of twisty roads, according to the maps. With some days off, my wife away and some nice weather it gave me a chance to explore. The first morning I rode up Mt Dandenong from Olinda to the lookout (only to find it doesn't open until about 10am and you have to pay). I turned around and headed down the eastern side and wound my way up a mix of B & C roads towards Launching Pl. Then I turned and headed south to Gembrook. This would have been a really nice leg of the day, but it turned to heavy rain for this part(probably the best riding on the trip) and I had to take it easy. By the time it stopped I was headed back into town. However I resolved to explore further. The distances are small between towns and there is petrol quite often.
Enroute to Gemstone - It starts to rain moments after this picture.
A few days later I headed up towards Healesville. Turning off the Maroodah hwy I headed up the Warburton hwy planning to cut north. Eventually I found the roads I was looking for and turned north, only to strike an unsealed road. I have ridden on gravel a few times, and this was hard, well packed, smooth gravel so I took a chance. It was annoying and slow, but no harm done. I arrived in Healesville and filled up. I had planned to ride the road known as "The Black Spur" but couldn't figure out where it was. I was in the line behind a couple of other riders and asked them. Its actually the Maroondah Hwy from just past Healesville heading northeast, for about 5kms or so.
And can I say, its very nice. Top grade asphalt, wide and well marked. Corner after corner, many sweeping pleasantly into the next. I was up there on a weekday so I do not know how busy or heavily policed it is, at a guess I would say yes to both. It was a great ride. And you can turn around and do it again... and again.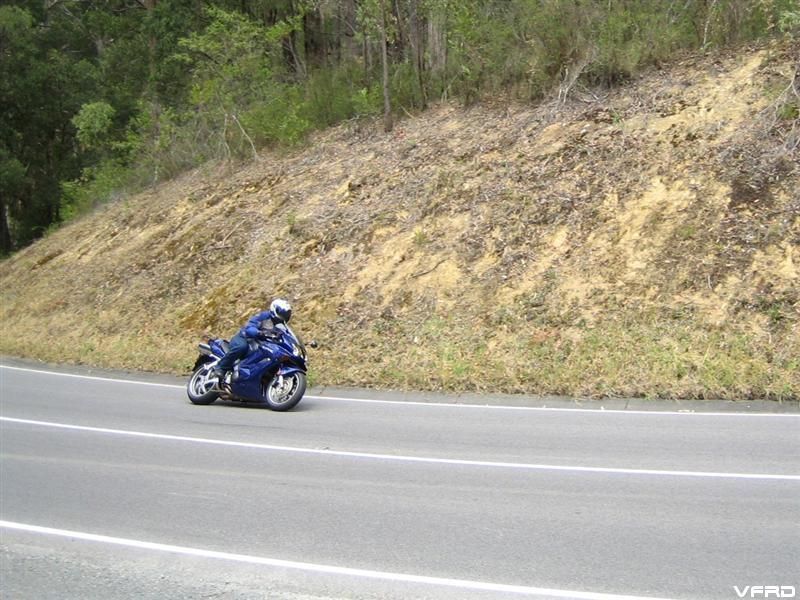 The worst of the road at the Spur. The main part is far better surface than this picture.
But todays adventures weren't quite over. Having hit gravel on the way up I decided to try the other road I had spied on the map. Well the gravel was the same, but it was a bit longer. At the other end I decided to head downwards, having completely lost my sense of direction and having no idea where any towns were, I figured the road builders would more inclined to start at the bottom of the hill rather than the top! And I had a pleasant ride down what became the Warburton hwy into Warburton. It was the Donna Buang Rd. I made it home about 2hours later than expected due to the gravel slowing me down. I would still recommend both these roads, its only unfortunate that I can't see a loop that can incorporate both without practicing your gravel riding.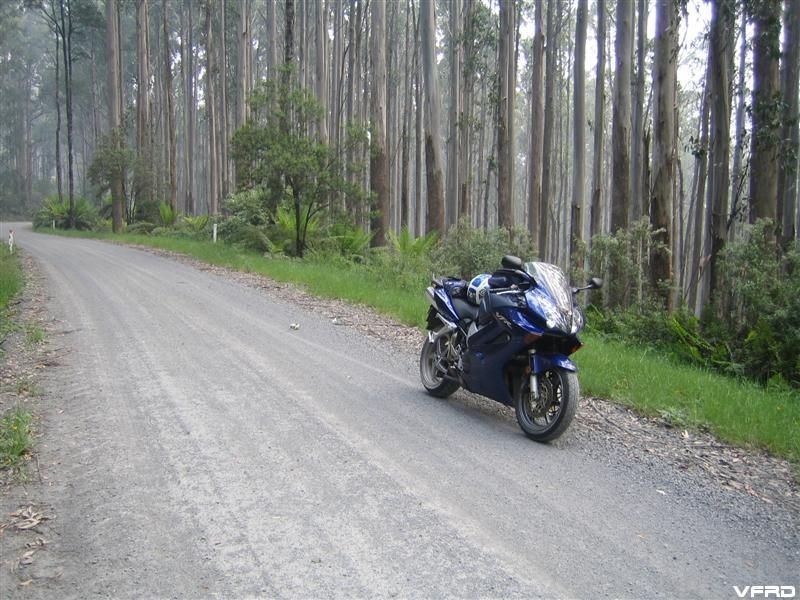 After twenty minutes of gravel, stopped waiting for the GPS to tell me that it's actually lost - strange because I used it to get here in the first place. The GPS knew where I was, it had the road, but couldn't find a route to anything. It wouldn't be the last time that GPS put me wrong.
The Great Ocean Road. I spent a year in Melbourne and didn't manage it on a bike. I did start, but picked a bitterly cold day and the ride was more about getting out of the house. I calmed down before I got too far from home and turned around. I have driven the route, and it can easily be looped from Melbourne in a single day. It basically winds along the south coast of Australia, from Geelong to Warnambool. Much of it is scenic but there is a lot of traffic and plenty of police presence. It is still worth it, but don't expect to let the bike open up too often. The day I drove it I returned via the highway further inland, simply out of expedience.
Pink Ribbon Ride. Several hundred bikes nearly filled a Bunnings carpark (kinda like a Walmart I guess?) as they gathered in preperation for a fund raising ride for breast cancer research. Seriously, who doesn't like breasts so everyone was there! We had police escort and they pushed us straight through traffic lights so they kept the behemoth moving (read my Charlie Boorman ride on how NOT to organise one of these). We rode up into the the dam (forgotten the name) for a BBQ and prize giving. ALmost as neat an experience as ride back from the GP and a good cause. Brillant weather and a great day.
Going Round in Circles - Sydney again
Work returned me to Sydney after only a year in Melbourne. It also kept me in town until well after my wife had finished the removals and settled in. I had planned to ride up, but extra shifts meant I ran out of time and sent the bike up on a truck. Subsequently I was waiting at the Sydney Domestic Airport Train Station only to meet Casey Stoner and his new bride. Said hello and exchanged pleasantries. I even had my helmet with me but not a single pen you could write on it with! Nice bloke, and he sure can ride. Later after he'd left the train I remembered I had my camera in my pocket! Doh!!
However this time work and now two little ones mean I have little time for rides apart from getting to work. That, as many will know, can sometimes be an adventure or at least entertaining in itself, whether from taking the "long way" or just the crazy stuff other road users get up to.
Up the Putty: Public holiday, no chores left and a donation to charity got me the chance to get out for a rare ride. I met up with the ORS crowd at McGraths Hill and we headed up the Putty Road. Basically head west out of Windsor and veer north. The road itself is in pretty good shape, with some long open stretches, and some winding bits as well. Best stop is the Halfway House. The petrol station comes up quickly and its easier to go past the first driveway (a rutted dirt track) and turn in at the second (gravel, but much smoother). We then headed to Wollombi to eventually head towards Mt White.
I really enjoyed the stretch from Broke to Wollombi and then to Mt White. Nice, flowing roads, rather than down to nothing and away again. No fuel at Wollombi so make sure you fill up and can make it through. It is, however, a popular spot and the food at the pub is reasonable. We stopped there before riding on to Mt White. Unfortunately I had family stuff to do, so didn't stay to enjoy the festivities at Mt White and headed home. A really nice day ride, highly recommended.
Sydney to the MotoGP: That's right, I actually pulled it off. To save myself the trouble, here is the link to the write up in the main section. Storm the Island Haven't decided if I'll do it again. If I did, there are some things I would do differently. Like taking more days so that I can avoid the interstates all together. And bring some sneakers to wear when not riding! Also with two small kids now, the chances of getting permission from the Mrs is pretty small.
Charlie Boorman!!! Again a link to a post here already. By Any Means