I Haven't Ridden This Far In 50 Years.
---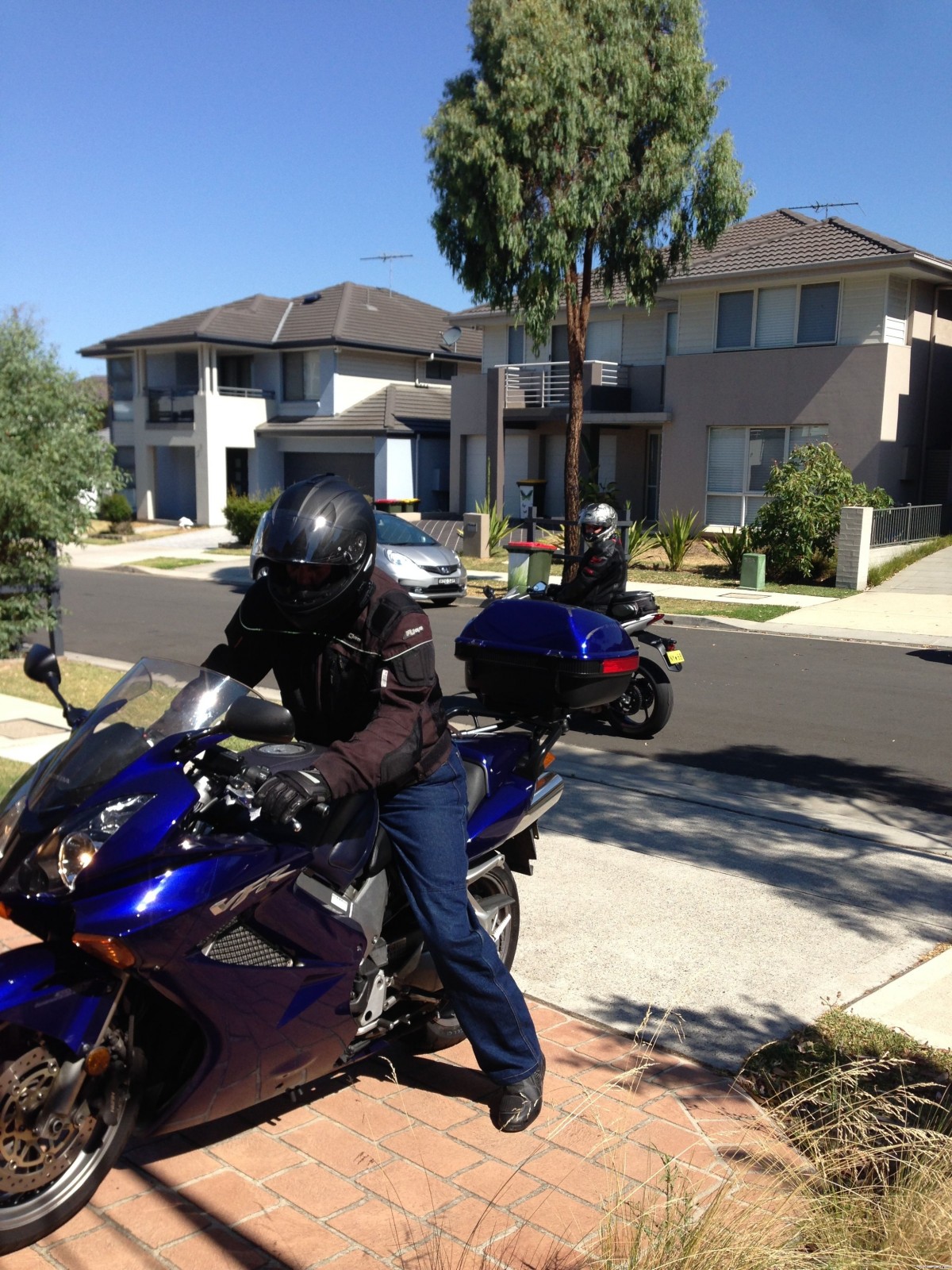 So I've moved down to Canberra where I live during the week, and head home every weekend. One of the problems with this has been that whichever bike stays in Sydney won't get ridden, and its not fair to my family to be away all week, come home late Friday and then spend all Saturday riding, before leaving for Canberra mid afternoon Sunday.
I always planned to move both bikes down here, but how do I do that. I'd really need a lift from a buddy or maybe catch the intercity bus.
My mum and dad were headed to Sydney on their way to my sisters, so my dad suggested he rides the other one down. Which was a really good idea.
Except he's ridden my VFR for a total of about 20minutes in the suburb only (no freeway, no back roads) and not ridden this far (to quote him "furthest he's ridden in 50 years"). We can't leave until after 4pm as my wife doesn't get home from work, giving us about 4 hours of daylight. If it takes us too long we can't ride on the back roads as the kangaroos are a real hazard around dusk. Then to add to it all, we turn on a bit of a heat wave and we're expecting about 38C, clear skies all day.... he's from NZ so not so used to our temps.
But in the spirit of adventure... stuff all that, LETS RIDE!
And so here we are, all geared up ready to go.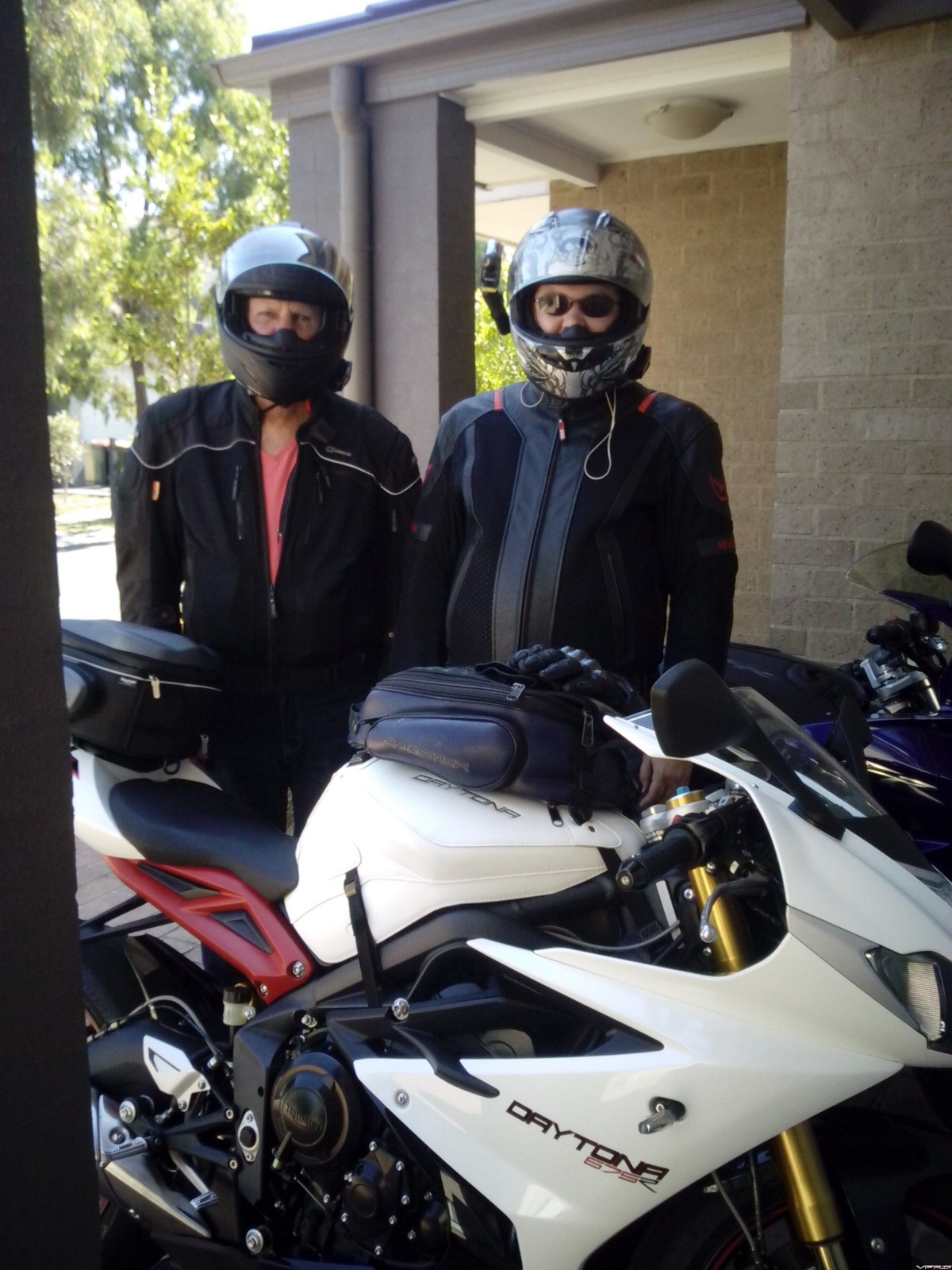 Just about to head off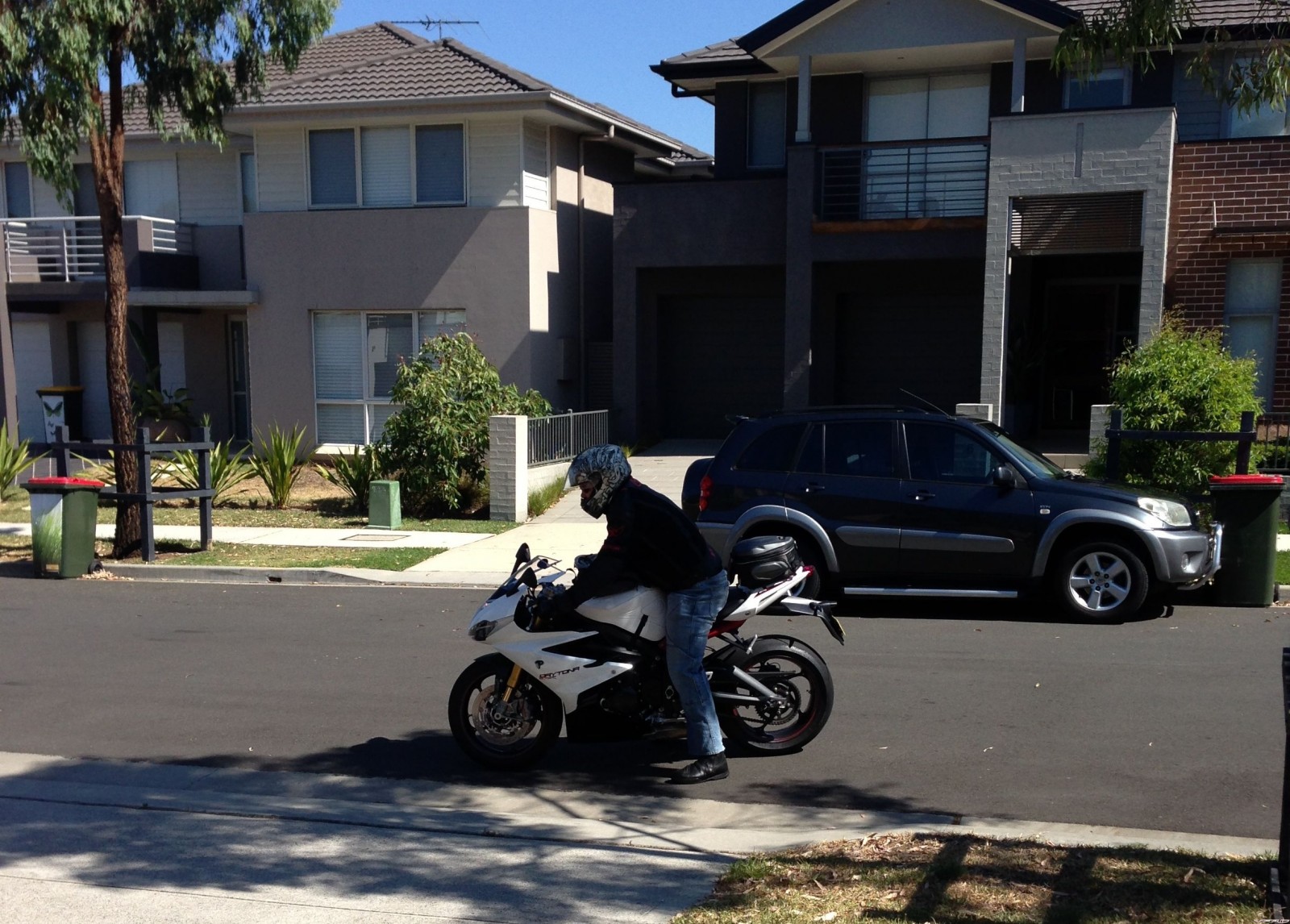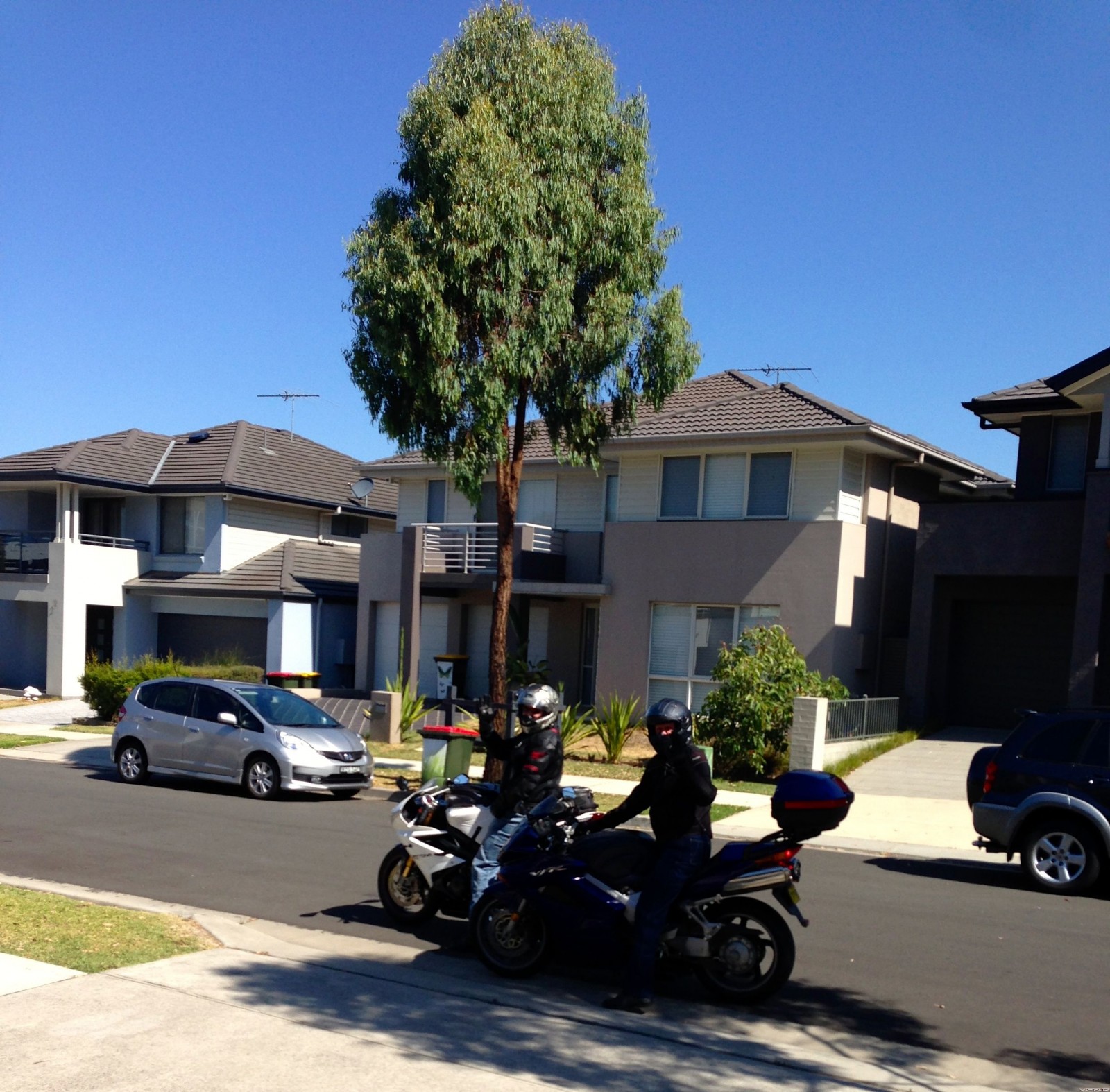 It was warm, and it took Dad a little while to get used to the higher speeds (and glorious smooth comfort of the VFR, his normal ride is a KTM 690 Duke, he calls a tractor by comparison). I bought a set of Scala Riders several months back and they did great work on this trip.
Our route took us down the freeway at first, partly to build his confidence and partly trading fun for time so we could do the best bit at the end.
By Moss Vale Service Centre we both needed a stop for a leg stretch, but more importantly some water. It was very hot and no clouds to relieve us. We spent a couple of minutes drinking up and chatting to a bloke doing the run on a Speed Triple.
At Marulan we'd made up enough time that I was happy and we turned off into the country roads. Dad's first taste of the country NSW on a bike. The comms worked well and I was able to give him general tips and warn him about hazards and tighter turns coming up... I'm sure he was sick of me nattering in his ear. But I was protecting two things very important to me.
And I gotta say he did really well. He enjoyed himself but even he admitted he had the death grip on the handle bars for most of the day - part of that was the pressure of not smashing my VFR I guess. The forested roads gave us a lot of relief from the sun and evening was stretching on as the sun came down - into our eyes.
Then, about 3h15m after we left we rolled up to my garage, safe, sound, tired and thirsty. I usually take just under 3h so we made really good time. This is my Dad, pretty stoked about the whole thing (and quietly a little amazed I let him ride my VFR - so am I)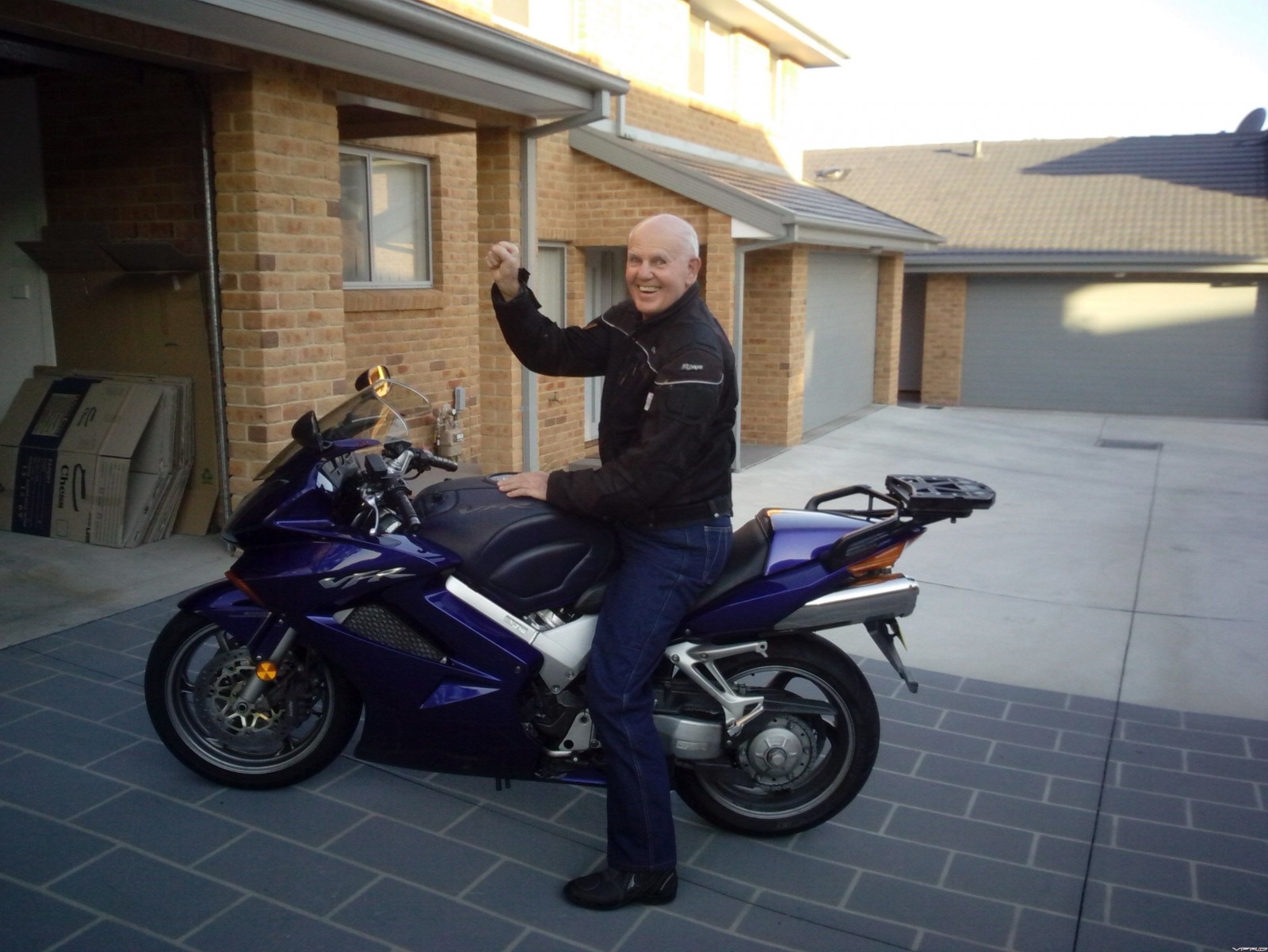 Time to put the feet up and drink lots of cold cold water. Well done Dad :)