Aint Nothing But An Atmel Thing - Or - Riding With Guys From Work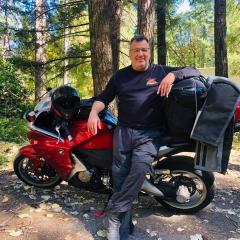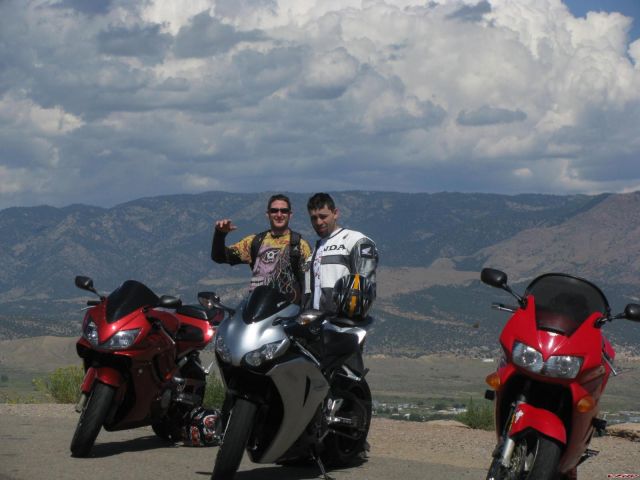 Skyline Drive Ryan and Jason above Canon City
I have been riding with a guy from work lately a young fellow who recently purchased a used CBR 600 - that was in need of some work. He was riding it with a race take off front tire and a decent Bridgestone rear. I dont often ride with guys who ride other bikes but Ryan seemed like he had the natural ability to ride well. Which after 3 rides he does. I took him along on my annual 500 mile ride to the Black Canyon a few months back and he did well, keeping in pace with my Buddy LDSRIDER. The two of them kept together and Reddog and I took off ahead waiting up at key places, then riding together in the slab.Its worked well, Ryan came over to my place and we fited a new tire on last month, new chain and set his sag correctly since I rode it I could tell it was set up all wrong. Sombody had dropped the forks in the triple clamps and it made it a bear to turn. Fighting that for 500 miles must have been a PITA so I loosened the clamps and slid the forks back into stock postion. It made a world of difference and the next ride - there he was right behind me in the tight stuff, he never showed me a wheel but he was taking up an awful lot of my rear view mirror this time around. Of course it was raining and there was all kinds of crap on the roads from heavy rains but still much much better! Monday he calls me up - says there are 3 of them going to Bishops Castle for a ride. Right off the bat There is Ryan out of gear and no gloves - appearantly hes not prepared for a day ride, thinking they were just going around town. I guess with Ryan ATGATT has not settled in yet as the mode of transport for bikes. So we take off, tennis shoes and no gloves, long sleeve tee. And of course I take it easy. Its all guys from work I know, Dave (out of work at the moment from Atmel after a layoff) and Jason who works right next to me all night across the tunnel in photo, and Ryan a diffusion tech who works on furnaces and FSI cleaners. Me I work in etch as a work flow coordinator just like Jason is in Photo. We all ride, but I think I take it more seriously then the rest. I come to find out this is the longest ride Jason has ever done! A lousy 250 mile ride! Hes decked out in his Honda Jacket, Shoei Helmet (a nice one), and TENNIS SHOES. Darned squids - I mention to Ryan he might want to grab some work gloves at the Gas station in Florence at least! I think I talked him into getting a Roadcrafter suit from Aerostich, like the one I wear. He likes how easy it is to get on and off and that its also your rain gear!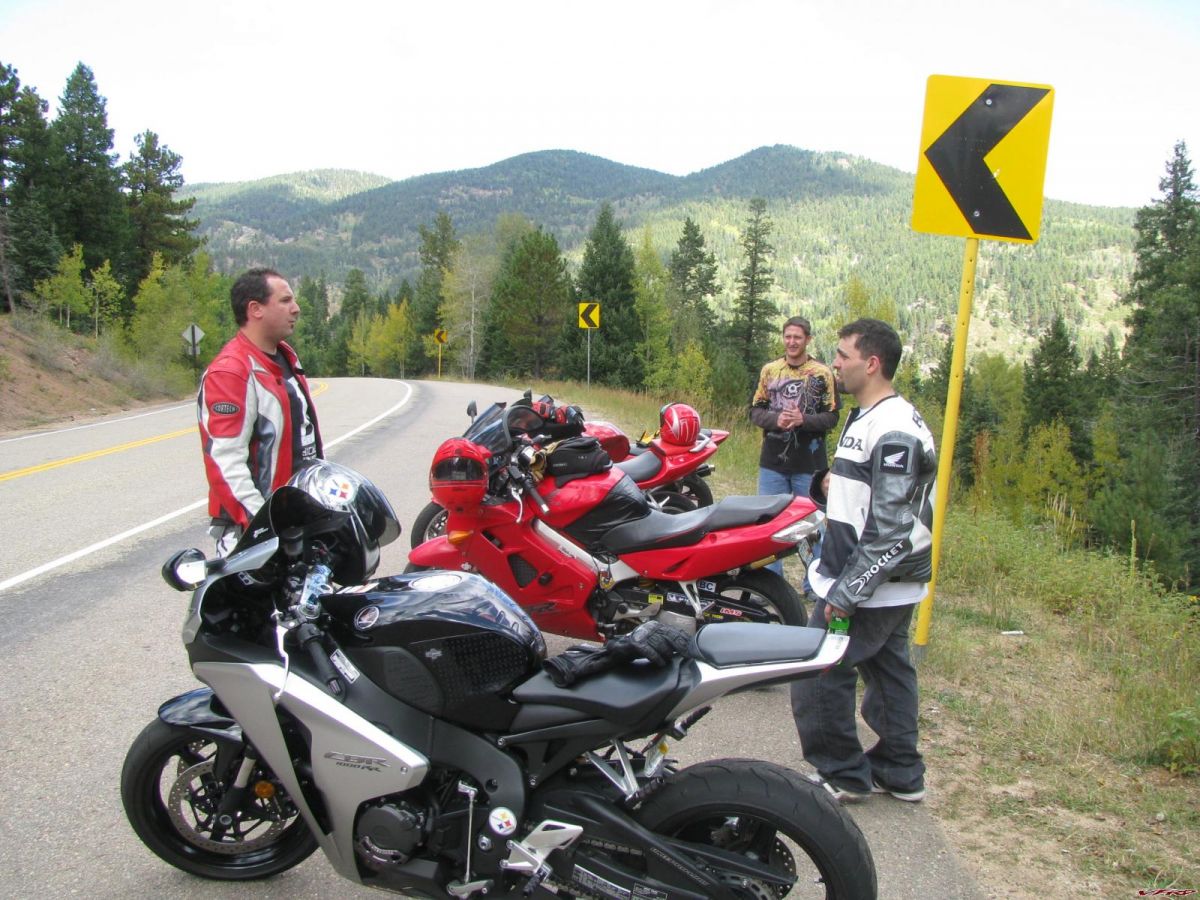 Bishops Castle l-r Dave, Ryan, and Jason in white.
I had to yell Jason about 4 times cause he talks so much he could not hear me - hes always talking, even at work!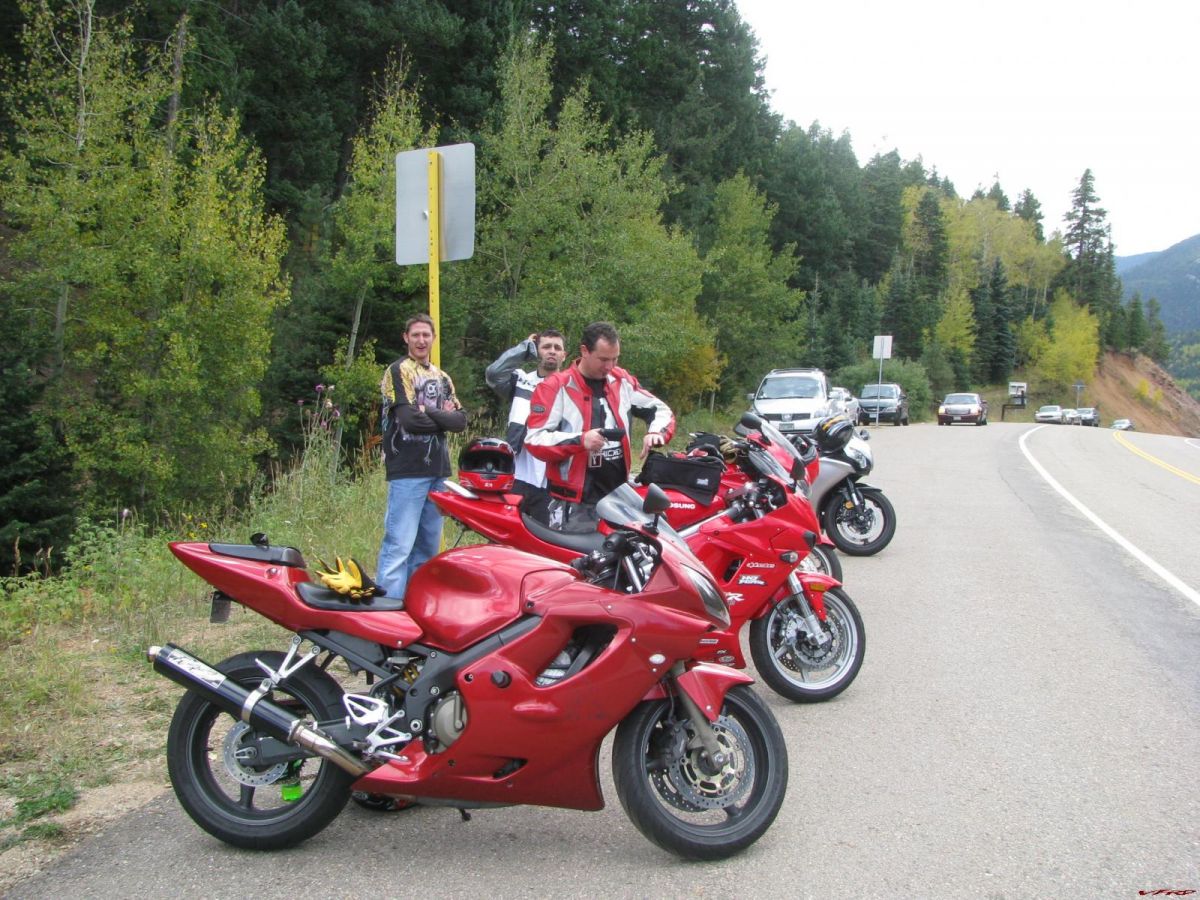 Yea thats a Hysong behind that CBR 650 V twin Dave rides - sounded great with the carbon fiber Two Brothers can.Dave had to go back home at this point since he had chores to do at home and was supposed to be back at noon, I looked at my clock and it was 11:30! Heh I think your late man! So he left the group and the rest of us carried on. We rode over to Texas Creek to get a burger only to find out it was closed, so I said lets get some Tacos in Cannon City - only to find out the Taco place was closed too! So at last we went to the Mission, a mexican joint and had some lunch. It was alright but not as good as the Taco joint, sad to see it was closed forever! It is different riding with new guys - especially ones who dont ride all the time, and who think that 250 miles is a long ride! It is a different mind set, I felt like I was just getting warmed up, and these guys are just about done! Wrist hurts, butt hurts, yada yada yada, I know Ryan can take it but Dave and Jason - nope! I kept trying to tell the guys to at least wear BOOTS. Me I just had some fun, I took off on the good stuff of course, the twisty parts - I let them know I was going to first, and to ride at thier own pace cause. I would wait on the straits for them when there was no place to lean over - which I did. I had a good time though, just riding slow I can look at scenery too ya know. We had to stop a moment and take it in cause well we were talking too much about work! Ryan was staying way back this time cause he had no darned gear!
Jason who was on non stop jabber would have to be prodded to put his helmet on cause it was time to go, he crackes me up - like a stream of conscienceness, all the time 24 hr Jason live! He even talked when he had his helmet on and I had my earplugs in, I just nodded yes and reved up the v-4! Funny guy very funny guy. On the last leg home I rode sweep and they gave me a lesson on how to pass, which I wont be taking next term, I think I am going to drop that class! Scary stuff! I dont like-a-da-traffic-a-so-much.I am hoping Dave gets a call back from Atmel and comes back to work - it seems the sales crisis has abated a bit and are hiring back 100 people who got laid off. I am pulling for ya Dave! It is a good thing we can go for a ride and just have some fun for a day.