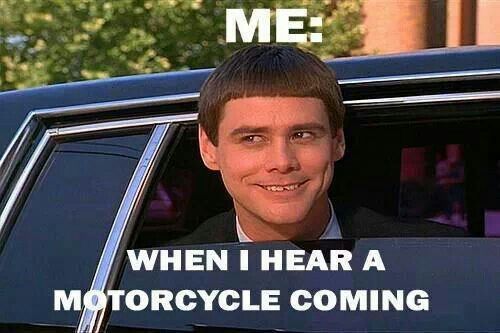 Content count

25

Joined

Last visited

Days Won

1
Community Reputation
16
Good
You notice more low end grunt with premium?

You have to shift more to get back into power. The fz09 had power no matter the gear or speed. The vfr is around 100 pounds more with about the same or a little less hp also less torque than the 09. I don't really miss it though . The vfr motor has a smooth power delivery that pulls pretty good after 6k.

I don't do a lot of highway trips so it's not really an issue. I only found a +1 on eBay. Not sure if I would even notice that.

I owned an fz09 before buying my pearl white vfr. I don't miss it. I love the vfr. The fz09 was awesome , don't get me wrong but I got fed up with wind . I was super nervous about going to the vfr as well but don't regret it now. With a pipe that v4 just sounds badass.

Because I feel it's a little more geared for highway . I don't think it needs anything drastic , just a little more oomph .

For the money you can't beat em! I love how mine sounds and fit was great.

After some reading sounds like a two up in the rear sprocket would be a nice upgrade. Looks easier to do than the front.

Greg I have the same exhaust. Also baffle removed and I love it. Ive had quite a few bikes that were louder than this. I don't think it's too loud. Definitely don't need ear plugs. Coming from my fz09 with akrapovic exhaust and I needed ear plugs with that. Now that custom exhaust the member made on here (jibbles I think) sounds like it would be too loud. It also may be the best sounding vfr I ever heard. 😜

Found some here http://www.jtsprockets.com/catalogue/model/634

Has anyone done a front or rear sprocket upgrade? I was debating down one upfront or two up in back.

I really like my 8th gen. Plus they look a little smaller in size compared to the 6th gen. Also you can get leftovers super cheap. Another thing to consider is insurance . The Ninja 1000 is quite a bit more than the vfr. Also lacks the v4 character which is what I wanted.

Also added this from when I re did my 97 vfr. Had these two decals laying around for the last 5 years. Glad I kept them. So much white.

Ok, got it done this am. Went with a skinnier stripe. I think it looks much better.

I just a bolted on a piece of metal where the red reflector goes . Cheap and easy.