My original intent was to post a half a$$ed review of the Pilot Road 2s on my 2004 at the 10,000 mile mark.
It's raining right now and this seemed like a good time to do it even though the miles are not quite to the 10k mark.
Since I'm not really an aggressive rider and we don't have many curvy roads, (I don't know if the entire state has 313 paved curves), my observations could be a little different than many.
The tires were purchased from Garvis Honda in Des Moines, IA. Installed and balanced by them as well.
I run 36# front, 42# rear, checked weekly and stays within a pound. That 1 pound variance could be my doing during the checking process. Good gauge, verified readings at a tire shop.
1. My bike had Pilot Roads when I bought it used and I had no complaints with them in the 4,000 miles I rode on them.
2. PR to PR2 handling is not that good of a comparison in my case. I do corner faster on the PR2s, but that could be because it took me a while to get familiar with the bike.
3. I do think the PR2 turned in a little quicker, but that might have been because they were new.
4. I have experienced very little side slip and even when I have hit small patches of sand/gravel, the PR2s seemed pretty forgiving. Meaning I stayed on two wheels. The tires are much more capable then me.
5. Ride is excellent. Smooth well into triple digit speeds. They took a very small amount of weight to be balanced.
6. I did notice some scalloping on the front tire around the 7,000 mile mark and it not only doesn't seem to have gotten any worse, it may have smoothed out a little. It was on the left side only and only on the side. Anyway, it has never been a problem.
7. I'm surprised that I am not yet to the wear bars and probably will get at least another couple of thousand miles out of the tires. Hard to say for sure since that last little bit of tread seems to go in a hurry.
8. It's very likely I will need to replace the front when I replace the rear. I read about people going through 2 or 3 rear tires to 1 front, but that has never been the case for me. I seem to wear them out about the same.
9. To the point. I'm happy with them and will most likely buy them again.
Rear, showing wear bars and straight road wear pattern.
Front, showing wear bars.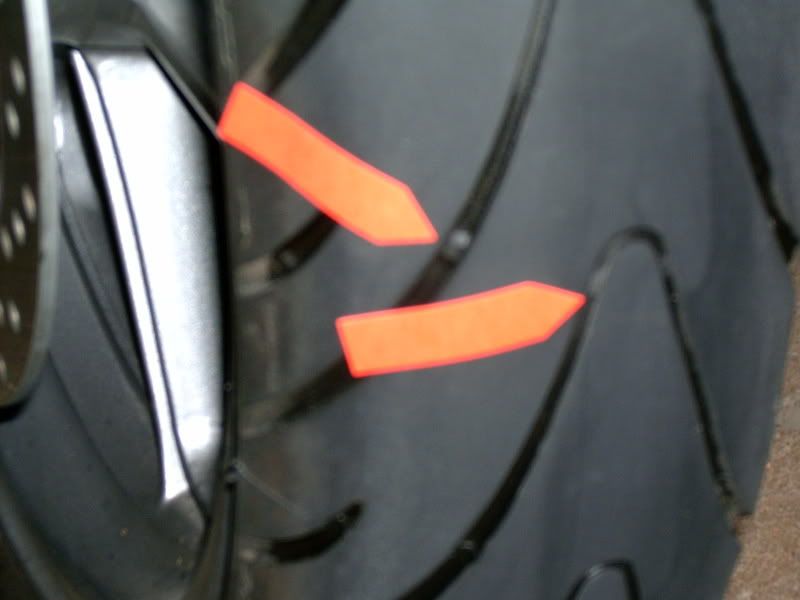 Front left. Scalloping hardly visible if at all.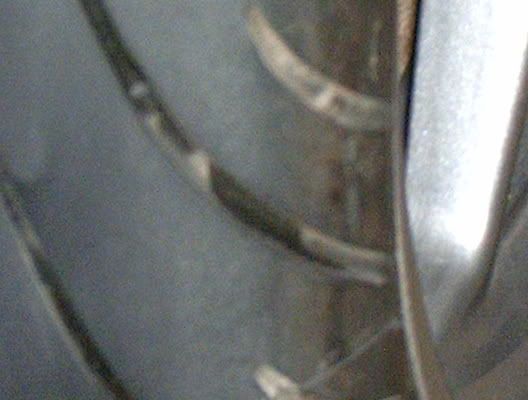 Front left. Scalloping more evident, (I think), at the bottom of the picture. Could be the lighting or the camera angle.