***I apologize, some of the pics are really big, please give it a minute to load entirely!***
Well, I couldn't hold back from posting any longer once I had the powdercoated parts in my hand. Now I can't help but let you guys in on the rest of the story!
So here it is, from the very beginning(yes, it's a saga!) :P
This poor old bike that currently sits (mostly) in boxes was bought new in 1983 in New Hampshire, and was ridden on the street and then on one track day at NHIS(Loudon). The owner went down because of a visor tear-off that was thrown on the track, and after that, the guy put 'her' in a corner of a barn. That was in 1984, after accumulating only 2,997 miles.
Many years later(about 15!), said original owner sold the bike(to avoid giving it up during a divorce), to his neighbor, who is an ex-co-worker of mine. About 2 years after that, I bought my 700, and when I rode it to work for the first time, this guy started going nuts over how nice it was, and told me the story I just told you. Except he added that he was not sure if he wanted to keep it, because of the expense of a new clutch master cylinder...
Sooo... it became mine for the lovely sum of $300.
I had all kinds of ideas at the time, but no garage, tools, or mechanical/working knowledge to speak of back then, so it sat around for a couple years, and I started disassembling it when I got my garage. Along the way, I came down with a terrible case of MBD(multiple bike disorder) and the bike took a back seat to "more important things" like my F4i and VTEC vfr, and since then have decided to restore it.
Here are the Polaroids that I saw before picking the bike up:
The tank was pretty banged up, so I got a better one from Chev, and the frame was a little tweaked at the rear, which I've fixed. There were also two spots on the frame where water had gotten in(the guy I bought it from kept it outside for one winter), when the water froze, it expanded the tubes. I heated them up and hammered them flat, then ground them to make them nice. The motor ran 5 years ago from a beer bottle full of gas, and when I drained the fluids to pull the motor a while back, everything was clean.
Finally getting back into the project, I got the bike stripped down completely.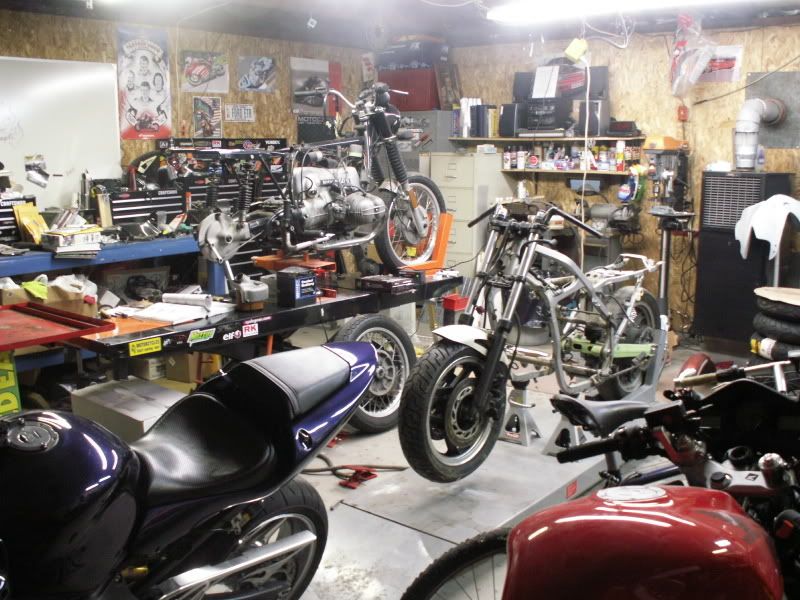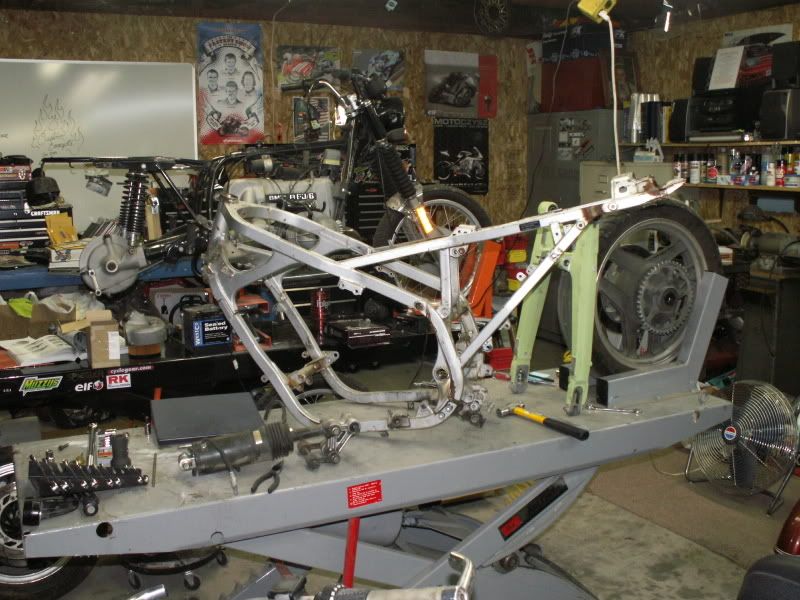 Riding other bikes and life in general kept me away from it again until early this year, when I started fitting bodywork to it (going to adapt VF1000F side panels), and I noticed something was wrong here.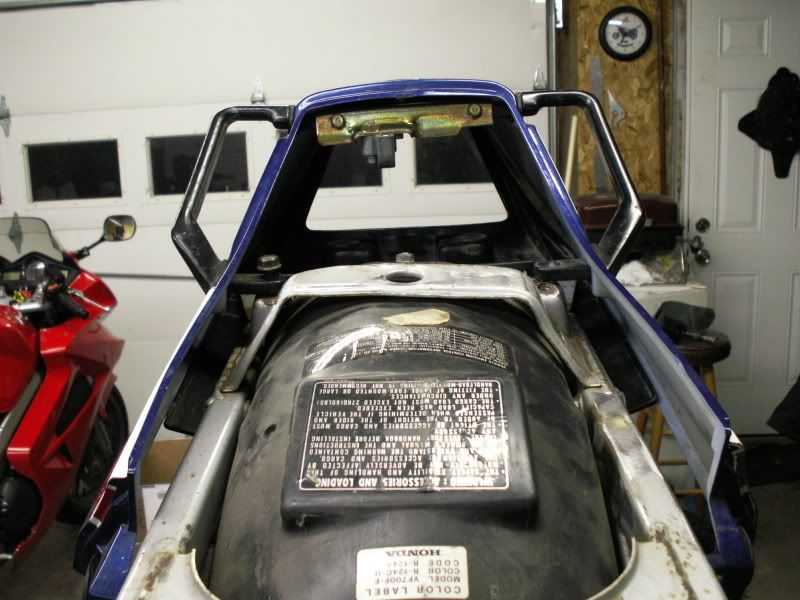 Rough idea of the 1kF panels: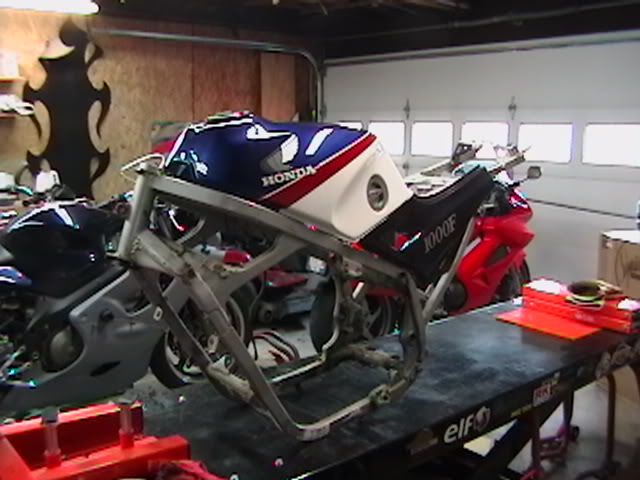 I knew the rear section had been repaired, but didn't realize it was this far off until I actually tried to bolt the tail on. It was pretty twisted! I took measurements on this frame and my good one, and determined that the damage was isolated at the very end of the frame, so, I decided it was time to
"say hello to my little friend"
! :salesman: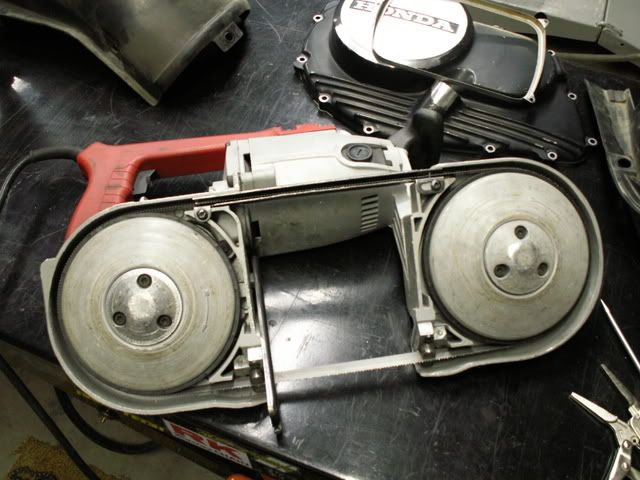 A little zip here, and a little zag there - and viola! No more damage!(depending on how you look at it)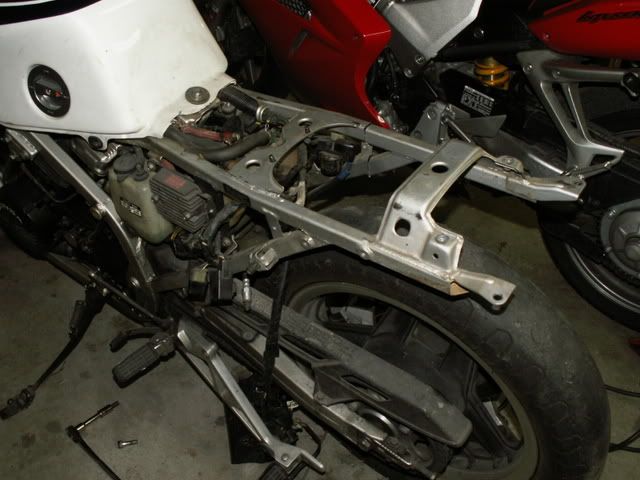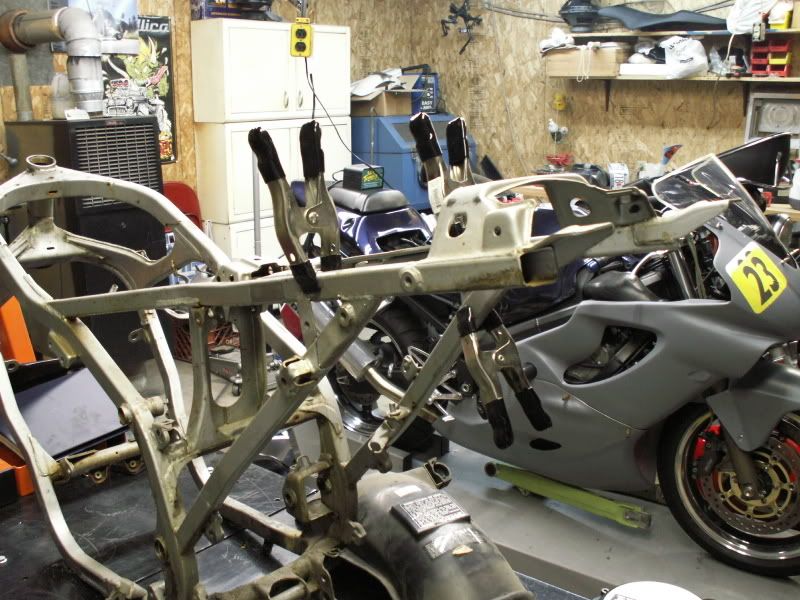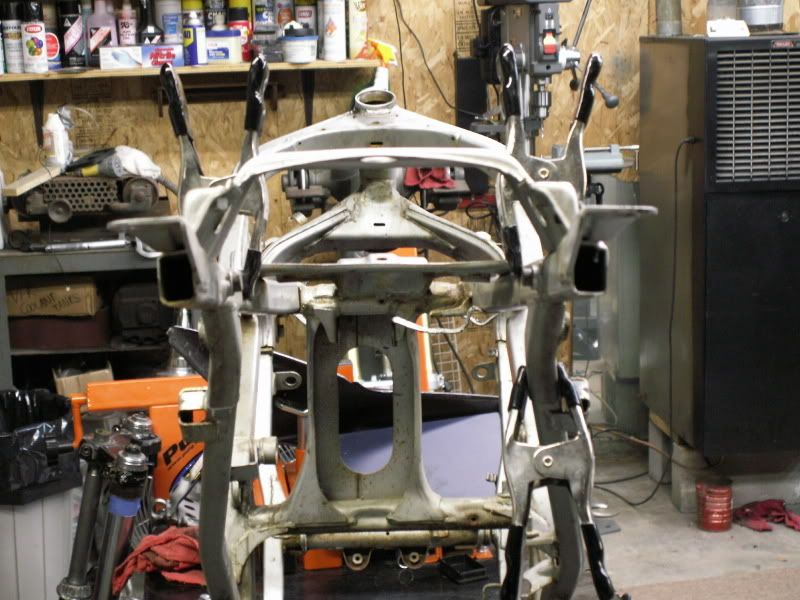 I also took the liberty of chopping off the square-shaped rear rail mounts while I was at it, I thought that would be a nice touch to clean up the bike, and being they only hold the helmet lock and huge stock signals anyway(2 things I will NOT be using), in the trash they went! Thanks you Mr. Portable Bandsaw, hehe.
And yes, I cut up a good frame for the sake of having a numbers-matching bike that wasn't a true restoration anyway... :joystick: Call me crazy or keep reading!
Next up: weld it back together! Hiho, off to work I go, on a cold Saturday morning. Still saving up for my own TIG welder... with the bike habit, it's not going so well.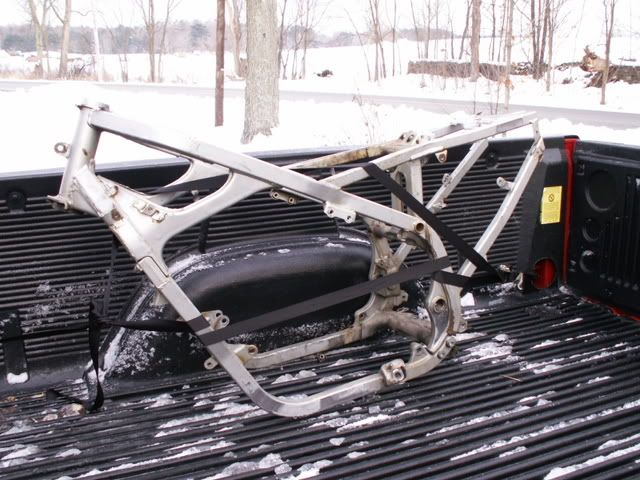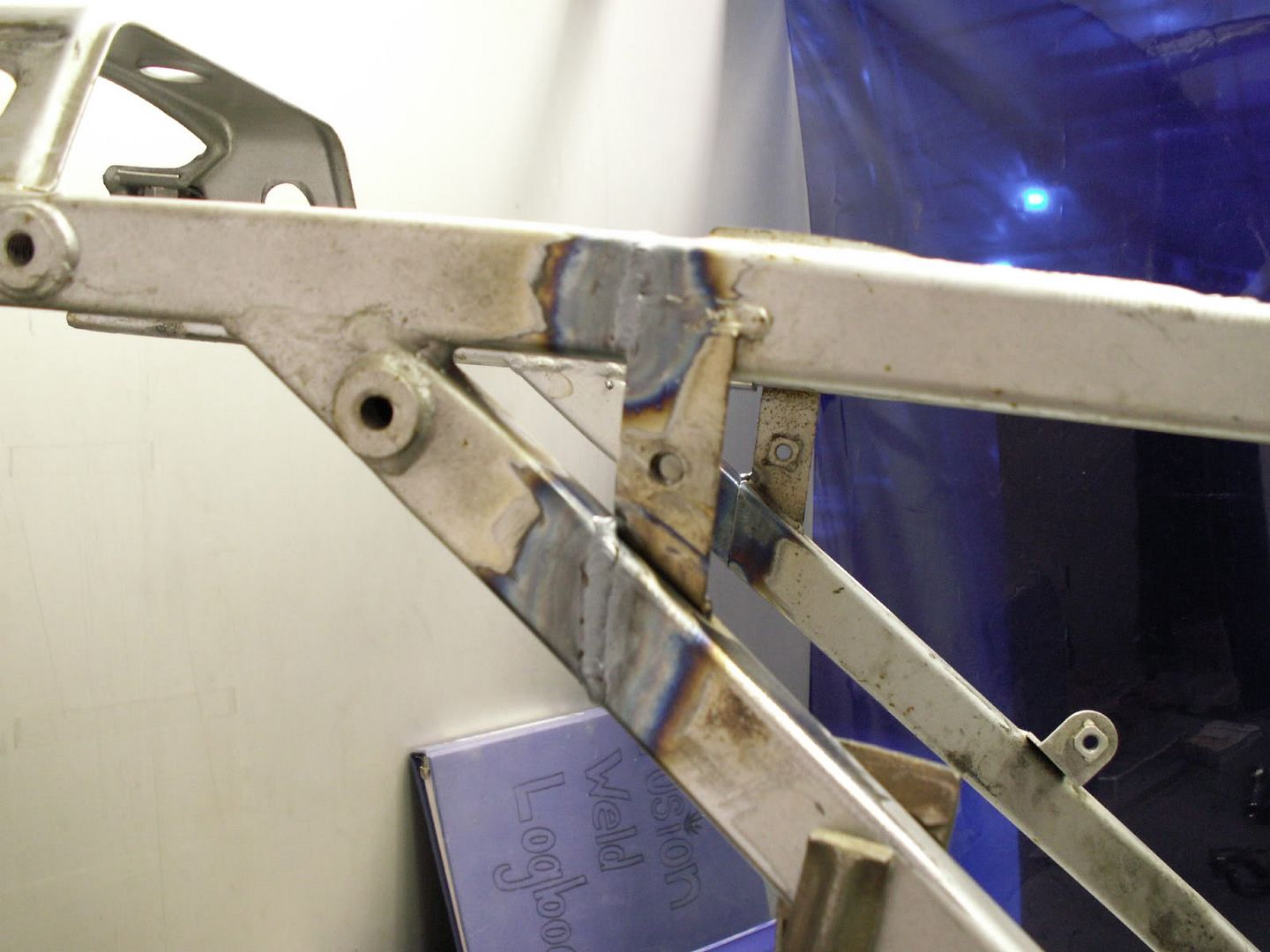 After some creative grinding:
Which leads us to...
powdercoat!
Frame, swingarm, and VF1000R upper triple were done in Satin Black: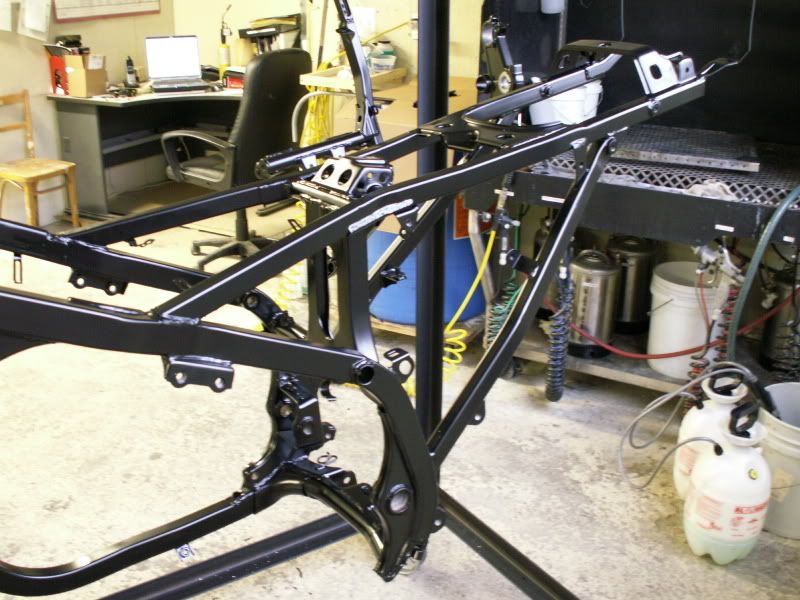 I'm upgrading to CBR F2 wheels, and had them coated in mirror white.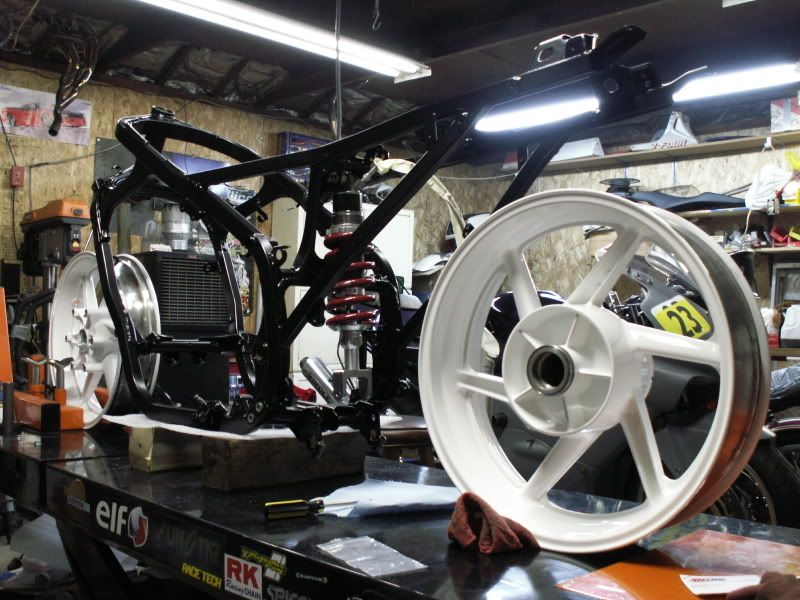 I have another clean rear wheel that's black and had the lips polished, I'll throw that on later and see how it looks in there.
Much more to come!!